In 2004 the San Francisco rock outfit New Monsoon made a storied appearance at the famed Telluride Bluegrass Festival in Colorado, and blew away newcomers with their unique blend of West Coast rock, jazz, Latin, and West Asian sounds. From that performance the band released their first live disc aptly titled Live at the Telluride Bluegrass Festival.
With the recent release of their newest concert CD, New Monsoon Live, the band is seen in a much different light than it was then. Since 2004, the group has gone through a heavy rotation of band members, most notably the loss of the "three-headed monster" that was their percussion section. Original members Rajiv Parikh, Marty Ylitalo, and Brian Carey all left a few years ago to pursue other interests. The band is also on their fourth bass player since their inception, so one can imagine how much the sound has changed over the years.
Such changes can usually spell disaster for most musical artists, however, core members Jeff Miller, Bo Carper, and Phil Ferlino have managed to take the songs and structures they have written to a sustainable level of creativity and energy, thus giving New Monsoon a fresh and palatable sound. And they have brought newer members Sean Hutchinson (drums) and Marshall Harrell (bass) along for the ride.
It is with New Monsoon Live that the current five-piece lineup is best displayed. Recorded over a multi-night run in Texas last fall, this two-CD concert release showcases the collective's bigger, bolder rock sound and proves that sometimes trimming and simplifying can be healthy even for a band.
The recorded quality of the project is outstanding for a live release, and each member's efforts come through wonderfully. Hutchinson and Harrell have definitely found their place in the band, giving the rhythm section solid footing. And the harmonies throughout such songs as the opening "Otherside" are as tight as ever.
The band is definitely more guitar-driven than ever before, evident on such gems as "Naked Truth", "Southern Dew", and the multi-layered number "Rattlesnake Ride". Soaring, electric interplay between Miller and Carper anchor some amazingly cohesive jams between sections.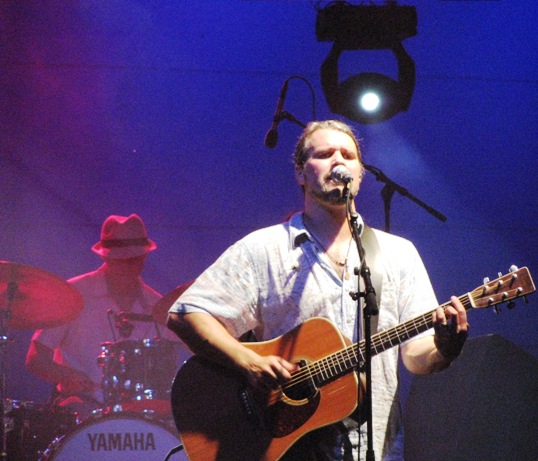 New Monsoon has never been one to shy away from covering other artists either, as they do here with a well-performed version of the bold Hendrix tune "Freedom". They also insert the old blues classic "Stagger Lee", which has become a staple of their live shows over the years.
Fans of the band are well aware of the ups and downs New Monsoon has gone through over the last five years. Even the group needed to take a break from the road the last couple of months to rest, and reassess the future of the band. Recently they decided it was time to get back out to doing what they do best, and have begun their spring and summer tour. They will be hitting up familiar venues and festivals, hoping to grab the attention of anyone willing to listen along the way.
New Monsoon is one of those underrated bands that may have gotten a little lost in the mix of the jam scene, but if the band can build upon the excellent sound produced on this live release it should only be a matter of time before many get turned on to their unique style of progressive world music.