New Orleans indie-rockers Lawn recently announced their sophomore LP, Johnny, due out September 4, 2020, via a collaboration between Community Records (Hikes, Slingshot Dakota) & Muscle Beach Records (Kate Teague, Molly Drag) and available for pre-order on vinyl HERE. The trio is led by bandmates Mac Folger and Rui DeMagalhaes, who released their raw and scrappy debut, Blood on the Tracks, on Minneapolis label Forged Artifacts back in 2018. Recorded over three months with friend and local mainstay Matthew Seferian (Pope, Matt Surfin' & Friends), Johnny is a massive step forward for the band: intense but effortless, jumping to and from ragged post-punk and gleeful '90s indie-rock hooks. Today, Lawn is sharing the heavy art-punk-infused album standout "Jane Ryan," which explores wealth inequality and corruption through the story of former Filipino First Lady Imelda Marcos.
Of the track, DeMagalhaes offers, "Jane Ryan was the pseudonym Imelda Marcos listed in her offshore bank accounts while acting as first lady of the Philippines. I became obsessed by how much wealth she had accrued during her husband's dictatorship and how grossly open she was about it. There's something to be said about corruption and ego; there's this Marie Antoinette complex that is quite fascinating to see in modern history, especially within the rise of far-right and wealth politics over the last 5 years. It's repulsive and vile and inherently draconian."
The new single follows last month's "Nighttime Creatures," of which Gold Flake Paint praised, "Equal parts harmonious and sludgy, like glimpses of sunshine on a thundery day, the new track is a straight-up and timely reminder of what made their debut such an enjoyable ride."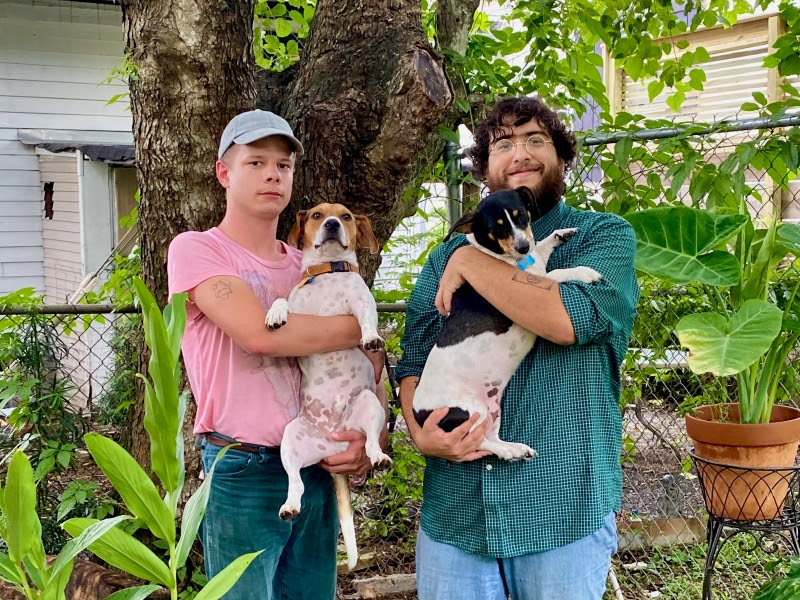 Originally from Tennessee and Venezuela respectively, Folger and DeMagalhaes first met in New Orleans' house show scene and formed Lawn a few years later. The pair make a conscious effort to write and compose their records together, relying on their varying backgrounds and musical tastes to craft a unique, and surprisingly cohesive, blend of styles. "Mac gravitates toward pop music," says DeMagalhaes. "I'm closer to harsh territory. We're good foils. Musically, we just know how to complement each other. I seldom think of a time when he comes up with something I don't like. We're always finding the missing pieces of the puzzle for each other."
Johnny's jangle-pop title track, written from Folger's perspective, is about growing up in a liberal Tennessee bubble and realizing you still have to take responsibility for the privilege into which you were born. "I grew up thinking I was right and a good person, because I came from a liberal background," he says. "I took that for granted growing up, and I realized that was bullshit. 'Johnny' is my grandfather's name, and the song is directed at him."
In album standout "Summertime," DeMagalhaes details a racist encounter he experienced while working as a server in a New Orleans restaurant. "There's a line in that song that says, 'How dare you hide your accent from me?' because that's what the guy actually said to me," he explains. "I grew up privileged, and I never thought racism would be my problem. My privilege meant nothing in that restaurant because I was brown and serving them, depending entirely on their tips. I was just another brown guy who needed their money."
With Johnny, Lawn have created a vital record for our times: one with a conscience and a heart, filled with sing-along catharsis and hooks to match. Equal parts raw anger and utter joy, it is a fierce collection of bombastic indie rock, the perfect soundtrack to our canceled summer.