Severn Records announces a May 15 release date for Damn Good Time, the label debut from seminal American roots music band, The Nighthawks, distributed in the U.S. by City Hall Records. Damn Good Time is the follow-up to The Nighthawks' Last Train to Bluesville, which garnered the band its first-ever Blues Music Award from the Blues Foundation as Acoustic Blues Album of the Year in May 2011.
The Nighthawks are: Mark Wenner - vocals, harmonica; Johnny Castle - vocals, bass; Paul Bell -guitar; and Mark Stutso - drums, vocals. The new CD was recorded at the Severn Studios in Annapolis and produced by The Nighthawks and David Earl.
"This is a totally cool moment to be into my 41st year as a Nighthawk, the last of the originals, as we release our first album with the band as it is today, the band I have been working toward since early 1972," says Mark Wenner. "Paul Bell and Johnny Castle are deep into a decade with the band. Mark Stutso, after two years of hard road and 500 shows, at last appears on his first album as a Nighthawk. Singing lead on five tunes and involved in the creation of four, he and Johnny are a magnificent groove machine. And the harmonies! I dreamed of them, too, when I began dreaming of a band like this."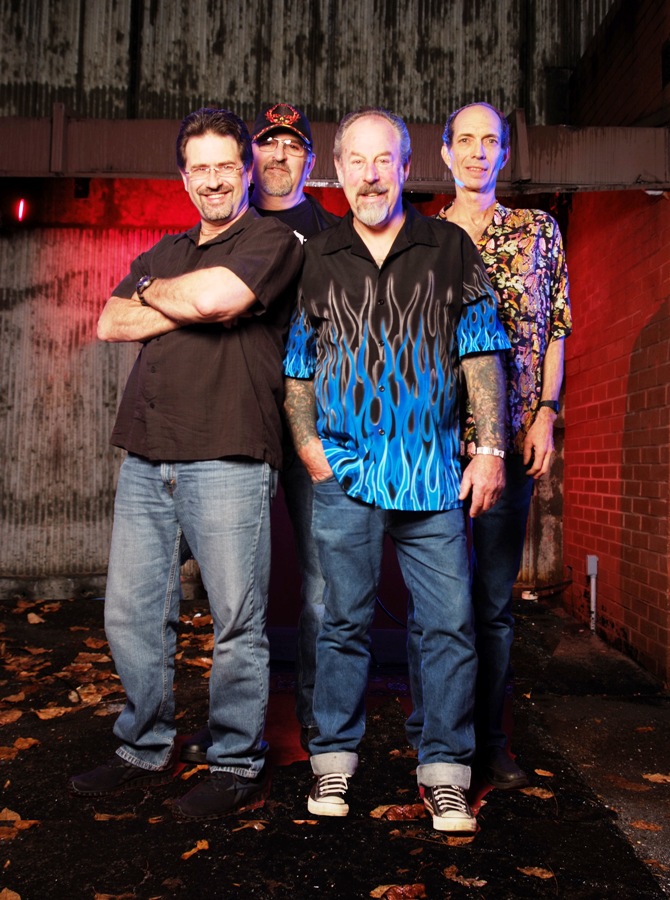 Going into their fifth decade, The Nighthawks are blessed to have three strong lead singers, and they take advantage of the unique qualities of the trio of Wenner, Stutso and Castle. The wide array of originals and covers demonstrates The Nighthawks' great strength as a true American roots music band. They roar through a repertoire of everything from blues and soul to rock and rhythm and blues on Damn Good Time. Bassist Johnny Castle contributes the romping "Bring Your Sister," and also sings on a version of Jimmy McCracklin's "Georgia Slop." The band also taps into the songbooks of good friends and kindred spirits Billy Price and Norman Nardini, and serves up spirited takes on classics from Elvis ("Too Much"), Nat King Cole ("Send for Me") and Wilbert Harrison ("Let's Work Together'), as well as a raucous "Smack Dab in the Middle."
In addition to their stellar catalogue of acclaimed albums released since 1974, The Nighthawks have long enjoyed wonderful touring and recording relationships with some of the best and brightest names in roots and blues music. On their 1978 release, Jacks and Kings, they backed up such blues all-stars as Pinetop Perkins, Luther "Guitar Junior" Johnson, Calvin Jones and Bob Margolin, and backed up John Hammond on his Hot Tracks album. The Nighthawks have toured with John Hammond, as well as John Lee Hooker, Hubert Sumlin, Elvin Bishop, Tracy Nelson and Eddie Hinton, and have played with such national treasures as Muddy Waters and Carl Perkins. Over the years, several other star artists have become de facto members of the band at various times, including Gregg Allman, Warren Haynes and Bob Margolin.
The Nighthawks continue to be one of the hardest-working bands on the road and have an extensive national and European tour set up to promote Damn Good Time, including showcase club dates and festival shows. The band is booked by Blue Mountain Artists.
THE NIGHTHAWKS ITINERARY
4/27 Luna Live Lake Charles, LA
4/28 Hotel Sorella Houston, TX
4/29 Sunset Station San Antonio, TX
4/30 Antone's Austin, TX
5/1 Mid-City Lanes New Orleans, LA
5/3 The Bloodhound Auburn, AL
5/4 Blind Willie's Atlanta, GA
5/6 Beale Street Music Festival Memphis, TN
5/11 The Hamilton Washington, DC
6/8 Fridays on the Square Harrisonburg, VA
6/15 South Park South Park, PA
6/17 Crossborder Blues, Brews & Que Wilson, NY
6/22 Blue South Restaurant Roanoke, VA
6/23 Abingdon Blues Festival Abingdon, VA
6/28 Songbird Café & Music Hall Beulah, CO
6/29 Louisville Street Faire Louisville, CO
6/30 Smokin' Moe's Winter Park, CO
7/1 Blues from the Top Winter Park, CO
7/3 Lee Richardson Zoo Garden City, KS
7/5 21st Saloon Omaha, NE
7/6 Zoo Bar Lincoln, NE
7/7 Knuckleheads Saloon Kansas City, MO
7/13 Evenings on Main Luray, VA
8/18 Rollin' on the River Keokuk, IA
9/19-10/7 Europe
10/27-11/3 Legendary Rhythm and Blues Cruise
Additional dates forthcoming ….