The most colorful of tribes gathered for North Coast Music Festival 2013. A stellar production team worked non-stop behind the scenes to contain the party as best they could as hoop dancers in their best Chicago regalia reenacted a commercialized version of the movie Project X. Electric Forest had beautiful people, but North Coast Music Festival had sexy people. Sometimes you grow tired of the same drama. You love your friends but you find yourself fascinated by a new group of people. You find yourself bored. You want excitement. If this has ever happened to you, NCMF is the place to go. You will leave with a whole new adventure or a whole new appreciation for your homies. This is Gonzo style music – it's as if Sons of Anarchy was crossed with Woodstock to create the California style just for Chicago on Labor Day weekend. Nobody stood still. They wore their pink panties and flaunted their Victoria's Secret. Although with what they were wearing it wasn't much of a secret.
I headed into the city in between raindrops on Saturday, August 31. In retrospect, to do NCMF right, I should have gotten a hotel room so I could catch the vibe of the city life and escape the elements. The new Rahm Emanuel instituted rent-a-bikes were $7 per half hour so I gave it a whirl to scope out the entire festival grounds by pedal. The city skyline was the backdrop to 5 different stages along the outskirts of a baseball diamond and tennis court. Thousands of people gathered in the communal areas that were artistically decorated in the middle of the grounds. The interior chill spots were filled with no shortage of mirrored glasses, candy kid bracelets, and candy kid surgical masks to colorfully disguise their jaws. Got the chomp? This festival was a place to take a bite out of life. I'm pretty sure I saw Fuk Me and Fuk Yu from Austin Powers. The musical flavor bended genres and ranged from Passion Pit to Paper Diamond, Disco Biscuits to Dirty Dozen Brass Band, Gary Clark Jr to Aloe Blacc, and Big G to Wu Tang Clan.
I opted to focus my NCMF experience on my breakout hit of 2013, Russ Liquid. When I saw him at Electric Forest I was blown away. Upon further research this guy is awesome! It was his birthday and he chose to play NCMF over Burning Man. When an artist makes a choice like that, you have to return the love. I got to the stage just as Porn & Chicken finished up. Have you heard of Porn & Chicken? They are a trip! They have been dubbed, "Chicago's most deranged merrymakers this side of Prohibition." They have a high energy MC/DJ performance where the MC actually wears a full fuzzy chicken get up. They are all the rage in Chicago with their theme night parties. Breaking Bad Banger piqued my curiosity. A party where everyone comes dressed as their favorite Breaking Bad character could be very fun, very homeless looking, but all the same very fun and unifying.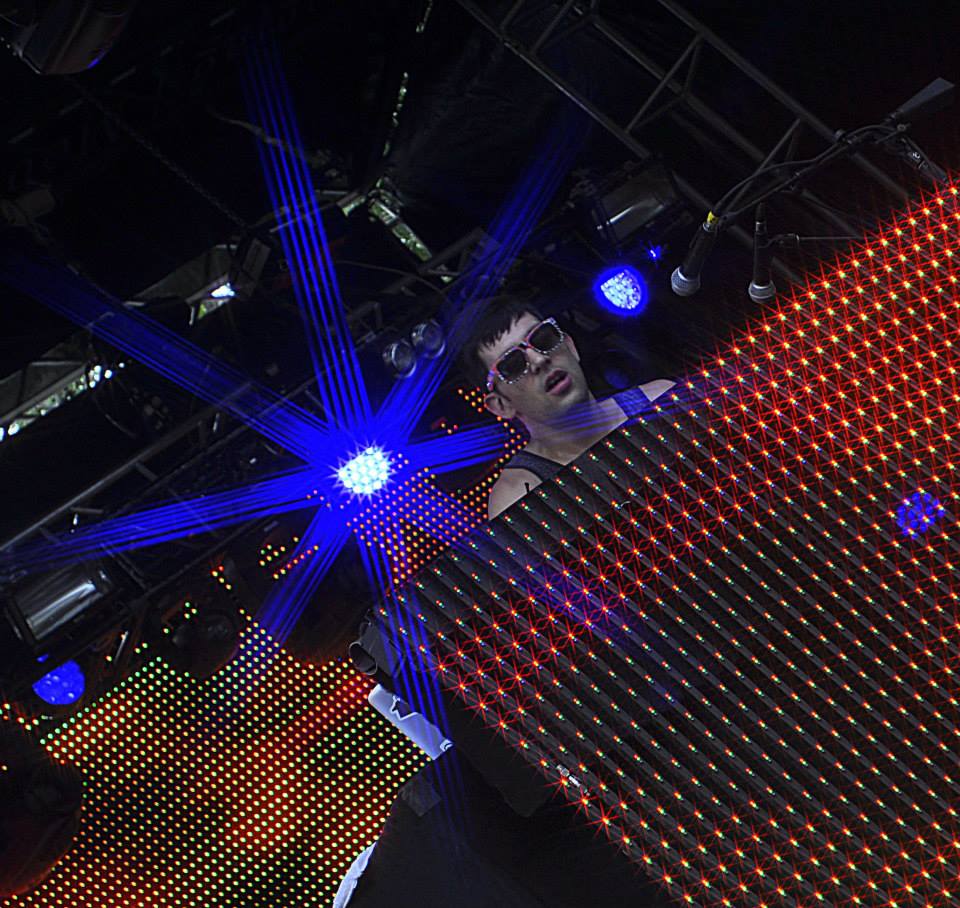 Russ Liquid came out on his full size Last Stand Stage looking larger than life. He was working it hard with his sweet slow melodic acid jazz tracks. During his hour long set, constant "I love you" compliments went out to the crowd. His cheesy grins distracted me from all the busts going on around me. Kids were getting searched, as soon as you smelled the Sensimilla, off dispersed the maroon crew to bust someone. Don't puff a pipe where anyone in maroon can see you. Are they cracking down on kids spinning poi? Heaven forbid, spinning some poi was contraband here. It's clear these minor offenses were multiplying the efforts of the mob madness. If you could get into a big enough crowd, you could pop a pill or dip some dust. Then you'll never get busted and still have a great time. Girl on a guy's shoulders? Nope. Maroon crew cut that nonsense out. A guy came running out of the corner and struck fear into my heart, yet he got high fives from everyone else. Ah, to be young and to feel that feeling that you can fight the law. Keep running! The swimsuit/ bra & panties girls ran to embrace the guy that got off clean from being searched, it must be worth it to look like a bad ass.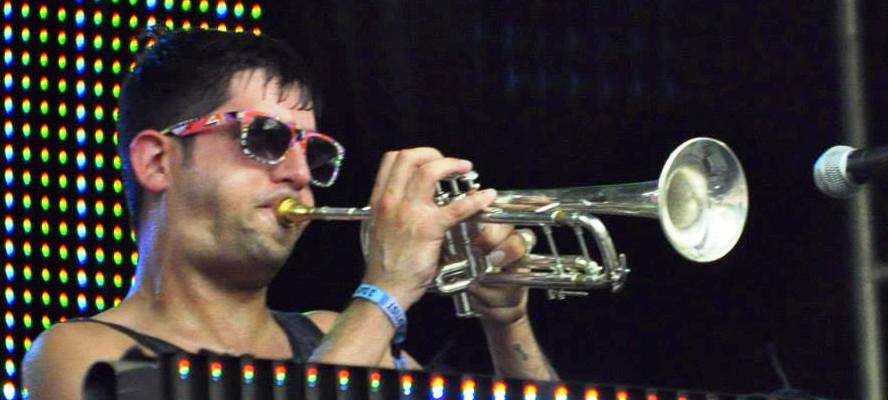 Between Russ Liquid's heart pounding, his spirit fingers, his trumpet playing, his flute playing, his fly dance moves and jumping up on top of his table to scream I love you with a heart over his head, this guy was a spinning enigma. I realized late in the set his fingers are the same whether he is dancing or playing the trumpet. The live mixing of the flute and trumpet he was playing blended flawlessly into his choice of tracks with contiguous horns coming from the mixer. He was fluid in his mixing, mastering, playing and dancing. His gamer digital set of scales enlightened me to what EDM is all about.
The catchy Ultra Duster by Russ Liquid began to play nearing the end of his set. He hopped up on top of the table "Make some mutha fuggin noise!" In the middle of the crowd is where they were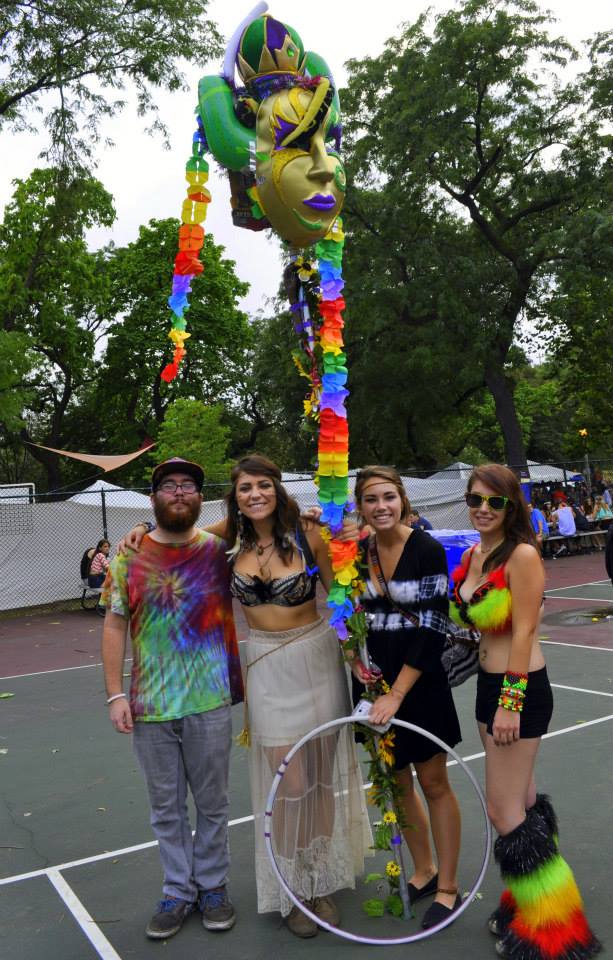 getting sweaty. His signature west side sideways jump to the beat got them jumping higher. The tempo increased and he introduced himself again. During the last 10 minutes of Russ Liquid's set he announced "Only 3 letters could make this day better… they go… L… S… aw c'mon now you know the rest!" His LCD screen was filled with color and patterns that mimicked the colorful clothing of the crowd. It reminded me of a punk show where folks stand on the side taking it all in – mosh pit in the middle for when you're feeling it. The triumphant trombones cut thru and brought forth the march of the masses as the set closed. "Holy shit there's a lot of you!" He recognized that the crowd had grew past the sound booth and they gave their attention right back to him. The jumbotron zeroed in on a girl on top of a dude's shoulders. Defiance! Freedom! Finally the maroon crew let off for a minute. Maybe it was the mud she was wearing as body paint that made her special, or maybe it was the bra & jogging spandex she was wearing. She was gorgeous and the time was right. Nine minutes later he went back into Ultra Duster. He is evidently trying to get the crowd to catch on too. It sounded like scissors cutting into Beethoven. Bang Bang! "This is the biggest crowd I've ever played!" Well done sir. You have chosen NCMF and opted away from Burning Man. We were sure glad he did. His spirit fingers spread across the crowd. He closed the set by jumping off stage right into the crowd and disappeared as Whiskey River by Willie Nelson was playing in its original unedited version…Come at me RainBro! I wish the prime dance spots weren't taken up by those kids texting in the front row. Did they notice Russ Liquid grooving alongside them? Get in the game people!
Throughout the history of NCMF, there has been cutting edge music in their lineup. The stages were set up by intelligent design. I could hear everything and nothing as I biked through the festival grounds. There was hard working cleanup crews smiling and searching for trash. The characters were just as amusing as the music. I love the smiles that come just after the chin tilt and the camera phones come out. They can say they saw these acts before they were main stream enormously popular. I hope the souvenirs between the ears stay as long as their camera phone's memory cards do, even longer.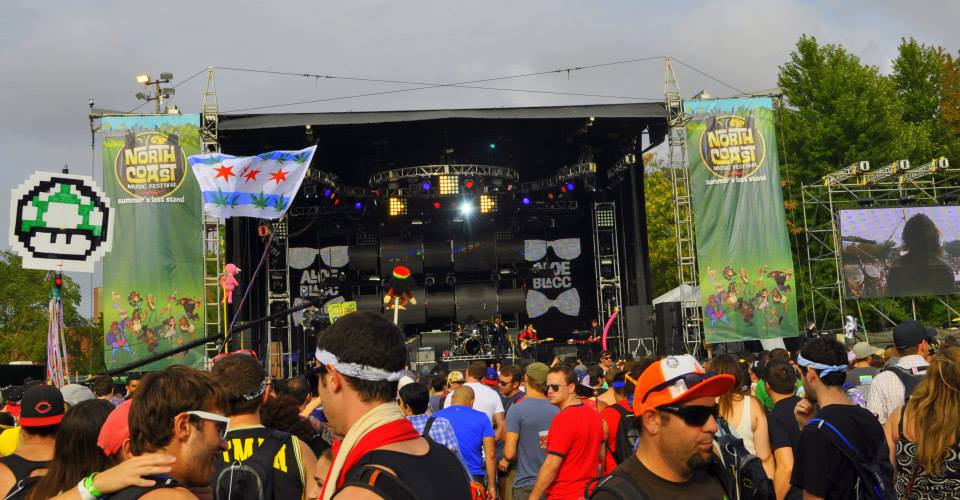 NCMF is fresher and younger than Lollapalooza. I felt young and invincible again – not invincible to the point that I'm naked and hitting fancy cars with my bum until the CPD tazes me into submission, but invincible like I'm sexy and the world is my oyster. How could it not be? I was a sexy beast dancing my brains out with a gentle wind that caressed me as if to say, "Keep dancing." Constant humidity with light breezes were almost inspiring the music. The wind and I were making out and NCMF was the soundtrack.
Check out more photos from North Coast Music Festival.