Carrying the torch of the great funk bands such as Tower of Power, Sly and the Family Stone, and James Brown into the 21st century, comes Deep Banana Blackout. With full horn section, and soulful groove imbedded in the roots of funk, Deep Banana is the leader of today's emerging funk rock scene. The band's sound captures commercial accessibility augmented with tight musical arrangements and limited improvisation. But make no mistake- THIS BAND ROCKS! Their incessant touring and high-energy performances demonstrate the deep love, respect, and enthusiasm the members have for what they do.
Percy Hill went from New England's best kept secret to legendary Jamband following the recording of their 1999 album Color in Bloom. The critically acclaimed release won a Jammy award for best studio album and earned the band high praise from publications like the Village Voice and Entertainment Weekly. Now, a little more than 10 years after Percy Hill's last live performance, the band comprised of Joe Farrell, Aaron Katz, John Leccese and Nate Wilson will reunite to celebrate the 17th anniversary of their critically acclaimed album.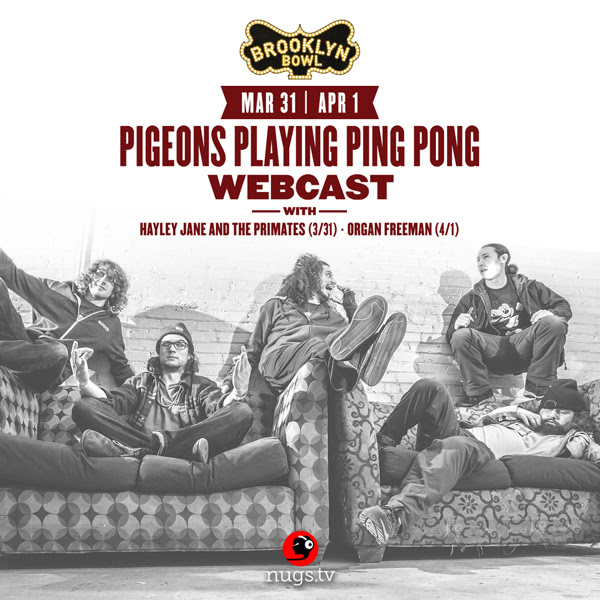 Pigeons Playing Ping Pong brings end-of-the-world enthusiasm to their high-energy psychedelic funk. Their infectious electro-funk grooves, undeniable live energy and contagious smiles have their rabid fanbase "the Flock" growing exponentially. Based out of Baltimore, MD, this animated quartet has been scorching up the country with their explosive performances and danceable peaks... and they're loving every minute of it.
Hayley Jane and the Primates deliver a genre-bending sound that is hard to define and a live performance that has started to create a serious buzz in the Northeast. The Primates' music draws inspiration from a variety of styles, including 60s/70s rock and pop, old musical theater, folk, blues, soul, reggae, psychedelic, funk, bluegrass, and country. Their catchy songs have been praised by a wide range of music lovers for successfully combining a diverse sound with clever, over-the-top lyrics and Vaudevillian style storytelling. However you decide to categorize the Primates musically, their on-stage energy, skilled musicianship, theatrics, and group improvisation take you over a landscape of emotion that will leave you wanting more.
Like many bands comprised of tight-laced musicianship, Organ Freeman emerged from the Hollywood music scene wasting no time. Steer explains that the group "initially formed the group as more of an opportunity to experiment than a serious project while we were all students, and continued on as a creative outlet while we all played out as freelance musicians. It wasn't until years later when we were presented with the chance to do a record that the band sort of morphed into what it is today."
ORDER NOW AND WATCH LIVE OR LATER ON DEMAND
Watch from any computer, mobile device or on AppleTV in the nugs.tv app.