Outside Lands once again closed out the summer for the Bay Area, showcasing possibly its most eclectic lineup to date. The 15th year of the festival more than lived up to the hype, as it consistently does. By the numbers, for one weekend, about one-tenth of the population of the city concentrates in Golden Gate Park to share in this experience with about 80,000 fans in attendance out of the 800,000 residents of the city. With so many expectations built up, day one proved to deliver on all it had promised.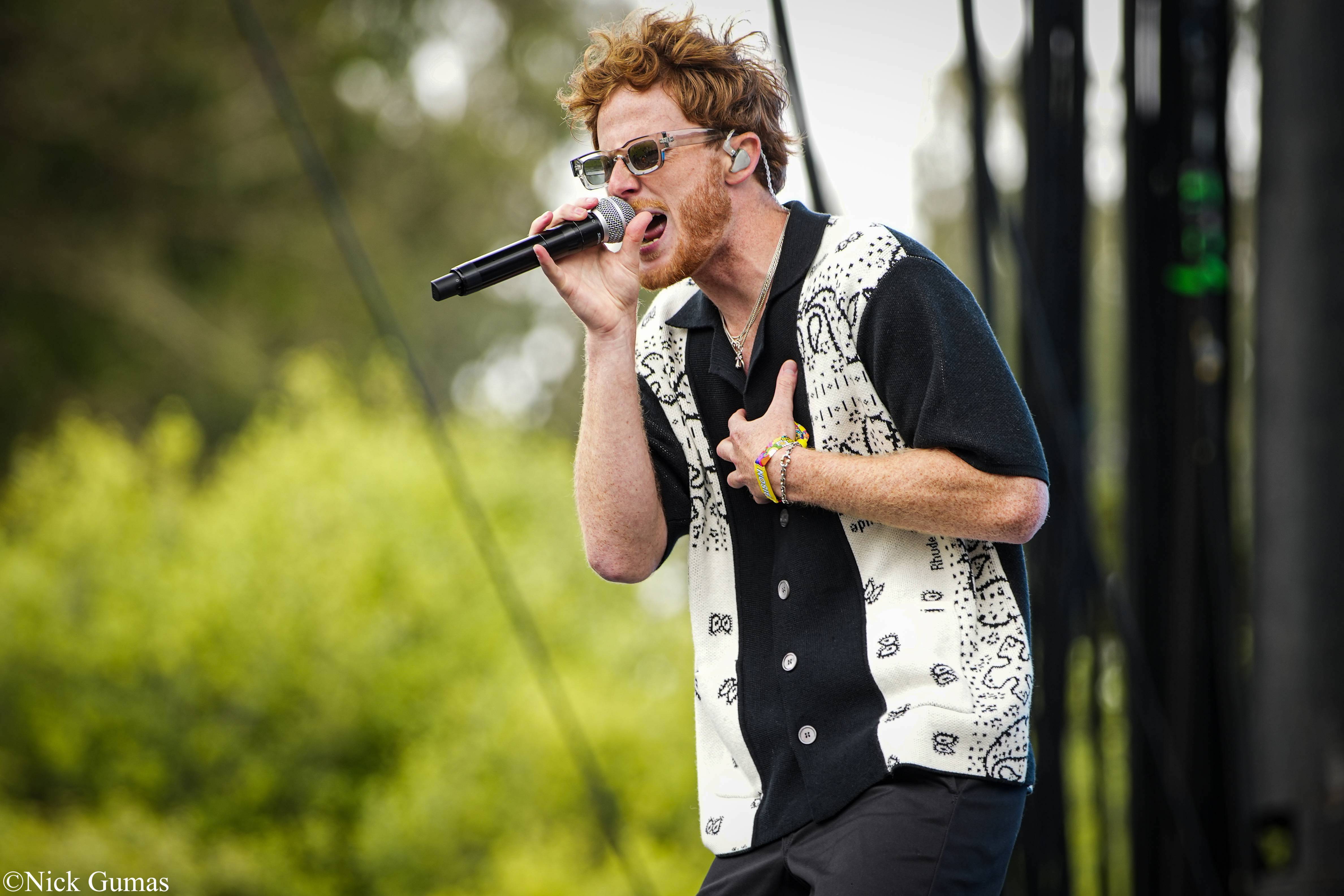 The early acts of the day set the tone for the strong lineup of the weekend. Bay Area native Matt Hansen began the day on the Twin Peaks stage. The young artist gave hope to the San Francisco music community that we might have produced a superstar that was born in this millennium. His local presence was well felt, as friends from his high school days came in mass, posting up by the front of the stage and cheering him on loudly throughout his show. Hansen's hearty and resonant voice was reminiscent of a young Dermot Kennedy or Lewis Capaldi and seemed to echo throughout the heart of the city. He pointed out that he was closer to the beginning of his musical career, stating "This is my first festival ever, by the way," early on in his performance. He showcased many of his own original hits during his time including "Break My Bones" and "Chemicals" and threw in some music that had inspired him by covering "Iris" by "The Goo Goo Dolls." Hansen took a moment to show his appreciation for the festival by speaking about his tenure as one of its fans, stating "I was literally standing right there last year" while pointing at the field. He left the crowd energized, sending them off by ending his show with his soft hit "LET EM GO."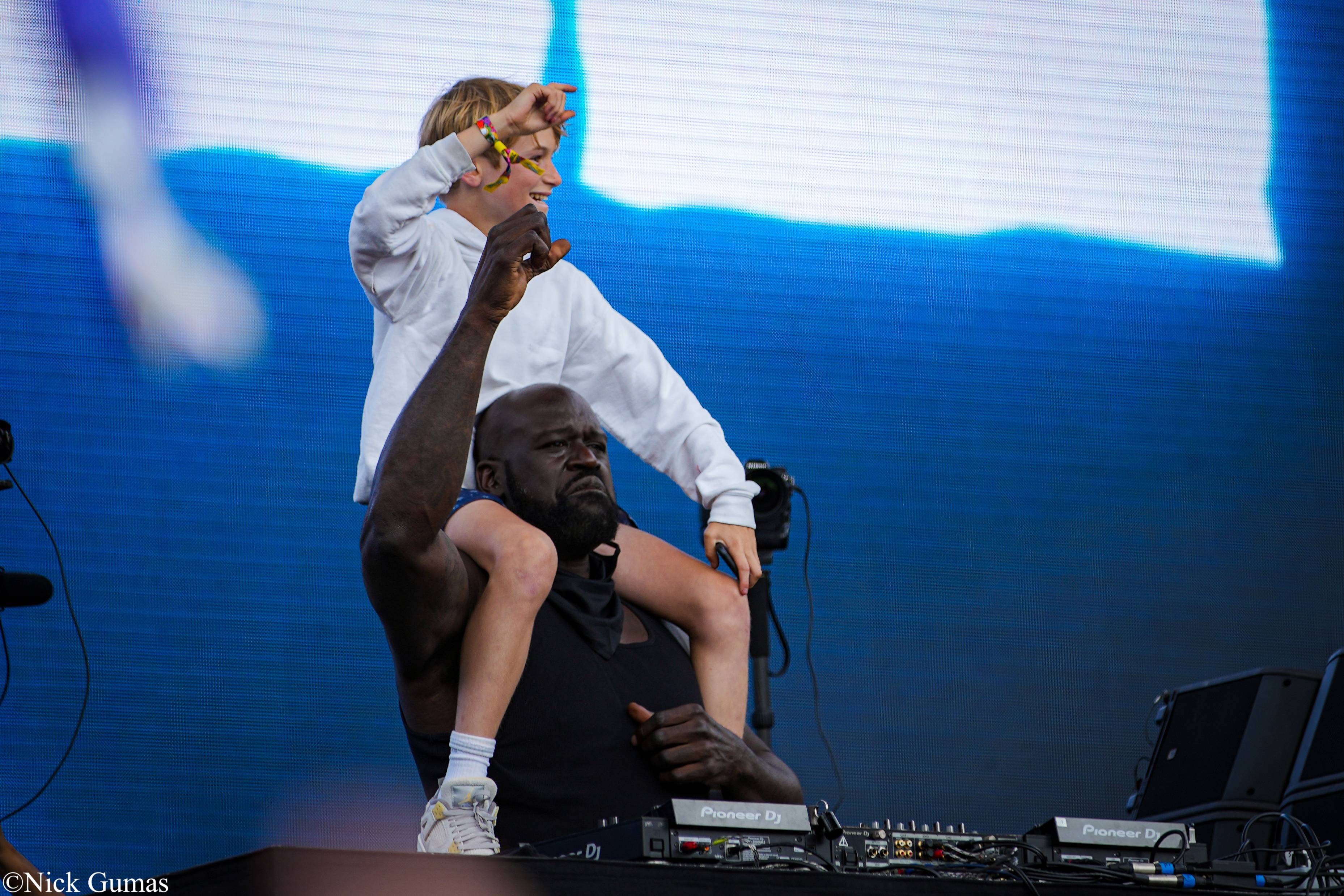 Outside Lands featured more than just ballads and acoustic guitars, and one artist proved to be larger than life both literally and metaphorically. Later in the day, Basketball icon Shaquille O'Neal performed a rapturous electronic set under the name DJ DIESEL and took the stage to appease the headbangers. While Shaq has already amassed four championship rings, a league MVP, and 15 invitations to the NBA All-Star roster, there was one mountain he had not yet climbed, performing a DJ set at Golden Gate Park. A few minutes past his scheduled start time, Shaq walked onstage. He excused his postponed start time by joking "Sorry I was late, I was chilling with Steph Curry and Draymond Green in the back." Judging by the amount of Warriors jerseys worn by fans in attendance, this felt like an appropriate response. Shaq's presence was felt more than even his seven-foot stature could have prepared everyone for. With the bass turned up high, he continually screamed "ladies!" into a microphone, almost becoming meme-able to the crowds as fans continued to imitate this catchphrase to each other throughout the weekend. Throughout the set, dramatic and animated gorillas were displayed on the screen at the back of the stage, no doubt to promote the artist's upcoming album "Gorilla Warfare." He once again delighted the Golden State fans in attendance by bringing Warriors player Gary Payton II out onstage with him to help close out his set.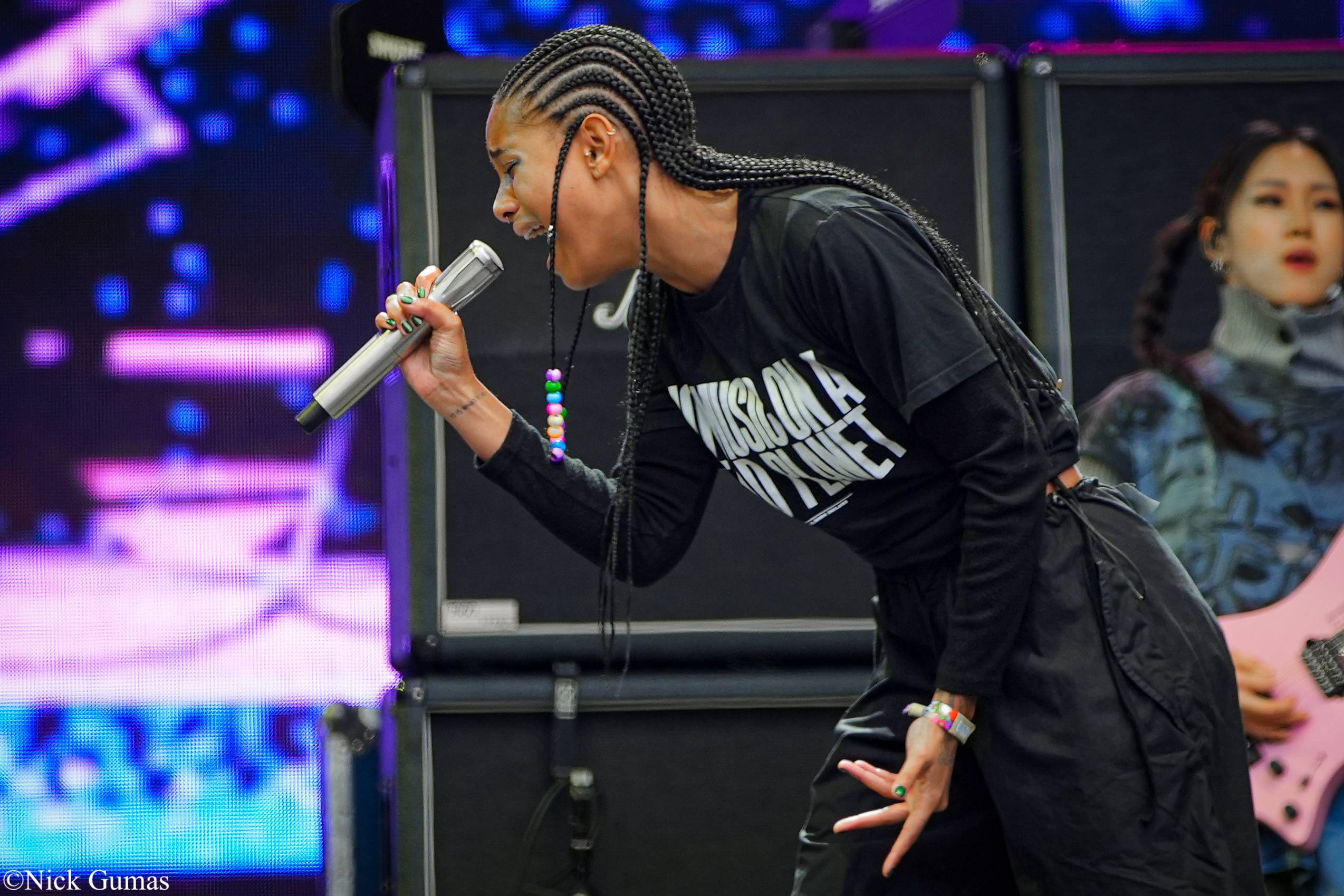 Rounding out the diverse lineup, young rock artist WILLOW took the stage for an energetic set. She made it clear that she has long moved on from the days of playing "Whip My Hair" as she ran onstage and began the set with her Travis Barker-produced single "t r a n s p a r e n t s o u l." Promoting the causes close to her heart, she wore a shirt supporting the coalition "No Music on a Dead Planet." She told the crowd that while this was her first time performing at Outside Lands, it was not her first time attending the festival stating "Fun fact. The last time I was at Outside Lands I saw LCD Soundsystem." The show continued on in an energetic fashion consisting of hits including "No Control," "BATSHIT!," and "Wait a Minute!" The only technical issues of her set came while playing "Meet Me At Our Spot." After beginning the song, she stopped the performance a few bars in, realizing she was strumming the wrong cord. She eventually asked "Can we just skip to the good part? I'm fucking this up" as she opted to put down her bass and skip ahead in the song. After the song concluded, she unashamedly said "Full disclosure, Outside Lands, I completely fucked that up. But that's what makes life fun."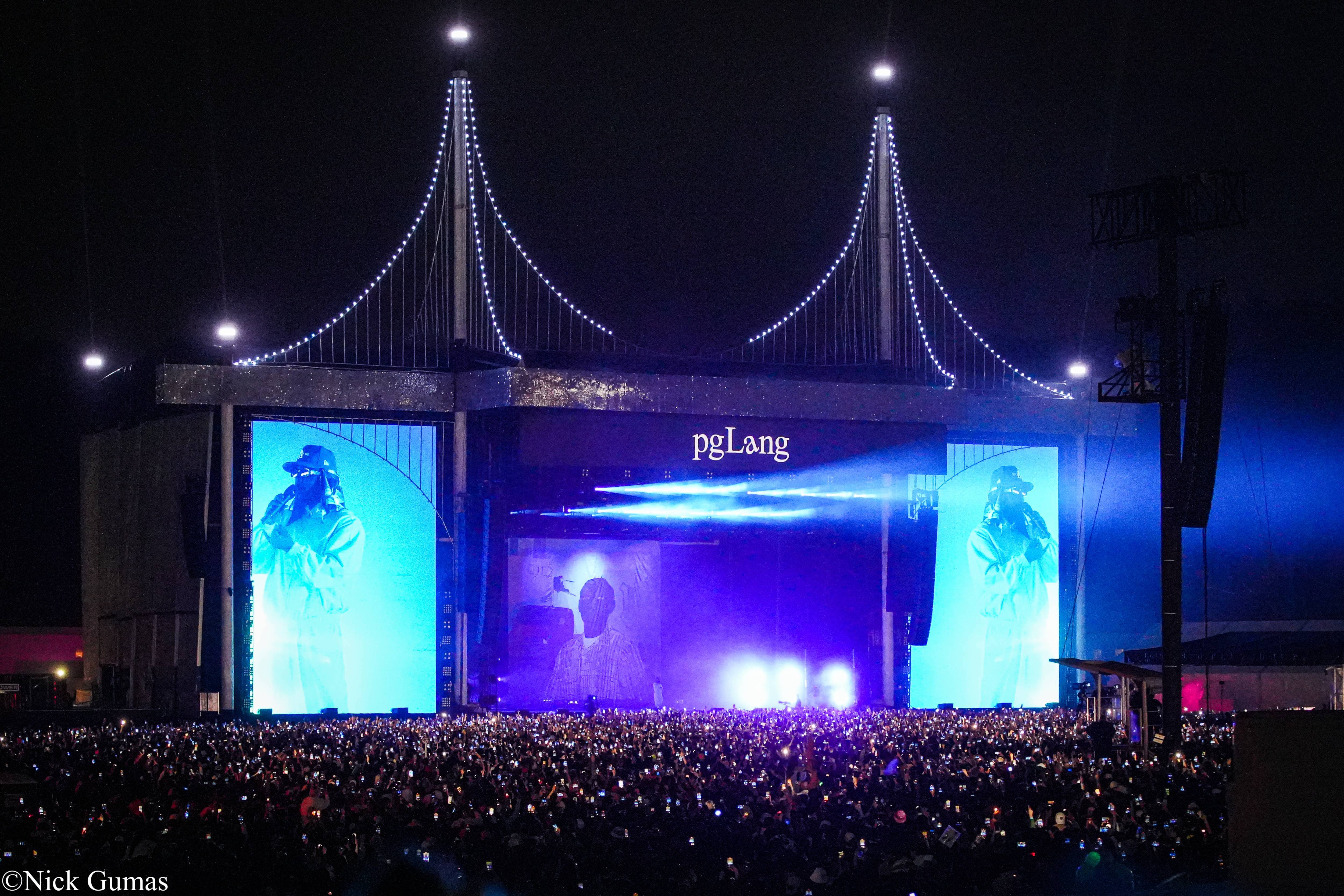 As the sun went down, the crowd prepared for the last artist of the day. Headlining for the day, hip-hop legend Kendrick Lamar drew a tremendous crowd as fans gathered to see the artist after his four-year hiatus. With the confidence befitting a man who would dare perform on a San Francisco stage wearing a Dodgers hat, he came out to start his performance with his recent single, "N95." The Nobel Laureate's dialogue with the audience was sparse, choosing to communicate through his lyrics rather than direct acknowledgment. Lyrically motivated masterpieces like "King Kunta," DNA.," and "HUMBLE." spoke for themselves, proving to be more powerful when heard live than through a pair of headphones. The set itself felt minimalist for a headliner of this stature. The aesthetics were limited mainly to a single backdrop, an LED display promoting his production company "pgLAng," and accompaniment from a troupe of interpretive dancers. There was little to distract the audience from Lamar's music. After ending his set with "Savior," Lamar autographed an album held by a fan in the front row and left the audience with some final words, stating simply "San Fran, until next time, I love y'all, I will be back." While Lamar might take months or years to return to a Bay Area stage, the fans of Outside Lands would in fact be back the next morning for another incredible day of art and music.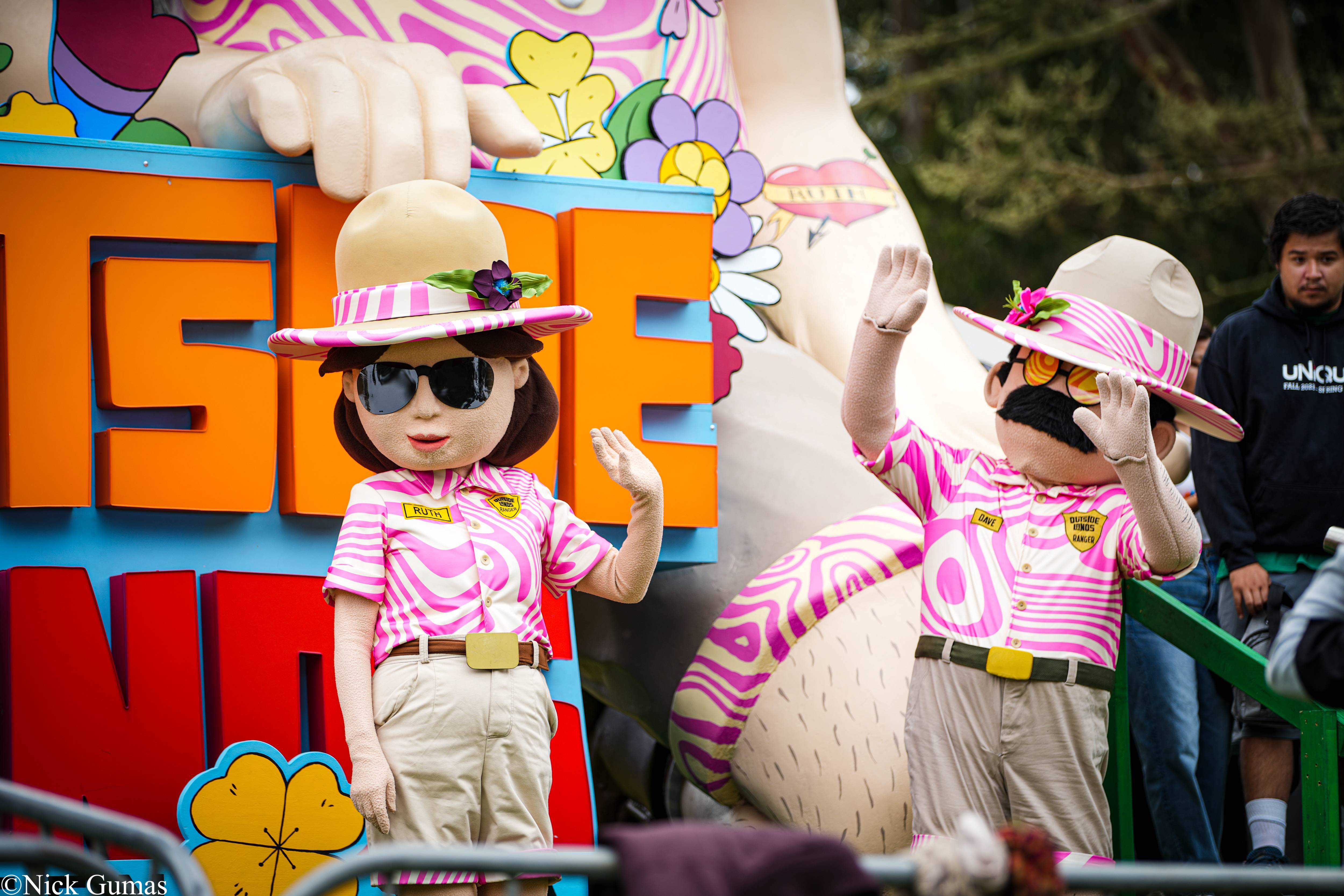 Check out more photos of Outside Lands 2023.