After a heavy-hitting first day of Outside Lands Festival day two proved just as enthralling in a different way. Where the acts of day one were largely upbeat, those performing the festival's second day proved more lowkey and indie but still fantastic in their own way.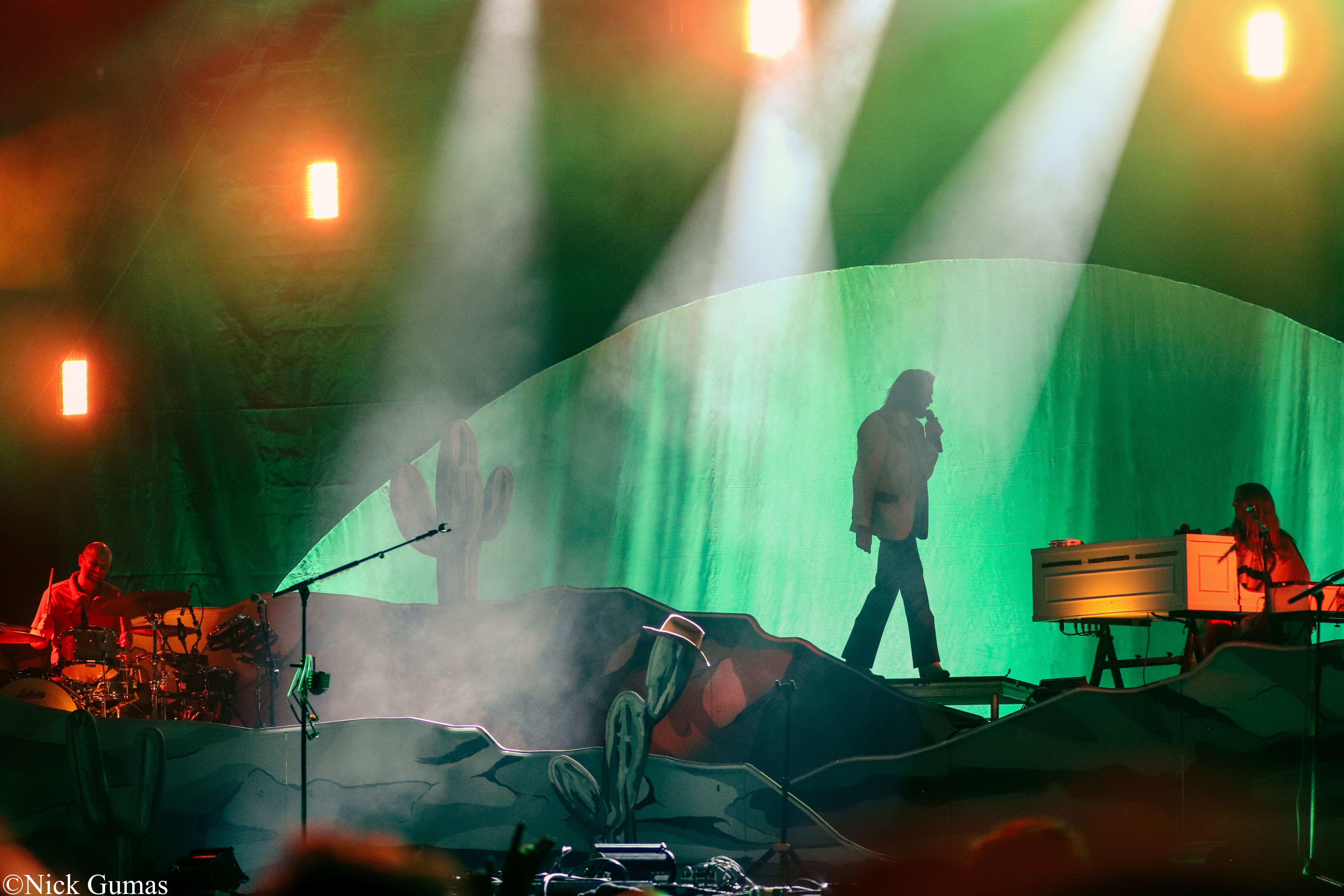 Up and coming East Coast rock band A R I Z O N A woke the crowd up in the early festival hours of 2:25 pm. Getting into the spirit of the Halloween weekend, the band came appropriately dressed in costume, wearing full body felt cutouts of cans of Arizona iced tea, wearing them with pride as they began their set with "Nostalgic." "We are Arizona. The band, not the state" Frontman Zach Hannah joked with the crowd. The group's whole set was high energy rock with an old school vibe, almost reminiscent of watching Toto in their prime. "We never play this song anymore" Hannah announced before the band dusted off one of their older classics and played "Where I Wanna Be" performing it as well as if they performed it every time they took the stage. The set ended on a high note as the group closed with a flawless cover of their hit "Freaking Out."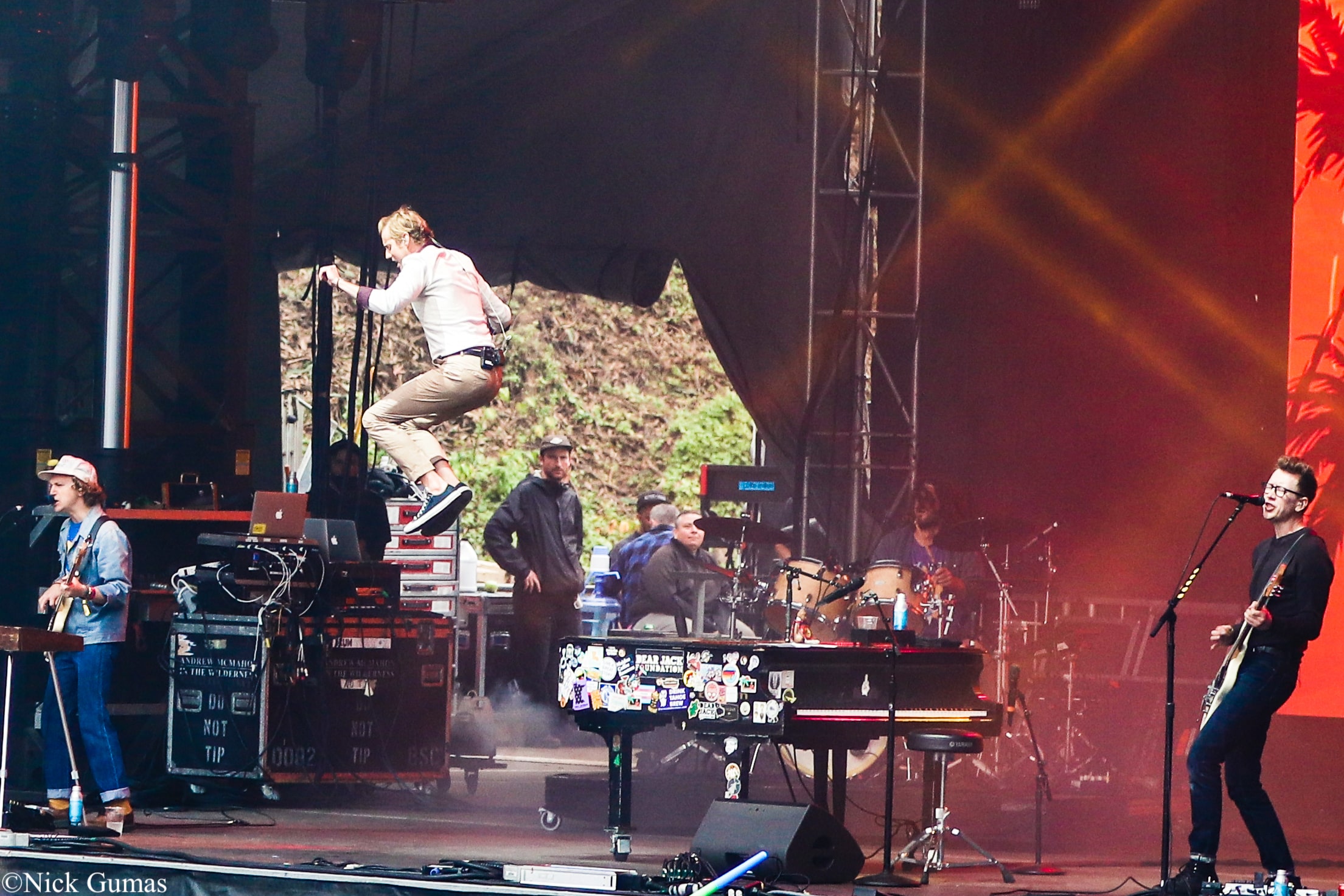 In one of the most heartfelt performances of the whole weekend, pop punk icon and five time veteran of the Vans Warped Tour Andrew McMahon took to the stage with his current project Andrew McMahon in the Wilderness. A piano as his main instrument, McMahon's unique style transcended genres decades on the Sutro stage. Opening with "Fire Escape" it became clear that this whole set would become somewhat of a singalong with a cohort of devoted fans. As passionate a player pushing 40 as he was as a teen, McMahon jumped into the audience during "Island Radio" and performed most of the song in the trenches with his fans. Not limiting himself to the catalogue of this project, he dove into his repertoire from his earlier group "Jack's Mannequin" and elated the house with a cover of one of the defining songs of his career "Dark Blue." McMahon took a moment to plug a charity close to his heart and spoke about his personal connection with Punk Rock Saves Lives, a charity that provides relief to those with cancer. "If it were not for P.R.S.L. I would not be a father" he remarked before bringing on one of the most incredible surprise guests in Outside Lands history, his daughter Cecelia, to sing with him as they performed "Cecelia And The Satellite," her arm around her father all the while.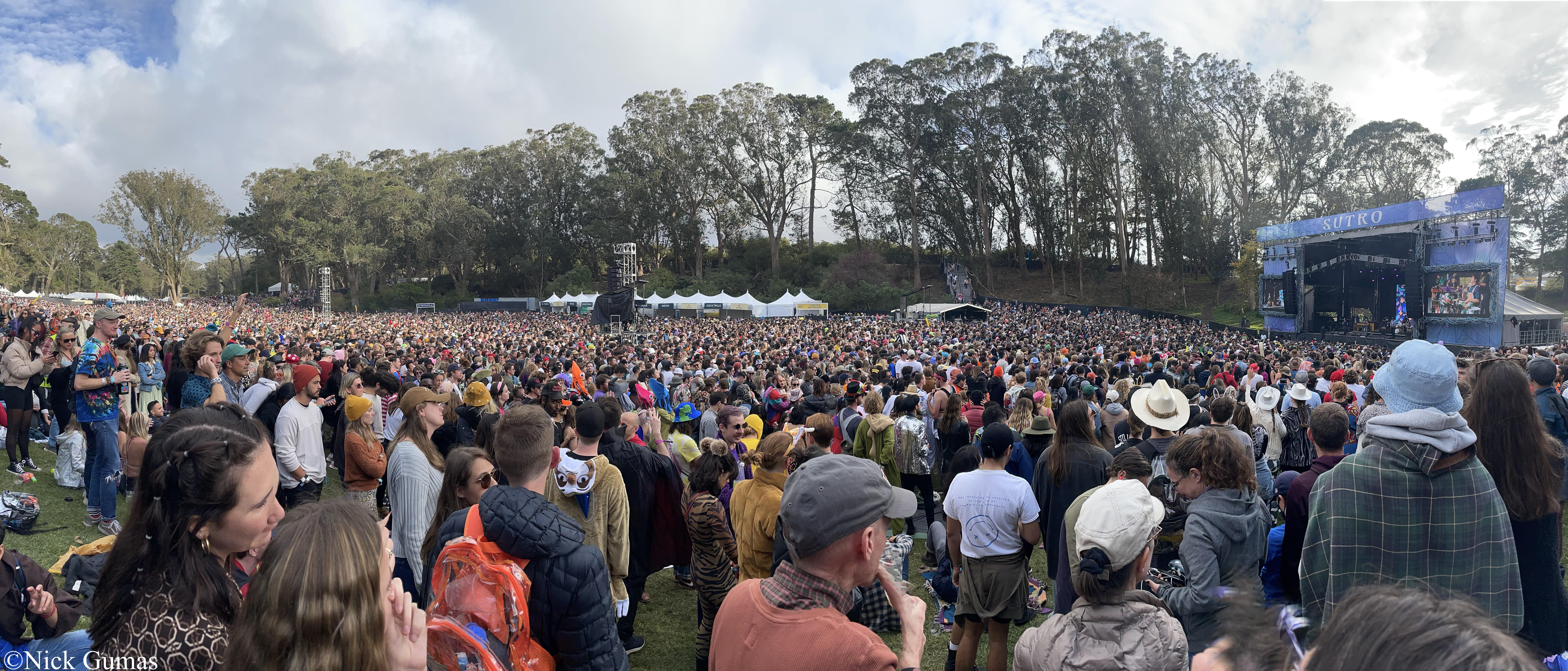 With McMahon himself drawing an impressive audience, there was hardly any room left for the thousands more that came to see indie band Dr. Dog. It could not be overstated how packed the Sutro stage was for this performance as what was usually an intimate stage felt like watching a headliner after sundown. Despite this, not a soul seemed to have crowd anxiety in this moment as a tranquil mood befell the audience. Dr. Dog sauntered onstage to rapturous applause and picked their instruments up to start their set with "Ain't It Strange." The crowd sang along when the band eventually played "Where'd All the Time Go?" before taking the tempo up a notch for "Nelly." The band ended on an upbeat note with a very boot stompin' style of play as they sent the crowd off with the piece "Lonesome."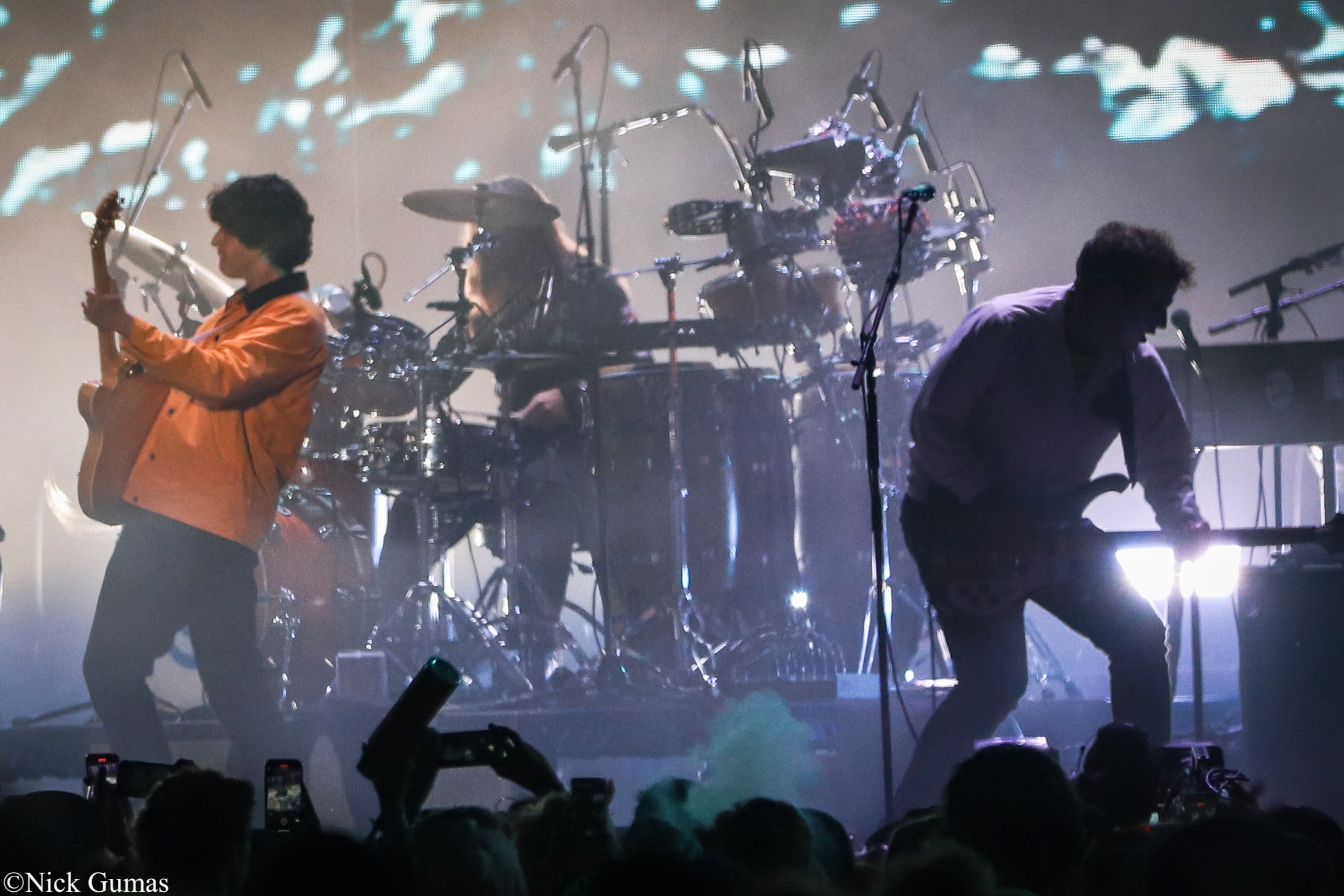 One of the unexpected consequences of holding a festival in October that is typically hosted in the Summer is that it gets dark much earlier. Vampire Weekend's set almost felt like a second headliner as the band played what would prove to be monumental in many ways. Opening with "Bambina" the song quickly set the mood for their set. The men came out mostly undressed for the Halloween weekend with the exception of keyboardist Rostam Batmanglij, who chose to perform dressed as a vintage Domino's delivery boy. Frontman Ezra Koenig took a moment to address the importance of this performance to the band. "This is our first show in 18 months" Koenig stated, prompting the audience to cheer loudly before playing "Cape Cod Kwassa Kwassa." The audience was invested in every moment of the show in one way or another whether it was clapping along during "That's Life" or a handful of beautiful soldiers of literature voicing their disapproval at the message of "Oxford Comma." In many ways the performance felt like watching a jam band as the musicians extemporized and got into an instrumental rhythm seemingly without any agenda. Koenig chose to embellish his earlier remarks on the infrequency in which the band had been performing live, claiming "Not only is this our first show in 18 months due to the Covid-19 pandemic, but this is our only show of 2021." Even those who weren't necessarily the biggest fans of their music couldn't help but feel a little humbled at this point. The band ended their set about 15 minutes early but not without leaving on a high note. Koenig noted "This is a goodbye song about being kicked out" before ending with "Walcott."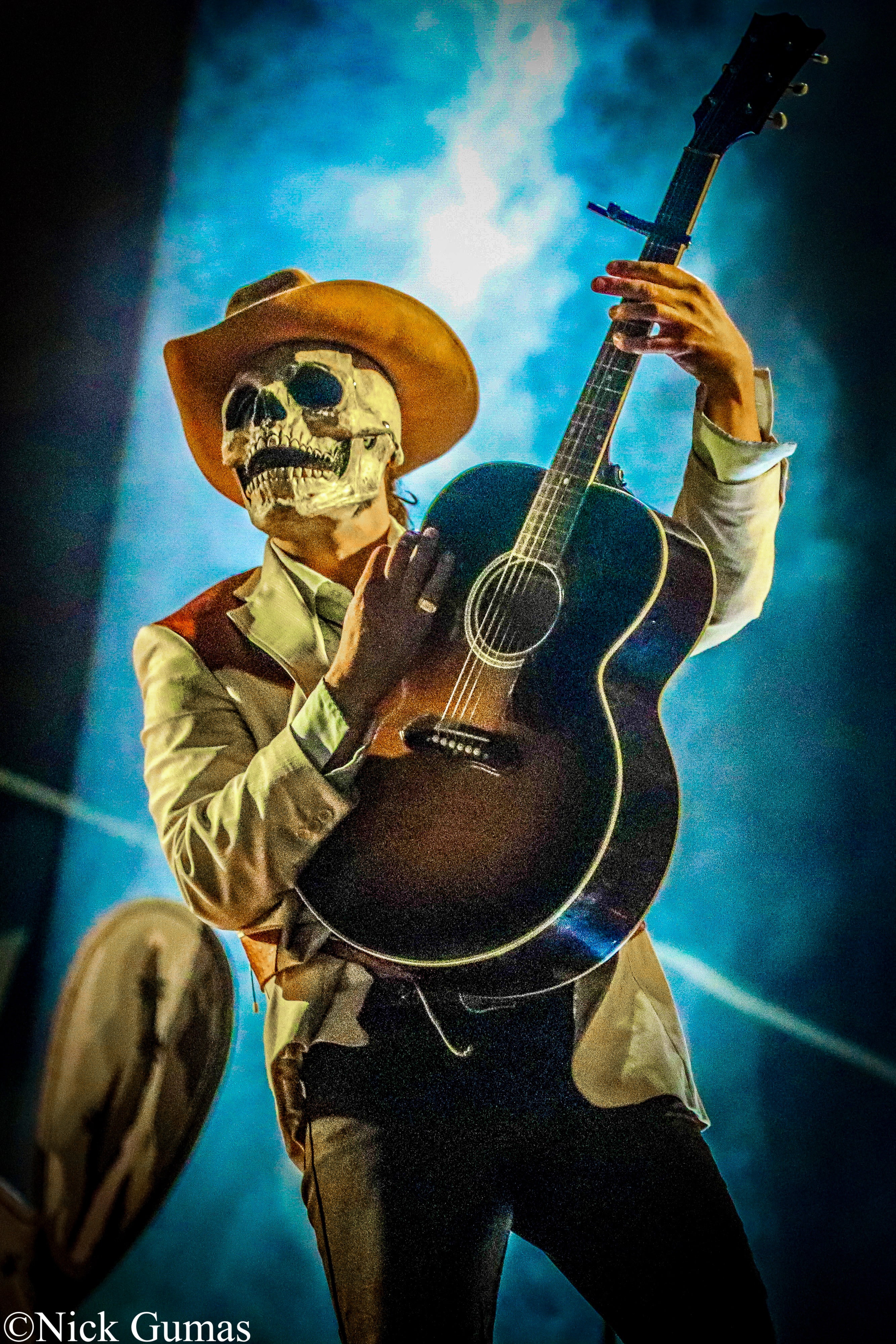 Closing out the day on the Sutro stage, indie Michigan band Lord Huron performed an incredible set to a modest and dedicated crowd. Lead singer Ben Schneider understood the dress code for the weekend as he came out wearing a skull mask and a cowboy hat to perform their opening piece "Not Dead Yet." The entire performance the band switched from upbeat and rousing to calm and relaxing, highlighting the emotional range that the artists could invoke seamlessly. "You guys have been so good to us, I hope we've been good to you. This one's for making out." before playing the song that started their rise to their level of fame "The Night We Met." The band closed with "Meet Me in the Woods" synchronizing their finale with the end of nearby performer Lizzo's set. The fireworks from her stage directly behind Lord Huron's launched into the sky from a distance, adding a dramatic flair to the band's exit. The calm vibes on a Saturday were much needed for those who were just jumping back into the exhilarating but draining world of music festivals, leaving everyone with plenty of energy for one more day of Outside Lands yet to come.
Check out more photos of Outside Lands 2021