You know how our dads will turn us green with envy while casually mentioning seeing The Wailers or Led Zeppelin live?  Nope?  That's just mine?  Well the disappointment and jealous expressions on my future children's faces was what was playing and re-playing through my mind on Sunday night as Pearl Jam took the stage.
I sipped my red wine (because after dark I become classy and beer just doesn't do the trick) and watched the crowd trickle in and settle in, nervously, anxiously, chatting about what songs Pearl Jam would play.
It was 8:00 p.m., and the last shadows of light had fallen out of view.  The stars were visible, it was a cool, clear night, or maybe it just felt cool because the mixture of rain and sweat was drying on my skin and making me shiver.  Nonetheless, the ingredients were perfect for a magnificient show.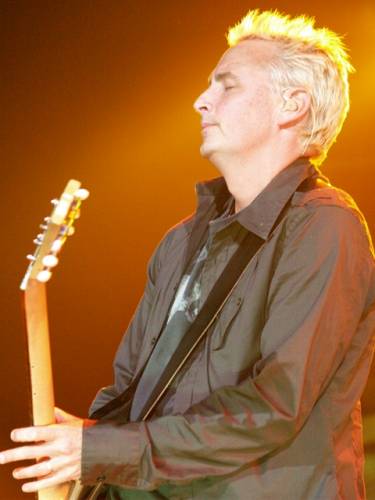 The blow-up live-stream that had flanked every stage for every show was for theirs, solely in black and white.  So when Pearl Jam walked on, it already looked epic and they hadn't even begun to play.  I was close, close enough, considering I had seen many other shows that day and hadn't been reserving my place and peeing in bottles like most fans that crowded the stage.  This was the most die-hard group I had ever associated with, and I could feel myself becoming more of a badass every second.
Eddie Vedder's instantly recognizable voice came crooning, bold and seamless, "Elderly Woman Behind The Counter in a Small Town" off Vs., easily more words than they've ever used to name a song.  After that soulful number, they launched into a Pink Floyd cover.  I mean, c'mon.  After "Intersteller Overdrive" I almost needed to sit down and take a break because I was so overwhelmed by just…listening.  Then there was "Cordorouy," "Mind your Manners," the classics just kept piling up as we watched in awe up at our black and white rock gods.  Before "Daughter," one of my favorites, Eddie introduces the drummer, and says "He's never smoked pot once in his life!"  To which Matt Cameron responds, laughing, "Once… once for 37 years."  You could barely hear the opening chords for "Daughter" over all the stoner cheers.
As an audience member, this was the most aesthetically-pleasing show I'd seen all weekend.  Cameras were insterted in or near the guitar pedals so we had this incredible fishbowl wide-angle view of the stage.  The stage and the guys were backlit and there were shadows dancing around the stage mirroring the flinging of hair or drops of sweat.  I suddenly understood why people became groupies.  This show, the way it was presented, reminded me distinctly of the old ACL live tapings that used to be done, fuzzy and raw, before HD and real-time.  My personal journey with music started to come full circle.
I slowly come out of my reverie to the sounds of "Even Flow" and the crowd throwing confetti cannons into the air.  It's 8:47 and every member of the band is completely soaked in sweat.  Mike McCready rips a nine-minute guitar solo with a solid three minutes of it behind his back.  I have to actively try not to slap myself in the face.  I have to be dreaming.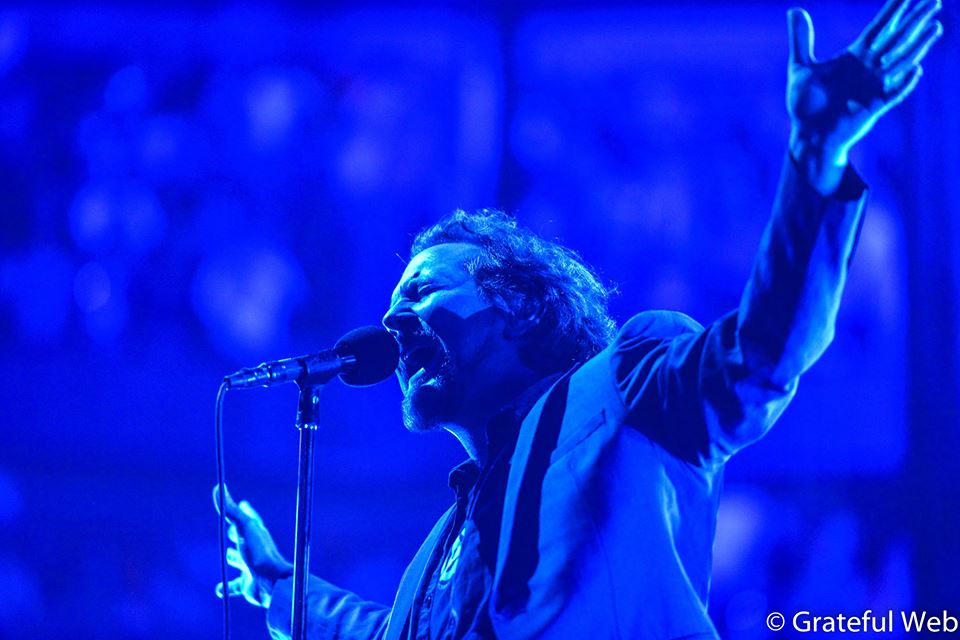 Eddie takes a break between songs to ask the audience how many of them did the ALS ice bucket challenge.  Interrupting their cheers, he asks, "Can someone nominate me?  I need an ice bucket challenge right about now."  Laughing, crying, sweating, moving, singing with eyes closed, singing with eyes open, tattooed everything, more beards than people.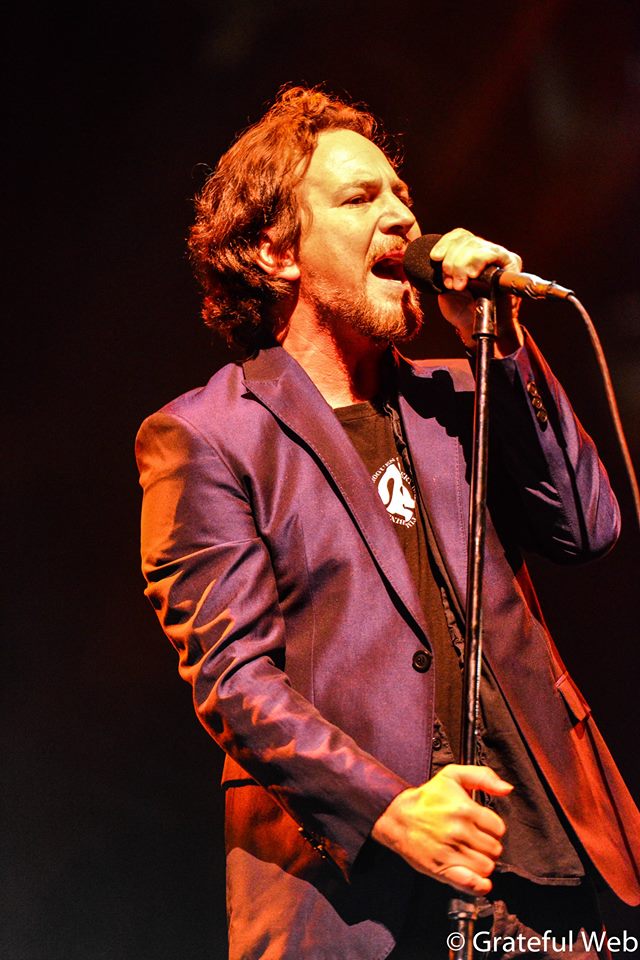 Jam wasn't the only star of the show.  Interpreters have never, in the history of the world, rocket out harder on the air guitar than they did that night.  During one of McCready's guitar solos Eddie Vedder climbs up the stage and stands behind an interpreter in sheer respect.  When the light shines on her she laughs, realizing he's behind her, and he bows to shake her hand while the crowd erupts.
They wrap their set with "Porch," but we all know they'll be back.  We cheer for a few solid minutes before they grant us our wish.  Before launching into "Better Man," Eddie gets serious and starts to tell a story to the crowd about a fan they played to in Peru had lost his hearing a couple years later and was a hardcore fan.  But he didn't let that deter him and went on to get his Bachelor's degree and then recently, had surgery to implant a hearing device.  They show him on screen, in the crowd, and his face is overwhelmed with emotion.  It cuts back to Vedder, who is equally emotional, and he says "So he got his ears back, and tonight he hears us again.  This is for you man.  So we're gonna play this one a little louder than usual."  "Better Man" resonated across the muddy, abused fields and into the heart of the city itself.
Suddenly the emotion, wine, sun, rain, music, and acute epic proportions of the night and weekend caught up with me, and I started the long Moses-like journey to my car.  "Alive" served as the soundtrack to my trek to the parking lot, and then, the most amazing timing…
As I crossed the Congress bridge, the light of the skyline reflected in the glass of the lake, Mike McCready ended the show, the festival, with an electric National Anthem, not entirely unlike Jimi Hendrix's at Woodstock.  That was the sound that stayed with me, echoing across the skyling of Austin, resonating within each of us in different ways.  Immortalized, forever, in the Austin City Limits Music Festival.