Pearl Jam announced today that Bonneville Environmental Foundation (BEF) was selected as one of nine non-profit organizations to receive a combined total of $100,000 to launch its 2006 Carbon Portfolio Strategy. The band's initiative is the latest demonstration of its commitment to solve global warming and provide information to music fans worldwide about what they can do to reduce their carbon footprint. The band also is inviting its fans to make their own contributions in support of the initiative, as a way of taking action against climate change.
BEF and the other organizations were selected according to their advancement of approaches to develop clean, renewable energy options and other climate change solutions.
"We looked for partners to put our contributions towards the greatest use in combating global climate change," said Pearl Jam's Stone Gossard. "BEF was an obvious choice when we considered the renewable energy component."
Pearl Jam has been a supporter of BEF since the 2004 Vote for Change tour, when Gossard organized some of the participating bands to fund the installation of small-scale renewable energy projects in many of the states where it toured. In addition to Pearl Jam and Gossard, participants included Bonnie Raitt, The Dave Matthews Band, and REM. BEF's role was to identify the Vote for Change beneficiary projects, and to manage the ongoing installation efforts.
"With the Vote for Change initiative, Pearl Jam helped BEF expand the scope of its renewable energy programs to reach new audiences in the Midwest, Southeast, and Eastern states," said Tom Starrs, Vice President of Marketing and Sales & Chief Operating Officer of Bonneville Environmental Foundation. "With the Carbon Portfolio Strategy, Pearl Jam is helping BEF reach an even broader audience with the message that it's easy to take action today to make our energy supply cleaner, safer, and more secure. We are very grateful for the band's continuing support."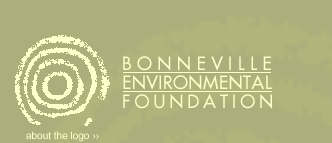 BEF will use the contributions from Pearl Jam's Carbon 2006 Portfolio Strategy to support its renewable energy initiatives, including its Green Tag programs. BEF's Green Tag programs enable individuals, businesses, and other organizations to offset their carbon footprint by supporting renewable energy projects that deliver solar and wind power into the nation's power grid.
The organizations designated as beneficiaries of Pearl Jam's Carbon Portfolio Strategy include: the American Solar Energy Society, Bonneville Environmental Foundation, Cascade Land Conservancy, Conservation International, EarthCorps, Green Empowerment, Honor the Earth, IslandWood, and Washington Clean Energy Initiative. To learn more about Pearl Jam's Carbon Portfolio Strategy visit: www.pearljam.com/activism/ .
About the Bonneville Environmental Foundation:
The Bonneville Environmental Foundation, a non-profit 501(c)(3) organization, was established in 1998 and was a pioneer in developing the market for renewable energy certificates, which it calls Green Tags. BEF reinvests all the net revenues from Green Tags sales in support of its mission, which funds solar power systems for schools and businesses, wind power systems for farms and ranches, and restoration efforts for salmon-bearing streams. Visit http://www.GreenTagsUSA.org to learn what individuals, utilities, and businesses are doing to increase the use of wind and solar power in our nation's electricity grids. www.b-e-f.org or www.greentagsusa.org.