Peter Gabriel raised his hands over the keys of his electric piano and plonked them down, obviously missing the mark. The mistake was, umm, unmistakable.
"That's what is technically known in the business as a 'f***-up'," the enigmatic art-rock singer wisecracked, after fumbling the beginning of the darkly brilliant song, "Family Snapshot", at a North American gig in late 1982.
"Here we go," he said confidently, and with a mischievous glimmer in his voice. Then he launched into the piano chord again under his ominous opening words, "The streets are lined with camera crews. . . ."
This time, the riveting, multi-part song about a political assassin was flawless, from its shadowy beginning, through its galloping mid-section and down to its bittersweet, solo piano finish. More heart-rending, in fact, than the studio original that he had released on his third album, in 1980.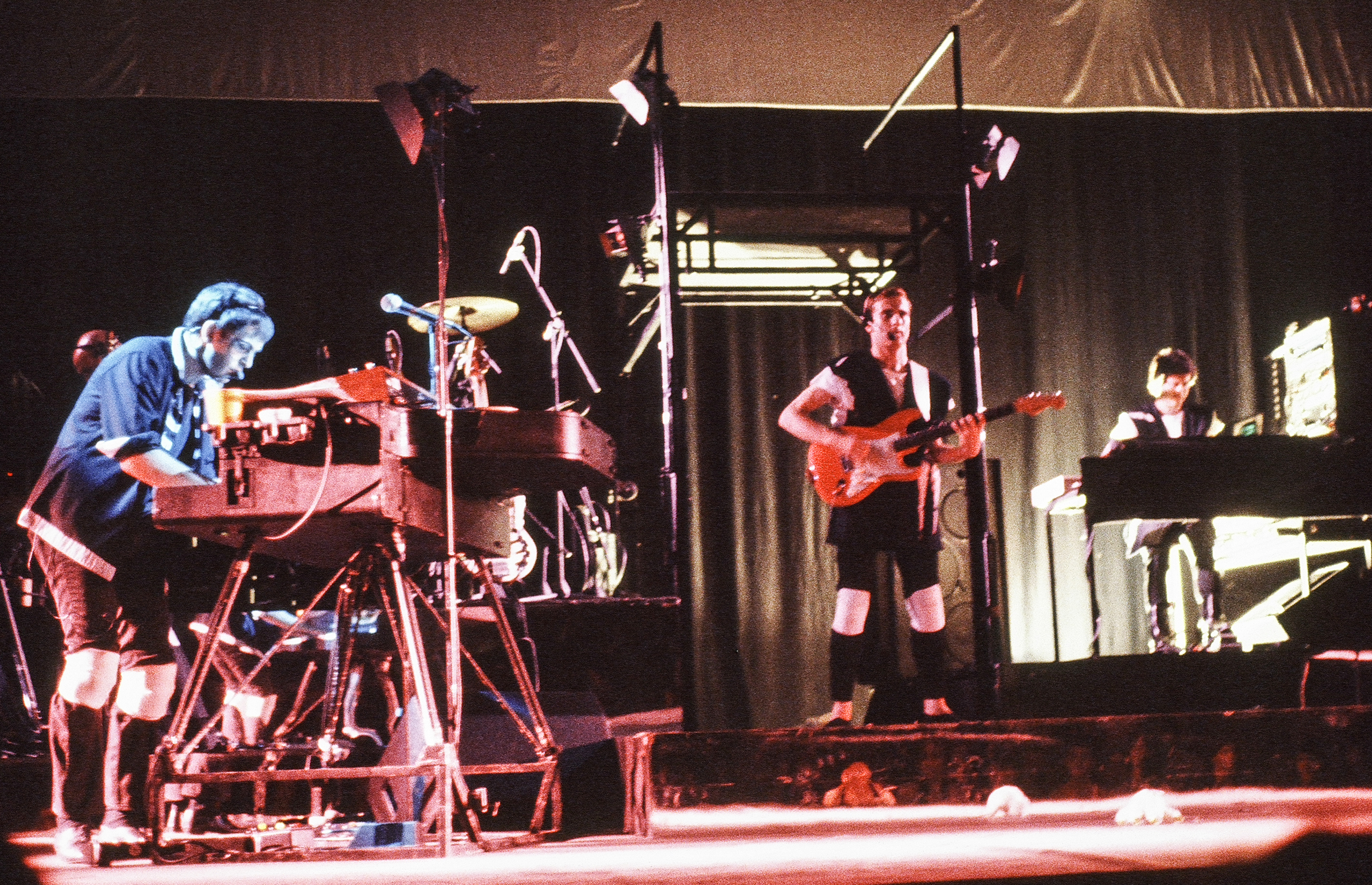 This performance was in November 1982, at the former Hara Arena, in Dayton, Ohio. A now-long-gone, multi-purpose facility, that 5,000-plus-seat arena was – at that time in the singer's career – near the upper range of his potential ticket sales. If memory serves correctly, however, it may have even been a near – if not quite complete – sellout, which was then an encouraging sign for him.
In September of that year, Gabriel had just released his fourth studio recording – named Security – which offered the still-under-the-radar art-rocker the promise of true breakthrough success with the techno-jungle-funk of the radio single "Shock the Monkey". He and his four bandmates – drummer Jerry Marotta, guitarist David Rhodes, bass & Chapman Stick man Tony Levin and synthesist Larry Fast – played that song that night, to great response. And by the time "Monkey" had come up in the show – five songs into a 15-song set – Gabriel already had the amped-up crowd practically eating out of his hand. The main course and dessert would come later in the show.
40 Years Older and What Do We Get?
Forty years have passed since that tour. Hara Arena – demolished over several months at the end of 2020 – no longer stands, and the relatively reclusive superstar no longer plays to audiences in smaller college campus theatres or such down-market hockey arenas. But, fortunately for his now-multi-generational, international fan base, the electrifying music of that heady, New-Wave-meets-prog era was officially preserved. Truly, there was magic in the air on that Fall 1982 tour, a feeling that Gabriel's then-soon-to-be-recorded Plays Live album captured superbly. Talk about a concert souvenir!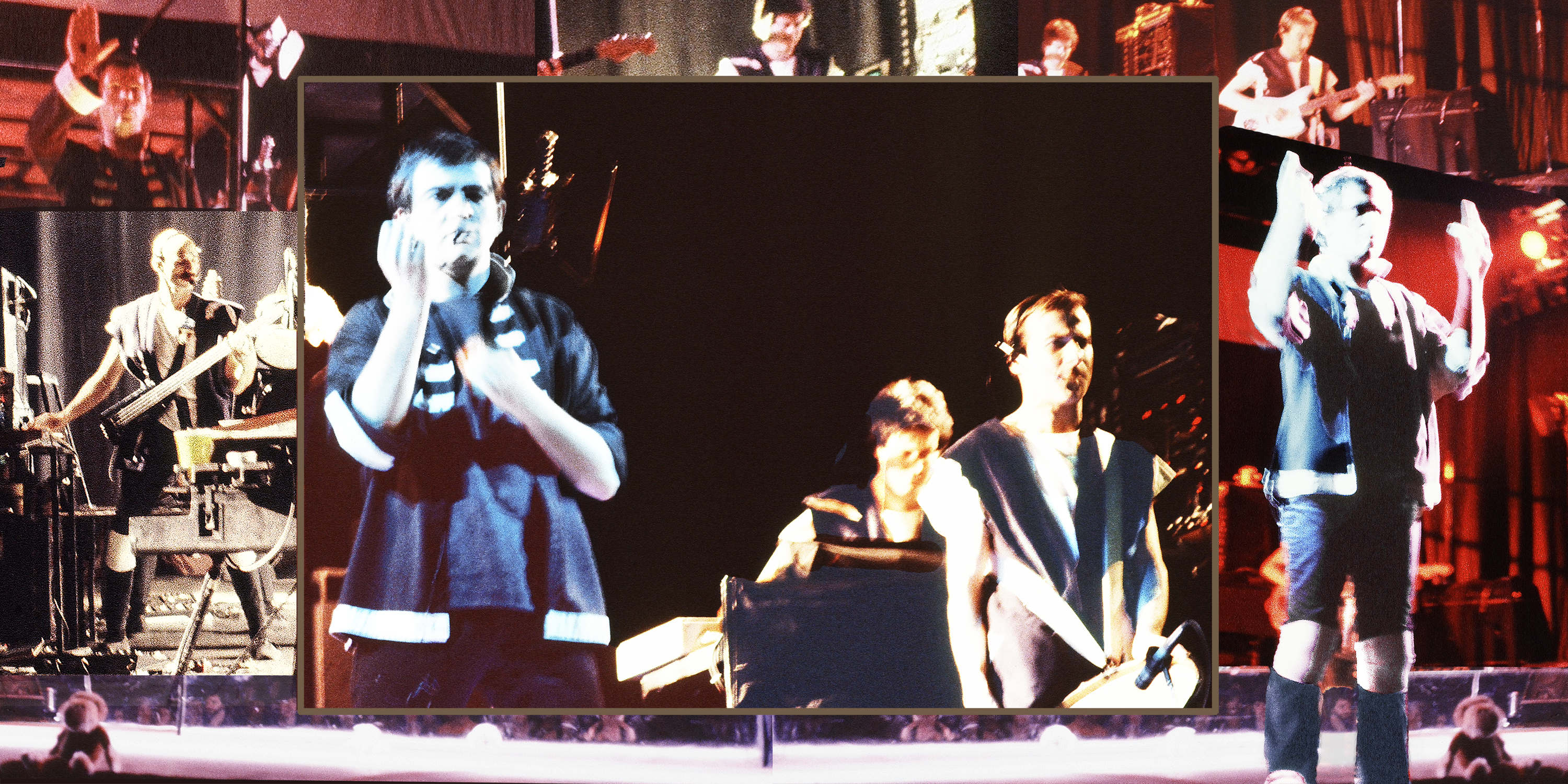 The tracks for the original double vinyl LP had been recorded in the Midwestern U.S. – on four December 1982 dates soon after the two November shows I had attended in Dayton and Bloomington, Indiana. When the brand-new, shrink-wrapped album with a stunning, close-up photo of Gabriel's theatrically made-up face on the cover arrived quietly on record store shelves in June 1983, the singer was just about to kick off a new round of dates of his ongoing Security tour. (True, that summer tour was a new leg, but the setlist was in observable flux again, with a newly-written song and other swaps being rotated in at random.)
During that summer of 1983, the PL album helped to raise the public profile of the then-still-emerging artist whose real pop-star breakout wouldn't arrive until 1986 with his release that year of his multi-million-selling album So. Accompanying videos of "Monkey" and a few earlier songs of the time in rotation on the then-shiny-new MTV cable channel (Music Television) had incrementally raised his public visibility over the preceding year. Yet, all in all, the live album was another big ratchet click for him, just when he needed it most.
So, from the vantage point of 40 years on, how does Plays Live hold up as a historical document of Gabriel's grittier, more prog-inflected early work? Full disclosure: This writer might be more than slightly biased from having made an ecstatic personal discovery of his idiosyncratic voice and music at the cusp of his leaving his original band, Genesis, in the mid-1970s. But revisiting Plays Live again today proves that it's a damned fine time capsule of the first five years of his early solo career, from 1977 to 1982.
If one were already an experienced PG fan who knew his recorded work but still hadn't heard Plays Live, then he or she might understandably prefer his studio versions of some or all of these songs. But, for more casual or recently converted fans, this album brings together many of his most experimental and disquieting songs of that period — such as "The Rhythm of the Heat", "No Self Control", "Intruder", "I Don't Remember" and "Lay Your Hands on Me" in one place. As such, they are a worthy introduction to this artist often known more for his 'dark' than his 'light' side. And – to my ears – they seem crisper and more crackly than their somewhat stodgier studio counterparts. Whether it was for the live shows or the eventual album, the song choices actually made for an unlikely but well-curated setlist. And the performances made them stand up to the test of time. Definitive, I'd say.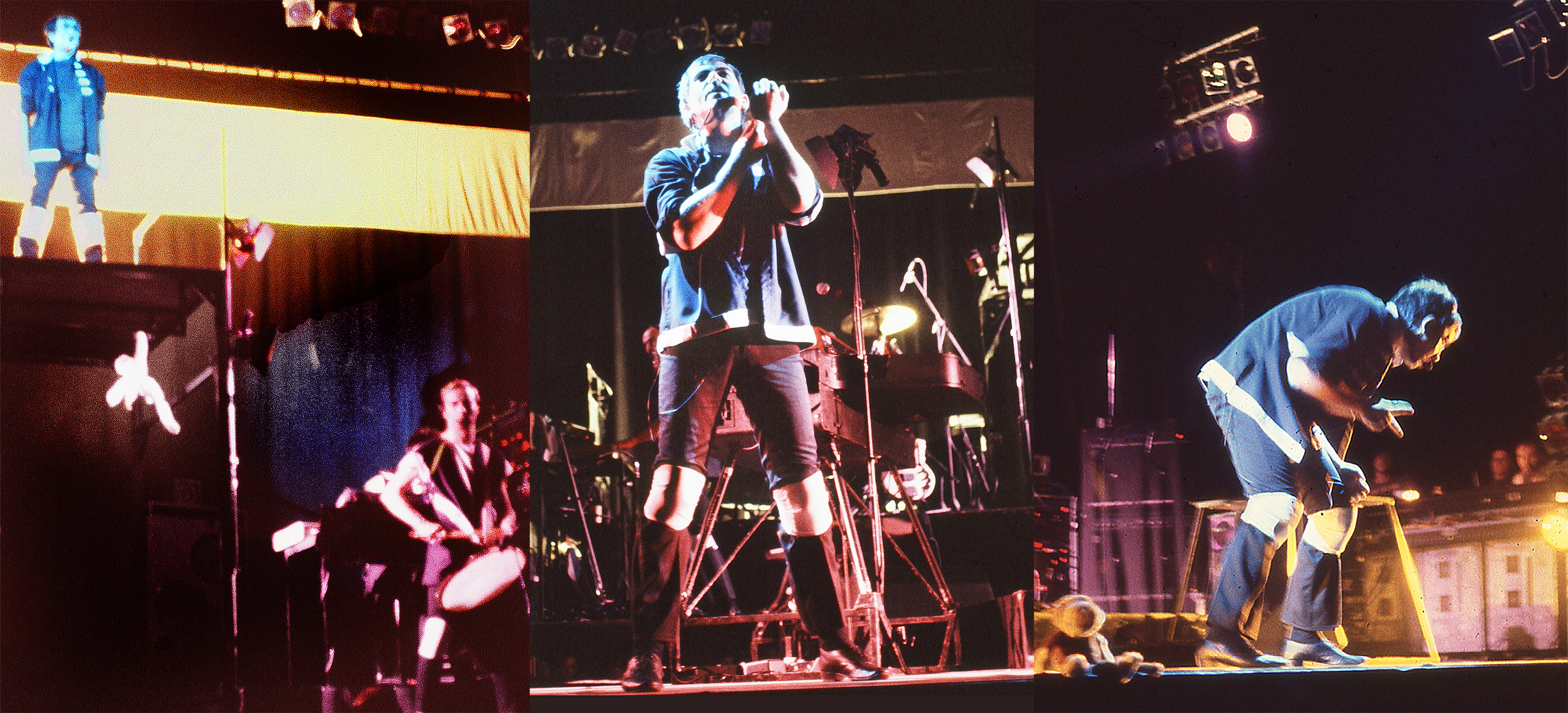 On a happier note, Gabriel also balanced out the high-creep-factor songs with more accessible and groovy crowd pleasers, especially "Solsbury Hill", "D.I.Y.", "On the Air", "Monkey" and "I Have the Touch". Not quite what 'they call rock-and-roll' but definitely less musical 'architecture' and cinematic sweep than those other denser, head-case kind of songs. And definitely more rock. Other selections on the album even included a throwaway live song titled "I Go Swimming", a true castoff that had grown out of a quirky soundtrack instrumental from the early '80s Steven Spielberg movie Gremlins. Tony Levin's chunky lead-bass and Jerry Marotta's driving drum patterns on this fun song would send it spiraling upward and outward until it slammed into a hard stop. And, in effect, its placement on both the LP and CD versions – at the end of a side – made it a natural exclamation point.
Old Songs Born Again
Many of those original songs – recorded over Gabriel's first four albums – took on a new life on stage and, as in the case of the political anthem "Biko", have truly flourished and become a permanent part of music history. Meanwhile, there was at least one, like "Swimming", that sank quickly back into the primordial swamp of early-'80s progressive rock. Ohh, well. Sometimes you just have to throw back the little ones, right?
As a double album, Plays Live was obviously a conscious replication of the routine – but not complete – setlist that Gabriel and his band followed on that tour. At the same time, it served an additional purpose: To help back-promote Security and the rest of the early PG catalogue. For example, the original album included six of the eight studio songs on Security. (A seventh Security song, "Kiss of Life," was part of the multi-song encore at the Hara Arena show but was soon dropped from the set. It would surface again briefly in the summer of 1983 – with a special guest cameo at one show from his former Genesis bandmate Phil Collins on drums. But in time, it was hardly ever performed again. An outtake recording of "Kiss", said to be intended for Plays Live, emerged in 2019, on the extensive Gabriel stray-tracks collection, Flotsam and Jetsam.) Still, the song selection and pacing on the album credibly recreated the web of mystery, drama and eventual spiritual uplift that Gabriel had woven throughout his shows on this tour.
Also quite noteworthy is that the album had added songs that appear to have been performed only in the later stages of that fall tour and not at the shows in Dayton or Bloomington. One of these is the ironic but life-affirming early solo song "Humdrum", from Gabriel's 1977 debut album. (Fwiw, his first three albums had been labeled with the same name, Peter Gabriel. The debut is now better known as Car, however, thanks to the album's cover image of Gabriel sitting in a raindrop-covered car.) At the beginning of that song, he drolly informed the audience that "this is a number we haven't played in a little while." So he was reaching deep into his old kit bag for a bit of surprise. And a second song – also new to the set – was the darkly paranoid track about obsession and compulsion, "No Self Control". Not only was this song a change-up for the tour but also it was a radical rework from the highly-wound-up, more industrial-strength version on 1980's Peter Gabriel (or Melt, because of his melting-face cover photo) album. The new take on the original featured a slinky, electric-piano groove over a funeral-dirge beat.
Who Says Cheaters Never Prosper?
Indie singer/songwriter Ani DiFranco once said in a song, "People used to make records/As in a record of an event/The event of people playing music in a room. . .". And while, in theory, Plays Live documents and preserves the 1982 Security Tour for Gabriel's fans, it was after all a 'live album', based on a soundboard feed of an all-too-human performance. Truly, that's a fact of life with every live recording ever made. And, as such, that has almost always invited tinkering from the record companies and artists' producers. Interestingly enough, Gabriel's alleged 'live recording' was no exception. In fact, one has to admire Gabriel for his tongue-in-cheek admission in the liner notes that , indeed, some 'cheating' had occurred in the final preparation of the album. How much? Let's see. . . .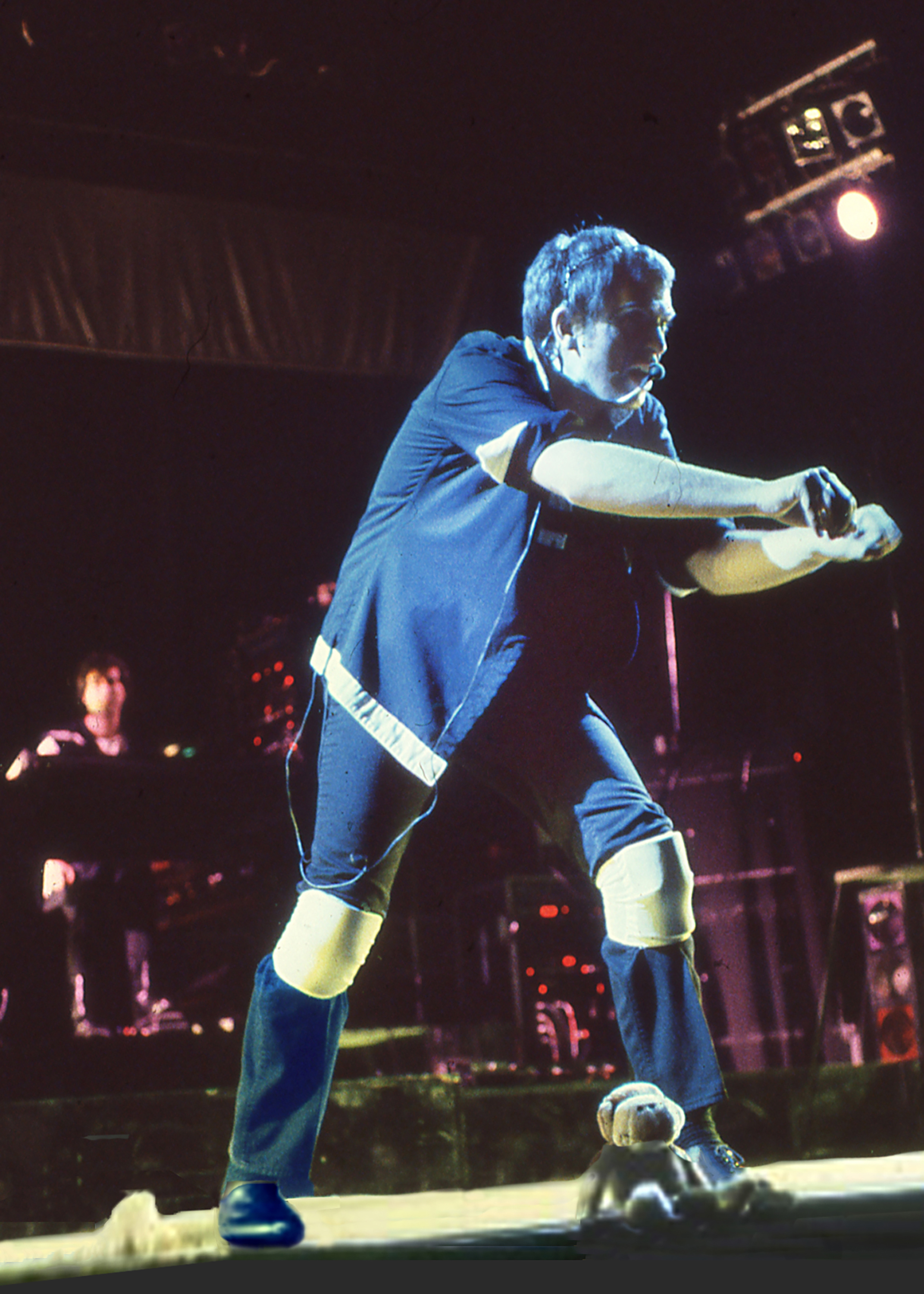 First off, there's the given that Gabriel's mercurial voice would — in the heat of concert fever – not always be pitch-perfect, and so some vocal tweaking might have been necessary at various points. (After all, he had famously re-recorded a good number of vocal parts for the official 1998 Genesis live release of their 1975 Los Angeles performance of the Lamb Lies Down on Broadway album – more than 20 years after the original performance!) Another related possibility is that the then-still-innovative wireless headset microphone that he was rocking on some songs for the first time may not have always come through well in the mix. So there may have been some re-dubbed vocals here or there. Or everywhere.
Perhaps there may have also been some off-kilter guitar parts or even a discordant piano chord or two – like that one in Dayton – that needed replacement. And one has to suspect also whether even the nearly-too-cheerful audience fills were inserted to heighten the sense of excitement between songs and at the end of the show. Regardless, whatever all of the 'warts' were, Gabriel did not specify. But he was certainly among the first artists to acknowledge publicly at that time that, "Yes, Virginia. . .this is a doctored record." In the end, if one knows Gabriel's music well enough, you will surely catch that a few 'clams' – vocal and otherwise – were still left in the mix, perhaps to give listeners that sense of 'you-are-there' realism versus the sheen of perfect, assembly-line polish. Or maybe they were simply up against a deadline.
Nonetheless, the energy and electricity of the tour were captured with a high degree of audio verité. For example, with drummer Jerry Marotta – a PG collaborator from 1978 to 1986 – on board for the tour, the bottom end of the rhythm section was more fleshed out from some of the more spare, synthetic drum parts of the studio versions. (Some of those versions had been built up from mechanical drum grooves in the studio using that oh-so-popular tool of the time, the Linn Drum machine.) And, for those versions, Gabriel had prompted Marotta to play more primitively – especially more polyrhythmic grooves that employed only tom-tom, floor tom, and bass drums – without cymbals. This had helped to eliminate brighter frequencies from the mix and to create a more open sound bed for other instruments. But, obviously, for live performance and the live recording, some concessions had been made to allow more conventional and exciting rock drum sounds to enter the mix, just as Gabriel himself had sung many of the songs in a broader, more dynamic live voice than he employed on his studio recordings.
Synthesizer textures in the live show evolved from the studio to the live versions, too. Along with his pioneering synthesist Larry Fast, Gabriel had composed and recorded many of the studio versions of these songs using the then-innovative Fairlight CMI (Computer Musical Instrument) synthesizer/digital sampler. (The notoriously sensitive electronic device had been taken out on tour, but there were times it failed mid-show due to voltage surges, as had certainly happened at the Bloomington show. A few stripped-down, band-only songs were then dropped in at the end to make for a complete show that night after one such surge took out the Fairlight.) But having Fast with the many samples and synth pre-sets on hand – such as the skittering marimba patterns on "Monkey" or the watery, xylophone-like arpeggios on the verses of "San Jacinto" – made it possible for Gabriel to replicate so many of the soundscapes on stage from his two preceding albums, Melt and Security.
Tension and Release as the Prime Mover
From start to finish, like a true master, Gabriel built up the tension and anticipation throughout those shows with his well-paced song choices. For example, his band's unconventional arrival on stage as marching drum players proceeding up through the middle of the audience and Gabriel's climbing onto a high scaffold to sing in an imperious voice were theatrical visual elements you truly had to be there for. But the urgent, martial beat of the opening song, "The Rhythm of the Heat", is captured faithfully on the recording. It still serves as a stirring memory-prod for anyone who saw any of those shows.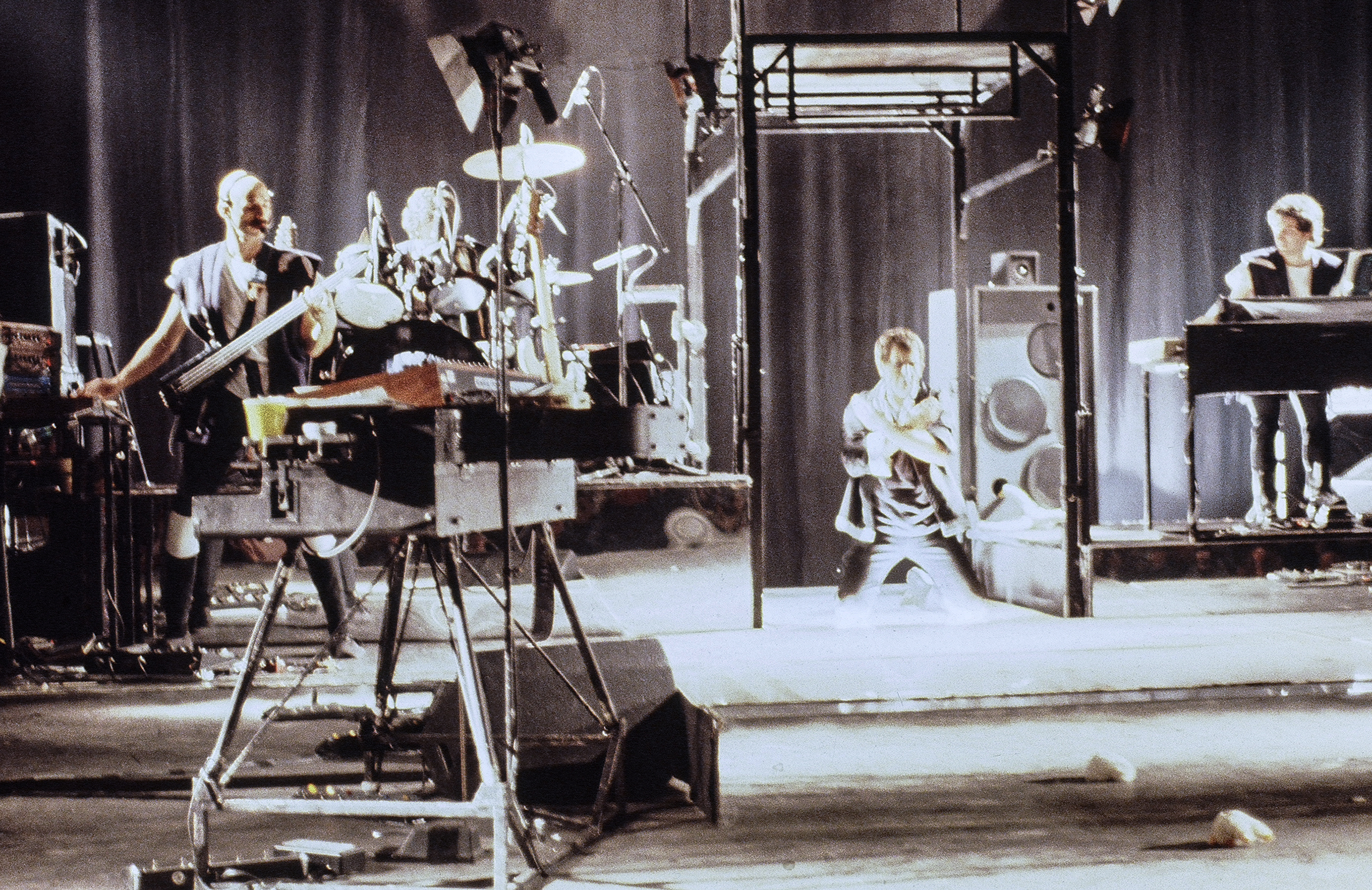 And more mysteries unfolded from there. The dark, modal-Arabic melody and Gabriel's microtonal singing on "The Family and the Fishing Net", for example, would carry the listener's mind through a world of spectral light, mist and tunnels. And the prayer-like, near orchestral lament for the struggle of Native Americans against loss of cultural identity, "San Jacinto", took listeners on a deep, emotional vision quest into their souls. And these songs were – and still are – some of the most breathtaking moments on Plays Live.
Perhaps, the truest communal and spiritual moment throughout the Security tour – which the live recording could only begin to hint at – would happen toward the end of the night, and the album has captured all of that intensity, if in somewhat abbreviated form. At the climax of the drone-y, ritualistic song "Lay Your Hands on Me" in Dayton, Gabriel turned away from the audience at the front of the stage. Somehow, the audience just knew something big was about to happen. Still, as he let his body fall backward into a sea of waving arms pressed against the front edge, a collective gasp and burst of applause swept the arena. Fully afloat over the heads of the front-row audience members, he body surfed while the band chanted the words of the song's title repeatedly over a crescendo of synth drones, tribal drums, and bone-shaking bass.
A few nights later, at the Indiana University Auditorium, in Bloomington, that song was carried out a little differently. In that more intimate theatre, the first row of seats was well away from the stage's leading edge. So, instead of the backward fall, he trotted down a small bank of steps at the center of the stage, then out into the audience. There, he ambled about in the aisles for several minutes, shaking those hands and patting many backs. Both times, the effect of this song with Rhodes' angular, buzz-saw power chords and Marotta's thunderous, jungle-drum beat was transcendental. Gabriel's passionate, stretched-to-the-breaking-point vocals were, of course, the centerpiece of this ritual drama. As it went down in real-time, the tension and release in this dazzling interplay of pure white light and oscillating sonic waves delivered a powerful message of survival and triumph over adversity. In effect, Gabriel was commanding the audience: Be healed!
Clearly, this is a song whose length had been extended as needed in the live performances but tightened in the editing of the live album to remove any slack during the crowd surfing and mingling moments. And, of course, the album doesn't show you any of that, because it's not a DVD and audio alone can't do that, either – unless of course you were there and your mind now supplies the images. So, yes, the recording provides a stunning auditory flashback of this and the other songs, and it's certainly nearly as thrilling as having been present for that moment. Especially when you crank it to high volume.
(You Are) The Eyes of the World
Another deeply stirring song that has been a mainstay of Gabriel's live repertoire since 1979, "Biko" wraps up the live album in grand fashion. In this poetically telegraphic protest of the 1977 murder of South African political activist Stephen Biko while in police custody, Gabriel summoned all listeners to stand up against the politics of hate, division and repression. "And the eyes of the world are watching now. . .", he first wrote and sang in this song in 1979, well before many of his musical contemporaries began to take up such calls. And by the time of the Security tours, his personal anti-Apartheid message was reaching wider audiences and starting to impact worldwide consciousness.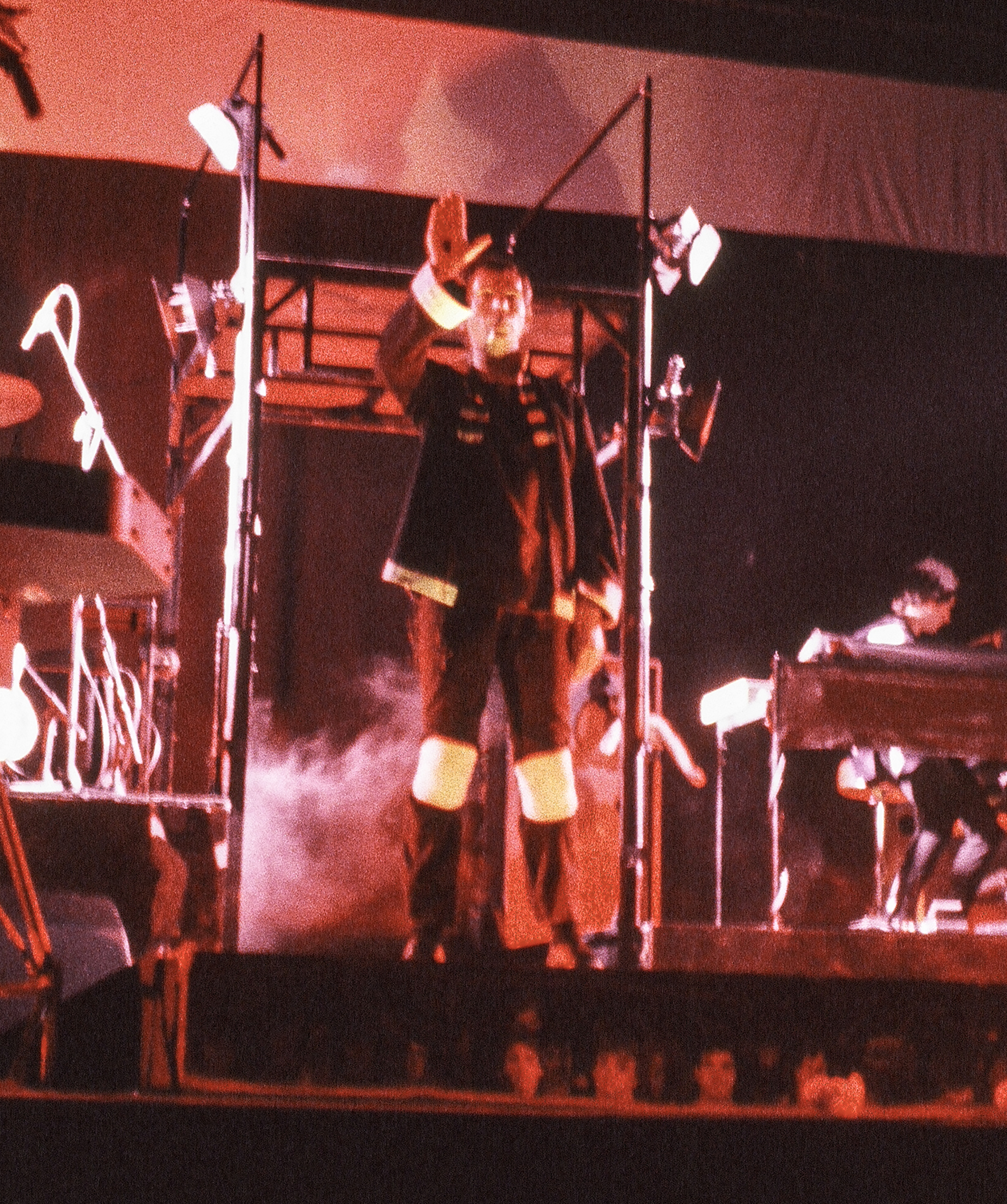 Also noteworthy is that the song's mournful, funereal bagpipe melody was, gloriously, much more forward in the live mix than on the original studio recording. The tension and volume of the dirge reached their climax, then – as band members left the stage, one by one – the song's finale receded into a hanging synth drone that was greeted with roaring audience approval. To this day, Gabriel will often use this song as a rousing finale at the end of his shows, and it never ceases to send shivers down one's spine. It was a fitting end to many of Gabriel's live shows on that tour, and it serves well as the capstone to Plays Live as well. (Alas, it did not make the set in every show. Sadly, it was left out of the Bloomington show, presumably due to that Fairlight blowout.)
On full soundboard recordings from other artists, listeners can often enjoy not only the high points but – even more – the chatter among band members, or even the banter between musicians and audiences. And even though Gabriel was especially entertaining as a master of ceremonies in these early live shows with his between-song narration and self-effacing jokes, those elements were, unfortunately, largely edited out of the song flow on Plays Live. Small bits survive, but most of his interjections here only serve as song title announcements. (On vinyl LPs, every second of space counts.) And, of course, with only a recording, we cannot see his facial expressions or body language, also essential parts of his charismatic stage delivery. But such invisibility is a given with the audio format, so the music has to carry the excitement on its own.
How Not to Keep a Secret
As we speculated earlier, many 'warts' were likely removed from Plays Live, and, unfortunately, a few of the funnier and more spontaneous spots as well. For example, at the Bloomington show, as Gabriel was introducing a song, a fan – and, no, I swear, it wasn't me – blurted out, "I love you, PETER!!!" He deadpanned right back: "Listen! I thought we agreed to keep it a secret!" Such unscripted moments – even if they had been captured on tape – sadly didn't make the final cut. So, yes, live albums in general could use a few more of such naturally entertaining, spur-of-the-moment smilers, but, I think, especially on this album – just because this was a Peter Gabriel show.
Plays Live was not Gabriel's only live album and, in fact, he released several more in later years, including 1993's Secret World Live. But to the ears of this writer – a longtime and admittedly not completely objective fan – this first one is still the best because it captured that lightning-in-the-arena feeling of those 1982 Security shows. The PL album has also seen several incarnations, first as a two-CD version, next as a boiled-down, single-CD version with four songs removed in 2002 called Plays Live: Highlights, then a streamable version in 2019, and, finally, a properly remastered two-CD version in 2021. So if you want to be sure not to miss any of the originally-featured songs, you'll definitely want to get your hands on the full, two-LP or two-CD version.
With this front-line report here of what it was like to witness those 1982 shows, perhaps you'll be better able to lose yourself in this highly diverse and dynamic recording as you listen to it. Granted, in spite of its many strengths and even all of its post-production tweaking, it's still not a perfect album. But that's really only because of the built-in limitations of an audio-only recording and for all of those special qualities of the experience that were necessarily left out to fit all that music onto four LP sides. As I see it, the true value of Plays Live is that it captured this legendary artist at a key moment in his colorful career which makes it an experience you can have again and again.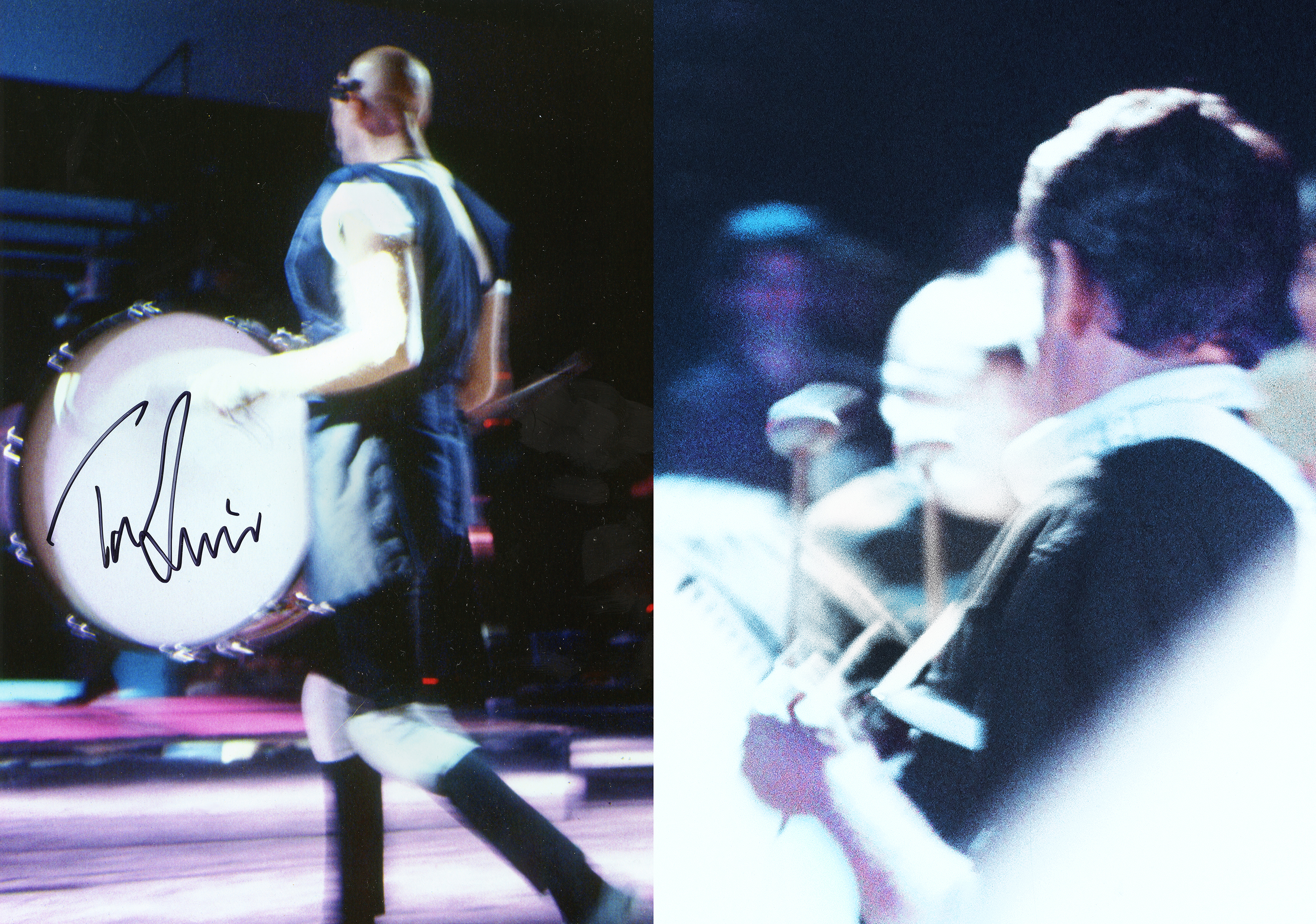 Until soundboards of the Dayton or Bloomington shows surface on YouTube (and this sort of thing seems to happen almost every day), we'll just have to make do with Plays Live and fill in all the banter for ourselves or find other similar audience recordings, won't we? Plays Live has always worked for me, and if you're a fan of The Gabe but still haven't been introduced to this classic live album, I'm pretty sure it will all work just fine for you, too.
The Modern-Day Artist Refuses to Die
Later this year, Peter Gabriel will be releasing his first full studio album of new songs since 2002 which is titled i/o (input/output). And he's currently in the early stages of an extended world tour. The in-progress European leg continues through June 25. Then, after a summer break, the North American leg of both Canadian and U.S. dates will run from Sept. 8 through October 21. Full tour dates are listed below, and for more information, please visit http://www.petergabriel.com.
European 2023 Peter Gabriel Shows
June 17 – Utilita Arena – Birmingham, England, UK – SOLD OUT
June 19 – O2 Arena – London, England, UK
June 20 – Motorpoint Arena – Nottingham, England, UK – CANCELED
June 22 – OVO Hydro – Glasgow, Scotland, UK
June 23 – AO Arena – Manchester, England, UK
June 25 – 3 Arena – Dublin, Ireland
North American 2023 Peter Gabriel Shows
Sept. 8 – Videotron Centre – Quebec City, QC, Canada
Sept. 9 – Canadian Tire Centre – Ottawa, ON, Canada
Sept. 11 – Scotiabank Arena – Toronto, ON, Canada
Sept. 13 – Bell Centre – Montreal, QC Canada
Sept. 14 – TD Garden – Boston, MA
Sept. 16 – Wells Fargo Center – Philadelphia, PA
Sept. 18 – Madison Square Garden – New York, NY
Sept. 20 – Capital One Arena – Washington, DC
Sept. 22 – Keybank Center – Buffalo, NY
Sept. 23 – PPG Paints Arena – Pittsburgh, PA
Sept. 25 – Nationwide Arena – Columbus, OH
Sept. 27 – Rocket Mortgage Fieldhouse – Cleveland, OH
Sept. 29 – Little Caesar's Arena – Detroit, MI
Sept. 30 – United Center – Chicago, IL
Oct. 2 – Fiserv Forum – Milwaukee, WI
Oct. 3 – Xcel Energy Center – St Paul, MN
Oct. 7 – Rogers Arena – Vancouver, BC, Canada
Oct. 8 – Climate Pledge Arena – Seattle, WA
Oct. 11 – Chase Center – San Francisco, CA
Oct. 13 – Kia Forum – Los Angeles, CA
Oct. 14 – Acrisure Arena – Palm Springs, CA
Oct. 16 – Ball Arena – Denver, CO
Oct. 18 – Moody Center– Austin, TX
Oct. 19 – American Airlines Center – Dallas, TX
Oct. 21 – Toyota Center – Houston, TX