Thanks to The Grateful Web for providing my ticket in exchange for this review. The first order of business was to sell some Make Love Not War tshirts that are also available on this site. With a few beers and some other remedies of a less toxic nature we hit the parking lot. I did not actually do anything other than walk around with Mike drinking while he hustled the shirts with surprisingly effortless success. Once the shirts were sold out we proceeded down the winding road to will call to get the press pass that was promised to him by the Dead's organization - - D'oh!! This was fairly and justifiably upsetting to Mike who has been a tireless and faithful supporter of all things Dead since 1987. Had he not already bought my ticket we may have left right then.
As we hiked back up toward the parking lot we were surprised to notice that the place seemed fairly empty. There was a consistent strange sound resembling the War of the Worlds (horrible movie-save your money) Alien battle cry echoing throughout the venue as we approached the car to get our fill before going into the show. Entering the amphitheater we again took notice of the seemingly nonexistent crowd and wondered if Rome was at last crumbling. After hearing the less than enthusiastic reviews of Friday night's show and experiencing an excruciatingly boring show last year (I attended the 5th night at Red Rocks) I was beginning to wonder if I was in for a forgettable night of music. The crowd seemed fairly relaxed and the place was about half full when Phil and the boys took the stage although it seemed to fill up to about ¾ capacity as the night wore on.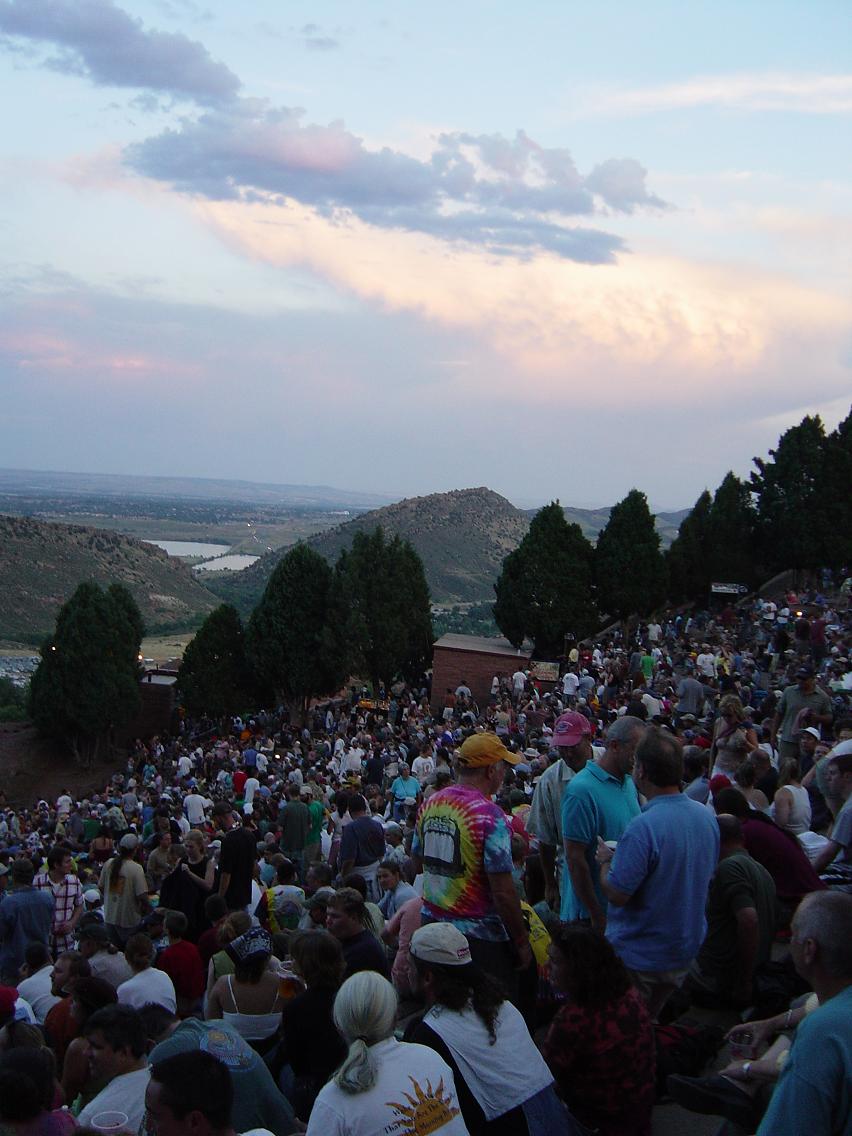 I had only a passing knowledge of Ryan Adams and did not really think much of the little bit I had heard from him but I must say that I was pleasantly surprised by this recent incarnation of the band. The jam that started things off segued into Cold Rain Snow with some interesting guitar playing by Adams. He lent a certain edge to music that reminded me of the way Neil Young plays electric guitar. As the set progressed it was clear that he did not know all of the words to these songs (another clue was the music stand in front of him) but this did not bother me and I was just glad to see some of my favorite songs in the world being played with some gumption. Scarlet Fire was particularly enjoyable for me. Adams played a nice hollow-bodied guitar (I could not discern the model) with great spirit and he even played Wolf for at least a song(can't remember which one but what a thrill that must have been). I felt that his primitive style of playing was a good counterbalance to Herring's more fluid melody lines. Phil and the rest of the band seemed extremely tight and the addition of some good old loud and sloppy rock and roll worked well together.
One of the things I always loved about seeing the Grateful Dead was the feeling that things could completely fall apart at any time and this was definitely the case on this night. I am curious to see how this band evolves but perhaps it was the lack of evolution that I enjoyed. The crowd seemed to be enjoying themselves as much as Mike and I were as the first set closed with the previously mentioned Scarlet>Fire. Candyman and a fairly heavy sounding Bertha were the other standouts from the first set. I also enjoyed Easy Plateau which I assume is a Ryan Adams song (fire me if I'm wrong). The second set started nicely with a jam into Dark Star followed by (as Mike noted) the longest Sugar Magnolia ever!!! Nicely done though-flubbed words and all. Next up was Magnolia Mountain (another Ryan Adams tune?-I haven't been keeping up with new Phil tunes so forgive me if my ignorance is offensive) which was nicely played with some cool base lines.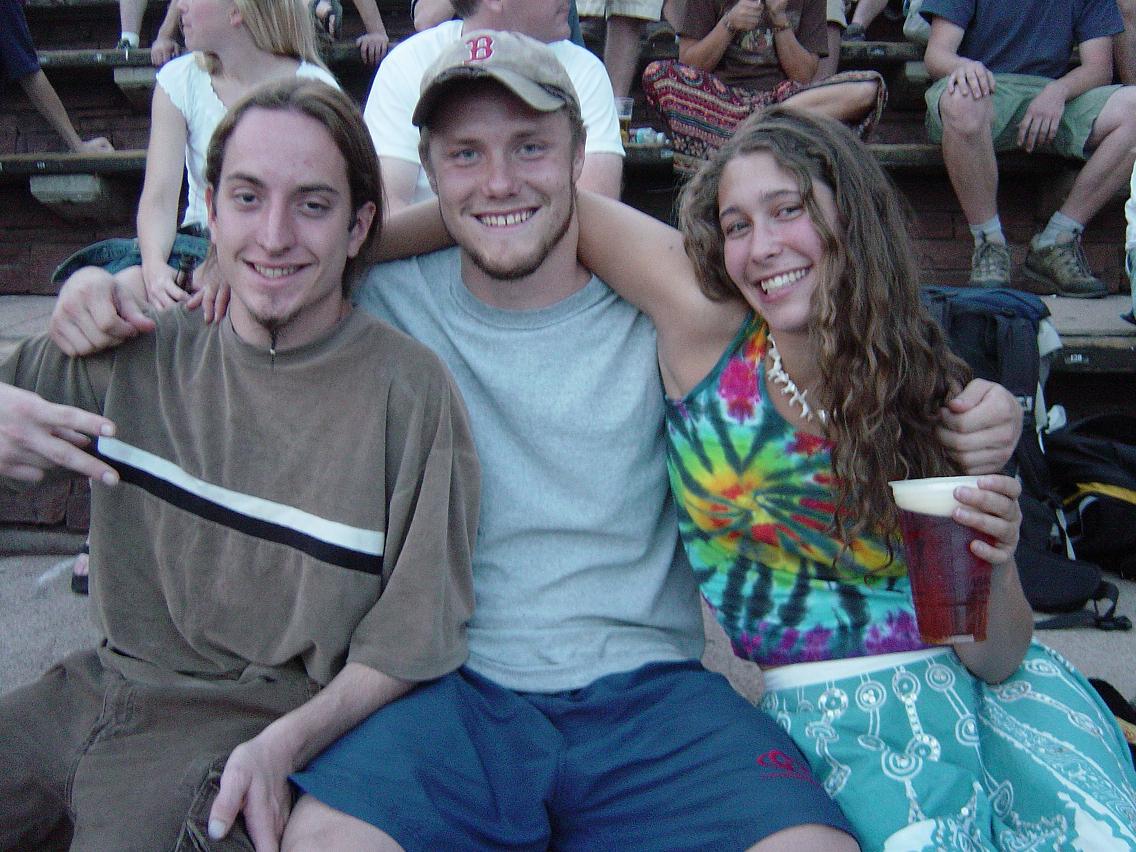 As Uncle John's Band wound down and turned into Life is Beautiful (Adams ?) Mike turned to me with the look of someone who had been up all night(he was up all night) and said he felt like it was time to go and since he was driving there was no point in arguing. As we walked out we could hear the first notes of Terrapin and I was sure that this would be the last song of the second set since it was already Midnight. Wrong I was of course and now I am lamenting the fact that we missed the rest of Dark Star, The Other One, Stella Blue, China / Rider and UJB reprise and Wharf Rat-Damn, you Mike Moran!!!
It sucks getting old although I am grateful we made it home safely. I can't say this was my favorite post-Jerry incarnation (that would have to be the Red Rocks show a few years back with members of String Cheese and moe. backing Phil up with Steve K. on guitar-that was truly amazing) but it was a damn enjoyable show and it restored my somewhat shaken faith after last year's debacle.