The first time I saw Phish live was at the band's famed Rupp Area show in Lexington KY, in November 1996. (The Four Horsemen of the Psychedelic Apocalypse unspooled a stratospheric, 25-minute "Bathtub Gin" jam that night which immediately entered Phish pholklore as one of the all-time best versions. As a dazzled, newly-minted Phish convert at the time, I certainly thought so, and it was my first time hearing the song! Happily, I can relay that the mythology of that version still retains its time-honored glow, even now that I have heard a few truly competitive versions to date.)
That show was on Nov. 7th, which  - as luck would have it - was also the 80th birthday of Thomas Marshall. No, not Phish's longtime lyricist but, in fact, my dad - Thomas WILSON Marshall! Of course, keen-eyed Phish fans will be amazed and amused by the alignment of these names, the Phish song "Wilson" and this date. It took me several more months after that Fall 1996 show before the full significance of these name syncs hit home with me. It was only then that I realized that I was truly born to be a Phish fan!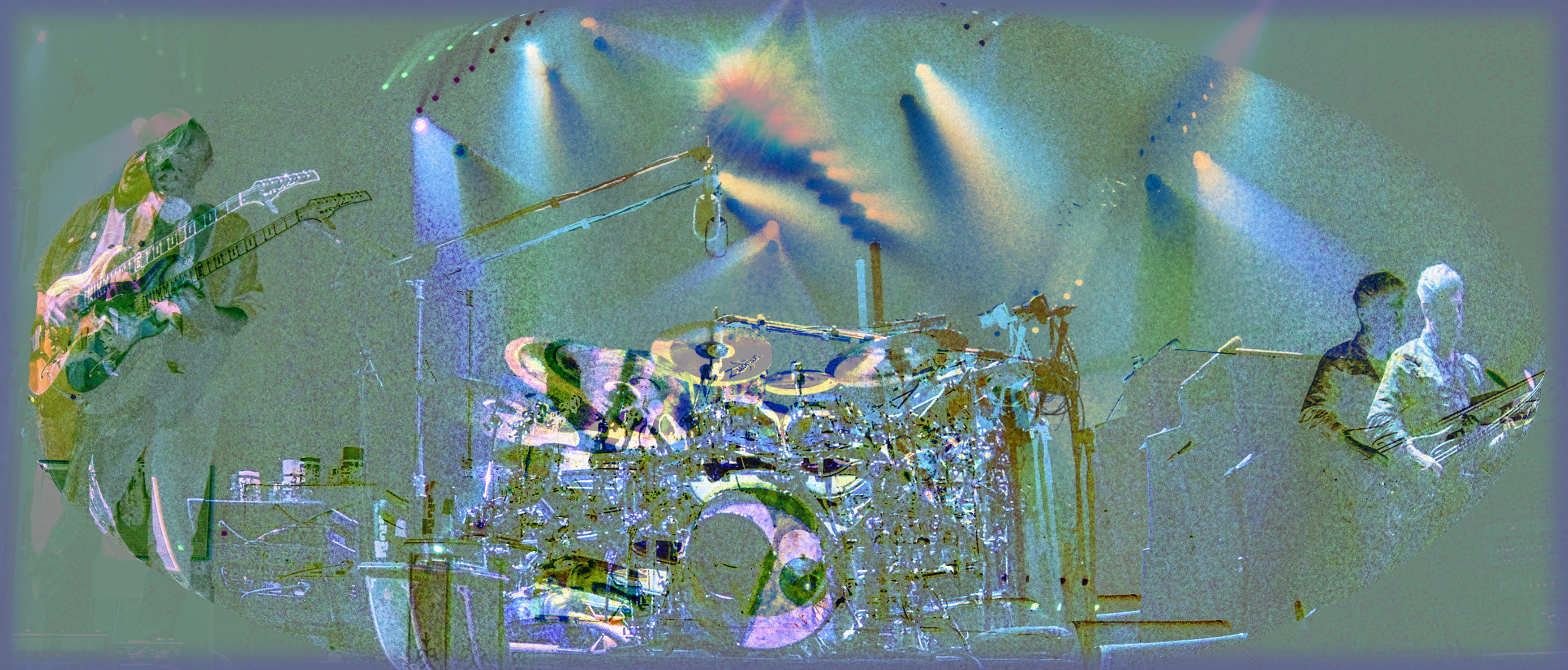 So here I was - 27 years and, curiously enough, some 30+ shows later - seeing them again on October 10 this year. It was at the site of another legendary Phish show I had also attended in 1997, the Erwin J.Nutter Center, in Greater Dayton OH. (As with my dad's name and that of Phish's songwriter, there's only a coincidental link between EJN's name and the classic peanut butter-cracker product, Nutter Butter.) Over time, my Phish fascination has admittedly matured and cooled, and I've sat out a few recent tours. (My last show was in Summer 2021.) But this year, a late-breaking photo assignment for Grateful Web put me front and center on the floor. And I got the unexpected chance to fall in love with Phish all over again.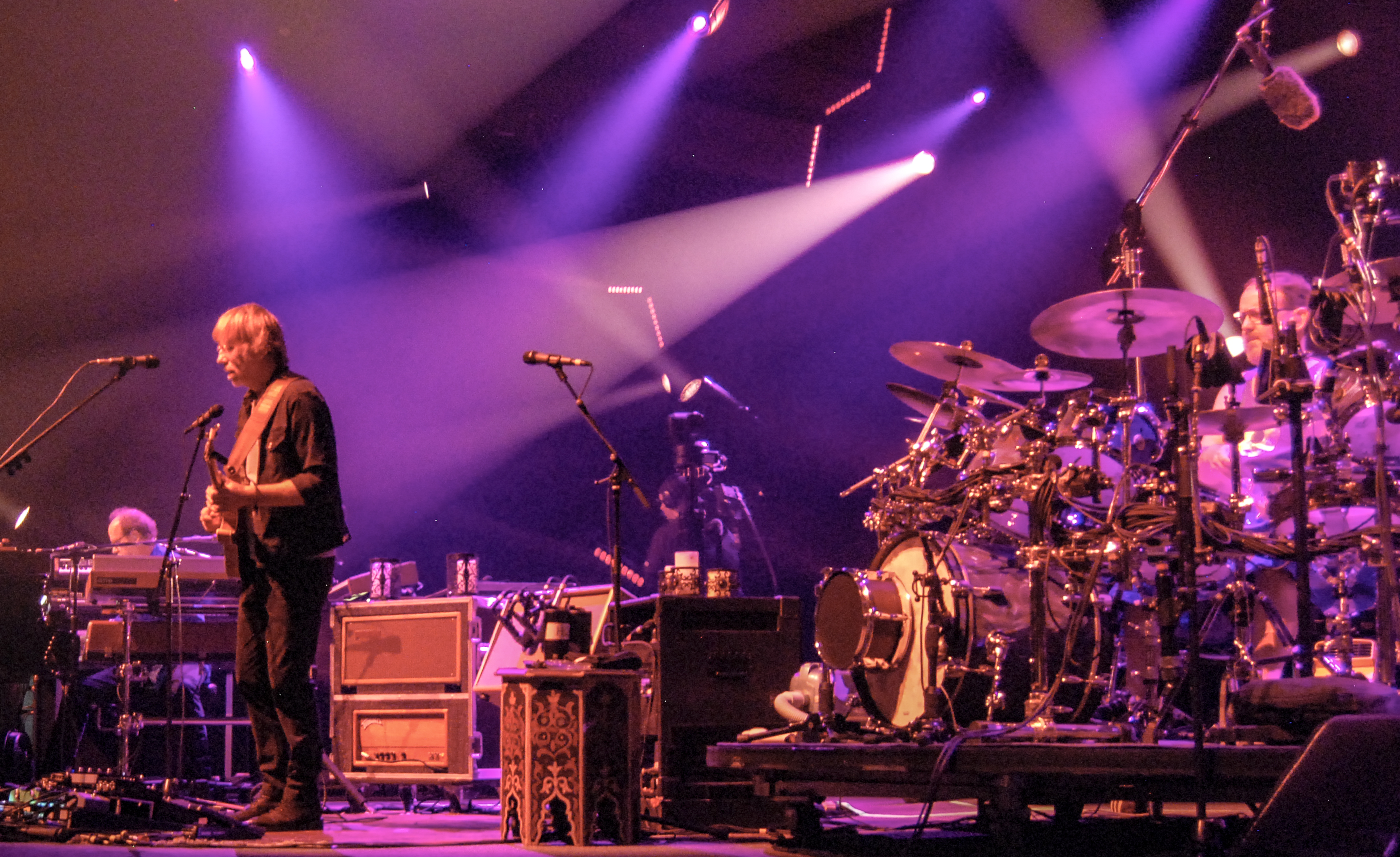 This show that I attended and documented at the Nutter Center this year was the first night of a two-night booking on the compact, eight-date Phish Fall 2023 Tour, on Oct. 10 & 11. It's always interesting to hear how the band draws inspiration from past visits to the same venue and serves up musical souvenirs for the most loyal fans. And, as a veteran of that much-loved 1997 Nutter show, I was deeply impressed by how many 1997 callbacks Phish included this time. (More about that later.) But, I must add, it was actually the more rollicking feeling of a mid-to-late '90s show that also reminded me of my first show. Maybe it was that churning, burning 15-minute, Set I "Gin" jam that sealed the deal for me. Or – more to my liking – perhaps it was all of that darker, more straight-ahead jamming as opposed to frequent stage banter and jokey stage schtick. (As one of my photos of the drum array shows, Fishman's trusty vacuum sweeper was sitting on his riser near the bass drumhead, but he never emerged from behind the kit to have a blow at this show.)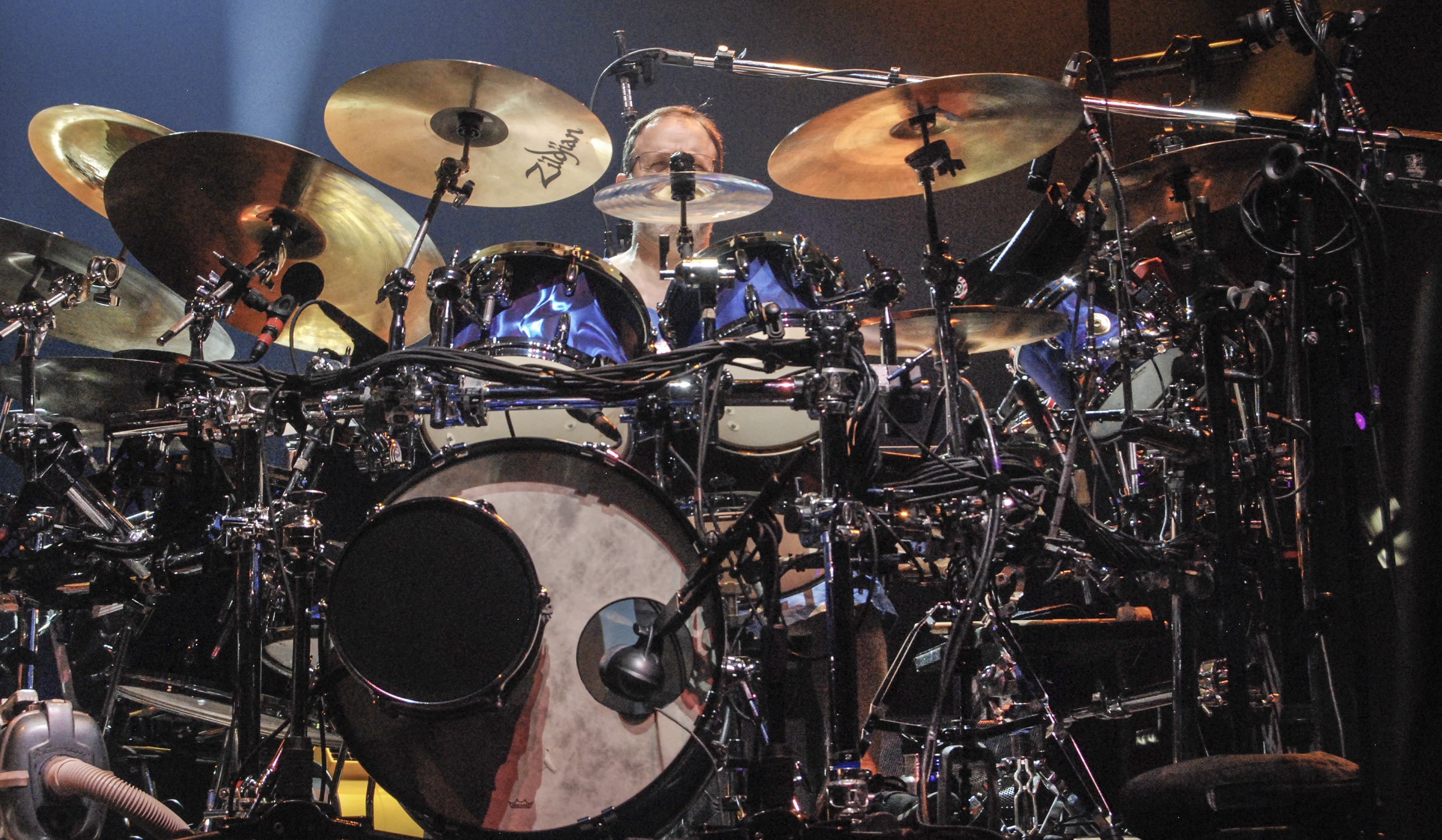 The first 15 minutes flew by, as I worked quickly in the fenced-off pit in front of the stage to capture both close-up action portraits and wider-angle shots. (As the accompanying photos show, guitarist Trey Anastasio and bassist Mike Gordon were out front and easy catches, but Jon Fishman and Page McConnell were each buried behind a ton of drum and keyboard gear.) Even right there – under the overhanging speaker and lighting arrays – the Front-of-House mix was crisp and clear right from the first riff of the opening song, "Sigma Oasis".
Right down in front, was a great place to be for the first song. I could hear the sound of Gordon's fingers on the strings of his new five-string Serek bass, not muddied by mid-range imbalance, and even when in front of him, I could hear Anastasio's voice and guitar and McConnell's piano without straining. (I must say I was actually glad to be up and away from the stage volume after a few minutes, as it seemed longer exposure might have left a hard-to-lose ring in my ears.) They say the groove is in the heart, and Phish not only nailed the mix but also the groove - right from the very start.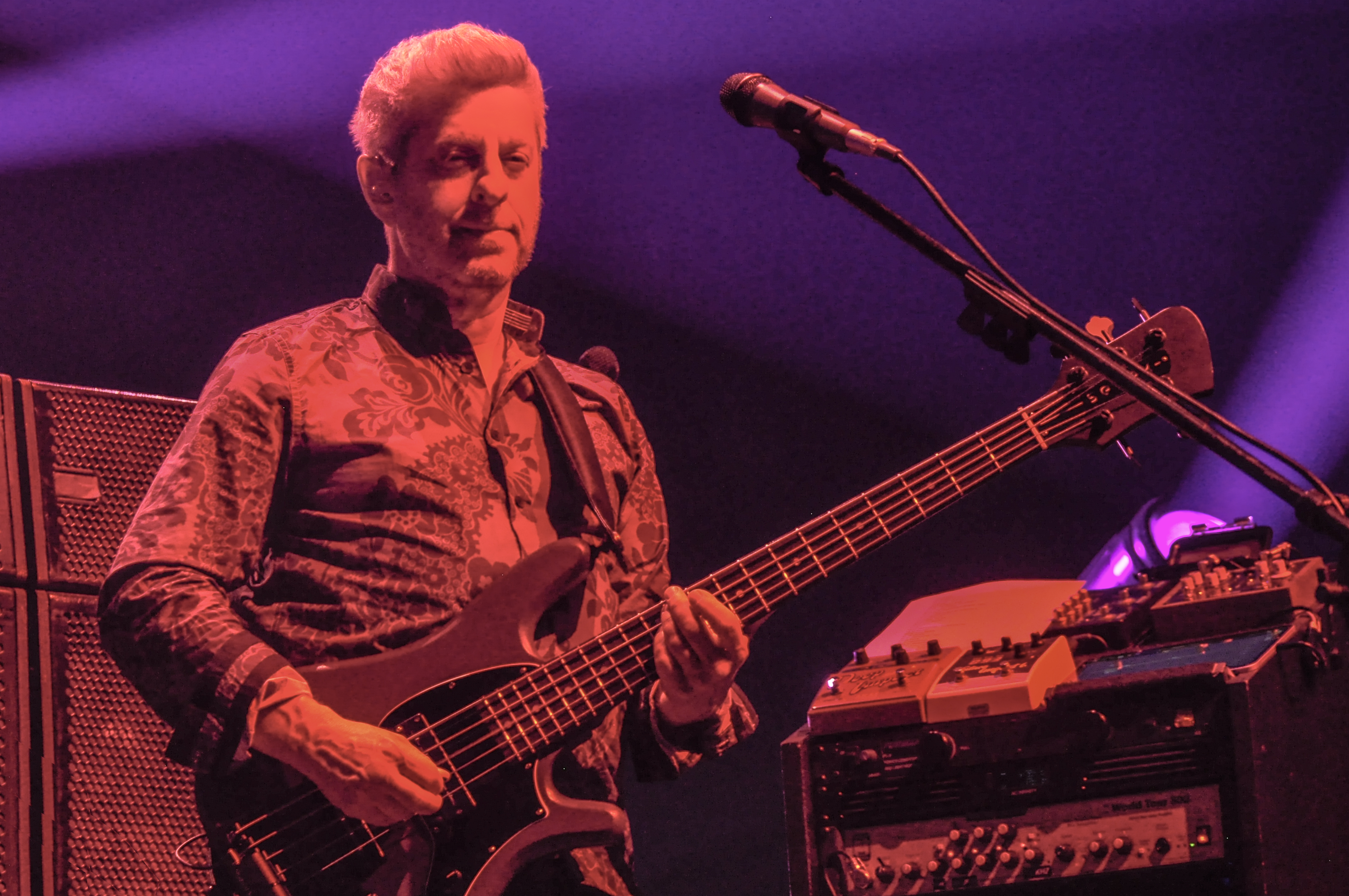 Early on, Phish showed that this was a night of no chat, just endless flow. Fifteen minutes in, and nary a word from the stage, which is all right with me. And turned out to be the flavor of the night. One of my favorite things about Phish's live improvisation is when a jam goes into nebulous, harmonic hyperspace as one song morphs into the next. And in that opening phase, the band hinted that they were already in morphing mode, slyly key-changing out of that song's Mixoldyian verse structure for a few minutes and teasing the harmonic outlines of another song that would soon follow in the set. (Wait for it…) But, indeed, "Sigma" came to a hard break after a deep ten minutes and was followed by a recent, jaunty instrumental, "The 9th Cube", before the earlier teased song made its full appearance.
There was momentary closure after "Cube"'s snappy ending riff, and then came the sly creep-in of a real live rarity, the 1996 track "Theme from the Bottom". (It was for me, anyway, since I had not caught another "Theme" since that 1997 Nutter show.) It was a joyous version with scintillating guitar-piano interplay coming to a thunderous peak before the quiet vocal coda. At this point, I said to myself: "Whoa-ho! How many more deep flashbacks are they going to play?" Turned out to be quite a few!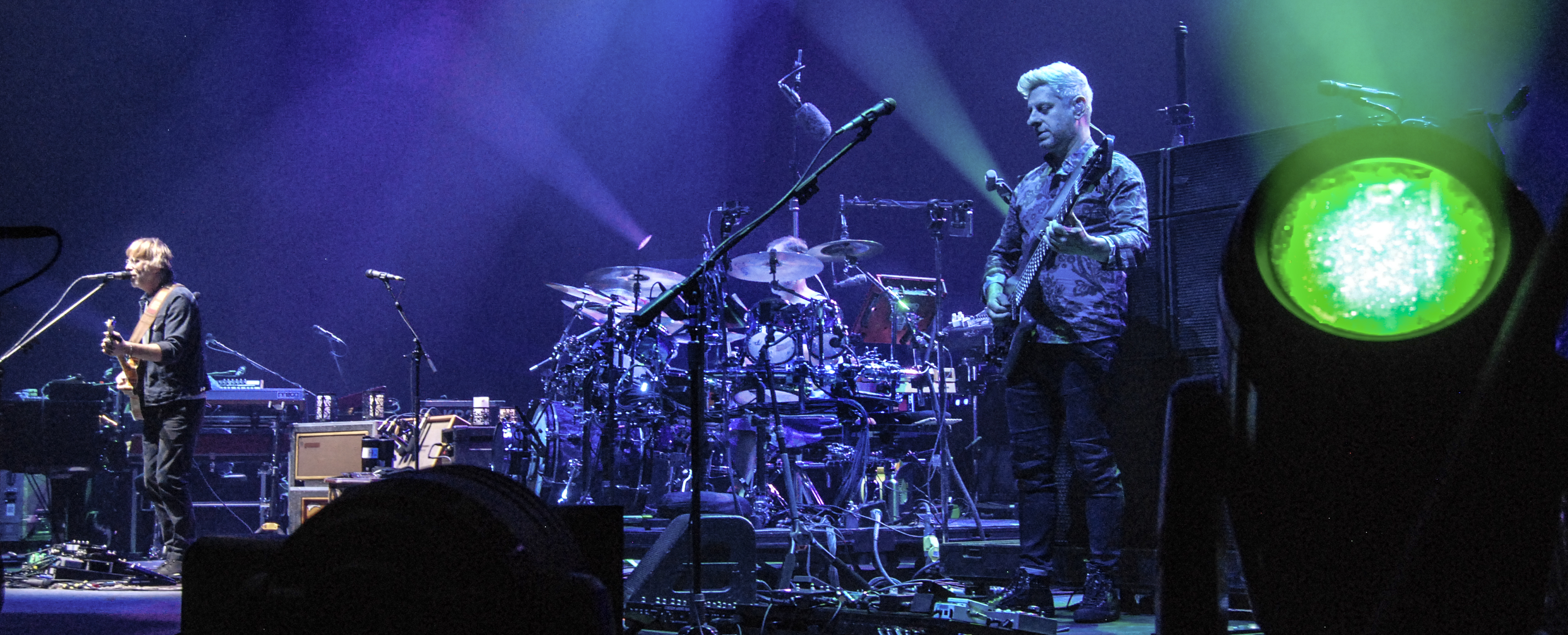 Oh, there was also a handful of newer tracks - such as the Gordon-led groove "555" from 2013 Fuego album, the title track of their 2009 reunion album Joy, "No Men in No Man's Land" from the 2016 Bigger Boat album, and "Cube" and "Cool Amber and Mercury" from the 2013 fictitious 'Sci-Fi' band Kasvot Växt: that they created for their 2018 Halloween 'costume' show – scattered throughout the night. But, including that early bust-out of "Theme", Phish did a total of five repeat songs from the 1997 Nutter show. They also did two songs from my 1996 Phish baptismal show which included a crystalline and spontaneously-combustible, 15-minute "Gin" and a considerably less perfect version of "Chalkdust Torture".
And, for as many times as I have seen Phish, certain songs such as "Theme" have eluded me. One in particular had been "Prince Caspian", a grunge-y, McCartneyesque singalong from the same 1996 album, Billy Breathes. Not only did they include it this time– and not only did I and most of the audience sing along joyfully – but they also tricked it out nicely with an extended, spiraling, guitar-driven jam that gave way to the modern-day groove monster "No Men". In the spirit of bookending and completion, they tagged a rousing reprise of "Caspian" onto the back end. So that was all tied up nicely, in one hot jam package.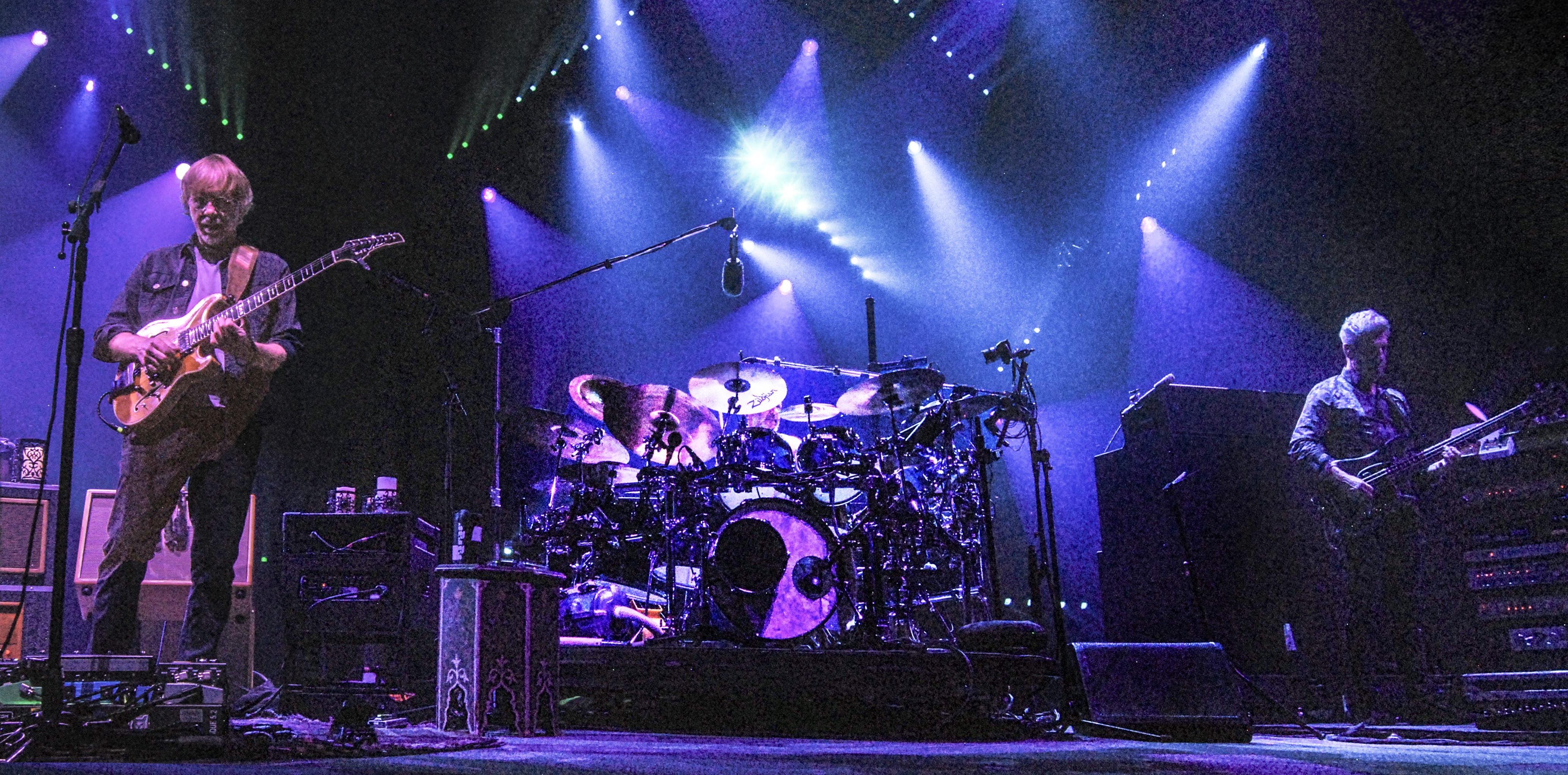 That well-matched medley came in the second set, but, in all honesty, my head was still back in Set I, as I had been swimming in all the mind-frying, extended jams that they had thrown down in the first 90 minutes. (That set was the longest Phish first set I had ever seen, and it sported two of the most treasured long-jam songs in their repertoire, the centrifugally spinning "Gin" and the always-welcome, Zappaseque, multi-part "Reba". (It was even 'completed', with the happy whistling outro tagged on the end, something not included with the 1997 version.) But their jamming that came in Set II, from "Caspian" onward, was of an earthier and more urgent, funk-driven nature.
In the lower bowl seat near the stage where I had transitioned to early in the show after completing my photo work, I had a clear, top-down view onto the side of the stage where the keyboard array of Page McConnell was fully visible. It was a marvel to watch his musical direction of the rest of the band in so many of the songs. Just a joy to hear and see. In particular, he frequently gravitated to his Hohner clavinet and churned up the ghosts of Fall 97 Phunk in his interplay with his bandmates. But he was most assuredly – as he is often called – the Chairman of the Boards, switching effortlessly it seems, from piano, to synth, to organ and back to the Hohner. Sometimes, he was even playing more than one instrument at a time. So, for me, McConnell was the obvious MVP of the night!
The energy and joy throughout this show hit the high-water mark and stayed there through more than three hours of real-time performance (The total running time is documented at 3 hrs, 9 minutes.) And I think if you rank shows by how many songs there are for casual versus hard-core fans, then this would have to be one for the longtimers. Ten of the 21 songs played were from pre-1997, an era before Phish had moved into a simpler and more streamlined style of songwriting. But, more important, based on the lengthy compositions and extended jams, these ten songs made up nearly two-thirds of the running time of the show.
There's an up- and downside to this firehose kind of playing. In Phish's own past parlance, they have referred to nights of such flow as moments of "Golden Hose." (Trey Anastasio explained in a mid'90s interview that rock guitar legend Carlos Santana had once shared the observation with him that the music is the 'water' and the audience are the 'flowers'. So, in effect, according to Santana, the band is turning on the hose when they play. So 'Golden Hose' is when the music is almost playing the musicians.)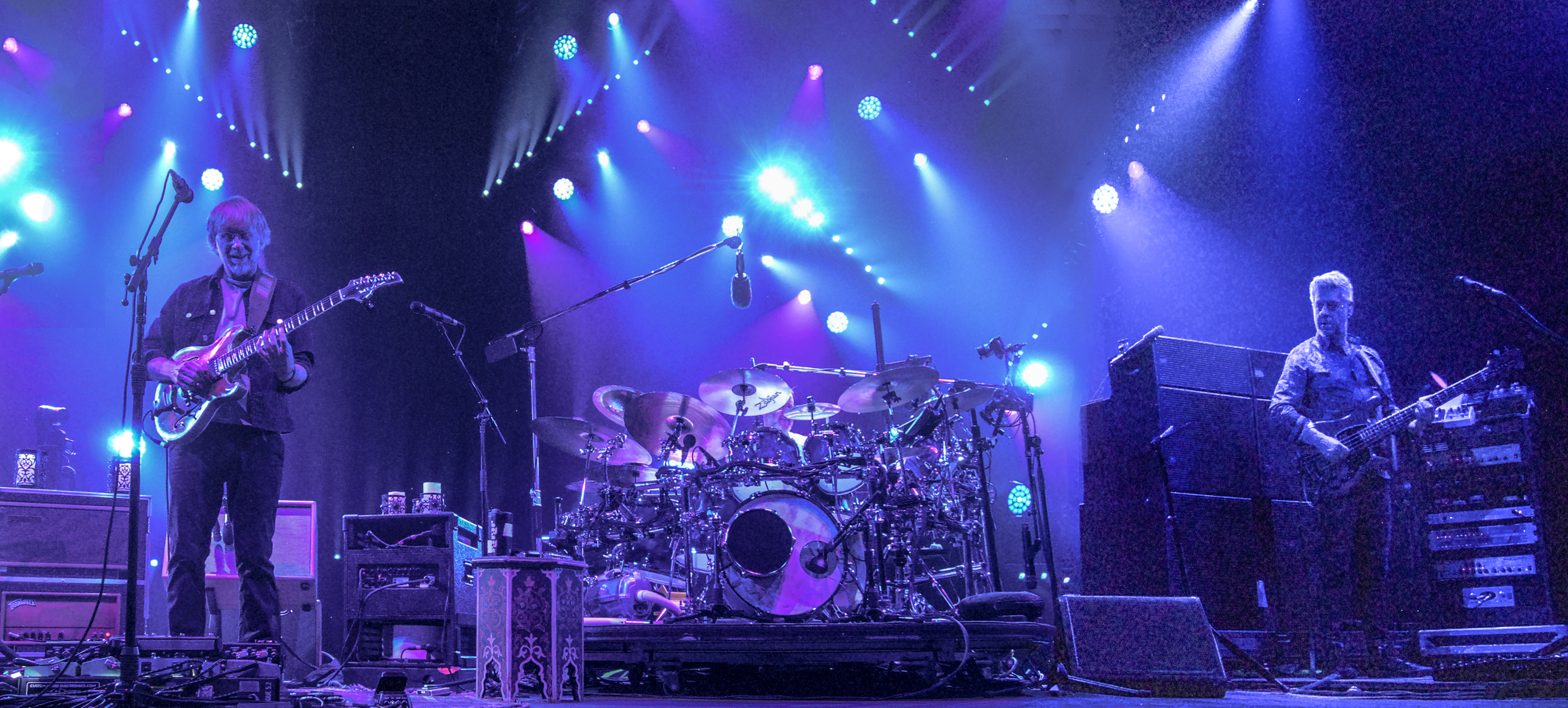 I personally thought that, even as much as I enjoyed their overall generosity at the Nutter show, Phish was dangerously close to 'running out of water' at a few points. That first set, which ran to 90 minutes, was nearly as long as some other bands' entire shows, and the fatigue was audible by the time that last song in the set, "Chalkdust Torture", came down. And, even from three songs back, the ending flourishes sure made each one sound like that would be the set closer, and they very easily could have been. Still, for better or worse, they played onward to the 90-minute mark.
And "Chalkdust" wasn't the only misfire. An earlier song in the set, just prior to the majestically wacky "Reba", was a recently-debuted Anastasio song titled "Broken into Pieces." Perhaps it was meant as a change-of-piece tune following the fiery peaks of that heroic "Gin" jam, but its turgid, leaden pace and sharp lyrics seemed more of a comedown than refreshing. And there were a couple of other songs – such as a plodding, two-chord, mid-second-set song with broad splashes of string synthesizer called "Pillow Jets" –  that didn't particularly grab my attention. Perhaps, in and of themselves, neither "Pieces" nor "Jets" is 'bad', but they seemed to me not well-timed and placed. And, on the other hand, maybe I would just need to hear them more and I would welcome them.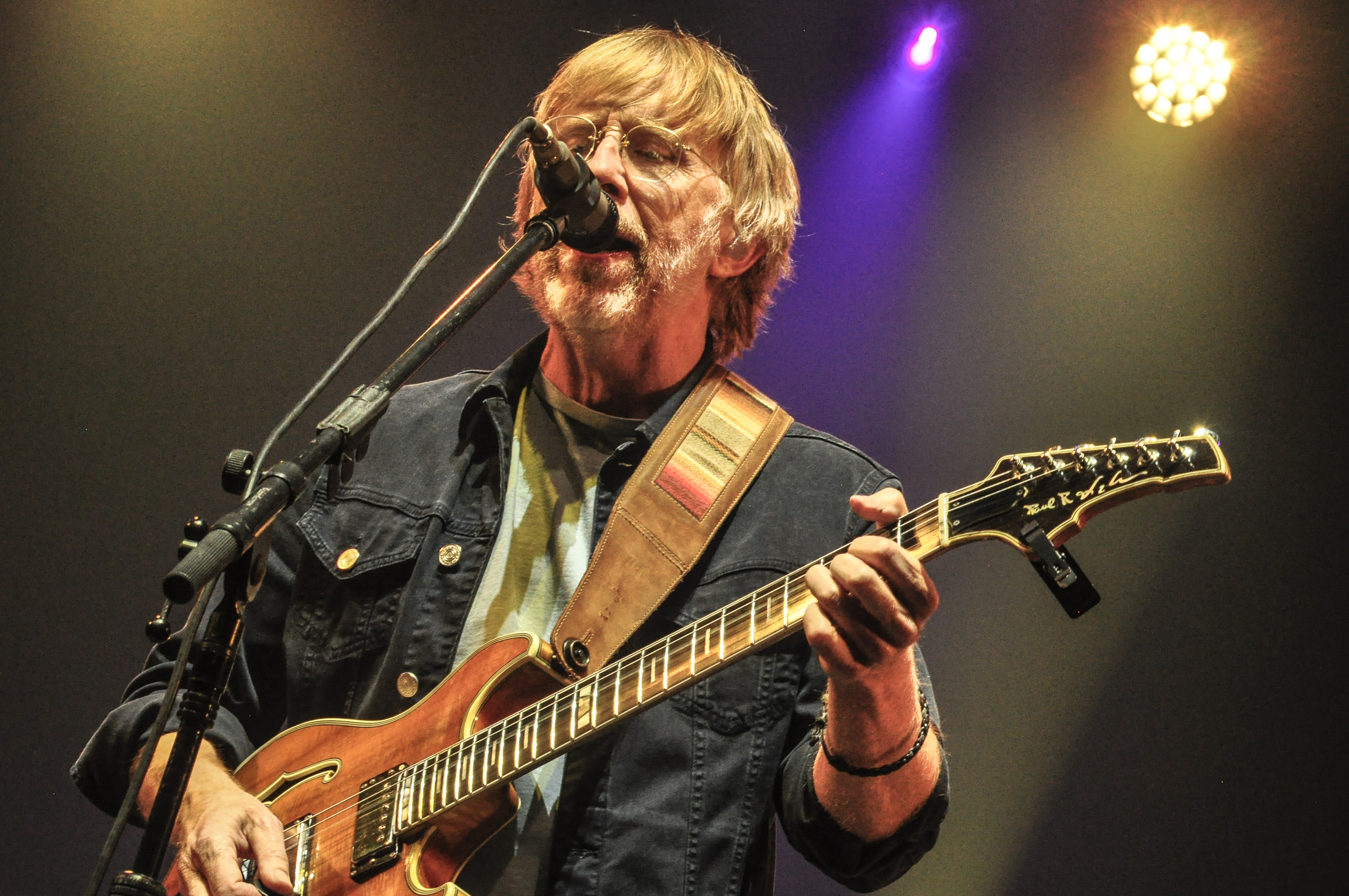 At the time, I did fully expect Phish to take a long break and to do a more compact second half. But then, the second set and encore turned out to be exactly that length again. To my ears, there was much more kinetic, real-time composition and exploration happening in the second half, kicked off by the always-fan favorite "Mike's Song." By Phish tradition, the inclusion of a "Mike's" signals that, indeed, the audience is in for a musical tumble, as the song is always paired with a closing sequel of "Weekapaug Groove," often coming after many other musical interludes. (On this night, five songs and almost 40 minutes elapsed before the end of "Mike's" and the arrival of the "Groove".)
The band must have gotten enough rest during break, as the energy from start to finish in the second set remained high-key, "Pillow Jets" notwithstanding. On balance, it did seem like a more well-paced set, with more interspersing of more complex arrangements and streamlined jamming. And there were, of course, more callbacks to the 1997 Nutter show dropped into the mix. And these included a deep track, "It's Ice", from Phish's 1993 Rift album and the slow-building set closer, "Slave to the Traffic Light." (Same long-goodbye set closer as 1997!) I laughed at the inclusion of this song, as it seemed to be a tongue-in-cheek reference to the long delays in getting into the arena's parking lot after getting to the main entrance that night. (Same as it's ever been with Phish concerts, I suppose.)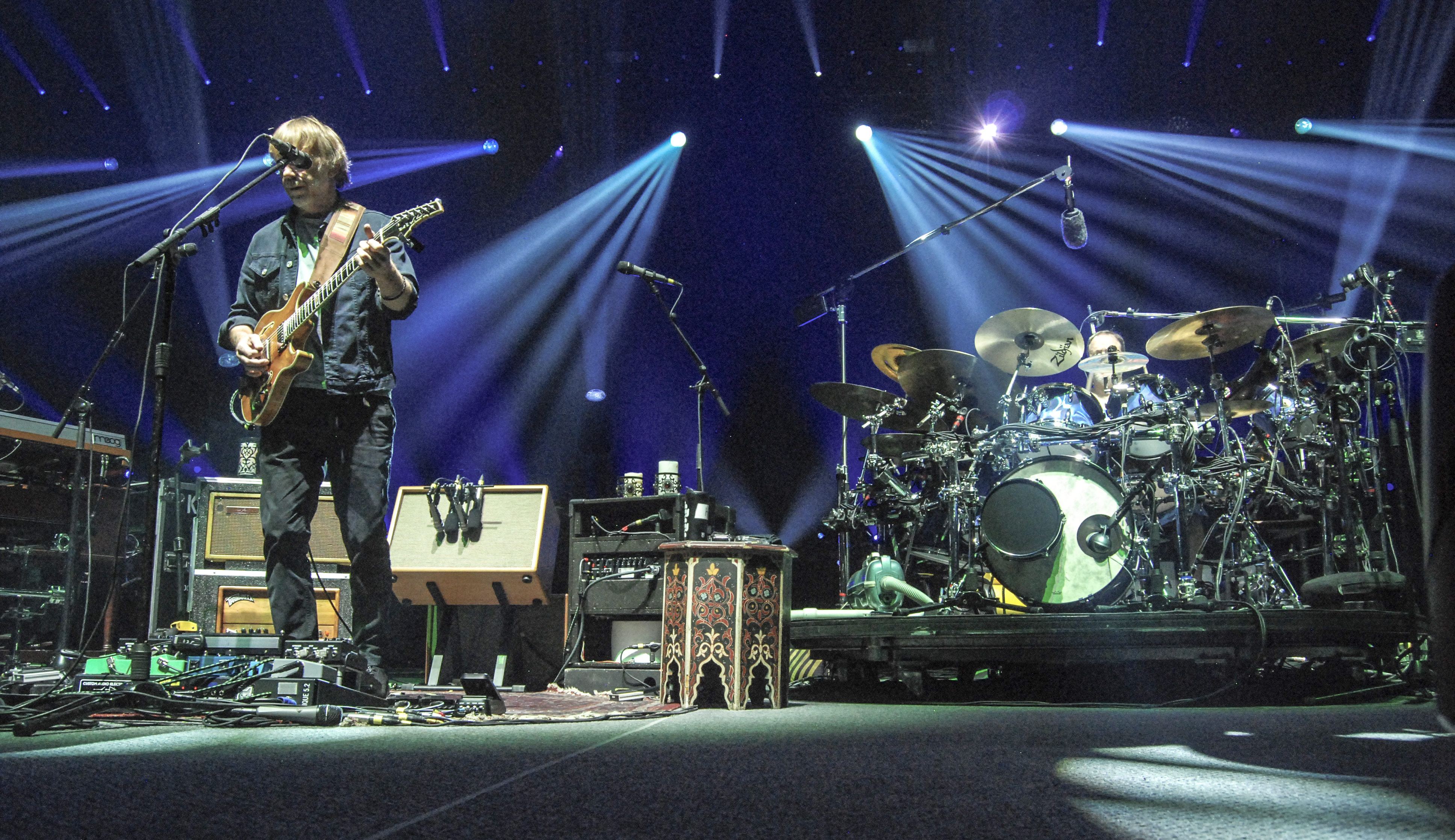 In all my years of attending Phish shows, I've often experienced one- and two-song encores and had come to expect them as par for the course. So, in defiance of my expectations, Phish went all out with a whopping four songs in their deluxe encore to this show. They came back nice and easy with their sweet power ballad "Joy,", and went out soaring with a raging version of their 2000 instrumental "First Tube," from Farmhouse.
But, before they left the building, they had to go quirky and funky at least two more times, with the songs "Buffalo Bill" (decidedly not a personal favorite) and then "Wilson", an early classic that they didn't play on my dad's birthday in 1996. (Had they done that, my mind would have just been blown into 'leetle peeces'.) But in the context of this deeply old-school-type show, peaking out with "Wilson" at the end made absolute sense as a love letter to the most loyal phans. And then "First Tube" was just meant to send everyone out the door on a high-energy-particle wave.
I not only enjoyed the show tremendously for its generosity and flow, but also because– as the character Kyle on the South Park TV show might say – I learned some things! Phish not only played the Nutter Center in 1997 but also returned in 2017 (I did not attend that show.). In addition, there's an expression that describes the gooey goodness of a Phish show in this venue I had not previously heard: 'Nutter Butter.'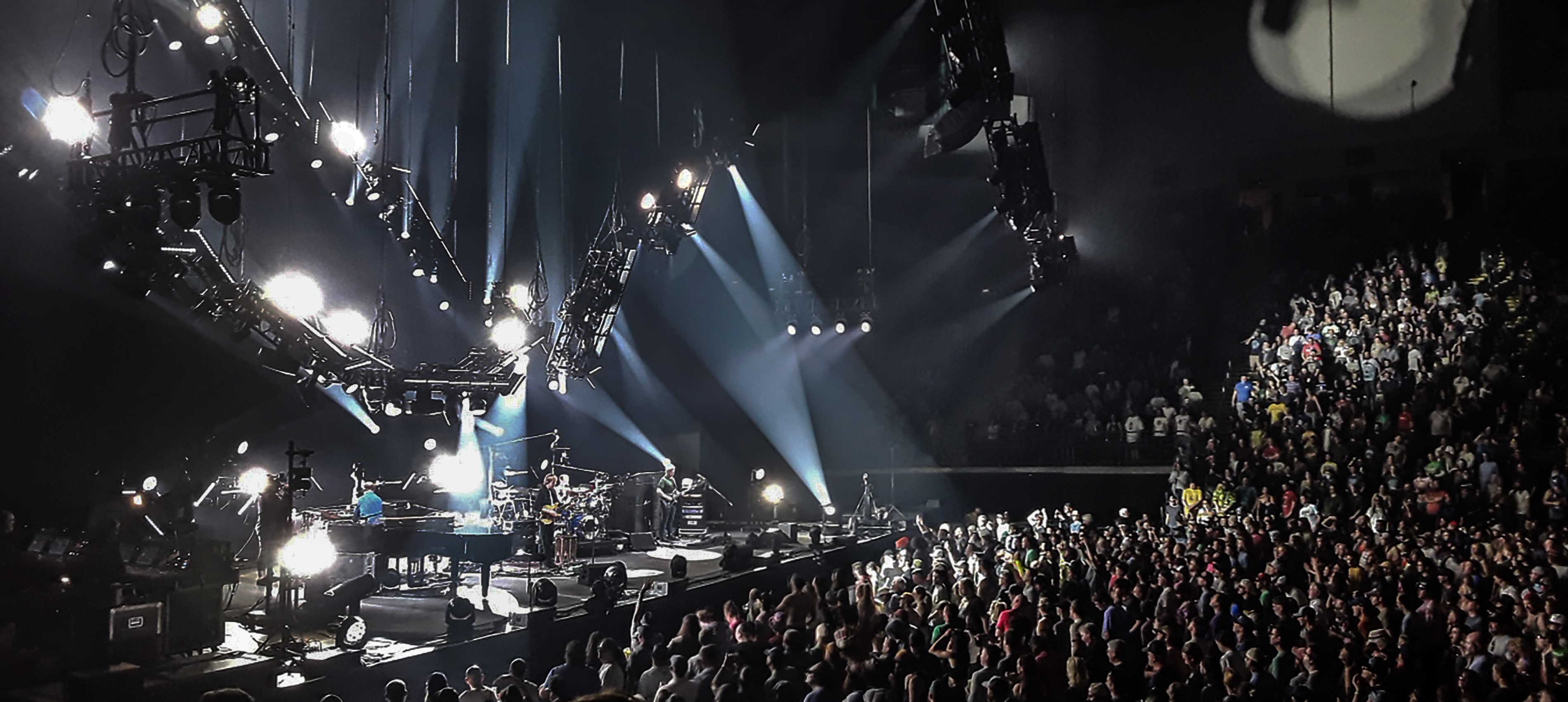 In fact, I met a fan at this latest show who was wearing a red T-shirt with a large, yellow-ink graphic of a Nutter Butter peanut butter-cracker sandwich on the front and a setlist of the 1997 show on the back. He explained to me that it was custom-printed shirt from an online service that will print T-shirts based on the ticket stub of your favorite show. He may have been the only person wearing that Nutter T-shirt, but not to worry: Even when Phish ran out of 'water', they still had plenty of 'Nutter Butter' to spread around for all of us!