"Never miss a Sunday show." This has long been word of the wise from many Phish fans when it comes to experiencing a run of shows. On top of that, the date 12/30 has always been a legendary night for the band. Walking into Madison Square Garden that Sunday night I expected to hear an entertaining show and hoped for some longer extended jams. After all, the opening two nights had overall solid set lists, but there was definitely room for more experimental jamming and improvisation. What I ended up getting was arguably the best show of the run, comprised of some strong song selection and capped by a massive second set that had The Garden mesmerized from start to finish.
Opening with a short yet effective "Runaway Jim" got the crowd's energy raised and people eager to hear more. These short versions of Jim have somewhat been a reoccurring theme for Phish in 2012. Maintaining this high energy, Phish dove into the cover of The Talking Heads' "Cities," which the crowd reacted to fondly. The song felt very appropriate for the moment, almost confirming the fact that we were all in the right place. Segueing from "Cities," Phish busted out the first big jam of the night, a fairly well executed version of "Divided Sky." As they dove deeper into the song Trey and Mike began to bounce in unison, causing the crowd to erupt with delight. An overall solid 16-minute "Divided Sky" with a few hiccups erupted into one of the funkiest versions of "Back On The Train" heard this year. Trey's voice seemed strong and on-point throughout the song and although they didn't take many risks, Trey and Page kept it grooving throughout. A surprise highlight of the first set came from an unexpected, yet beautiful rendition of "Ocelot", a tune off their most recent album release, Joy. Again, Trey's voice seemed strong and confident throughout the chorus. The sounds were soulful and uplifting as the crowd sang "Ocelot, Ocelot where are you now?" in unison.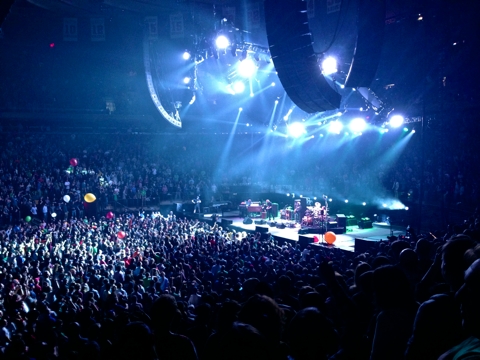 Closing out a very solid first set, Phish came on strong during "My Friend, My Friend", one of the more intriguing songs off the album Rift and a perfect example of some of Phish's deeper, darker material. Phish seamlessly segued into what was sure to be an excellent closer to the first set. Behind me a young man turned to his friend and asked, "When are we going to get an Antelope?" Within seconds of his prediction, the dark My Friend jam ended and Trey strummed the opening notes to "Run Like an Antelope," energizing the crowd with adrenaline. A classic first set closer, Trey brought us on a rollercoaster of explorative notes building into an excellent jam that ended the set. The best, however, was yet to come.
From the moment Phish took the stage for the second set, it seemed as if they had agreed it was time to take it to another level. The opening 40 minutes explored some uncharted territory, twisting and turning through soaring and uplifting jams then seeking deeper more mindful playing, all while CK5 mesmerized us with lights. We were treated to an absolute monster "Down With Disease" to start the set, with each member taking their turn to explore this new realm of possibility. This is an absolute must-listen 3.0 jam, combining all the elements of what we know and love about this band into one blissful expedition of sound. Toward the end of the Disease jam, (some 15 minutes later,) we were treated to the ambient, more psychedelic Phish that we came to know circa 1998. Floating melodically through the set we descended upon "Twenty Years Later", which brought us back down to earth after an intense, beautiful Disease. Although it was a perfectly well executed version, you got a sense that people wanted more of what Disease had brought to the table. Well, ask and you shall receive my friend. Along comes a song by the name of "Carini," and we were launched into full on psychedelic mind-fuck that even Albert Hoffman couldn't fathom. Some of the deepest, darkest Phish in history surrounded Madison Square Garden and took us all for the ride. With what could have very well been the soundtrack to a horror film, Phish brought a wide variety of sounds that seemed not from this planet. Mike Gordon's bass tone rattled and screeched, as Trey seemed to conjure a siren-like melody to entrance the crowd. Overall, the opening three songs of set II were the highlight of the night, and I would highly recommend it anyone and everyone who enjoys this band. Executing flawlessly, Phish took us on an incredible adventure that encompassed some of the best 3.0 jamming we have seen yet.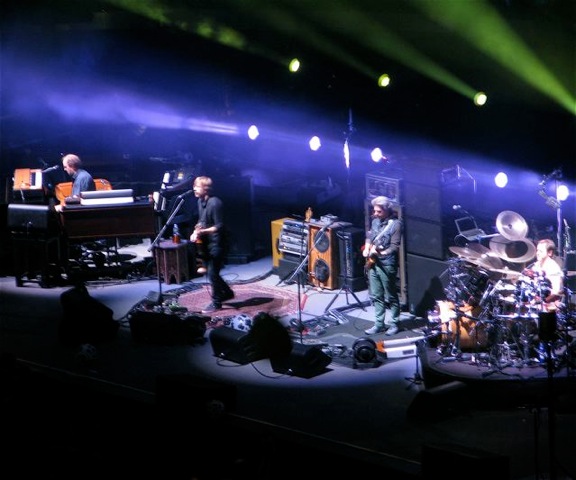 One issue of song placement came during "Backwards Down the Number Line." Okay I get it, Phish was trying to lighten up the mood and bring us back to our happy place, but the crowd didn't seem ready to go back just yet. We were all still basking in the glory of the past 40 minutes, and trying to wrap our heads around what we just heard. Alas, Number Line was standard and well executed to its core and as the song finished, Trey busted out the opening riff to "Julius," always a crowd favorite. This particular version seemed to carry more energy than usual, concluding with face-melting solo by Trey. Many of us assumed this would be the final song to a terrific second set, however after a standard eight-minute version we are treated to a blissful, sweeping rendition of "Slave To The Traffic Light". Trey and Mike went back and forth while Fishman slowly but surely made his way into the picture, culminating in an explosion of euphoria. This wonderfully well-orchestrated version left the crowd on their feet, begging for more. So what could they possibly do place the cherry on top of such an inspiring performance? "Thank You Mr. Miner," rang throughout Madison Square Garden as Phish encored an incredible "Harry Hood" that was explosive from start to finish.

On this Sunday night, Phish proved to us all once again why we deeply cherish what this band brings to the table. They can bring you through a whirlwind of emotions, and all the sudden bring you back to reality. It's the unpredictability that keeps us coming back year after year. Fans love to critique and compare their sound to what they used to be years ago. Well, this not the Phish from the 90's, this is a new beast, a new sound, and they are here to stay.