I saw my first Phish show at the Hampton Coliseum in 1995 when I was 16 years old.  I had such a great time that I lied to my parents in order to go see them again at Hershey Park a few days later.  At the time, I knew nothing about Phish; I didn't know any of its songs, any of its members names, or that the drummer wore a dress and played a vacuum.  I just knew that when I saw that first show at the Spaceship in '95 it was filled with so much positive energy, I wanted to continue being a part of it.
Since that first show, I went to as many shows as I could possibly manage seeing Phish in all sorts of gorgeous indoor and outdoor venues.  But in all those years, I had never seen them at the fabled Red Rocks – a natural amphitheater carved of majestic red sandstone overlooking the foothills of eastern Colorado. Of course this venue was missing from my checklist mainly because Phish had been banned from Red Rocks in 1996, back when the only shows I managed to get to were within driving distance from my home in Virginia.
I live in Boulder now, so when it was announced that Phish 3.0 would start the second leg of its summer tour with a four night stand at Red Rocks, I knew I had to get there.  This time it wasn't my parents I had to maneuver around; it was my demanding responsibilities as a 30 year old mother of 7 month old twins.  Regardless, somehow I thought that the universe would work in my favor...and show me a ticket.  Just one is all I needed.
By Sunday morning, the last night of the four night stand, I still hadn't found a ticket.
I had started to tell my husband that I was just going to listen on the backface of the rocks when the call came in...  The universe came through by way of a new friend named Mike.  My husband and his friend joked that Phish would have to play Bouncin' because of how much I was bouncing around the house, so when Phish encored with it I had to smile, even though it's not my favorite choice.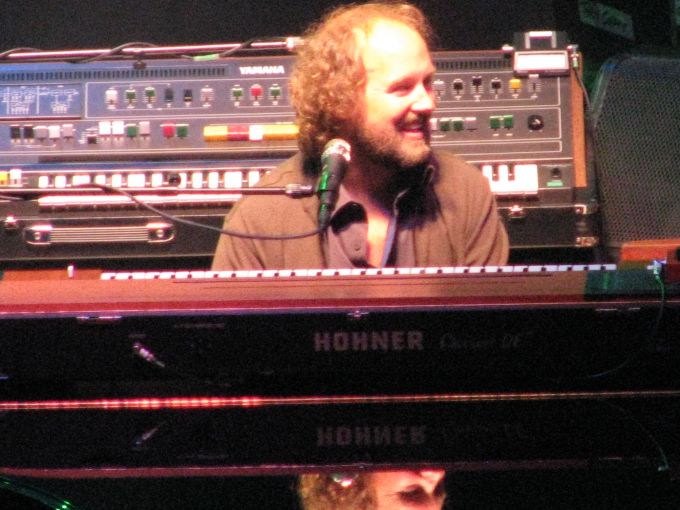 Getting into the show was smooth.  There was none of the hassle everyone had worried about prior to the start of the four night stand.  In fact, the lot was almost, dare I say, quiet?  Tired maybe?   That wasn't the only difference I noticed...gone were the old clunker RV's blasting Disco and the rugged old school buses packed to the brim with sleeping bags and camping gear.  In their place were lines of luxury stretch limos and rented party buses of all varieties.  Fans had been doing these Red Rocks shows in style!  The thing that hadn't changed was the friendly community you can always find on lot.  Walking around you see friends you haven't seen in years, and meet people you've never seen before who are as friendly as those you've known all your life.  It was good to be back.
There's something about the anticipation of the first set opener that makes my heart beat fast and gets me giddy with excitement.  When the boys walk on the stage you know you have the whole night of music ahead of you, and the palpable excitement of the crowd is always energizing.  The Roses are Free opener went pretty quickly into what seemed like a short Wilson, and before I knew it we were on the third song.  NICU has always been one of my favorites, and this was the first song of the night that Trey seemed to get into some nice grooves with his guitar.   I felt like the show really started for me on this song.  They slowed things down with a Prince Caspian, always a pretty tune, and it was made even more special at this spectacular venue with the sun setting behind us and the calming breezes.  The first set continued with a few more highlights, my favorite being a new Mike song, Sugar Shack, which I heard live for the first time (they first introduced it at the Camden shows).  Phish pleasantly surprised me with the set closer, Kill Devil Falls, a song I didn't like that much going into last night, but this version might have changed my mind.
The second set opened with another cover,  Boogie on Reggae Woman, one of my personal favorites....which brought on the funky theme of the rest of the set.  Next was the YEM that everyone expected they would play, but the band had a surprise up their sleeves.  During the vocal jam, Kuroda turned the spotlight to Trey and Mike, while in the dark another drum set was being pulled up to the right side of the stage beside Fishman.  Everyone soon realized that it was Bill Kreutzmann of the Dead who continued with Phish for the remainder of the night.  It was a nice way to end the second set, and a nice nod to Jerry's Birthday the day before.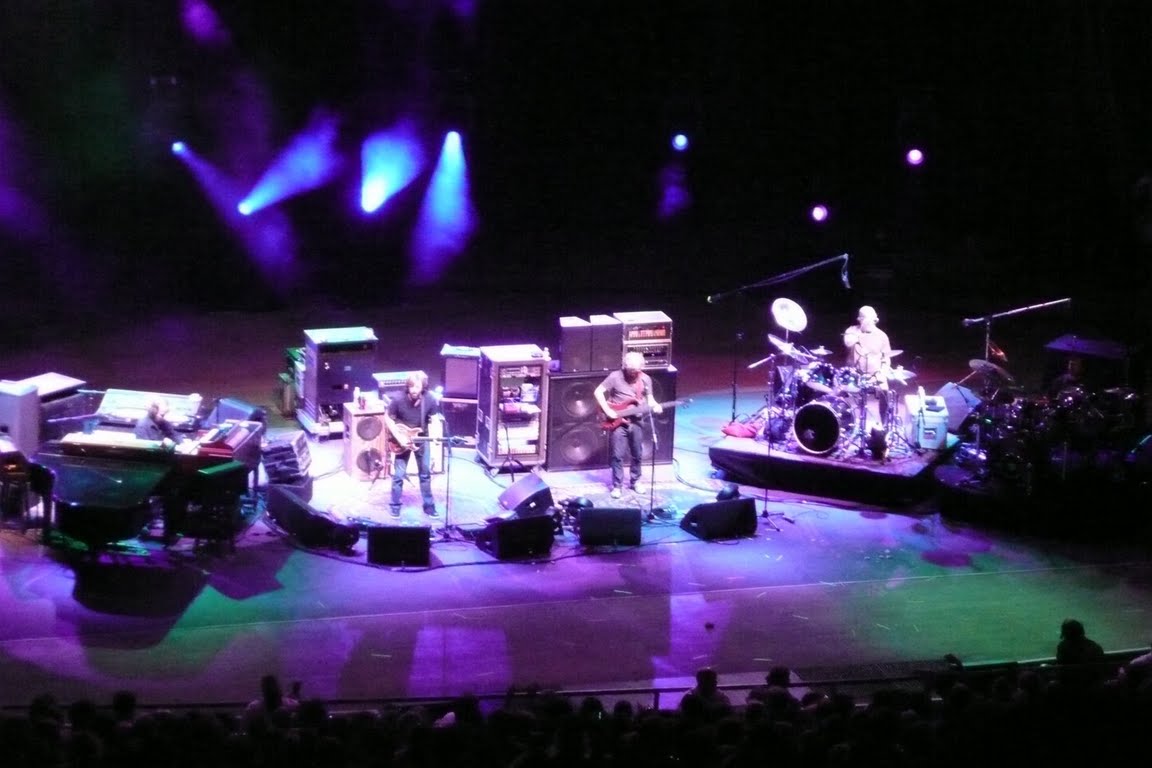 The three song encore started with a tribute to Trey's daughter which tugged on my heartstrings and made me glad that I would soon be going home to my boys, and let's face it...my bed.  After a Bouncin' and then a great Slave as closer, I returned home, and back to my life as mother and lifelong Phish fan.
8/2/09 Red Rocks Amphitheater, Morrison, CO
I: Roses Are Free, Wilson, NICU, Prince Caspian, Get Back on the Train, Reba, Grind, Beauty of a Broken Heart, Sample in a Jar, Sugar Shack, Waste, Kill Devil Falls 
II: Boogie on Reggae Woman, You Enjoy Myself > Undermind* > Drums* > Seven Below* > 2001* > Waves* > Character Zero* 
E: Bittersweet Hotel, Bouncing Around The Room, Slave to the Traffic Light 
* with Billy Kreutzmann