A couple of weeks ago Mike asked me to go to the Phix show at the Fox and write a review; I'm not going to write a review of a cover band, I told him. You'll wind up with ridiculous lines like "Paul was really channeling Trey on that cover of Moma Dance" or "their version of Punch You in the Eye almost made me feel like it really was Phish." Over the last several days he kept bugging me in his inimitable Yahoo! Messenger style "you going tcasson?", "you there tcasson?", "where are you?" and finally, after my committed response of "please standby...", with "you're on the list."
So I had no choice. Therefore, whatever you read in this article about the band, the show, or the Grateful Web, in the interest of full disclosure, I was a guest of Phix and the Grateful Web, at the Phix show Saturday 5/21/2005 at the Fox Theatre in Boulder, CO, a benefit for the Mockingbird Foundation. I have also seen Phix several times previously and in each case I remember passing a pleasant evening listening to well-remembered tunes without any of the emotional investment that comes from the excitement of seeing the band in person.
Unlike the typical experience of waking up the day of a big show with that splendid jitteriness that heightens your sense of expectation that the day ahead holds magical and serendipitous promise, I woke up reeling from the effects of my previous night's foray to the Motion for Alliance event at Trilogy (Motion for Alliance is a band that you really need to see for yourselves, more on that another time) and in a not so splendid haze that could only be remedied by the classic Spring afternoon Boulder tradition of drinking at a patio bar, in this case, Rhumba, a Cuban themed cafe with a wonderful indoor-outdoor stone bar, replete with (artificially) fading stucco and those sliding metal garage door style windows that open up the whole thing. Rhumba, among other things is known for its Mojitos, and it was for these that I took a seat on the outside half of the bar, greeted the bartender, J., who had just opened up for the day and was already prepping rows of pint glasses with ice, sugar, limes and fresh mint leaves for the coming lunch rush, and started into one of the ice-cold delicious drinks. Like any great alcoholic concoction, the Mojito is more art than science, more touch than skill, more intuition than knowledge. A good friend of mine who coincidentally shares the name J. with the bartender at Rhumba has mastered the art of the Mojito that can not be approached by anyone. Nevertheless, his professional namesake puts out one only slightly less perfect and given the location of the bar, slightly more satisfying on a nice, warm Saturday afternoon.
I don't want to be one of those people who plops down on a barstool, orders a drink and immediately buries their nose in a book, but I had just picked up a copy of "Freakonomics" from the book store down the street and couldn't resist flipping through a few pages. Seems like half the staff kept walking up and asking about the book. They'd heard about it somewhere or read a bit of it and wanted to know what I thought. The gist of it is that an award-winning economist from the University of Chicago spends his time researching statistical oddities in the world such as the corporate structure of a crack gang or the dangers of swimming pools versus handguns and comes up with some interesting conclusions that differ greatly from the conventional wisdom in these cases. Good stuff and fodder for a separate discussion but after three Mojitos and some excellent Caribbean-style mussels, I was ready to put down the book for some other scenery.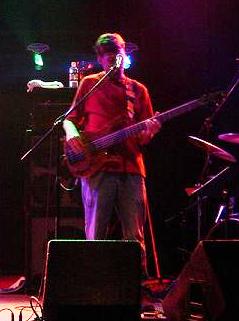 Instead, I ended up taking some downtime at the homestead. Unfortunately, I still wasn't getting that Phishy sensation that used to occur in the hours before a show (I suppose that I also used to get a Deady or Panicky sensation back in the day, as well...), so I mixed up a musical cocktail of some freshly purchased CDs. Some of my friends can't believe that I still buy CDs when all of the music is so readily available, either burned from a friend or downloaded in some manner, and truthfully, when someone hands me a copy of a CD that they have just made, I really appreciate it, but nothing replaces the feeling of tearing open shrink wrap, of reading the liner notes and checking out the artwork, the same feeling that vinyl aficionados complained about disappearing in the age of the CD, and which I complain about disappearing in the age of the digital download. I had picked some good stuff from Bart's (their used bin is always full of treasures) and put on a mix of Captain Beefheart, Donna the Buffalo, and Dr. Dog, a college buddy's brother's band from Philly, who I saw recently at the Larimer Lounge and are worthy of a far longer mention than the one in this single run-on sentence. A sunny afternoon of good tunes later it was time to head out in search of some dinner and drinks prior to the concert.
This evening was to be a solo mission. Most of my friends who would have been into an evening of Phish tunes were either out of town or had other plans. No problem. The day seemed to be taking shape, anyway, as an opportunity to follow no particular path, to just walk out the door and to see what happens, which happened next to be running into a friend who was out on the town with some of her out-of-town friends, and planning on attending night two of the Motion for Alliance festivities. So I stopped and foregoing any thoughts of dinner, temporarily, joined them for some drinks at the Catacombs, the classic dungeony dive in the basement of the Boulderado, and the polar opposite of the afternoon's venue. The Catacombs, is, of course, through some interesting legal loopholes, one of the few remaining places in Boulder where you can sit in a bar and smoke until your lungs turn black. So I availed myself of a few pints of that most classic smoky bar beverage, Guinness, and some well-placed lung darts to boot. Begging my leave from the group, that I had been placed on the guest list at the for Phix at the Fox by a very prominent web-based music site, and that I must head on to the show, even though I would love to return to the scene of the previous evening's debauchery, I began walking up to University Hill.
By now, I had both missed dinner and the opening band, Willis, who I'm absolutely certain were outstanding and as for dinner, the best gyros in town is right across the street from the Fox at the University Hill Market. I made a note to make sure I stopped in there at some point but first I needed to get inside, procure myself another beverage and make sure that I didn't miss any of the show. Upon walking in, I saw one of my favorite bartenders in Boulder, the lovely and amazing R., who I used to work with many years previously, and was terribly smitten with at the time. After chatting for bit, she got me a Stoli and Soda with a squeeze of lemon and I wandered off to find a good spot to watch the show. One note on vodka sodas. Long ago, I switched from vodka tonics to vodka sodas. They are much cleaner tasting, without the acrid sweetness of the tonic, and I can generally put back at least a half dozen without experiencing any diminished capacity. I also refuse to buy into any of the snooty new Vodka brands. I mean with the vodka of choice of the greatest nation of alcoholics in the world, how could one go wrong.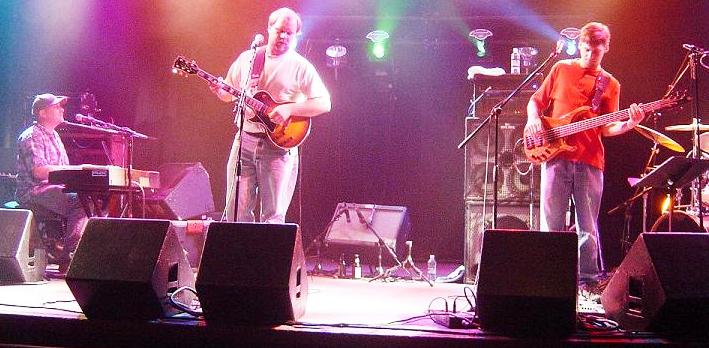 After a couple circuits of the bar to see if I spotted any familiar faces, I settled into a conspicuous corner of the back left bar where I could survey the whole room and had a clear view of the band. One of the most wonderful things about the internet is the instant availability of information that previously might have taken weeks to disseminate. I remember going to Dead Shows and immediately looking for a copy of Dupree's Diamond News which was one of the most reliable means to get an update on the bands recent shows. Noting that in this information age, I was certain to be able to get a copy of the setlist on the Internet in the morning (of course this didn't happen), which I could reference instead of my memory in order to write this story, I proceeded to immediately forget the opening song, which was performed admirably by the members of Phix - Paul Murin, Derek Berg, Chris Sheldon and Brian Adams.
As the band segued into their second song, another very famous tune that Phish used to play all of time and performed with almost super-human dexterity by Phix, a co-worker of mine, J. (I know a lot of J's), wandered past holding a couple of Budweisers. After determining that his viewing location was far better than mine, I joined him and his pals right up against the railing on the right side of the theatre overlooking the front of stage dancing area. We talked a bit about how much we enjoyed Phix as compared to some other cover bands we had seen, notably a certain rough sounding band that toured for a couple of years playing covers of a recently returned from hiatus southern jam band that most of you are familiar with, the music scene in general and up and comers that we were familiar with. I decided that the bottle of Bud was looking pretty tasty at this point over my now departed Stoli Soda, so I joined my colleague and ordered one, as Phix began their third song, a stellar rendition of a bouncy Phish song with some lyrics about a guy who did something. A couple more Buds went down as did a few more songs and some idle chit-chat about past Phish experiences, upcoming summer concert plans and this goofy thing that happened at work.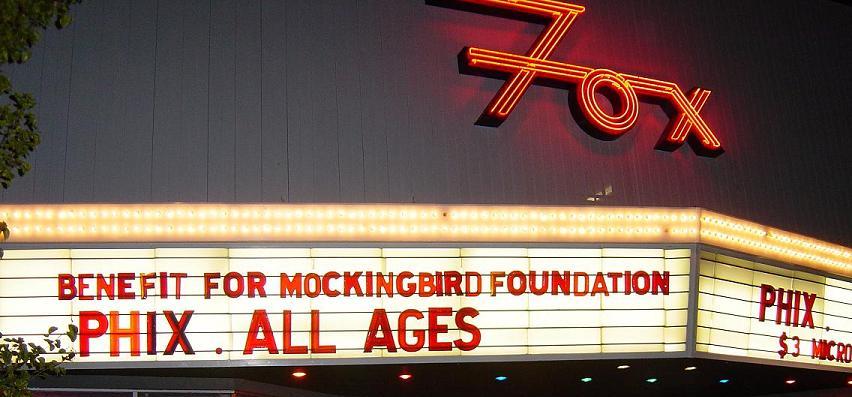 Toward the end of the set, my phone began vibrating. I picked up. Some old girlfriends of mine from college were out and about in Boulder and practically demanding that I join them for a drink later. I promised that I would indeed meet them and returned to watching the show. Phix was now embarked on a musical journey of incredible complexity in which they each seemed to be guided by a mysterious force manipulating their hands into playing their instruments with a subtle grace and majesty that had only been achieved by one other performing rock band to date, their very own inspiration, Phish. As the first set came to a close, I said farewell to my new friends and set off to meet these girls, who I knew would find some exquisite female means of torturing me if I didn't join them for drink, but that's another story. All in all, it had been a most pleasant evening listening to some well-remembered tunes, without any of the emotional investment that comes from the excitement of seeing the band in person.