The Planet Drum 2006 Tour reunites Mickey Hart, Zakir Hussain, Sikiru Adepoju, and Giovanni Hidalgo for a September series of West Coast shows in celebration of the 15th anniversary of the ground-breaking album of that name.  Planet Drum was released in 1991 on the Rykodisc label and went on to earn the first-ever Grammy in the World Music category.  The tour is the groups first in almost a decade.  It also marks the resumption of an artistic relationship – between Mickey Hart and Zakir Hussain – that goes back to the late 1960s.
For Hart, this reunion is an opportunity to take Planet Drum into new places. "This is a deep drumming groove. We're taking the archaic rhythm worlds into outer space.  Planet Drum explores rhythm and noise…it's a sound yoga of processed acoustic percussion headed straight for the trance zone that becomes a dance of ancient and modern worlds.  Deep drumming is a skeleton key into these realms."
In 1968, Mickey Hart was the percussionist for a band called the Grateful Dead.  Ever-curious, he met Hussain's father, Allah Rakha (Ravi Shankar's tabla player), and became his part-time student, bringing Indian percussion ideas to rock and roll.  It was a seminal encounter.  In the 1970s, Allah Rakha gave Hart what he called his greatest gift – his son, Zakir Hussain, who went on to succeed his father (Allah Rakha passed on in 2000) as the world's preeminent tabla player.
Hart and Hussain's musical relationship first emerged into the public eye in 1976 with the Diga Rhythm Band, a collaboration of percussionists (most of whom were students at the Ali Akbar Khan School of Music) that was, Hart said, an American version of a gamelan.  After opening for a Jefferson Starship concert at San Francisco's famed Winterland, they recorded Diga, which included the tune "Happiness is Drumming," which evolved into the Hart tune  "Fire on the Mountain," a staple for the Dead, Other Ones, and Planet Drum.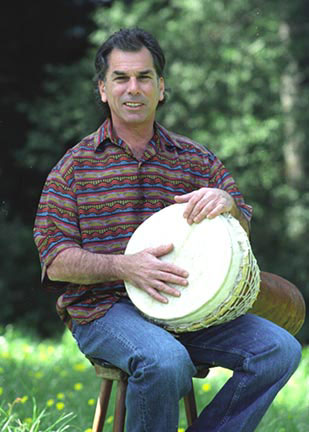 Later in the 1970s Hart organized the "Rhythm Devils," a percussion group that included his fellow Grateful Dead drummer Bill Kreutzmann and Michael Hinton, among others, to record the percussion sound track to Francis Coppola's Apocalypse Now.  Soon after, in the early '80s, Hart collaborated with Airto Moreira and Flora Purim on Dafos.
By then, he'd begun an in-depth investigation into the sociocultural history of percussion, which resulted in two books – a memoir, Drumming At the Edge of Magic, and then a pictorial history, Planet Drum.  Alongside the book came the CD, and perhaps the greatest summit meeting of percussionists the world has ever known.  All of them were legendary. 
The elder was the late Babatunde Olatunji ("Drums of Passion") from Nigeria, the man who introduced African drumming into popular American sensibilities, along with his protégé and aesthetic heir, Sikiru Adepoju (whose specialty is the talking drum), also of Nigeria.  From Brazil came Airto Moreira and Flora Purim, of Miles Davis' Bitches Brew fame.  One of the great Latin percussionists of all time, Giovanni Hidalgo, brought in the flavor of Puerto Rico and the Caribbean.  Finally, Zakir Hussain (and his associate T.H. "Vikku" Vinayakram) blended in the magical sounds of classical India. 
The CD was a critical and popular smash, as were the book and the tour.  And now, 15 years later, with each of the four – Hart, Hussain, Adepoju, and Hidalgo – at the height of their creative powers, it's time to invoke the percussion gods again. 
Bio/Mickey Hart
Mickey Hart is best known for his nearly three decades as an integral part of an extraordinary expedition into the soul and spirit of music, disguised as the rock and roll band the Grateful Dead. As half of the percussion tandem known as the Rhythm Devils, Mickey and Bill Kreutzmann transcended the conventions of rock drumming. Their extended polyrhythmic excursions were highlights of Grateful Dead shows, introducing the band's audience to an ever-growing arsenal of percussion instruments from around the world. Exposure to these exotic sounds fueled Mickey's desire to learn about the various cultures that produced them.
His tireless study of the world's music led Mickey to many great teachers and collaborators, including his partners in Planet Drum. Planet Drum's self-titled album not only hit #1 on the Billboard World Music Chart, remaining there for 26 weeks, it also received the Grammy for Best World Music Album in 1991 - the first Grammy ever awarded in this category. Planet Drum is one of twenty-nine recordings released on Mickey's the WORLD series on Rykodisc. The WORLD offers a wide variety of music from virtually every corner of the globe with releases like Voices of the Rainforest from Papua New Guinea and Living Art, Sounding Spirit: The Bali Sessions. In 2002, Mickey established The Endangered Music Fund to return royalty payments from many of these recordings to the indigenous people that produced them, and to further the preservation of sounds and music from around the globe.
Mickey's experiences have paved the way for unique opportunities beyond the music industry. He composed a major drum production performed by an assembly of 100 percussionists for the opening ceremony of the 1996 Centennial Olympic Games. Additionally, Mickey has composed scores, soundtracks and themes for movies and television including Apocalypse Now, Gang Related, Hearts of Darkness, The Twilight Zone, the 1987 score to The America's Cup: The Walter Cronkite Report, Vietnam: A Television History, and The Next Step. In 1994 Mickey was inducted with The Grateful Dead into the Rock and Roll Hall of Fame.
Mickey has written four books documenting his lifelong fascination with the history and mythology of music. These include Drumming at the Edge of Magic, Planet Drum, Spirit into Sound: The Magic of Music, and Songcatchers: In Search of the World's Music.
Long a social activist, Mickey appeared in August, 1991 before the U.S. Senate Committee on Aging, speaking on the healing value of drumming and rhythm on afflictions associated with aging. Since joining the Institute for Music and Neurologic Function at Beth Abraham Hospital in 2000, Mickey is continuing his investigation into the connection between healing and rhythm, and the neural bases of rhythm.
In 1999, Mickey was appointed to the Board of Trustees of the American Folklife Center at the Library of Congress where he heads the sub-committee on the digitization and preservation of the Center's vast collections. In October of 2000, the Saybrook Graduate School and Research Center conferred an honorary doctorate of humane letters upon Mickey for his work in advancing the preservation of aural archives.
Bio/Zakir Hussain
Widely considered a chief architect of the contemporary world music movement, Zakir Hussain's contributions to world music have been unique, with many historic collaborations, including Shakti, which he founded with John McLaughlin and L. Shankar, the Diga Rhythm Band, Making Music, Planet Drum with Mickey Hart, and recordings and performances with artists as diverse as George Harrison, Joe Henderson, Van Morrison, Airto Moreira, Giovanni Hidalgo, Pharoah Sanders, Billy Cobham, Rennie Harris, the Kodo drummers and Charles Lloyd.
A child prodigy, Zakir was touring by the age of twelve, the gifted son of his great father, tabla legend Ustad Allarakha. Zakir came to the United States in 1970, embarking on an international career which includes no fewer than 150 concert dates a year.  He has composed and recorded many albums and soundtracks, and has received widespread recognition as a composer for his many ensembles and collaborations. Most recently, he has composed soundtracks for the films In Custody and The Mystic Masseur directed by Ismail Merchant, Bertolucci's Little Buddha, for which Zakir composed, performed and acted as Indian music advisor, Vanaprastham (The Last Dance), chosen to be screened at the Cannes Film Festival in May, 1999, Saaz, and Everybody Says I'm Fine.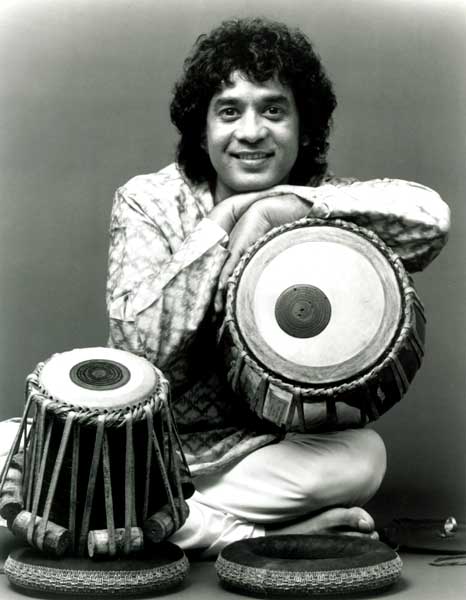 "Zakir Hussain's tabla has spearheaded World Music's journey into jazz, fusion and electronica . . . the continuing work of a master musician who is preserving an ancient tradition even as he continues to innovate within it. He is the conservator of his instrument's history and its various styles of playing . . . the scion of a great percussive legacy." THE WIRE 2002
Bio/Sikiru Adepoju
Mickey Hart calls him "the Mozart of the talking drum."  Sikiru Adepoju (Seek-ee-roo Ah-deh-poh-joo) first came to the focus of the American music scene through his involvement with the Grammy Award-winning Planet Drum project. His technical mastery of the talking drum and various indigenous percussion instruments (dundun, gudugudu, gome, omele, sekere, etc.) have gained acceptance and respect among music listeners of all tastes. Yet it is his unique spirit, discipline, and commitment to the moment that has gained him respect among his musical peers, and have contributed to his ability to engage audiences, body & mind, all over the globe.
Born in Eruwa, Western Nigeria, Sikiru grew up in a "talking drum family" where he began his tutelage of the instrument at his father's side, at the age of six. He then went on to tour and record several albums with renowned Nigerian Juju artist Chief Ebenezer Obey and his Inter-Reformers Band. Obey, who called his personal style the miliki (enjoyment) sound, began where noted juju entertainer I.K. Diaro left off. Obey drew in such Western elements as multiple guitars and a Hawaiian steel guitar soloist, adding them to the traditional rhythmic foundation.
After he moved to the Bay Area in 1985, Sikiru soon met world-renowned percussionist and leading African music artist Babatunde Olatunji. Shortly after meeting Olatunji, Sikiru joined his Drums of Passion ensemble and began a 17 year period with the group, recording & touring extensively throughout the world, until a year before Olatunji's death in 2003.
While a member of Olatunji's Drums of Passion, Sikiru recorded with Stevie Wonder & Carlos Santana, and performed with the Grateful Dead, where he met Grateful Dead drummer Mickey Hart. It was after meeting Hart that Sikiru also joined Hart's Planet Drum ensemble. In 1991 the group's debut release "Planet Drum" hit #1 on the Billboard World Music Chart, remaining there for 26 weeks, and went on to receive a Grammy Award for Best World Music Album. In 2002 Sikiru joined Mickey Hart's Bembe Orisha (party to the spirits), where he continues to tour & perform.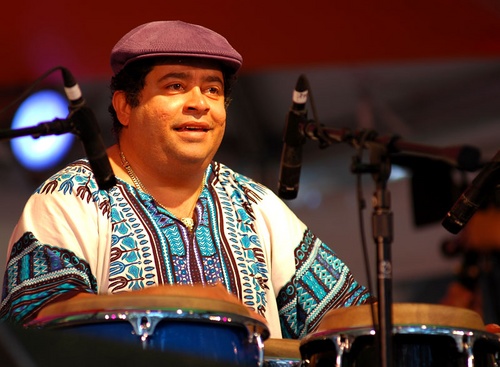 Bio/Giovanni Hidalgo
Widely acknowledged among the greatest congueros of his generation, Giovanni Hidalgo was born in San Juan, Puerto Rico in 1963, first taking up the drums five years later; the son of the noted percussionist Jose "Manengue" Hidalgo, he was educated in Latin rhythms from childhood onward, and as a teen regularly walked to local gigs with his congas strapped to his back. He soon caught the attention of the legendary Dizzy Gillespie, touring in his United Nations All-Star Orchestra for four years.  Hidalgo also became a noted session player, recording with Freddie Hubbard, Paul Simon and Mickey Hart's Planet Drum project. In 1992, he recorded his debut solo LP, Villa Hidalgo; Worldwide followed a year later.  1997's Hands of Rhythm, collaboration with pianist Michel Camilo, earned Hidalgo a Grammy nomination in the Best Latin Jazz Album category. His Greatest Hits collection followed the next year.
Tour Schedule:
9/20 – Lobrero Theatr, Santa Barbara, CA
9/21 – The Avalon, Los Angeles
9/22 – Rio Theatre, Santa Cruz
9/23 – Masonic Auditorium, San Francisco (SF Jazz Festival)
9/24 – Van Duzer Auditorium, Arcata
9/26 – Crystal Bay Casino, Crystal Bay, NV (tentative)
9/28 – Ginger Rogers Theatre, Medford, OR
9/29 – Alladin Theatre, Portland