On New Year's Eve, Railroad Earth swung into a rendition of Warhead Boogie that, when all was said and done, left me in a state of almost comical ecstasy. During the crescendo and climax, I was twirling and spinning and swirling and grinning, and, then, when even kinetic rhythm couldn't contain my body, I jumped as high I could, over and over, like a gobsmacked pogo stick.
Did The Ogden have a roof? I don't remember, because the firmament never seemed so close.
Most of you have experienced a similar feeling of musical transcendence, wherein the level of your happiness reaches such momentous heights, you shed all somatic consciousness, allowing the rays of sonic sunshine to take the reins. It's like Apollo and Helios chauffeuring you to your own musical Elysium. Ten years hence, I will probably wake up from a hypnopompic dream about this song, my jaw locked into place from smiling too wide, just like tonight.
As with any NYE show of import, the excitement and energy was palpable as soon as the doors swung open. I staked out a spot in the front row, almost directly underneath lead singer and guitarist Todd Sheaffer's right monitor. The back of the stage was adorned with a modern interpretation on Mayan imagery. Pyramids were constructed of silver textile, dotted at their apex with a disco ball as an homage to Times Square. A prominent Mayan calendar, about ten feet in diameter and forged from glittery silver fabric, hung behind drummer Carey Harmon. Again, the imagery seemed appropriated for a contemporary NYE celebration. The calendar looked more like a circular UFO with another disco ball dotting the (command) center. The set pieces themselves were kitschy and playful, but also seemed like a commentary about the fractured and unbalanced state of the world. While the Mayan calendar predicts end-times in late 2012, we all hope it is not a metaphorical harbinger of worse things to come. The Mayan tie-in becomes perfectly evident during the third set and encore.
The band chose to play a truncated 40-minute first set. Happy Song would augur the pedal-to-the-metal, uproarious tenor that became woven into the latter night tapestry, but overall, this five-song set was relatively patient and mellow. Maybe the band wanted to settle everyone in before the inevitable onslaught of uptempo jamming.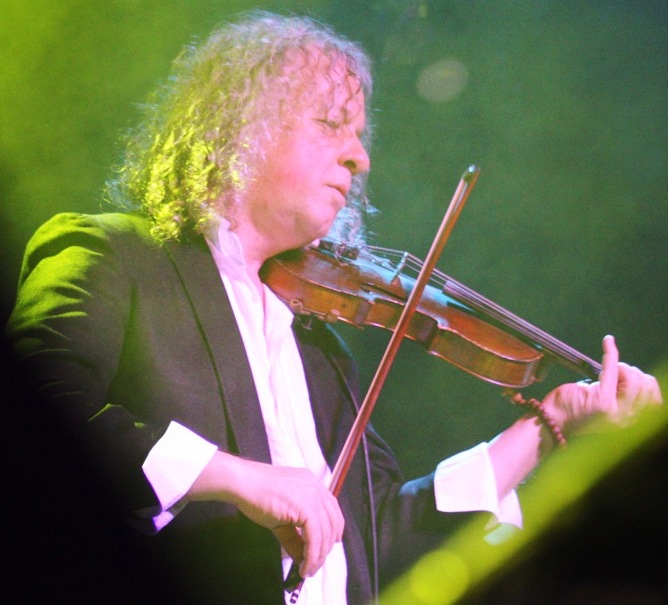 In the second set, John Skehan and Tim Carbone, the respective mandolin player and fiddler for Railroad Earth, girded the beautiful Birds of America with delicate interplay, while bassist Andrew Altman anchored their conversation with a funky, pronounced groove. A few minutes later, a raucous rendition of Neal Casal's Dandelion Wine, punctuated by Carbone's lascivious fills, signaled the point of no return. After this piece, I observed some of my neighbors moving their feet rhythmically during dead air in between songs. At any show, that's a tell-tale sign for: "It…Is…On!"
Keith Moseley, String Cheese Incident's stalwart bassist, sat in with the band for the second set's penultimate song, laying down the rhythm this time on an electric guitar, while singing a tune he wrote with Sheaffer – Sometimes a River. Moseley switched to lead during a melodic jam, when the constellation of instruments on stage was arranged in perfect harmony. The entire show had all the aural and visual pleasures one would anticipate, but this song even induced the haptic thrill of feeling The Ogden's floorboards rhythmically expand and contract under the weight of collective satisfaction.
And in that same sense, tension and release was the overarching theme for the third set. During the countdown, female dancers adorned in white, fanned out across the balcony. Two more women danced on stage. The first donned five-foot stilts hidden under a what looked like a Burning Man wedding dress while she spread her diaphanous angelic wings, beautifully illuminated by the stage lights. The other wore a dress that would be equally welcome at Burning Man – a tight ensemble that paired well with a rhythmic style that hybridized belly-dancing and Deadhead willow-swaying.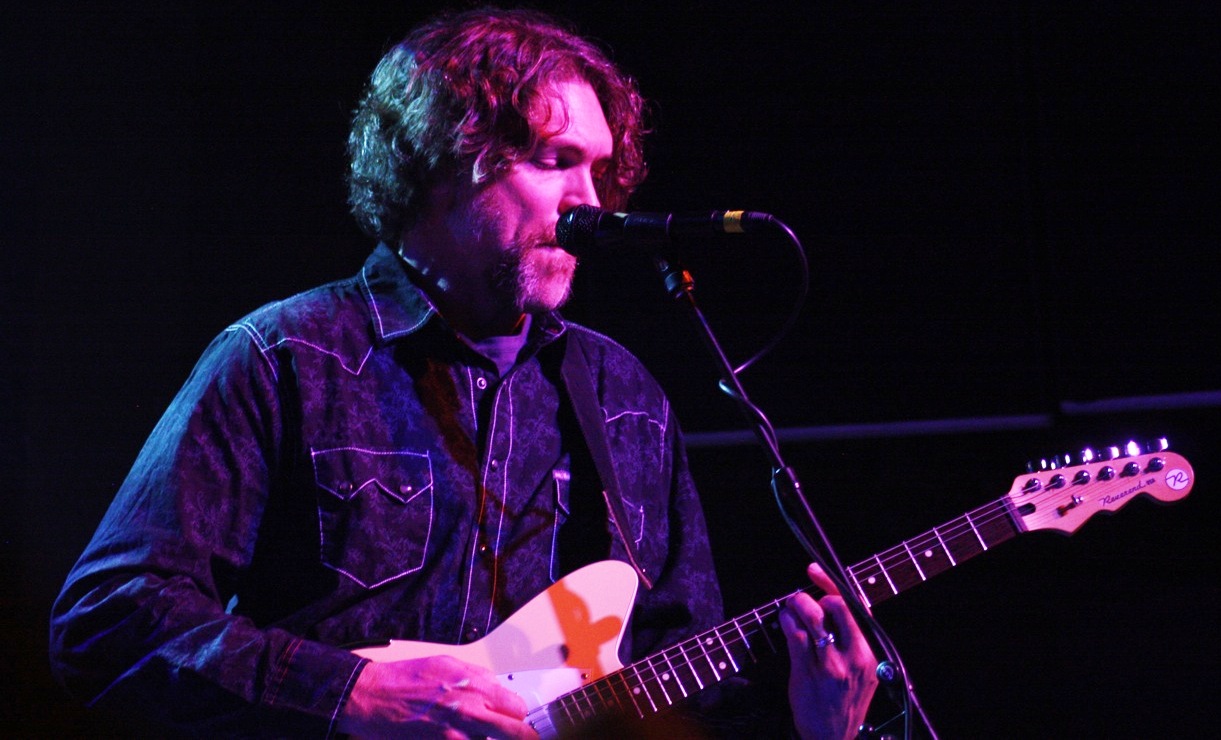 The band, all decked out in pseudo-Mayan headdresses, started the third set at about 11:50 p.m. with a downright nasty jam. Andy Goessling, the band's multi-instrumentalist, drove to funktown on his saxophone while the aforementioned dancers intensified the mood. At a couple of minutes to midnight, a crotchety looking man with a gnarled visage and white beard came on stage. He was the embodiment of Kukulkan, the Mayan snake deity. He wore a farrago of feathers and gripped a walking stick around which a (stuffed toy) snake was wrapped. Just like the headdresses and set pieces, this was all kitschy fun.
"From all ends there are beginnings," he announced. "2012 is almost here. Let the new cycle begin." The countdown ensued and as the clock struck midnight, the band brought their initial jam to a conclusion while hugs and kisses were exchanged.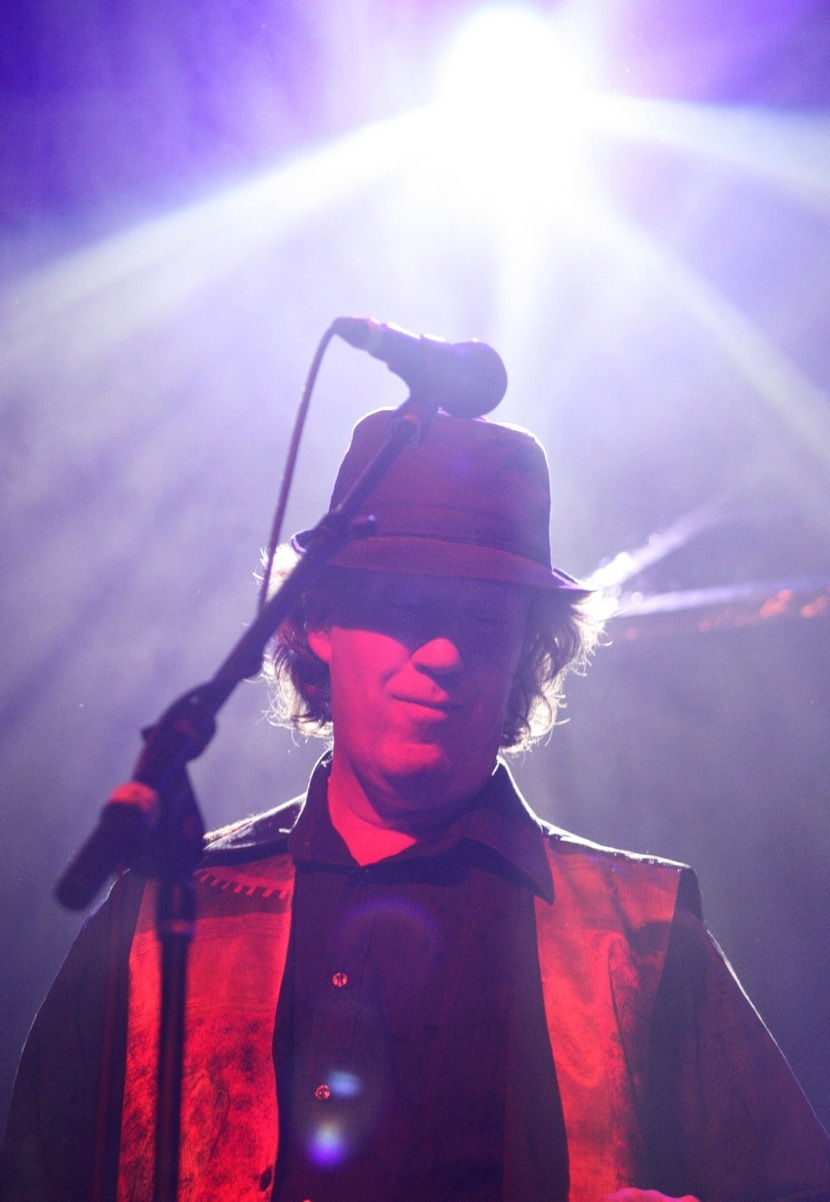 A minute and a half later, they dove into a cover of Frank Zappa's Son of Mr. Green Genes and the third set took off. Tension built throughout the first half of this, the longest, set, with an eerie, textured version of Spring-Heeled Jack. The extreme dissonance created in the jam was never truly resolved until about half an hour, and a few songs, later, during Warhead Boogie. This brings me back to the beginning of the review. As I already said, the release provided by this song left me with nothing to do but jump toward the heavens. To say the crowd on the floor "boogied" would be a vast understatement. We welcomed in the New Year as seraphim, fluttering about as fast as we could, happy to be in a musical cathedral and sonically in tune with our higher power.
The show ended with a triptych of encore songs that really embodied, and yet fought against, the Mayan notion of the earth's destruction in 2012. Hard Livin' is where we are, but, as George Harrison would tell us, All Things Must Pass. Eventually, we all hope to "sing with the heavens in harmony", wishing for Peace on Earth. Every time I see Railroad Earth, they outdo themselves and NYE 2011 was no exception. Visually, musically, and thematically, this superlative band planted a memory that, if I am lucky, will still be available not only ten years hence, but a long ways down the line.