The monsoons came late to southern Colorado and New Mexico this summer, causing festival promoters to watch the skies. Here in South Fork, CO at the opening of the 11th annual Rhythms on the Rio Music Festival rain-heavy clouds released their payloads earlier in the day, well before the festival opened around 5 pm. Alexander Kofi and the Jah Kings' great vibe pushed those clouds further away to reveal a great night for some spectacular music.
This intimate festival always makes me feel as if I'm coming home to family and good friends. It has become one of the most sought-after fests for musicians just because of that laid-back welcome air and the beauty of the location along the swift-flowing Rio Grande River and tree covered mountains all around. Trees and water always make my summer travel special, and when they are combined with great music, I feel as if I've stepped into a little piece of heaven.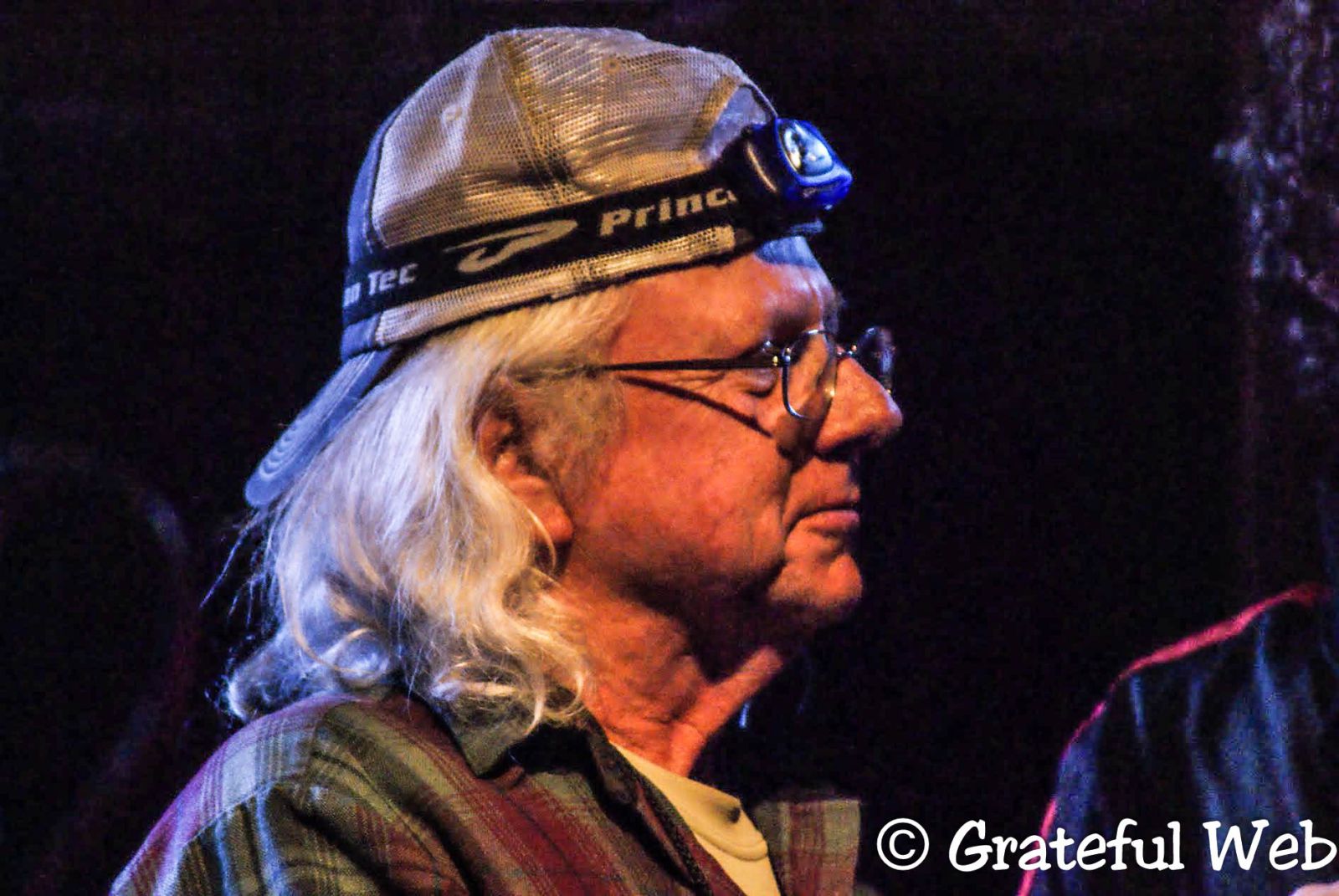 This year was no exception. Rhythms on the Rio has grown from its early beginnings on a parking lot asphalt to a beautiful grassy festival grounds by the river. The acts have always been good, but this year, the line up is spectacular and shows the hard work that Paul Orr and the South Fork Music Association has been put into the festival year after year. As I've written before, the proceeds of the festival and other events throughout the year help promote live music concerts for the whole family and music education for children in the San Luis Valley.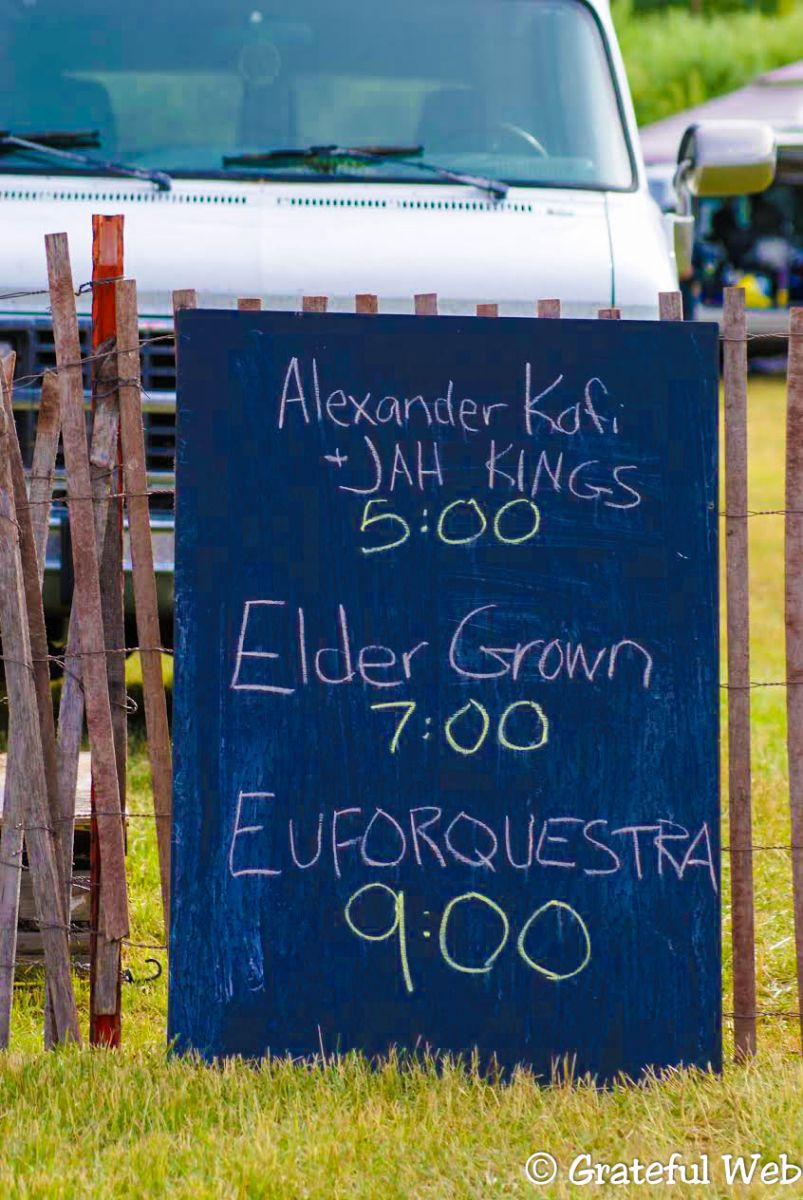 Setting the vibe for the entire concert tonight, Alexander Kofi and the Jah Kings offered festival-goers an hour and a half of original roots reggae. The seven-piece band is not only skilled but very diverse, composed of men and women of African descent, European, Latin, and Native American. And some of them, like Kofi himself, have a mix of ethnicities. This cultural gumbo, very akin to that Cajun dish (and also is a mix of African, European, and native cultures), has long been simmering and blending until it has reached that distinctive richness that is the Jah Kings special brand of reggae.
Kofi's strong voice carries all of the vocals, stamping each song with his unique flavor. He is supported by keys, bass, electric guitar, and a strong percussion section. Kofi himself handles a full drum kit, driving this reggae train and keeping it always along the path of peach and harmony. There isn't any self-indulgent drum work, just solid but creative rhythms. Three hand percussionists add color with two djmbes, a pair of congas, bongos hit with a marimba mallet, chimes, a whistle, a maraca, and a tambourine.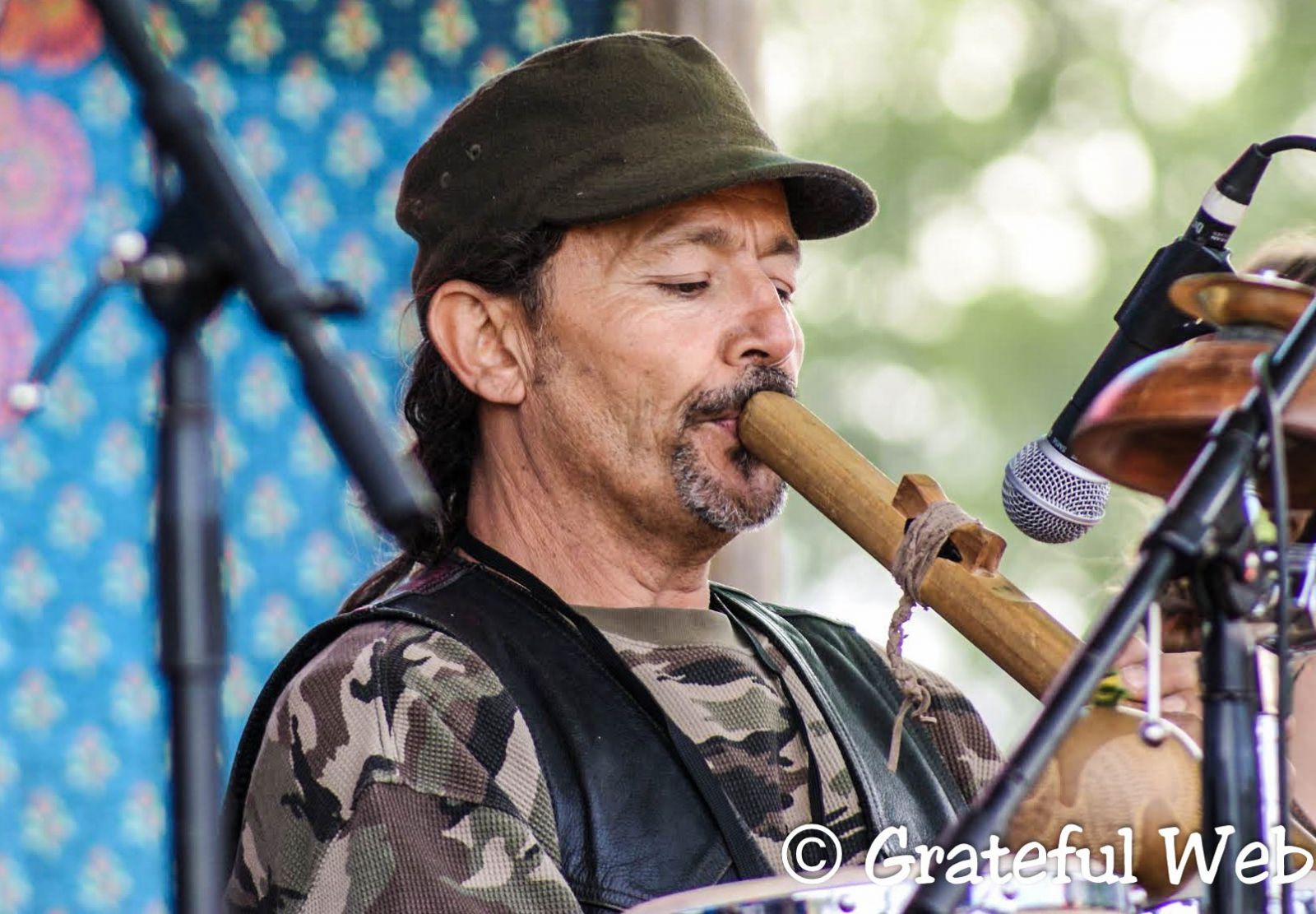 At one point, Arnie Alba, one of the percussionists, treats the audience to a moving native number he plays on a wooden flute. His melody is gently supported by the rest of the band, adding just the right instrument here or there to fill out his lovely tune. For me, this was the highlight of the entire set, though there were some spectacular moments in it.
One in particular was when Kofi shared a song he gifted to the Lakota people, with whom he has spiritual ties. It was a song of empowerment. He explained that he had written it about them (he himself has Blackfeet and Chochtaw ancestry) and allowed them to hear it before anyone else did. He said he didn't want them to think he was co-opting their lifeway. They heartily approved of the song. Tonight's festival-goers received it with respect and the appreciation of a talented band.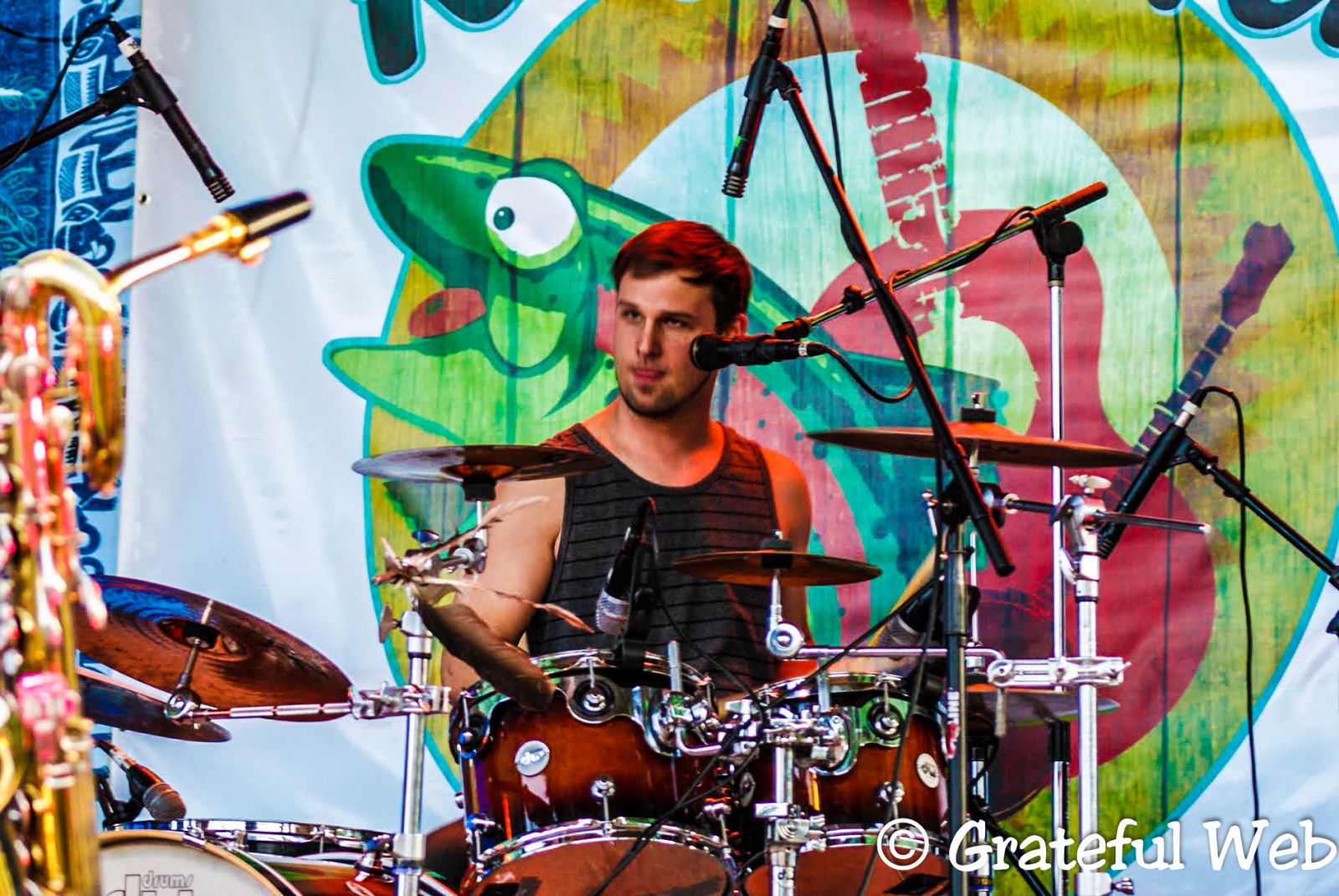 Following Alexander Kofi and the Jah Kings was a unique band I thoroughly enjoyed. Elder Grown consists of five musicians, two of which consistently play a chosen instrument: drum kit and sax (or rather saxes—tenor and baritone). The other three musicians swap instruments (keys, bass, and electric guitar) as if they're happily changing partners in a complicated square dance figure.
These guys were enjoying everything they did. The sax player stepped away from the mic once and came to the lip of the stage just to show off his jam dance chops.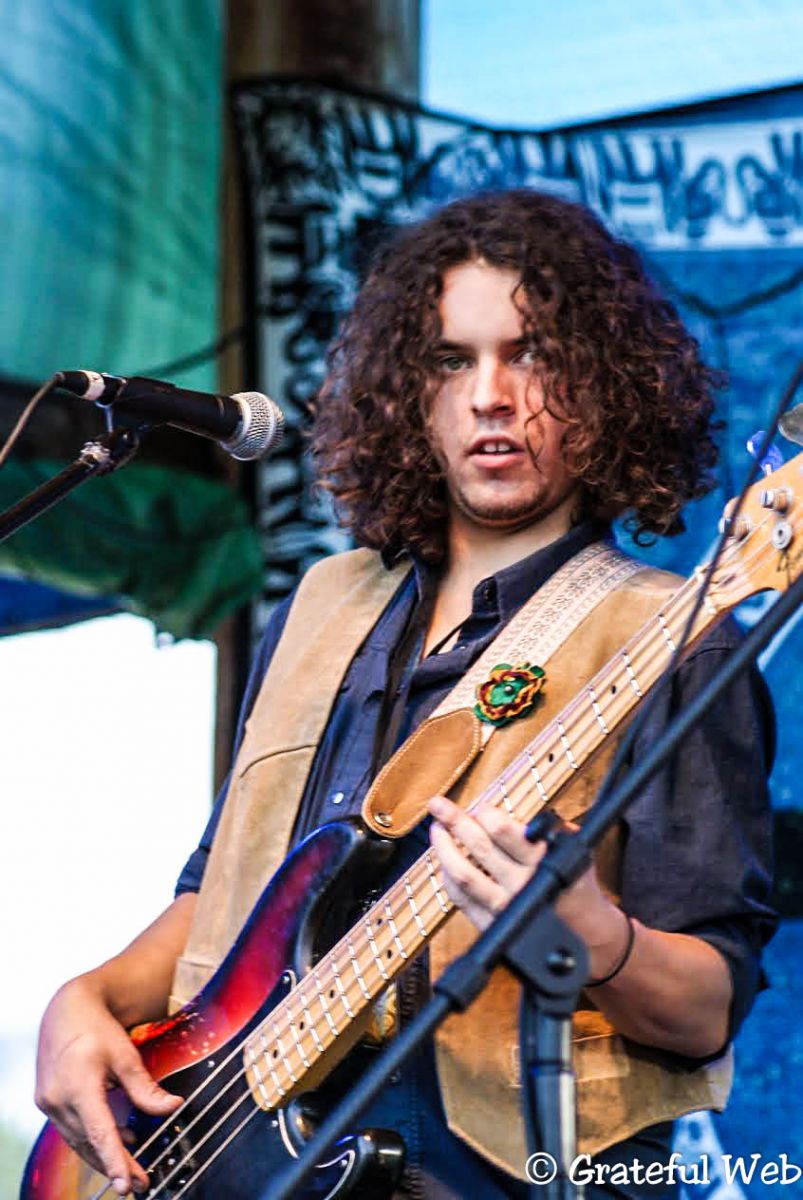 All of the band members sing. Sometimes it's singing lead on a song. More often than not it's some kind of supporting vocals. They aren't necessarily harmonies but fullness added to a song. Since Elder Grown smoothly moves from one musical genre to another, their vocals reflect that versatility. However, these musicians also shift genres within songs. Tonight I heard standard jam, then some wonderful R&B that drifted into a kitchy cha cha, and there was a good time, roadhouse tune. I heard a jazzy reggae tune that slipped into R&B. I heard a jam tune turn into a rock wall of sound then morph into a gypsy circus type tune. I heard klezmer overtones in another song. I heard theatrical elements. I heard Dave Brubeck-esque rhythms in yet another tune and lots of jazz sprinkled throughout. But this isn't the jazz that's in your head with strange time signatures and intellectual ideas. This is warmer and a lot more fun.
The name Elder Grown just doesn't quite fit what these musicians can produce. They should call themselves The Traveling Side-Show Olympians or something off-beat and quirky. But make no mistake. These five musicians are masters of all of these instruments. Every single one of them! They shred. They wail. They riff. They noodle. If you get a chance to see these guys live, you're in for a gigantic treat!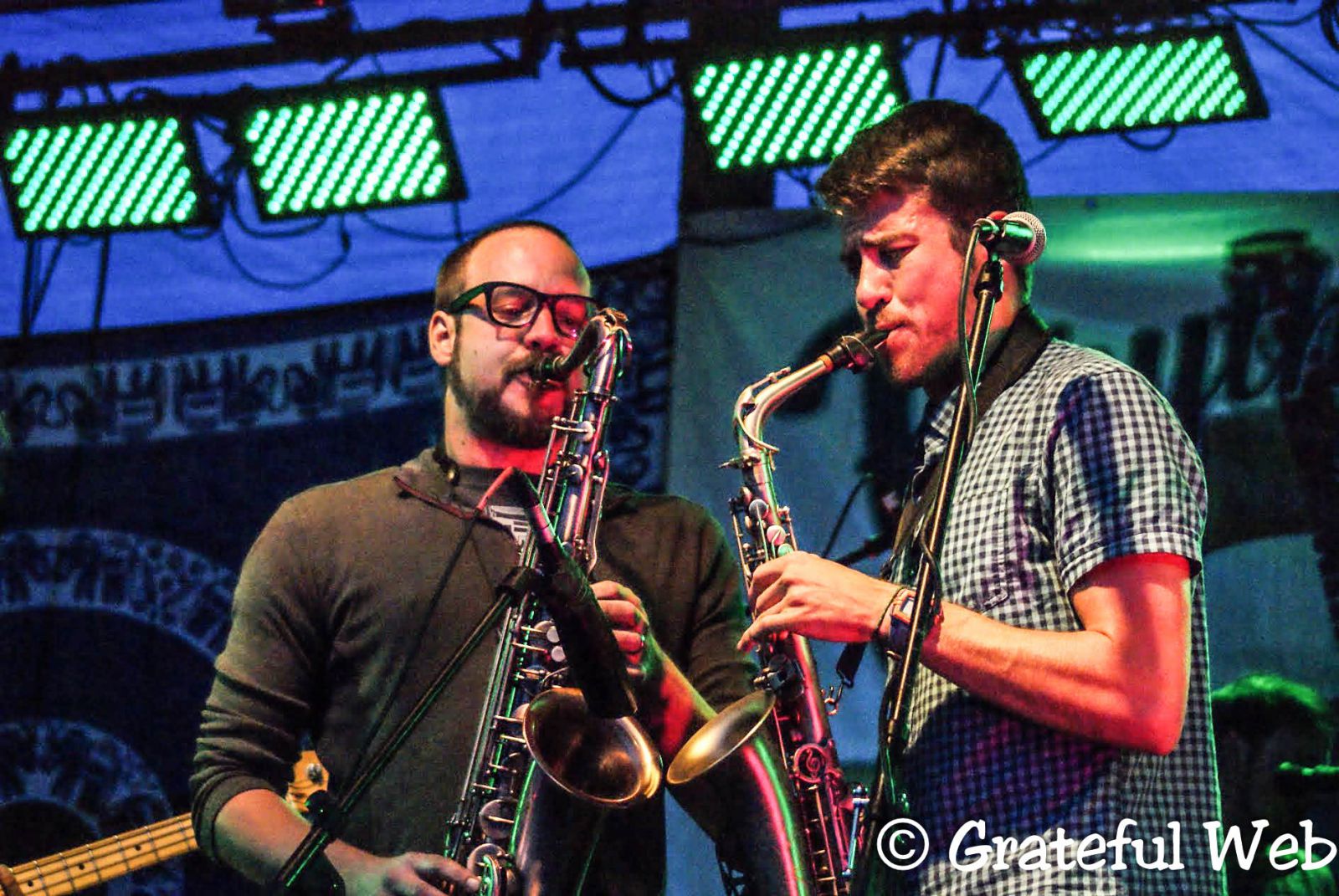 As a nod to the final act for the evening, Elder Grown invited the lead guitarist and the saxophone player from Euforquestra to play a tune with them. They're old friends and their addition to Elder Grown's set was amazing!
Euforquestra took the stage as the last act for the first day of Rhythms on the Rio. This performance makes their fourth appearance at this festival. They keep coming back. Tonight it was just the band, without any additional guests as they had had in the past. What can I say? Naked Euforquestra is the best! They dipped into their back catalog and brought out some old reggae and jam. They introduced new original tunes. It was just flat out a great set, carrying the audience with them with song after song. Euforquestra always delivers a good time.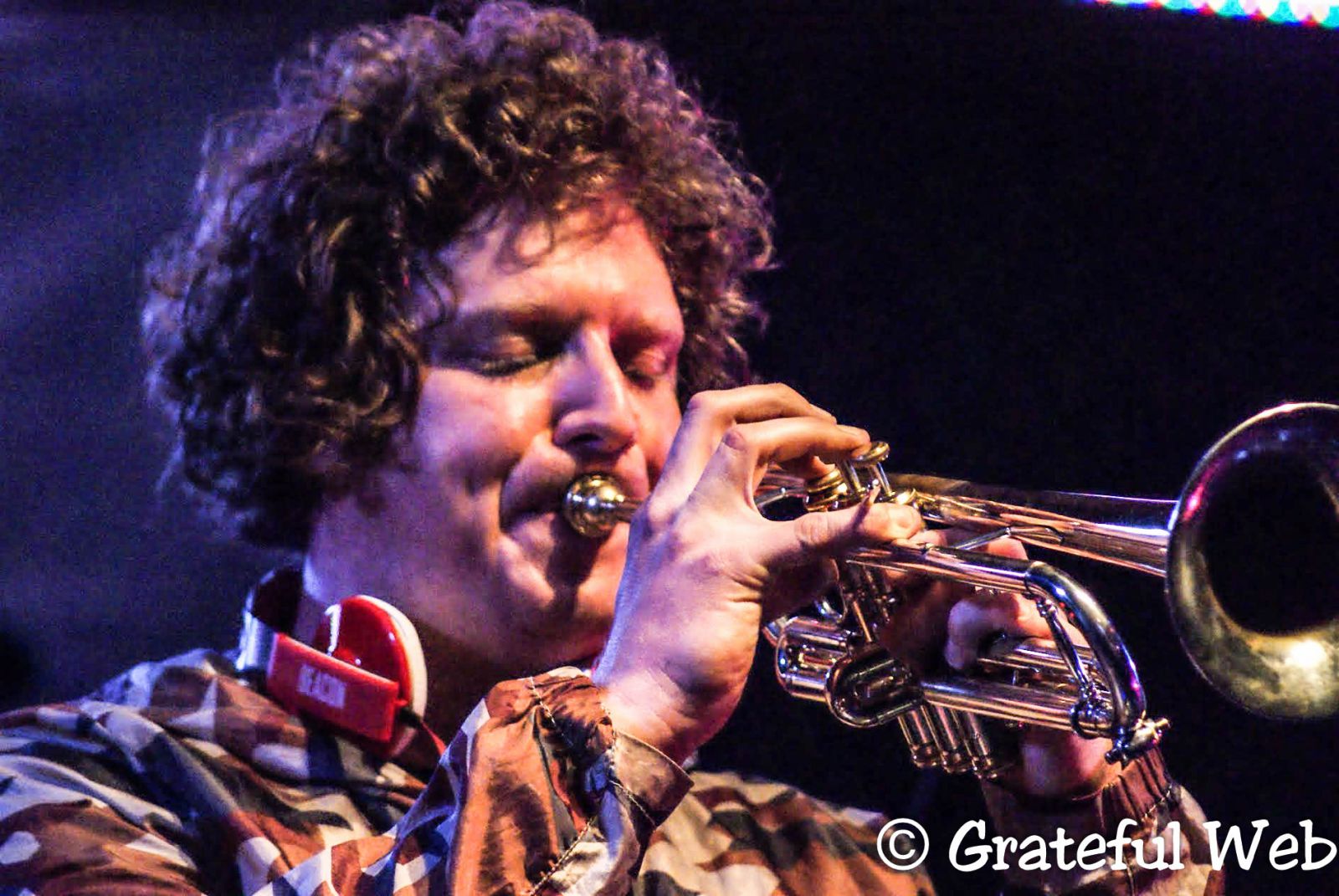 I left the festival again glad I made the four-hour drive to South Fork in the rain. The music is always diverse. The festival always introduces me to something new. And I come away with new favorite bands. Now, to finally close my eyes on Day One and anticipate what tomorrow's festival will bring.