There was a stir of anticipation throughout the festival grounds in South Fork CO as Day Two of Rhythms on the Rio opened. Headliners always get festival-goers hyped, and today we were seeing some of the best of the best.
The Scrugglers, a local tubgrass band from Durango, CO, set the bar for everything that followed. They've been festival regulars and crowd pleasers for a long time, earning that distinction by their unique acoustic band configuration over the years but also their eclectic setlists.  This year they collaborated with guitarist and vocalist Robin Davis, who added his chops to their mandolin and washed tub bass traditional fare with a twist. On first glance, no one ever expects a band as grounded in old-time tunes to even consider, much less do considerable good justice, to Queens of the Stone Age's "Little Sister." These guys have pulled out Beatles tunes and all manner of punk notions and bent them around and hammered them into acoustic traditional forms that are spot-on grin-worthy.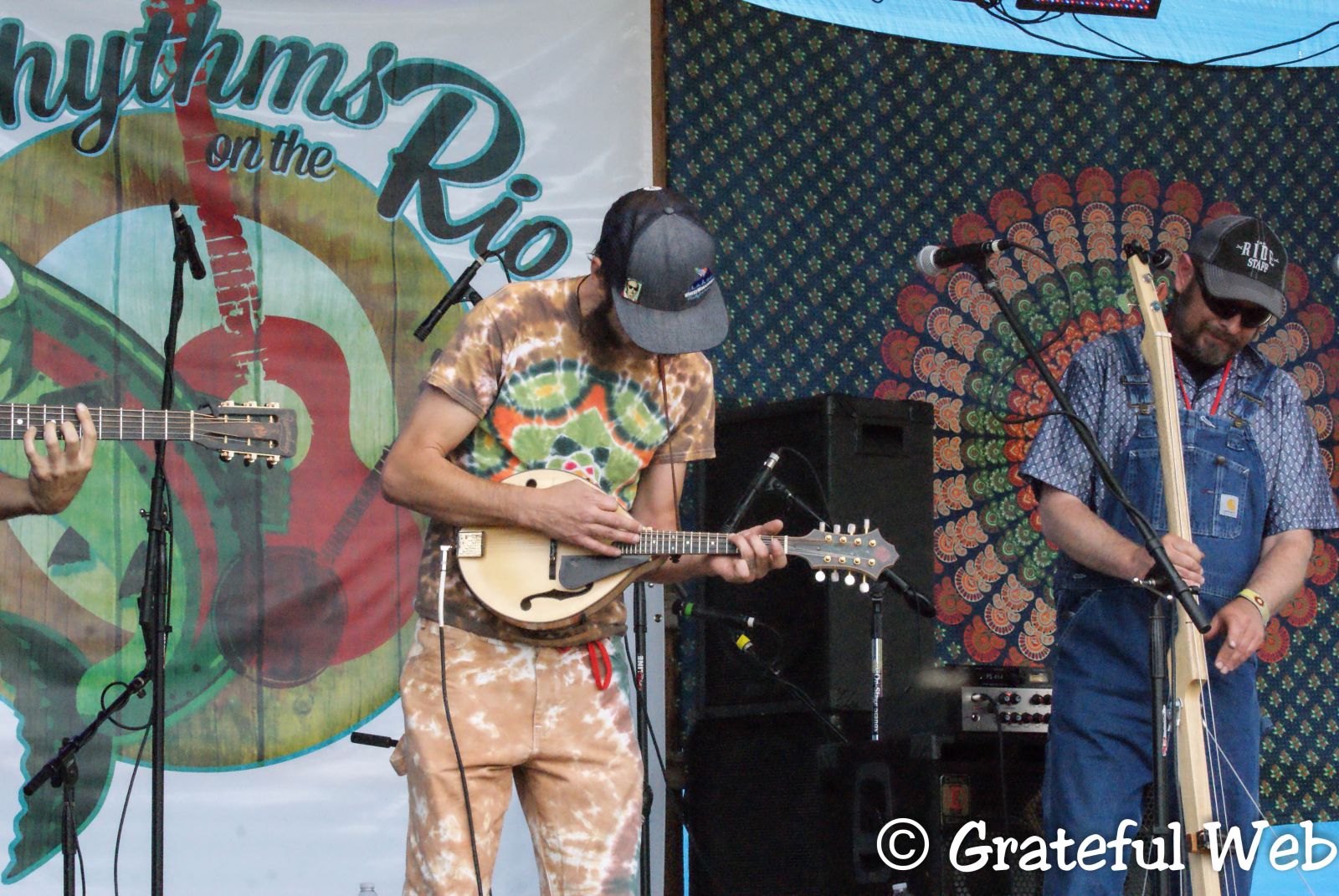 Next up was another Durango band, Liver Down the River, that I'd heard about last year. The recommending person said they were good, of which I had no doubt, but what he forgot to tell me was how exceptionally diverse the band was. This six-piece band has been together for four years, swapping and simmering tunes until they had cooked them into a complex aural stream of goodness. Rooted in the psychedelic groove, there were lots of long jams that weren't self-indulgent.
Each musician knows the parameters of each instrument, slipping across genres and pulling in other elements. As the band moved smoothly into song after song without preamble, I heard salsa stirred up within an Americana tune. I saw Derek Abt, the bass player, and Emily Winter, the fiddler, share a sweet counterplay on a song while Tyler Rice, the banjo player, went off on an Alison Brown jazz mode. In one high-energy bluegrass tune, the fiddler player pulled the mood into a more Irish contemplative mode and then revved it back up. Tyler, who also plays keys, often switched to banjo and back, sometimes within the same song. Dylan Ruckel, the guitarist, also swapped an instrument as well.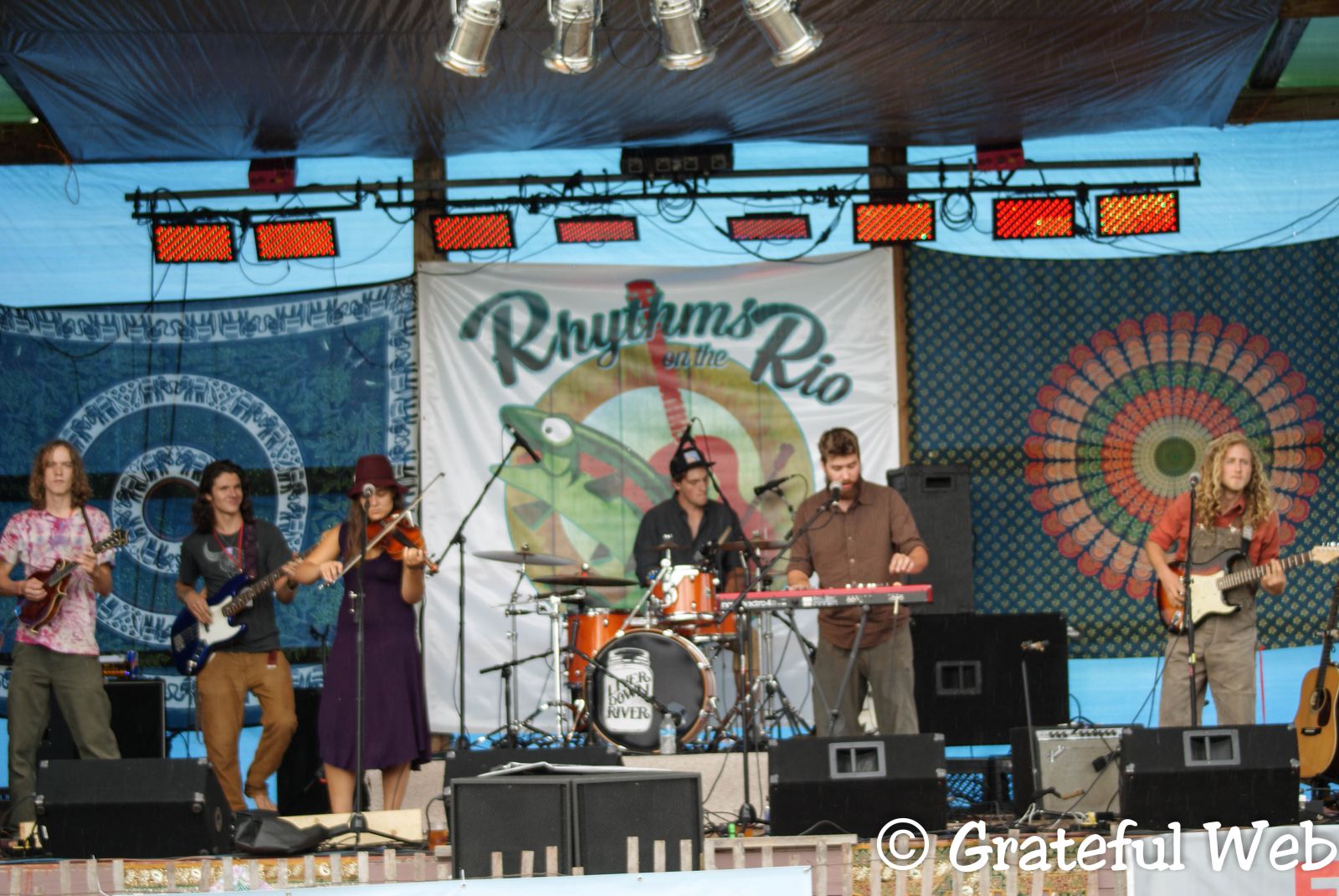 Vocals were varied, with a lot of differences in register. Emily's voice had a Natalie Merchant quality, adding dimension to their songs. Dylan had a much deeper voice than expected which helped underline the song he sang. Backup harmonies were amazing!
All of the songs were originals and written by different members of the band. Though some tunes were playful and fun, there was a depth of meaning in them. I really need to sit with a disc and parse it. [Look for a CD review of this band's music coming down the pike.]
This is the first appearance of Liver Down the River here, and, though local, it has already earned its place on this stage as premier performers. Look for their new album, "The Life You Love."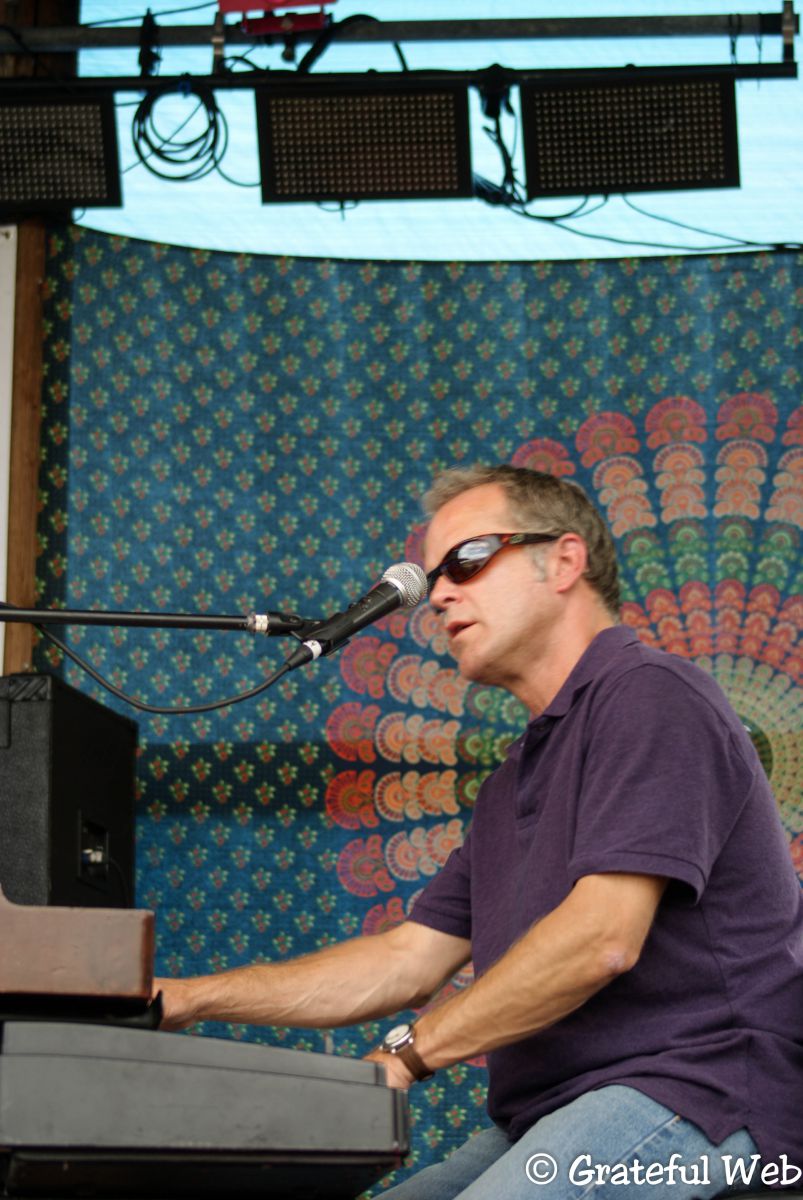 Following Liver Down the River, the Uptown Toodeloo String Band took the stage. A Grateful Dead cover band, this 4-piece band, composed of veteran musicians, was spot on.  The guitarist was a member of the local band, Coral Creek. I had thought he was familiar when he started singing. He sang lead on most of the songs, with the keys player and bass (shock! A lot of bass players don't sing) taking their turn leading. The drummer, who once played with Colorado's White Water Ramble, kept this Dead showcase going, though he didn't sing.
Though the songs of the set were Grateful Dead tributes, such as "Eyes of the World" "Scarlet Begonias," and "Bird Song," they did other songs that were Dead related. Their version of Dylan's (via The Band) "When I Paint My Masterpiece" (and covered by the Dead) was a powerhouse.  Merle Haggard's "Mama Tried" had a special addition. Tyler from Liver Down the River popped in to play banjo on that tune.
It was a great set from the Uptown Toodeloo String Band. It brought out dancers even in the light rain.
But the real rain chasers, Grant Farm, stepped up next, singing the old gospel hymn, "Unclouded Day," bringing out the sun. Tyler Grant said that it always had that effect there. And they did that song with strong 3-part gospel harmonies.
I'd been backstage talking to another band when I heard them warming up with another gospel tune, "I'd Rather Live by the Side of the Road." It was an intimate moment with just Tyler playing guitar and leading the verses, and two other band-mates joining in with such natural blends. Grant Farm is dynamite from a concert stage but that brief moment was most precious to me. I just stood for a few minutes and listened and didn't interrupt.
From the stage, there were some great roadhouse and Southern rock, with a mix of honkytonk piano tossed in with some funk. Every band member is showcased, especially Kevin McHugh's keys and vocals and Sean Macaulay's drums. In this set, bassist, Adrian Engfer, did most of the lead singing, laying down strong vocals that the other members of the band enhanced with spot-on harmonies.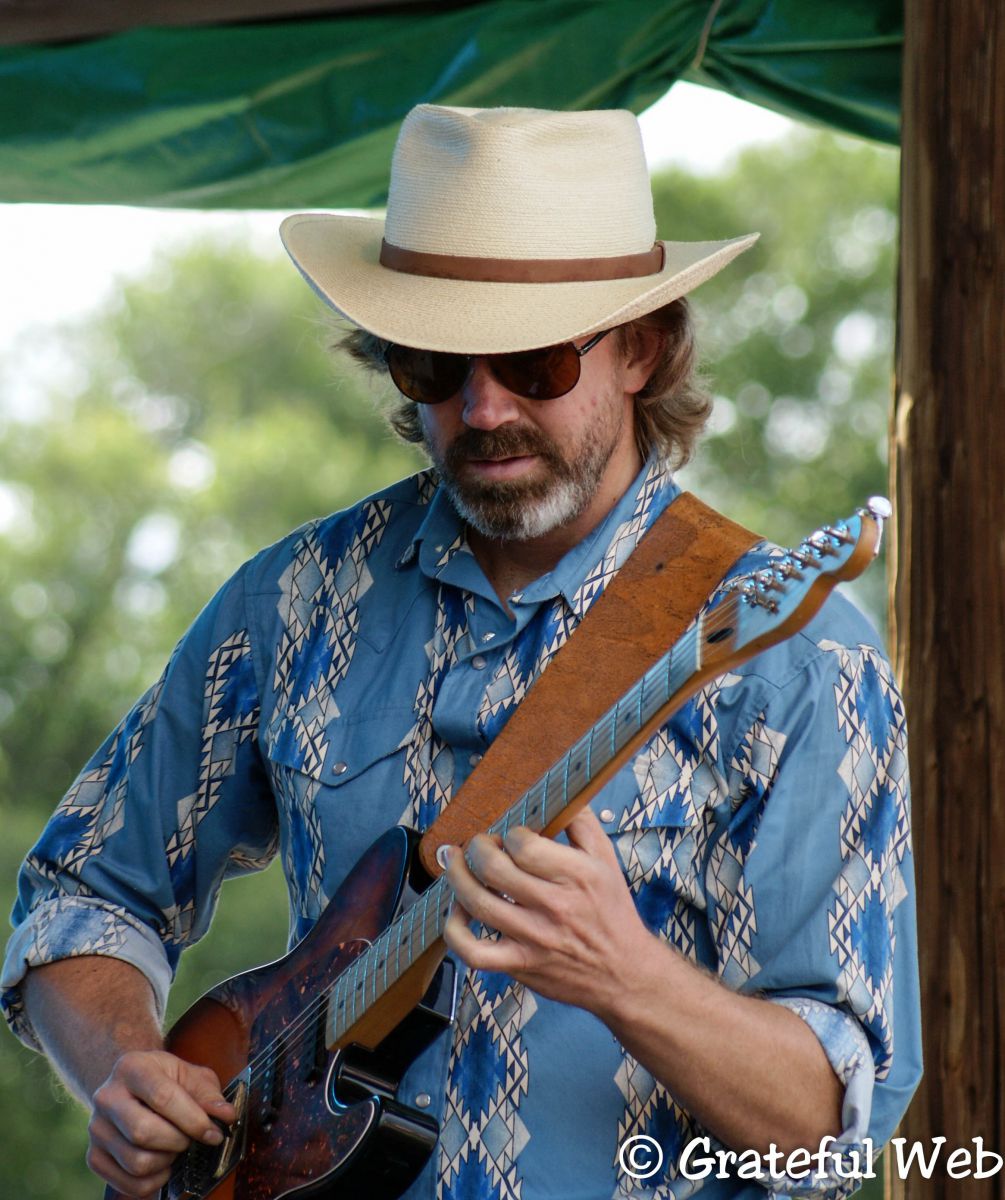 Introducing its first full-length album, "Kiss the Ground," this summer, Grant Farm shared their single, "Fill Your Cup." It emphasized a different tone than I've heard from Grant Farm before. Though the music was foot-tapping, there was something important they were saying. "Fill Your Cup" was only one of many. A contemplative song of encouragement, this tune spoke to me with a couple of lines…. "When you're broken down, get right up….fill your cup."  
There was "One Hundred Ways," which said, "…today like every day, I'm lost until I'm found…..there are a hundred ways to kneel and kiss the ground." "The Wanderer" had these lines: "By this tree in the morning…to the tree in our stream of our own choosing." Another song said, "Le the beauty we love be what we do." And Tyler's song, "Get In Line," talks about the price we pay for the life we live.
This set, like their new album, was deeper, more introspective, more about life and spirit. When the band left the stage, I found Tyler Grant backstage and told him that this was a whole new Grant Farm I hear. I told him about the spiritual depth I heard. He said that the band was heading in that direction. "Listen to the new album," he urged. And I will. It's an album to listen to on a quiet afternoon and let the words seep in.
Needing to take a break as I let this musical richness sink in, I took a stroll along the Rio Grande at the edge of the festival grounds. The river was high and fast-moving, reflecting the recent heavy rains, yet festivalgoers were putting rafts in the water, being spirited swiftly down river. I smiled and took a deep breath, heading back to hear the Larry Keel Experience, featuring Danny Barnes.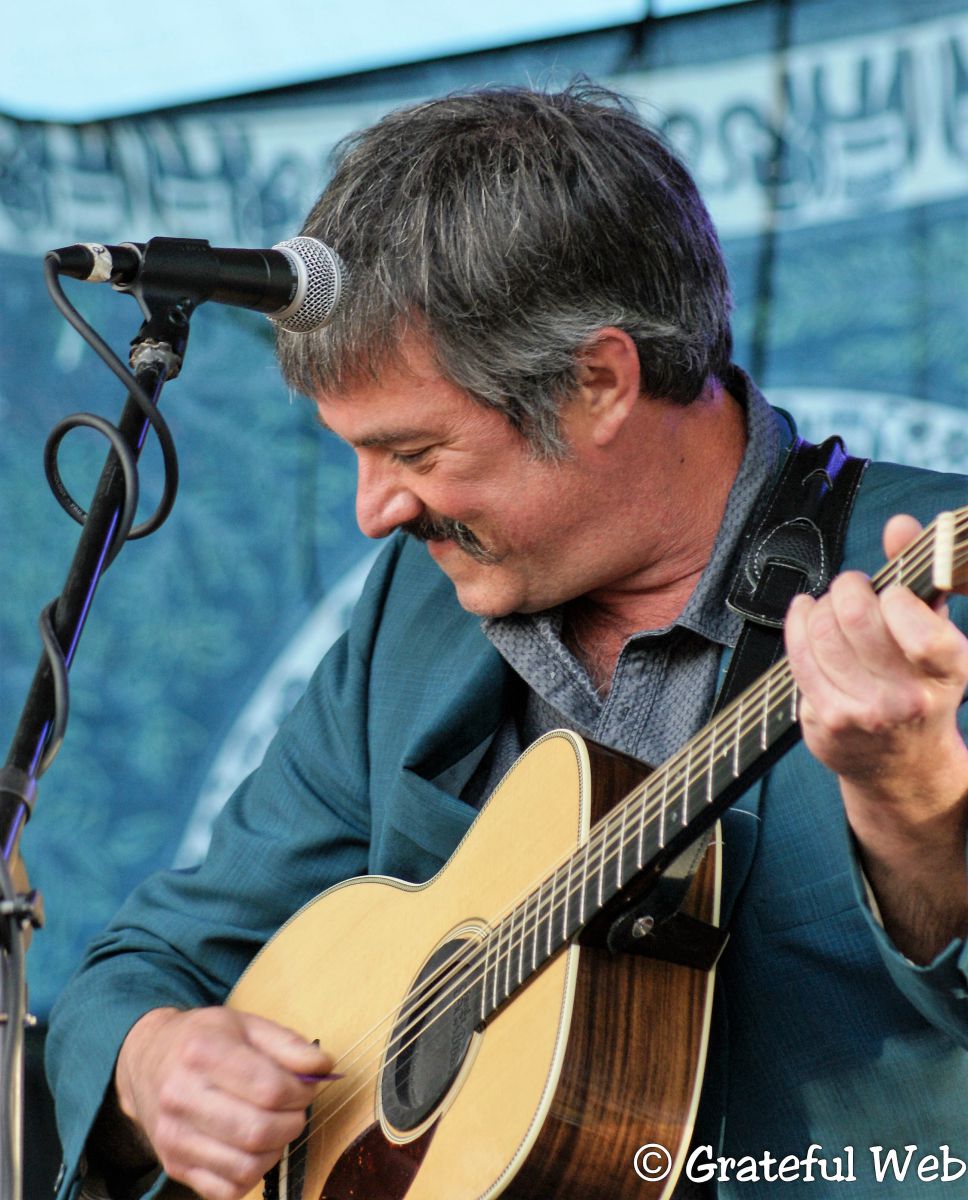 I was impressed that Rhythms on the Rio had snapped up a musician of Keel's caliber but realized Paul Orr and the festival committee had also signed The Infamous Stringdusters who would follow Larry Keel. I sat back to enjoy a bluegrass crossover legend.
Larry Keel, though heavily rooted in bluegrass, has branched out like other bluegrass performers into something more. Following in the footsteps of folks like fiddle master Vasar Clements, who shocked the bluegrass world with his jazz improvisations at jam festivals, Larry Keel brought a wild mix to this festival.  With a stripped down band (Jenny Keel on upright bass, Danny Barnes on banjo, and Keel on guitar), The Larry Keel Experience did its share of high-energy bluegrass as you'd expect, then they slipped into different forms of jazz, both flat-picking and banjo-based. There was even some funky that Keel said was Hawaiian but sounded more Louisiana swampy.
Vocals were good with soft harmonies here and there. Keel's voice is gravelly and uneven, but he captivates audiences with his more cerebral lyrics. This was not what you'd expect from a bluegrass band. For example, they did a song called "Cat to the Rat," which Danny Barnes wrote and said was an homage to causality after reading "Don Quixote."
There were also different guitar tunings that you'd never see at a bluegrass festival where everything is in G. Keel did a bluesy scat tune that reminded me of John Hartford. Even with all of the tunings, Danny Barnes doesn't capo his banjo. He also plays guitar but never does with Keel. Therefore, he was able to translate the new keys into proper chords and fingering.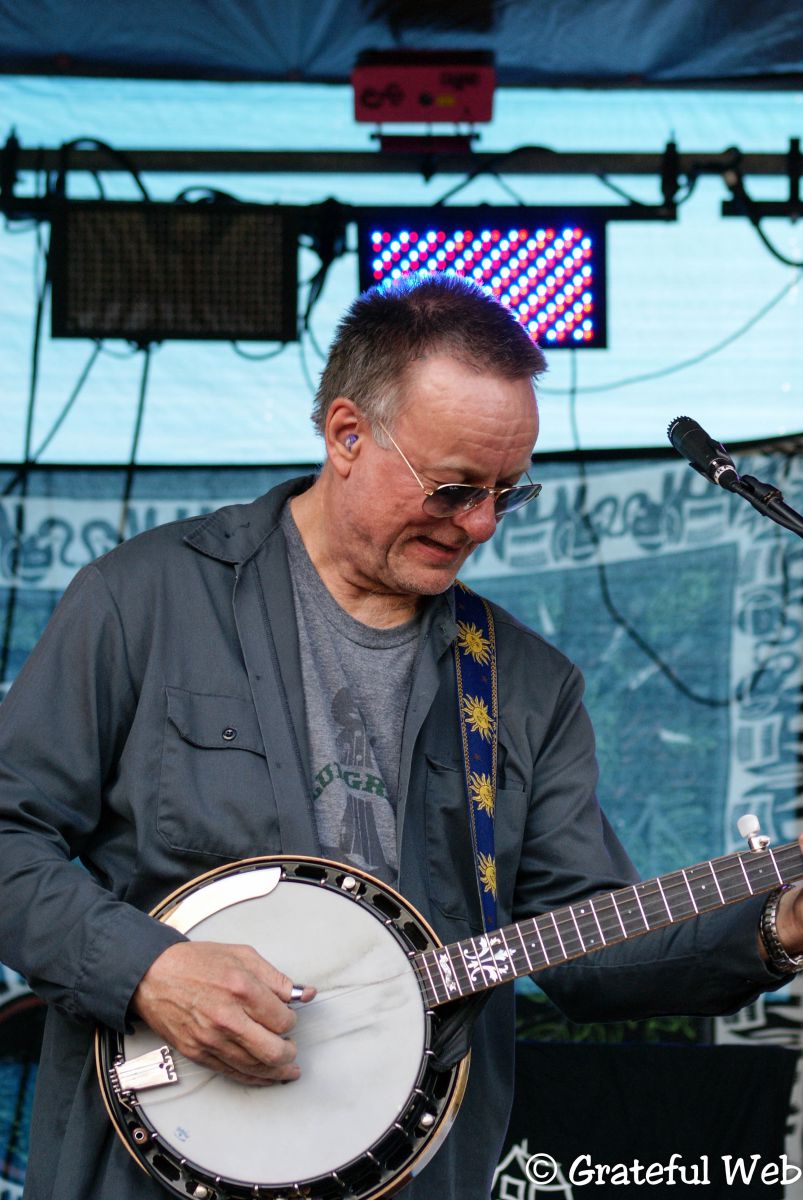 One highlight was a tune that Keel started out as a "Rocky Top" bluegrassy number and soon morphed into a dark storm, jazzier metal than grass. Toward the end of their set, Tyler Grant dropped in as well as two members of the Infamous Stringdusters, Andy Hall on dobro and Jeremy Garrett on fiddle. This gave the audience a sweet taste of the 'Dusters but also foreshadowed the huge jam that followed the 'Dusters set, called Jeremhy Garret's Bluegrass Coalition.
Closing out the night and before the big jam, The Infamous Stringdusters claimed the stage. Composed of Andy Hall (dobro), Andy Falco (guitar), Jeremy Garrett (fiddle), Travis Book (double bass), and Chris Pandolfi (banjo), the Infamous Stringdusters are exceptional musicians. They did a tight set of great jamgrass with strong vocals and harmonies. I was surprised by the vocal side really since these guys are such strong jammers. They are fiery at times, but always clean and very creative. Larry Keel joined in as the band backed up one of his songs, a Western tune that reminded me of one of my favorite songs by the Czech bluegrass band Relief.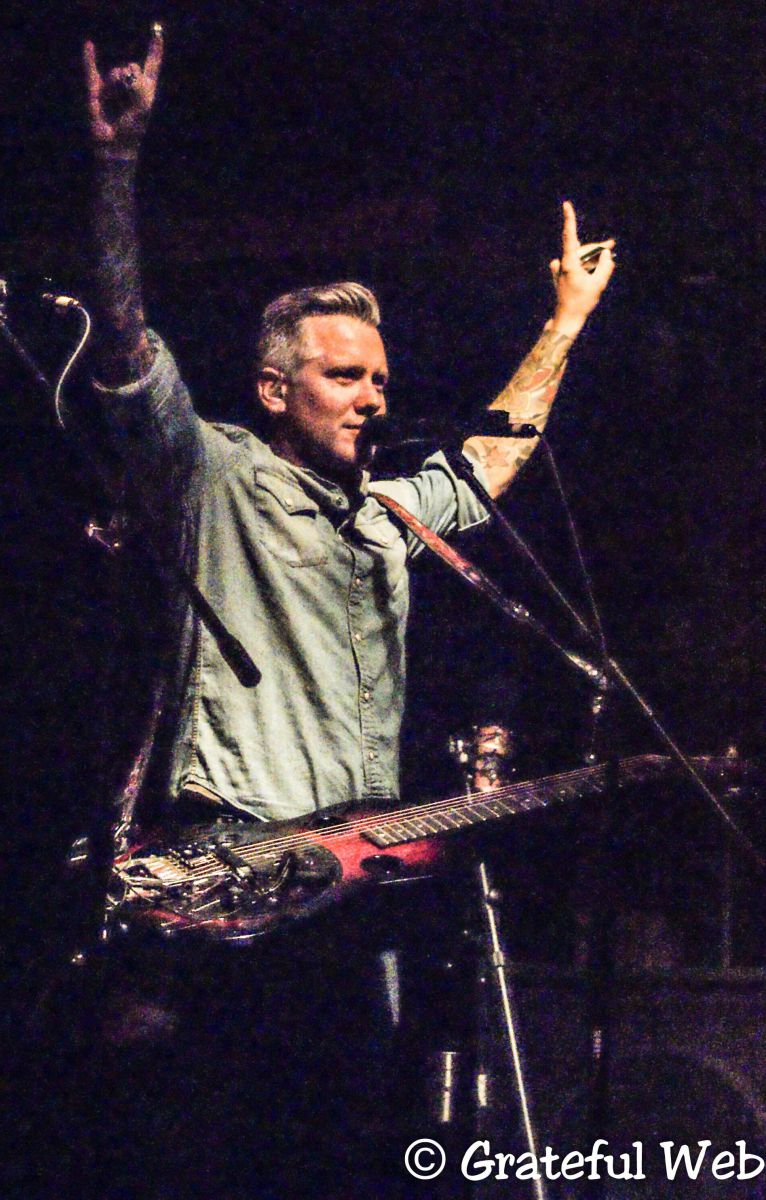 As the set continued, the band moved into an almost seamless amalgam of tunes. There were fast-paced restless songs, a tender little waltz, and then a medley of old folk tunes and country songs. During one of these long jam medleys, the rain began to pour straight down, but the audience didn't flee for cover. They just pulled up hoods and keep nodding to the beat. The loyalty of that audience amazed me.
Unfortunately, after the Stringdusters ended their set, most of that audience did head for tents and motels. The rain had stopped by then. And they missed a great jam with Larry Keel, Tyler Grant, and an odd assortment of others who joined the 'Dusters on stage.
It was a spectacular second night and there were more bands on the next day. I toddled off to bed myself and dreamed of rivers and music and harmonies.