Richard Thompson's The Cold Blue - Original Motion Picture Score will be released on vinyl for the first time for Record Store Day Black Friday (this Friday, November 29th). The double LP set is available on 180 gram "Sky Blue" Colored Vinyl and strictly limited to 2,500 copies worldwide.
The 19-track score was written and arranged by Thompson for the acclaimed filmmaker Erik Nelson's film of the same name. Thompson brought together a small chamber orchestra comprised of four french horns, a string quartet, double bass, oboe, clarinet, harmonica and percussion. The orchestra was conducted by Peter Askim and recorded at Capitol Studios in Los Angeles, CA.
In 1943, William Wyler, one of Hollywood's most renowned and versatile directors, went to Europe to document air war in progress for his film The Memphis Belle: A Story of a Flying Fortress. Wyler flew actual combat missions with B-17's and during production, one of his cameramen, Harold Tannenbaum, was lost along with his plane over France. The footage was filmed during the spring and summer on 8th Air Force bases in England, and on bombing missions over Europe. Incredibly, all of Wyler's original 16-millimeter footage shot for The Memphis Belle was recently discovered deep in the vaults of the National Archives. The filmmaker Erik Nelson constructed the new documentary, The Cold Blue, out of the silent material as well as new interviews he conducted with nine surviving B-17 crewmen. The veteran's voices take us through the harrowing world that Wyler and his cameramen captured in the summer of 1943. Painstakingly restoring every frame, Nelson removed dust spots and scratches, and restored the color of the original footage. A meditation on youth, war and trauma, The Cold Blue stands as a tribute to one of the world's great filmmakers and the men of the 8th Air Force who flew mission after suicidal mission in the Second World War.
Upon its initial digital release in May, NPR premiered the score in its entirety, calling it "Stunning." Speaking to NPR, Thompson said, "I wrote almost wall to wall music...Scoring under speech was less of an issue than competing with the noise of the aircraft; I had to be sensitive to the droning of the engines being in (or close to) certain musical keys, and cues were written from this basis sometimes." Continuing, "Every burst of ack-ack, every empty shell case landing on the floor of the plane, every whine of the Pratt and Whitney engines, all contribute to the emotion of the moment, and it is always the role of the music to push those emotions a little further." Hear Richard Thompson's The Cold Blue - Original Motion Picture Score via NPR HERE.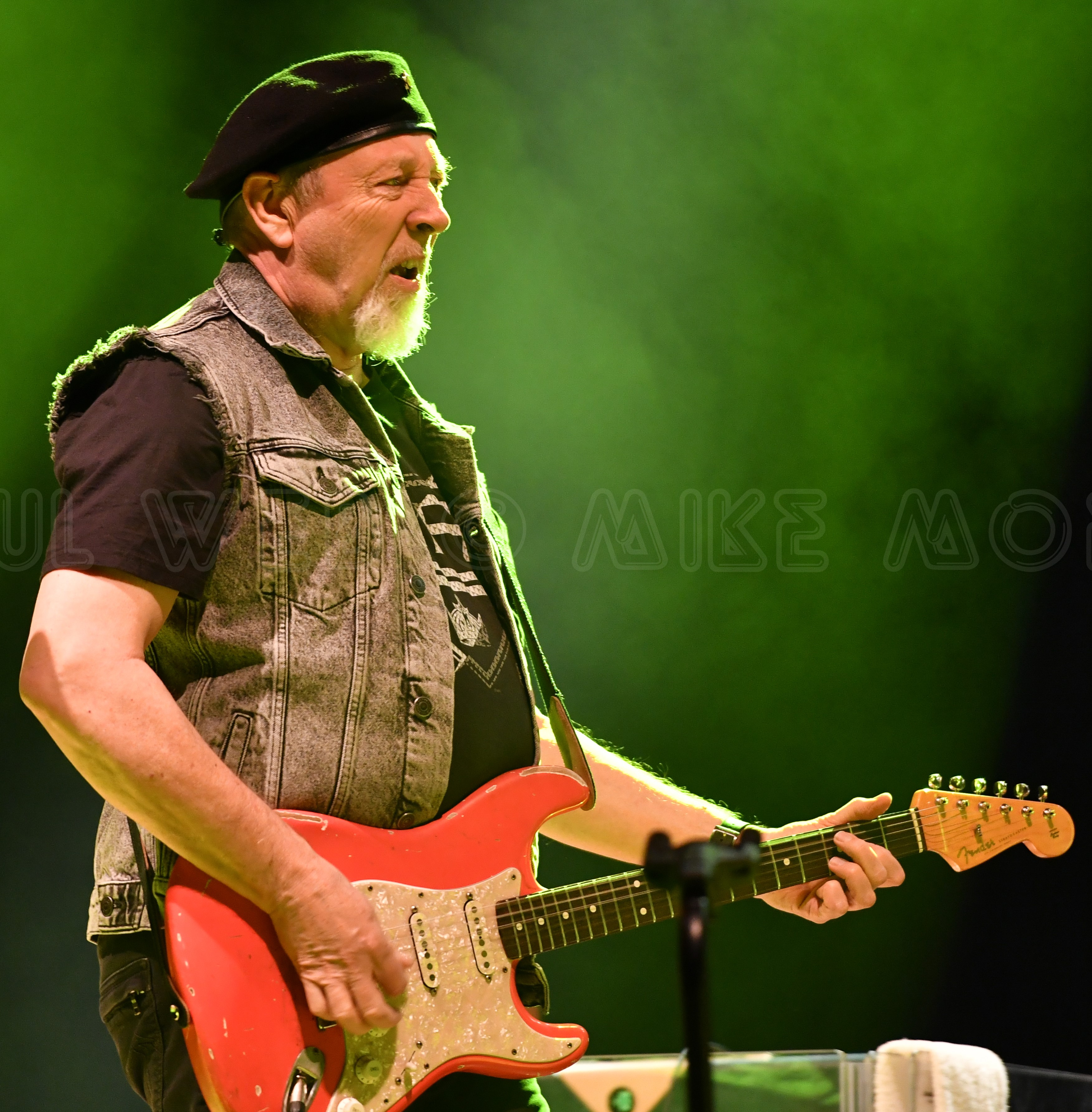 Following a Four Night Stand in Evanston, IL closing 2019, Richard Thompson has also announced a solo acoustic tour launching January 17th in Newark, NJ through February 8th in New York City. Please see all dates below.
Richard Thompson's musical influence cannot be overstated. Having co-founded the groundbreaking group Fairport Convention as a teenager in the 60s, he and his bandmates invented the distinctive strain of British Folk Rock. He left the group by the age of 21 which was followed by a decade long musical partnership with his then-wife Linda, to over 30 years as a highly successful solo artist. In 2011, Thompson received an OBE (Order of the British Empire) personally bestowed upon him by Queen Elizabeth II at Buckingham Palace. The Los Angeles Times called him the finest rock songwriter after Dylan and the best electric guitarist since Hendrix and Rolling Stone has named him one of the Top 100 Guitarists of All Time. He has received lifetime achievement awards for songwriting from Britain's BBC Awards, the Americana Music Association, and was awarded the prestigious Ivor Novello Award. His song "1952 Vincent Black Lightning" was named one of TIME Magazine's "100 Greatest Songs Since 1923." A wide range of musicians have recorded Thompson's songs including Robert Plant, Elvis Costello, R.E.M., Sleater-Kinney, Del McCoury, Bonnie Raitt, Tom Jones, David Byrne, Don Henley, Los Lobos, and many more. His massive body of work includes many Grammy nominated albums as well as numerous soundtracks, including Werner Herzog's Grizzly Man. Thompson's genre defying mastery of both acoustic and electric guitar along with engaging energy and onstage wit continue to earn him new fans and a place as one of the most distinctive virtuosos and writers in Folk Rock history. In 2018, Thompson released his critically acclaimed studio album 13 Rivers, which Uncut Magazine called "His best album in decades."
Richard Thompson The Cold Blue - Original Motion Picture Score Track Listing:
1. The Cold Blue
2. The Cold Blue Part Two
3. No Tomorrow
4. Fresh Eggs
5. A Sudden Boom
6. Family
7. Tremendous Workers
8. Beautiful Sight
9. Beautiful Ship
10. Cold Air
11. Over There
12. Big Thunderstorm
13. Superstitious
14. Kill a Human
15. Red Flare
16. Just Germans
17. I'll Be Seeing You
18. Family (Guitar Version)
19. The Cold Blue (Guitar Version)
Richard Thompson Solo, Acoustic Tour Dates:
December 28th - Evanston, IL SPACE
December 29th - Evanston, IL SPACE
December 30th - Evanston, IL SPACE
December 31st - Evanston, IL SPACE
January 17th - Newark, NJ New Jersey Performing Arts Center
January 18th - Princeton, NJ McCarter Theatre
January 19th - Easton, MD Avalon Theatre
January 21st - Alexandria, VA The Birchmere
January 24th - Wilmington, DE Grand Opera House
January 25th - Harrisburg, PA Whitaker Center for Science and the Arts
January 26th - Collingswood, NJ Scottish Rite Auditorium
January 28th - Pawling, NY Daryl's House
January 29th - Albany, NY The Swyer at The Egg
January 30th - Portsmouth, NH The Music Hall
January 31st - Burlington, VT First Unitarian Church
February 1st - Brownfield, ME Stone Mountain Arts Center
February 4th - Fairfield, CT The Warehouse
February 5th - Port Washington, NY Landmark on Main Street
February 7th - New York, NY Symphony Space
February 8th - New York, NY Symphony Space