Rising Appalachia has certainly put their mark on Appalachian Folk Music. They have curated these traditional folk roots with other musical cultures that span the globe. Their ambitious creativity, exceptional musical craftsmanship, and highly independent personalities has yielded them world wide appeal and massive respect in the music industry. They march to the beat of their own drums. Sisters Leah Song and Chloe Smith are adventure seekers within their music - they listen to and absorb life as they travel around this great big blue sphere and apply what they've learned with enchanting personal qualities through song. Poetic and innovative the sisters are always moving in different musical directions keeping their minds and audiences entertained and excited.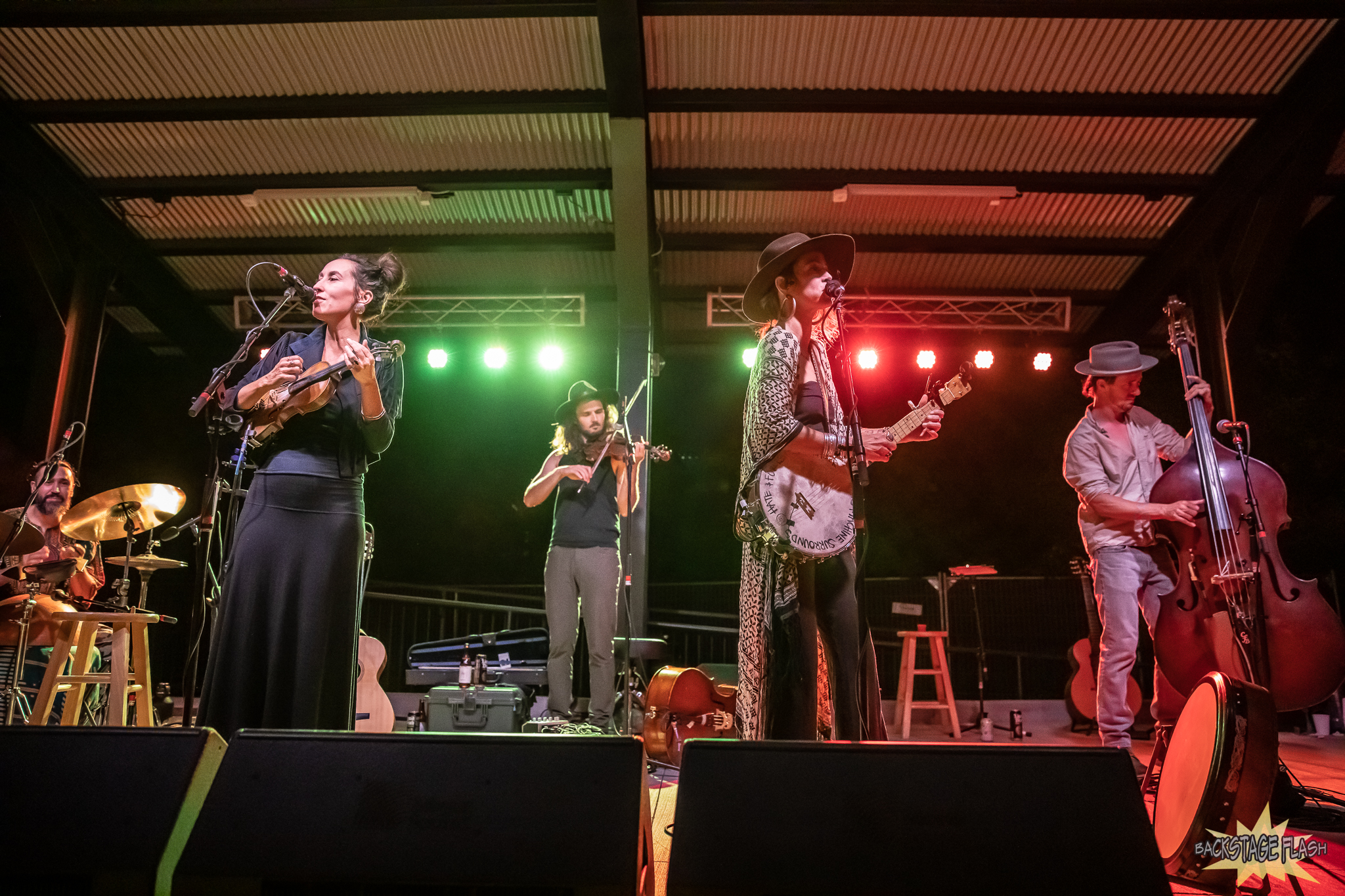 Leah and Chloe have worked with musicians from all over the world and this collaboration of cultures has been fruitful to their sound. Their musical influences are front and center both live and on recordings. They have diverse appeal that extends to many music fans. Combining traditional folk arrangements with soul, hip hop, southern gospel and jazz, Leah and Chloe have extended an open invitation to the world, both lyrically and musically. With seven studio albums recorded since 2005 including countless tours dates and festivals they are always innovative, positive and inspiring. It's always a joy to witness their joy on stage and their energy fills any room or field with excitement and possibility.
Most recently the band released their sixth studio album "Leylines" in 2019 and "The Lost Mystic Of Being In The Know" their seventh album in 2021. Both of these albums have been reviewed by several heavy hitters in the music industry including Paste and Relix magazine. The song Harmonize from the Leylines album was released early as a video and featured by Rolling Stone magazine. Both of these albums have been described as intoxicatingly abstract and the best musical experience you will have this year.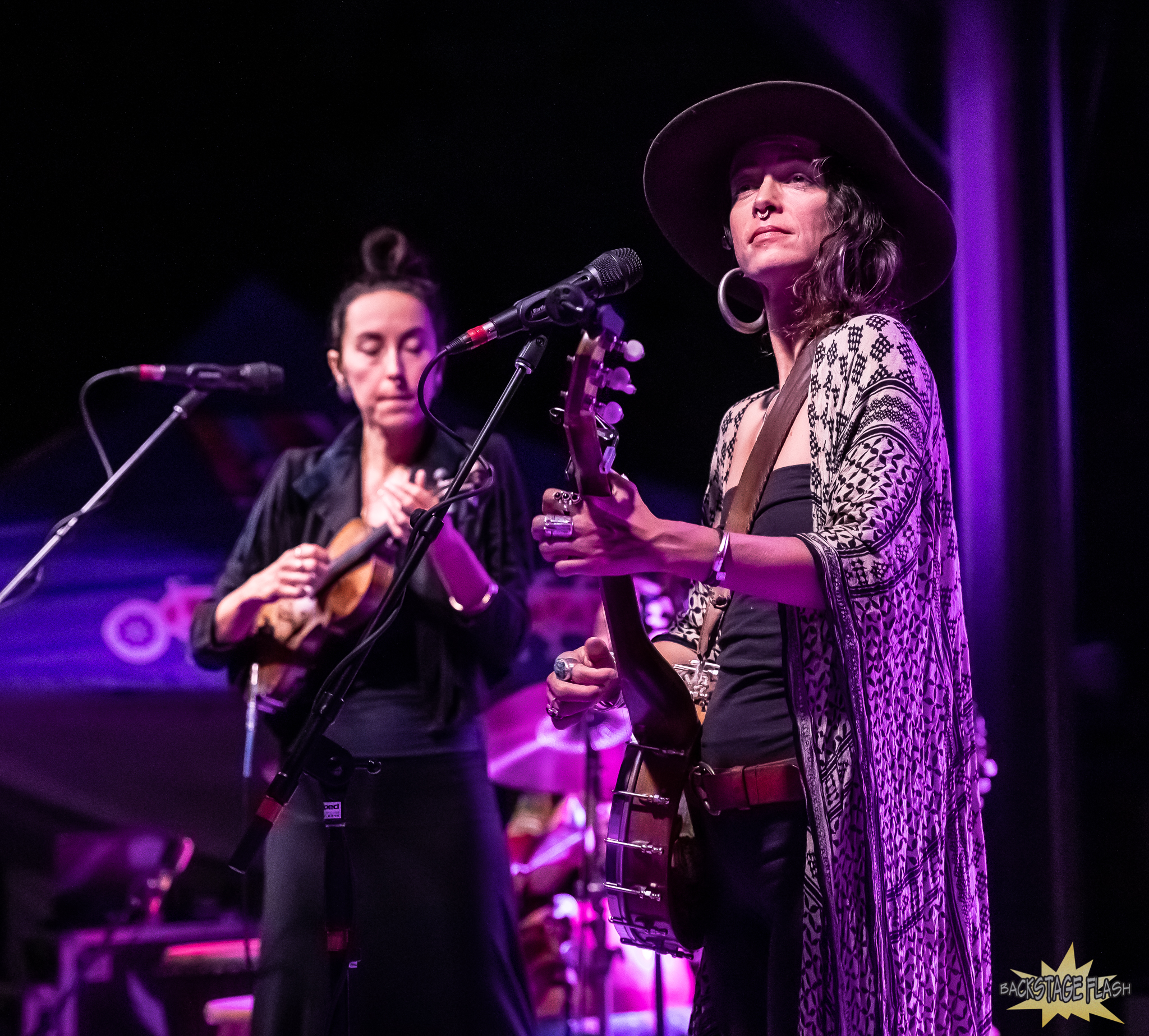 Grateful Web talked with Biko Casini, percussionist of Rising Appalachia, before the show and here's what he had to say:
GW: Are you playing music on this current tour that spans the whole career of the band or are you focusing on more current compositions?
Biko: Both, we keep updating our older songs and giving them new life. We continue to recreate our favorites. We are aware the audience loves hearing certain tunes, so we always have a few of those favorites in the set. So we are playing early stuff, re-invented stuff newer songs from the last couple of albums and sometimes songs that have not been released yet.
GW: Does the band use a set list?
Biko: We make up the set list right before we walk out to the stage and we never use a set list over and over.
GW: Are there any shows or festivals on this tour are you most excited about playing?
Biko: We are playing a festival in Utah called The Park City Song Summit and there are lots of labs and workshops for the audience to participate in during the festival. It's a different model the audience can learn a lot from all they are offering. We love Colorado and coming here is a highlight for us always. Also Cave Fest in Pelham, Tennessee is really special. I grew up in Tennessee and live there now. This is the first time the band is playing there.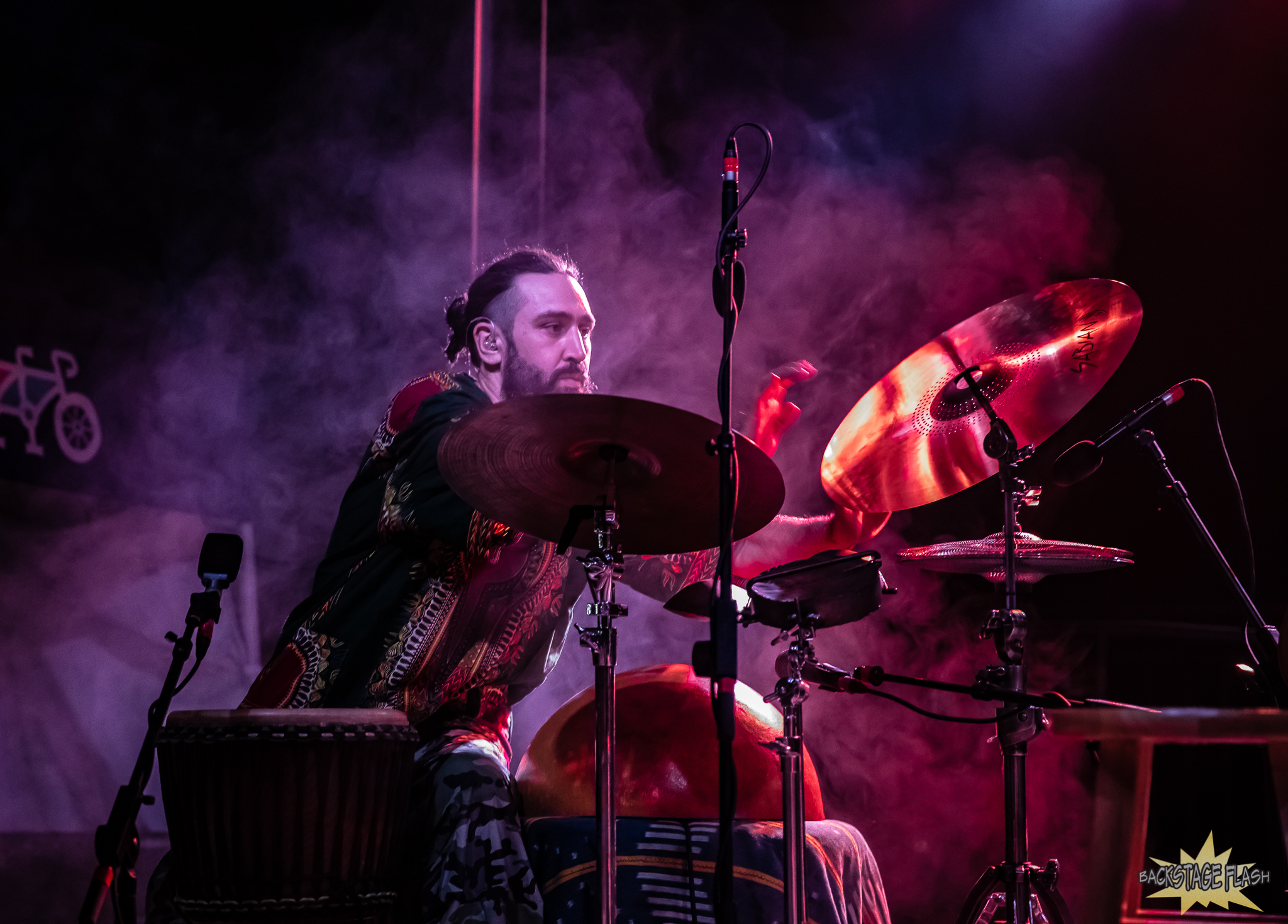 GW: Is the band either individually or collectively writing new material and if so can the fans expect a new release in the near future?
Biko: Yeah, we have almost a full album of new material. The way we make a new album is we get enough songs as ideas, sometimes David Brown and I will start it rhythmically or Leah and Chloe will write out the lyrics first or someone will come up with a melody. Once all three of those happen, we get in a room and rough them out then we go and record them. So when we record it's not stuff we have played a lot. So yes, we are gearing up for some album making this winter.
GW: Is Rising Appalachia currently involved in any other musical projects or collaborations with other artists?
Biko: We are all involved in other projects and collaborations. Leah and Chloe have just finished working on a project called Cradle with three other women. I play with a band called Roots Grown Deep out of Asheville, North Carolina and South Africa as well as my own solo project under my own name. We are all constantly learning, creating and writing, so there are many other projects going on outside of the band.
GW: Thank you for taking the time to talk with me today and giving the fans some cool and current information.
Biko: You're welcome, my man.
Rising Appalachia performed to a festive sold-out Fort Collins crowd last night at New Belgium Brewing. The new venue provides the artists and guests state of the art sound and lights along with a cool Colorado vibe. Chloe on acoustic guitar and Leah on Banjo were center stage. Biko Casini playing djembe, bara, ngoni, congas and percussion. David Brown on upright bass and Duncan Wickel on cello and fiddle make up the eclectic quintette. From the opening notes of the first song Wider Circles the overwhelming joy that fell over the anticipating crowd was beautiful and serene. Chloe's voice was subtle and strong as her vocals displayed amazing clarity and tone.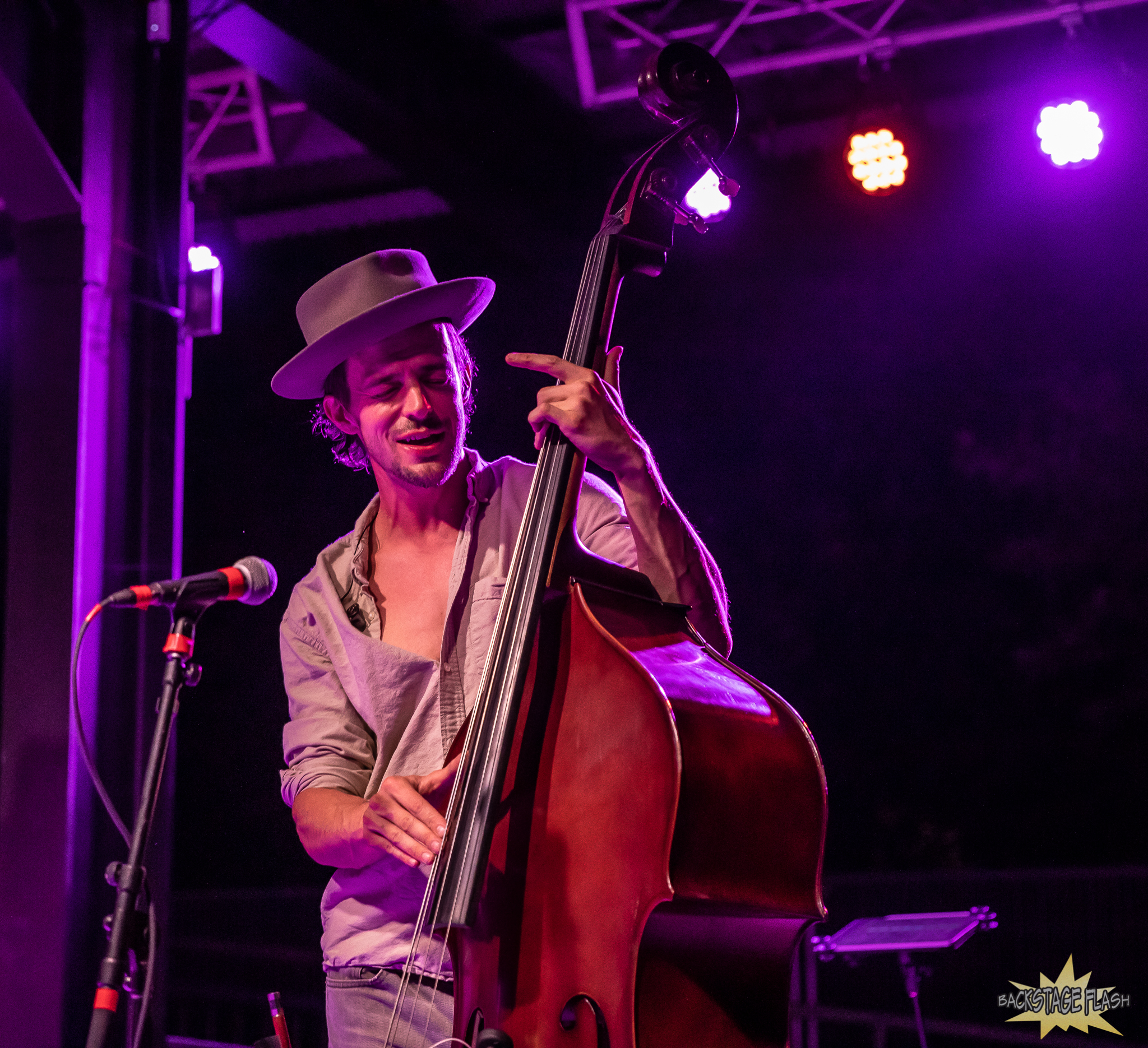 Novels was the next song followed by Synchronicity a newer song. The set was comprised of material spanning the bands career with older songs, fan favorites, and songs from the last couple of albums. Leah took a minute to thank the audience for coming out and expressed her gratitude for playing live shows for a live audience after a weird and challenging pandemic hiatus. The band sounded fresh and vibrant and Chloe and Leah's vocals were beautifully delivered to the audience as the songs took on their own life of artistic expression and presence. The audience was euphoric and I watched people dance and sing the words of the songs back to the band. Rising Appalachia has a devoted fan following and the love and respect between audience and musicians is mutual and honest.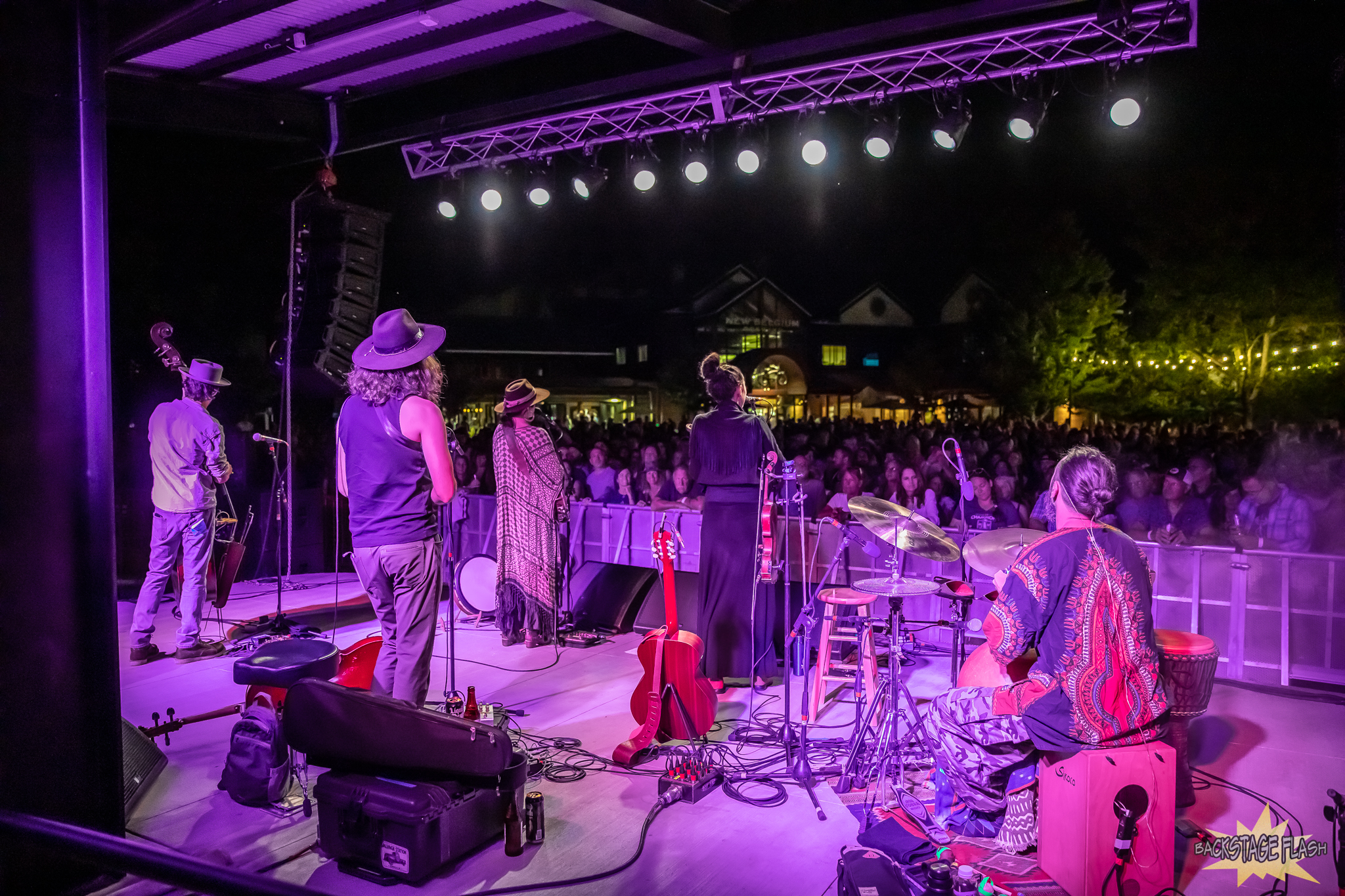 The amazing night under the vibrant Colorado sky with Rising Appalachia was a special treat. There were a lot of happy people as the band presented their music with great musicianship and style. The set was stacked with goodness and many fan favorites including Indigo Dance, Love Her In The Mornin', Medicine and several other songs from their extensive catalog of music. There is a lot of individualism within the cohesiveness of the band. They have exploratory qualities and the music always sounds fresh and alive. Songs that you have heard before may sound different as they reinvent them to keep them fresh and fun. The constant evolution of the band is exciting to hear and see. Thank you, Rising Appalachia, for your positivity, poetry, and peaceful messaging through music.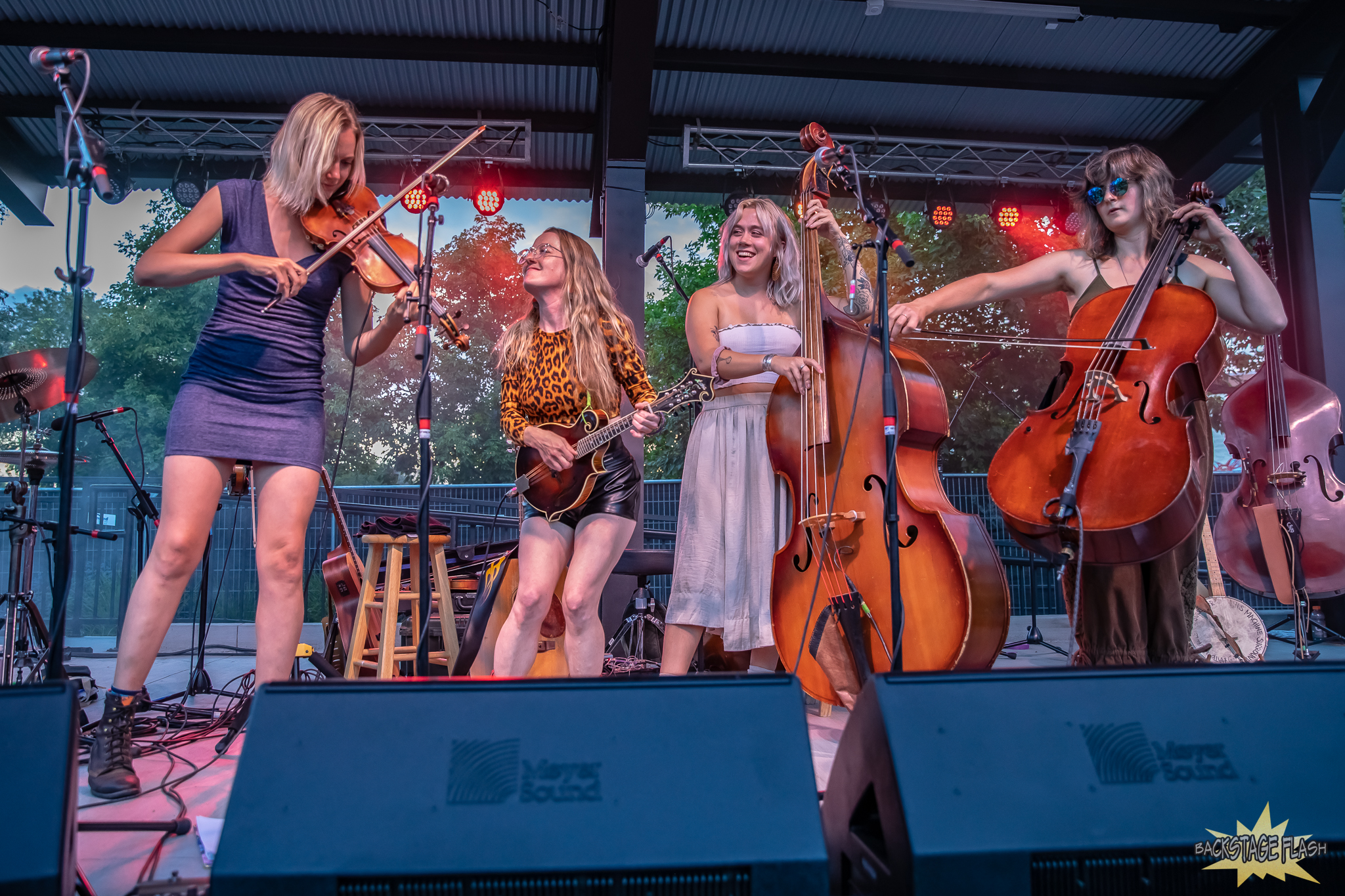 Big Richard, what can I say about these talented ladies? They are all exceptional musicians armed to the teeth with charm, charisma, ambition and wit. They have a strong friendship bond that leaps off the stage to the audience enhancing the entire live music experience to a personal level. They draw you in and hold you there. They are vulnerable, powerful and emotional women who adhere to their musical sensibilities as they assault your senses with joy, musicality and love. They are truly on a journey that early musical pioneers have taken. They are seeking adventure through song and are embarking on an upcoming tour and riding the wave of possibilities. You can probably tell that I am writing this from a personal place. I have deep admiration for the Colorado musical community and these four ladies land right in the middle of all that goodness. They are exceptional at what they do and revered by their peers, friends, families and fans.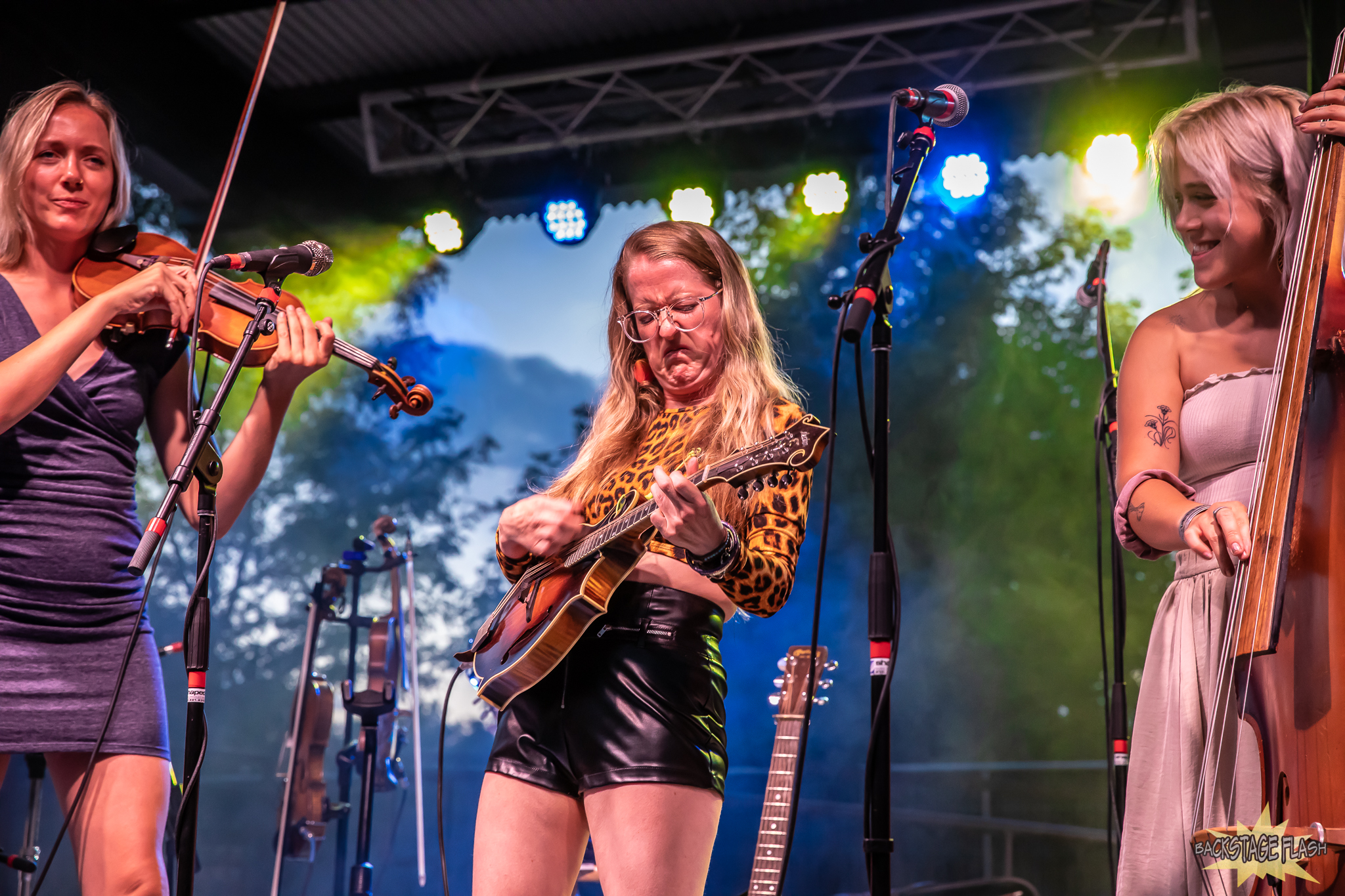 Grateful Web had a chat with the ladies from Big Richard and here's what they had to say:
GW: Are the songs you are currently performing written collectively, individually, coming from past projects, or all of the above?
Bonnie Sims: Yeah, it's kind of a combination of all the things we each bring to the table, then we shape the songs as a group as far as the presentation and the arrangements. So yes, they are super collaborative.
GW: Is Big Richard planning on recording and releasing material in the near future?
Bonnie Sims: Very near future, we multi-tracked our Telluride set from our recent performance there. We have a Live at Telluride album coming out in the next few weeks and we are very excited about it.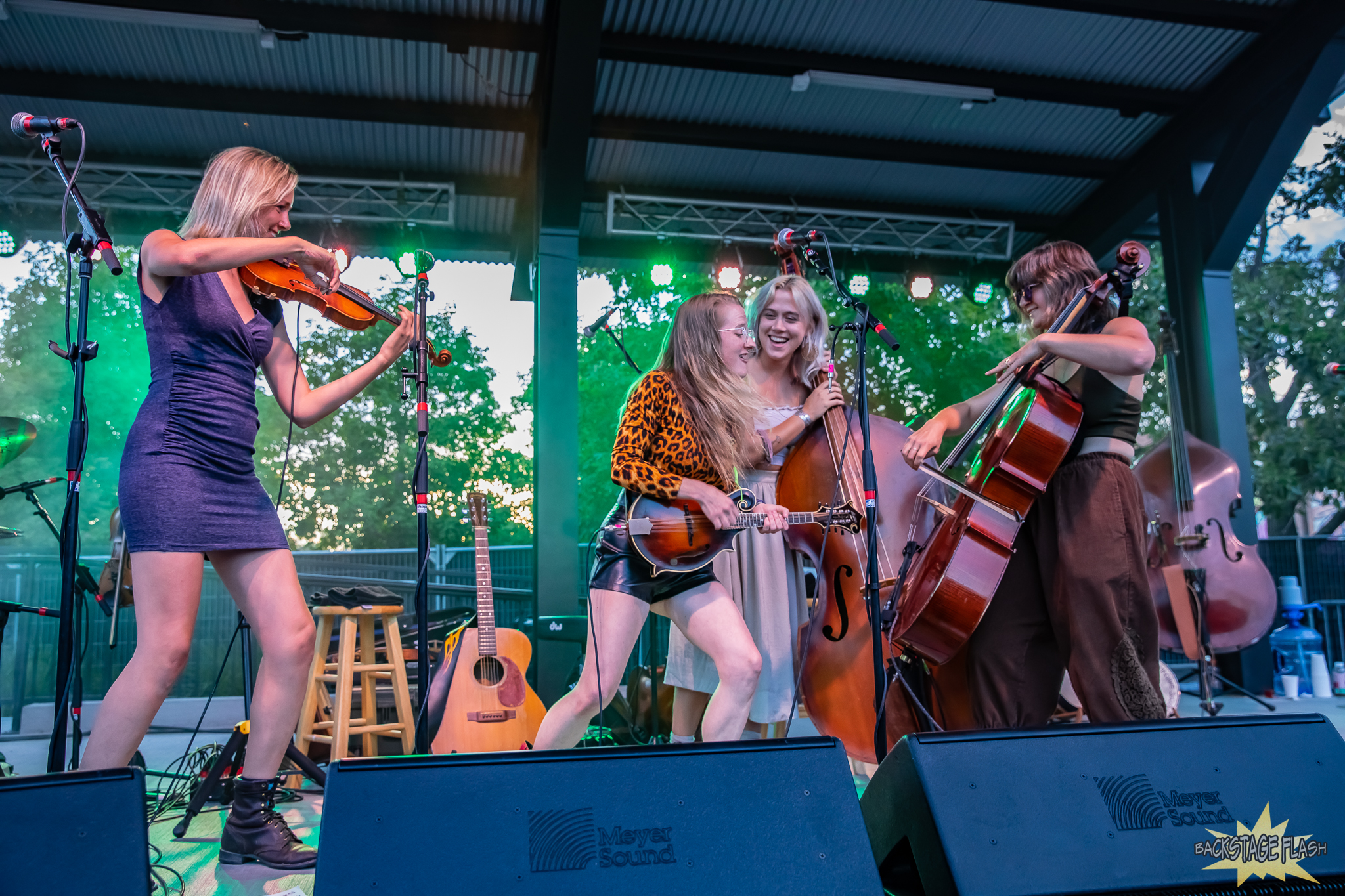 GW: Are there any shows on your upcoming tour of the Pacific North West and surrounding areas that you have been to before and are looking forward to performing there again?
Joy Adams: We are playing a room in Missoula, Montana called the Longstaff House that I have played, that gig is sold out. Also we are playing in my families barn. My family lives north of Spokane, Washington, and we are playing a benefit concert for my nephew to raise awareness about the rare disease called Lowe Syndrome that he was born with.
GW: Are you doing this tour as a foursome or do you have any help as far as the logistics, gear set-up etc.?
Bonnie Sims: We have a tour manager Amanda and she will be our shepherd on this tour. She will be handling scheduling, sound engineering, and pretty much everything else.
Big Richard has very quickly established an exuberant and animated fan base. All of these talented ladies are no strangers to the Colorado music scene and have been playing in bands and solo projects for many years. Last night they performed an exciting set of original and traditional old time Appalachian fiddle tunes, swing tunes and bluegrass for the adoring sold out audience. Big Richard performed before Rising Appalachia and got the crowd in a great mood for what was an amazing night of music.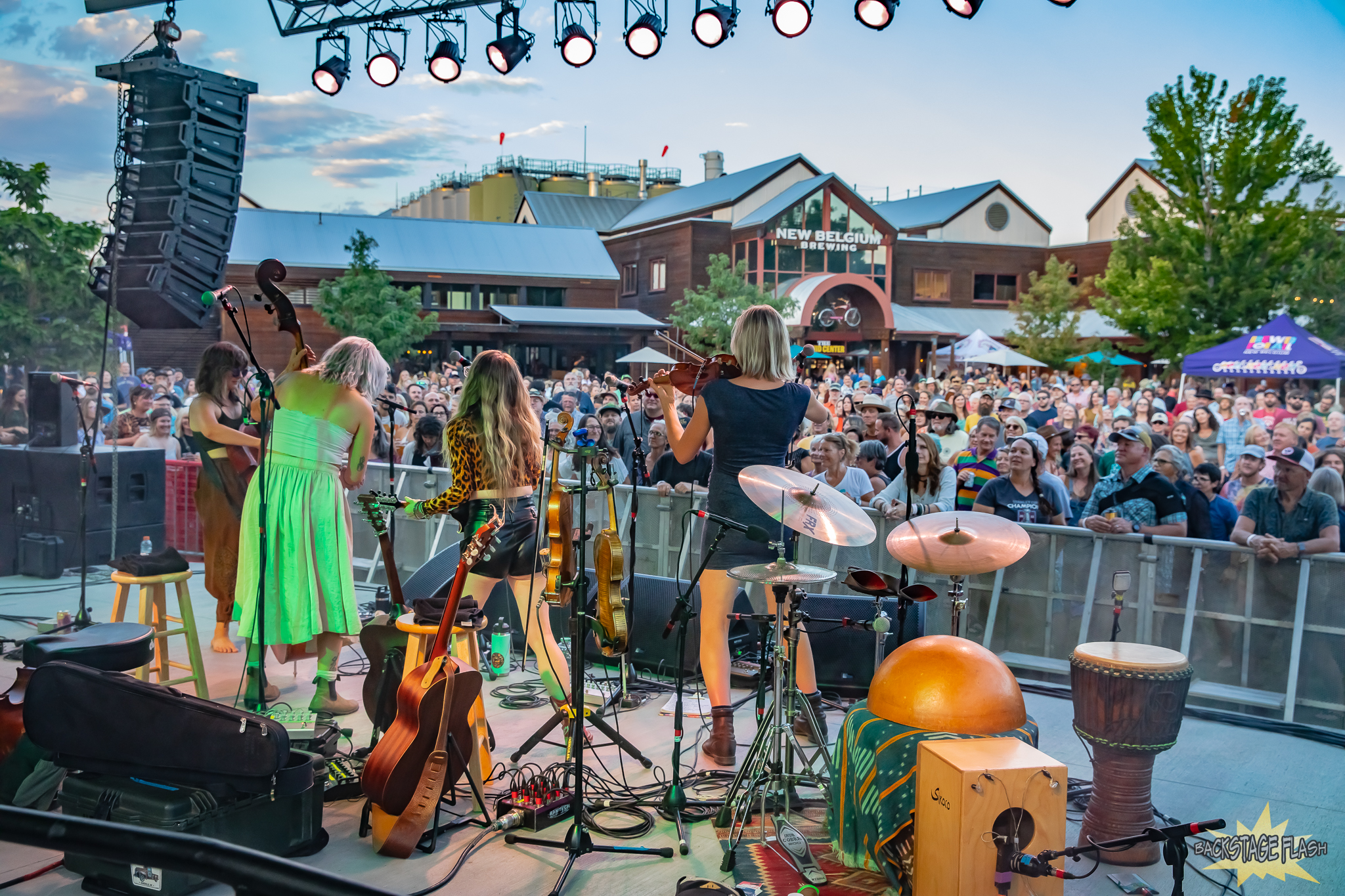 Bonnie Elizabeth Sims on mandolin and guitar, Eve Panning on Fiddle, Joy Adams on Cello and Emma Rose on upright bass make up this fabulous foursome of musical creativity and talent. All of the members of Big Richard have stunning powerful voices that can cover any style or genre they choose. Last night they slayed the audience with their musicianship and all out ambitious attitudes of presenting the bast damn show every time they take the stage. They opened the show with Hold Whatcha Got and immediately had the audience in a full lather of sweaty dancehall style moves. The set was diverse and fun with so many different twists and turns. The harmonies rang out with beautiful clarity and power as the set continued with It's Gonna Fall Short. It was a nice mix of original and traditional tunes. Big Richard presented an ass shaking environment for everyone in attendance and poured their hearts out doing it. This band is getting bigger and bigger by the minute and last night's set in Fort Collins was a great opportunity for many people to see the band for the first time.
Thanks to Rising Appalachia, Big Richard, New Belgium Brewing, The Bohemian Foundation and the amazing staff and production crew from Washington's.