RJD2 isn't that cute little droid acting as one half of a Greek Chorus in the Star Wars saga. But he did, start his set as a robot named 'Commissioner Crotchbuttons'; Complete with welders mask and "the world's first scrotum powered music machine" (a modified MPC sequencer that spins around on his lower waist). Yes, it's even more amusing than it sounds.
RJD2, also known as Ramble John "RJ" Krohn, played the Highline Ballroom in New York City to a sold out crowd in support of his new album "The Colossus". Over the past decade, RJD2 has made a name for himself in the world of sample-based/instrumental hip hop. Think of him as a cross between DJ Shadow and a darker, more cinematic and less commercialized Moby.
Tonight, RJ's energetic performance behind the turntables is complemented by a giant screen showing kinetic imagery from such films and shows as The Matrix, Desperado, Transporter 2, and Adult Swim's Aqua Teen Hunger Force. Early in the set, the crowd went crazy for "A Beautiful Mine", his most well known track and the theme music from AMC's Mad Men. Oh, so, now you might have heard of him, right? Okay. Moving on.
Fortunately, RJ isn't complacent enough to stand behind turntables and mixers for the entire performance. Instead he breaks out a guitar and is joined by a backup band including bass, keyboard & drums and breaks out into his brand of funky hip hop bouncing between his DJ setup and guitar.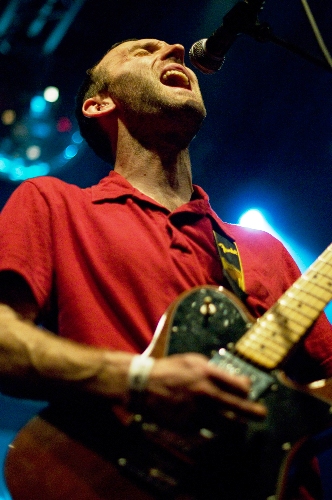 About two thirds into it, the set loses steam. RJ breaks out a bass guitar, introduces singer Aaron Livingston, and shifts gears from fast and funky (on the verge of crunkadelic) beats to slow R&B. Much of the audience is slightly confused. But for those who have heard 'The Colossus' know that RJ is trying to expand beyond the cut and paste. And, while RJ's clearly a talented instrumentalist and producer, his recent journey into soul music seems like he's been inspired by Kenneth 'Babyface' Edmonds. The crowd listens politely. Granted, it's not that it's bad, per se. It just doesn't fit within the RJD2 universe. Next to awesome tracks like "Let There Be Horns" and "1976" this R&B stuff is pretty boring in comparison.
RJ proclaims that he and Mr. Livingston "just finished a record together. I think it's some of the best shit I've ever done." According to a recent tweet, this new project/collaboration is called 'Icebird'. Apparently, RJ is very excited for us to hear it. But, let's be honest. Unless it resembles his previous albums, it's not what RJD2 fans want. Keeping it separate might be a good idea.
As if he senses that the crowd was getting antsy, he shifts back into gear with "The Horror" and "Ghostwriter" (Arguably, his two best songs). This is the high point of the show and proves that when RJD2 is at his best, he's a brilliant force to be reckoned with.
Check out more of Andrew's photos in our gallery. Also be sure to check out Andrew's terrific write-up from last year's All Points West Festival just outside of New York City.