Guerilla Union has announced the additional European dates of the ROCK THE BELLS 2008 INTERNATIONAL FESTIVAL SERIES POWERED BY SANDISK with new installments in Helsinki, Finland and Oslo, Norway. The tour now expands to nine shows in six countries.
As previously released, the festival series will kick off in Prague, Czech Republic on 31 October and continue on to stops in Amsterdam, Stockholm, Birmingham, Paris and concluding in Manchester, UK on 12 November.  SanDisk will continue to be the title sponsor for the entire international run and will be showcasing their "Wake Up Your Phone"™ campaign.
In association with Live Nation and TCO, a launch concert in London's Indigo2 @ the O2 Arena has been added on 9 November.  The intimate show will feature live performances from Nas and Mos Def to celebrate a surprise announcement from Guerilla Union. The announcement will include details for a spectacular event coming to London in 2009.
Chang Weisberg, founder of Guerilla Union, states, "Adding shows in Helsinki and Oslo embodies our vision of global expansion for Rock The Bells.  There is a big demand for great live hip-hop experiences all throughout Europe and we have the platform to deliver that.  We are also extremely proud to launch this special event surrounding our big announcement in London with SanDisk, Live Nation and TCO."
The European tour sees Nas, Mos Def, De La Soul (recently added to the Paris show), The Pharcyde reunion featuring all four original members, freestyle world champion Supernatural and beat boxer Scratch (formerly of the Roots) performing in selected dates.  Joining the tour in Prague and Amsterdam will be legendary group EPMD.  Check out www.guerillaunion.com for updates and complete details.
 
Guerilla Union's ROCK THE BELLS INTERNATIONAL FESTIVAL SERIES POWERED BY SANDISK has established itself as a world-class hip-hop platform by hosting legendary performances by Rage Against the Machine, NAS, A Tribe Called Quest, Public Enemy, Lauryn Hill, Blackstar (Talib Kweli and Mos Def), Hieroglyphics, Living Legends, De La Soul, Busta Rhymes, Cypress Hill and Jurassic 5.  It is recognized as a forum of unparalleled diversity and excellence by uniting the biggest names involved with urban street culture and was the top-grossing hip-hop event in the United States in 2007.
 
One of the past memorable moments of the festival came at the 2004 Rock The Bells, which reunited the most influential hard-core rap group ever to emerge - The Wu-Tang Clan - for the first time in 10 years.  It was the last time for anyone to experience the Wu-Tang Clan as a whole, as ODB passed away a couple months after the show.  Since then, members of the Wu-Tang Clan have continued to appear on the line-up on an annual basis while paying tribute to their fallen clan member.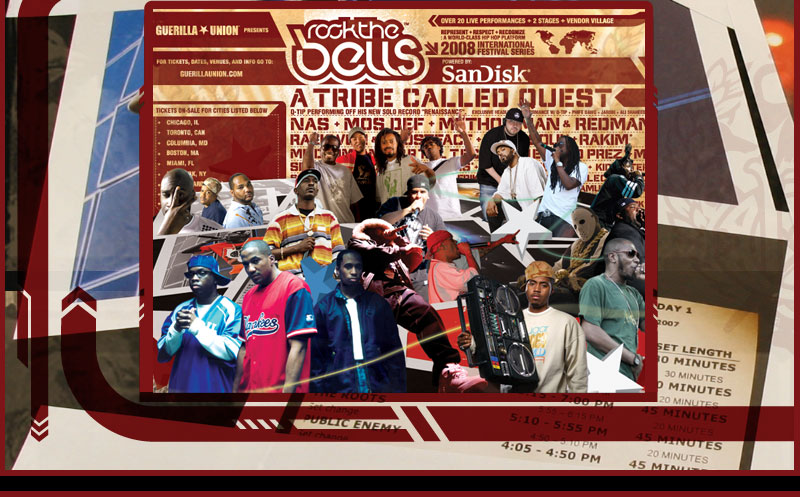 ROCK THE BELLS 2008 INTERNATIONAL FESTIVAL SERIES POWERED BY SANDISK:
 
31  OCT – PRAGUE, CZECH REPUBLIC – T-MOBILE ARENA –
NAS, MOS DEF, DE LA SOUL, THE PHARCYDE, EPMD, SUPERNATURAL & SCRATCH
 
1  NOV – AMSTERDAM, NETHERLANDS – HEINEKEN MUSIC HALL –
NAS, MOS DEF, DE LA SOUL, THE PHARCYDE, EPMD, SUPERNATURAL & SCRATCH
 
4  NOV – STOCKHOLM, SWEDEN – ANNEXET –
NAS, MOS DEF, DE LA SOUL, SUPERNATURAL & SCRATCH
 
5  NOV – HELSINKI, FINLAND – HELSINKI ICE HALL –
NAS, MOS DEF, DE LA SOUL, SUPERNATURAL & SCRATCH
 
6  NOV – BIRMINGHAM, UK – BIRMINGHAM ACADEMY –
NAS, MOS DEF, THE PHARCYDE, SUPERNATURAL & SCRATCH
 
9  NOV – LONDON, UK – INDIGO2 @ THE O2 ARENA –
NAS, MOS DEF, SUPERNATURAL & SCRATCH
 
10  NOV – PARIS, FRANCE – ZENITH –
NAS, MOS DEF, DE LA SOUL, THE PHARCYDE, SUPERNATURAL & SCRATCH
 
11  NOV – OSLO, NORWAY – SENTRUM SCENE
MOS DEF, DE LA SOUL, THE PHARCYDE, SUPERNATURAL & SCRATCH
 
12  NOV – MANCHESTER, UK – MANCHESTER APOLLO
NAS, MOS DEF, THE PHARCYDE, SUPERNATURAL & SCRATCH