John Langenstein, Director of Security for several prominent bands has teamed up once again with David Shulman and The Mimi Fishman Foundation (MFF) to raise money for The Station Family Fund (SFF). The auction, which can be found at mimifishman.org/auctions coincides with the 4th anniversary of the horrific fire, will be the sixth in a series of fundraisers organized by Langenstein/Shulman to benefit the SFF. To date their efforts have raised over $75,000 for the SFF.
The Station Family Fund is an all-volunteer, 501 c 3 recognized, tax exempt, nonprofit organization, founded to offer assistance and relief to people directly affected by the fire at The Station nightclub in West Warwick, Rhode Island. 100 people perished, close to 200 severely injured, and more than 60 children lost one or both parents in the horrific fire on Feb 20, 2003. The Station Family Fund will distribute every dollar raised by the auction in an effort to address the needs of the survivors and the families of victims. "John (Langenstein) has certainly put together a wonderful lineup of rare and unique items", says David Shulman, Executive Director of the MFF. "There is sure to be something of interest for fans of all music types. Our hope is that in addition to raising needed funds, we will also be helping to get the word out that there are children who lost either one or both parents, and need whatever help we can provide them. It's been four years now since the fire, however help is needed now as much as ever."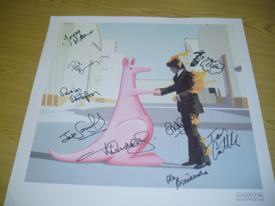 The auction include items donated by a wide spectrum of artists including Phish, String Cheese Incident, Roger Waters, moe., BB King, Bon Jovi, Ben Harper, Widespread Panic, Trey Anastasio, Fallout Boy, The Disco Biscuits, and many others. "We have been overwhelmed by the support we have received, both from those donating items as well as those bidding on them. Working in the music industry, this tragedy hit me right in the heart. My desire to help those affected by the fire has only strengthened, and I am more determined now than ever to help out the survivors and the families of the victims", said Langenstein. The auction can be viewed until March 12th.