The Latin word maestro translates to the word master and according to The Merriam-Webster Dictionary, one definition of this esteemed label, as it pertains to the following content, is 'a great figure of science or art whose work serves as a model or ideal', while another interpretation reads 'having or showing very great skill or proficiency'. For jazz enthusiasts and critics alike, all can agree that Ron Carter embodies these characterizations to the Nth degree. From being the most recorded bassist in history to playing with and being sought after by every other great musician, to delivering behind the pen as an author, composer, and teacher, when it comes to decades of dedication and a versatile delivery in instrumentation and creativity, few can hold a candle to the prolific career of The Maestro Ron Carter.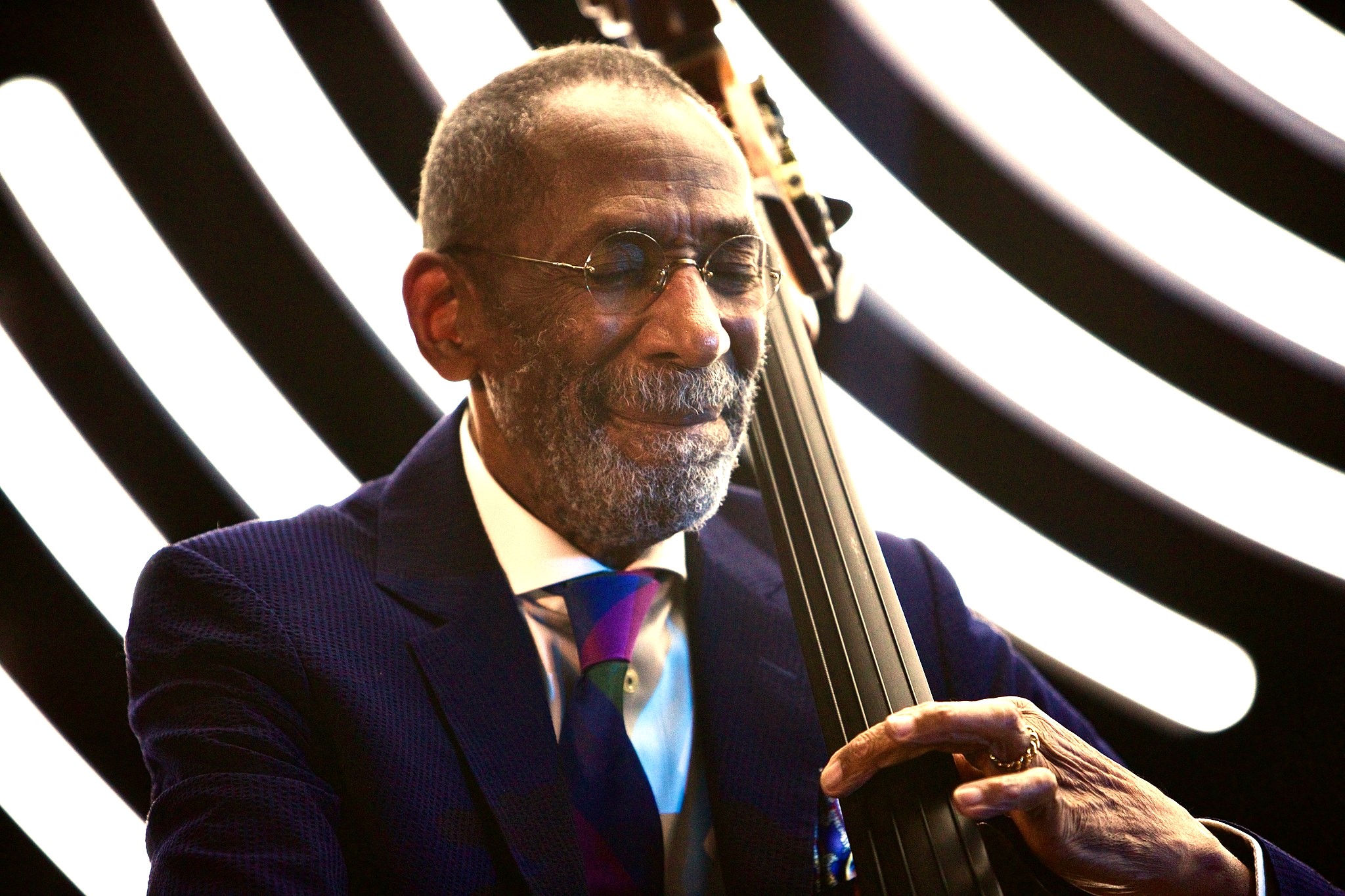 If his renowned status inscribed across the musical and literary universe wasn't enough, the man, myth, and legend continue to this day to defy mortality further by continuing on his endless tour of getting behind the stick and string to make music, all the while searching, finding, and creating the new, even in pieces he has been playing for decades. By his own admission at eighty-six years strong, this discerning and steadfast giant is 'still trying to find the right notes to get to a different level' and last week, Denver's jazz collective had the opportunity to see this luminary shine as bright as he ever has.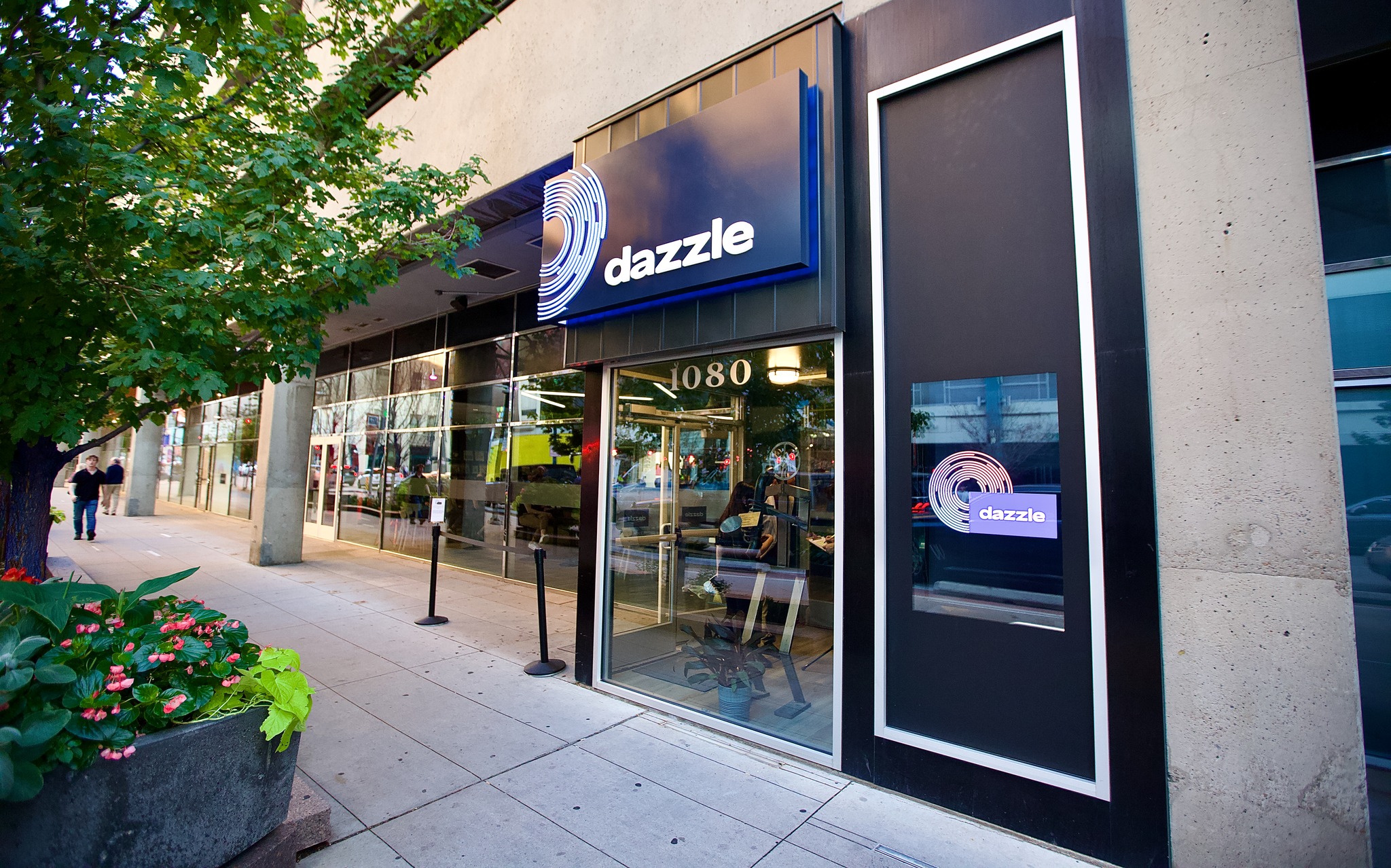 Located in downtown Denver as a part of the Denver Performing Arts Complex, Dazzle is the Mile High City's premier listening room for all things jazz. The space is warm and intimate, and sparkles with fine dining and libations, all of which play into the refined palettes of its discerning patronage. With a strict 'whisper only' policy, this venue is every music lover's dream who seeks to experience live music the way all performances should be: with ears wide open. Although the fire code placard denotes those 297 souls is the capacity of the room, for seated shows, the number is cut in half, and walking in, realizing how lucky any of us were to be seeing Mr. Ron Carter in this small club with its almost ground level stage, the anticipatory excitement was palpable even before the first notes were even played.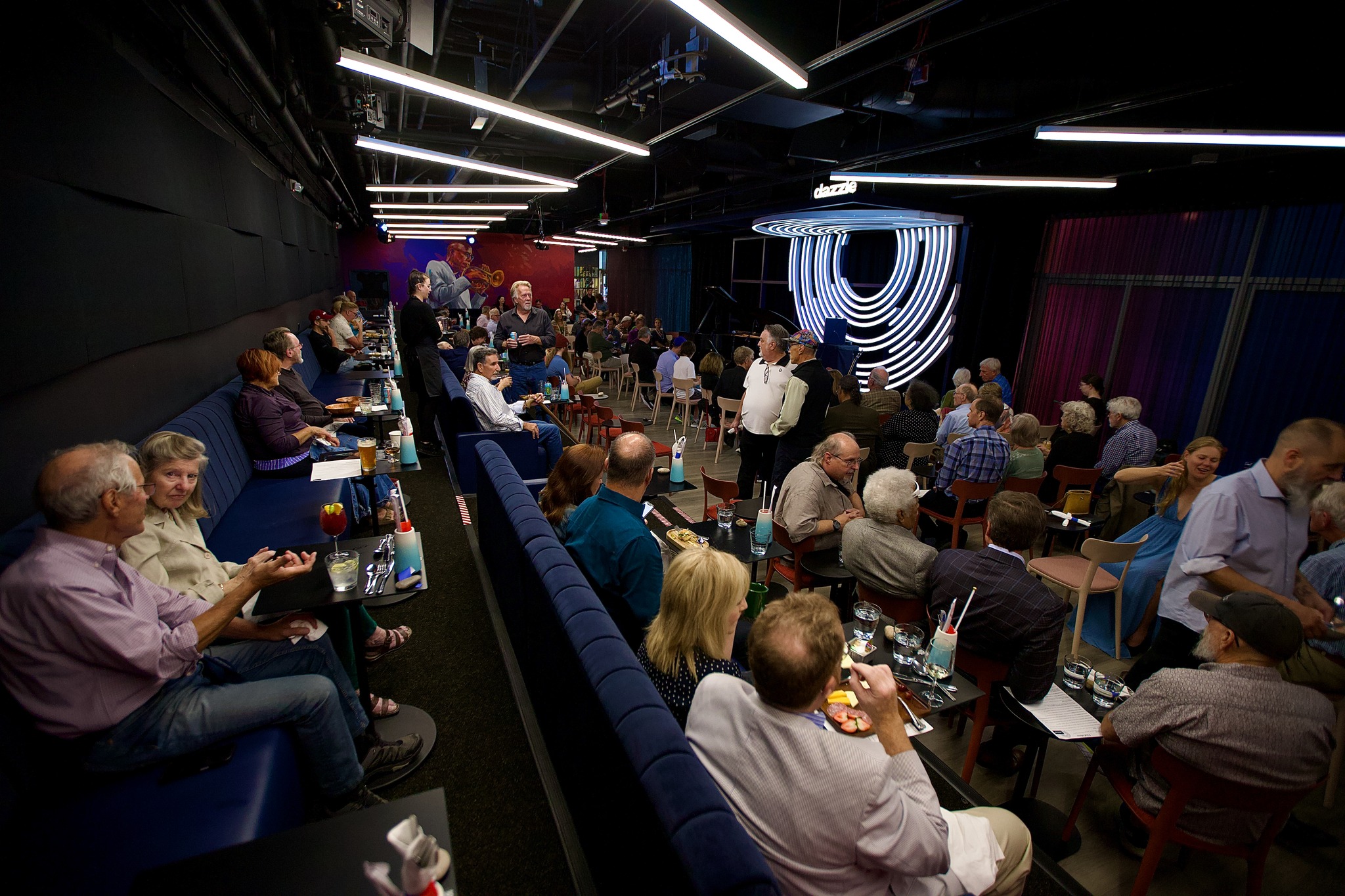 As the seven o'clock hour struck, Dazzle's Music Director Nick Moulds welcomed the seated crowd to the evening's special event with a warm heart and wide smile. After going over the ground rules and reminding everyone that Dazzle and its experience is based on community, a tenet illustrated by small rocks at each guest's table, signifying the cornerstone of fellowship that makes music and this space so special, he added some comedy on behalf of the group. Smiling, Nick stated, "The band also requested no sleeping tonight. I already know that won't be a problem", prompting everyone to laughter. As the chuckling subsided, Moulds proceeded, "Without any further ado, it is my ABSOLUTE pleasure to welcome to the Dazzle stage, The Golden Striker Trio. Give it up!"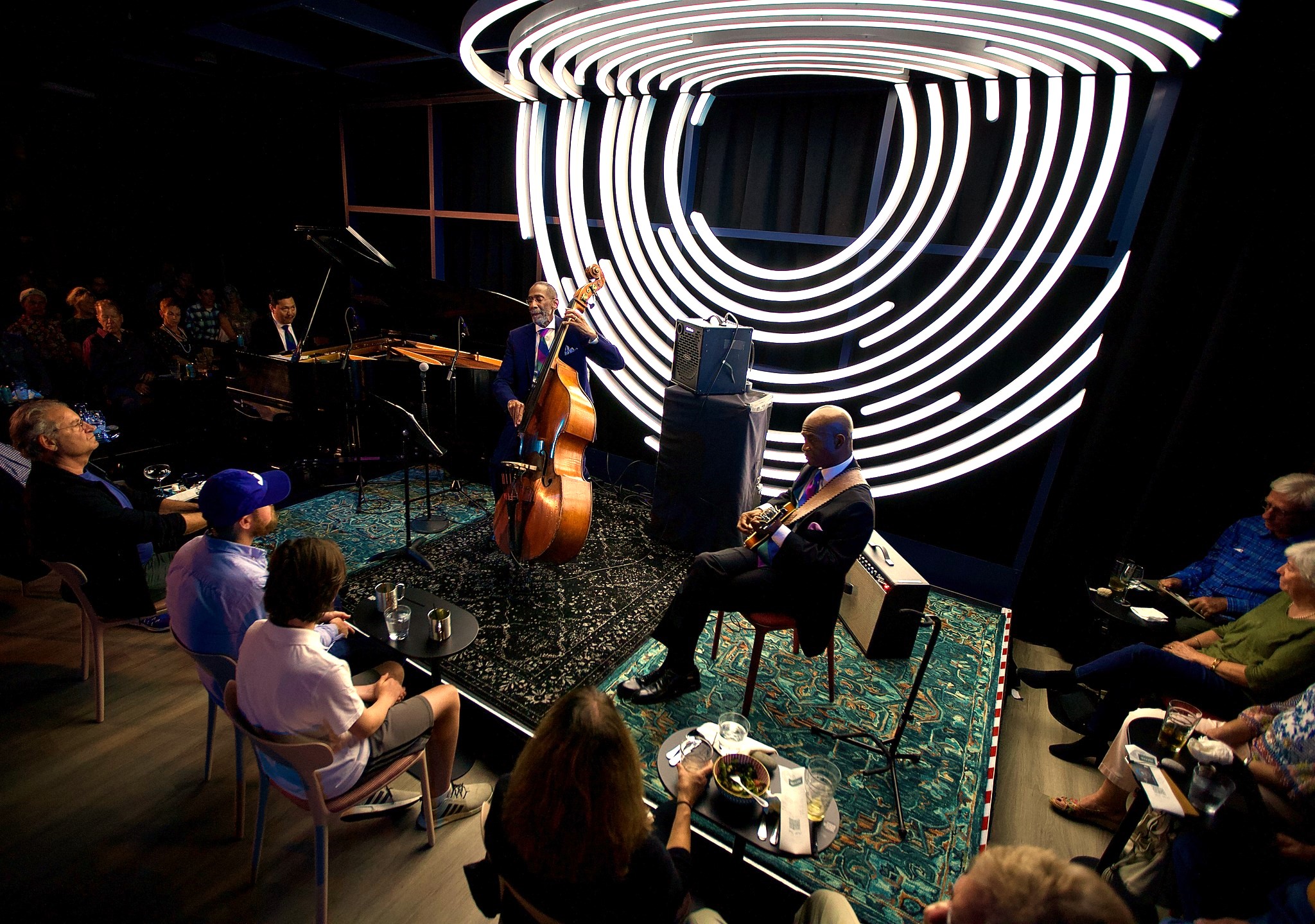 Walking on to a very warm welcome, the trio got the evening started without a word and settled everyone in with "Eddie's Theme". Swinging with the blues, this one from Carter's 1998 release So What, put everyone right into the perfect head space. The sound of the room was well balanced, no one player drowning out another, and no matter where one was sitting, smiles abounded. The trio started off as a whole and developed the parameters of the piece flawlessly. Malone got the first solo and his spot hit all the marks, many grooving in their seats to his delivery. Carter was up next and thundered away with eyes closed, full in the moment, smiling at times, grimaced at others, always moving forward. Vega's playing throughout was thoughtful, supportive, and consistently right, his gaze locked in on his leader, other times lost in the shadow of his keys. The totality of the opener came in at twelve minutes and we all knew that this would be an evening to remember.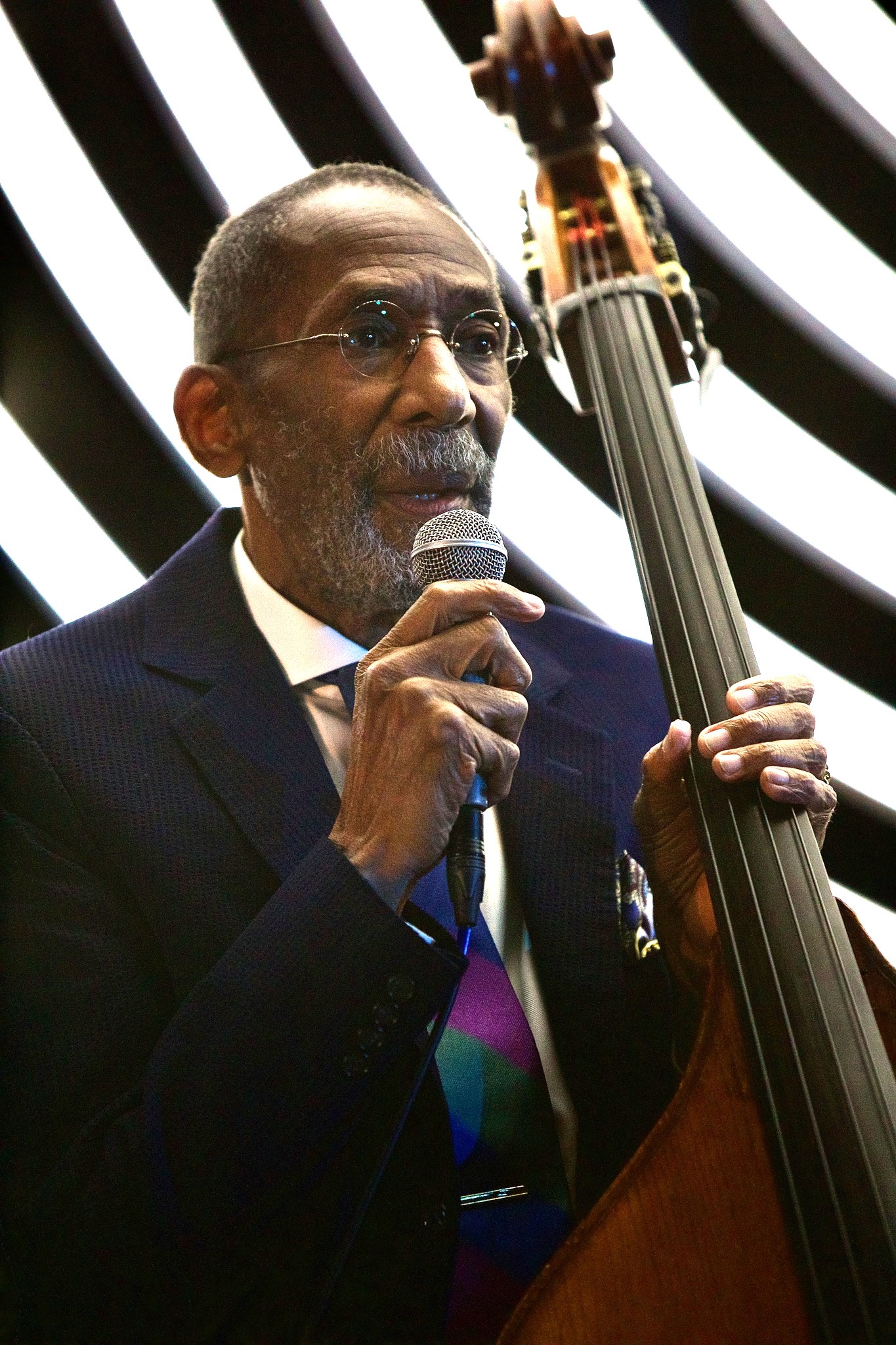 As much as there is no deficit of notes from Carter, he also lacks little in the way of words. Pulling the microphone from its stand, The Maestro introduced the band and took some time to engage:
Thank you. Piano, Donald Vega. Guitar, Russell Malone. And then there's me. We're here and it's nice to see you here supporting this room. Thank you from us. This is a year of some tremendous events and we have decided to use this evening to honor those who are important to us, both here and gone. So, our first remembrance is to the birthday of ninety-three-year-old Sonny Rollins. Our thoughts go to the members of the family of the late great bassist Richard Davis. This next piece is dedicated to the memory of our dearly departed Cedar Walton, written by Russ Malone, called "Cedar Tree".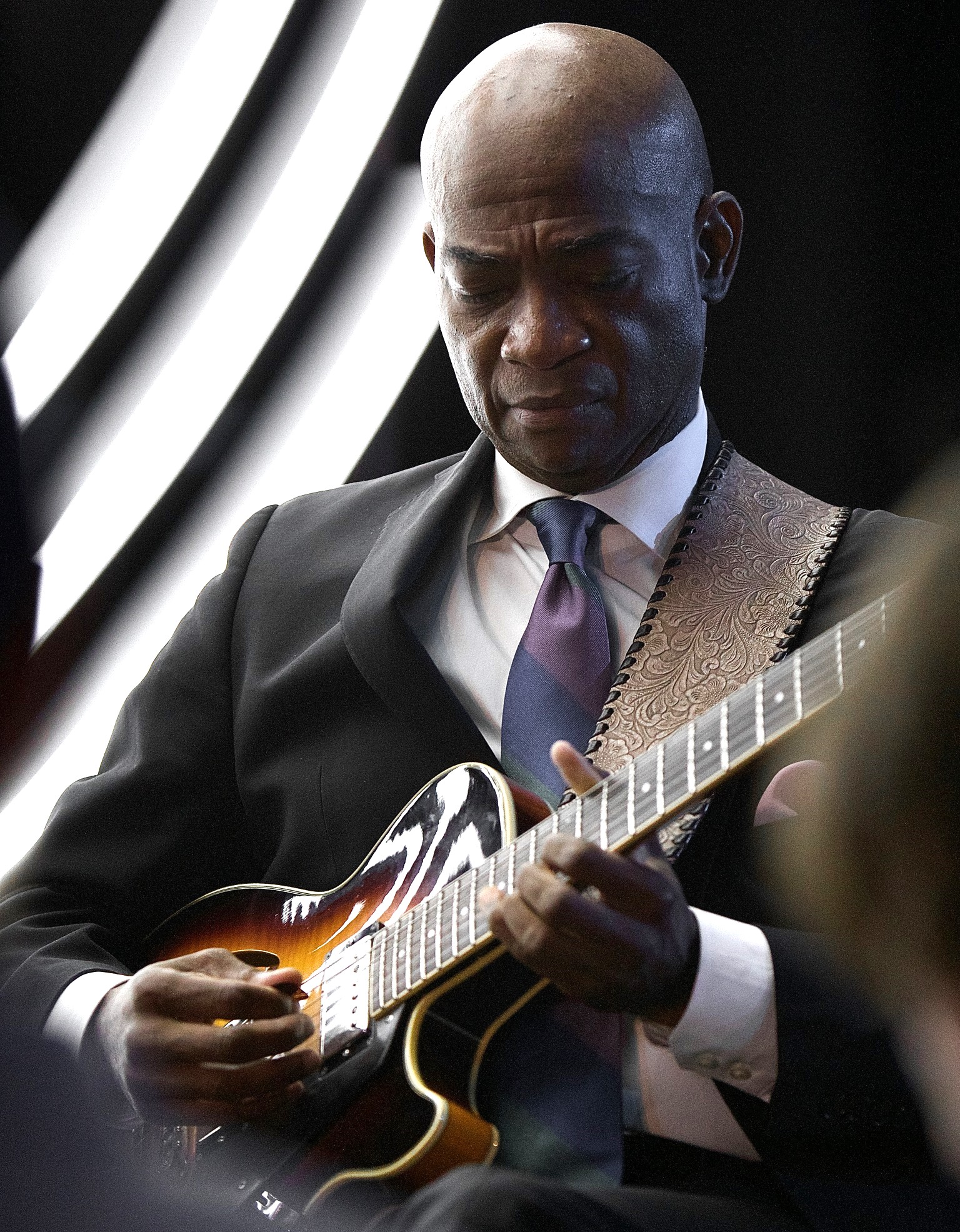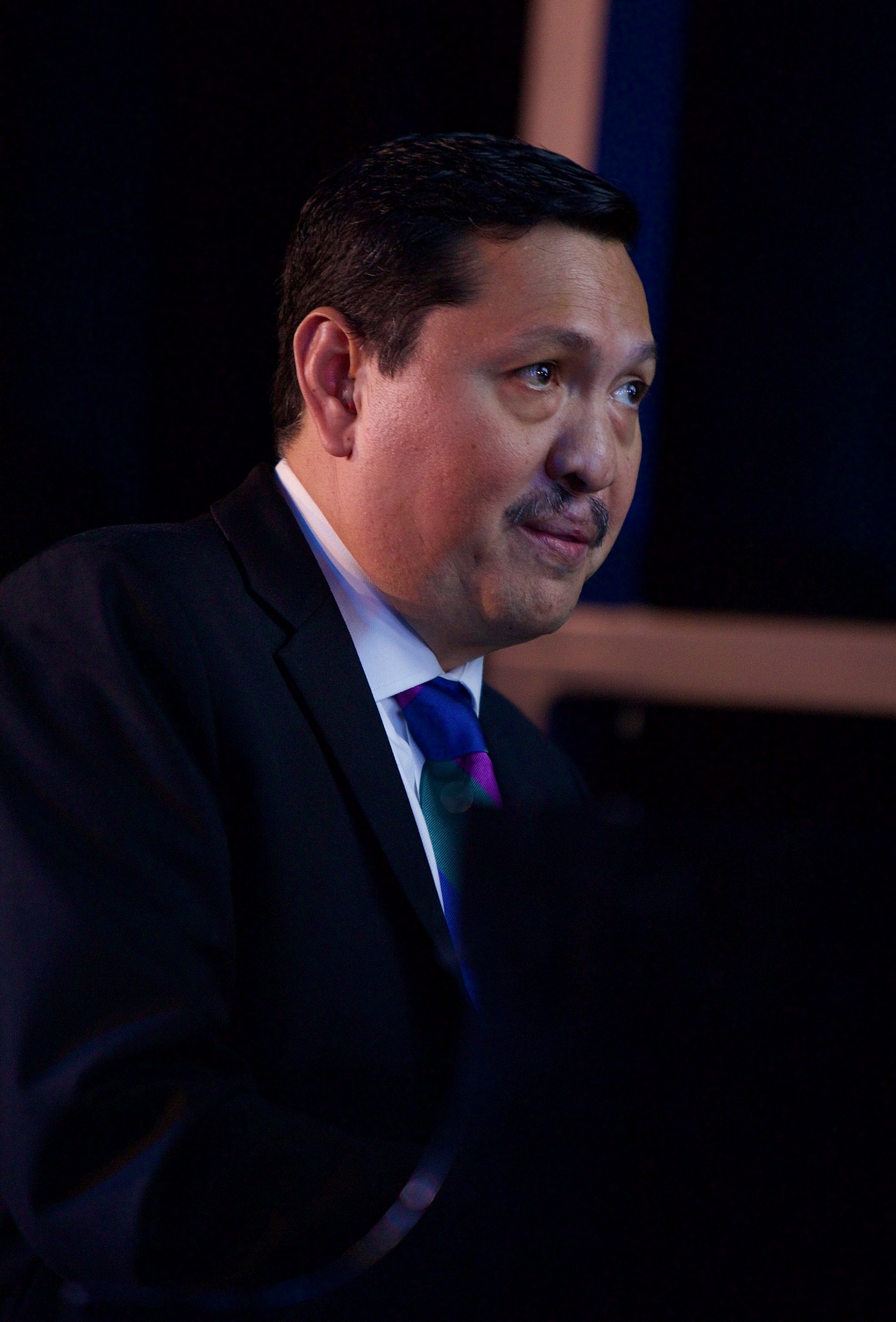 In seated acceptance, the trifecta of effects jumped into the aforementioned Malone tune and the journey continued. Fashioned with great call-and-response from each of the three respective gentlemen, this one boogied. Carter's delivery was agile and vibrant, and with the changes, The Myth swung hard. Vega's voice shifted accents and inflection, speaking volumes on the subjects of structure and improvisation, alternating between whisper and exclamation. Malone's muted fretwork embraced the unit in warmth. Coming in at six minutes of 'oh my goodness', the only thing that would have made this choice any better was if the band had kept on playing in and around its intricate theme, a joyful experience anyone in the room would have been happy to entertain.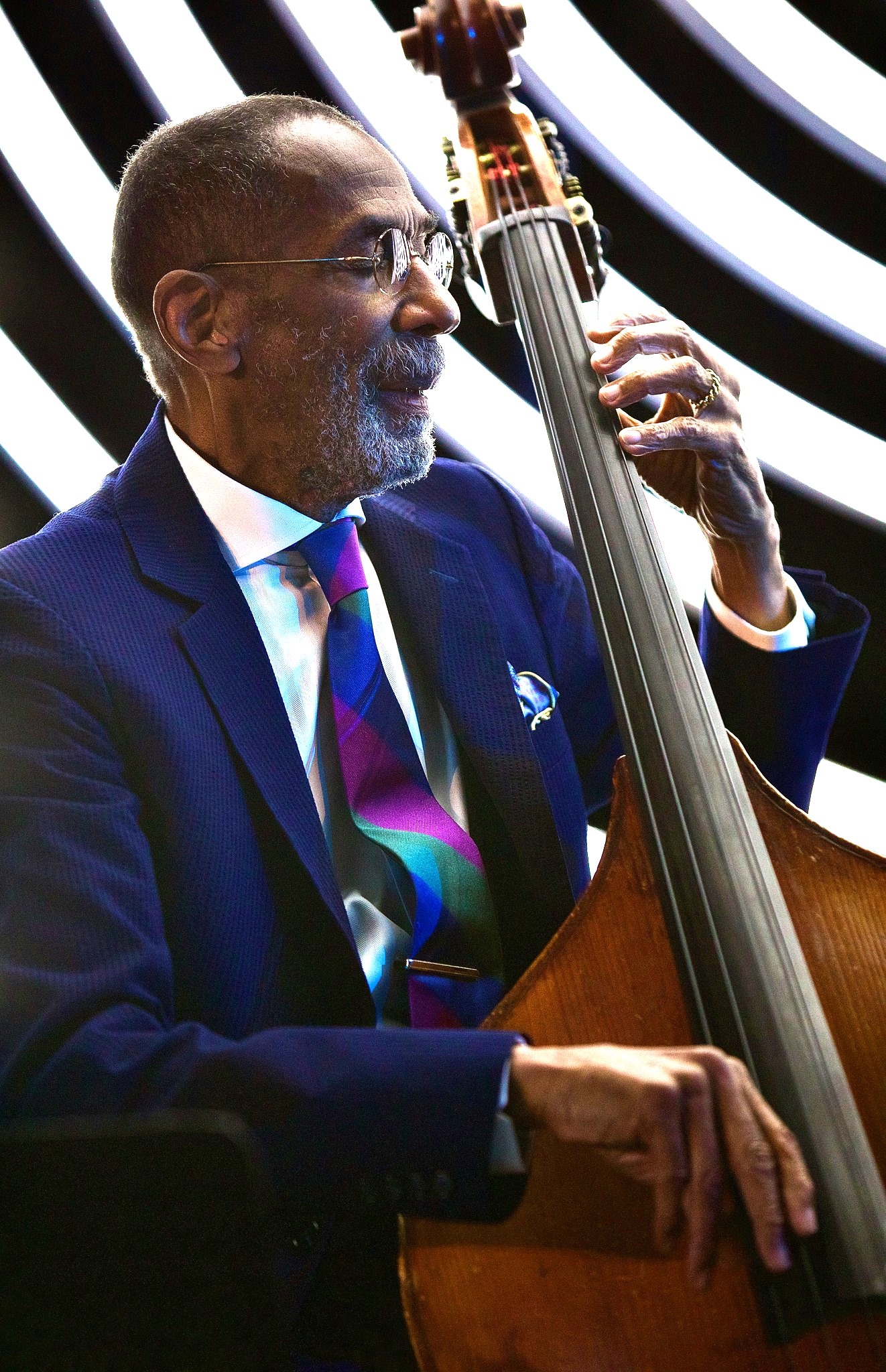 Taking only a moment to introduce his next choice, Carter did it all with the simple statement, "This next piece is just a nice song". Taken from a French tune from the 1940s and noted as one of the most recorded songs in jazz, the staple "Autumn Leaves" was recognized by many in the room, and for many ears, this one was certainly so much more than 'nice', especially when Mr. Ron Carter is involved. Once the body had been detailed, Vega got first dibs at the solo and he danced all over the eighty-eight, showing again his earned right to man the bench. Carter played with great accompaniment, his moan and stretch filling the spaces perfectly. Malone flipped from chopping out the rhythm to tapping out the beat on the hollow-body, biding his time until it was his moment to shine. When that moment came, he and Carter, bound by the structure, bounced off each other into long thoughts and then under recoil, flittered through short outbursts that kept everyone involved in the dynamic conversation. The final movement was all Carter, his partners in time, hanging back so he could lay it all out. Dropping a barrage of notes, the conduit of the low end moved and shook through the melody with ease, leaving the crowd applauding in his wake and him, with a smile across his gentle face.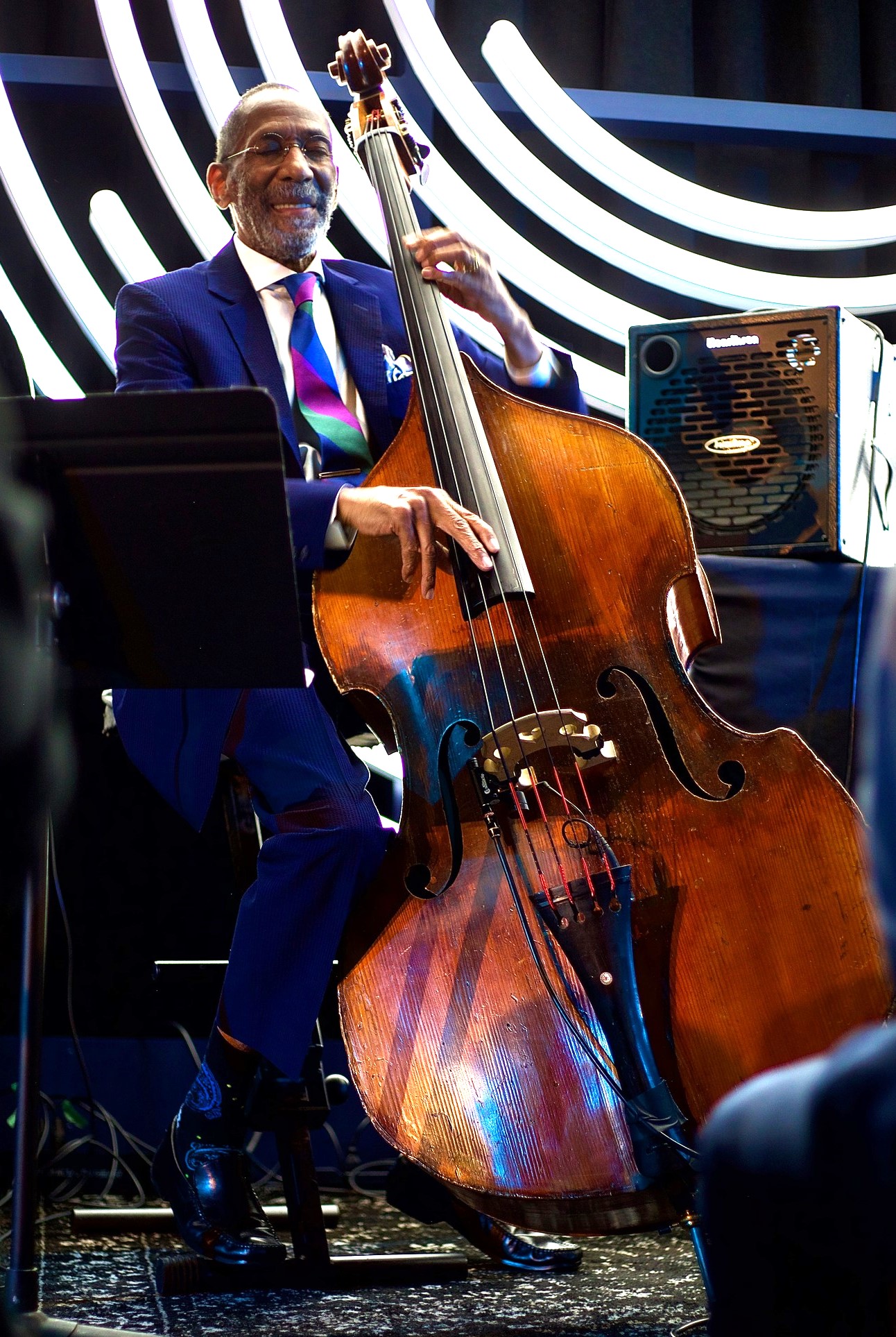 As the fanfare faded from the preceding thirteen-minute adventure, the tall thin master sat atop his stool and smiled with raised brow, his expression not seeming so much the result of the accolades, but rather his spirit moved by the piece, his face round with emotion as though he had played it for the first time or found something new in his channeling. Taking a moment and a breath, he stated only two words in exhale, "Autumn Leaves" as he let out a sigh and gazed into the eyes of the front row, everyone feeling at least a touch of what was going on within him.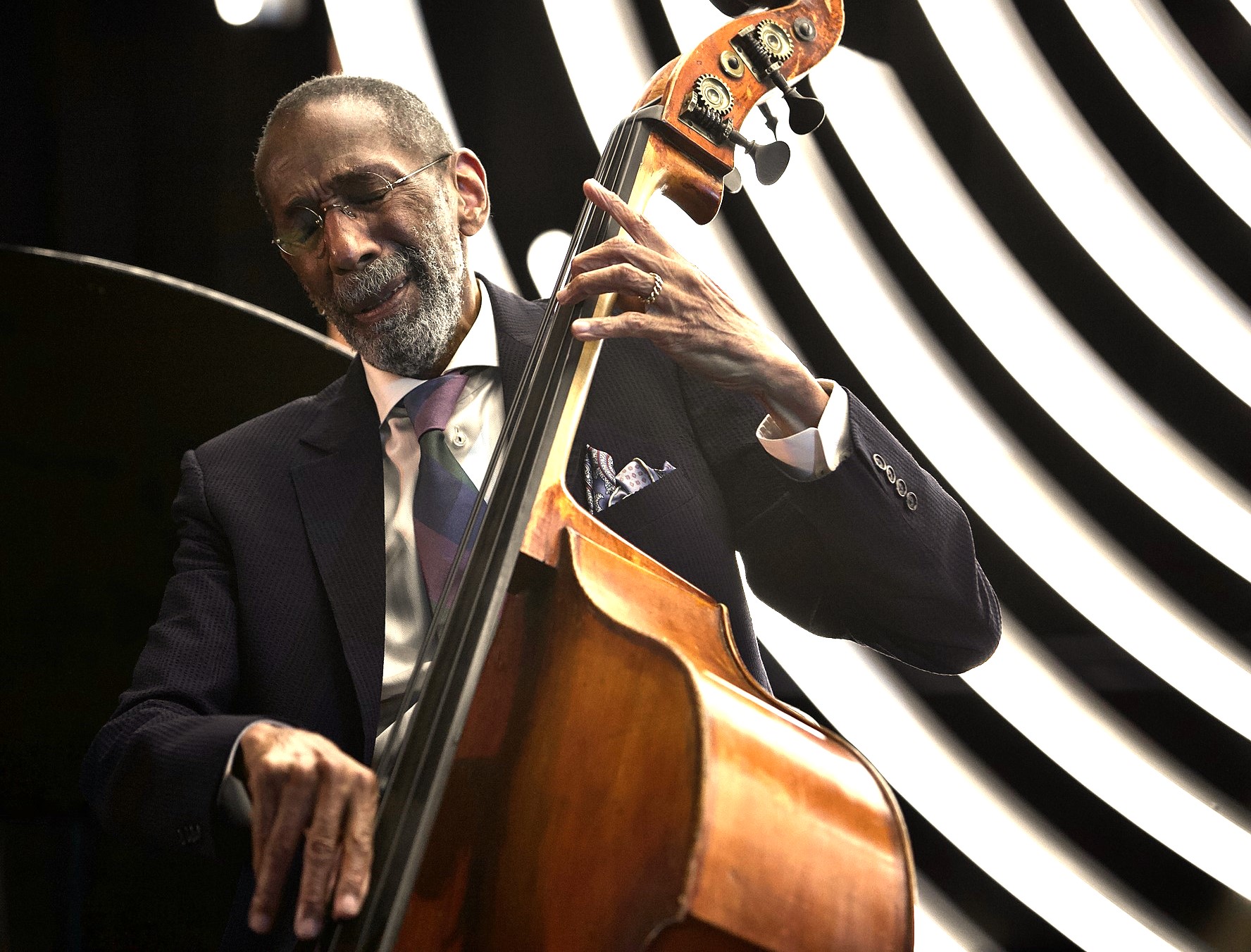 With the moment passed, Carter got back to the matter at hand and dialed up track three, "This next piece is dedicated to the memory of my dear friend Jim Hall. We miss him every day. This is my song dedicated to Jim called 'Candlelight'." This one glowed and flickered, moving with a loose outline, each band member slipping in their shine intermittently. Malone's voice transitioned between jazz and classical without complication and again, Carter was more than happy to support, letting the spotlight shine from within his partner as a patient and attentive crowd, including Vega, took in Malone's lilting fretwork, sliding and shifting with light dexterity. With the final notes fading, the crowd clapping emphatically, Malone smiling, and the Carter / Vega duo witnessing the abundant appreciation, The Maestro took up the mic again and introduced Malone, not once, but twice, and as many stood and cheered on the nod even more, Carter added, "Now that's why I come to work every night", resulting in even more listeners taking to their feet and hands in thankful observation. With another coming in at double digits, it was great to hear that the evening was not going to be treated like a greatest hits set, but rather the seatbelts we had all put on were certainly warranted.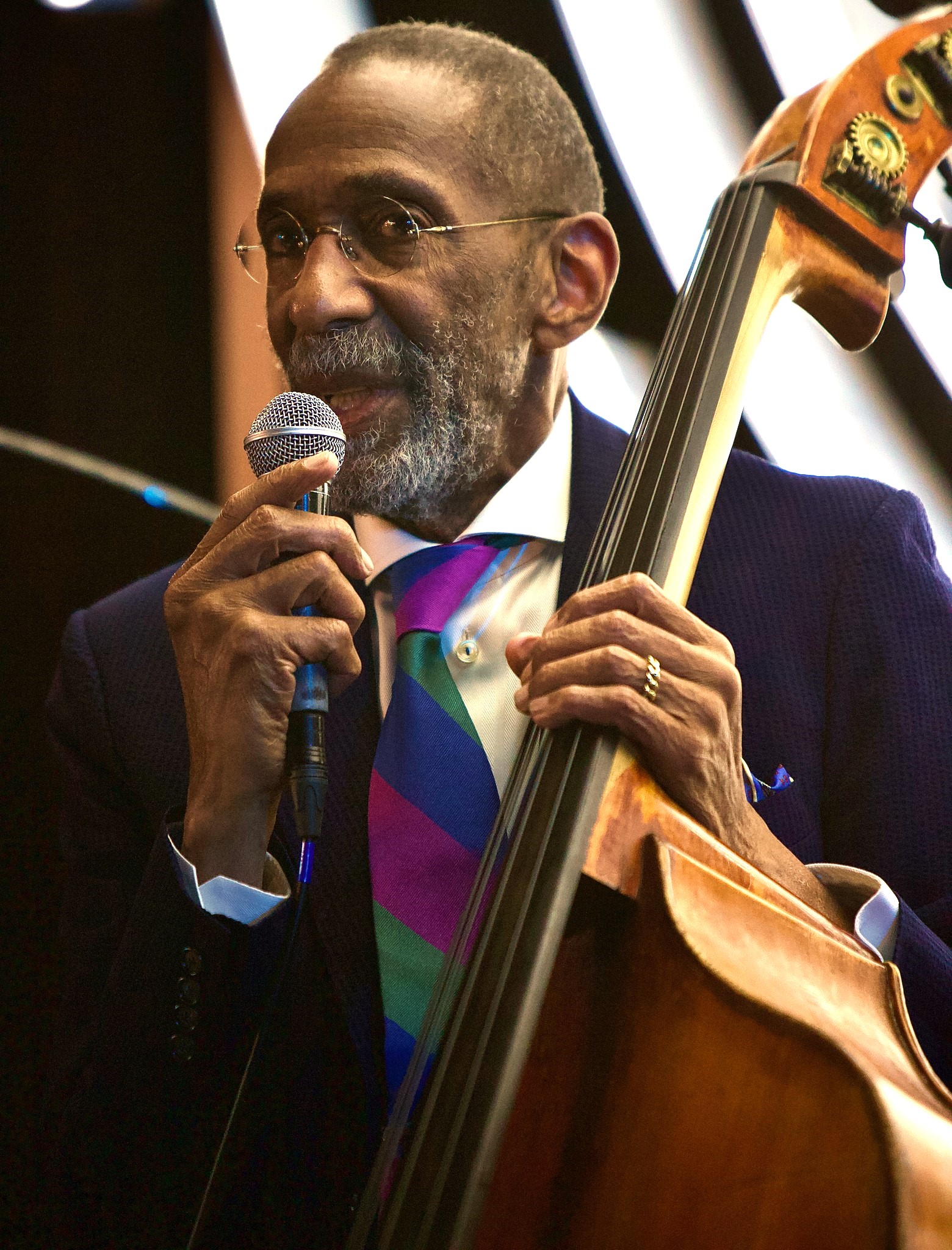 Explaining the impetus for the choice at hand, Carter shared, "This next piece is dedicated to one of our friends again who has left The Concert, Antonio Carlos Jobim. Here is our version of a ballad with Carlos in mind called Opus 5." As Jobim is regarded as one of the most influential songsmiths of the twentieth century, the father of many jazz standards, and a leading force in the development of the bossa nova style of music, it was no wonder that "Opus 5" would carry the spirit and flavor of the inspiration's Brazilian heritage and, in honoring the late composer and friend of Carter, the composition would consist of multiple movements, each defined by their own cadence and character.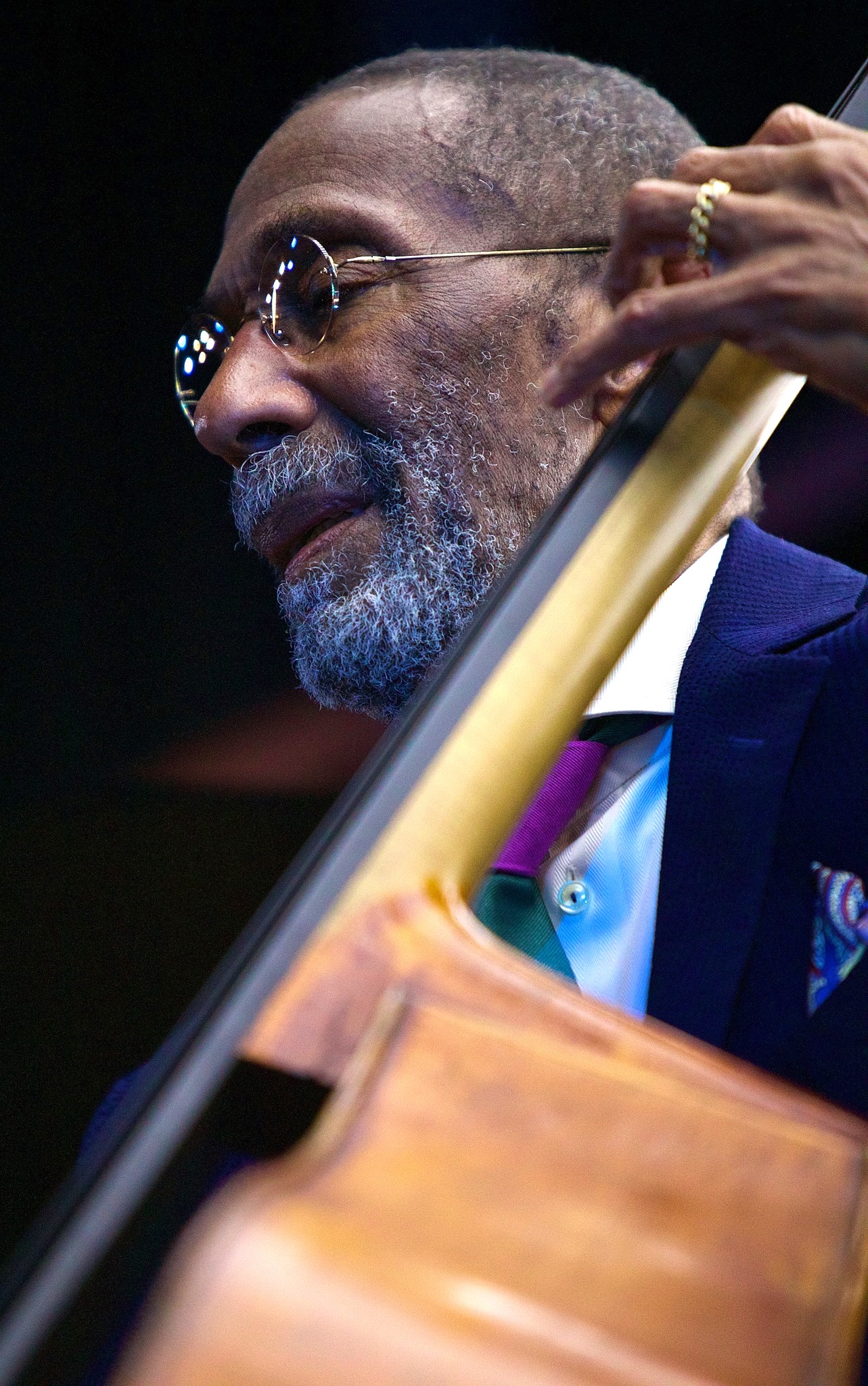 Adding a little mystery to the set, Carter prefaced song six with, "This next piece is dedicated to one of my former bosses who left The Concert about twenty years ago. This was his favorite ballad. Let's try and guess what this song is." Within a few notes, it was apparent that "My Funny Valentine" was the not-so-enigmatic song in question. The opening between Vega and Carter was soft and unhurried, and when Malone jumped into the mix, the amorous choice became all the more enriching to the soul. Six minutes into the passage, Carter and Malone sat in repose as Vega ran away with the room's attention, every being quiet and still, hanging on each climb and descent from the piano. After another four minutes, the warming dynamic turned, and as Carter struck hard with a vamp on "A Love Supreme", Malone picked up the tempo, playing in double time and creating some unsettling emotion over the foundation of Carter and Vega. The final two minutes roused those lost in the melodic dream and had those appreciative of the be-bop dynamic calling out for more, one guy yelling out "Yeah!" at the end of the organized chaos. With the final notes, The Maestro turned everyone's attention to Vega three times over, garnishing a grin and a bow to everyone.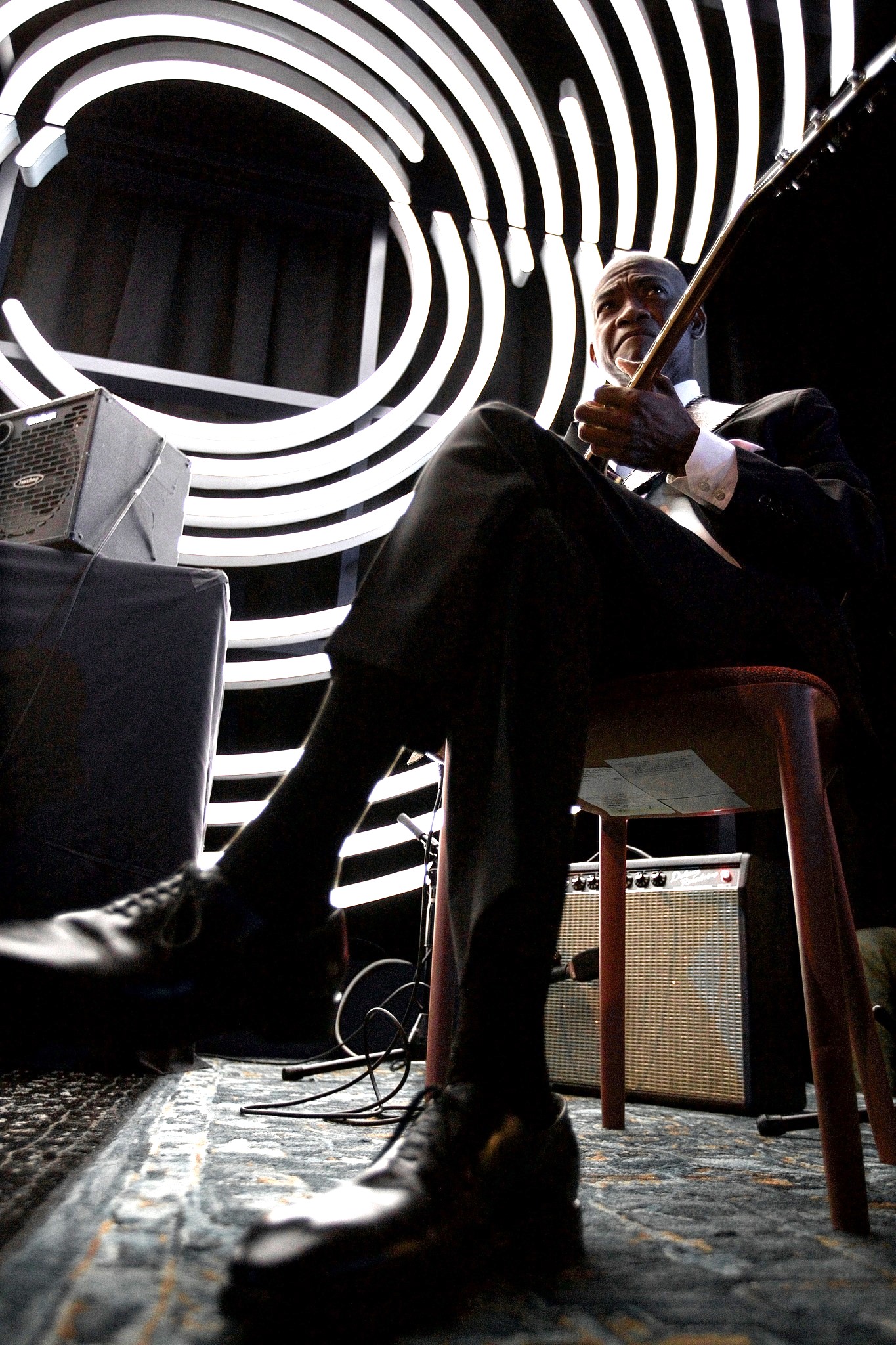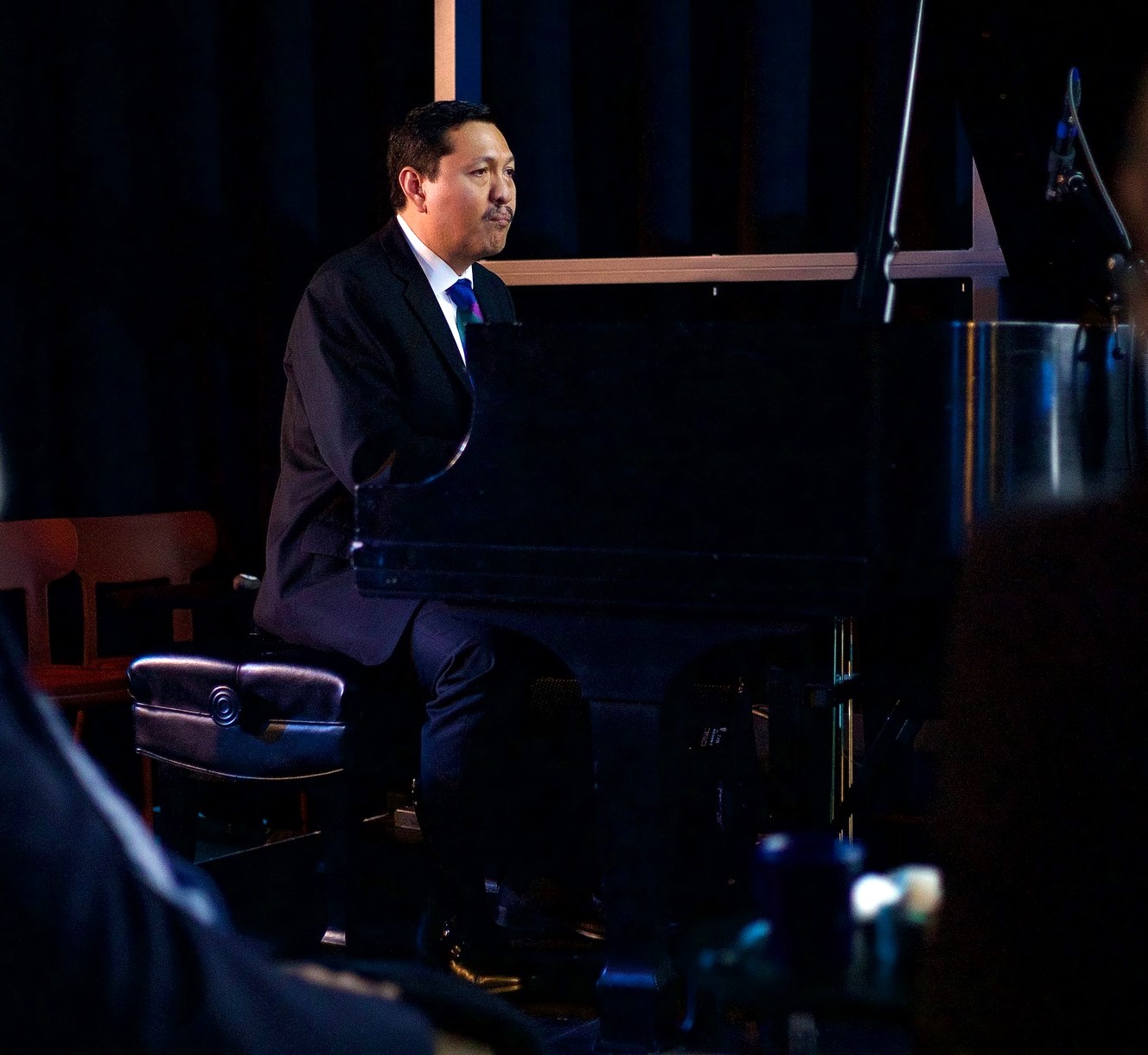 Easing back as members of the audience, Vega and Malone looked on as Carter began some loose tuning to start his solo portion of the program. Utilizing "You Are My Sunshine" as the centerpiece to demonstrate his abundant talent, The Maestro took the traditional and made it everything but, shifting through jazz, country, and swing, once again proving his expertise at the moment, searching for and hitting the right notes that had many holding their breath for nearly eight minutes. As the final low note of the unexpected rang out, the crowd abandoned their chairs in a standing ovation to this Master who has given so much to the muse of creativity. Mr. Carter stood there, looming and humbled, flanked by his fellow music men who had left their posts to posit themselves at his side, basking in the gratitude while also adding to the gratuity of the man who had brought them together once again to make that beautiful thing, we all call music.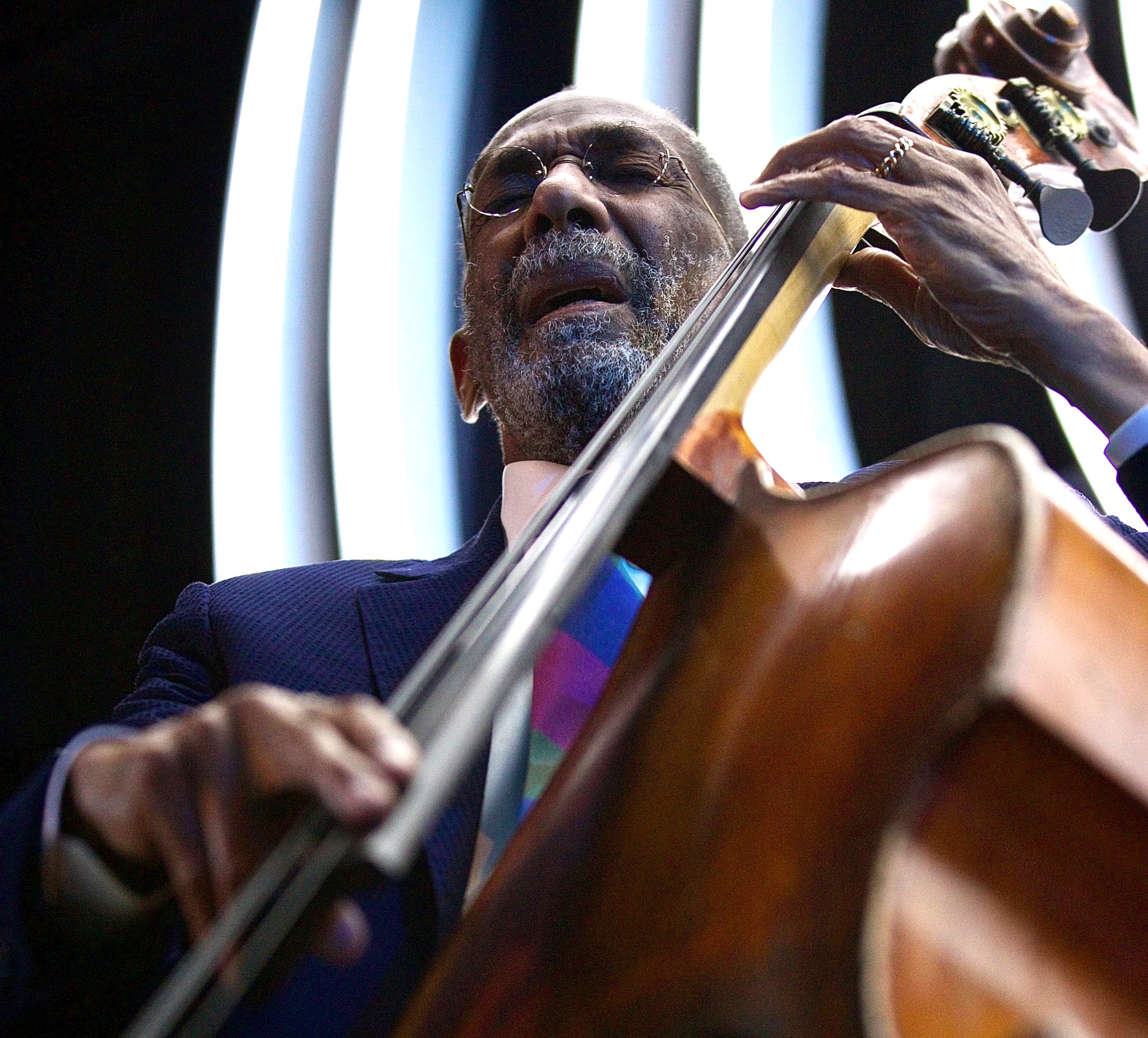 Picking up the microphone one final time, Carter smiled and joked, "Good night. I've had enough," lifting the spirit of an already elevated crowd. Smiling along with his constituents, he continued:
We're going to finish up this first set of our brief west coast…near the west coast?… Denver… Denver is close, right?... It's not east…by playing a song we learned about a year ago and I finally got it right. Before I give that to you, I will give you something very special. I know you all have notebooks and iPhones to take notes, right? I am going to give you an address to put into your notebook right now. C'mon, I know you are hiding a notebook. You got one, OK. I will spell it for you: R-O-N-C-A-R-T-E-R-U-N-I-V-E-R-S-E-.com, that's my gift to each of you for being here. No cost to you and less to me. Take a look and let me know what you feel. Here's our version of "Soft Winds" with Donald Vega on piano, Russell Malone on guitar, and I'm the guy at the microphone. Thank you so damned much.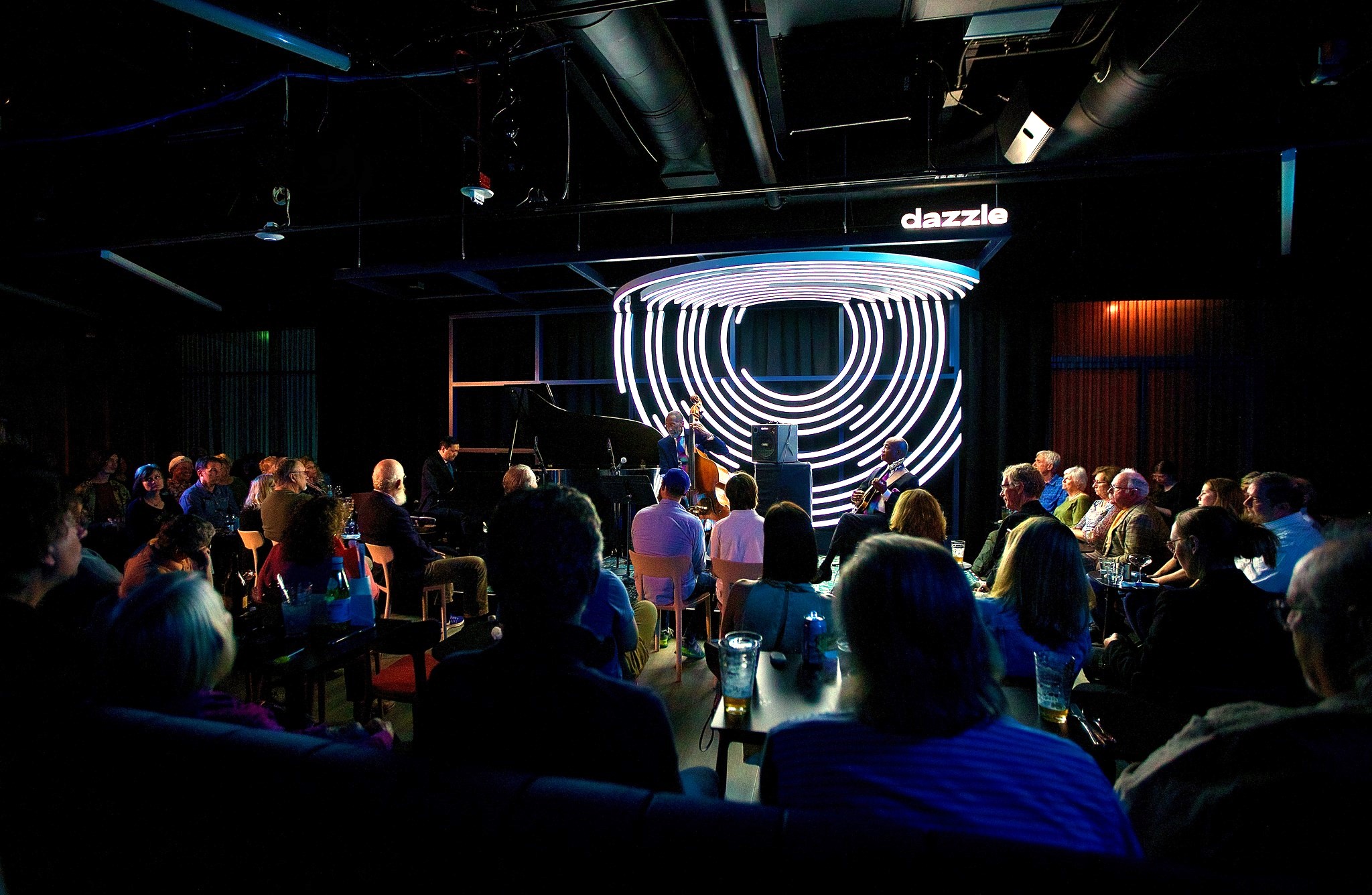 The Benny Goodman original and forever jazz standard achieved lift-off once again for the room. Opening wide and slack, this version was more felt than calculated construction. Although seated from start to finish, Carter walked that bass all over that room full of delight. Meandering and light for the first three and half minutes, without a signal or a look, Malone grabbed time itself and had his way with it, Carter and Vega joining in on the steeplechase sprint that Malone had initiated. Galeing for several measures, Malone and Carter stepped to the shoulder once again and let Vega run wild. Following the pianoman's demonstration, the two returned to hit each other's exclamation point of the punchy portion before slowing their roll into the soft ending, the faces surrounding simmering with steam, sweat, and smiles.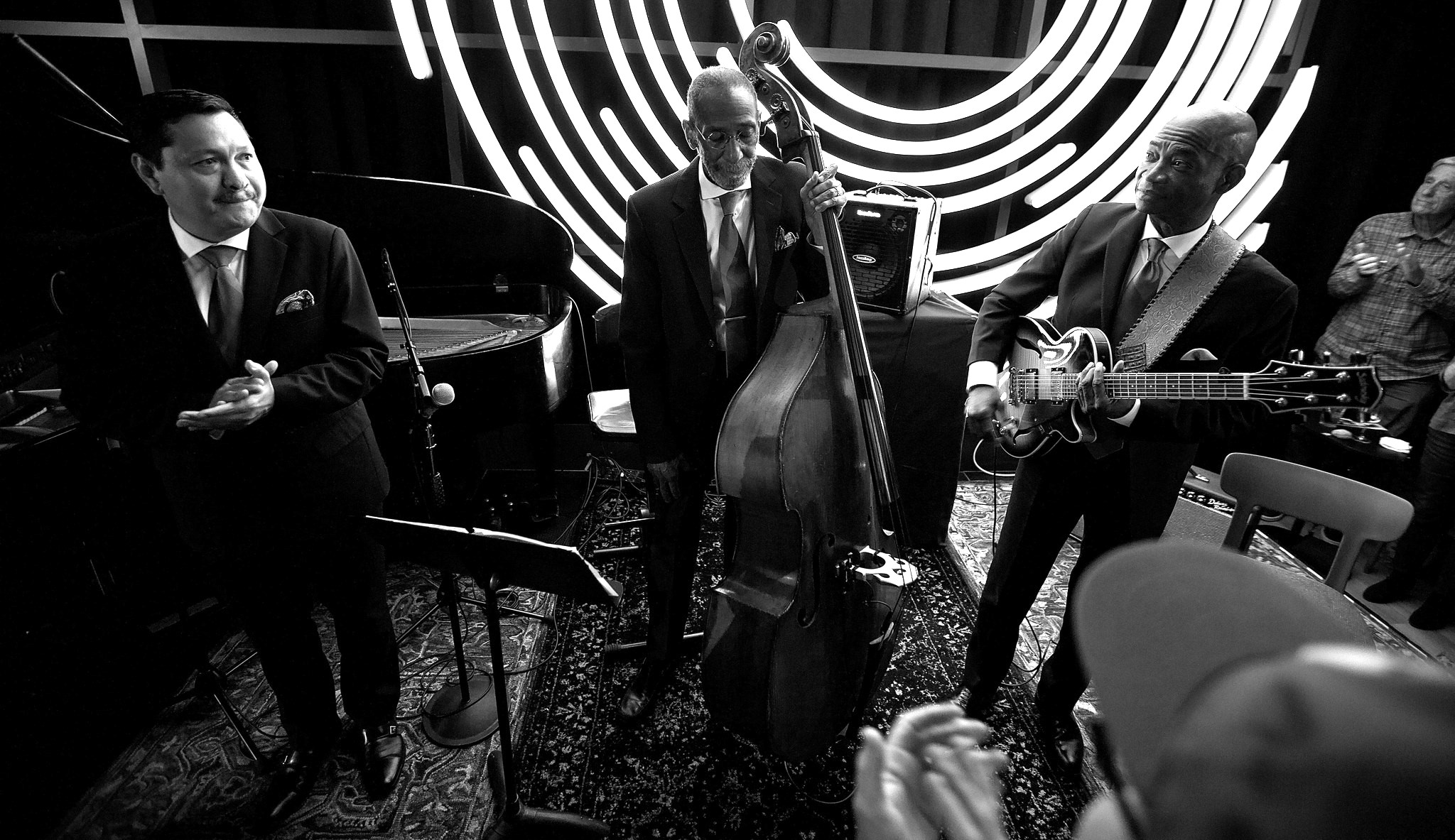 For the final tune of the set, the trio sent everyone out feeling the love with a take on the cover "There Will Never Be Another You". As a track from Carter's 2014 release In Memory of Jim, a tribute album to Jim Hall following his passing in 2013, it was hard to determine whether Carter was thinking of Hall, the audience, or his lovely wife and family, but one thing was for sure: as far as the audience was concerned, we listened to that final song through the lens of this living legend and counted ourselves lucky to be sitting before this gentle giant still willing to share his soul with those willing to listen in on his shared moment, to drink deep from this life and his immutable choice to keep serving that which he has been blessed with.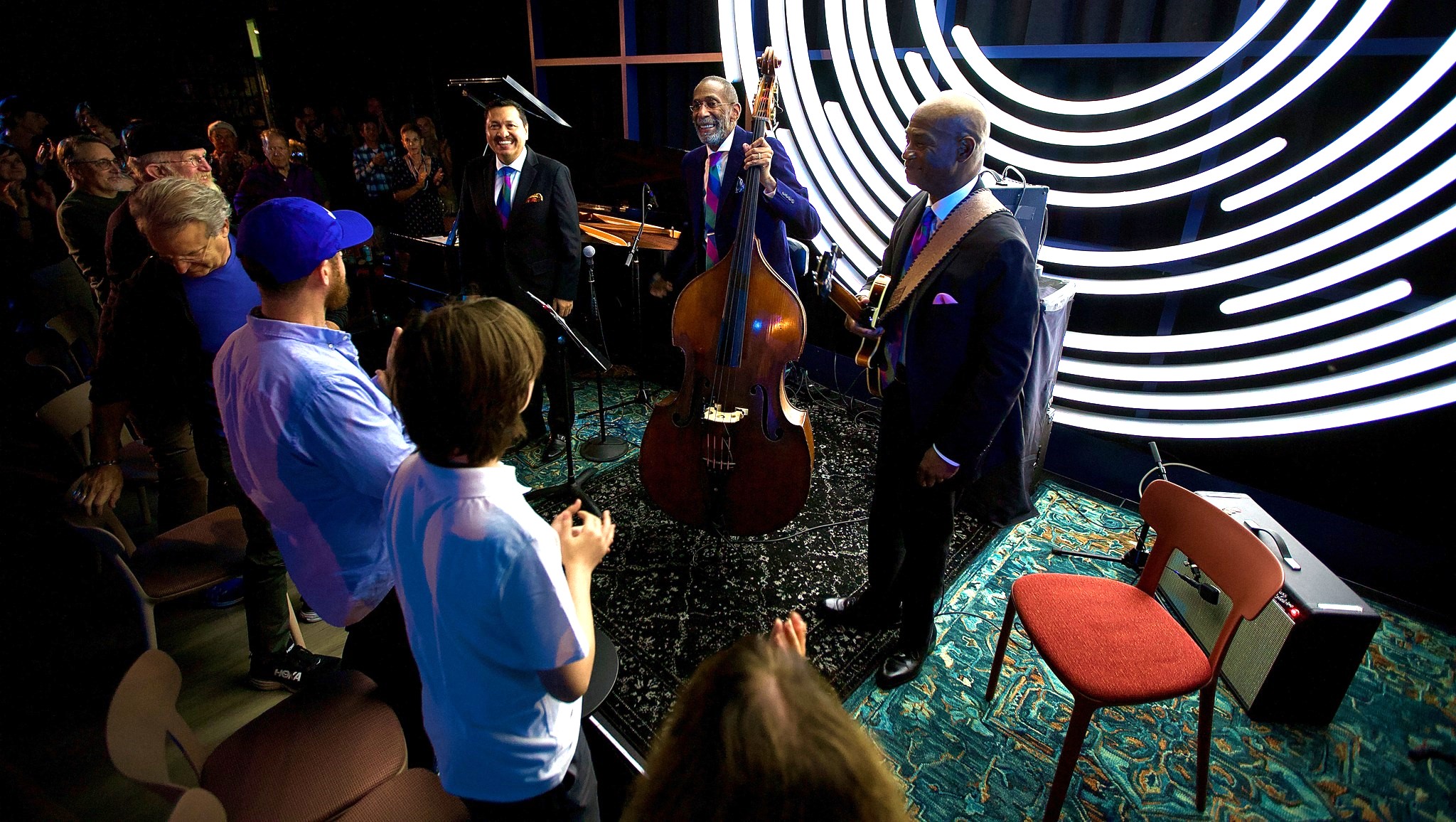 Mr. Ron Carter and The Golden Striker Trio went on to play four more sets at Dazzle for the next two nights and talking to others who attended some of the other sets, their faces sparkled with recall as they shared their moments in the Son, seeing history, the present, and the future all unroll melodically at the exact same time. When I got home, I looked up the gift Ron gave us all, www.roncarteruniverse.com, and what I found was more than I expected and as it has taken a lifetime for him to create, it will take another to listen to it all. Maestro, thank you for your contribution to this world. Your presence has made this life a more beautiful place and the tale you have told will inspire many for years to come. May you be long for The Concert!