The funky, jammy, L.A. based Underground Orchestra proved to be a good start to the music of the weekend before the chaos started. Anthony Rogers-Wright proved to be an entertaining bassist and just one component of this group. Sam Feldman plays the mandolin, which I love, so this group had an instant in. The rest of the guys obviously enjoyed their time @ the Domes together, but those two were my favs of this newly discovered group, both for me and lots of others from the sound of it. Not only did I talk to several people over the course of the weekend that mentioned that these guys were a great new find for them but their myspace site boasts several comments from converts. Their myspace site also has Savage in the player from the Rothbury set and is definitely worth checking out for a good taste of what we heard that day. Very drum circle/electronica that one especially in the beginning though I wish the drum aspect had remained as prominent throughout.
Perpetual Groove/Sherwood Forest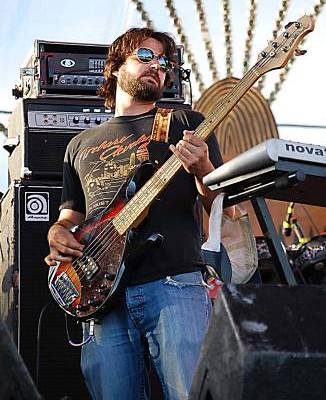 Ah, P-groove. Athens, Georgia produced a good festival staple here and our second music stop of the weekend. I have to admit we almost didn't quite make it as to get to the Sherwood Court stage, one had to take a trip through Sherwood Forrest. Luckily I'd met up with Kerry from setlist.com @ Underground Orchestra, split from my friends and headed over to Sherwood with him. Had we not been headed to shoot, I might have gotten lost for a little longer. I'll sprinkle Sherwood tidbits throughout but this place was absolutely amazing. I've never seen anything like it. On the walk there, Kerry and I chose the cut around The Ranch Arena's grounds which paid off with our first naked, painted set of tits of the weekend…times two. Everyone loves when I bring those kinds of pics homes. I digress.
Sherwood is absolutely amazing. Oh yeah, I said that already, but it's true. We couldn't wait until it got dark to see what this place turned into. There were a couple of sections of hammocks strapped up in the trees, but one main area had the most available for lounging, and people were already taking full advantage. The same white cloth that was stretched between the Tripolee Domes was also present here, occupying the huge expanse between the trees above the two main walkways in the Forrest. Wish I had a dollar for every dropped jaw wandering around accompanied by eyes turned upward. Huge string-like geometric objects also lived up there in colors that were definitely meant for the black lights we knew would be coming on later. Metallic pattered wrapping papers covered the lower parts of the trees for spots to shine on later. I'm sure I'm forgetting stuff so I'll move on and hit that later when as I recall. There's some pretty cool vids on YouTube of Sherwood that you should really check out to either enlighten you as to what we're all raving about or just to remind you of how disgustingly awesome it was. The best one is "The Forrest Life @ Rothbury." It'll also give you a good taste of "Carl."
P-Groove opened with Golden Path, which flowed into Three Weeks which really seemed to get the crowd going. Maybe people were finally starting to forget a bit of the distractions from the music…but only for a little while. P Groove filled their set with lots of jammy, instrumental stuff, but overall the crowd seemed to enjoy that and take the opportunity to do some early weekend dancing.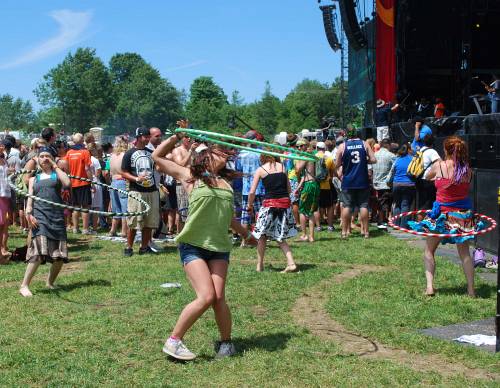 Jimmy had been looking forward to The Juan Maclean so somehow I'd managed to find them and head over to the Domes. Emmy and Jimmy take semi-frequent trips to New York so I only assume that they discovered him there. Another cool find from this fest and definitely worth finding a show to see in person. Jimmy honestly is one of the best dancers I've ever seen, so he was totally in his element here, and Emmy loves house music in general so my two lovelies were having a great time. TJM is currently doing a North American tour, so look for some shows near you.
Sxip Shirey hosts SXIP's Hour of Charm. A bit Vaudeville, a bit circus…I only caught the circus bit of the show, but heard Amanda Palmer of the Dresden Dolls made some appearances that weekend as she's been doing a bit of stuff with them lately. What I saw was pretty cool. I have no clue what they call the girls, or I suppose boys could too though I've never seen them, who climb huge ropes circa 80's b-movie gym class and do tricks. Eyes gazed upward into the lights as Una Mimnagh twisted herself up in the rope in various fashions leading to a finale where she slid down the entire impressive length to stop barely short of the straw covering the ground. Got it! Aerialists. Go see. I swear it will be awesome!
I headed back over to the thoroughly packed Domes to catch up with everyone who'd transitioned from dancing to Juan Maclean to dancing to Lotus. Great set. Lots of dancing. All agreed that Bellweather into Flower Sermon was the best.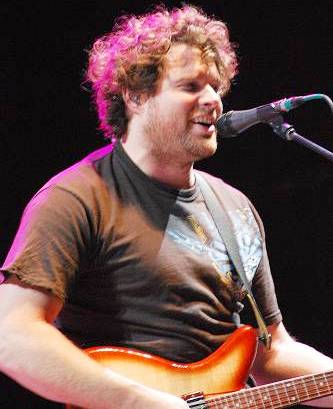 I went and caught the first couple of songs of the Biscuits, but just wasn't feeling it just then. I think my completely sober state had A LOT to do with it considering everyone else around me looked like they were having a seriously wicked amount of fun. I guess I just knew I had a long day ahead of me tomorrow so I wandered back to catch a bit of EOTO before heading to bed. I heard the next day that it continued to be a great time, but that a lot of people had chosen to check out EOTO about halfway through; though I heard mention there was a pretty good glow stick war.
I liked the smaller atmosphere of the Tripolee Domes plus it was the last stage before heading out of the venue and back to camp. I tried to shoot EOTO but didn't have the best luck. The lighting proved too difficult for my amateur skills on the new gear. Regardless, the show totally rocked. Once it started to get more crowded, I headed back for a well-deserved dinner and cocktail before putting myself to bed.