Music, imagery, and delightful anecdotes from San Francisco's so-called Summer of Love intertwined in charming, profound fashion at the city's newly renovated Nourse Theatre on July 22. The multimedia concert spotlighted Joan Baez, Nicki Bluhm, the T Sisters, and a host of other burgeoning Bay Area players and singers.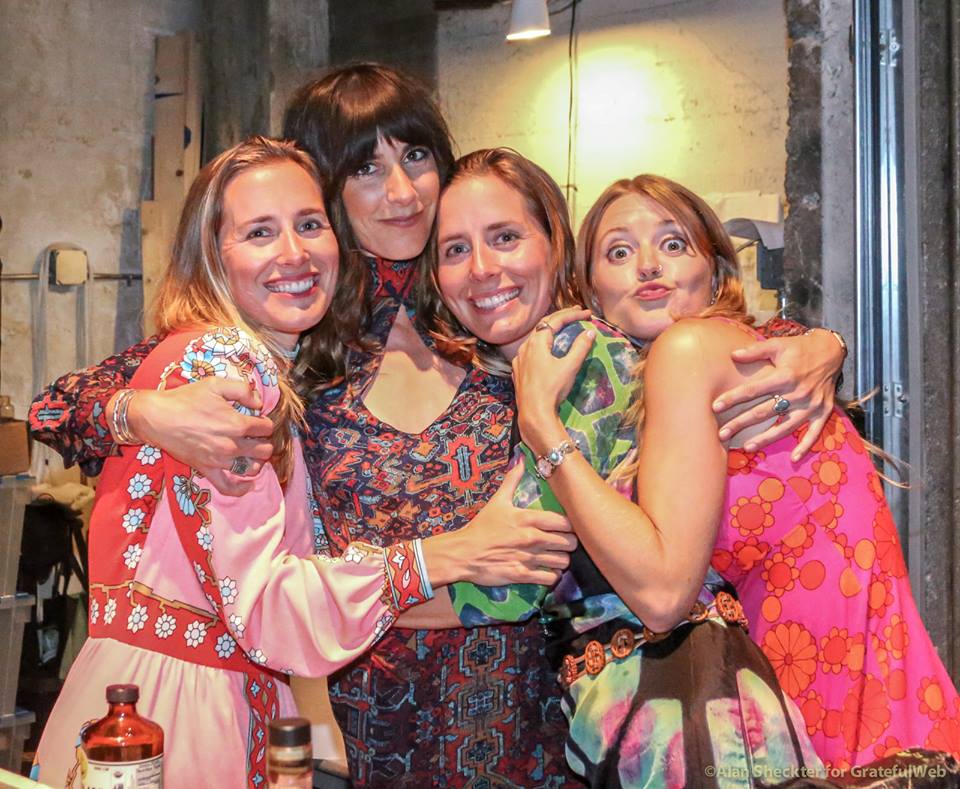 Of the many celebrations across the land marking the 50th anniversary of San Francisco's summer of '67, this one was undeniably special, exemplified by the elegance of the setting and the performers' fine, passionate reinterpretations of the beloved sounds of the day. Many of the pieces of music performed on this night first made their indelible marks on music lovers' psyches back when they tuned into their favorite AM stations on transistor radios.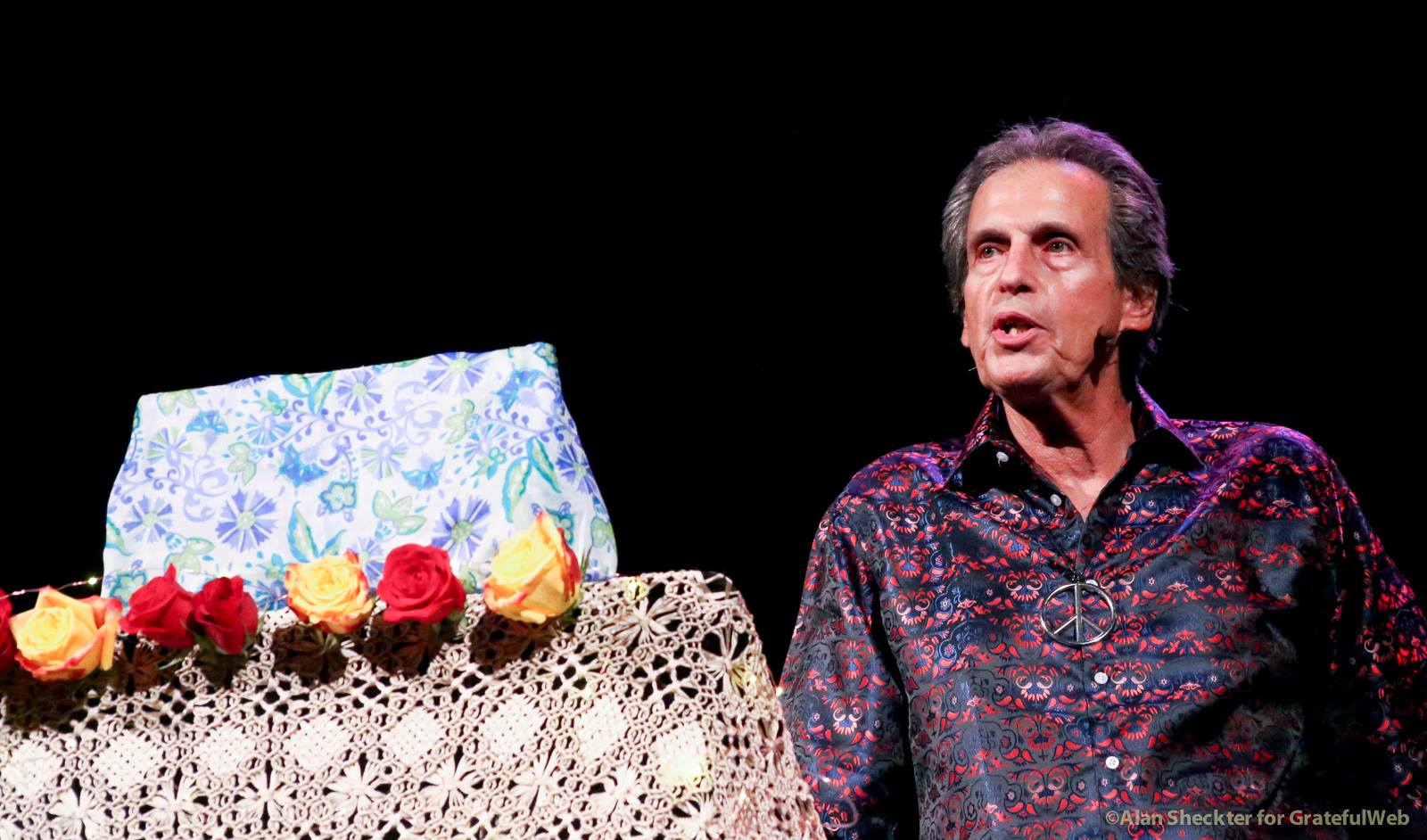 The event was co-written by in-demand musician, teacher, bandleader, singer-songwriter and musical theater producer Jimmy Dillon as well as longtime music journalist Paul Liberatore, who introduced each song with interesting narratives about each 1967-era San Francisco band and song being highlighted. All the while, iconic images of the day, many by Jim Marshall and Herb Green, were displayed on a giant stage backdrop. Another colorful dimension was Kelli Hill's occasional frolicking go-go-dancer moves and grooves. The evening's proceedings moved along at a brisk, seamless pace, with artists smoothly and continuously sidling on and off the stage.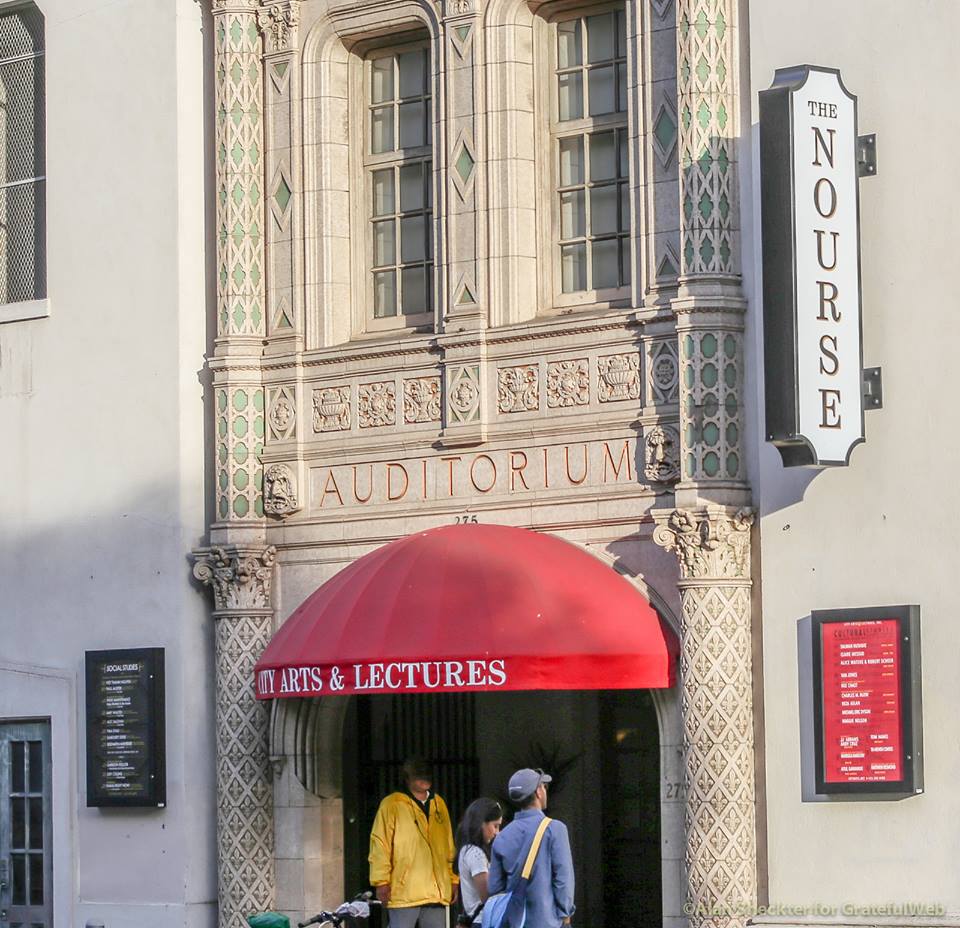 The mostly 50-plus crowd was a genteel group, wearing clothing and accessories that often, at least in some small way, affirmed their affiliation/remembrances of 1960s' San Francisco. When Liberatore spoke of the 1967 Human Be-In, held in San Francisco, at which Timothy Leary famously urged people to "Turn on, tune in, drop out," many laughed and clapped when Liberatore suggested "some of you probably did." With everyone comfortably gathered in the 1,600-seat Nourse, the show began with an Erik Heldfond-created nine-minute movie as the house band conjured up fond memories with a creative overture of iconic melodies of the day. The musical sequence written by Dillon, included The Mamas and the Papas' "California Dreamin'" and The Beatles' "Lucy in the Sky With Diamonds."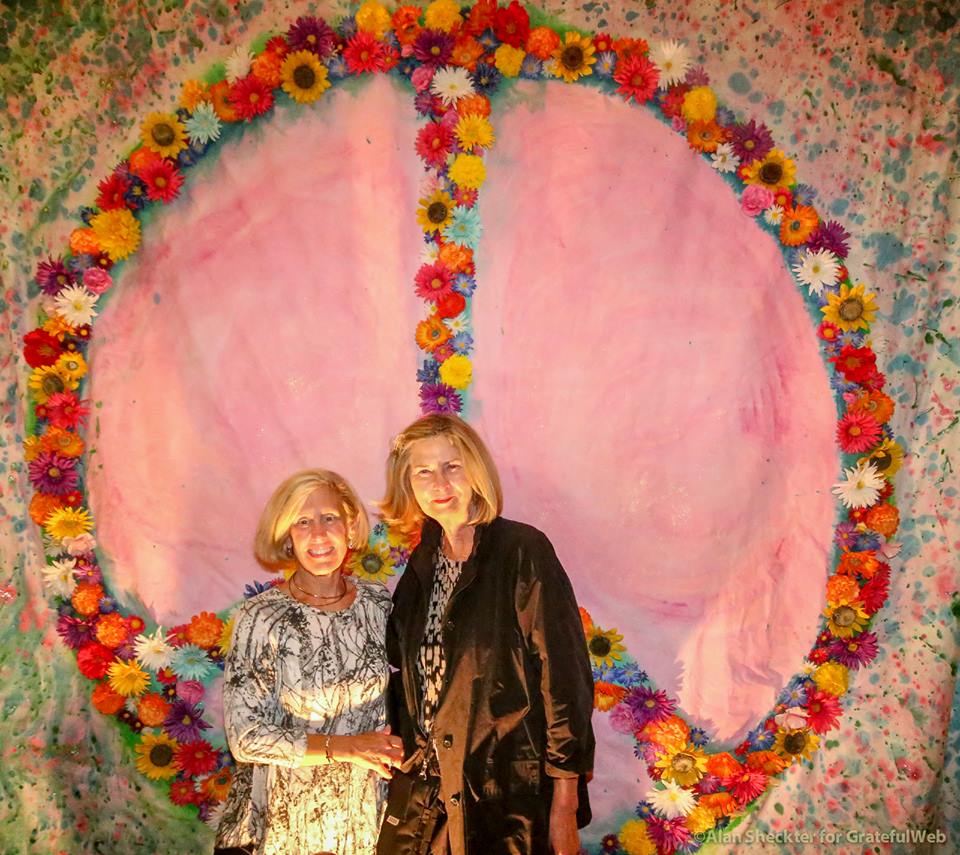 Setting the tone for the 2½ show, Liberatore then discussed the Youngbloods' influential "Get Together," including the revelation that the song was in fact written by Chet Power, aka Dino Valenti, of Quicksilver Messenger Service. The renowned Oakland-based T Sisters trio entered stage-right and in colorful technique – in fashion and voice – harmoniously sang the tune in three-part harmony to the audible pleasure of the audience.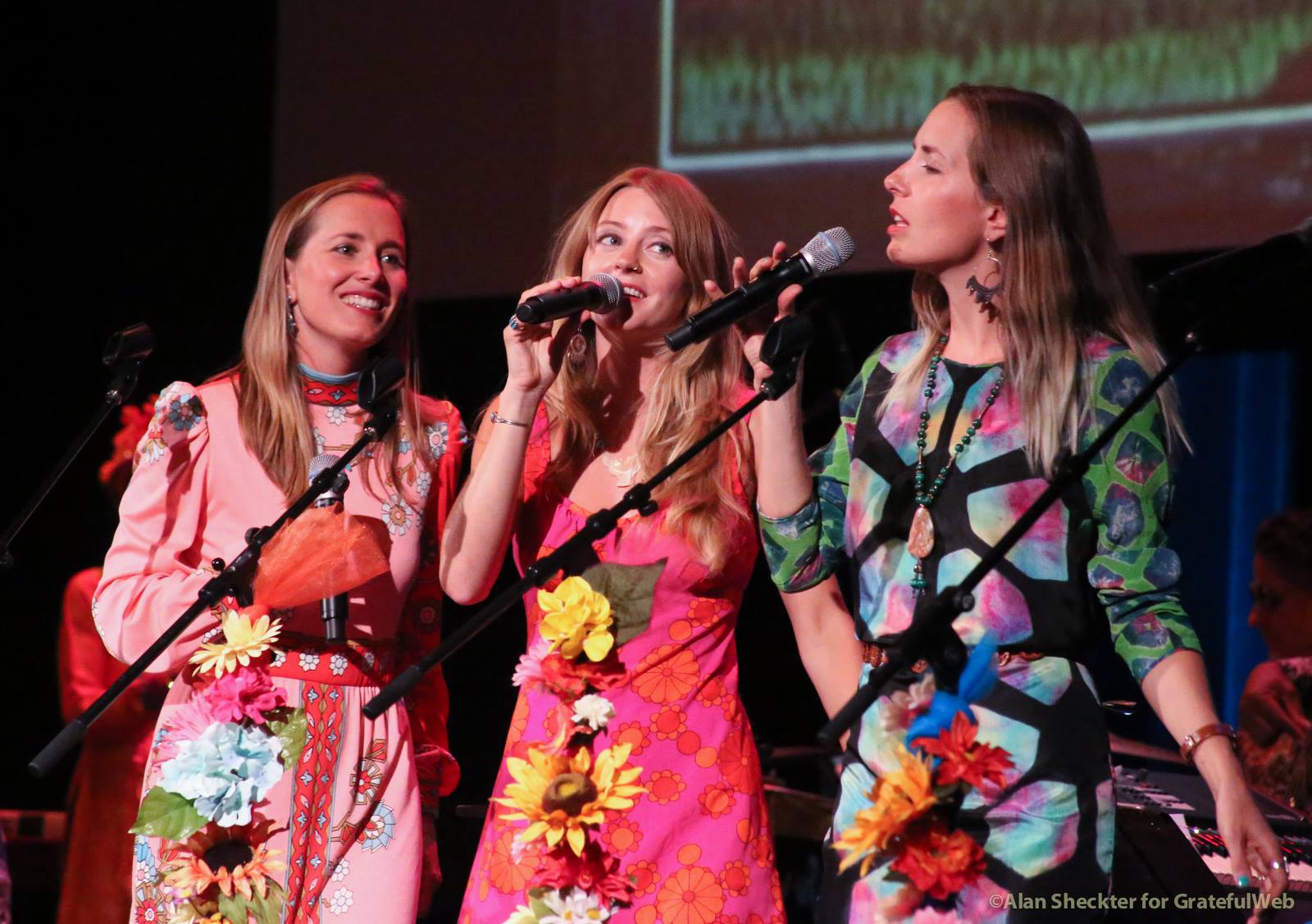 Next up, banjo virtuoso Tim Weed, who played guitar and banjo with the house band all night, assumed vocal duties of Scott McKenzie's "San Francisco (Be Sure to Wear Some Flowers in Your Hair)." Written by The Mamas and the Papas John Phillips, this Top 5 single is likely the most iconic of all Summer of Love songs, proclaiming in part, "There's a whole generation, with a new explanation."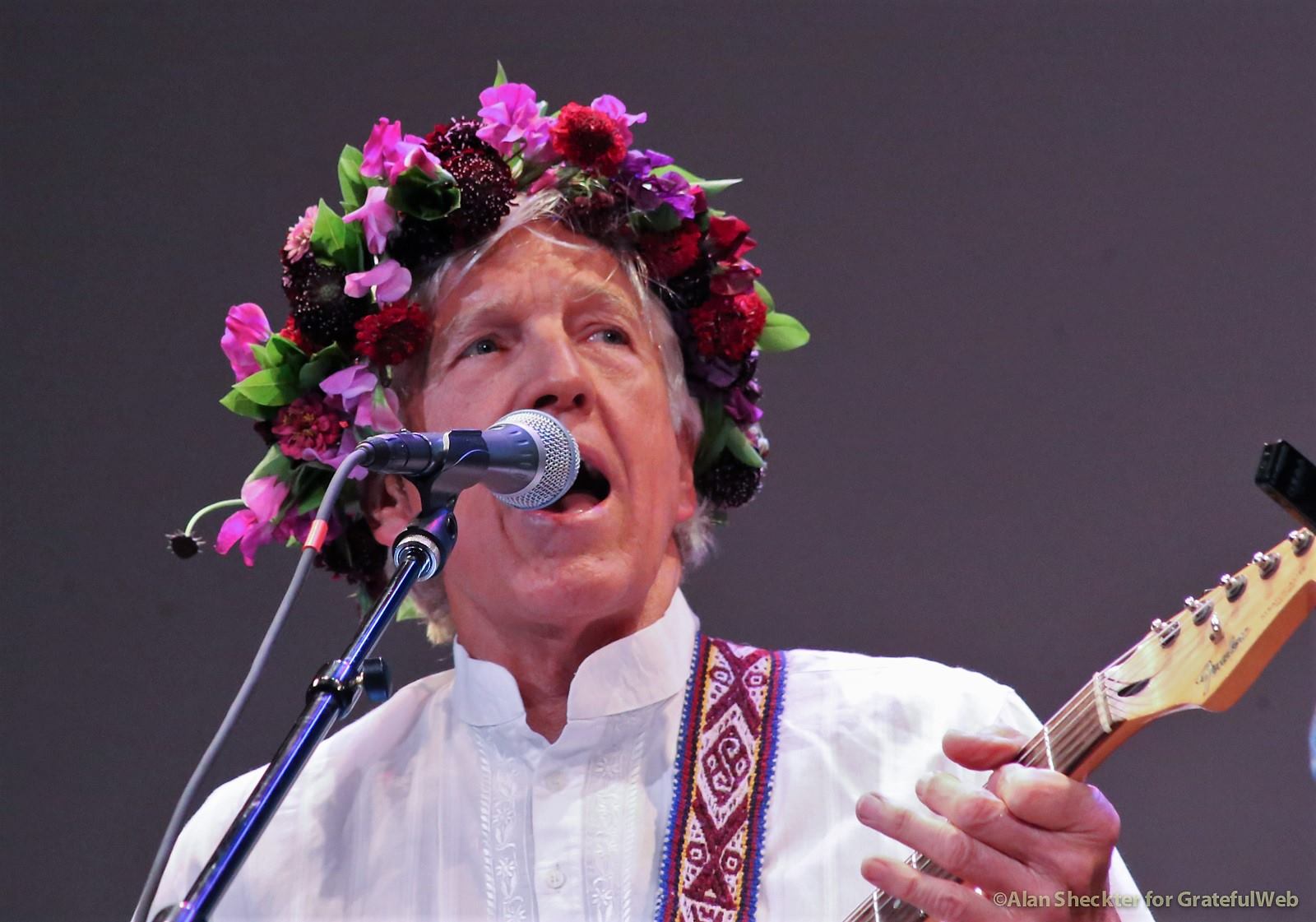 Soon the presentation included mentions of The Grateful Dead's Jerry Garcia, including his work on Jefferson Airplane's 1967 breakthrough record "Surrealistic Pillow." And The Airplane, arguably the biggest draw of all local bands in 1967, were in excellent vocal-tribute hands as Nicki Bluhm channeled Grace Slick, passionately handling "White Rabbit" and "Somebody to Love" as the band rocked out.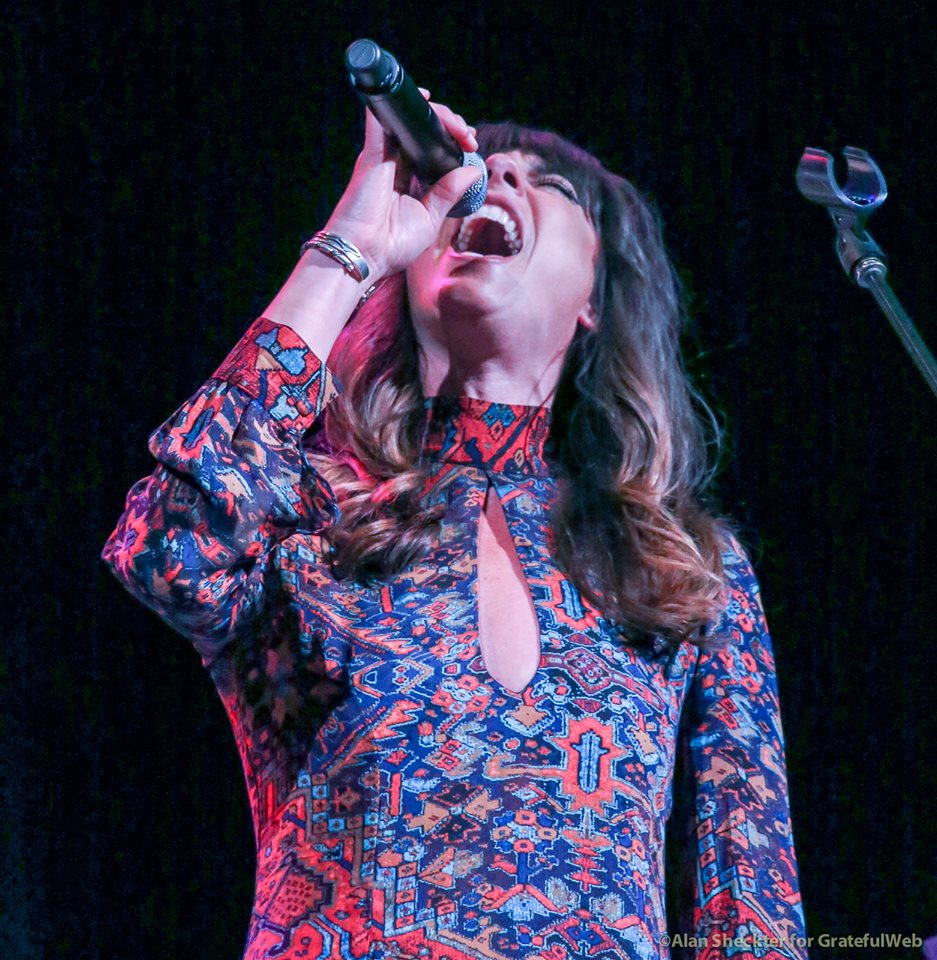 Liberatore then mentioned the tender Marty Balin-penned love song, "Coming Back to Me," in which Garcia played guitar passages on that Airplane record.  The song itself was presented with poise and reverence by 17-year old Caroline Sky, a Marin County, California-based singer-songwriter who, in addition to experiencing rising demand for her own music and performing solo and collaboratively with other famed players, also was a recent contestant on NBC's "The Voice."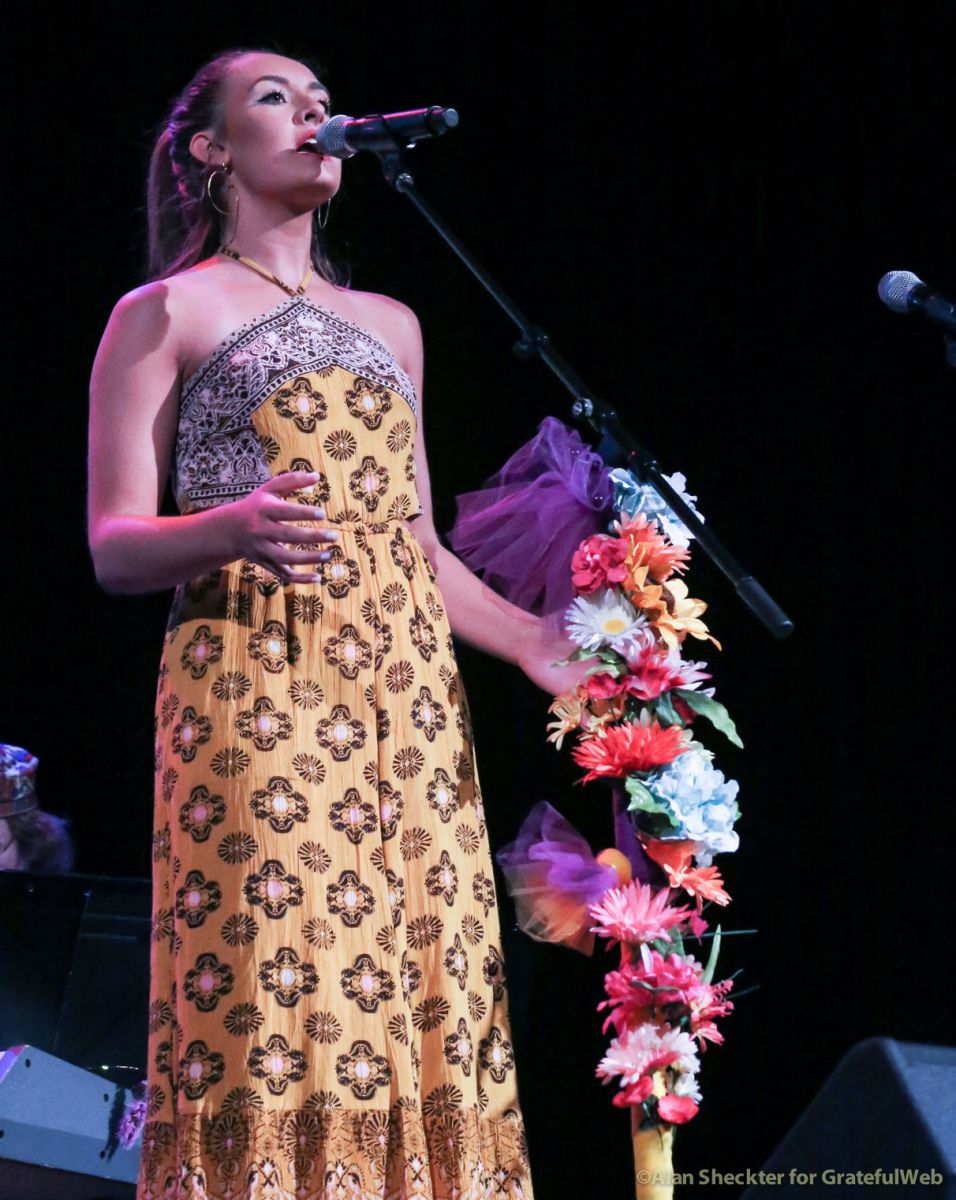 When a giant image of Bill Graham, on the phone, came across the screen, Liberatore joked that he was probably yelling at someone on the other end. But to Graham's credit, Liberatore related a quote attributed to Jerry Garcia, in which Garcia compared Graham to Chet Helm, head of the Family Dog, another San Francisco concert promoter. "Chet," said Garcia, "never appeared to be doing anything, as opposed to Bill who appeared to be doing everything."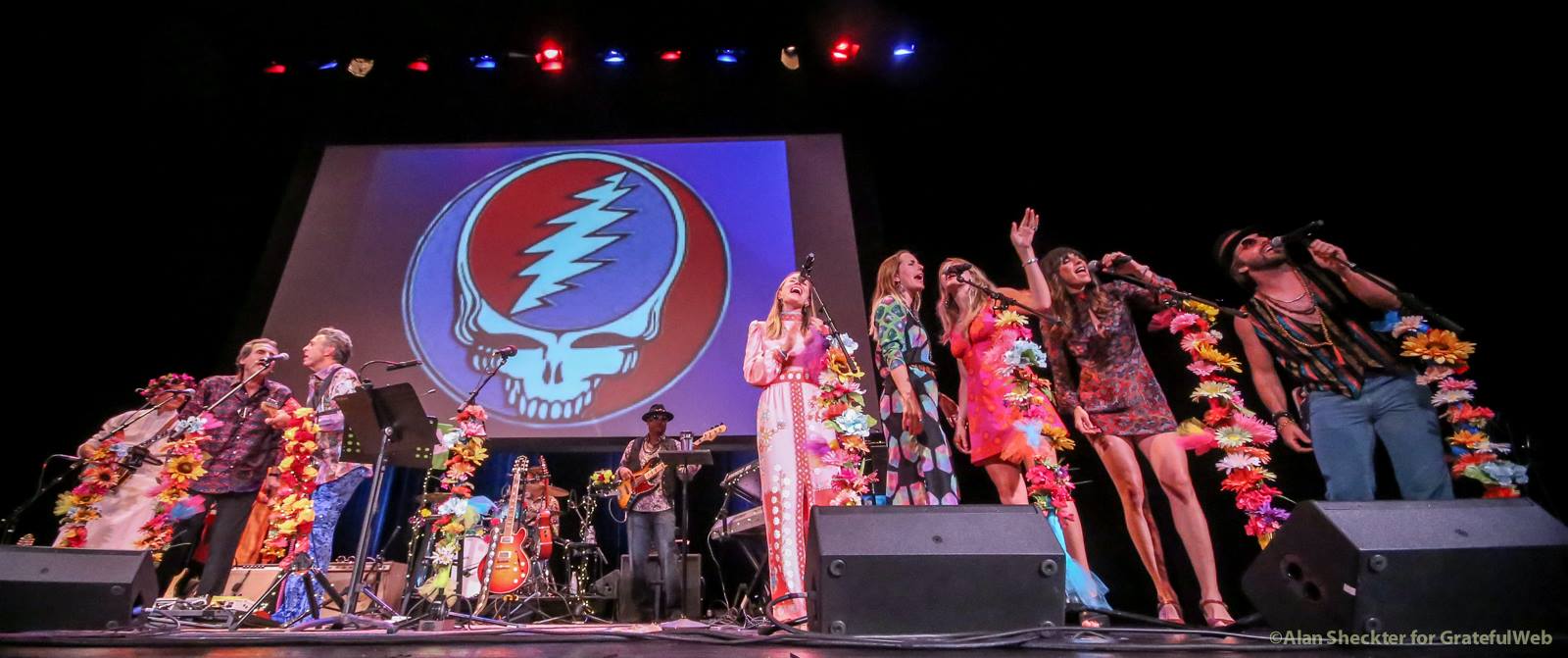 The ensemble then performed a triad of songs associated with The Grateful Dead, who in 1967 were a very feral version of what they'd become in the 1970s and onward, but still were one of the most popular bands in San Francisco. First was a nice run-through of the traditional "I Know You Rider," which was one of the band's earliest performance numbers, with shared vocals by Bluhm, the T Sisters, Liberatore, and Jesse Ray Smith, a Bay Area songwriter, producer, multi-instrumentalist, and studio owner. "Truckin'" followed, The Dead's biggest hit single till "Touch of Grey," with musical director Dillon and Jesse Ray Smith handling vocal duties. The T Sisters followed, delivering a gorgeous a capella version of The Dead's "Attics of My Life" to the spellbound audience.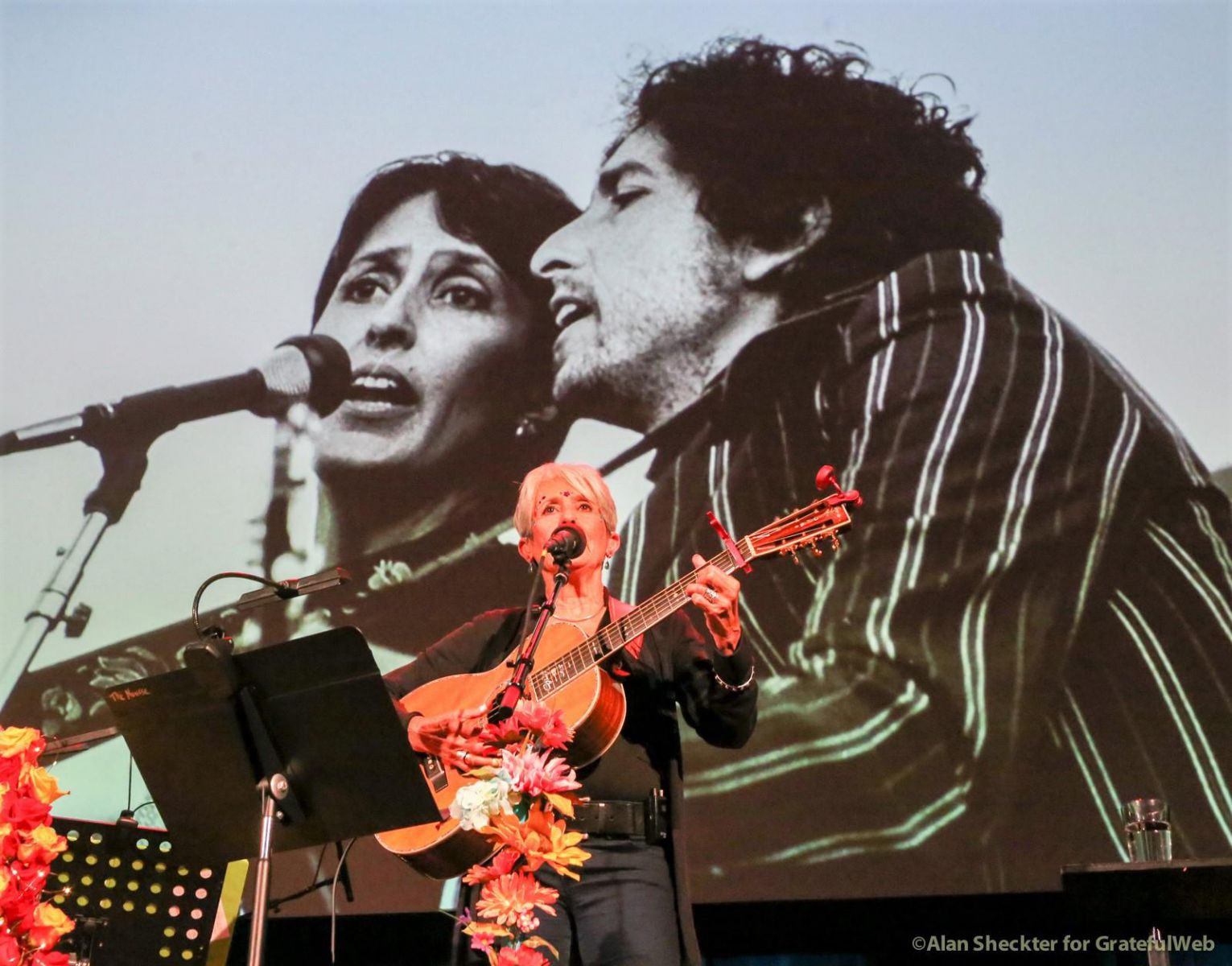 Making a nice segue, Liberatore said that while The Grateful Dead toured with Bob Dylan in 1986 and '87, there was a performer who collaborated with Dylan far earlier. Applause and cheers increased as the crowd sensed and then watched as the featured performer, Joan Baez took the stage. Now 76 and with a still strong and uniquely distinguishable voice, Baez launched into a captivating medley of Dylan songs. While slides on the big screen showed images with, and without, Dylan through the years, Baez's solo acoustic set included "Sad-Eyed Lady of the Lowlands," "I Pity the Poor Immigrant," "It's All Over Now, Baby Blue," "Blowin' in the Wind," and "Don't Think Twice, It's All Right."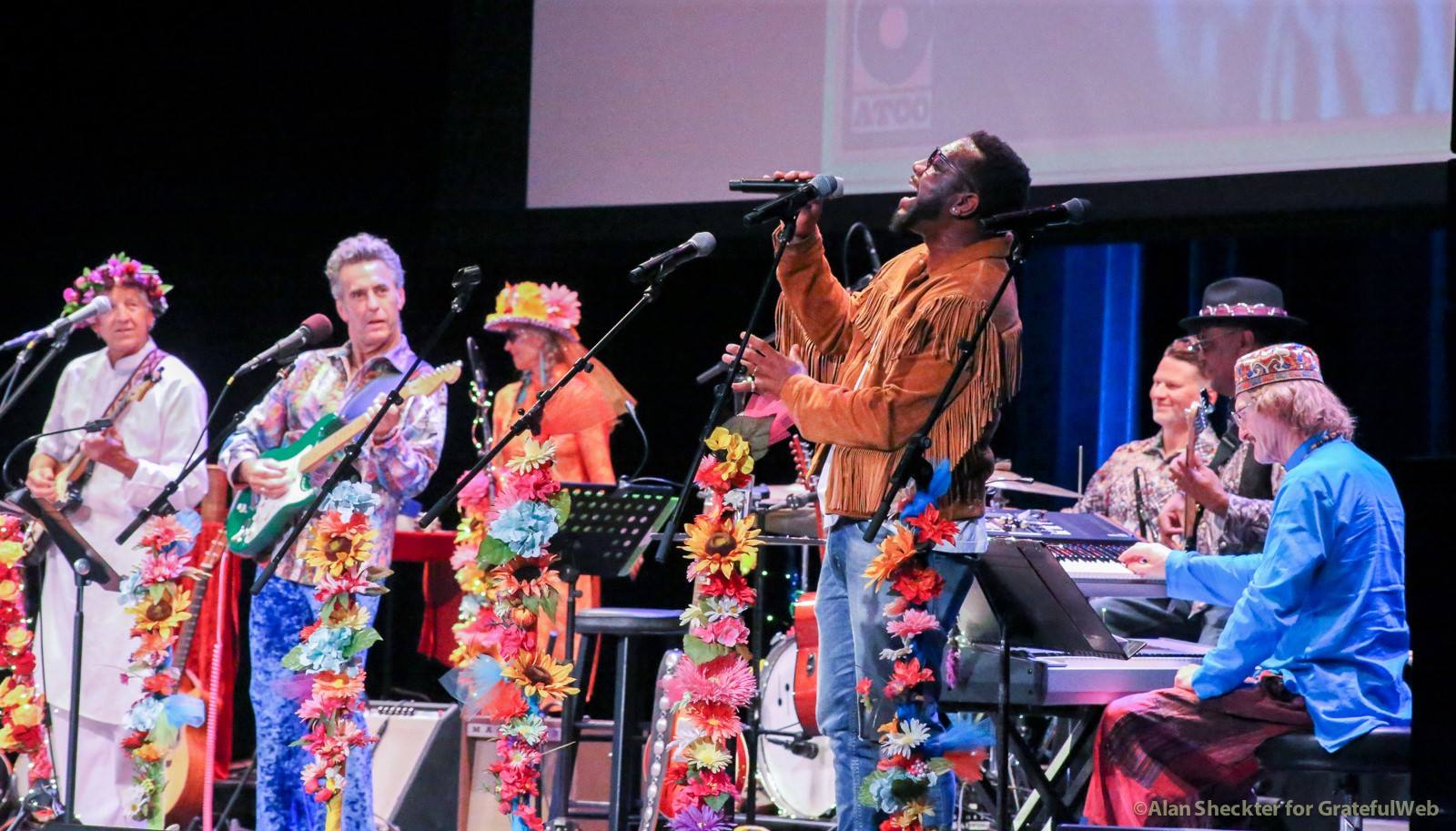 With a promise from Libertore that Baez would be back, everyone moved on eagerly to see what would come next – which were images of Carlos Santana and his band, a soft rendering of Santana's delicate instrumental "Samba Pa Ti," and a brief oration about their importance in the San Francisco psychedelic music scene. The band then lit up the crowd with a pleasing "Oyo Como Va," a Top 20 hit in its day, with Smith and Martin Luther McCoy on vocals, which turned into a full rocking rendering of that classic piece.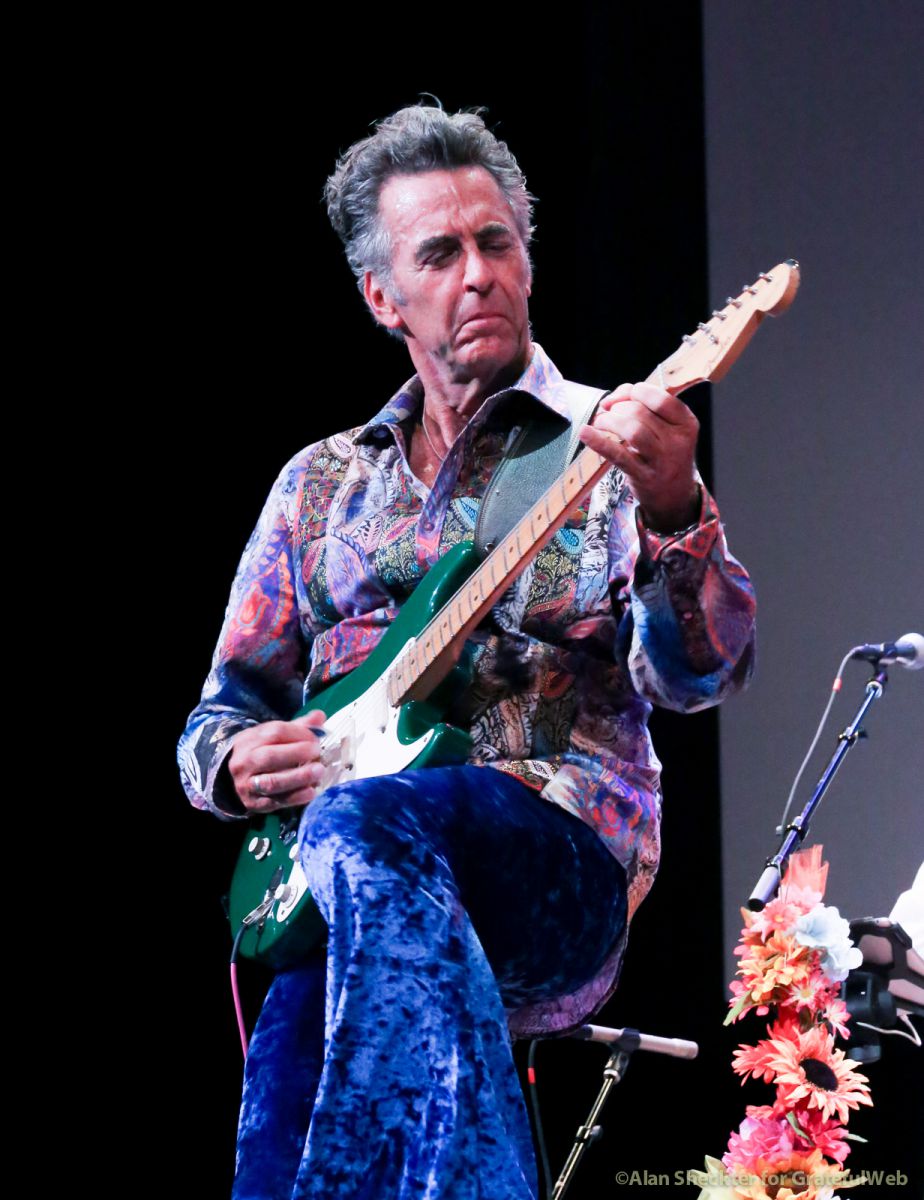 Next up, Liberatore reminded the crowd that one week before the famed Monterey Pop Festival of June 1967, the largely overlooked Fantasy Fair and Magic Mountain Music Festival took place in Marin County, and The Doors were one of the participants. Like clockwork, the sounds of "Break on Through" gathered momentum as Smith returned to front-and-center stage to deliver Jim Morrison's memorable lyrics.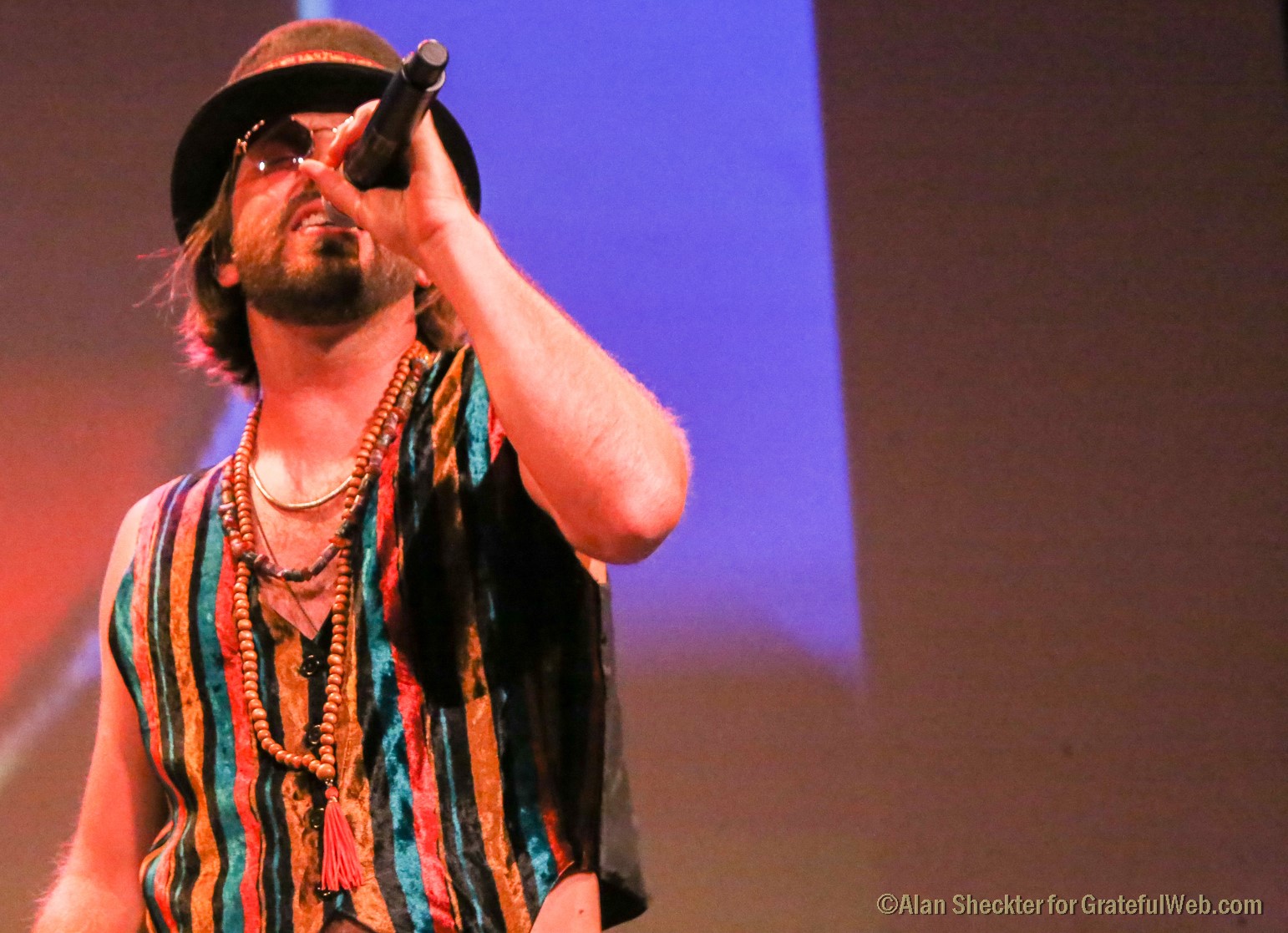 One of the best crowd participation moments came soon after, when McCoy, a San Francisco-based actor and gospel/rock/R&B musician, sang with distinction Otis Redding's "(Sittin' On) The Dock of the Bay," turning the mic out to the audience who collaboratively carried out the classic whistled portion of the much-loved No. 1 hit song.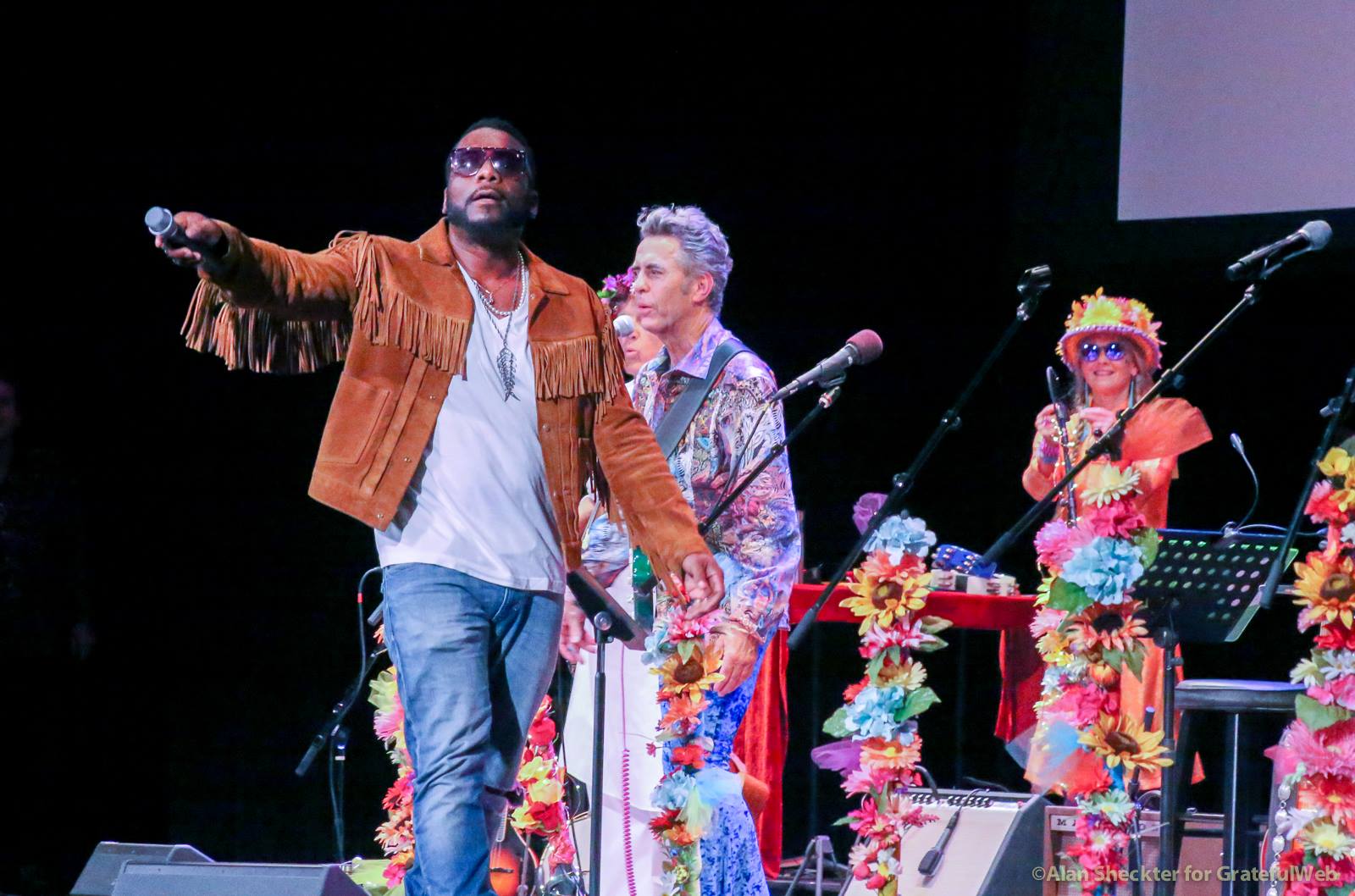 After additional quick comments from Liberatore, including an acknowledgement of the famed Jim Marshall photo that memorialized the moment that Hendrix set his guitar on fire at Monterey Pop in 1967, two Jimi Hendrix songs followed. McCoy sung powerfully "Little Wing," and "All Along the Watchtower" followed, with Smith taking on the vocals and the band, particularly guitarist Jimmy Dillon, showing their collective rock muscle.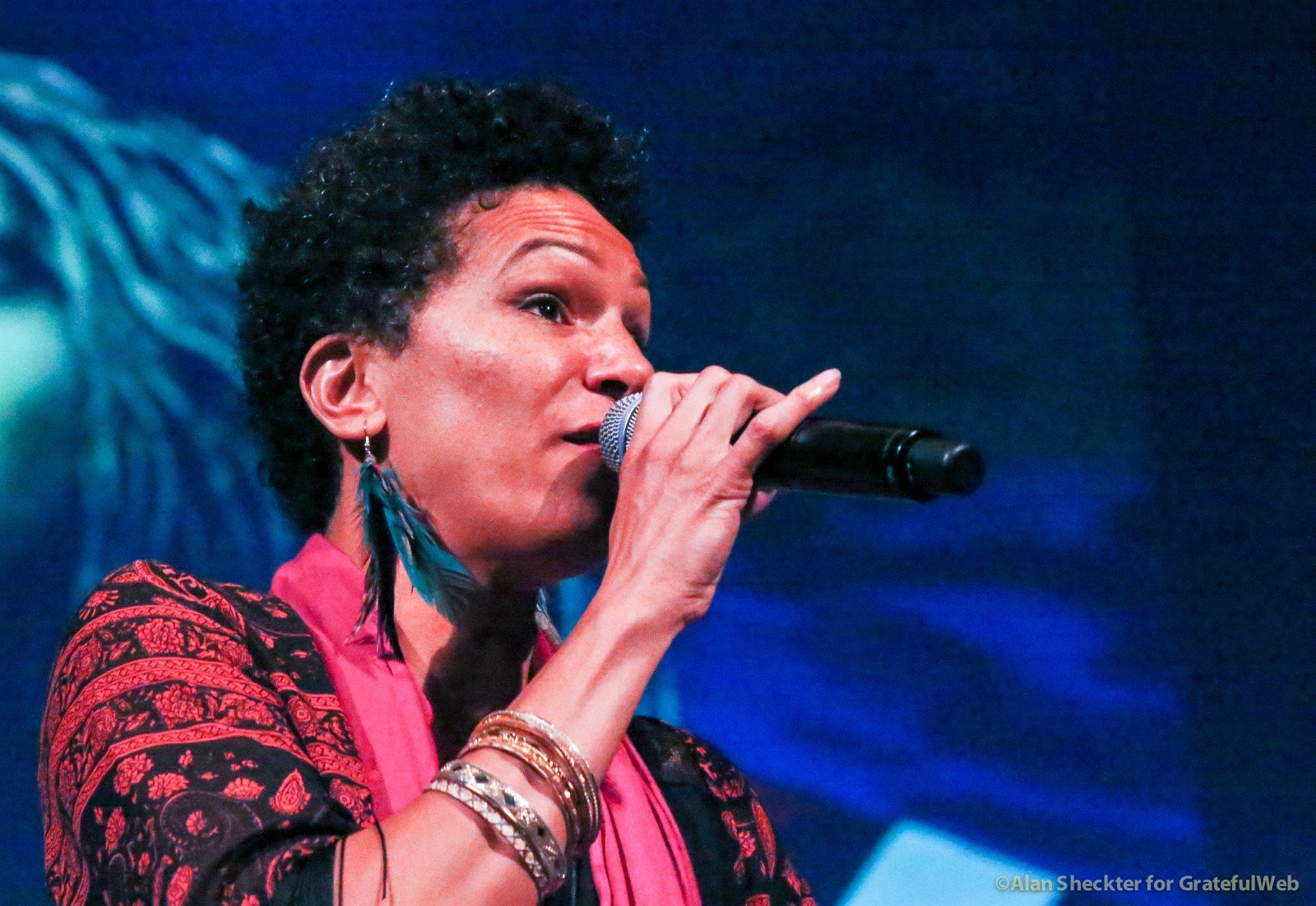 The featured topic of the moment then quickly turned to Janis Joplin, and local soul star Omega Rae took the mic and gave commanding vocal performances of "Get It While You Can," which Joplin did as a solo artist, and "Piece of My Heart," which Joplin made famous with Big Brother and the Holding Company." Rae sang in front of a big-screen rendering of a Grace Slick caricature of Joplin.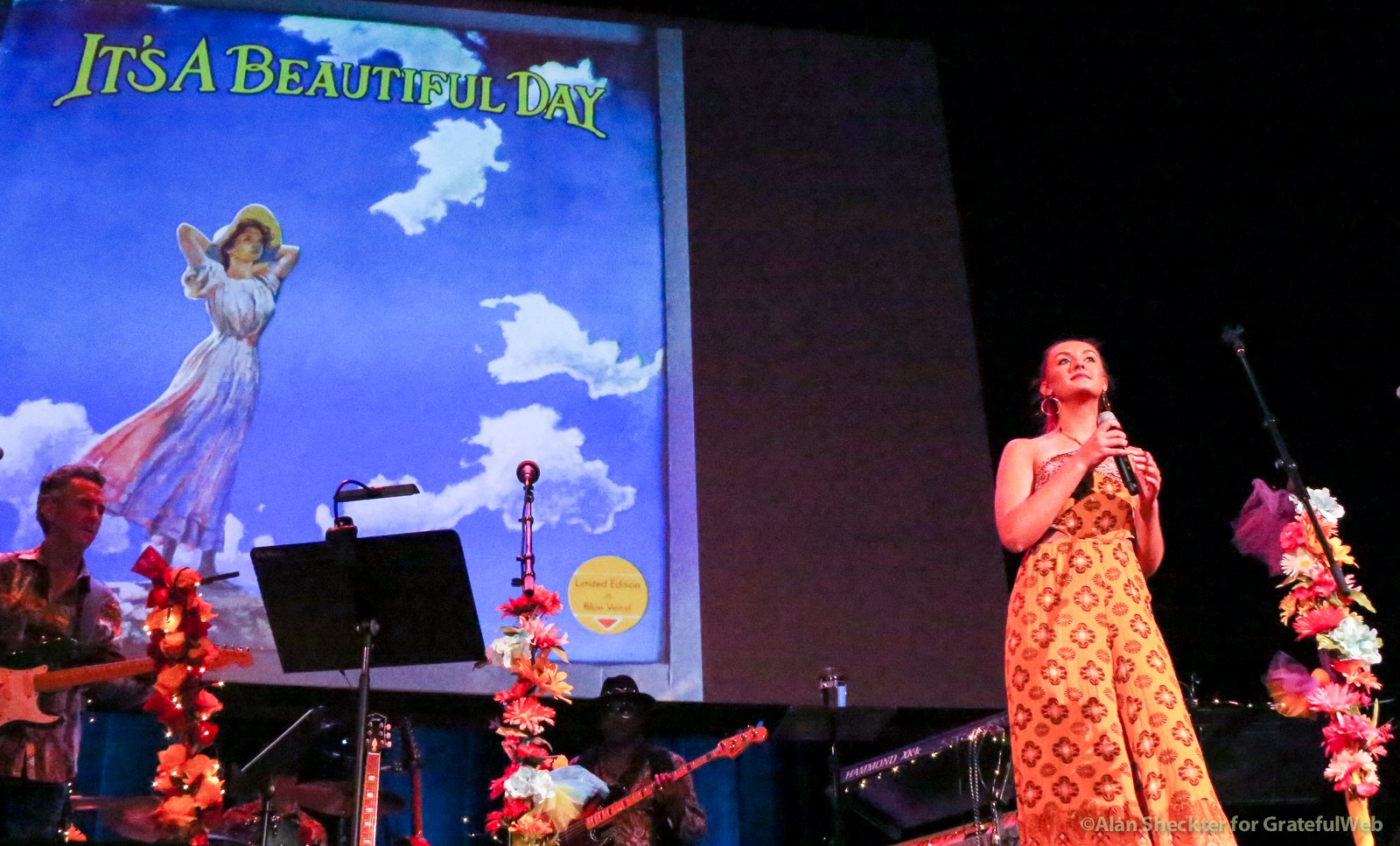 It's a Beautiful Day's "White Bird," a peaceful flowing musical expression from the day, was next, sung sweetly by Caroline Sky.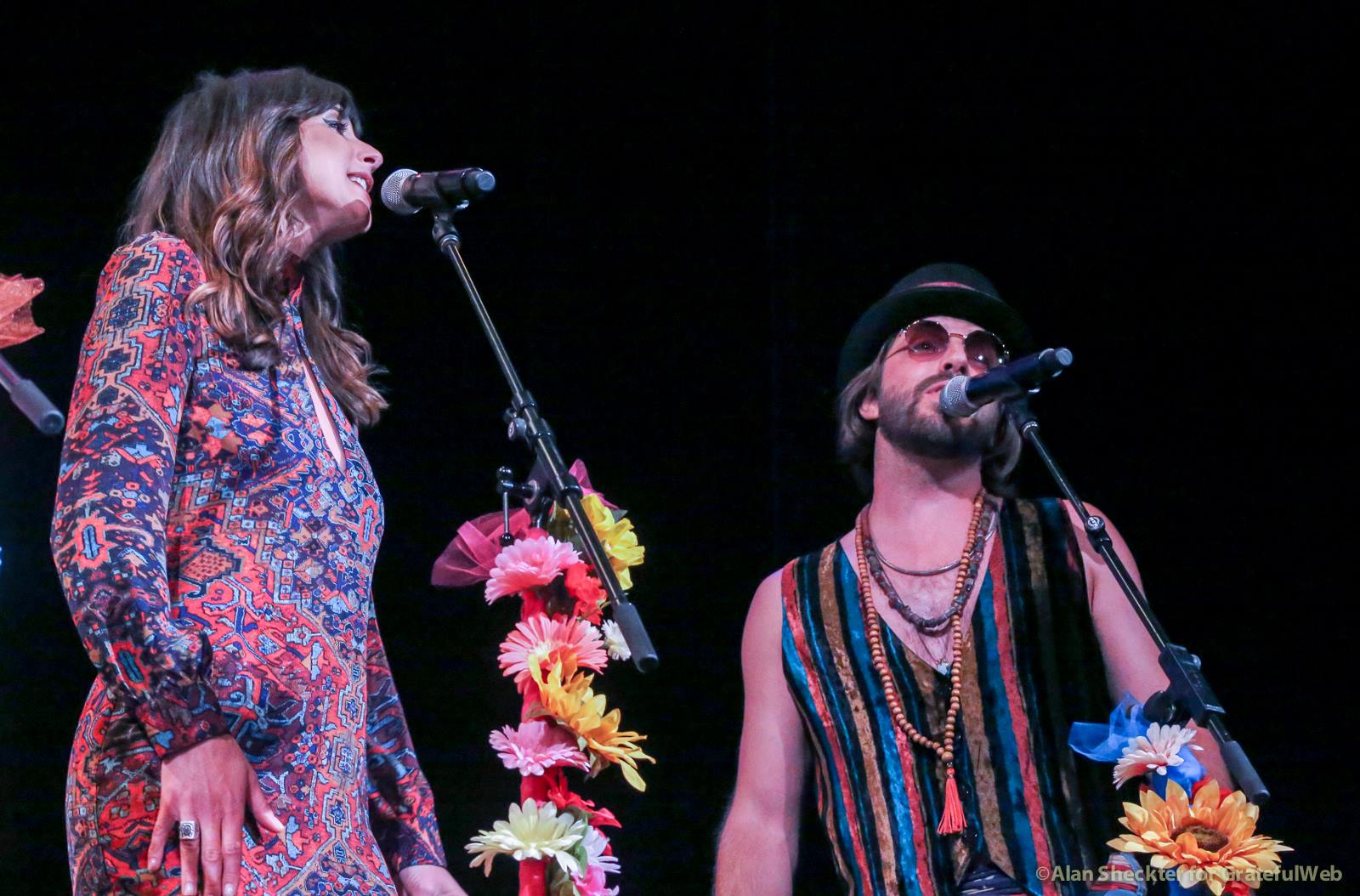 Liberatore then embraced California's new recreational marijuana use laws and recalled how Quicksilver Messenger Service sang about the topic back in 1970 on their Top 50, Dino Valenti-penned single, "Fresh Air." Bluhm and Smith carried the tune, with its oft-repeated lyric, "Have another hit."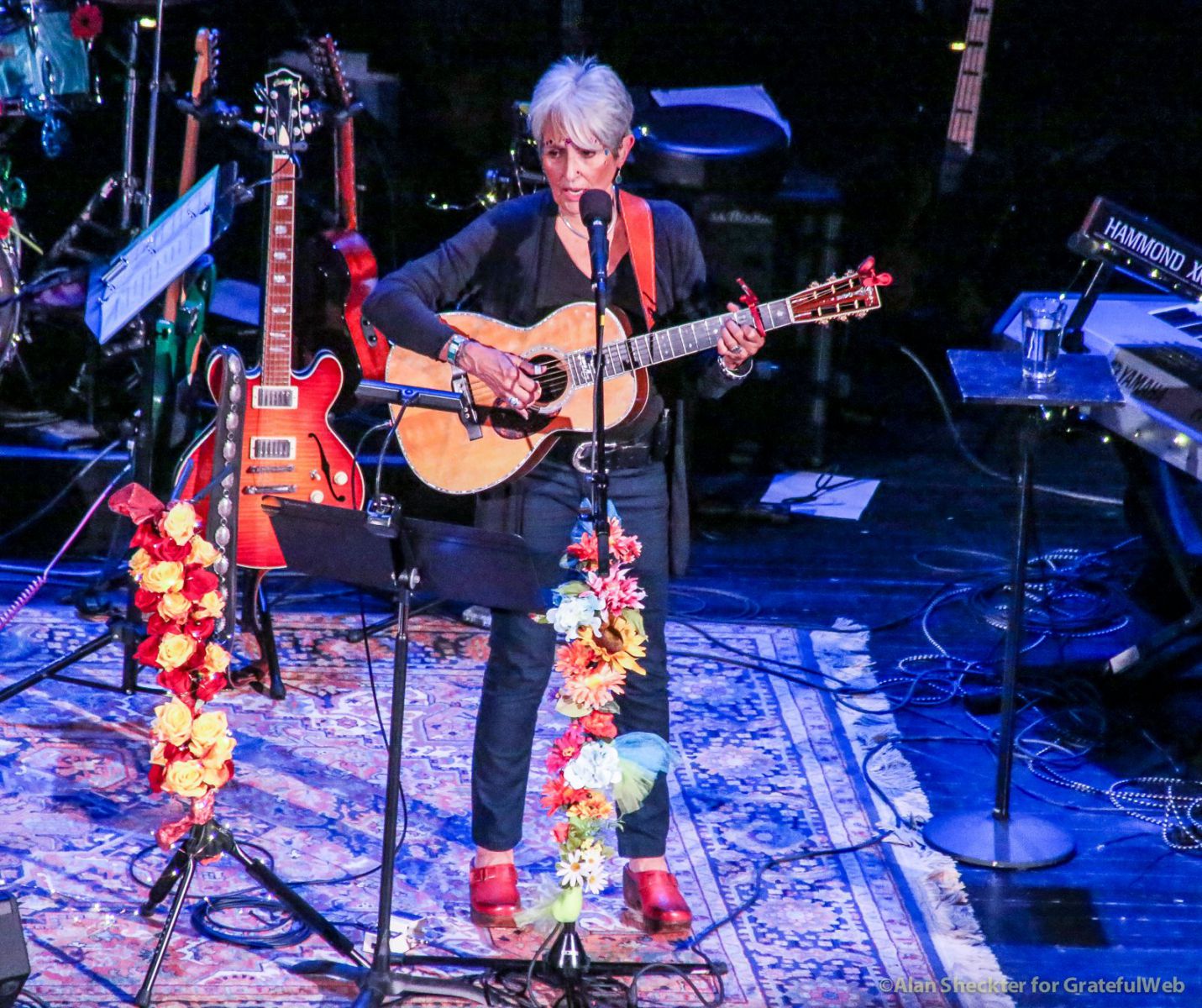 Joan Baez then returned to the stage and the self-effacing singer remarked that yes, she was at Woodstock, but that she wasn't a large attraction. "I was lecturing about nonviolence and ending the <Vietnam> war," she said, "and they were all, yawn." She also regaled the crowd with the tale about meeting Joplin, and Baez, a non-drug user, said she was pleased to meet Janis and perhaps they could have tea sometime, to which Janis replied quizzically, "Tea!?!"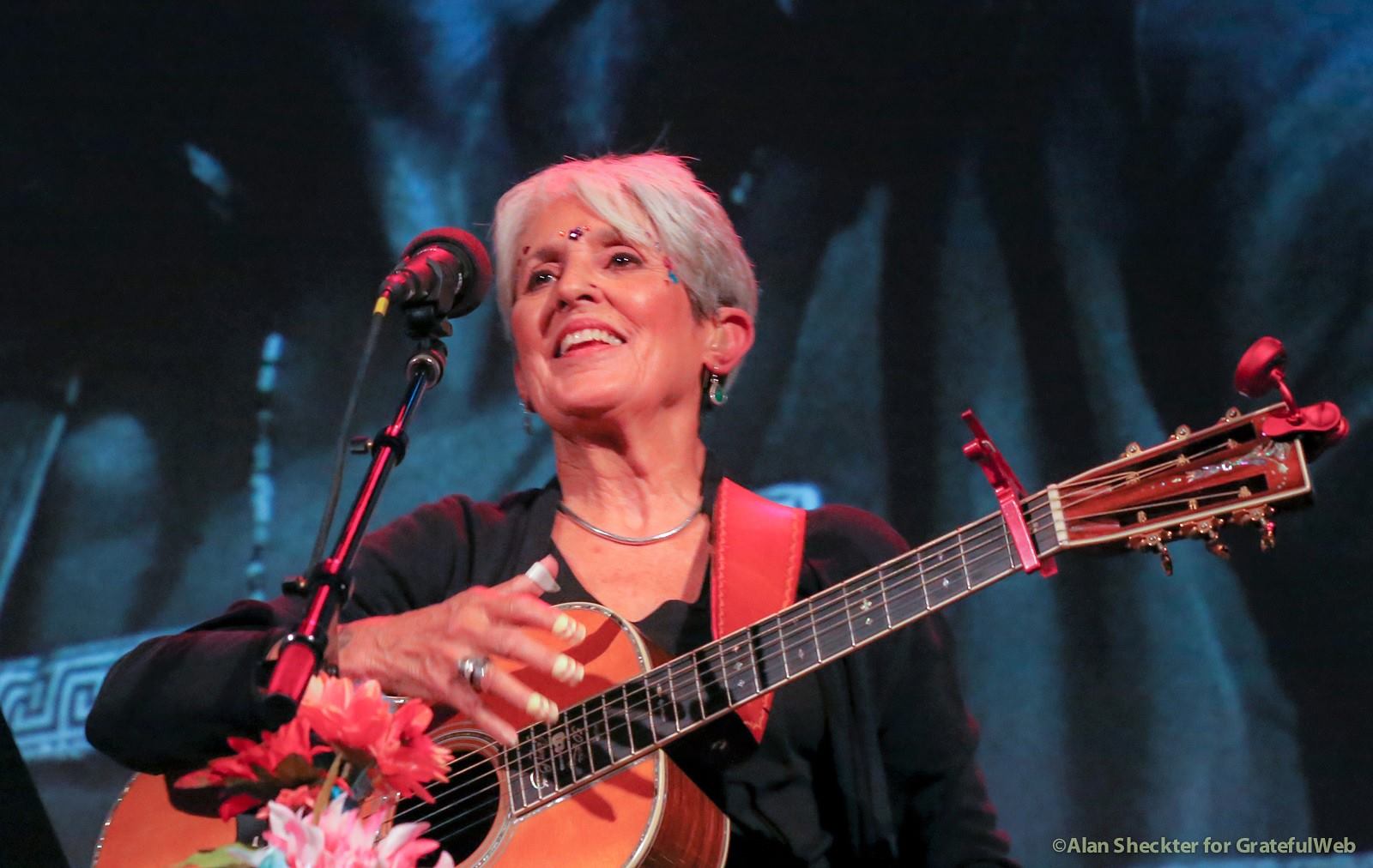 Baez went on to lead the crowd to clap and sway along with the Civil Rights spiritual "Ain't Gonna Let Nobody Turn Me Around," a song that actually has roots that go back to the 1920s. She followed that up with another spiritual favorite, "Swing Low, Sweet Chariot."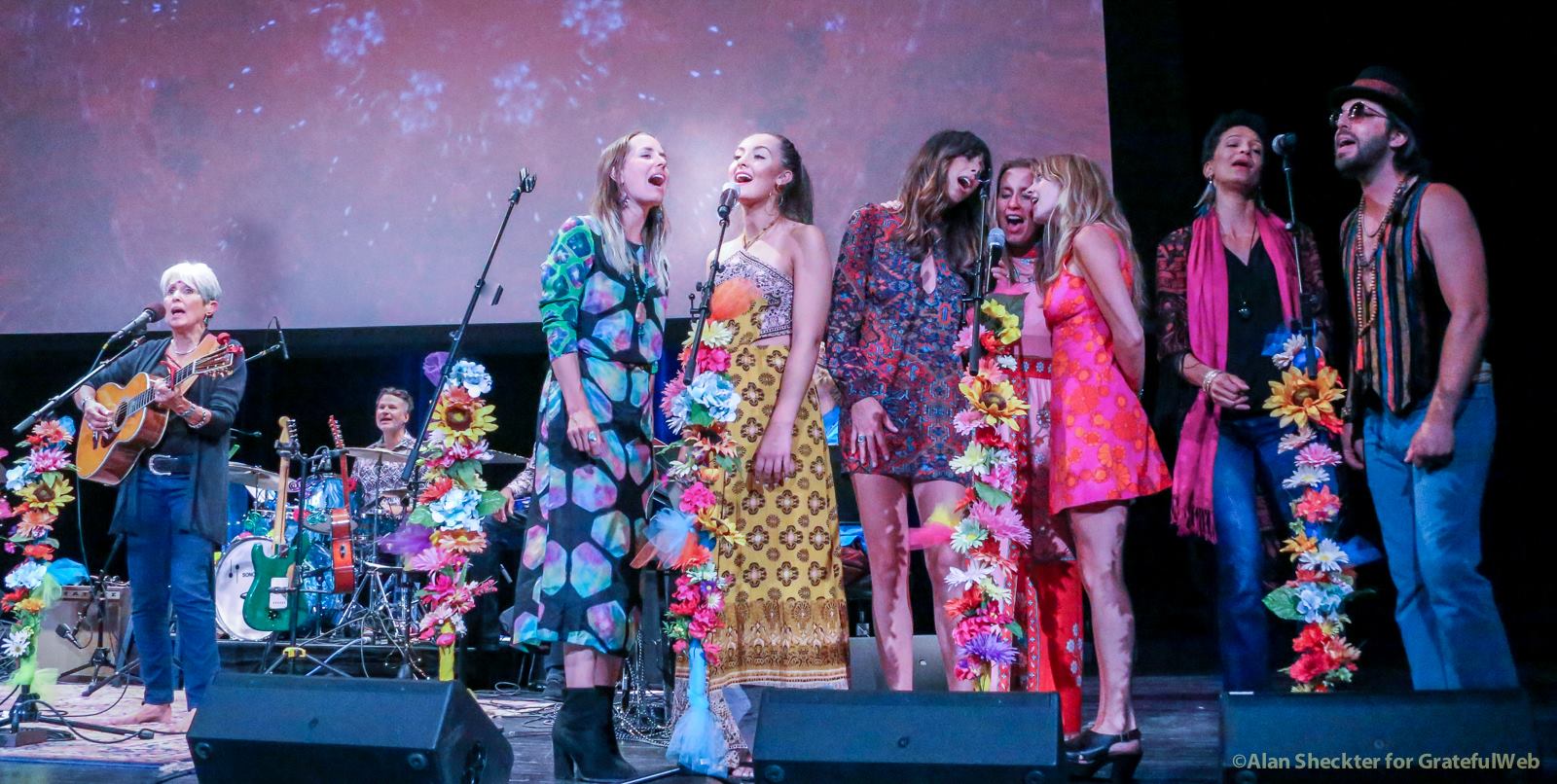 Then it was finale time, and Baez led the evening's participants, all of whom came to the stage, to sing Simon and Garfunkel's "The Boxer," with Baez, the T Sisters, Bluhm, and others taking vocal turns on each verse.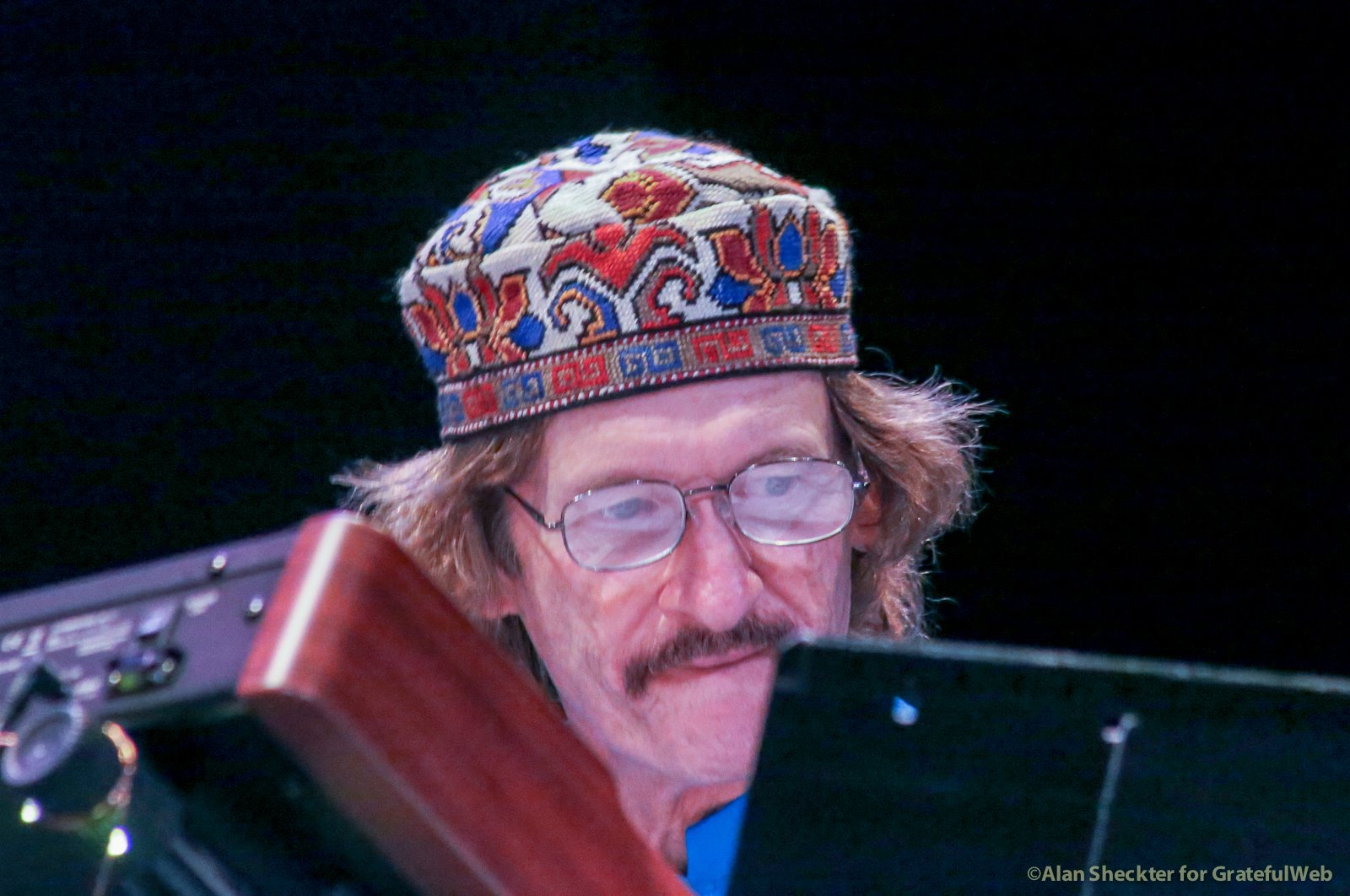 The house band included the aforementioned Dillon and Weed, as well as keyboardist Frank Martin, bassist Eric McCann, and drummer Kirk Snedeker.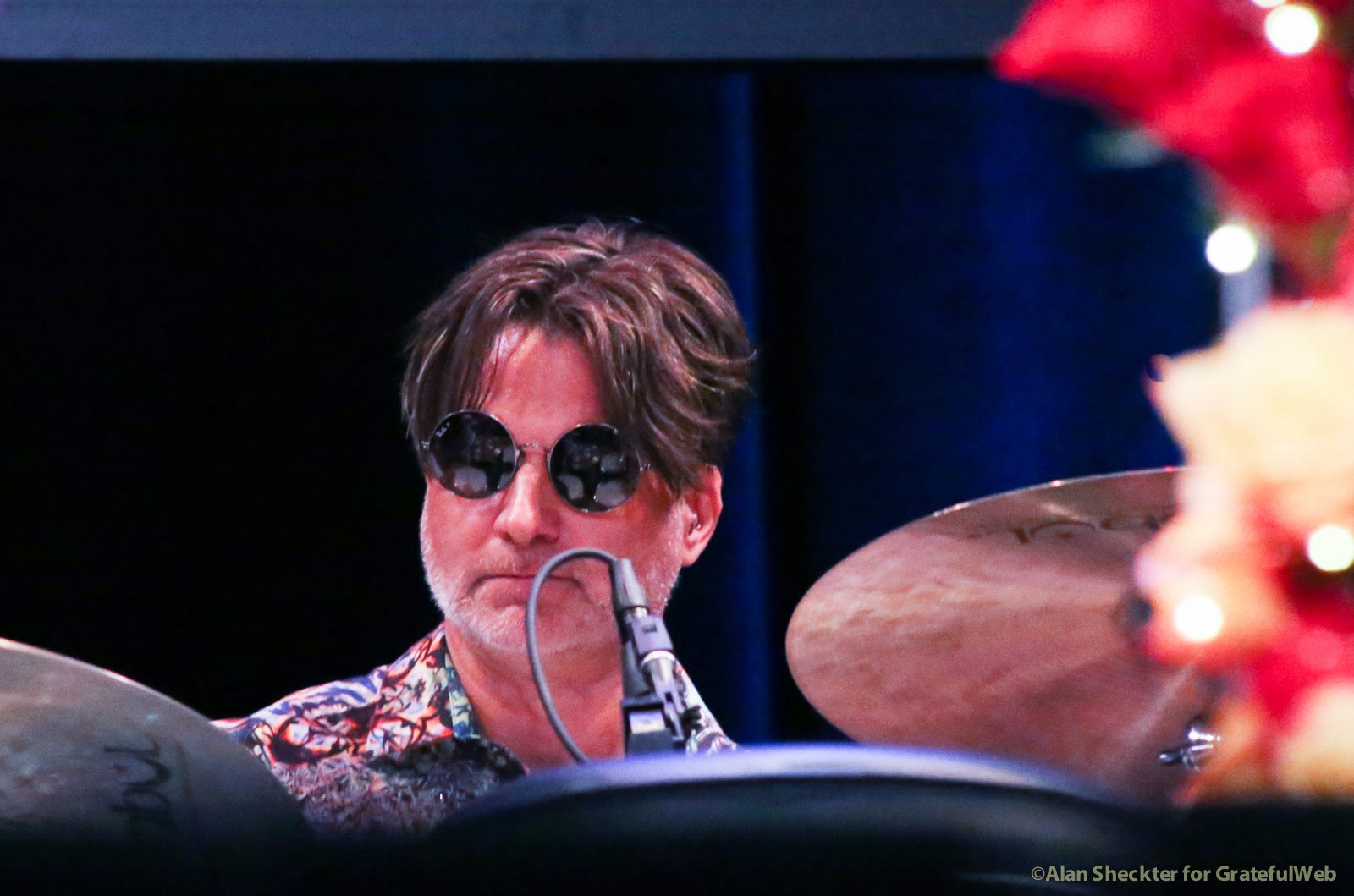 The concert benefited Bread & Roses, the Bay Area-based nonprofit that, with the help of some 1,400 volunteers, tasks itself with "uplifting the human spirit by providing free, live, quality entertainment to people who live in institutions or are otherwise isolated from society." Bread & Roses was founded by singer-songwriter Mimi Fariña in 1974, and more than coincidentally, Fariña, who died in 2001 was Baez's sister and Liberatore's partner when she passed away.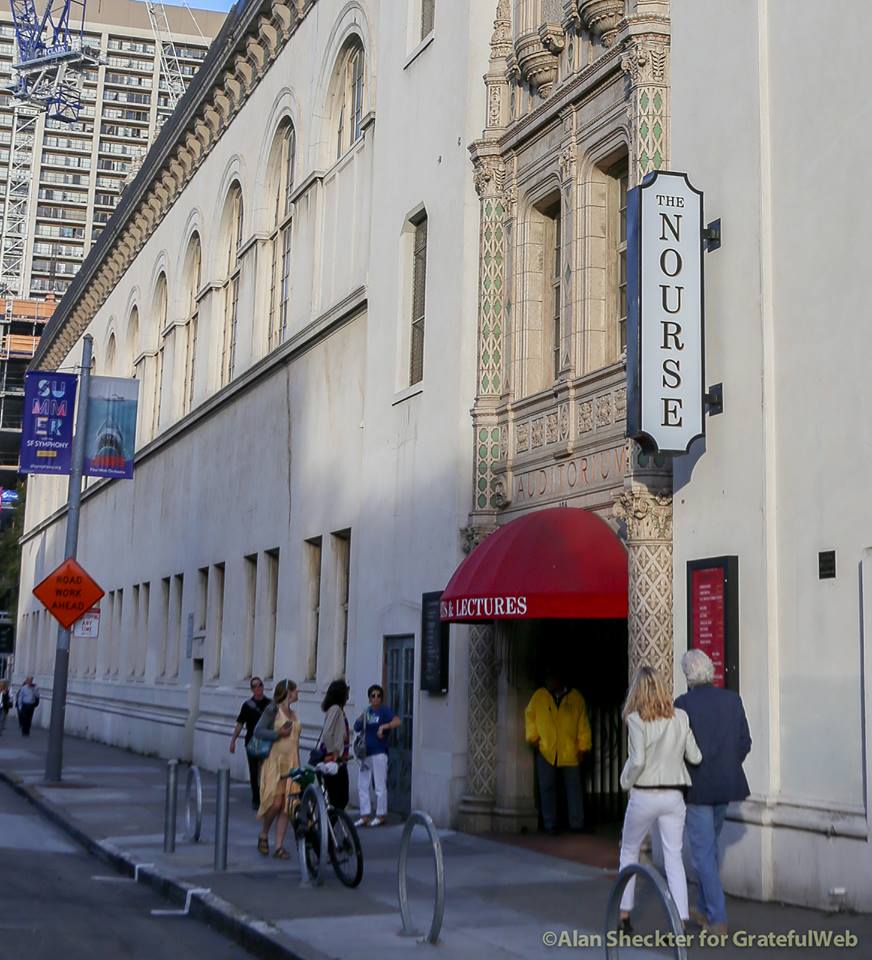 The Nourse Theatre, which opened in 1926 and was generally idle since 1952, was brought back to life largely through the efforts of Sydney Goldstein, founder of City Arts & Lectures, according to the San Francisco Chronicle. Goldstein, upon learning that the city's Herbst Theatre, which had hosted City Arts and Lectures events for decades, was undertaking a two-year overhaul, decided to lead the Nourse restoration project, thereby creating a new home for City Arts & Lectures.