Carlos Santana, to paraphrase a funky expression, "tore the roof off that sucker," on June 27 at a cool and comfortable evening outing near Sacramento, California. He and the band blasted out of the gate, following a big-screen montage of old Santana Woodstock-era footage, with an exhilarating version of "Soul Sacrifice," the epic instrumental that made the country sit up and take notice 50 years ago, both on the band's eponymous first record, as well as the forever indelible version performed at Woodstock. From that initial number, which morphed directly into the equally rhythmic and time-tested "Jin-go-lo-ba," there was no question that Santana – the name and the band – were not only adequately up to the task of dishing out 50 years' worth of favorites, but excelling in their ability and passion to do so.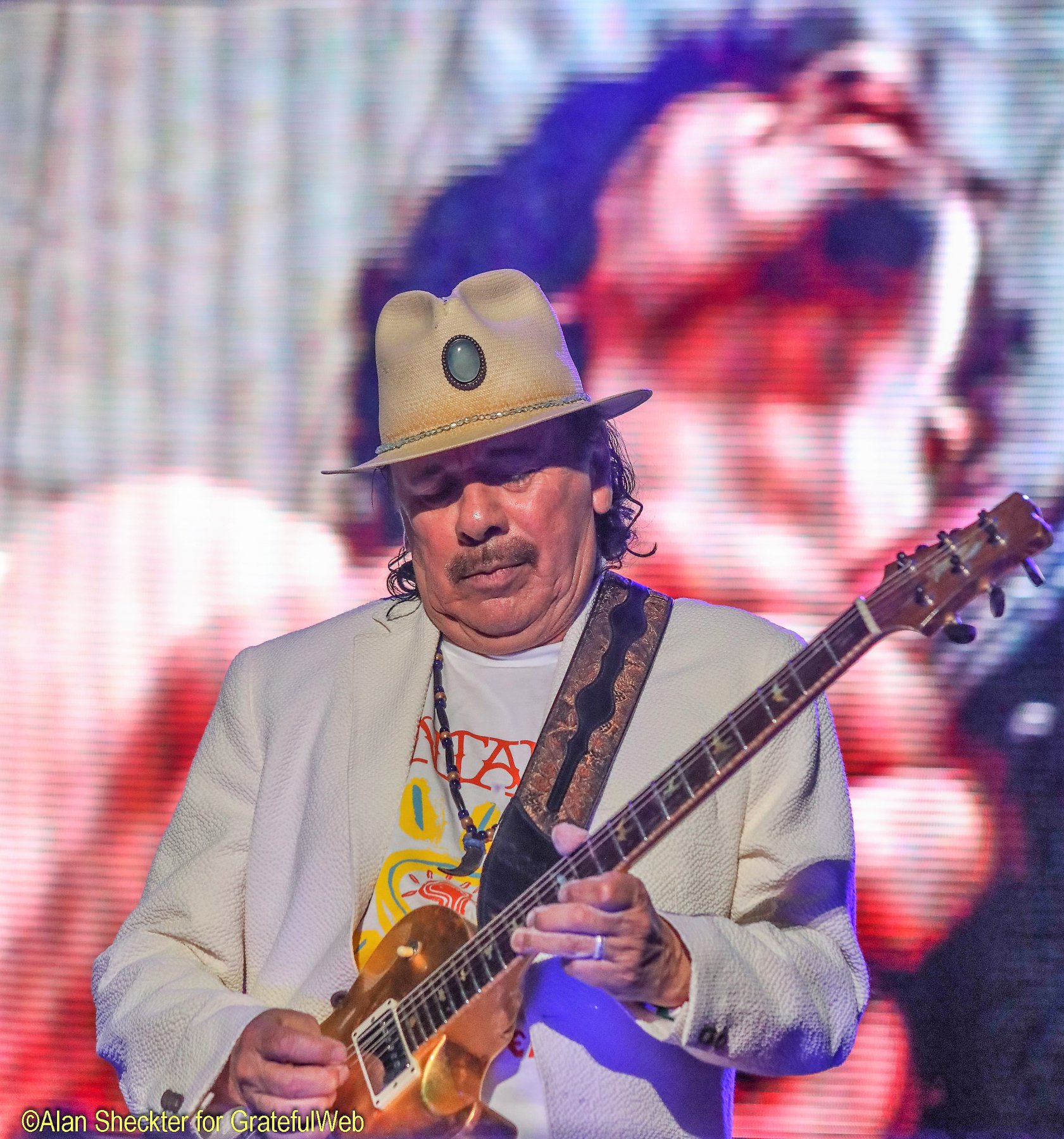 True to his Latin-American roots, Carlos Santana, a Jalisco, Mexico native, led his band in Latino-influenced rock and blues (as well as jazz, salsa, and pop), a trademark of his sound since he established the Santana Blues Band in San Francisco in 1966. The 71-year-old big-band leader, global activist, and iconic lead guitarist dressed in white while sporting a jaunty fedora. He sizzled indefatigably for the entire length of the 2½-hour, all killer-no filler show. There were no gimmicks or tricks to help prop up a star who may have lost a step or two over the years. There was no need to. And his endless lead guitar flourishes, appropriately adapting with perfection based on the mood of each song, never felt self-indulgent. The outstanding musicianship from Santana and the full band's cohesiveness made for one big songs-and-jam session/performance.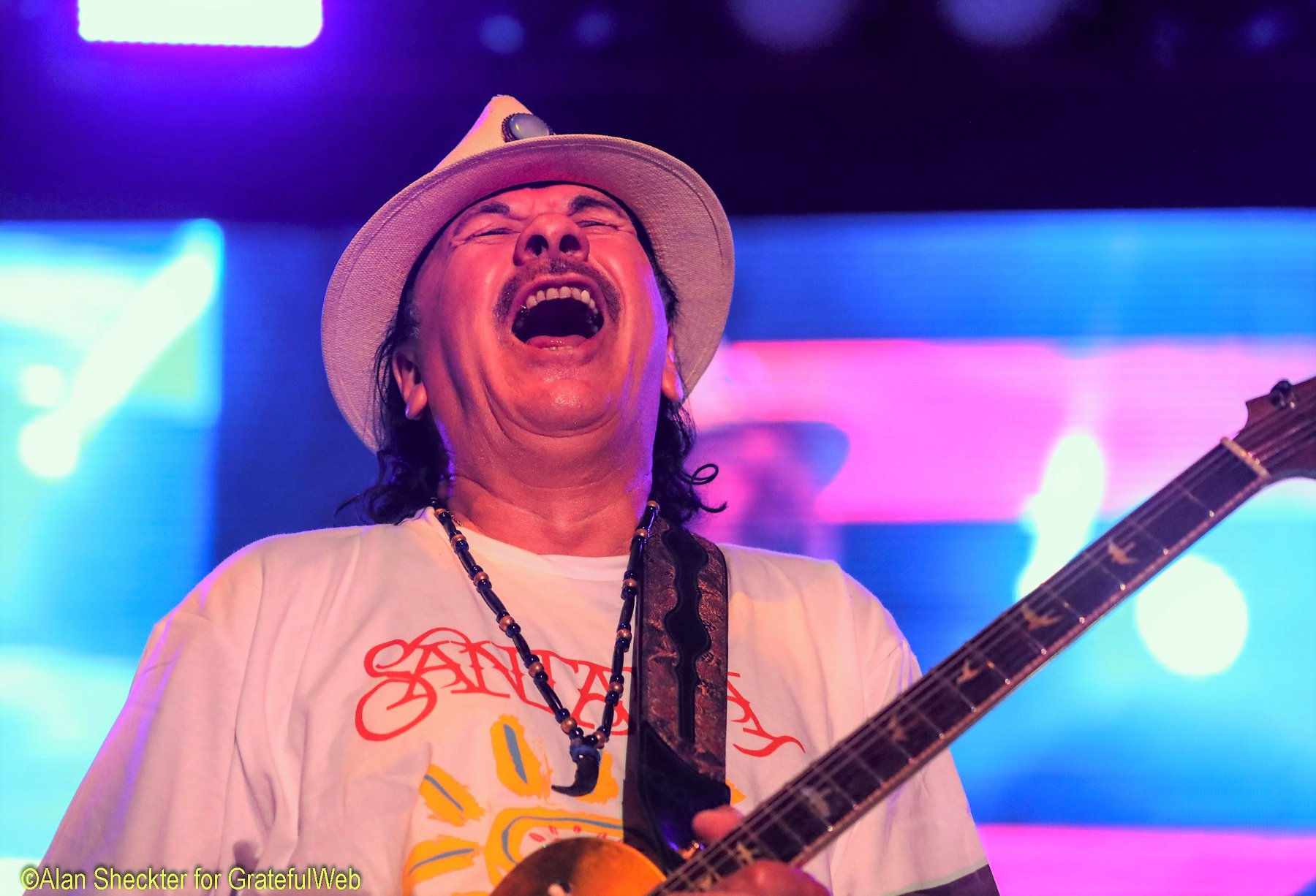 The opening salvo continued with "Evil Ways," one of the band's crucial early hits from the "Abraxas" record, which was released in 1970. Here, assuming the roles made famous by Gregg Rolie on the 1969 hit, David K. Mathews excelled on the song's iconic B3 organ passages, and Ray Greene handled the lead vocal duties well, as he did along with Andy Vargas for much of the night. "Evil Ways" melded into a short segment of "A Love Supreme," the John Coltrane jazz standard that appeared on Santana and John McLaughlin's 1973 record, "Love Devotion Surrender." After Santana helped chant the vocals, "A love supreme, a love supreme, a love supreme – supreme, supreme," the music momentarily stopped. And there on the big screen was the late famed concert promoter Bill Graham, who had a long association with Santana. He "addressed the crowd" with a video message, the audio version of which appears on Santana's "Milagro" album: "Good evening; thank you for being with us. Welcome to a very, very special occasion. Some years ago, some of us heard and found a very special sound, about the joy of loving, the joy of giving, and thank God it's with us this evening. Will you welcome from my heart, Santana?"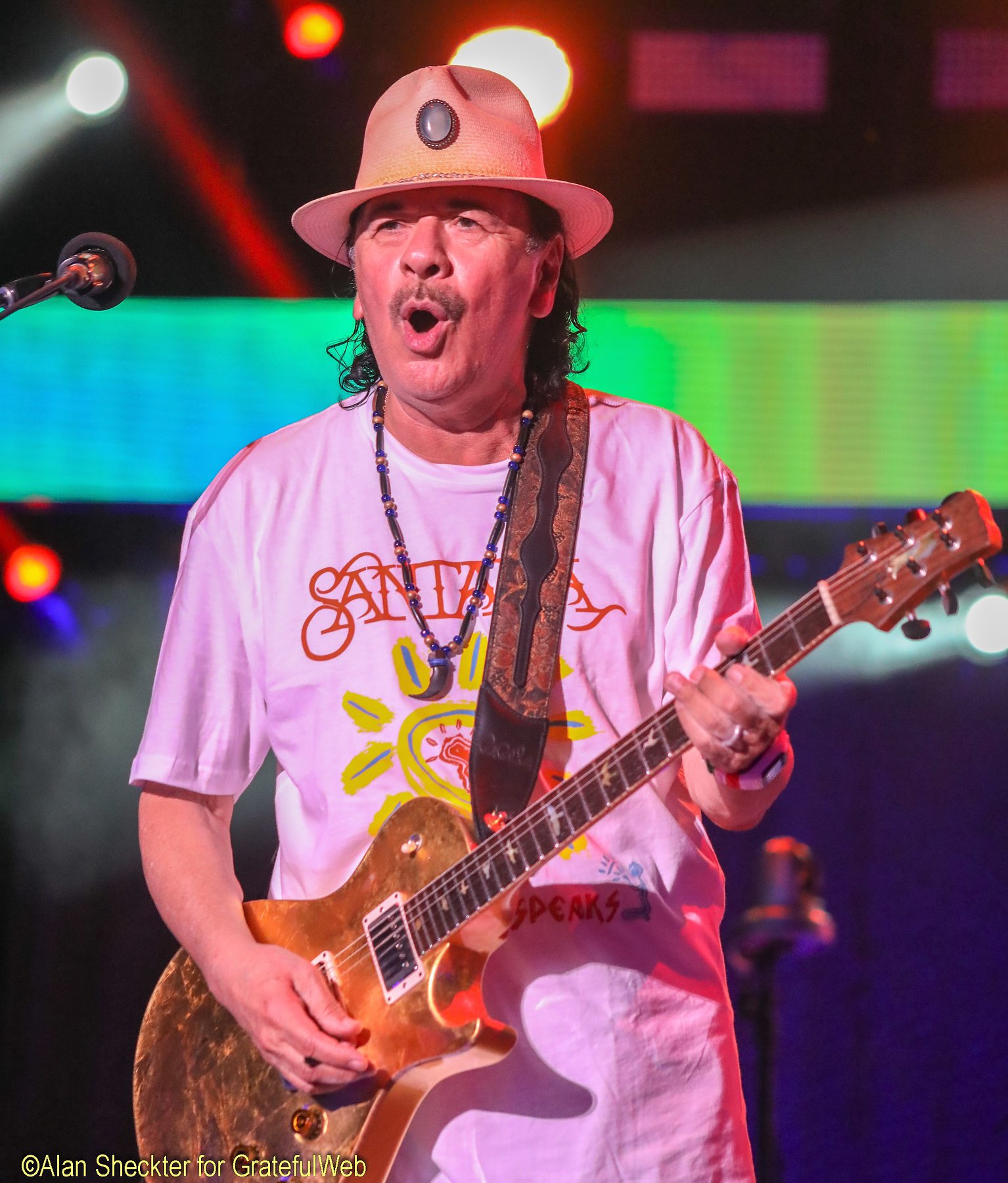 This led into "(Da Le) Yaleo," the opening track on "Supernatural," which led into another "Supernatural" track, "Put Your Lights On," vocalized by guitarist Tommy Anthony. As if on cue, thousands of people held up their lighters – oh, it's 2019, they held up their phones on flashlight mode – as the lyrics swept over the expansive, sold-out amphitheater: "Hey now / All you sinners / Put your lights on / Put your lights on / Hey now / All you lovers / Put your lights on / Put your lights on."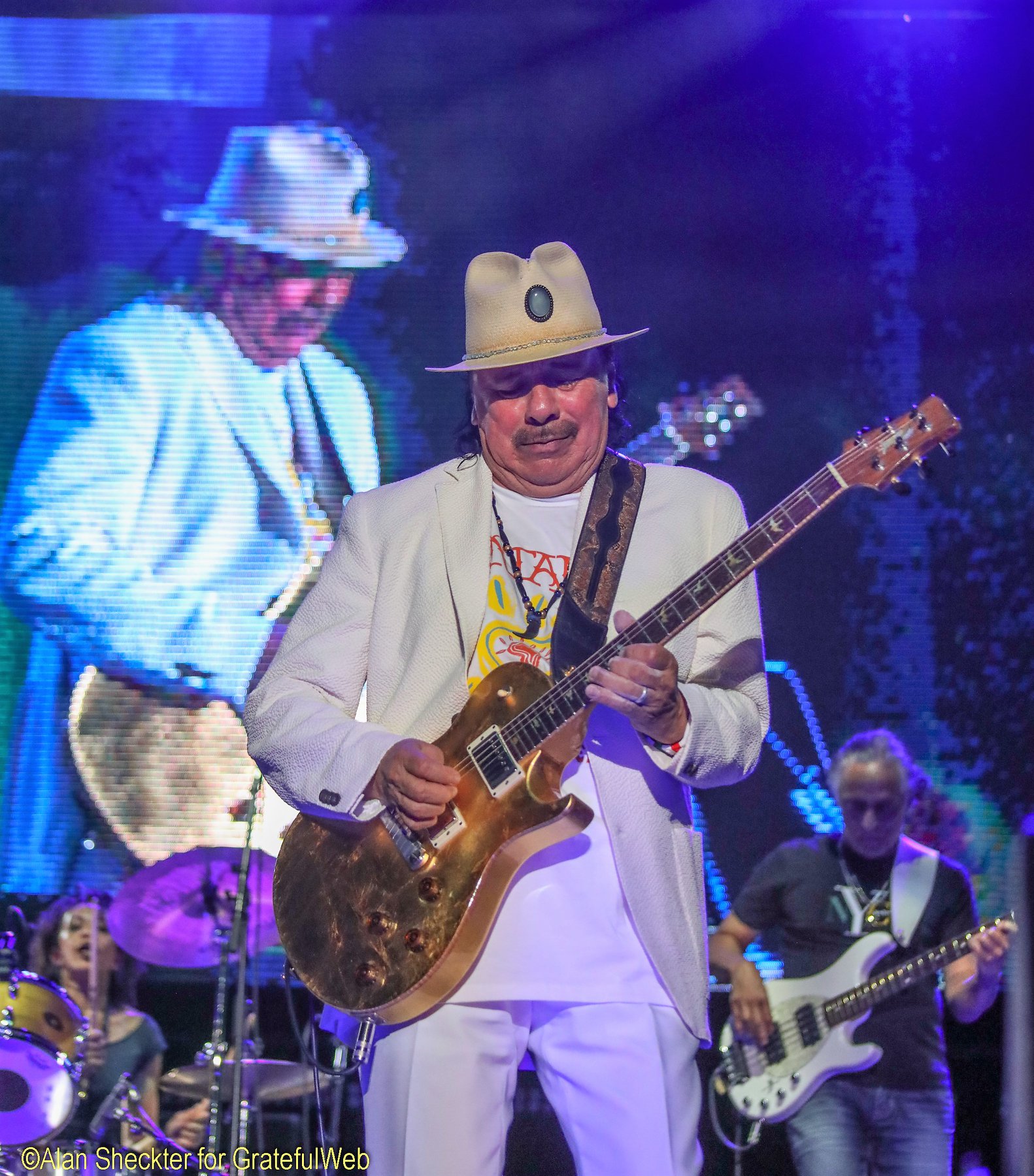 With no break in the action, the band returned to "Abraxas" for "Hope You're Feeling Better," which fed into a searing version of the instrumental "Blues for Salvador." Then back into rip-snortin' versions of heavy-hitting crowd pleasers from "Abraxas" – "Black Magic Woman / Gypsy Queen," followed by, just like on the record, "Oye Como Va."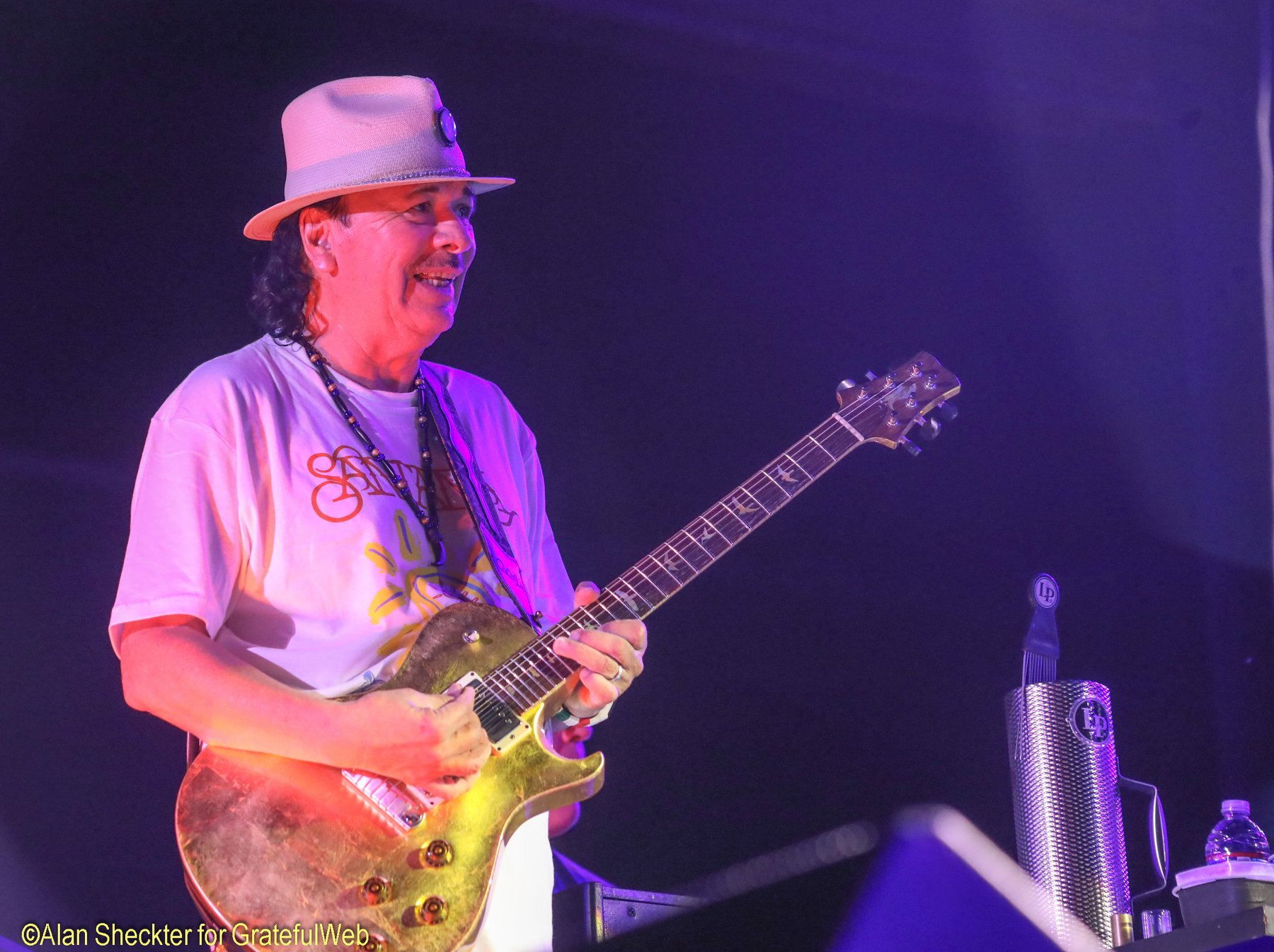 After all of that, the show rose to an even higher plane with an impassioned version of The Zombies' "She's Not There," which was a hit for Santana from the 1977 "Moonflower" LP. That song flowed into a fervent version of "Marbles," a deep-into-the-catalog instrumental that appeared on a Carlos Santana / Buddy Miles collaboration from the early '70s. And then, Doobie Brothers' original members, Tom Johnston, and Pat Simmons, sidled onto the stage, guitars in hand, and the now supergroup delivered fun versions of old FM-radio staples "Spill the Wine" (Eric Burdon and War) and "Papa Was a Rolling Stone" (Undisputed Truth, then The Temptations).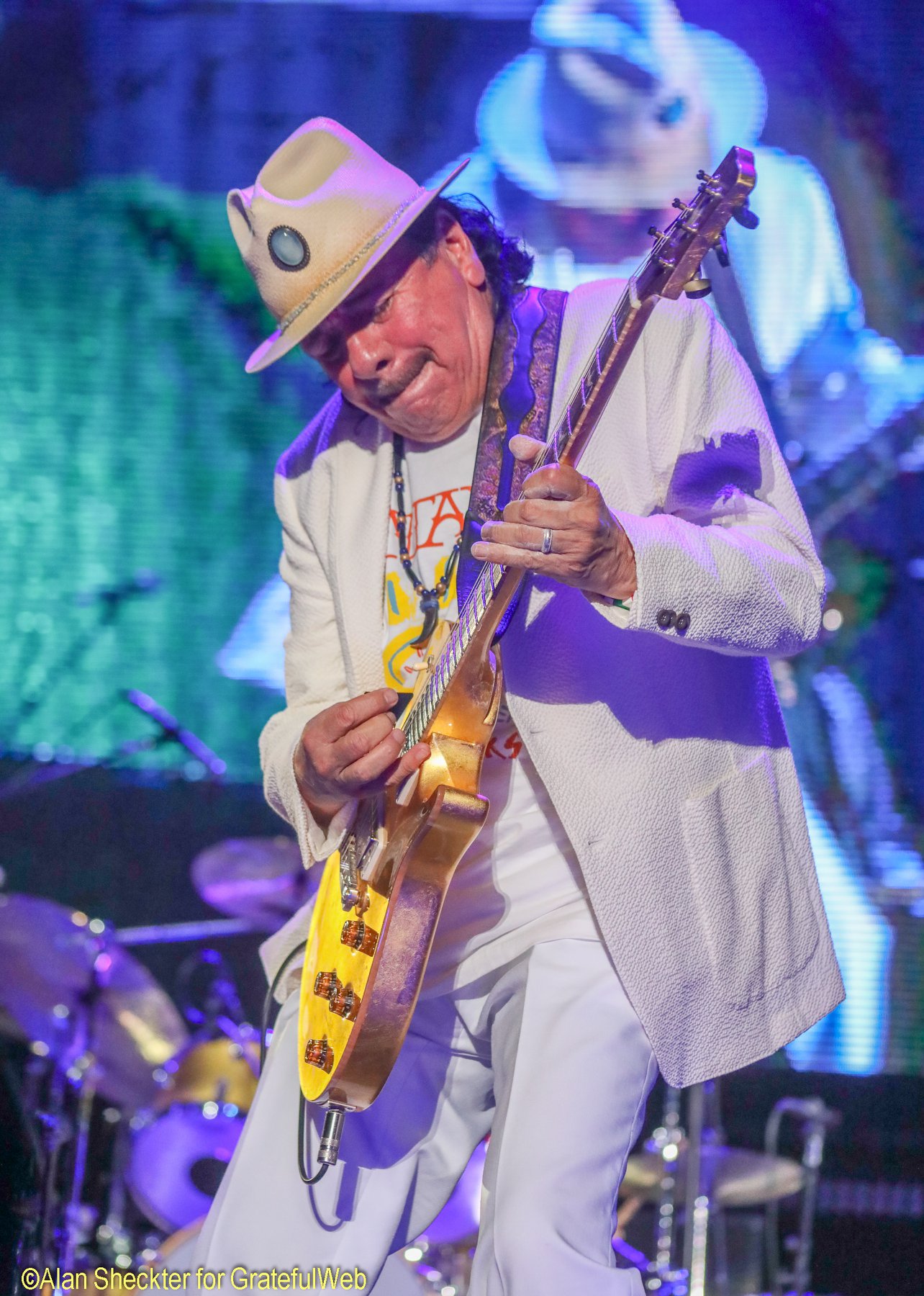 "Maria," also from Supernatural," followed, with its lyric, "Oh Maria / She fell in love in East L.A. / To the sounds of the guitar, yeah, yeah / Played by Carlos Santana." Then, finally, a closing sequence came, with "Foo," from the 2002 album, "Shaman," followed by "Corazon Espinado," and a lovely closing version of "Toussaint L'Ouverture" the latter of which was first heard on "Santana III" from 1971. Not a reference to Allen Toussaint, the song instead is a shout-out to Toussaint L'Ouverture, a former Haitian slave who eventually became a general and helped his country get its independence from France in 1804.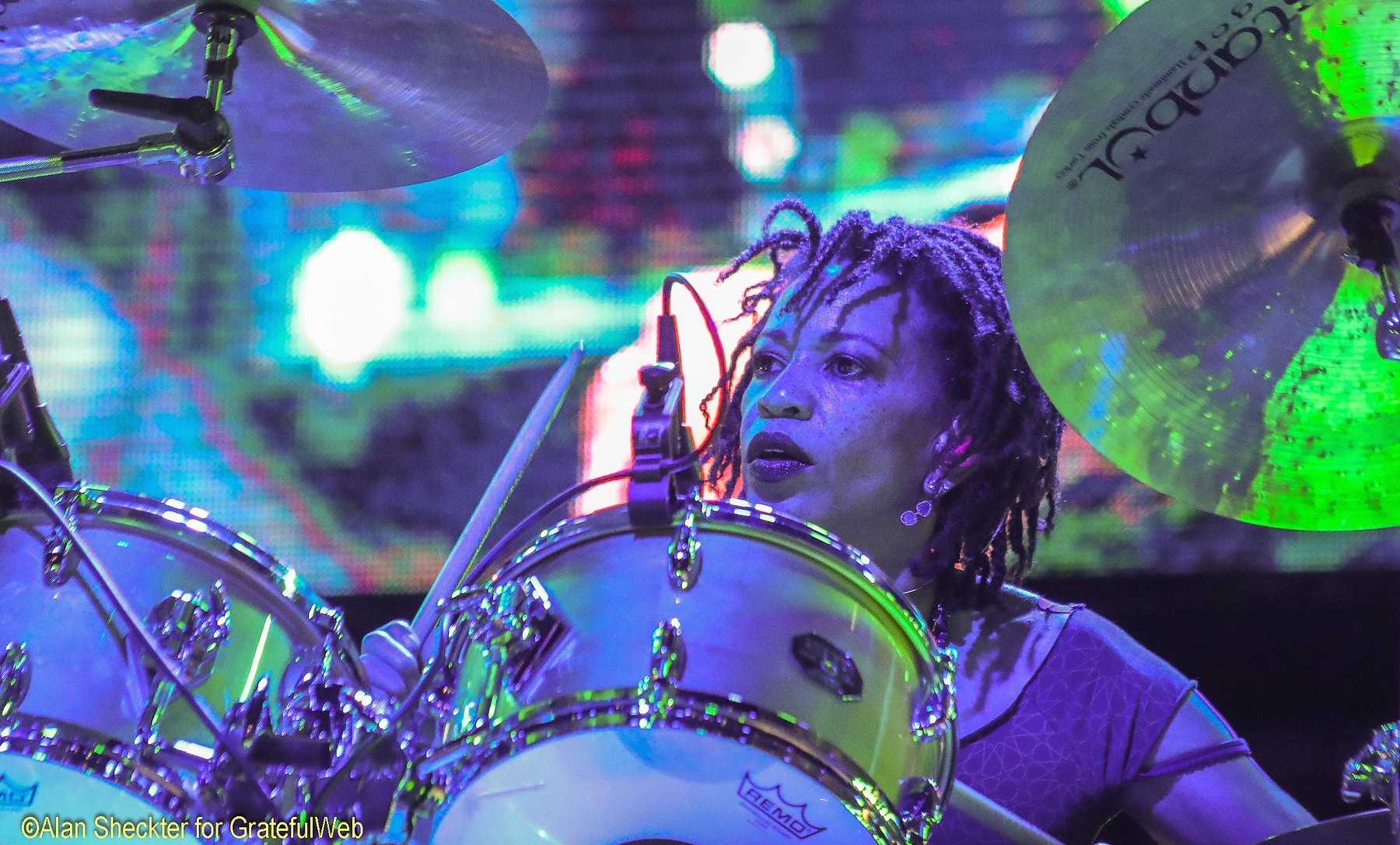 Not surprisingly, the band's 28-minute encore was more than a quick send-off. A short video piece, "Sentient Sphere" quickly led into the jubilant "Are You Ready People," a recent piece that included an epic Cindy Blackman Santana drum-kit solo. Santana then delivered one of his all-time most beautiful instrumental pieces of music, "Samba Pa Ti," from "Abraxas." Next was "Smooth," a monster hit for Santana and Matchbox Twenty's Rob Thomas in 1999. The evening closed fittingly with a sweet message in "Love, Peace, and Happiness," a Chambers Brothers original that Santana and The Isley Brothers recorded in 2017.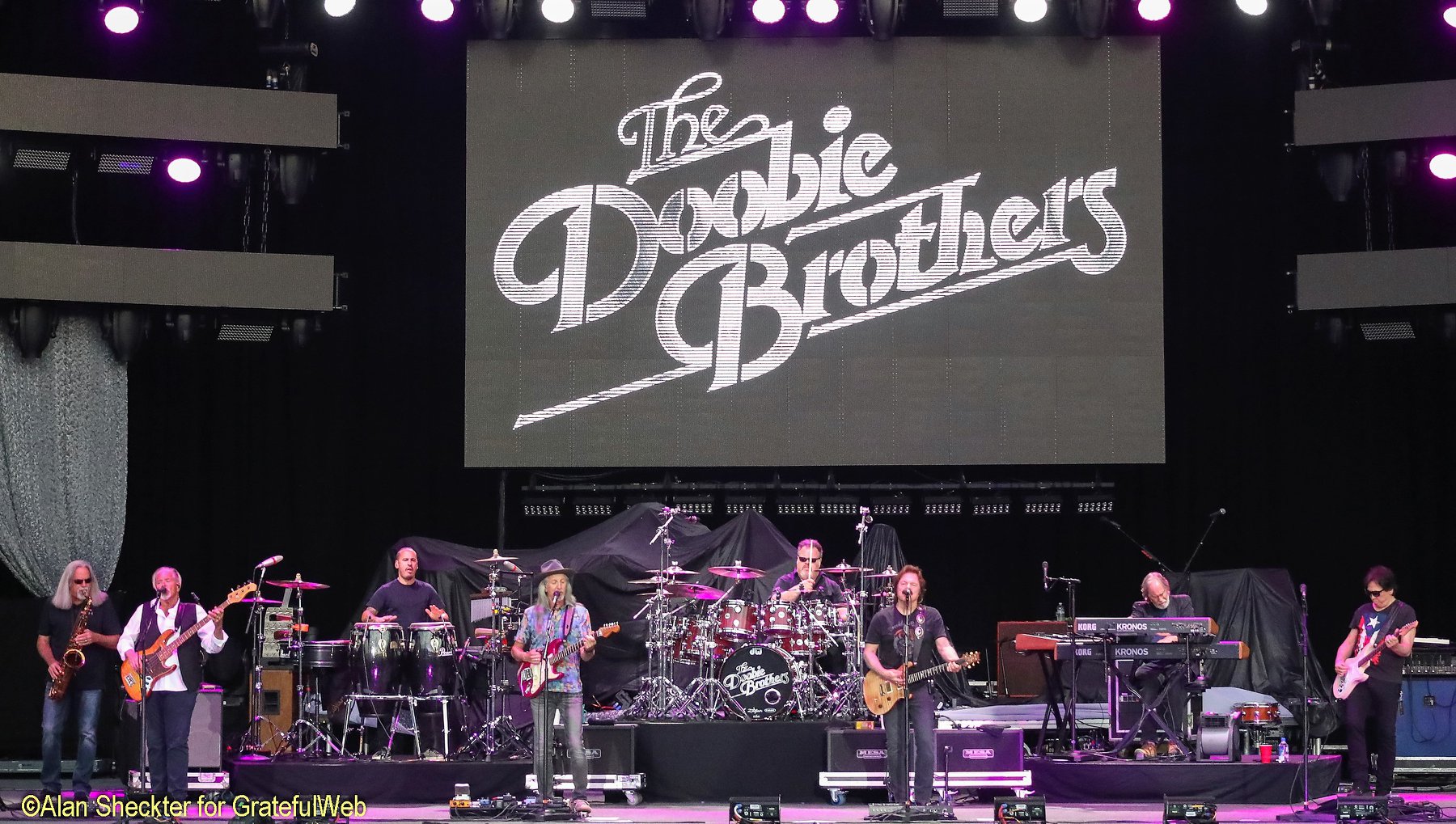 By any measure, having The Doobie Brothers as an opening act was a big conquest. With a catalog of hit songs that stretches back almost 50 years, the band was a tremendous warm-up act. Leading the way were aforementioned co-founders Tom Johnston and Pat Simmons, as well as John McFee, whose tenure with the band began in 1979. The group's other proficient players included Little Feat keyboardist Bill Payne, as well as John Cowan, who had a storied career with New Grass Revival and others before starting his second tour of duty with The Doobie Brothers in 2010.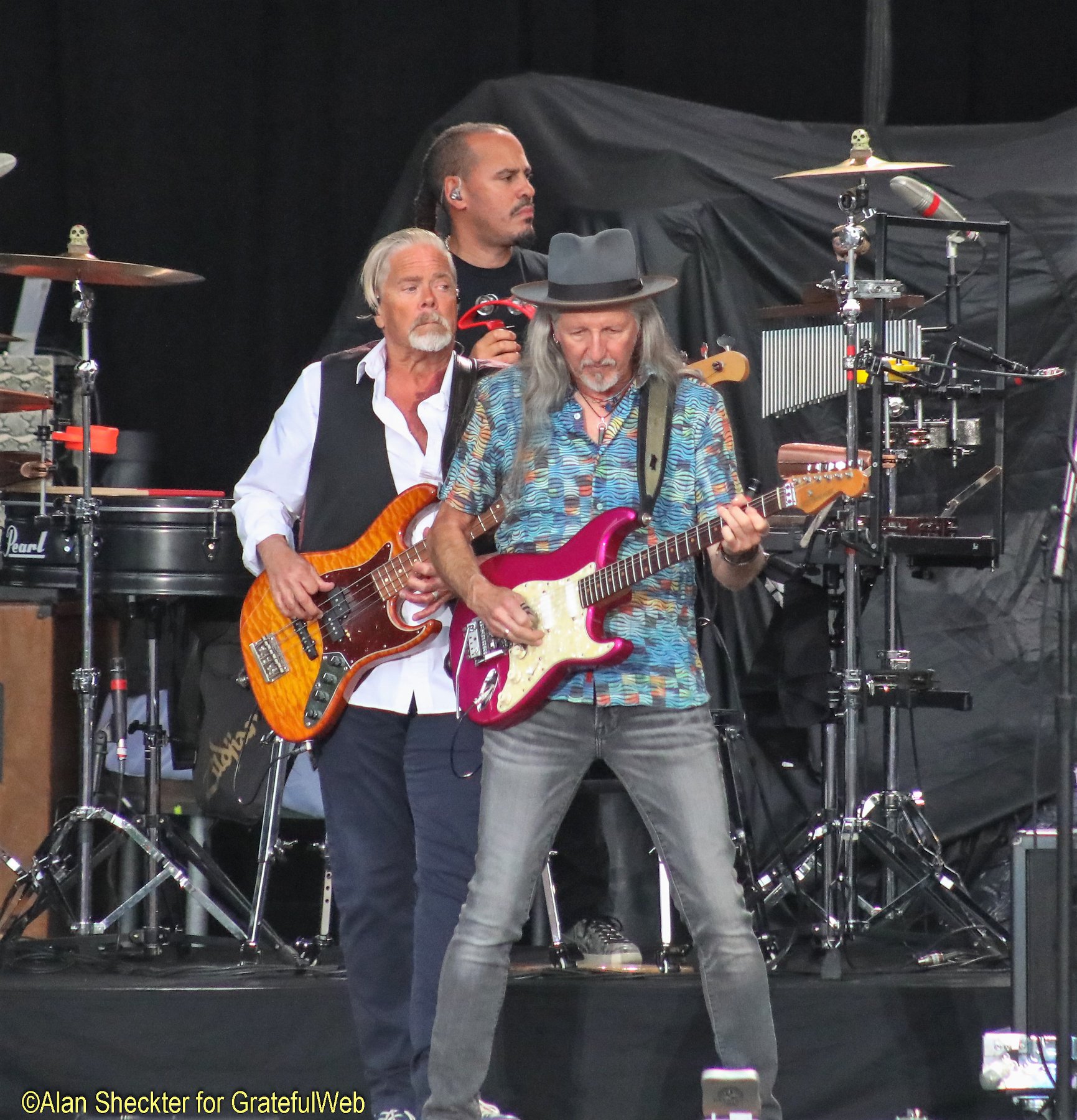 The 2019 touring band hit on all cylinders as it performed hits from the entire span of its history: the early rock 'n' roll years led by Johnston's lead vocals; the so-called "Michael McDonald years" in which the band took a more mellow approach (Cowan and others did a fine job mirroring McDonald's old lyrics on songs such as "Takin' it to the Streets"); and the 1993-to present era.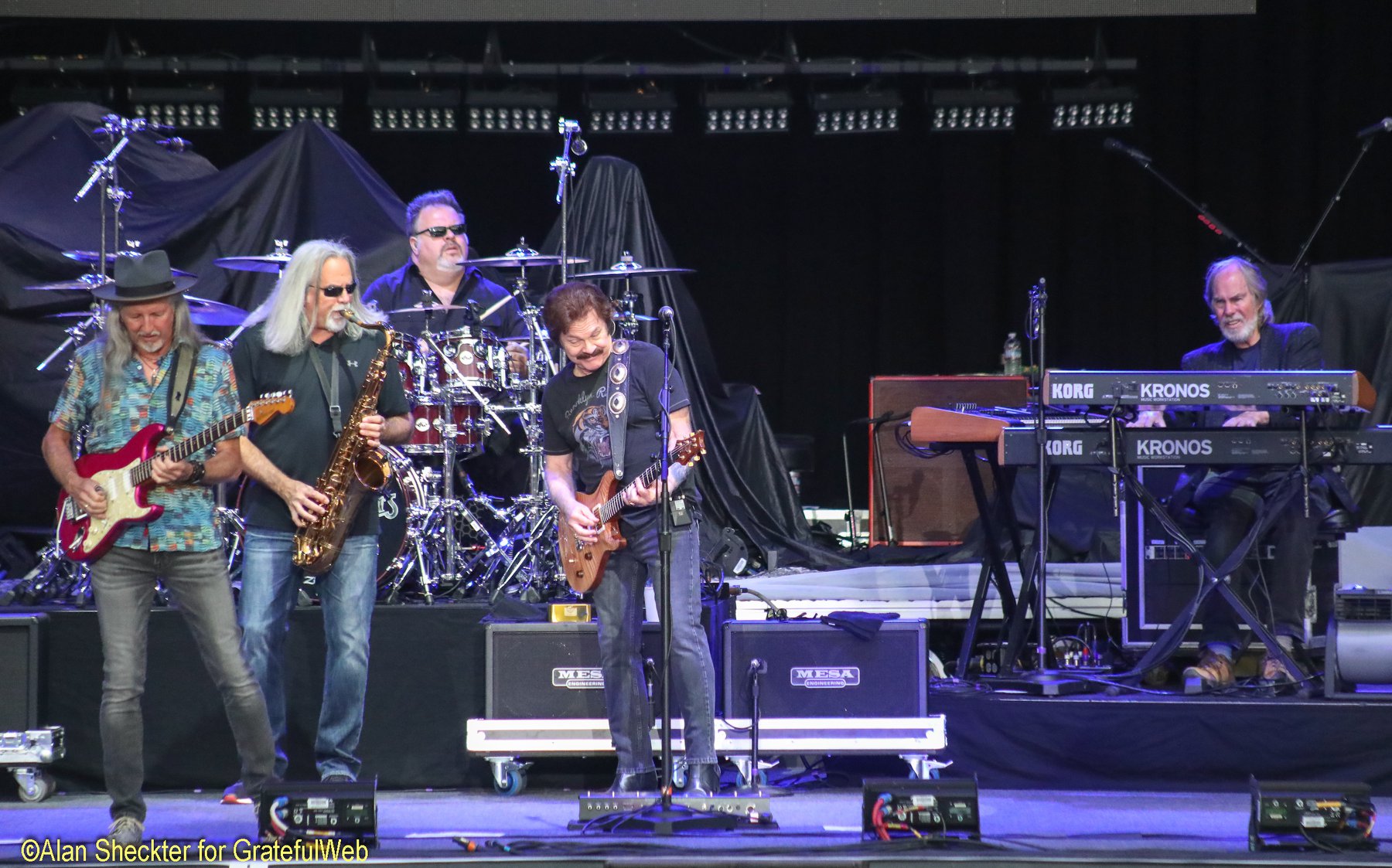 For those attendees who were there – many, many tales of fans voicing their accounts on social media about encountering a lot of trouble getting to the venue due to traffic congestion – enjoyed a steady stream of celebrated hits. Their hour-plus, 11-song set, which started off with "Rockin' Down the Highway," also included such favorites as "Take Me in Your Arms (Rock Me a Little While)," "Eyes of Silver," "Jesus is Just Alright," "Long Train Runnin'" (with obligatory harmonica jam), and rocking set ender, "China Grove." A party-atmosphere encore consisted of "Black Water" (with obligatory fiddle jams) and joyful "Listen to the Music."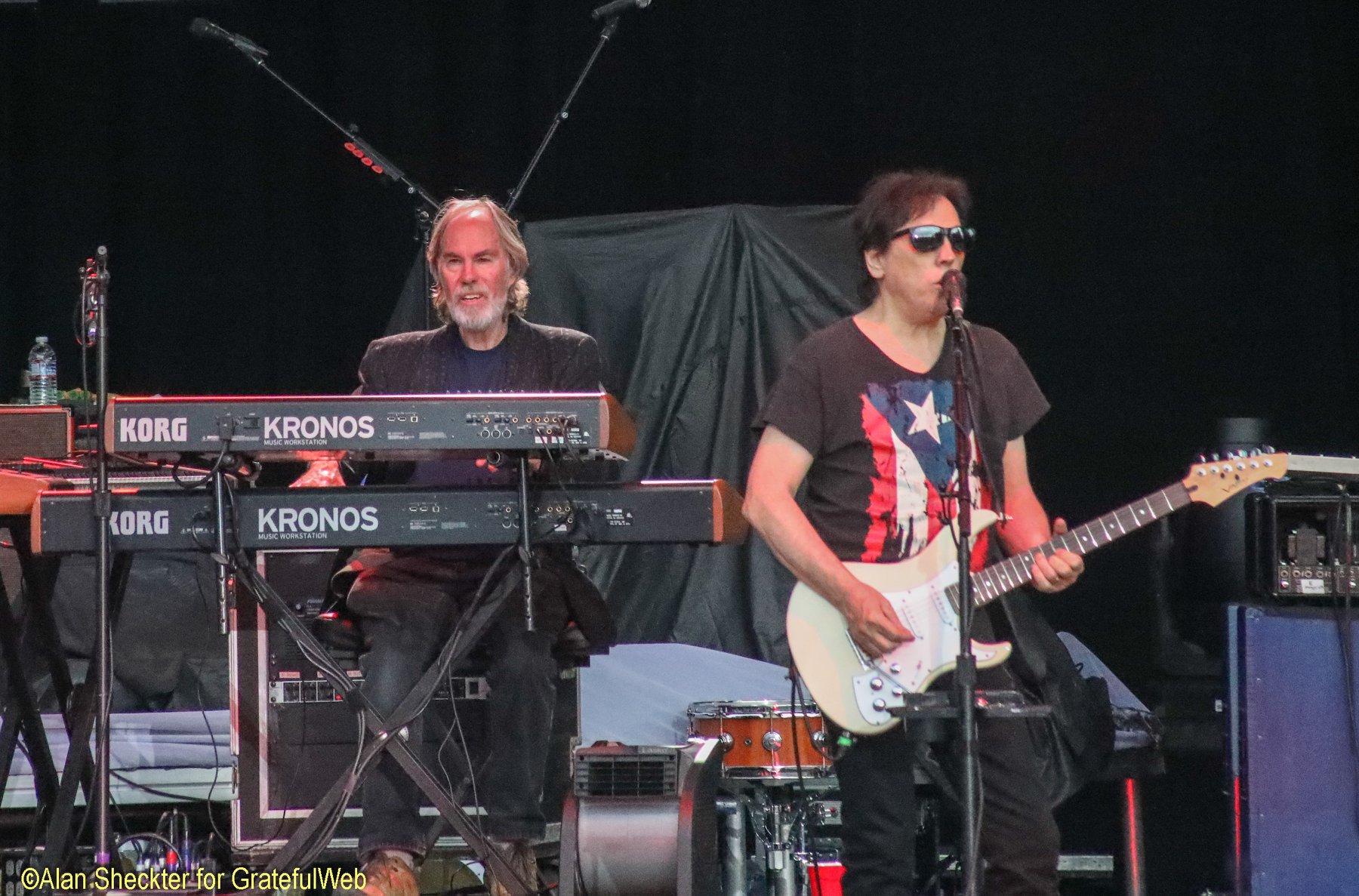 The Doobie Brothers: Rockin' Down the Highway, Take Me in Your Arms (Rock Me a Little While), Ukiah, Dark Eyed Cajun Woman, Clear as the Driven Snow, Eyes of Silver, Takin' It to the Streets, Jesus Is Just Alright, Long Train Runnin', Without You, China Grove. Encore: Black Water, Listen to the Music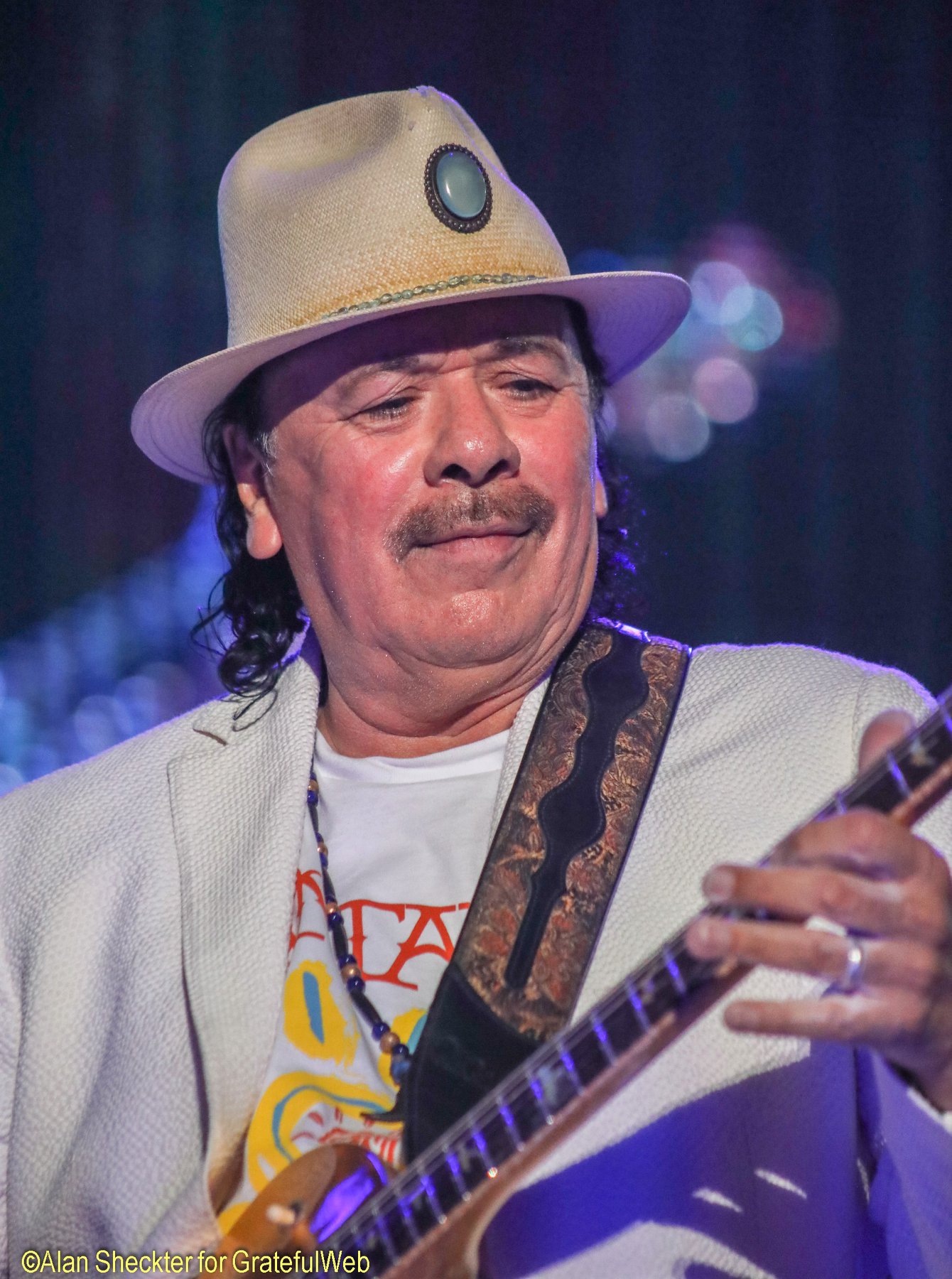 Santana: Woodstock Intro (video screen), Soul Sacrifice, Jin-go-lo-ba, Evil Ways / A Love Supreme, (Da Le) Yaleo, Put Your Lights On, Hope You're Feeling Better / Salvador, She's Not There / Marbles, Spill The Wine / Papa Was a Rolling Stone (w/Doobies' Tom Johnston and Pat Simmons), Black Magic Woman / Gypsy Queen, Oye Como Va, The Game of Love, Breaking Down the Door, Maria, Foo, Corazón Espinado, Toussaint L'Ouverture. Encore: Sentient Sphere (video screen), Are You Ready, Samba Pa Ti, Smooth, Love, Peace, and Happiness