Dear Shoe Fest,
I've had a few whirlwind romances with festivals before, but I'm infatuated with you, dear Shoe Fest 2019. The understated red and gold signs off the highway invited us in and although I cannot find the right words to say, I shall try to express how I love thee. From the moment we entered Camp Shaw-waw-nas-see in Manteno IL, we knew that this would be a truly special Labor Day weekend.  There was a twinkle in security's eyes when they approved our non-firework no glass bottles camper ready wagon. They waved us through as if it were their job to bring the most satisfaction and to welcome us in, accepting us as another member to the Shoe Family Tribe. We quickly and easily parked, gazing out over the sea of cars in anticipation of the festival grounds.
This year was a little different than the dream we dreamed one afternoon in 2010. The campsites were closer and more organized but still with plenty of room to decorate your space for the weekend.  Gates opened at 10 am on Friday, 8/30. Trevor Clark and the Current Situation kicked off the music at 1pm. How do I love thee? Let me count the ways. One reason to love thee, Shoe Fest, is the unhurried pace that the schedule is set.  No reason to rush setting up as you will surely encounter so many sweet souls before you get work done. Take your time! Lost saints greet you to worship at the foot of our church here in the woods of camp Shaw- Waw- Nas- See.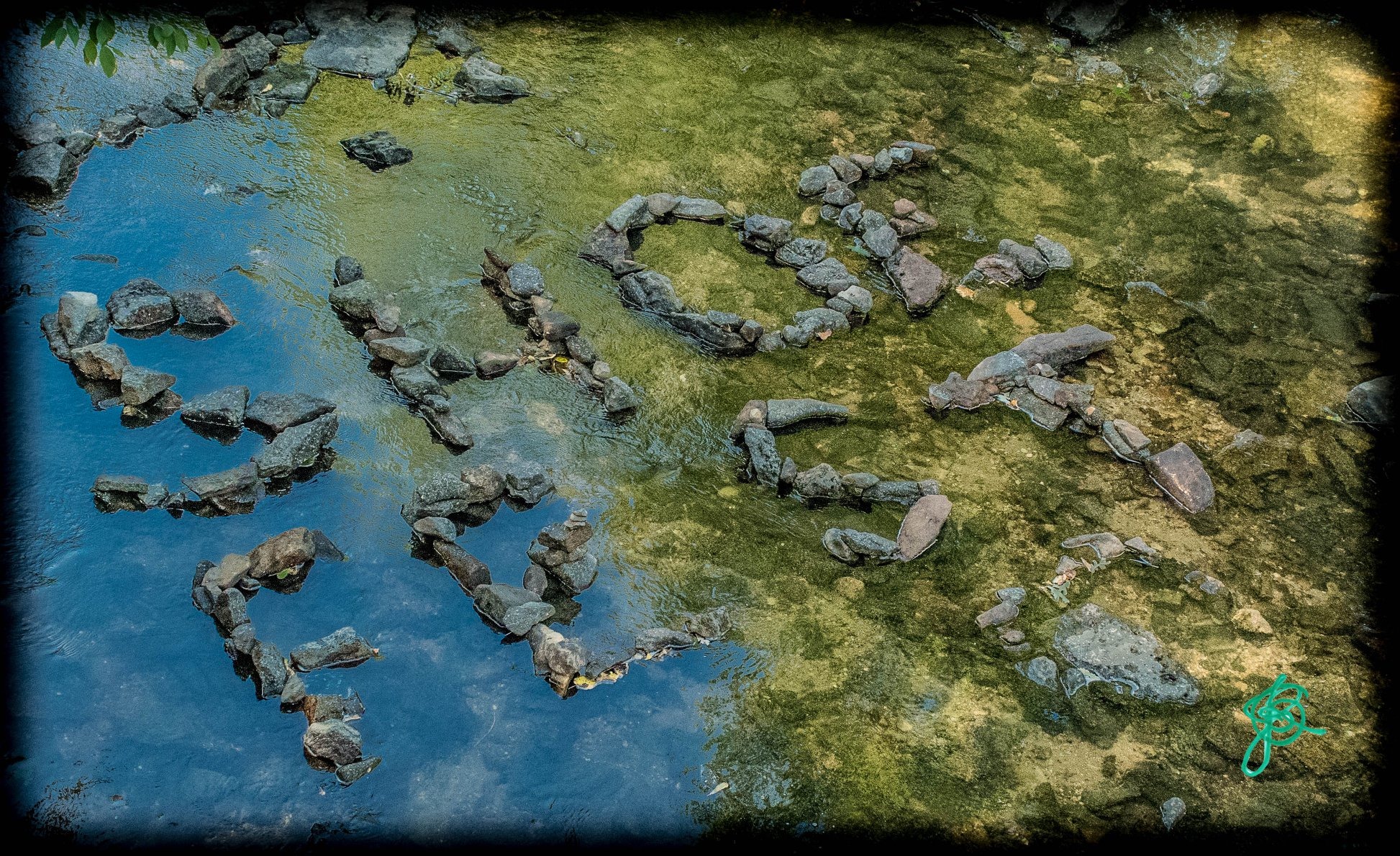 We sauntered down to the river and over the bridge to see Trevor say, "Thank you for being a part of the Current Situation Everybody!" The first time I met Trevor Clark, he was wearing a Martin backpacker guitar walking around at a brewery, strumming it like a fidget spinner.  He is a noodler. It's so nice to see his polished act like a folk funky Bon Iver crossed with Keller Williams, well-performed with abounding love and graciousness. With Joe Lenza on mandolin and Matt Rennick on fiddle, it was the perfect way to set the tone for the rest of the acoustic dance party.
There are two stages of music separated by Rock Creek with 15 minutes passing period between each set of music. Shoe Fest harmonizes the crew with one set of music happening at any given time. Just One. There are to be sure, picking parties and small jams in camps at any given moment but the unity of having one main act at a time really shines through. As we dined in the mess hall having hot breakfast or if we waited in line for 2 Buds 1 Joint Griddle, we were all talking to each other about the same sets of music! Shoe Fest, you unplugged me and connected me with nature.  To relate with people without the constant blaring and grabbing for my attention is just another of my favorite personality quirks of yours. Cutie.
My heart was filled with baby birds leaping into flight because I finally got a chance to check out Lunar Ticks, ZooFunkYou, Feed the Dog, and the Candymakers. The Candymakers dipped us in chocolate.  It was that magical sunset as you really appreciated a 12 piece band in unison floating like Marshmellow bubbles down by the riverside. Friday night I took in my surroundings, reacclimated and jazzed to be here. This is the reason I breathe, but yet, it still takes my breath away.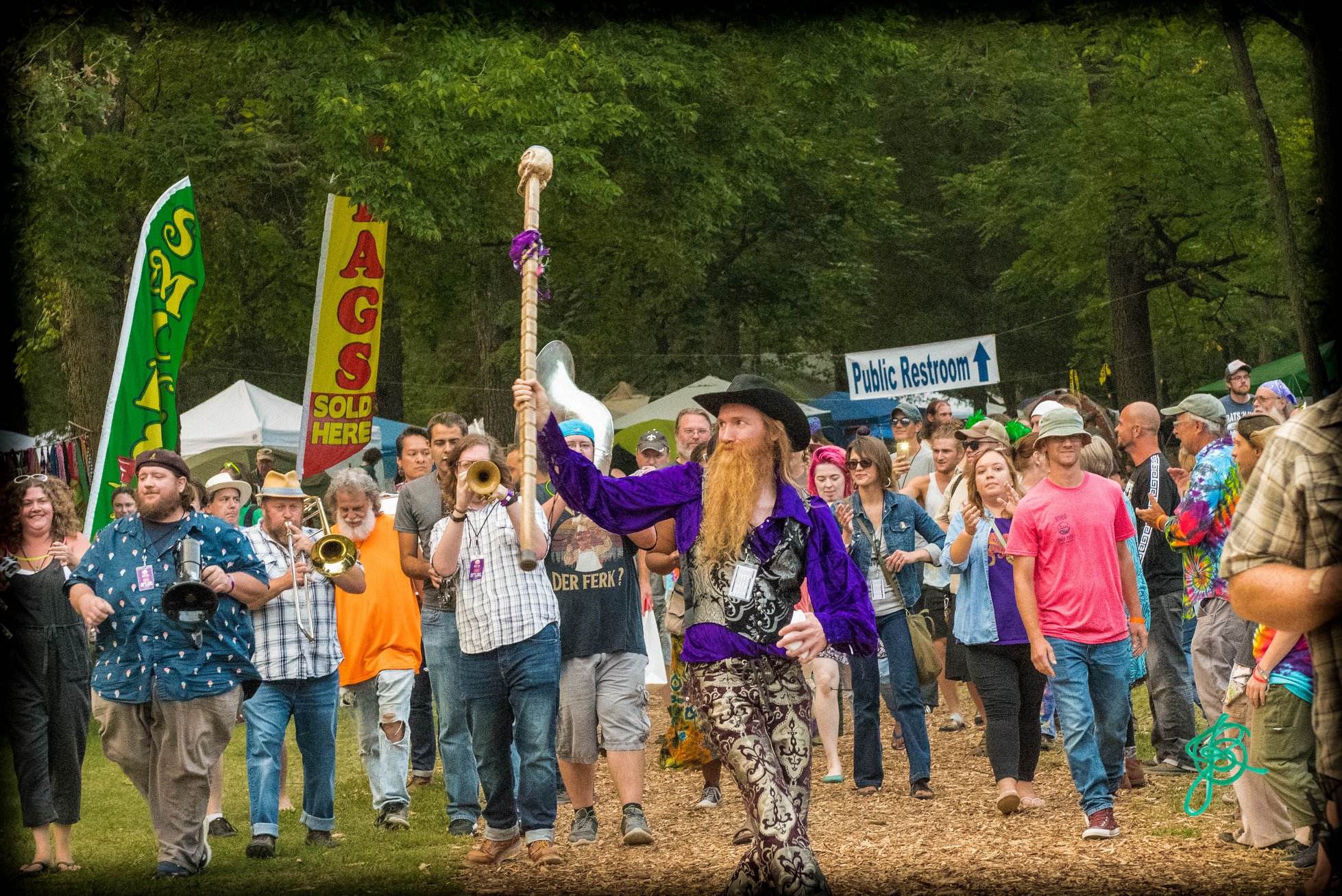 The always gregarious music of Jaik Willis got me rippling beyond the idea that love is a many splendored set. As we were coming back up the stairway to heaven, the winds caressed my neck, tickling my ears with the light breeze of my hair.  The intensity developed as the music grew louder from Way Down Wanderers on the Bent River Stage. The lingering haze of the Way I Love You Now grabbed my hips as the music began to sway with me.
"If lightning bugs could be stars in the sky, I'll open up this jar and I'll let your wishes fly
May they all come true tonight." - The Way I Love You Now by the Way Down Wanderers
A tender tug on the blanket of night and there we were, the Friday night surprise.  
The phantom of the Shaw-pera whispered echoes in our ears.  Old Shoe took the stage Friday night and in tradition, we all wondered what album in entirety would be performed.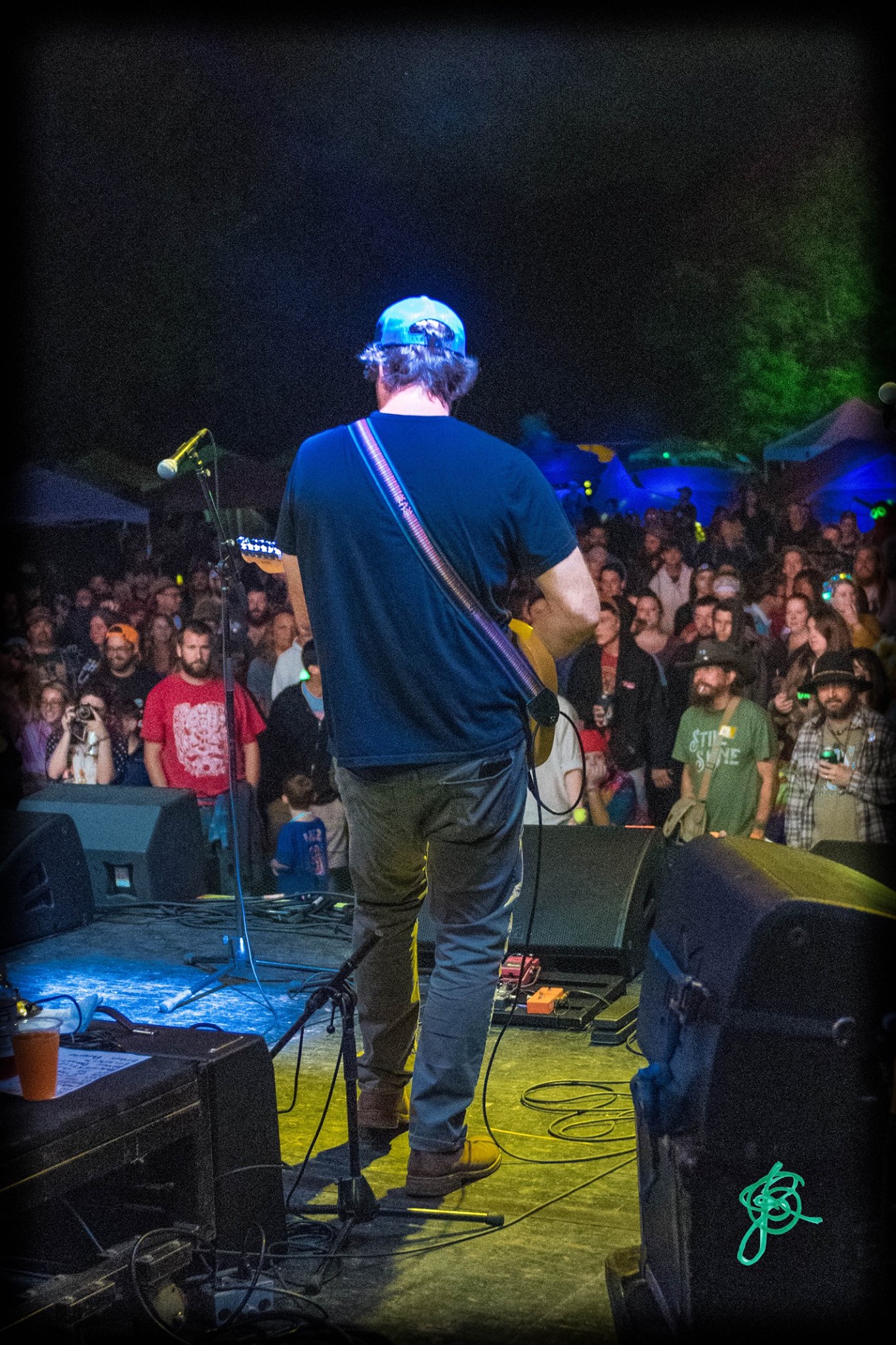 Everyone was tucked safely in and the comfort of the music began. It wrapped its arms around us in the embrace that made you first realize you weren't like the other kids… Pink Floyd. Rumors were circulating that perhaps they would play Dark Side of the Moon. The groove was heavy; the weather was light. As the organ rang out, a  purple mist thick like the Chesire cat came floating from the stage. Joe Day was in command as the call of the wild broke free the slaves and we delighted in the music: the release. Old Shoe's rendition of Pink Floyd's Live at Pompeii employed simple red and blue lights on stage, but the way they were projected led to peaceful anarchy. Dan Hubert on bass hit the crash on the drums as if to say, 'Let the chaos shake off the cobwebs of the real world.' Matt Robinson stepped back strumming his guitar and Joe Day let down his hair. 
It Never Left me, by Old Shoe, is about the weird world we package up inside us. A place where I will always have Pink Floyd vinyl available and a space to sit cross-legged, looking for answers in the music.  It was a nice precursor for the wild ride of Pink Floyd's Live at Pompeii. For so many of us, Pink Floyd was the first introduction to this wide world of hippies. This wide world lives inside my soul now. It will always be a part of my home that I carry with me.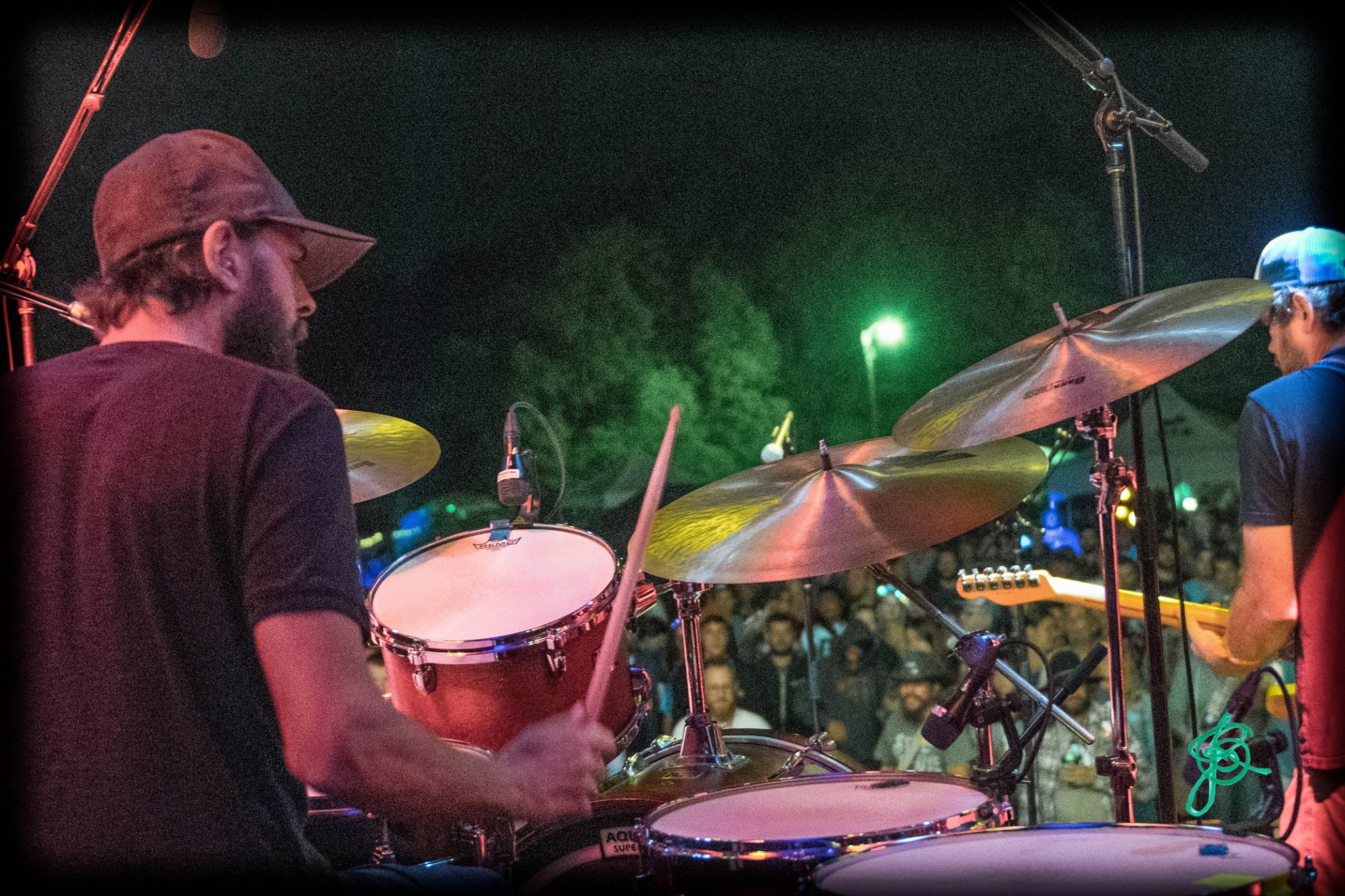 "I left my mountain home, beneath the mountains still. I left home - it never left me."  
When they went into Echoes, we were sure they were playing Meddle.  But then On the Run, Careful with That Ax Eugene…? It wasn't a studio album progression that I was familiar with. A Saucerful of Secrets, Us and Them, Any Colour You Like, One of These Days, Mademoiselle Knobs, Brain Damage> Eclipse, Echoes Reprise? 
Oh Shoe Fest, you rearrange me till I'm sane. Like Alice following the white rabbit, I was mesmerized by what was taking place on stage.  The lights popped some yellow, warm light. Scott Tipping seemed almost comatose in the way that Pink Floyd hit his veins. Then his guitar sings, oh heavens!
"Something in his cosmic art and glowing slightly from his toes the psychic and the nations fly." -  Saucerful of Secrets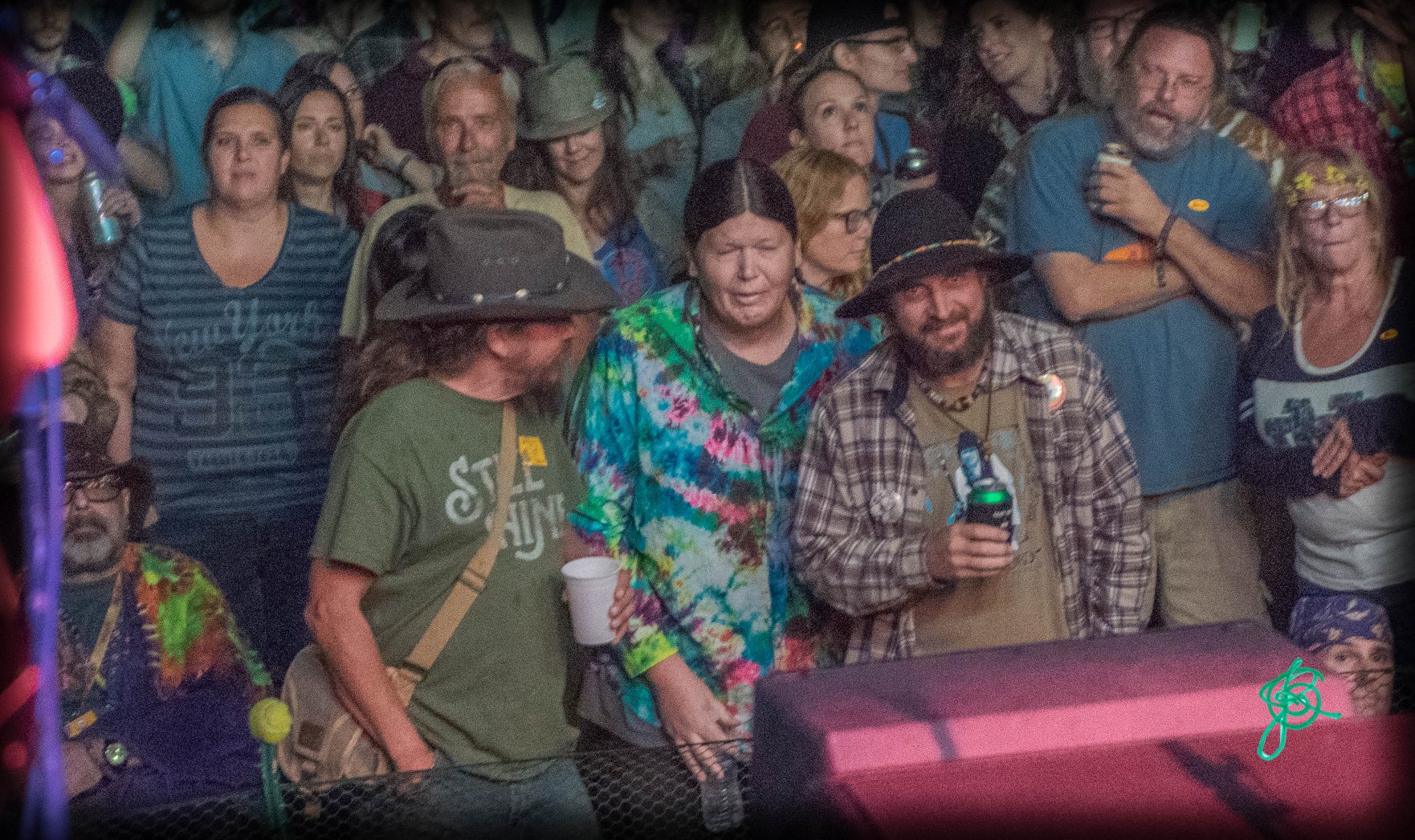 Joe Day finished in falsetto while chitter-chatter hummed in the crowd. I forgot the sax player was still on stage, delirious with delight. Candymakers' Nolan Schroeder added his talents to Us & Them. That's when it got to be a really sexy scorcher! A look back to the rest of the crowd revealed a lot of nodding heads, a lot of folks scared & confused but willing to listen. The sacred heart was open and radiating, oh Shoe Fest; you rearranged us till we're sane.
We all drank the giggle juice when Paul Bolger of Mr. Blotto joined the jam. We made it through Mademoiselle Nobs with majestic pooches in tow. Their tails wagged for a song sung just for them, such good puppers. All the while the extreme patience of the players carried on to keep the time of about a hundred bars before a chord change.  
"One of these days I'm gonna cut you into little pieces!"
He was laughing then she started laughing pretty soon we were all laughing and I felt like the luckiest girl in the world.  Watching the keys send out organs and agents pianos and harpsichords. He was on fire like Captain Trips! Did he add more risers to his rig this year? He sure was high.  Some would say he rose to the occasion.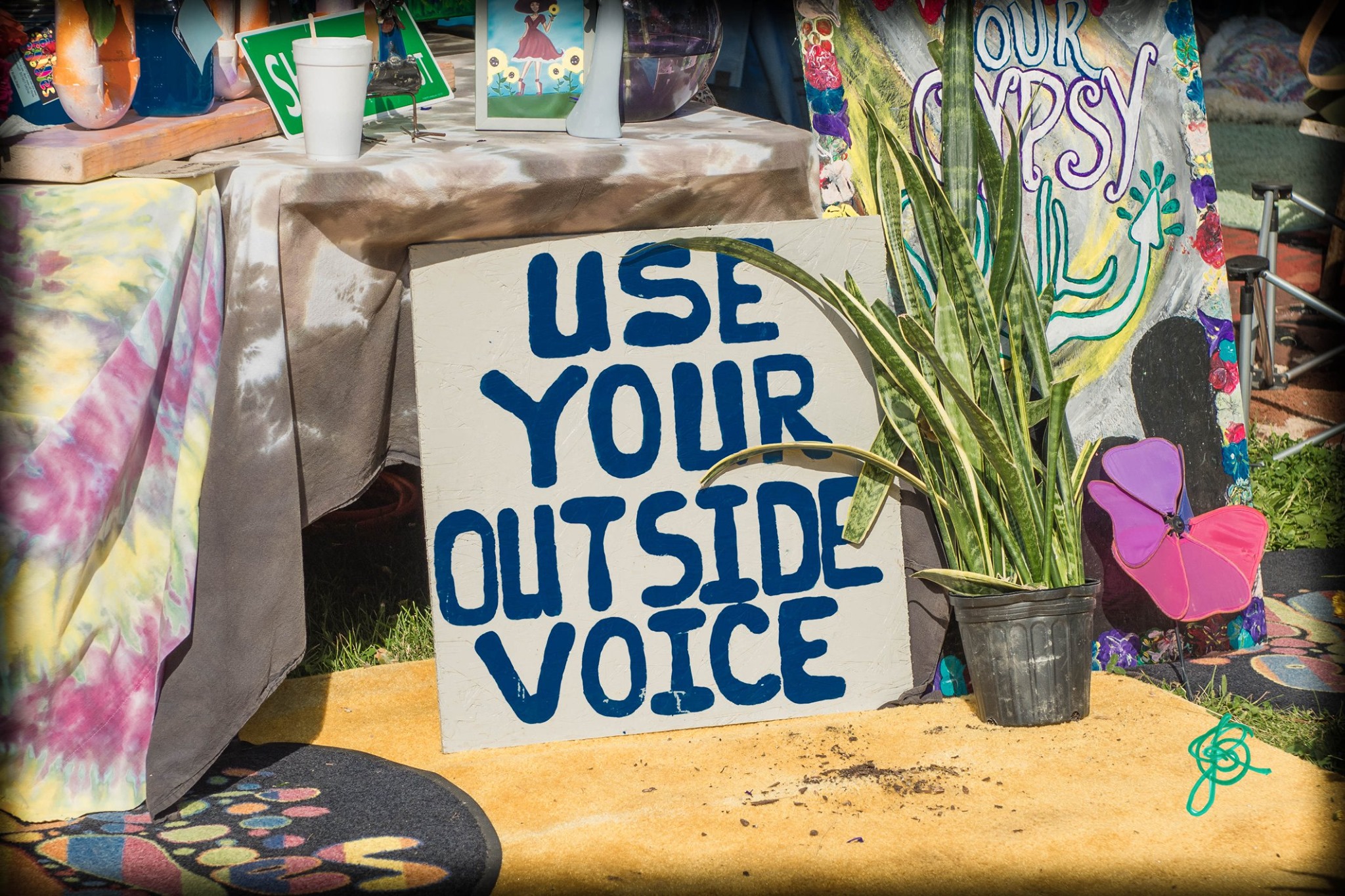 The night ripped on with a raging John Stickley Trio show and more funk than I could handle with a late-night set of The Spirit at 1:15 am.  All that you touch and all that you see is all your life will ever be. I touched my head to the pillow and it felt fine as I floated away into Saturday. I arose to a chill in the air and echoes from beyond.  Was it all just a dream? You still loved me tomorrow dear Shoe Fest. With a nip in the air, we stay cuddled all morning while sipping hot coffee. We took walks through the park to watch the kids play as we smelled campfires smoldering still and songs from campsites to the parking area. Oh sweet autumn days, the beauty of falling leaves was abundant as this festival banged the gong of our collective minds.
While music can't be a competition, the availability for the main stage playing time is limited.  I love the way Shoe Fest dedicates Saturday night to a Grammy winner if they can. Anticipation was growing for the day to unfold and it began with Shoe Fest Shuffle winner Big Lagniappe.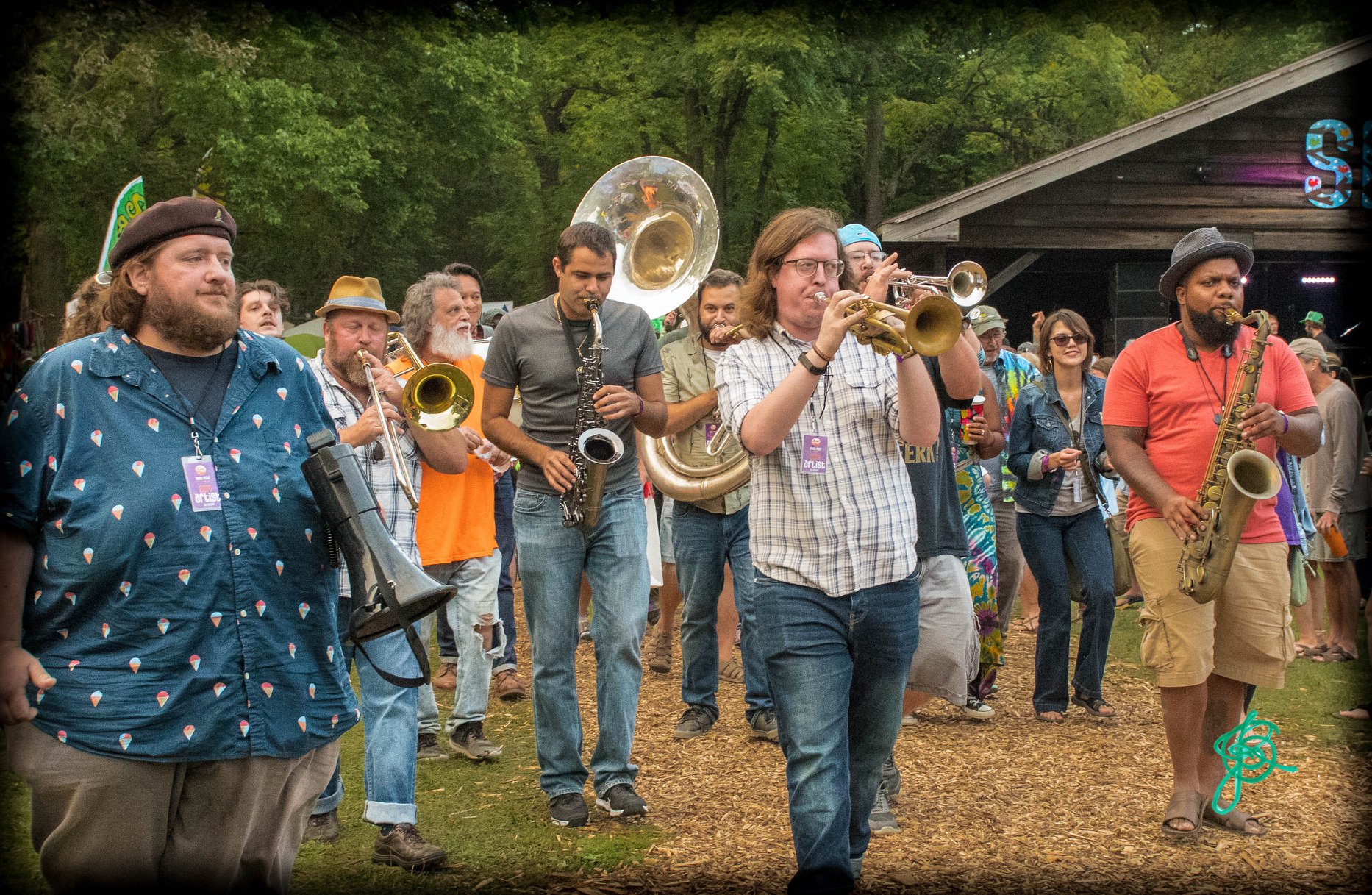 This band stretches beyond your typical New Orleans brass band.  They are blue-collar working men heroes of Joliet, IL. They were the sunflowers of Saturday that Shoe Fest brought to me, how sweet!
What if the promised land was in your own backyard?
Telluride was my promised land, I miss it every day, but when you realize that Bluegrass has expanded so much, maybe the Telluride contests aren't the only contests cranking out Americana classics like GSBG or YMSB.  Maybe the Telluride Bluegrass fest contest isn't the only contest that matters anymore. What if the Shoefest Shuffle will go down in the history books as the elevation station that Telluride is? Seven amazing options that gave way to the one left standing, The Big Lagniappe, pronounced the Big Lag-Knee-Up.  It's better when you kinda yell it, like giddy-up. Lagniappe is a New Orleans French term that means, "a little something more." Ask me why I'm so happy right now and I'll show you a mirror.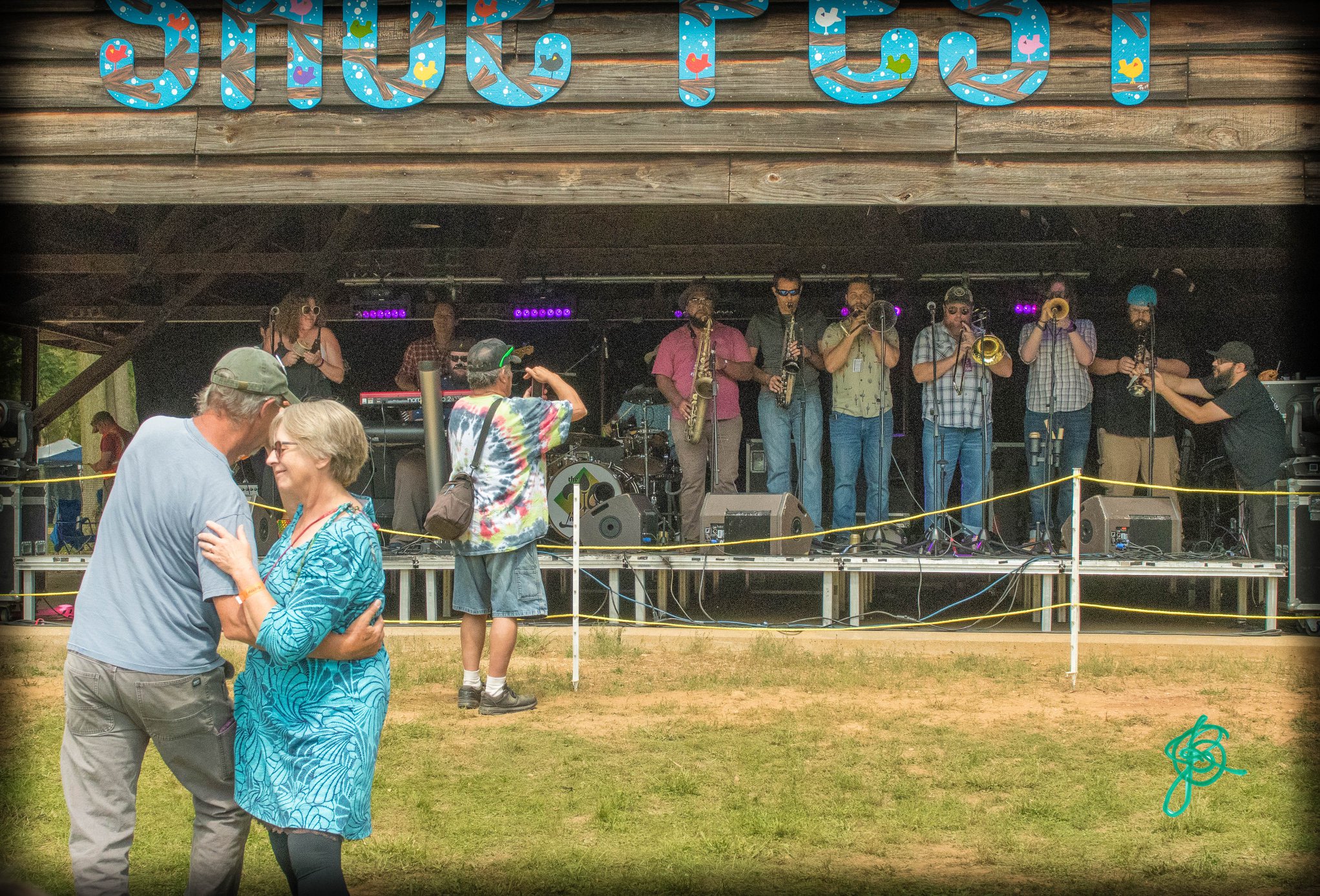 Nothing better than to start the day with you Shoe Fest! That and light calisthenics to get our mind right and our bodies ready for a full day ahead. Love is when the other person's happiness is more important than your own.  Because that happiness spreads, just like the field when Big Lagniappe played Brown Sugar or that stellar version of These Times. The love spread as we danced our booties off. I was sweaty dear Shoe Fest, but you already knew that! 
"Take some time for a spell, and time will tell… ho ha ho ha! (it takes two to make a thing go right)" -These Times, Big Lagniappe
My ears were burning from that guitar solo and adrenaline pumping through my veins. Oh Shoe fest, after launching into our love, we took in Miles Over Mountains and the Bashful Youngens before things got real.  I didn't want to ask because labels always ruin a good thing, but I was beginning to wonder if this could work out between us, you and me Shoe Fest. It takes a lot of love and commitment. There are established norms and this feeling I was feeling, could this elation become our commonplace?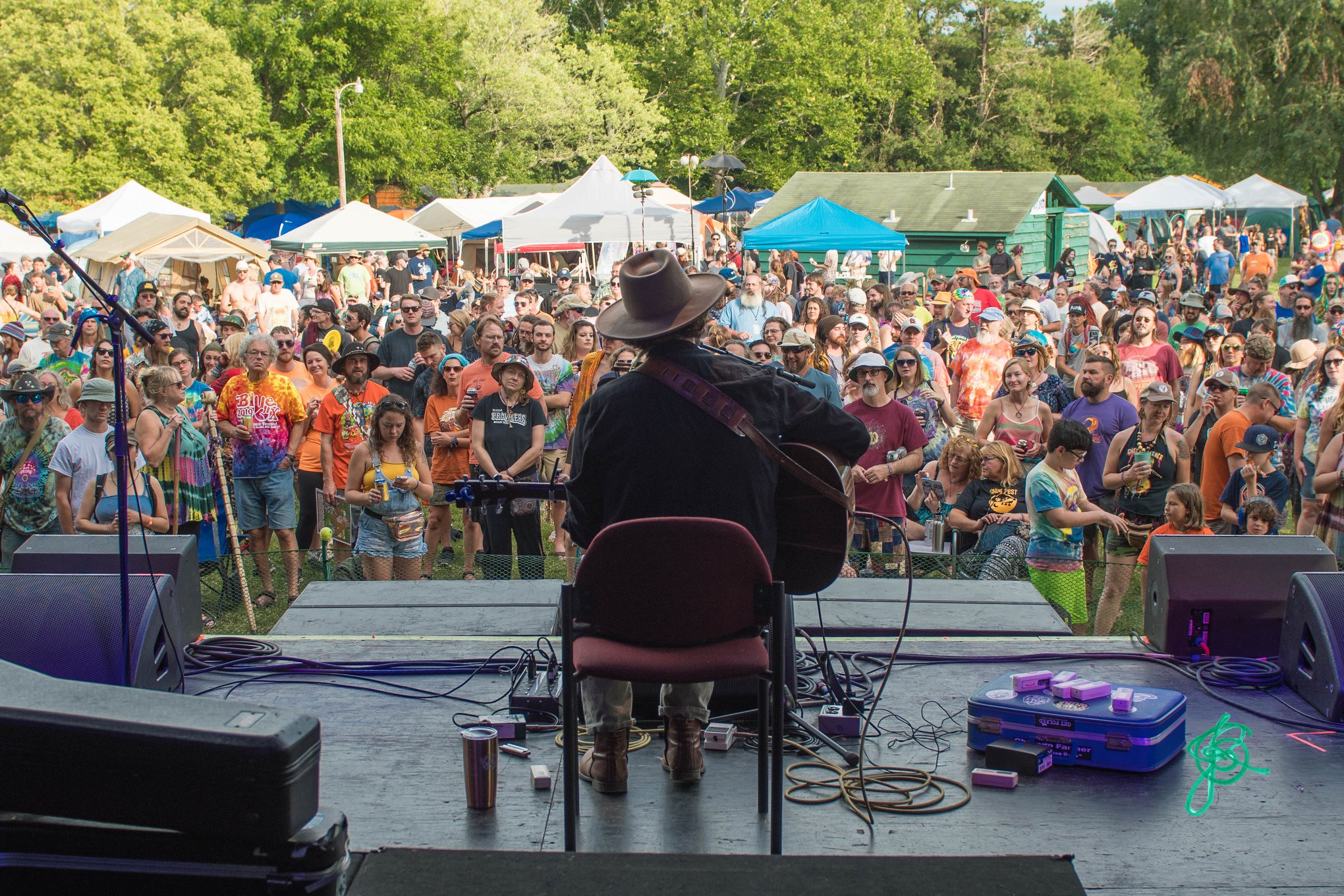 And there he was. He was strumming my pain with his fingers. He was singing my life with his words. Killing me softly with his song, Chicago Farmer really sealed the deal.  The foundation of love is trust. I trust that Chicago Farmer is gonna tell the best stories and rouse the crowd in their hearts and in their minds. I trust that he will continue to play Joliet, Appleton WI, and places like Peoria or Peru, IL. I know he is a man of the people and we stand behind him when we do loudly proclaim, "I don't like no 13 dollar beers!" He told my whole life, with his words. Chicago Farmer has those eyes, those eyes that drink us all in.  He was watching us all as intently as we watched him play. The experience was in perfect harmony.
The weather was gentle and slightly sentimental and I felt like there was this noble thread sewn into the tapestry of our narrative together. Just barely existing in this world, we felt like a part of something wonderful. I dunno, maybe you had to be there. It wasn't like a workplace romance; it was more like a playground love, pure and innocent.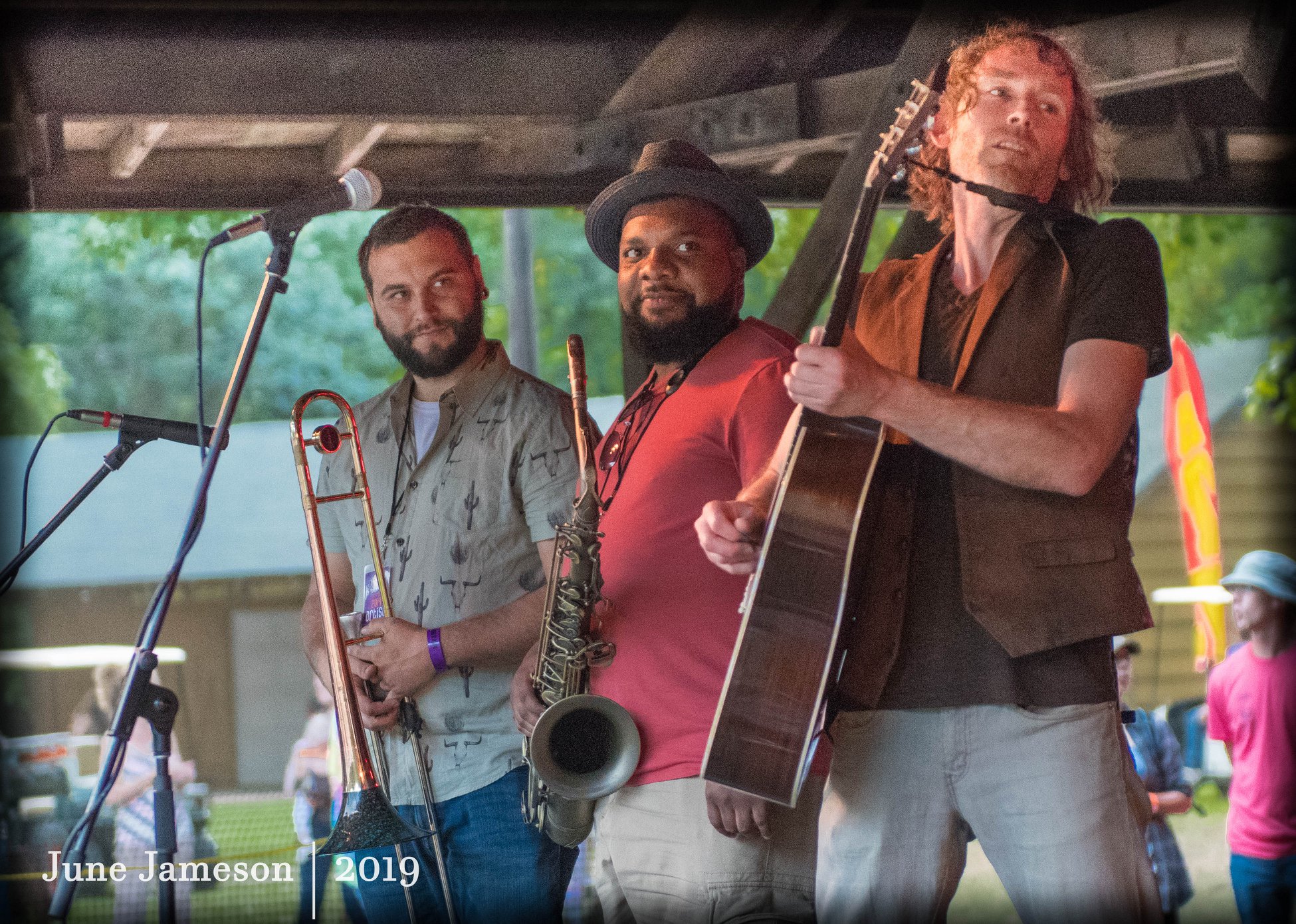 One man gathers what another one spills.  This is what it looks like when all the underdogs stick together. Take my shoes, take my whole life too... cuz I can't help falling in love with you.  Ernie Hendrickson & Citizens of Love carried on this tender embrace as the sun began to fade into the trees making me wonder how all this love came to be. Like a river flows slowly to the sea, darling, so it goes, some things were meant to be.  Ernie Hendrickson has been renewing his love affair with performing live and it obvious that he still loves us. Nobody can ease the pain like the one who hurt you. The palpable performance of Ernie Hendrickson & Citizens of Love's only flaw is that is wasn't long enough to return all the love oozing from the speakers.
Will Cooper on trombone and Ellis Wright on sax from the Big Lagniappe came to finish up the set with Ernie. Todd Snider was set to perform at Shoe Fest on Sunday, but due to the tragic passing of Neal Casal, he canceled. No doubt a bummer, that spirit lived on in Ernie just fine. His set is hard to describe for comparing him with another artist would turn into a long run-on sentence. I'll just say, I see skies of blue and clouds of white, the bright blessed day dark sacred night... and I think to myself what a wonderful world.  When out on the lawn there arose such a clatter I sprung from my love daze to see what was the matter! It was the Big Lagniappe in full brazen brass to lead us to Old Shoe in a great loving mass! We paraded up the field; we walked through the trees, this New Orleans sound was a bluegrasser's dream!
"Ya gotta be honest when you're playing music.  If I feel it, I want to play it." Ellis Wright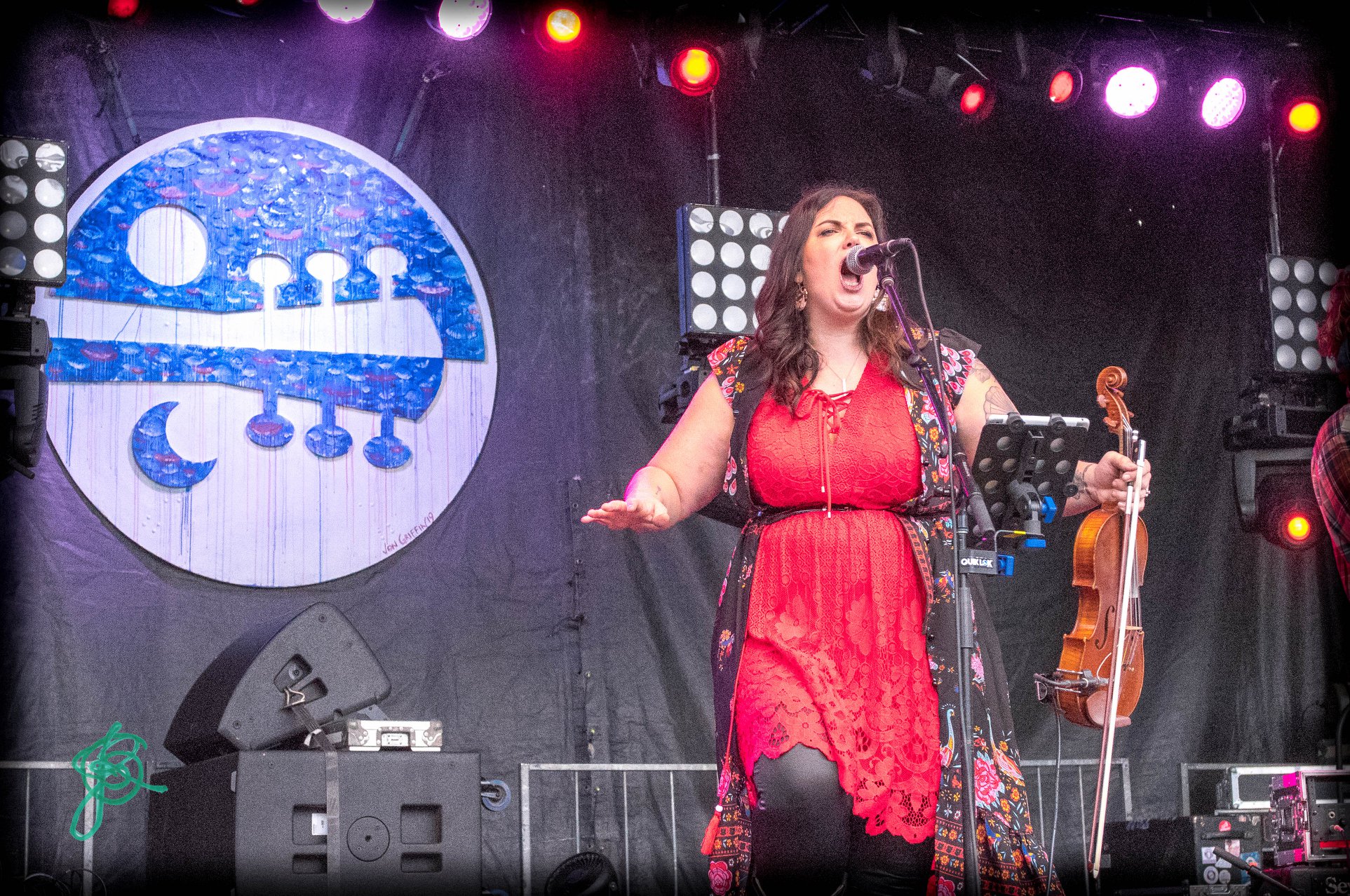 We played all night to the sounds of Old Shoe, Edward David Anderson's Black Dirt Revival, Sam Bush and the Mighty Pines with honest abandon and hearts on fire.  Artist at Large Allie Kral joined Old Shoe on stage to rip off the sun from the sky because nothing shines quite as bright as she does. The fire dancers came out to play and I tried a Shoe Brew session ale by Bent River Brewing as I sipped in the scene.  The Cuervo Gold, the fine Columbian, made tonight a wonderful thing. Please take me along when you slide on down. There was a smooth Steely Dan vibe happening as Old Shoe played their version of Sweet Malinda. I want to hold you tight tonight too Shoe Fest.
"Here's a Dylan tune that I learned from Miss Susan Tedeschi" - Allie Kral
When the tears start rolling from a song you know this is what life is all about. With so much sadness in the everyday world, this prayer reached beyond Camp Shaw and into the air wherever there is love. Oh Shoe Fest, if this can't last forever let this prayer last at least.
"No matter what happens to me, No matter what my destiny, Lord protect my child."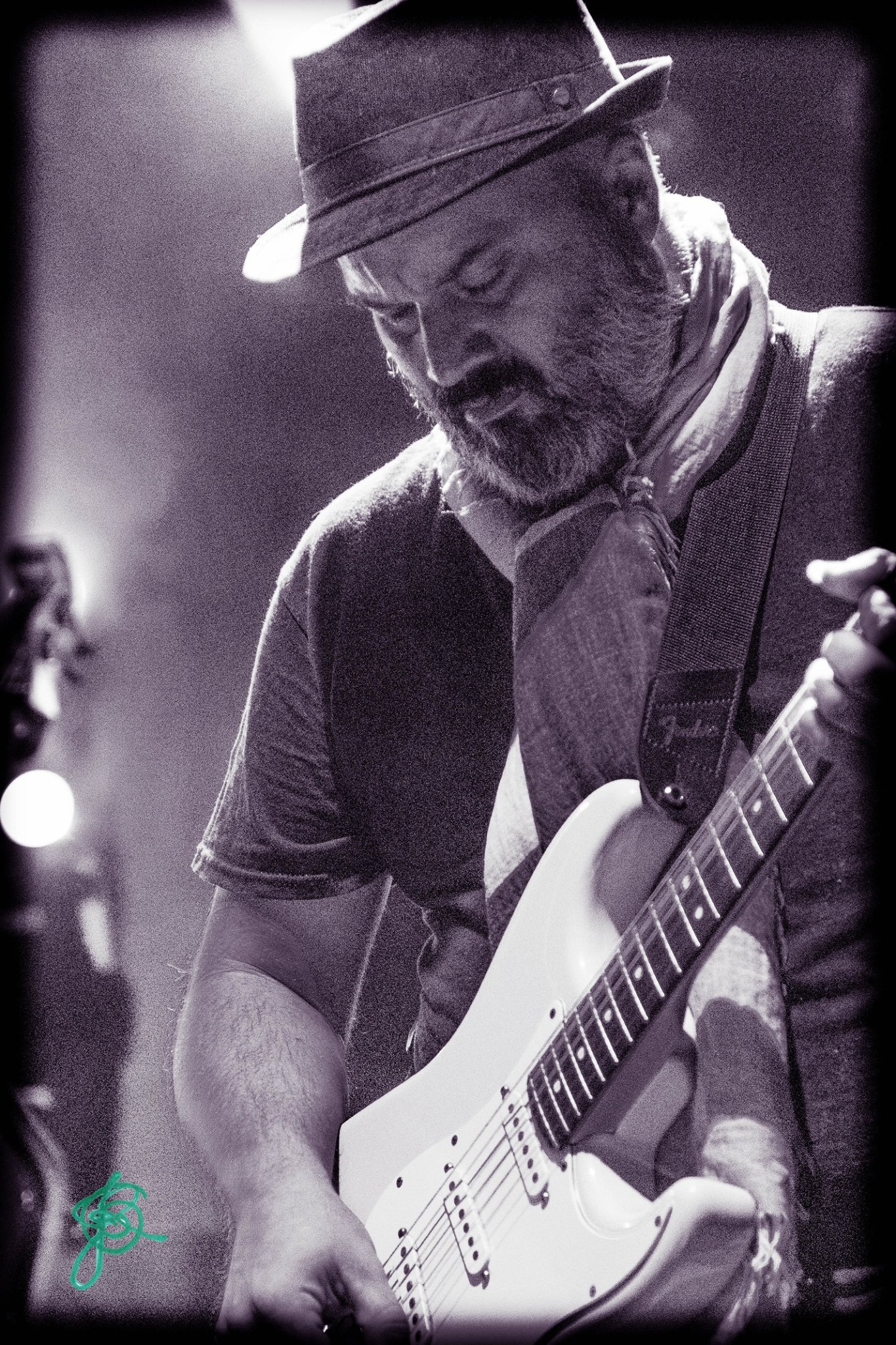 Our silhouettes sang together dear Shoe Fest, we shall meet in the shadows wherever this song reaches, it's just beyond sight. It's something that we'll always feel together in faith.  With Scott Tipping's resounding parallel on the guitar, may this moment last forever? I want to sail away with you Shoe Fest. Allie Kral must be a siren. Singing by the riverside, her songs lure boats to crash at her shoreline. She is dangerously beautiful and this moment makes me mad in all the best artistic senses of the word.  Mad for life, mad for living it, mad for passion, mad for gratitude.
And in a flash, Old Shoe finished off their band host duties with my all-time favorite Dust Bowl. They can't miss a chance to have Allie sit in on that!  Let's borrow time from tomorrow Shoe Fest, just a little bit, cutie. All the flutters wouldn't stop now as we headed down for another long time treat, Edward David Andersons's Black Dirt Revival. Don't call it a comeback, he's been here for years but this revival was fresh for our enjoyment.  Something in the timing of it all begs to be rolled around in. The field where everyone stands up but no one gets a better seat is perfect for just closing your eyes and enjoying the ride. We heard Rock n Roll move our gypsy souls when Allie Kral and Scott Tipping jumped up to do some Backyard Tire Fire tunes. They played the Rolling Stones' Miss You and it wasn't so much about who was playing as who was on stage.  We drank it all in. This summer taught us all that this moment may never come again. Enjoy it while you can. Plus, everyone was dressed to kill. There was a lot of love to look around at.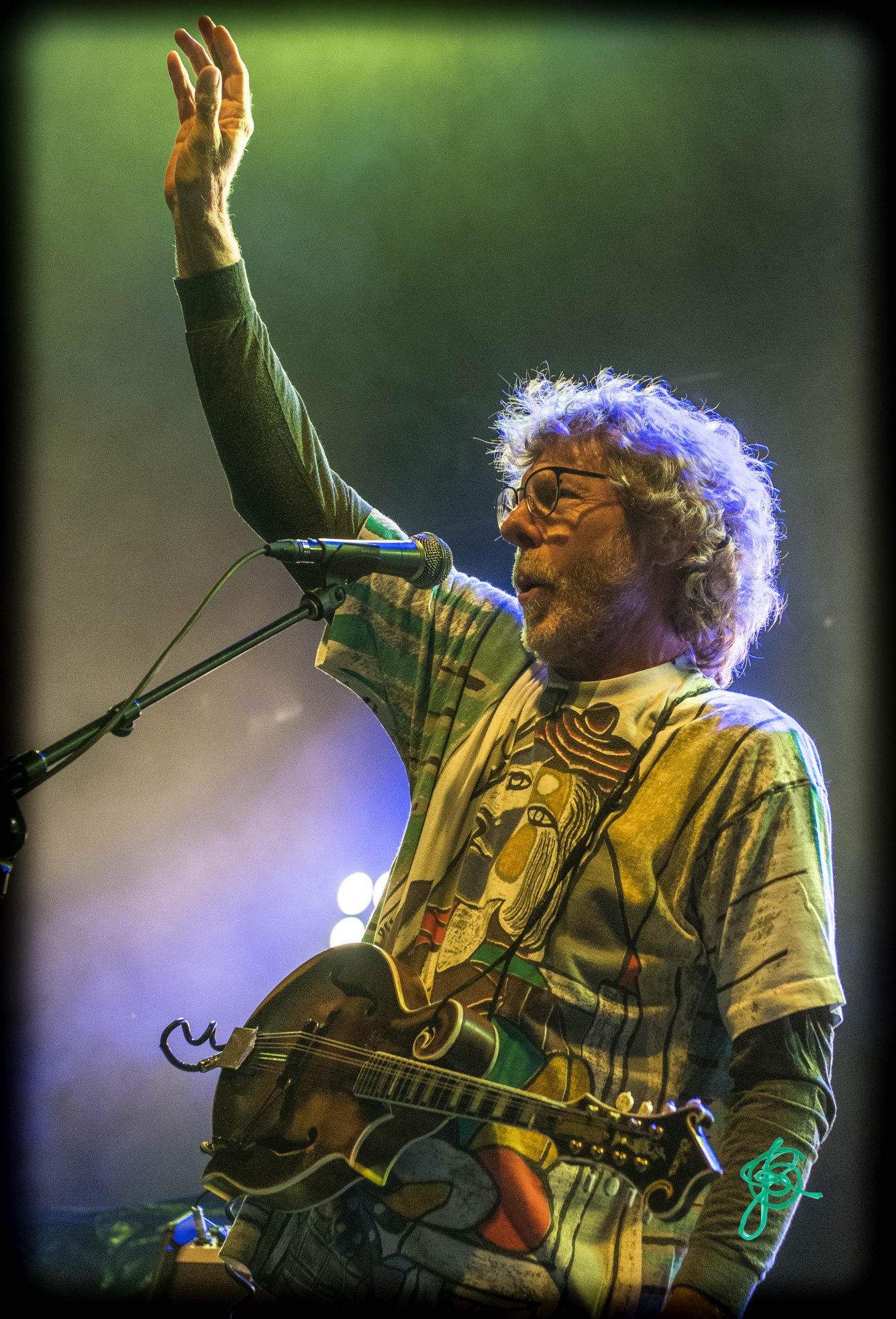 That took us home to Sam Bush. You show up for the people that matter the most to you. Sam Bush had a smile that said so glad to see you again.  There was hardly a newbie in the crowd but Saturday night we got him all to ourselves. No massive crowds to fight, no conflicting schedules to rearrange.  It was just us and Sam Bush. His seamless transition between old-time and new grass reminded us of the beautiful world we live in. You were the gift of the present and that present is pretty sweet indeed.  He braided up all the loose ends as a troubadour leads the royal court's attention. When he played One Love a collective hug between us all filled my heart like the sweet memories of good times gone by. Once a long long time ago, Cornmeal played that song for me on my birthday. How sweet of you to remember Shoe Fest.  Your thoughtfulness knows no bounds!
On our last day together Shoe Fest, I began to realize why this love affair can only last one weekend.  Years of festival wisdom have taught me that there are other roads to travel. We can't sustain this way of life forever but we sure can take this with us to whatever comes next.  Most need quiet by sun and candlelight. I strive to love thee freely as men strive for right. While we did not bring our dogs or our kids, we joined the tribe of kiddos jamming out to their own stage starring Mr. Dave.  There were kids percussion workshops where they made drums and shakers. There were kids doing Kung Fu and lordy were there bubbles, bubbles everywhere. I've come to realize that bubbles are like fireworks but they're kid-friendly. They amuse kids of all ages just the same.  The only thing non-alcoholic as we strolled into Sunday Brunchtime at Shoe Fest was in a sippy cup. The staff really did a great job to babysit even the big kids.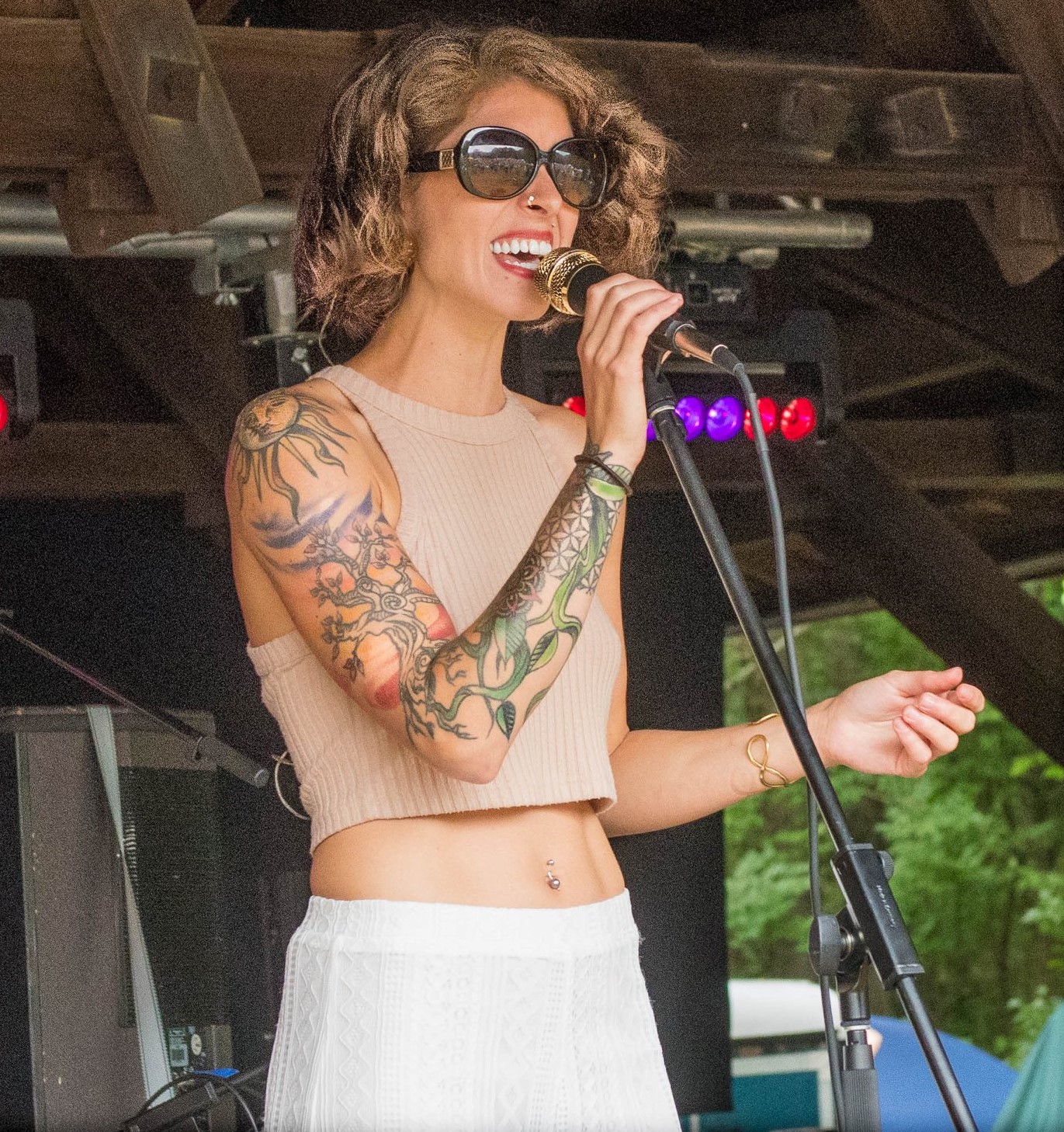 We plogged without actual jogging.  The green team made it look so fun to keep the grounds clean and there was enough time to do it.  Sundays were made for strolling along, strawberries, champagne, and Kara Cavanaugh. Kara has been sitting in with Dead friendly bands all around Chicago land but it is such a treat to see her do her own thing.  We had Shoes for vases filled with "must have been" roses. The sun was strong but not hot and she sang sweetly doing her Erica Badu the way she do. The grounds were so pretty on a Sunday and so was the line-up.
Bill Grady took it from there, showing us what a true gentleman sounds like.  There were sit-ins and songs being shared on stage as a regular occurrence by now.  The picking parties had taken time out to be inspired as we all stood together shoulder to shoulder.  Each moment was precious and fleeting as I grew more aware of time's ticking clock. Althea Grace returned this year, she rocked with Janis Wallin again too.  There is something about her voice that reminds you that music has the power. Each time you love, love as deeply as if it were forever.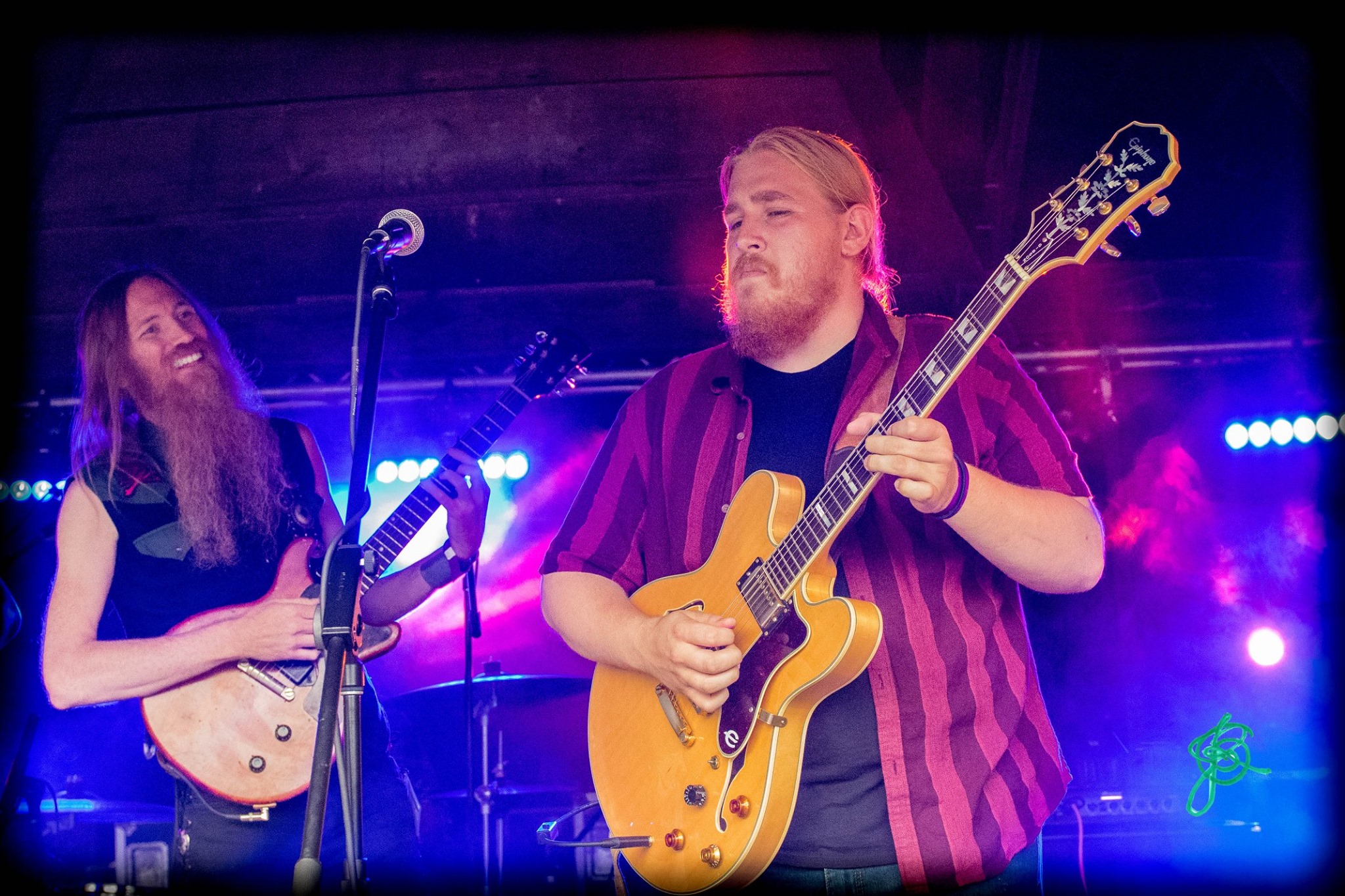 We had our last meal together on Sunday Shoe Fest.  I will never forget your cheesy goodness and how the sauce ran from my chin.  Even though Todd Snider had to cancel, we still did it up the best way we knew how in those last hours.  Soule Monde gave us a Herbie Hancock fresh form the Vermont countryside set. Mr. Blotto reminded us that just like me, they long to be, close to Shoe Fest. What used to be Blottopia has been reborn. Excelsior! Sir Arthur is right here and if he plays that fiddle right, he may be the one to pull the sword from the stone.  When we grabbed a seat at Arbor Creek's set, there were no seats to be had! Maybe instead of getting above it all, you just need a level playing field.
If the sun refused to shine, I would still be loving you. Mountains crumble to the sea, there would still be Arbor Creek and me.  That David Drilling! Barefoot and barely breaking a sweat, his southern soul made me proud to be from Joliet. I'm not quite from Joliet, but the point is that no one says that.  No one admits to being from Joliet but more and more I find myself emersed in Joliet's budding art scene, thanks in no small part to Arbor Creek. Members of the Big Lagniappe can be found bartending or working the door at local clubs there.  David Drilling can sit in with anyone but to see his band on fire shredding the blues… well, shoot. We all had the blues.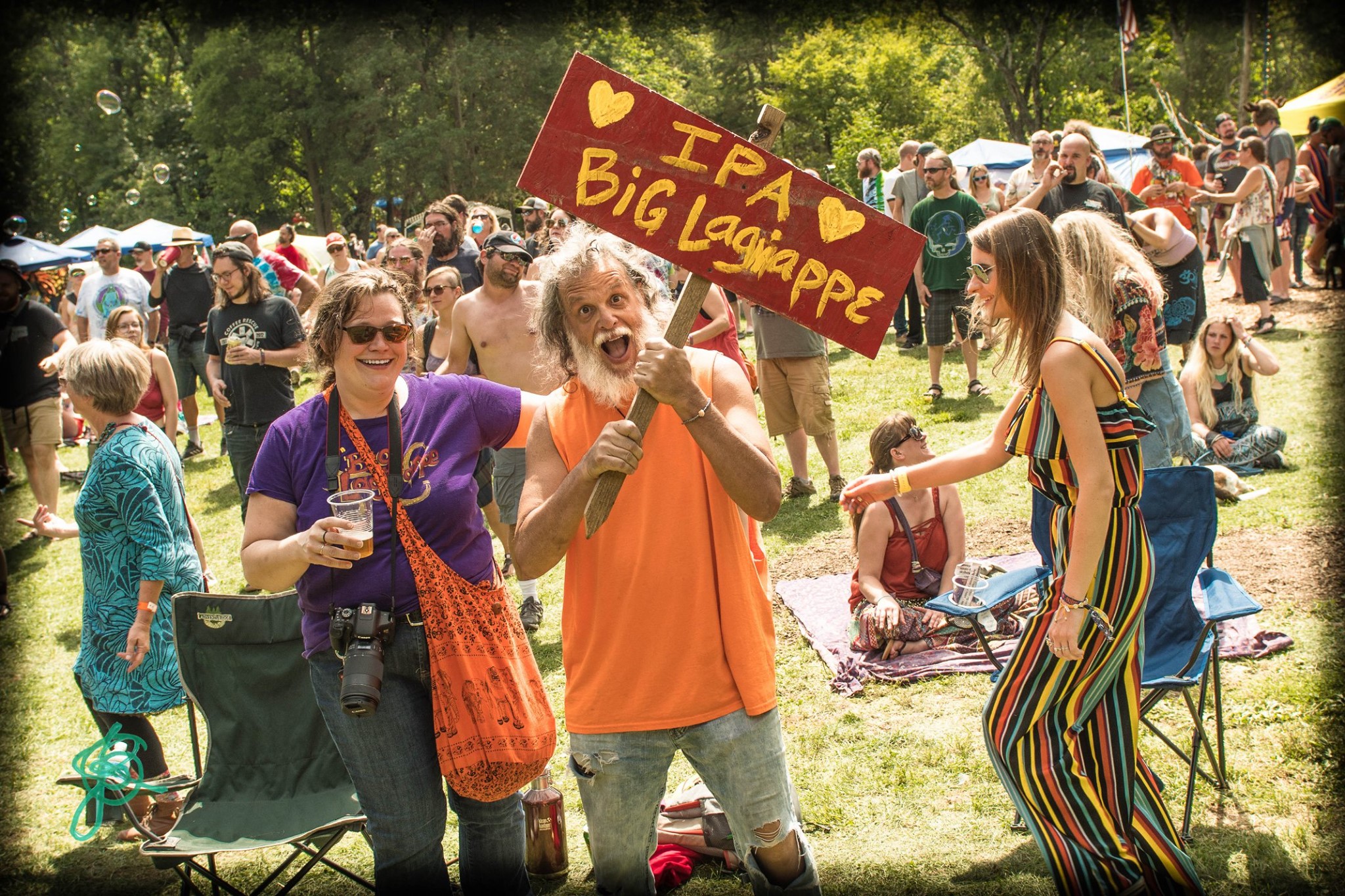 To fill in the Todd Snider's slot, Allie Kral grabbed Jesse Ferrar from Old Salt Union, (who drove up from St Louis just to help out. Bless his heart!) Gerard Erker and Neil Salsich from the Mighty Pines.  She rode the wave of the blues in the way some ladies do when she announced, " So I was trying to think of what to put on the setlist for this I realized there is a big hole in this festival. And that hole is 90's R&B." So she did what she wanted to and started with a fiddle shreddin' Steeldrivers song and then gave us a folk'd up version of Alicia Keys' Fallin' followed by Always Be My Baby by Mariah Carey.  She is a siren alright. When she did her unique take on Valerie by Amy Winehouse, I knew what I had to do. I had to be me and walk away before I fell deeper in love with you Shoe Fest.
When you put Lil Nolan (young Sir Aurthur of the fiddle) on the chair and played Two Hits and the Joint Turned Brown I knew that the future of Shoe Fest is very bright.  The crowd chanting "You're doing great" was the opus, the magnum opus. The truly unplanned moments that happen at festivals will come up and tattoo your heart and soul. So simple yet you won me over again Shoe Fest 2019.  We all progress further forward when we recognized how resilient and striking everyone around us was.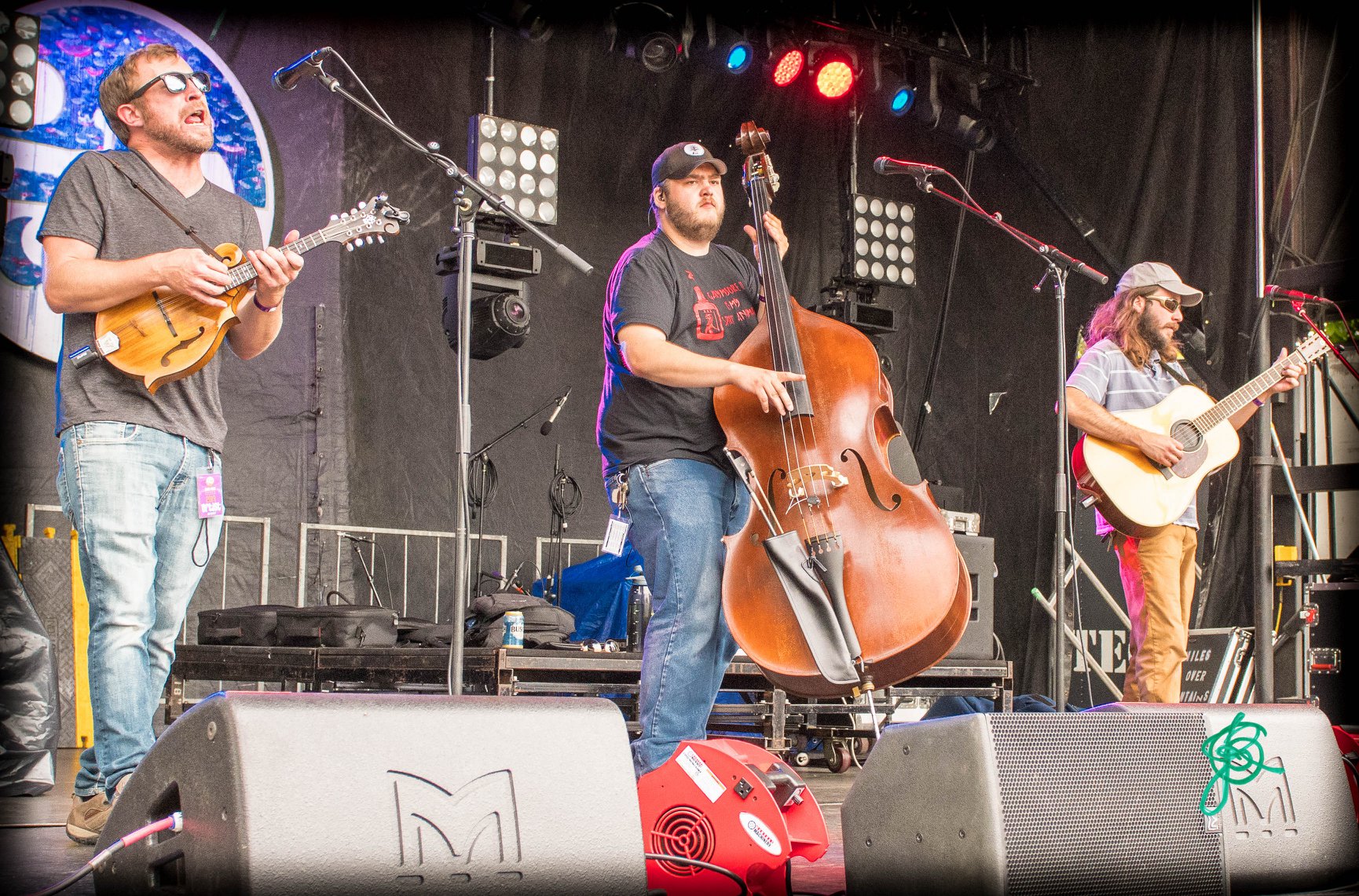 I took home my giant button as a souvenir of the time spent with all my friends, my henna won't wash off right away but my sweet & sour pickles are no more and I can't get a Big Ass Wrap for supper tonight.  Oh sweet Shoe Fest, you are the improvisational act of my dreams, one where everyone screams with delight and no one knows what the night will bring. You give us so much to be thankful for because it comes back around in fields of flowers with fire flow artists and other funkateers flying. I hope you don't mind that I wrote down in the words, how wonderful life is with you in the world.
If you weren't there then the only flaw was your absence.  Though we gotta say goodbye for the summer, baby I promise you this I'll send you all my love in a letter, sealed with a kiss. So don't forget who's taking you home and in whose arms you're gonna be... Darling, save the last dance for Shoe Fest.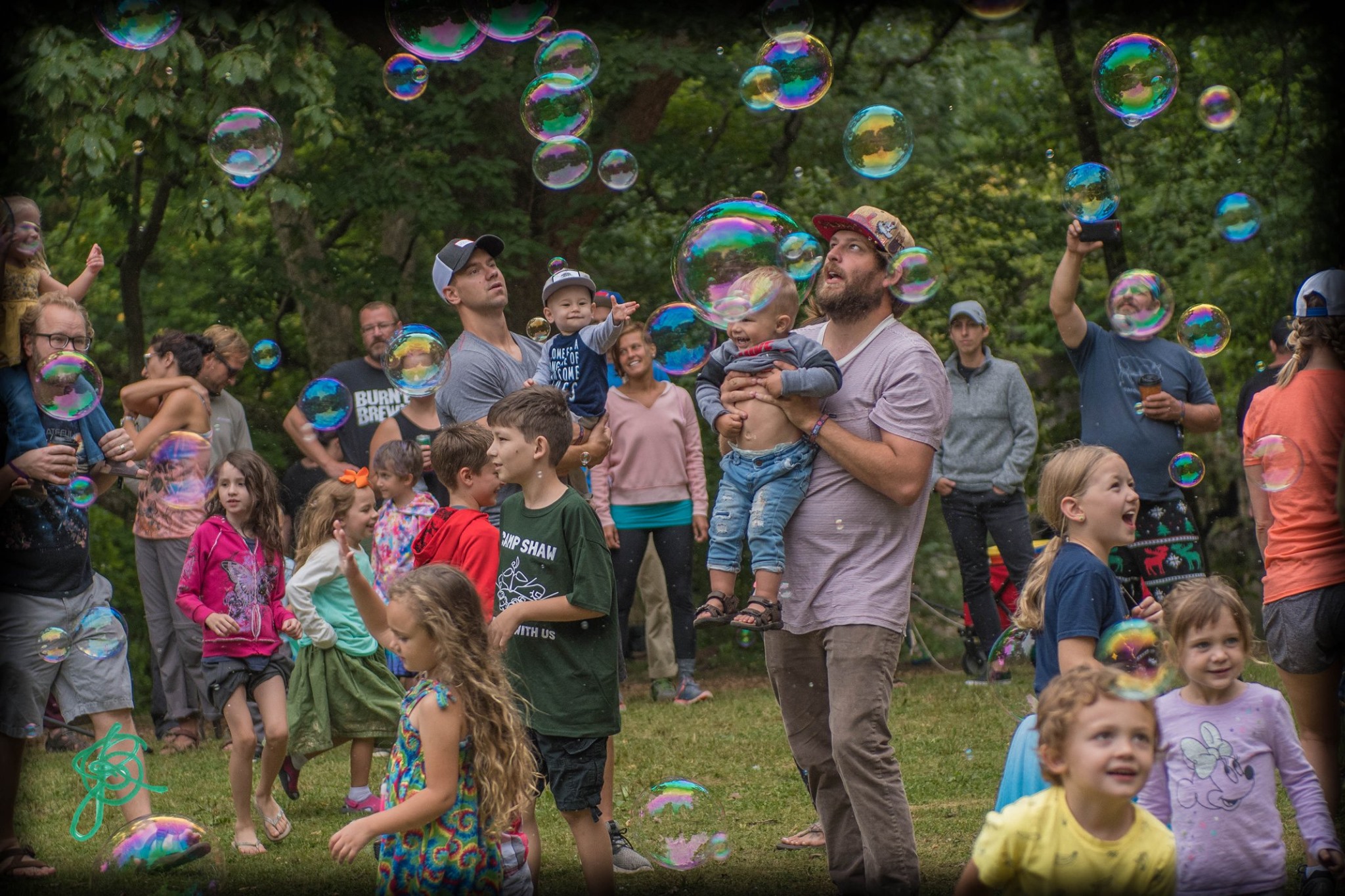 Check out more photos from Shoe Fest 2019.