Akron, OH country-roots group The Shootouts will make their debut performance on the Grand Ole Opry on February 24. The rite of passage showcase comes on the same date as the release of their third full-length album Stampede (via Soundly Music) - PRELINK.
In addition to playing on the hallowed stage that hosted many of country music's greats, the band recently announced additional Nashville-based events and happenings for the week of February 24: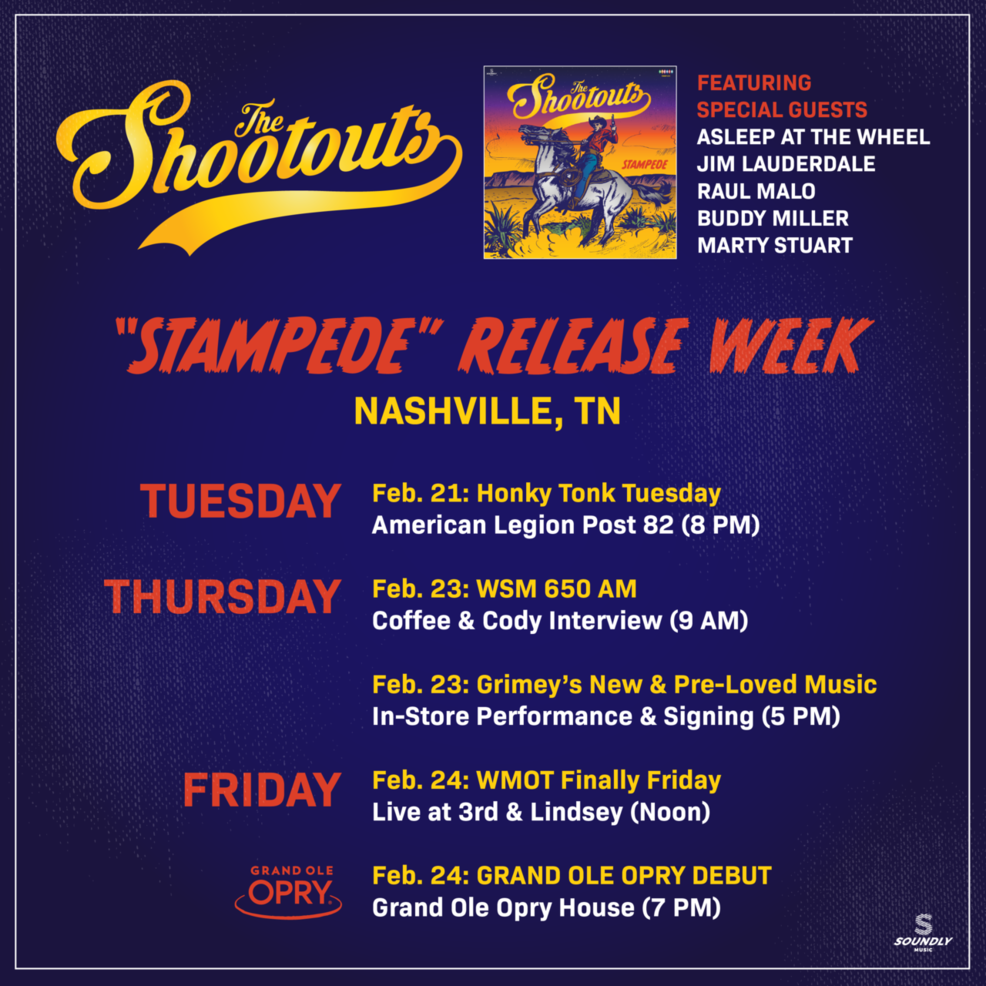 Stampede is produced by Ray Benson and is packed with appearances from Raúl Malo, Marty Stuart, Jim Lauderdale, Buddy Miller, Benson & members of Asleep at the Wheel. The band released a new video for "One Step Forward":
Other available singles include "Better Things To Do" (featuring Marty Stuart) and "I'll Never Need Anyone More" (featuring Raul Malo). The album is currently #15 on the Americana Music Association Album Chart.
The Shootouts' sound is reflective of their Northeast Ohio Rustbelt roots, steeped in many familiar things but still its own: an energetic fusion of Americana, honky tonk and Western swing that Shootouts fans often refer to as "country music for people who don't like country." And while their hometown of Akron, Ohio – the city that produced the Pretenders, the Black Keys, and Devo – isn't a place normally associated with country music, these influences are as integral to their sound as those of the country music greats.
The band will take their high-energy stage show on the road with a full-scale spring 2023 tour in support of Stampede.
Upcoming 2023 Shootouts tour dates are below and can be found here:
2/18 – Memphis, TN – Ameripolitan Awards
2/21 – Nashville, TN – Honky Tonk Tuesday Night – American Legion Post 82
2/23 – Nashville, TN – Grimey's in-store
2/24 – Nashville, TN – 3rd & Lindsley – WMOT Finally Friday (noon)
2/24 – Nashville, TN – Grand Ole Opry House (7 PM)
2/25 – Knoxville, TN – Barley's Taproom and Pizzeria
2/26 – Sparta, NC – Muddy Creek Café and Music Hall
2/28 – Richmond, VA – Get Tight Lounge
3/1 – Greensboro, NC – Flat Iron
3/2 – Chattanooga, TN – Cherry Street Tavern
3/3 – Tupelo, MS – Blue Canoe
3/4 – Merigold, MS – Hey Joe's
3/5 – Decatur, GA – Eddie's Attic
3/7 – Jackson, MS – Duling Hall
3/8 – Galveston, TX – Old Quarter Café
3/9 – San Antonio, TX – The Rustic
3/10 – Houston, TX – The Rustic
3/11 – Dallas, TX – The Rustic
3/12-14 – Austin, TX – SXSW
3/18 – Massillon, OH – Lions Lincoln Theatre
3/24 – Buffalo, NY – Sportsmen's Tavern
3/25 – Columbus, OH – Natalie's Grandview
3/26 – Grove City, PA – Big Rail Brewing
3/31 – Chicago, IL – Carol's Pub
4/1 – Newport, KY – Southgate House Revival
4/29 – Youngstown, OH – Birdfish Brewing
5/10 – Goshen, IN – Goshen Brewing Company
5/12 – Grand Rapids, MI – Tip Top Deluxe Bar & Grill
5/13 – Nashville, IN – Brown County Playhouse
5/19 – Thomas, WV – The Purple Fiddle
5/20 – Brooklyn, NY – Skinny Dennis
5/24 – Washington, DC – Pearl Street Warehouse
6/8 – Cleveland, OH – East Shore Park Club Concert Series