This past weekend, Shadows Ranch, a wooded valley flanked by two steep mountain sides a stones throw away from Georgetown, Colorado was transformed from a tranquil hidden gem of the Rockies into what can best be described as an energy center. On paper Sonic Bloom is a music festival, but in the flesh (so to speak) it is a platform for expression and a point of dissolution of the boundary between artist and audience. 96 hours of live music in a 68 hour time period, 78 musical performers (featuring heavy hitters such as MALA, VibeSquaD, Zilla, Random Rab, TIPPER Sound Experience and EOTO), and one of the most welcoming and unassuming audiences since that of the Grateful Dead came together to combine music, movement and minds, culminating in some sacred group consciousness, a spiritual unification.
Tents and tarps and little camps set up with chairs and grills and tables were scattered in high concentration around the lake and on the banks of the river in the treed valley. Festival goers filled in steadily throughout the day on Friday, hauling backpacks and coolers and sleeping bags, speaking in anticipation about the music they were psyched to see, setting up camp and slowly making their way toward the stages. Vendors were set up, selling their wares; drinks were flowing at the bars and there was some fabulous food options.
Both Main Stage and the smaller, though equally bass heavy COdome filled the valley with beats, having an echoing effect against the mountain sides. Interstate 70 was close by, and could be seen through the trees at the campground, but you couldn't hear it to save your life above the music.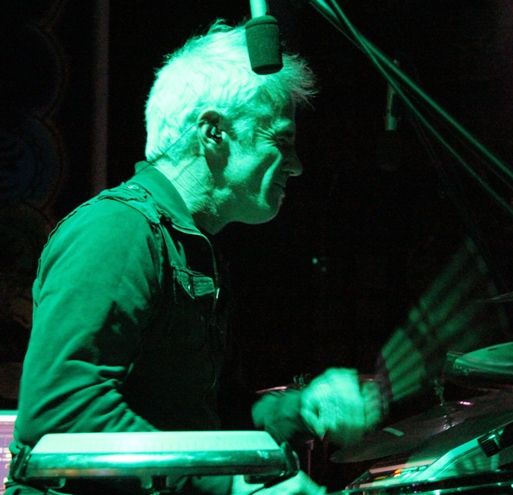 As Friday was likely a work day for most, the venue didn't start to really fill up until dusk. By nature, fans of DJs and Electronic music are nighttime folk, and as the night drew on, the audience at the stages grew. Friday packed a great deal of incredible artists in from afternoon clear into the morning.
Both the Main stage and the smaller COdome stage across the river had their first acts playing by about 5pm on Friday. Colorado's Ishe lit it up behind the DJ stand on the Main and warmed up the crowd for Eminence Ensemble who came in with a full arsenal of instruments providing rhythm for various hula hoopers, people flipping devil sticks, twirling long-tailed weighted sock type things and generally employing other virtual inanimate dance objects, as well as each other. Colorado supergroup Zilla came in strong (for their reported only summer festival appearance) after Michael Travis solved his laptop technical difficulties (which resulted in an extended set by Human Agency). Marty Party, Break Science and London Dubstep pioneer MALA threw down tuff for the party people, clear into the next day.
On Saturday the crowd was visibly larger earlier in the day. The music began earlier with MTHDS and Metamorphic on the Main Stage and COdome, respectively. The dance spaces were fuller, the food lines longer, and more people in general were strewn about the venue. Women practiced yoga along side groups of folks sitting in circles on the banks of the pond. Visual artists including Launchpad, Michael Garfield, Launchpad and Rae Vena set up easels and painted while other artists painted on the bodies and faces of willing human canvases. There was even a tent where you could get airbrushed tattoos.  A meditation area, complete with a 4x8 zen garden provided an area of relaxation and reflection. In addition to meditation shrines and areas of rock and twig art, festavarians consistently added to the art throughout the weekend, whether by building rock cairns, donning get ups that were art in themselves or painting, every individual had the opportunity to express themselves through various outlets.
J Wail & Chuck (Morris, Lotus) busted out an impressive set at the appropriate 4:20 time slot, melding their special blend of acoustic drums, electric guitar, loops, samples and deep beats, including a resonating remix of "Boombastic" by Shaggy and a Lotus cover to close out their set. A small stage attached to Main Stage showcase a variety of hula hoopers, belly dancers, fire dancers and generally sensual movers alongside the musical performers the entire weekend; in case the musicians were ever "not much to look at," crowd members could always turn their heads slightly to the left for absolute physical beauty. Performing artists Lunar Fire, Meghan The Kat, Tammy FireFly, and Deb Rubin greatly enhanced Sonic Bloom.
Something needs to be said about the security at Sonic Bloom. They all did a fine job of keeping the peace and being hospital to festival goers. The crowd was low maintenance, and security was never even in the vicinity of overbearing. A testament to the fact that people can govern themselves, and authority is in place to serve and protect. A fine job on both ends!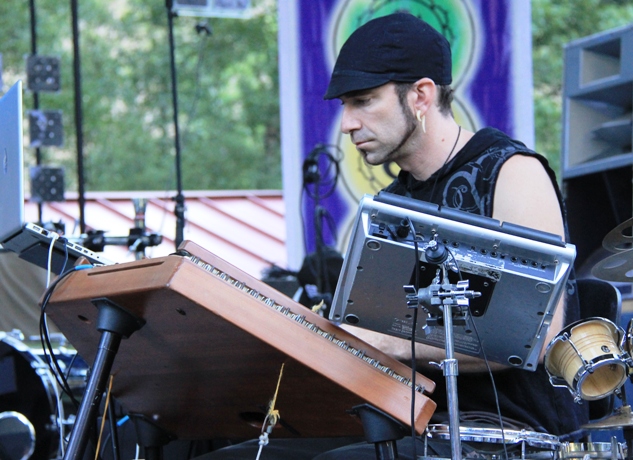 Over the three days there were a plethora of workshops and discussion groups going on. Everything from yoga to edible herb walks to talks on Unified Field Theory and Practical Alchemy. A discussion entitled "Surfing the Shift: 2012 and Beyond," facilitated by Michael Garfield and featuring a panel consisting of Adam Apollo, Alaya Love and Jamie Janover had talk of Jedis, space stations, alien abduction, and experiences with unicorns, dragons and mermaids. And if this was all a bit hard to comprehend, Janover provided less "fantasy"-based interpretations, including some eloquent words on the subject of the evolution of technologies spanning from the Renaissance period up through the Computer Age, and how the change associated with the various ages brings concepts, ideas and in turn revolutionizes knowledge and ways of life at ever increasing speeds. Trying to paraphrase Janover falls short of hearing him speak in person. He is one intelligent, down-to-earth mother-fucker.
The music on Saturday kept coming in force. Nadis Warrior followed by Janover, Boulder's Octopus Nebula, David Starfire, ServOne, Omega, TIPPER Sound Experience and EOTO, VibeSquad, Heyoka, and Random Rab getting the crowd pretty close to breakfast.
Sunday was a little more like Friday. Two nights with little or no sleep, especially if you're into the dancing thing, finally reared its ugly head. Hangovers surely factored in as well. The first acts came on around 2:30 and the venue began bustling noticeably more each hour. Lots of campers took the time to pack up camp and haul their things to their cars before cutting loose for the final day. Tatanka started off a day followed by (among many others) LYNX, TIPPER Sound Experience, An-Ten-Nae. SPL closed out Main Stage sometime after 3 am, with Take rocking the COdome until sometime around 6.
A fabulous gathering of some of the best musicians in the electronic music world, with a stout showing of local talent. Nestled in one of the best obscure venues in the state. Thanks to all who came out, observed and partook. The word on the street is Sonic Bloom has secured Shadows Ranch for the next three years. See ya'll next year!
Check out more photos from Sonic Bloom 2011.