Deborah Grabien was part of the music scene long before she ever recorded a note.  At the age of 15, she was hanging around the Dead's dressing room at Fillmore East, the guest of her 9-years-older rock journalist sister, who introduced her to Jerry Garcia: "This is my baby sister." Raising an eyebrow, Garcia replied, "Far out.  Does she have a name?"
A few months later, at Woodstock, she used her access only once, where she would have the life-changing experience of falling in love with Nicky Hopkins, there playing with the Airplane, when she met him under the stage.   Mired in a dysfunctional marriage and in a constant battle with alcohol when they next met three years later, Nicky was a difficult person to stay in love with.  Their time together was tumultuous and sporadic.
Perhaps that was why, having graduated high school and settled in the Bay Area—and after a couple of music business jobs—she went to work for a publishing firm. Though she continued to play guitar, she soon began to channel her creativity into prose, and in 1988 published her first book, a supernatural thriller called Eyes in the Fire.  Well over a dozen followed, ranging from historical romance (Fire Queen) to utopian fantasy (Plainsong) to magical realism (And Then Put Out the Light.  They were succeeded by a pair of riveting series, the Haunted Ballads (among five, Matty Groves) and the detective story series of The Kinkaid Chronicles.  If you check out the titles, among them Rock and Roll Never Forgets, While My Guitar Gently Weeps, Graceland, and Uncle John's Band, you might think that music was still on her mind.
It was.  In 2002, Deborah was diagnosed with MS, and soon, the stories that came to her head came with music attached.  She began to write songs again.  Years before, she'd gone alone to the studio and equipment rental site S.I.R. to record a song for personal therapeutic purposes—mostly to get it out of her head. The studio manager asked if she could use a bass player.  Cranky just then, she snarked, "Got one handy?"  Well, yes.  Nic the studio manager was an accomplished player, and they continued playing together after the day's labors at S.I.R.  A few years later, they got married.  When the drummer Larry Luthi jammed with the two of them one night, he was so inspired that he pressed hem to start a band…and so was born The Sound Field.  Their first CD, The Bucket List, came out in 2017.
About the album: (for the real thing, check out Deborah's expanded liner notes online at www.soundfieldband.com).
This Moment of the Storm is a long, strange journey through the nightmare that has been the Trump years in America.  And it's both reassuring and totally right that this trip ends in a song ("Roof Falling In") that is largely a delicate, lovely duet between her voice and Henry Salvia's exquisite piano.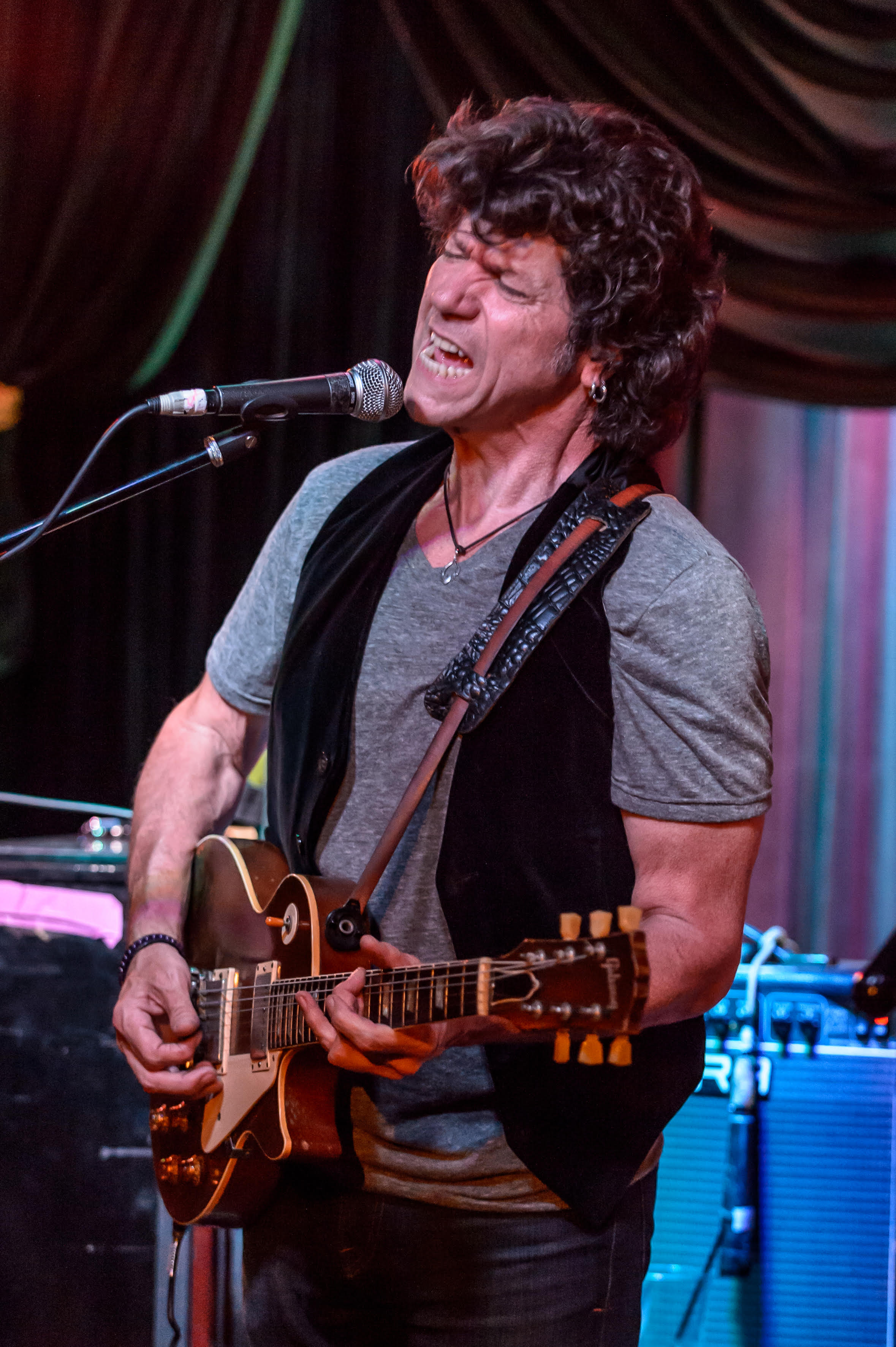 Resting on the black-belt rhythm section of Nic Grabien and Larry Luthi, the songs of TMOTS are graced by co-producer Mark Karan's superb guitar work—I spent the best part of four years listening to him with RatDog, and this is the best I've ever heard him play—and the truly astonishing beauty of Salvia's piano.  One of the master stringed-instrument-players of our time, David Lindley, lends his gifts on three songs.  With that behind her, Deborah is free to wail—and wail she does.
She remains a gifted writer.  In "It's About Time" (the tune co-written with Lauren Murphy), she turns two cliches into a classic line with "Because I paid my dues and Time gets to pick up the check."  She even recalls Nicky Hopkins and answers herself in "Across My Kitchen Door": "Nothing comes from paying dues / But broken hearts and dirty blues / Just walk until these well-worn shoes / Dissolve to dust around me."
These have been dark times, and Deborah has seen enough to know all about that.  "The storm is all inside me."  There's plenty of despair to go around:  see "Trick of the Light," a very cheery little ditty….not.  So big.  So dark!  "Life…puts you down that hole / And maybe that's exactly where we all belong."   A haunting song, born of bad dreams and harsh words.  Or, as she put it in her notes, "This song came out of my frustration at being essentially told, however lovingly, that how I see myself matters less than how other people see me. I vehemently disagree."  Somehow, the song is also graced with sweet singing and some of Henry Salvia's prettiest piano work.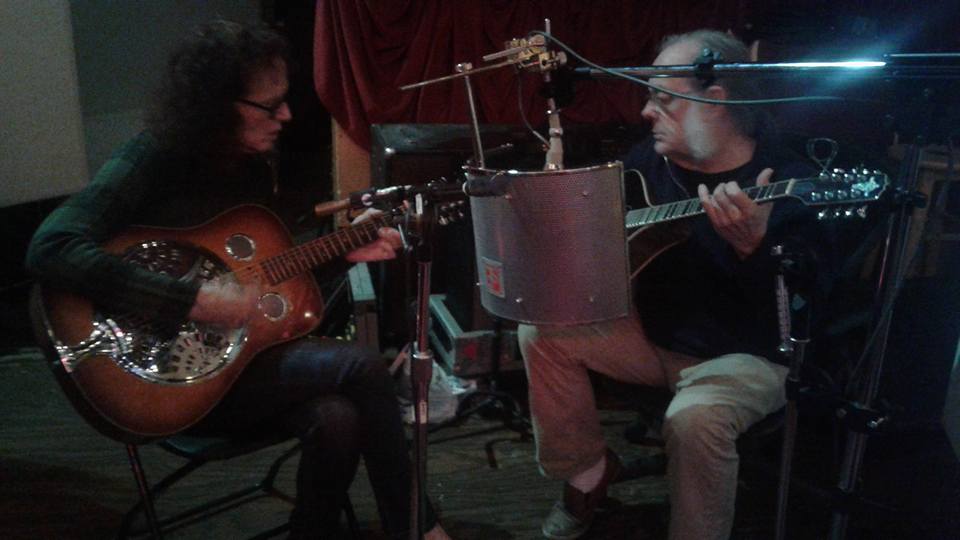 The band does a wonderful job with Steve Earle's "Copperhead Road," turning it into a march that supports Deborah's Saz (yes, it's an instrument) and David Lindley's Irish bouzouki.  The other cover, Tom Petty's "You and I Will Meet Again," is equally superb.
And "If We Get Lucky" gives her a chance to get raunchy, which she does…brilliantly.  So does Mark Karan's guitar, which puts out the bump-and-grindiest chords ever heard.  "Cry for Memory" includes David Lindley demonstrating that it's the musician, not the instrument, that counts when he plays a $69 cheapo lap steel and makes it sound like….perfection.  Or Laurel Canyon, 1972.
"Everything About You" is a love song to her husband/bassist, Nic.  "Crazy Girl's Song" is, in a sense, a song to herself:  "These days when I look in the mirror I don't understand what I see.  Then I realize there are two pairs of eyes, and both of them staring at me…".   She says she's luckier than she deserves and wouldn't trade the life she's gotten…"But the young girl's still caught in the dream."  And she's terrified.
"Walk" starts with one of the darkest poems in world history, William Butler Yeats' "The Second Coming," about a world of a pandemic (1919) and one in which fascism is bubbling under the surface….and then it moves to 2021 and oh, boy.  David Lindley returns on lap steel, and it's incredible.
This Moment is available at all the usual digital outlets.  Or go to www.soundfieldband.com/Store