Rowdy, raucous, and filled to the brim.  That's how Lawrence, KS rings in a new year.  Split Lip Rayfield killed it with a sold-out show at The Bottleneck for New Year's Eve joined by Granny Tweed and The Sunflower Colonels.  With plenty of champagne to go around and barely any standing room, navigating this crowd was a task in and of itself.  (I only dropped my camera once)  The Bottleneck was the place to be in Lawrence for New Year's Eve!  I even had a gentlemen comment at lunch before the show that The Bottleneck is "where all the chill people will be tonight...and I'm sure not going to miss it!"  True statement, sir.  Chill they were until the music started…but you'll never see a finer group of people party harder than a Split Lip Rayfield crowd.
The (75% barefoot) Sunflower Colonels of Lawrence opened the show with some pristine bluegrass pickin' and stompin'.  The Colonels really know how to draw the crowd to the dance floor and did so with the first notes of their opening tune.  The Colonels' superb talent allows them to flow freely from traditional bluegrass tunes to old gospel songs and still touch on everything between.  A four piece band, the Colonels include a mandolin, banjo, guitar, and an upright bass.  Soon after they took the stage, people started pouring out onto the floor ready to serve the last night of 2013 some well-deserved justice.  It was my first time to see this band and I am definitely looking forward to seeing them on future lineups after their stellar performance that night.  (Excellent performance guys!)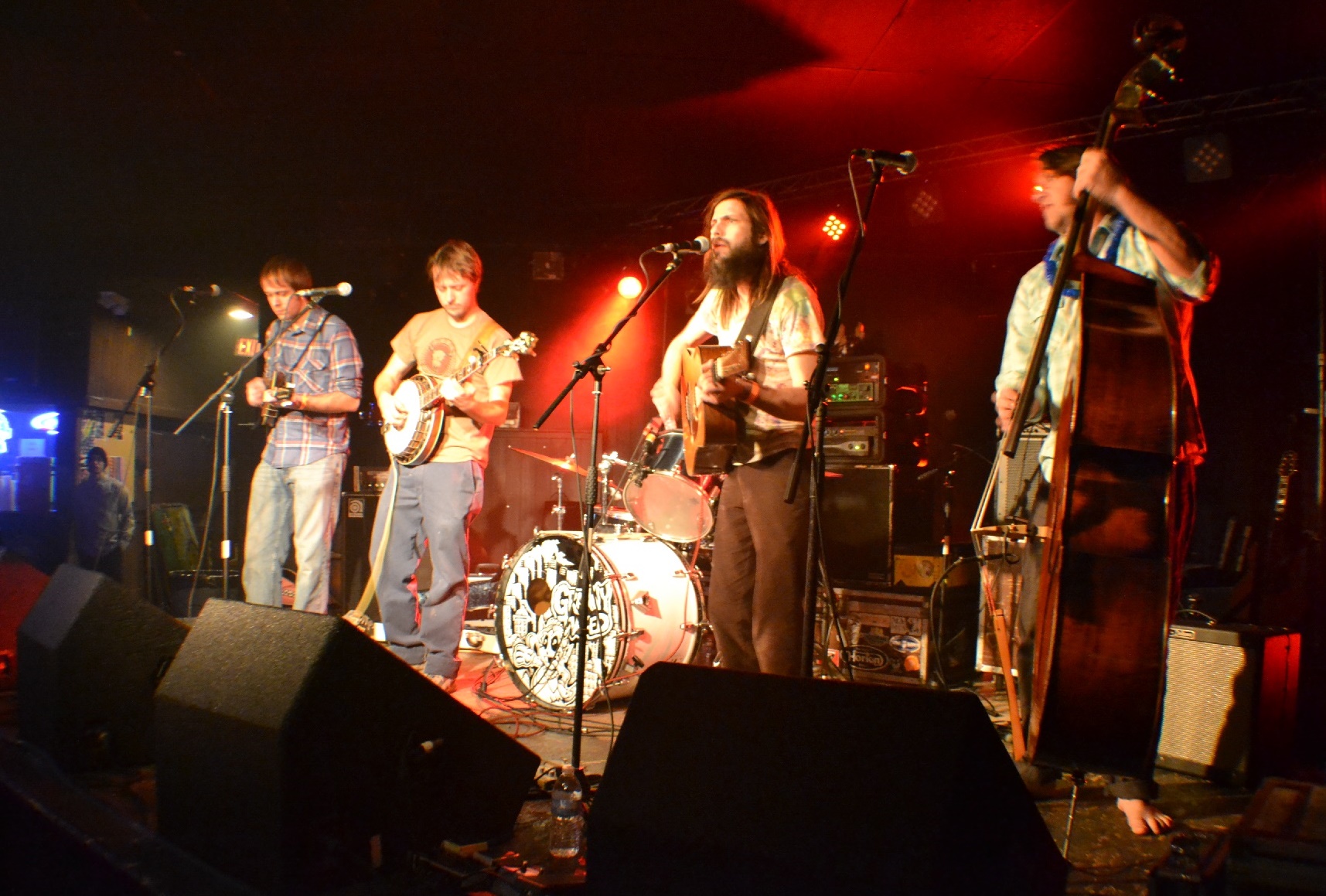 Next, the "Middle West's" self-described "urban, contemporary twank rawk" band, Granny Tweed, kept the party going!  Part bluegrass, part punk…all LOUD—it's precisely what they aim to do and they are a crowd-pleaser for sure.  The trio—which consists of a guitar, an upright bass, and drums--developed after a series of chance meetings at various shows during which time all three were playing in various alternative bluegrass bands.  With each having a history in both bluegrass and rock, they all shared a desire to get back to the rebellious sound of their rock roots and play together as a band.  Thus was born Granny Tweed…a band that delivers at every show.  Their phenomenal songwriting ranges from expressive melodic rock to earth-shaking dynamism and the crowd never knows what to expect next!  They even threw in a Nirvana cover for good measure.  Another first for me but definitely not the last!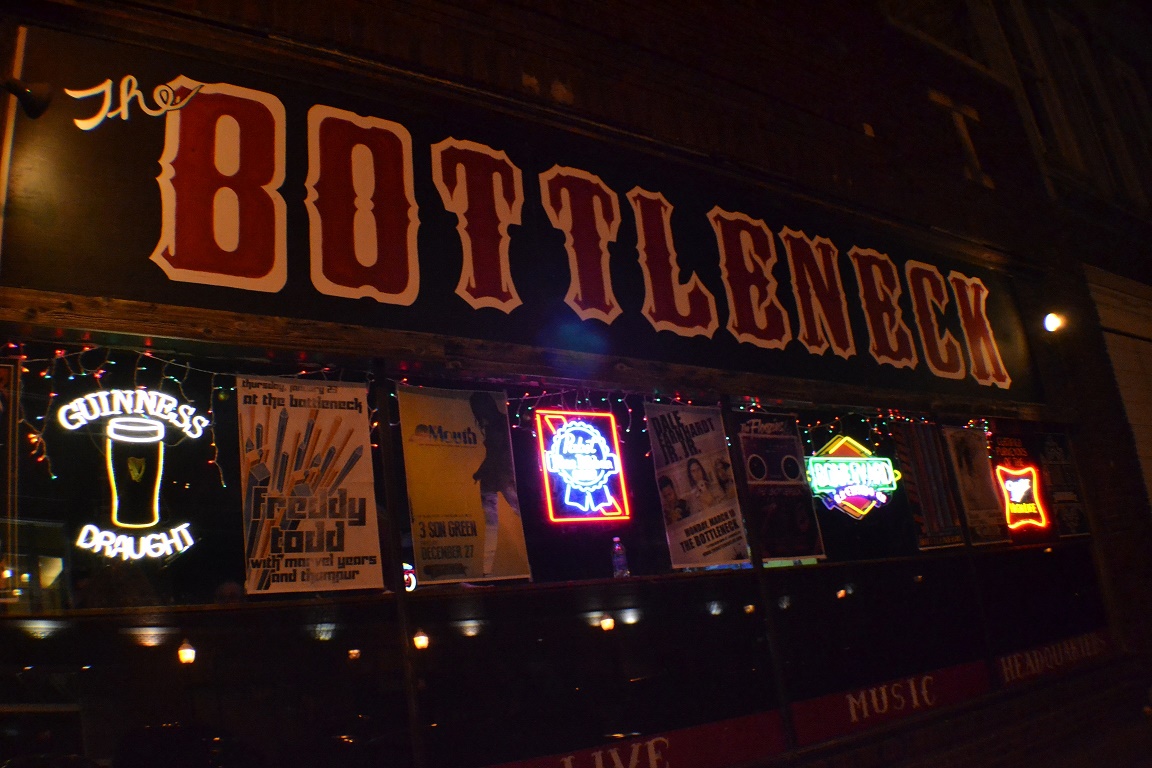 Finally, Split Lip Rayfield.  Split Lip…Split Lip…Split Lip.  It's about time those boys got together and played some tunes after their hiatus this last year!  They have been missed!  I knew as soon as I saw the show posted that my New Year's Eve plans were set.  Comprised of three, we have Eric Mardis on the banjo (and I believe I saw him pick up a Guild Songbird guitar for a few songs), Wayne Gottstine on the mandolin, and Jeff Eaton pummeling through those bass lines on his homemade, gas tank bass festively, famously known as "The Stitchgiver".  They started the show off right with "Flat Black Rag" which Mardis has called their "own 'Whiskey River'" and the crowd turned into an unrestrained revelry.  There wasn't a soul in the bar who wasn't on his or her feet—whether in the bar bleachers or out on the floor—everyone had an uproariously good time.  I'm sure their late, great guitarist, Kirk Rundstrom (to whom they dedicate every live performance), was smiling down on them as they welcomed the New Year with a revival of songs both old and new.  Fast, loud, and unabashedly deep…Split Lip's songs offer tales of hobos in love, redneck wet dreams, addictions, frustrations, bad decisions, regrets…and every so often, they throw in a little sprinkle of comedic relief.  You name it, they sing about it.  Whatever the subject, they deliver every tune with a passionate and murderous vengeance.  Some lyrics will make you wonder just how in the hell they come up with this stuff.  Perhaps "A Little More Cocaine Please" can offer some insight…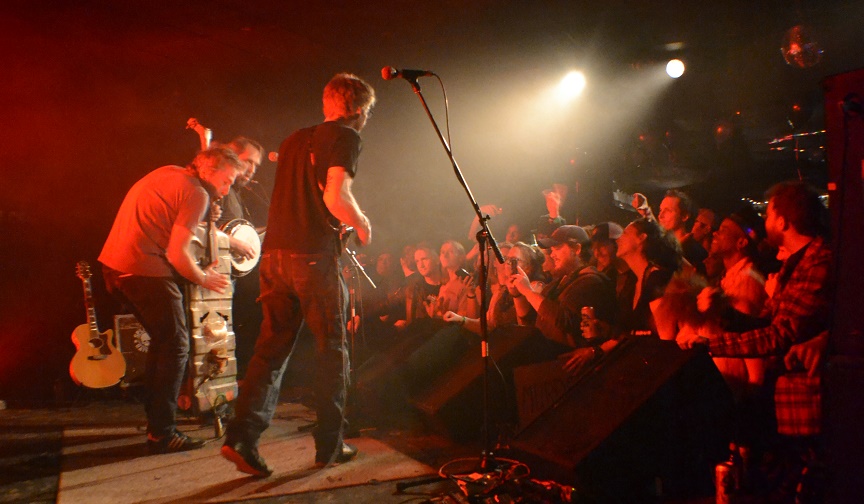 Split Lip Rayfield has a fine-tuned talent (they are tight!) and it showed on New Year's Eve.  With a high-intensity performance, these guys played everyone's best-loved song that night.  No time to slow down, these guys barreled through popular favorites like "Down South Sally" and "Aces High" before the night was through.     
It was an impressive start to the New Year for Split Lip.  They've been missing from the festival scene lately and, as apparent by the crowd's turnout, their fans were thirsty for some good ol' country-punk, thrash-grass tales of totaled cars and murderous, drunken mishaps fueled, perhaps, by dark forces (or maybe it was all that whiskey).  Ma Dank even pulled away from her Mountain Sprout boys for a night to ring in the New Year at the Split Lip Show—and everyone in the Midwest knows if Ma's there, you should be too...'cause it's sure to be a damn good time!  They proved us right and I'm anxious for the coming year to see what Split Lip has in store.  Anticipating more shows than the previous year and I've heard talks of the possibility of a fifth album…I can't wait to see what Split Lip Rayfield will come up with next!  Thank you to Eric, Wayne, and Jeff for making this New Year's Eve one for the books!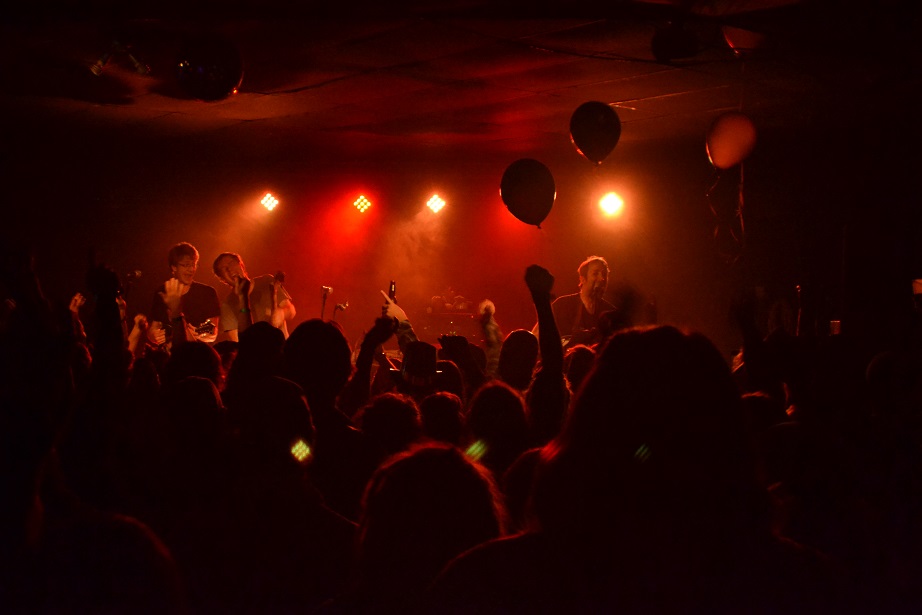 Oh, and, Happy New Year y'all!