Steve Poltz considers himself more at home in a hotel room than at his beach-accessible San Diego home. Many artists say they tour year-around, but Poltz truly does. Often when he plays a city, he comes back and hits it again within weeks, and then again. "No two shows are alike," he says. "So if you saw me at Joe's Pub in New York last month, you'll get an entirely different show the next time." Seeing that shows are unscripted, with no set lists, fueled only by the spirit of the audience, a growing legion of fans returns two and three times per year.
Poltz recently crammed a fortnight's worth of performances into one five-day period at South by Southwest (SXSW) in Austin, Texas. He's not sure whether the 12 shows (an official showcase and 11 unofficial ones) set an all-time record. But he suspects he reached a representative sample of SXSW-goers and non-badge-wearing Austinites alike. "SXSW is a melting pot — fans, label heads, talent buyers, radio programmers and journalists all trying to have a good time," he says. "And we had an incredible week."
A few Steve Poltz SXSW highlights:
"I nearly got decapitated at Mojo Nixon's Jalapeño Breakfast at the Continental Club," he laughs. "I crowd surfed and was carried all the way to the back of the club and back, narrowly missing three low-slung ceiling fans."
 
"Then there was the ATXtreme Festival, which was held at what is usually a gay club called the Cock Pit, where we ended up writing a song on the spot: 'What is the greatest bar in the world?'/'The Cock Pit! The Cock Pit!'" he says.
Finally, after their third late night of SXSW-ing, Steve and the band woke up at 6 a.m. to play a live broadcast on Austin's KGSR-FM at the Four Seasons hotel. The radio program co-host was Lyle Lovett. Poltz received a thrill when Lovett broke out a Sharpie pen and asked Steve to autograph a copy of Traveling "To Lyle." "He'd seen me play before and we'd kept in touch," Steve says. A photo of the two is posted on Steve's website blog.
 
And then it was back into the van to continue on tour. Steve, the band and the tour manager, however, are not alone in the van. There's also a squirrel who hitched a ride a month ago in Eugene, Oregon, and refuses to leave. "There's plenty for him to live on — rotten burritos, discarded French fries, almonds . . .," Steve says. "But now we're trying to find him a female squirrel to keep him company."
 
Steve has sold many copies of his road-only companion album, Unraveling, on the tour, with fans often buying five at a time and sending them to friends.
 
Meanwhile, critics everywhere have been praising Traveling and Steve's live shows.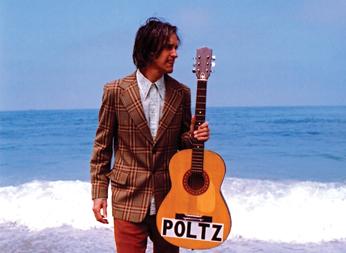 The Los Angeles Times noted: "Poltz sings songs with a satirical double-edge that can make you laugh and cry at the same time. He may have written for Jewel, but his own art reveals a far more individual vision." The Seattle Weekly reviewer said: "I proceeded to be blown away by the depth and excellence of his tunes; his sharp, witty lyrics; his voice — which alternately reminded me of Jeff Tweedy and David Lowery; and his hysterical storytelling and rants."
 
His hometown San Diego CityBeat pointed out that "Traveling and Unraveling represent the paradox that is Steve Poltz, a man whose music is both playful and painful . . . a bizarre cross-pollination of Weird Al and John Prine," while Time Out New York called Traveling "rocking and well conceived . . . his softly nasal vocals and rich guitar work make the album a complete and satisfying listen."

The Houston Press praised Traveling as "a super-smart power-pop gem, an album that should endear itself to all kinds of personalities, sane or insane," while the Dallas Observer called it "his best yet."

Summing it up, Vintage Guitar advised: "Poltz is the kind of songwriter and performer we need more of," and PopMatters deemed him "a fascinating artist — one that most of us would love to travel with and get to know better."

Following triumphant homecoming dates in San Diego and Los Angeles, Steve will take a rare breather for most of April. He and band will be back on the road for more non-stop action:
 
April 11 SAN FRANCISCO, CA  The Connecticut Yankee
May 9    MOORESTOWN, NJ  Jen & Dave's House Concerts
May 18   SAN DIEGO, CA  North Park Festival of the Arts (street fair)
May 29  PORT WASHINGTON, WI  Karen Krainz House Concert
May 30   SOUTH LYON, MI   Matt Maylen House Concert
June 6   EASTON, MD   Coffee East
June 13 CAVE CREEK, AZ  Cave Creek Coffee Company