Stevie Van Zandt's Renegade Circus and Sixthman, the industry leader in festivals at sea, continue their successful partnership of creating world-renowned music-themed cruises with the announcement of Outlaw Country West and The Great Rock 'N' Roll Sea Cruise. Tickets for both cruises are on sale now; visit outlawcountrywest.com or rocknrollseacruise.com to book.
A spin-off of the annual Outlaw Country Cruise, which has sold-out five consecutive events, Outlaw Country West offers customers a fresh itinerary that sails out of Los Angeles, CA November 3-8, 2022 making stops in Cabo San Lucas and Ensenada, Mexico.
The Great Rock 'N' Roll Sea Cruise goes international for its inaugural voyage sailing the Mediterranean Sea from Athens, Greece, August 18-23, 2022, with stops in Mykonos, Greece, and Izmir, Turkey.
"After five highly successful Outlaw Country Cruises sailing the Caribbean and a sold-out sixth coming in February 2022, we could not be more excited to expand this special festival at sea to the West Coast, sailing from Los Angeles. A new line-up never sailed destinations and a rockin' country adventure awaits the Outlaw Country community with this new sailing," said Anthony Diaz, CEO of Sixthman.
Sailing on Norwegian Jewel, Outlaw Country West will celebrate California's Country Rock and Cow Punk legacy with Social Distortion, Lucinda Williams, Steve Earle, X, Los Lobos, Dave Alvin with the Guilty Ones, Jimmie Dale Gilmore, Chuck Prophet & The Mission Express, The Beat Farmers, Long Ryders, Rosie Flores, Jade Jackson, Lillie Mae, James Intveld, and Deke Dickerson & The Whippersnappers, along with hosts from SiriusXM's Outlaw Country channel, including Elizabeth Cook, Jim Lauderdale and, of course, Mojo Nixon.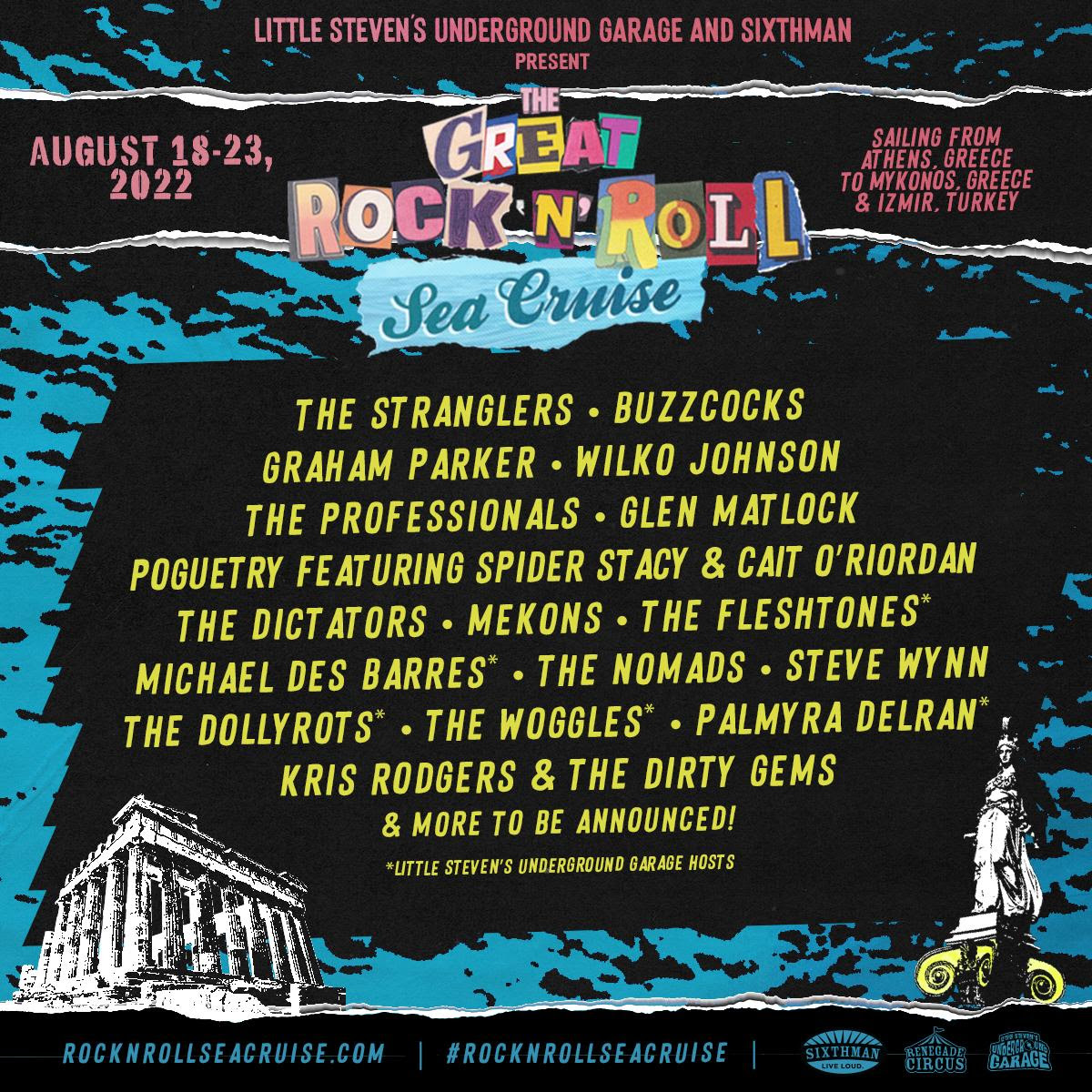 The Great Rock 'N' Roll Sea Cruise promises five nights with Punk Rock pioneers The Stranglers, Buzzcocks, The Dictators, and two original members of the Sex Pistols - Paul Cook with The Professionals, and Glen Matlock; Pub Rock icons Graham Parker and Wilko Johnson; Poguetry featuring Spider Stacy and Cait O'Riordan performing songs of the Pogues; Mekons, The Nomads, and Steve Wynn; along with multiple DJ's from Little Steven's Underground Garage on SiriusXM performing with their bands including Michael Des Barres performing with Kris Rodgers and The Dirty Gems, Peter Zaremba (The Fleshtones), Kelly Ogden (The Dollyrots), The Mighty Manfred (The Woggles), and Palmyra Delran, with more artists to be announced soon.
 
"Put your seatbelts on Rock and Roll fans…the coolest cruise in the world is coming at you from Athens, Greece next August!" added Diaz.
 
Guests can expect artists performing multiple sets in a variety of venues, along with radio tapings, panel discussions, film screenings, and other interactive artist activities while visiting exotic European ports sailing on Norwegian Jade.
Sixthman is proud to participate in Norwegian Cruise Line Sail Safe, the leading health and safety program that allows customers to cruise with the ultimate freedom and confidence. For more information on Sail Safe visit ncl.com/sail-safe.