Today, The String Cheese Incident announced their first multi-city run in four years. "Roots Run Deep" 2011 begins Thanksgiving weekend and travels through southern and eastern U.S. historic venues including Atlanta's legendary Fox Theatre, a return to the newly re-opened Georgia Theatre, Nashville's landmark Ryman Auditorium (with a special acoustic first set), and a two-night stand at New York City's magnificent United Palace. The full list of tour dates is included below, and tickets go on sale beginning August 25 at www.stringcheeseincident.com.
The String Cheese Incident has only made limited appearances since 2007, so "Roots Run Deep" affirms the band is back together and ready to rock. In 2009, SCI sent waves through the music community when they broke their almost three year silence by announcing they would play a headlining slot at the second annual ROTHBURY music festival. The performances were downright epic, and left fans old and new - and the band themselves - wondering what was next.
In 2010 and 2011, SCI played a handful of sold out multi-night extravaganzas at Red Rocks Amphitheatre, 1STBank Center, and Horning's Hideout, and a monstrous "Hulaween" run at Hampton Coliseum. In addition, SCI performed much buzzed-about festival plays at Bonnaroo's 10 year celebration and the inaugural Electric Forest, where SCI anchored the cutting-edge festival with three headlining performances - and seamlessly bridged the gap between the jamband and electronic music communities once and for all.
Recent live Incidents have proven that The String Cheese Incident continues to evolve, and that the band is more musically inspired and unified than ever. "All of us feel that our recent Incidents have been some of our best yet," explains SCI's Keith Moseley. "We are excited to get on the bus and play again in such historic venues." Michael Kang adds, "It'll be great to immerse ourselves on the road for a bit. There is nothing like the groove we get into when we play nine shows in ten days. It will allow us to take even more chances."
TICKETS to SCI Fall Tour 2011: Pre-sale begins Thursday, August 25 at 10am MDT at www.stringcheeseincident.com, with public on-sale on beginning Friday, August 26 (or Saturday, August 27 depending on the tour market) at 10 am MDT at www.ticketmaster.com.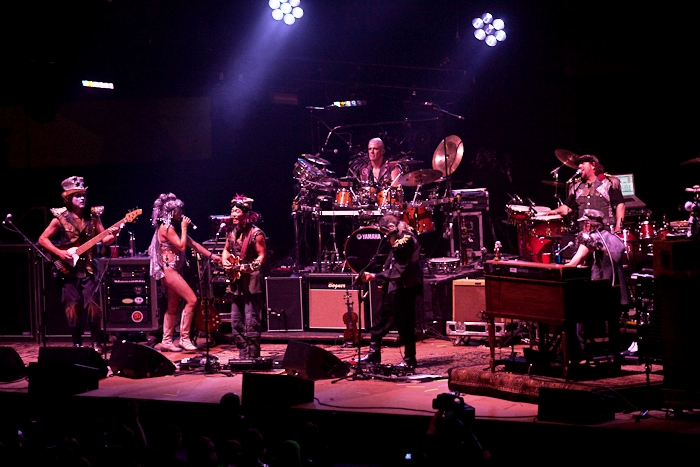 Concurrent with the band's long-standing ethos of giving back to communities and causes, The String Cheese Incident is looking forward to supporting Conscious Alliance, HeadCount, and Waterkeeper Alliance this Fall Tour.
Live recordings of each show along the Roots Run Deep 2011 will be made available for download. Presale is going on now at www.livecheese.com.
--
SCI ROOTS RUN DEEP 2011 DATES
Friday, Nov 25 Thomas Wolfe Auditorium Asheville, TN
Saturday, Nov 26 Fox Theatre Atlanta, GA
Sunday, Nov 27 Georgia Theatre Athens, GA
Monday, Nov 28 Ryman Auditorium Nashville, TN (w/ special acoustic first set)
Wednesday, Nov 30 Lyric Opera House Baltimore, MD
Thursday, Dec 1 Tower Theatre Upper Darby, PA
Friday, Dec 2 United Palace New York, NY
Saturday, Dec 3 United Palace New York, NYSunday Dec 4 Orpheum Theatre Boston, MA