"Do your work, but do your thing," Ralph Waldo Emerson.
The String Cheese Incident concluded a two-night stand at Eugene's McDonald Theatre (Jan. 19), leaving little doubt about whether they had done their work, but had they done their thing?
It's an unenviable task for any "jam-band" still crisscrossing the country in a tie-dyed convoy of magic-buses to distinguish itself from snide yet on target quips about surfing the wake of the skeleton-steered, psychedelic flag-ship—the S.S. Grateful Dead.  Yet, inquiring minds want to know, what separates the "String Cheesers" (as the Intrepid One, Ken Babbs, once humorously introduced them) from the myriad of similarly styled troubadours still playing "The Pied Piper" for beatified fans?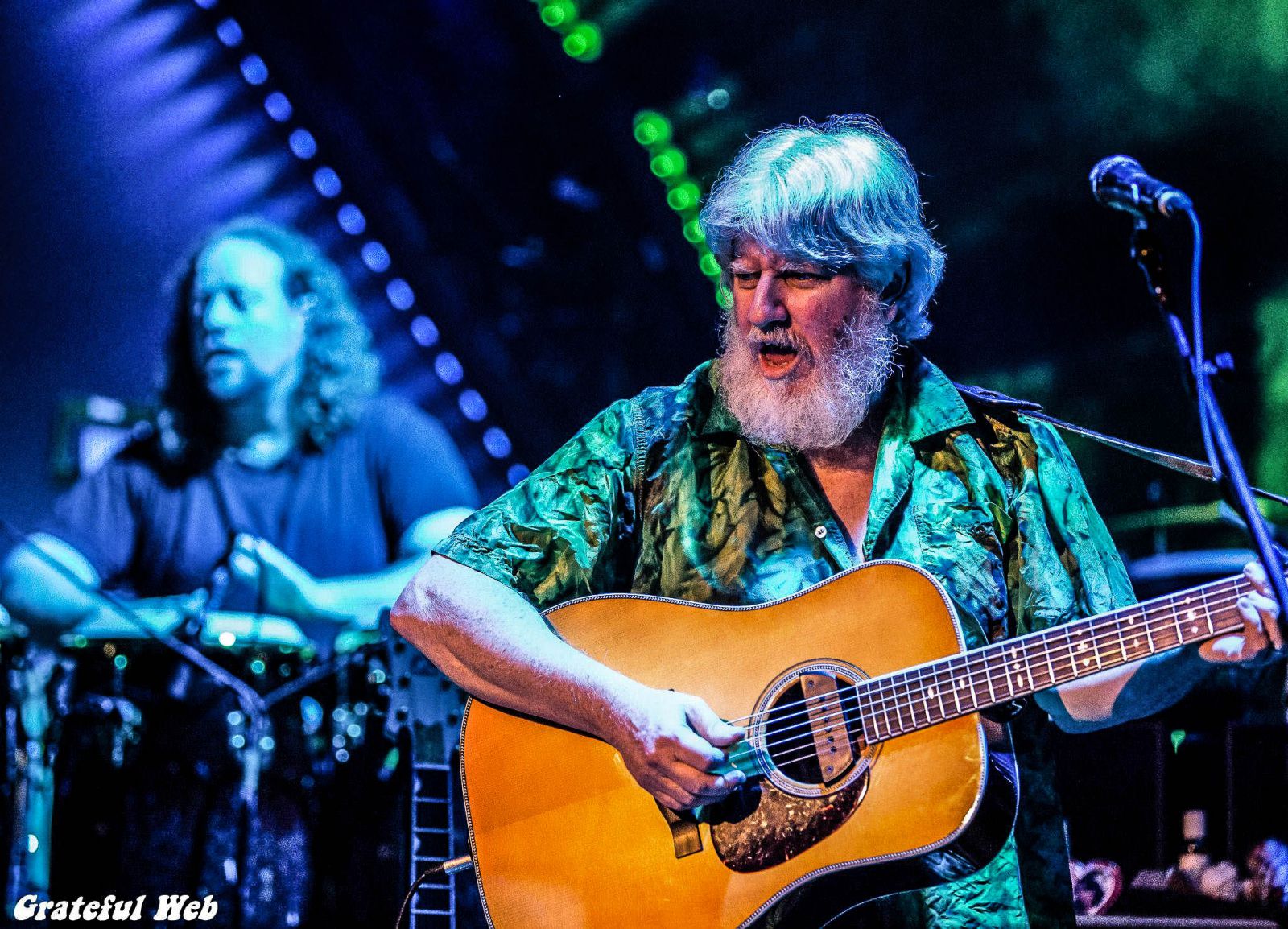 A Colorado band, bred and branded in the Rocky Mountains, SCI strikes a cool, relaxed posture in stark contrast to the Dead's rogue-pirate vibe and Phish's weird, nerdy mania.  Their music is primarily bright, celebratory and danceable with a chill, "peaceful, easy feeling" kind of shine.  They're also a nimble, highly-proficient live act capable of scintillating ensemble play. 
They opened with "Close Your Eyes," which started as a fairly underwhelming country-rock effort not entirely dissimilar from the Charlie Daniels Band, before it shifted abruptly into a spacey, "Playing in the Band"-style jam featuring some inspired acoustic guitar-work from Bill Nershi.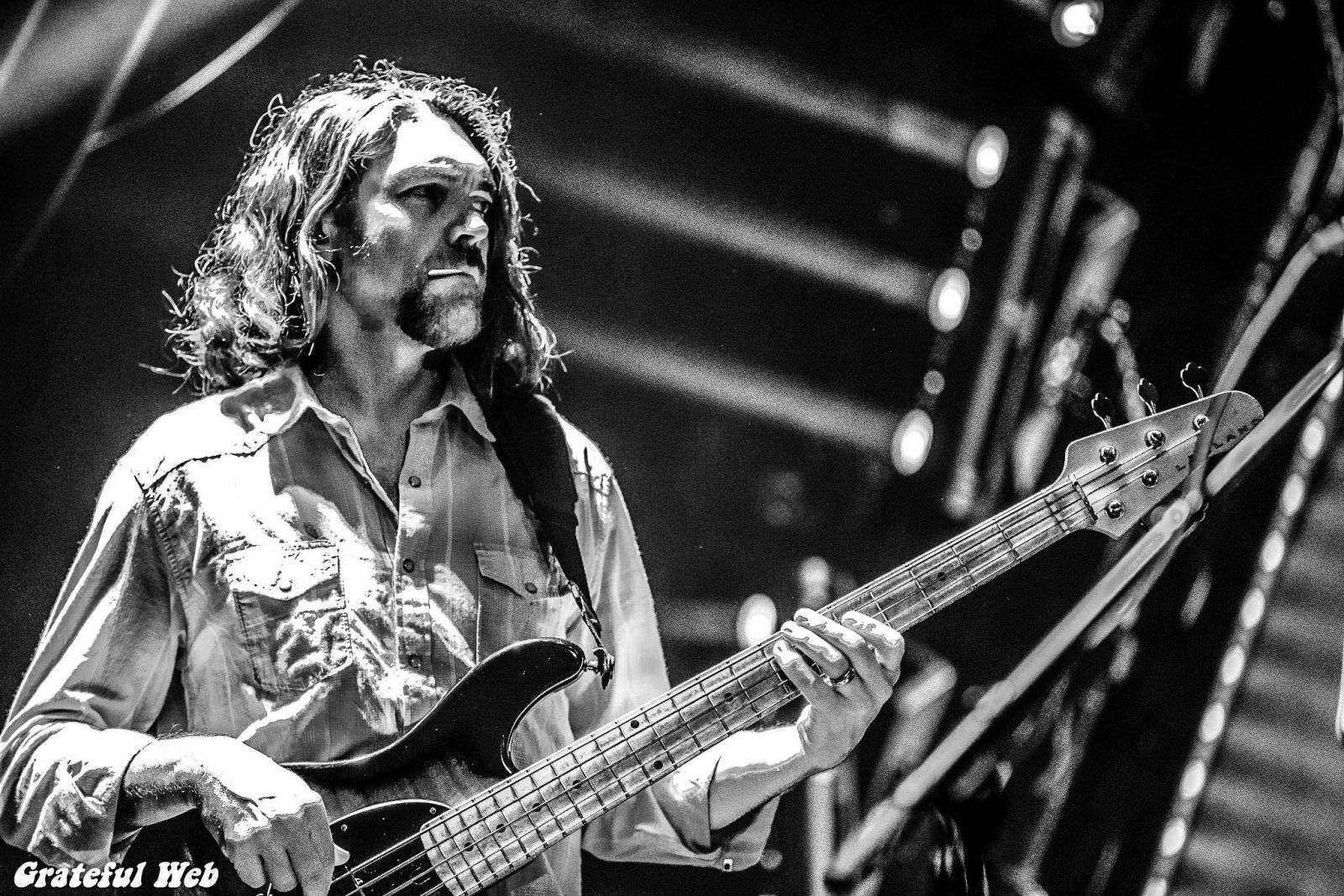 Throughout the evening, String Cheese repeatedly punctuated their songs with parenthetic musical excursions, often executing stop-on-a-dime changes in tone, tempo and feel.  The "Close Your Eyes" jam immediately illustrated SCI's inclination for supple variations.  The other five band-members soon gathered Nershi and mounted an increasingly ascendant groove that proved far more exciting than the initial verse/chorus section of the tune.
At the McDonald, String Cheese were at their blazing best when pushing their songs from one familiar place toward somewhere else entirely.  They showed a real knack for transforming pleasant, straight-forward rock songs into something decidedly more strange and compelling.  Their most engaging musical moments frequently occurred during these transitions, when they left the grid and explored.  Unfortunately, these eclectic, instrumental launches were at times more creative than their starting places.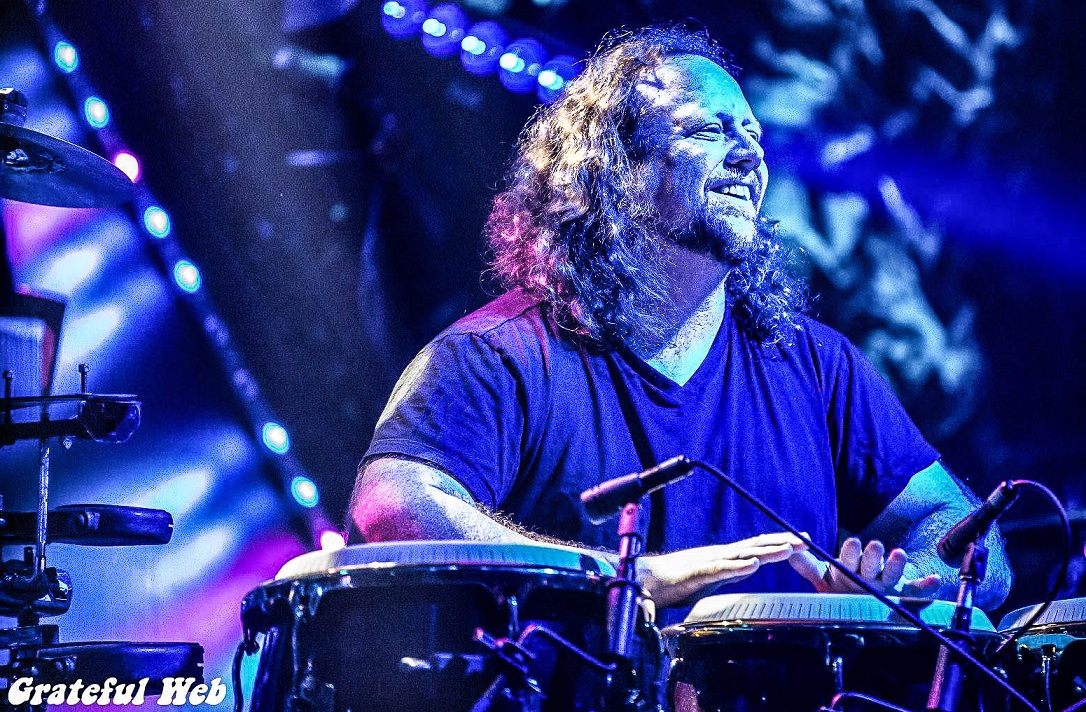 "Valley of the Jig," from SCI's landmark, 2003 studio release, Untying the Not, gave the first hint of the techno element that distinguishes String Cheese in the "jam-band community."   It kicked as a knee-slapping, Irish Jig furiously fiddled by multi-instrumentalist, Michael Kang, until Michael Travis (drummer), Jason Hann (percussionist) and Kyle Hollingsworth (keyboardist) started to invoke the pulsating, glittery presence of a vibrant rave.  Throbbing Jungle rhythms and swirling electronic effects transported Kang's violin to a funky global-village where all of the world's sounds seemed to converge in a strobe-lit folk-song.
SCI's 21st century upgrade of the "jam-band" model is largely a welcome innovation.  The incorporation of various electronic-music styles offers String Cheese a fresh prismatic lens to refract their existing influences.  African, Middle Eastern, world-beat, Latin and reggae sounds all integrate agreeably with trance, down-beat and techno.  When organically evoked, rather than consciously applied, the club deejay aesthetic heightens the creative potency of the Cheese.  However, it was not a direction SCI pursued consistently in Eugene, and its periodic presence seemed at odds with some of their more traditional rock material.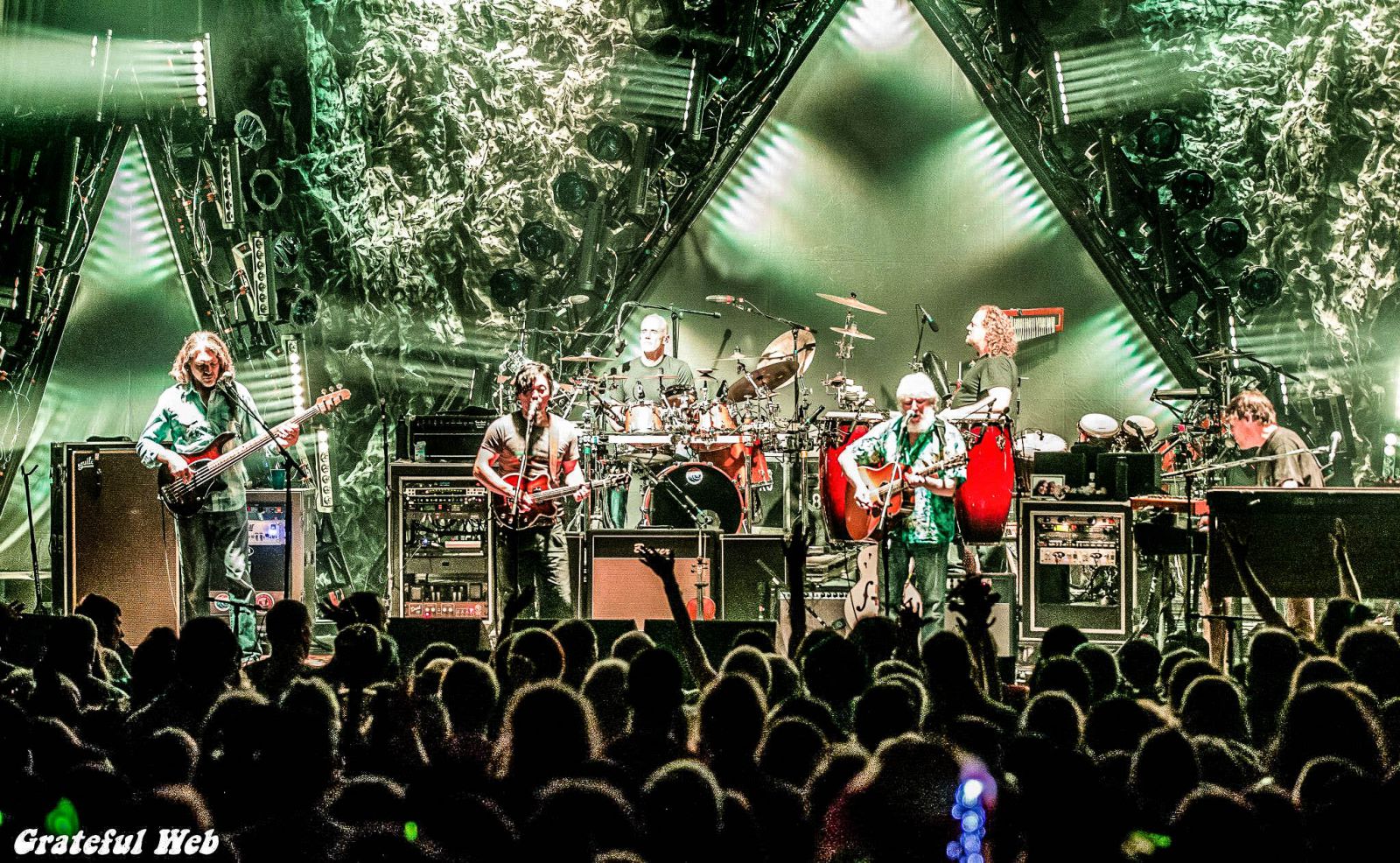 They followed the vibrating "Valley" with a cheerful "Smile," which again highlighted Nershi's terrific acoustic guitar playing.  A bubbly, African-infused track reminiscent of Paul Simon's Graceland, "Smile" also demonstrated the polyrhythmic capabilities of Travis and Hann.  Kang took a few turns with his effects-laden fiddle, threatening another experimental mutation, but it never quite broke and the song held its familiar shape.
The carnival of cascading musical genres continued with "I'm Still Here," a fascinating, newer song that suggested George Harrison's mystical influence.  The heavy, contemplative tone and slower tempo conspired to put the sell-out crowd back on their heels momentarily; but "I'm Still Here" continued to unfurl in kaleidoscopic waves of increasing intensity.  Kang, now playing his customized, five-string "Kangolin," took flight from the crest of one of these swells and led a spirited climb.  Initially lacking vocal punch and obviously still gaining its footing in SCI's live-set, this promising tune nevertheless produced a stirring, emotionally charged climax rippling with psychedelic energy.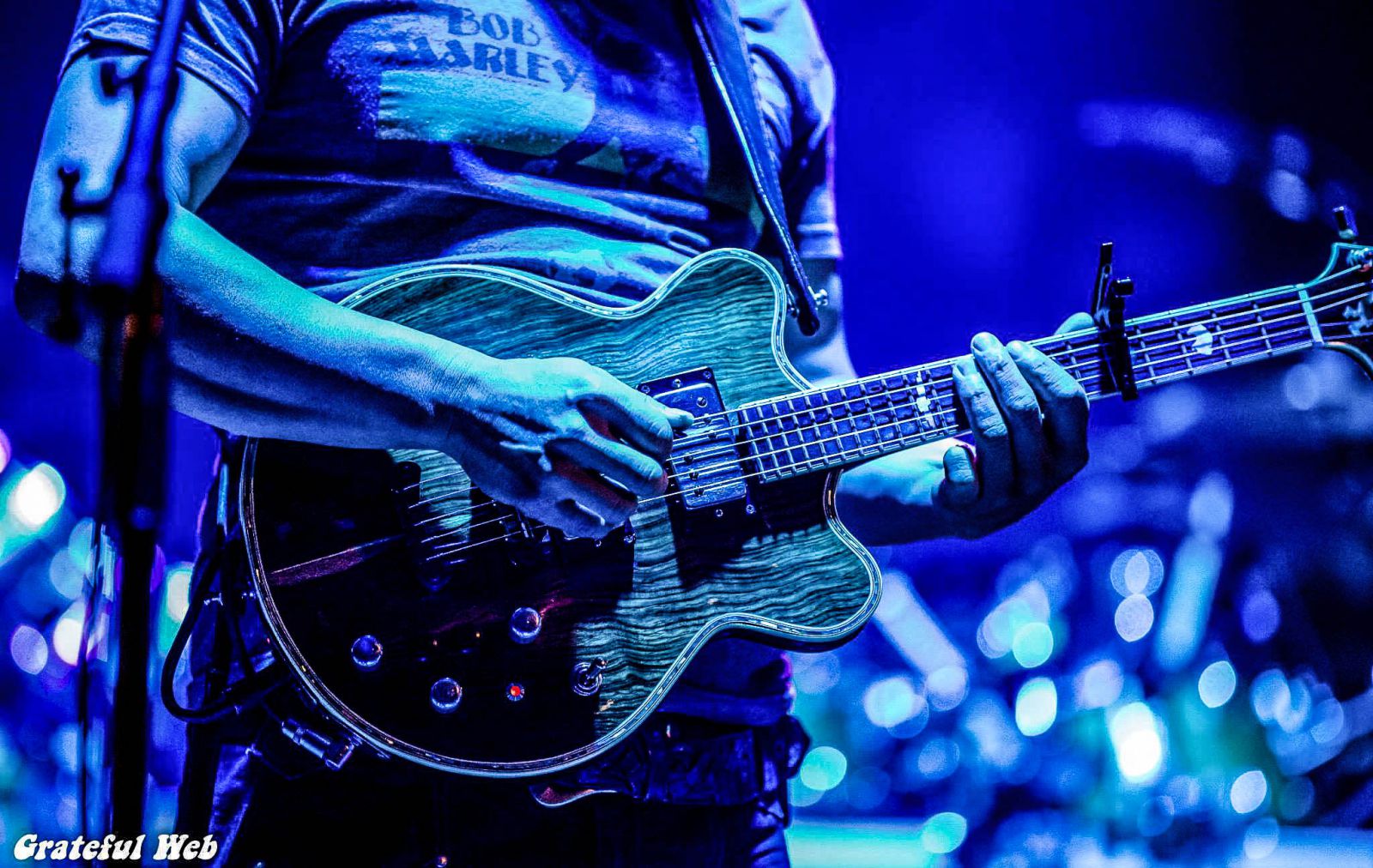 String Cheese marched-out and duly ripped a dizzying array of musical styles during the first set of Eugene's second show, yet the overall effect of this impressive display was still somewhat disjointed.  The set lacked elements of danger and curiosity.  The material was not predictable, but not altogether surprising either. Unquestionable masters of multiple genres, String Cheese often adhered too closely to existing musical templates without fully realizing their own creative vision.  "Originality," Ben Franklin famously quipped, "is concealing your sources."   Without clever blending, the effect of SCI's eclectic influences was derivative rather than inspired.
The second set was largely more of the same, though there were strong indications of how potent SCI's musical elixir could be when they got their portions right.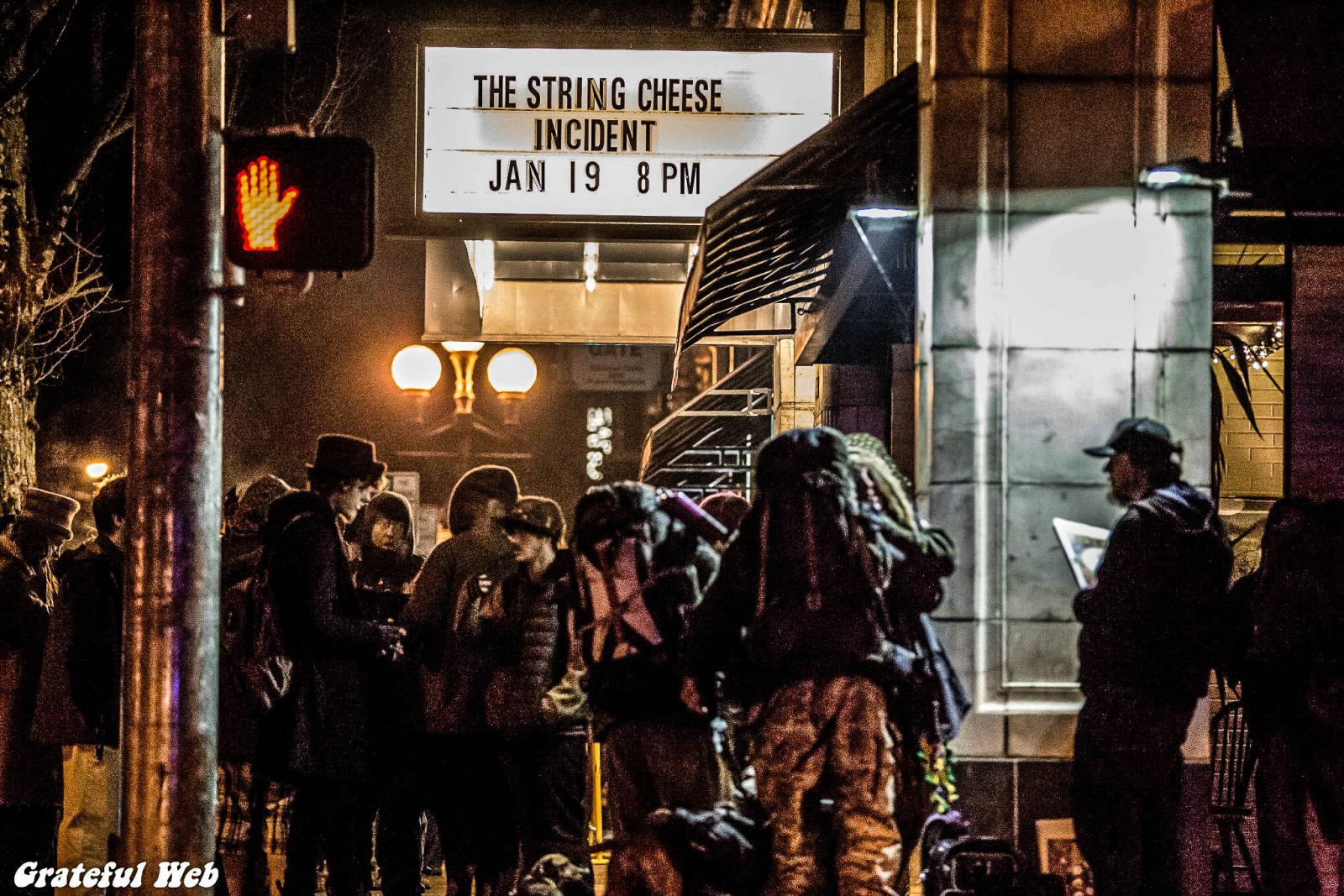 A weightless, softy focused "Jellyfish" oozed out of the Cheese as the party reconvened. A classic cut from SCI's 1996 debut, Born on the Wrong Planet, "Jellyfish" lyrically crosses Arlo Guthrie and John Prine into a cautionary, hippie-folk-tale about best laid plans going awry.  Musically, the song evokes the unsteadiness that accompanies a typical "morning after." 
In Eugene, "Jellyfish" wobbled with lysergic energy, enhanced by Hollingsworth's aquatic, electronic treatments, and gently suggested LSD may have been the culprit, rather than tequila, on the notorious night before.  In any case, at the McDonald, String Cheese managed to make a hangover sound strangely sublime.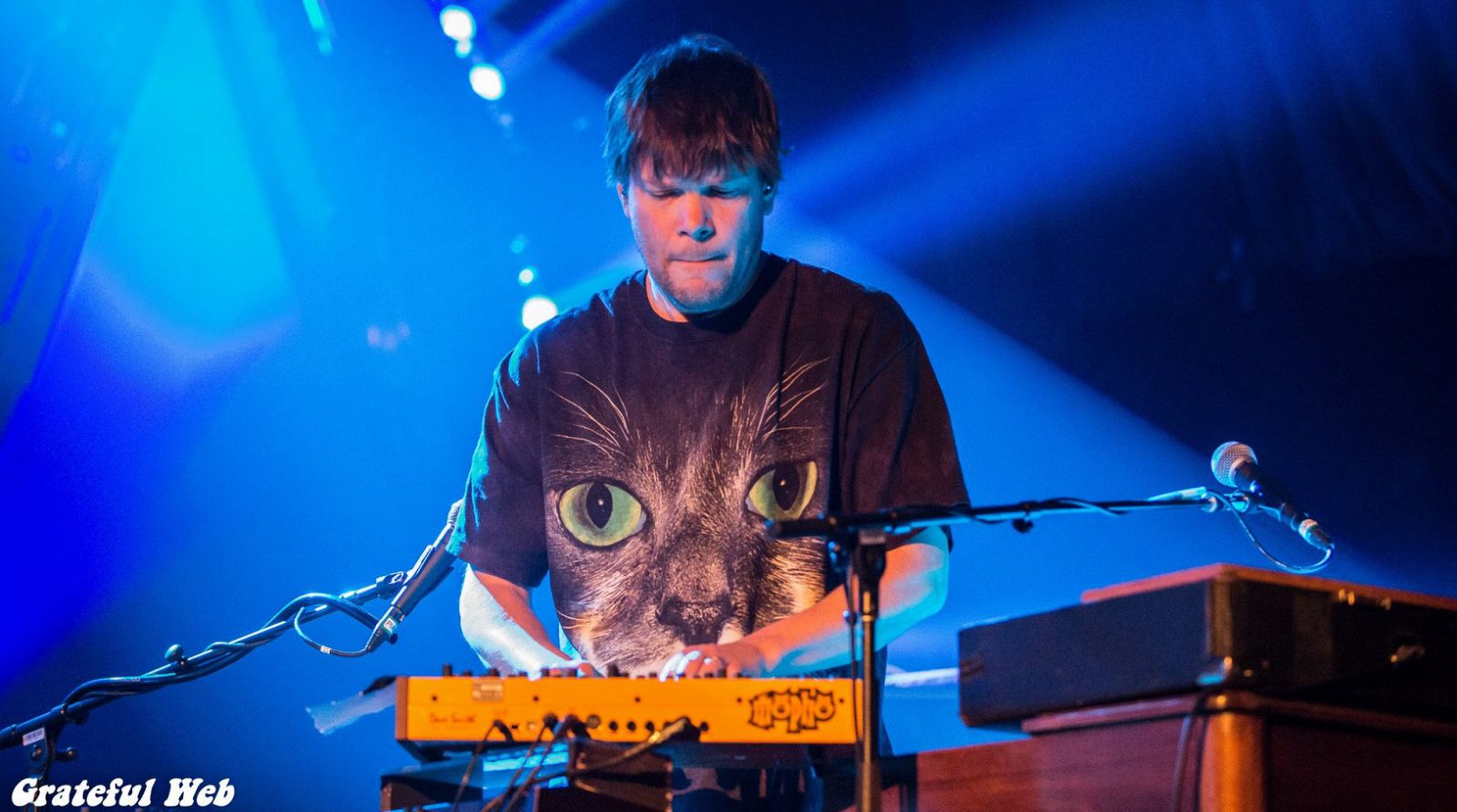 "Desert Dawn" provided a well-received upturn in electricity with its tearing-down-the-highway tempo which immediately sent the packed crowd into a near-hysterical series of shucks and jives. 
Co-written by Kang and Bob Weir-collaborator, John Barlow, "Desert Dawn" gave fans of improvisational, instrumental interplay exactly what they'd expect from a "jam-band" still burning the torch for a scene first popularized by the Grateful Dead.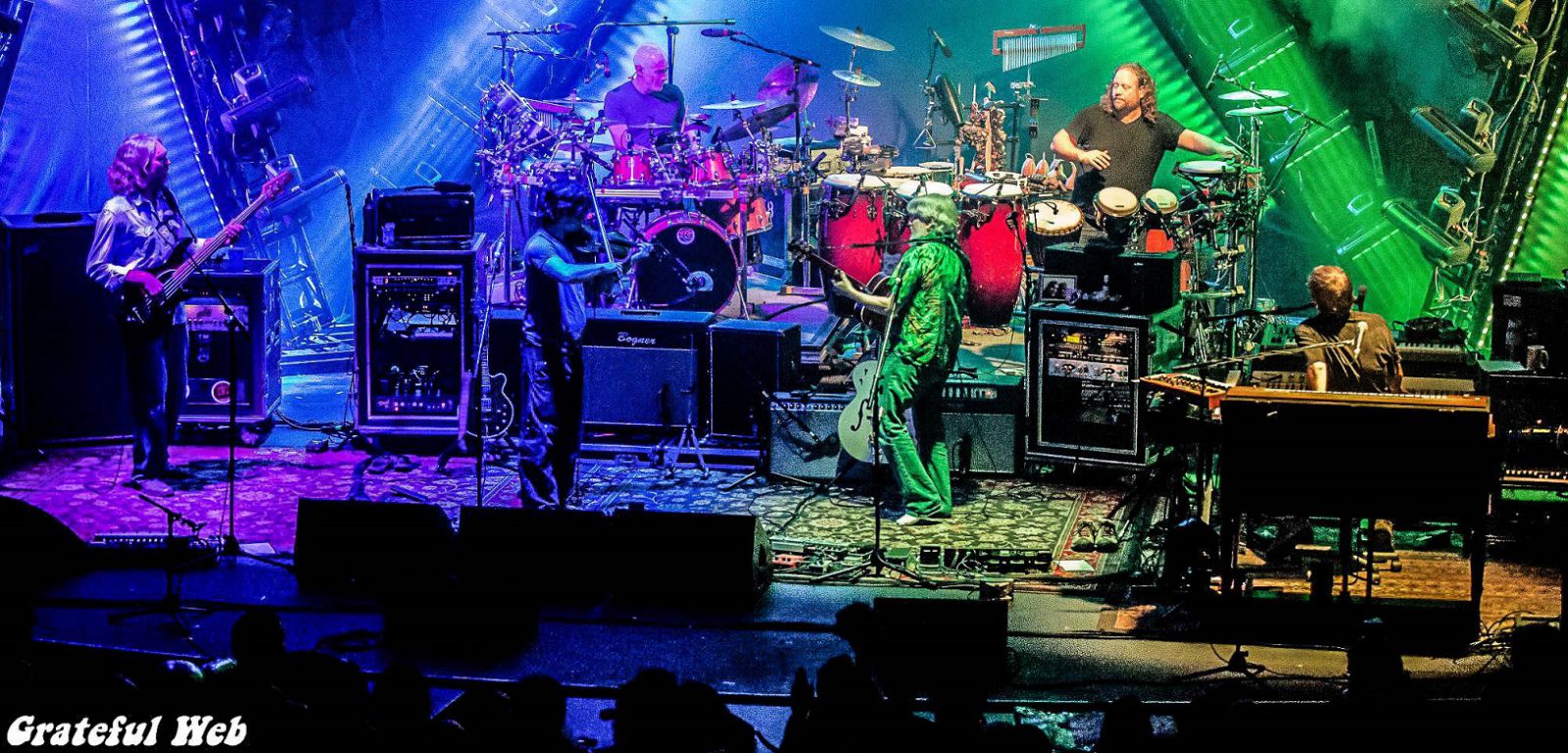 The song is a get-on-your-feet, feel-good rocker and full of familiar, inspirational, lyrical themes.  Images of dawn, water, twilight and flowers allude to spiritual awakening and enable a revelatory instant of self-empowerment—"Touch the stars with your own hands."
The instrumental jam in "Desert Dawn" was something else entirely.  Once again String Cheese executed a sudden shift, leaving the "desert" and embarking for the "dawn."  They climbed the striding fingers of five-string bassist, Keith Moseley, until they were off the ground, then they slingshot themselves into another space.  This sojourn was a lengthy, transformative affair, shimmering with cosmic discoveries.  All six members of String Cheese threw in their own flavorful ingredients and collectively, they cooked.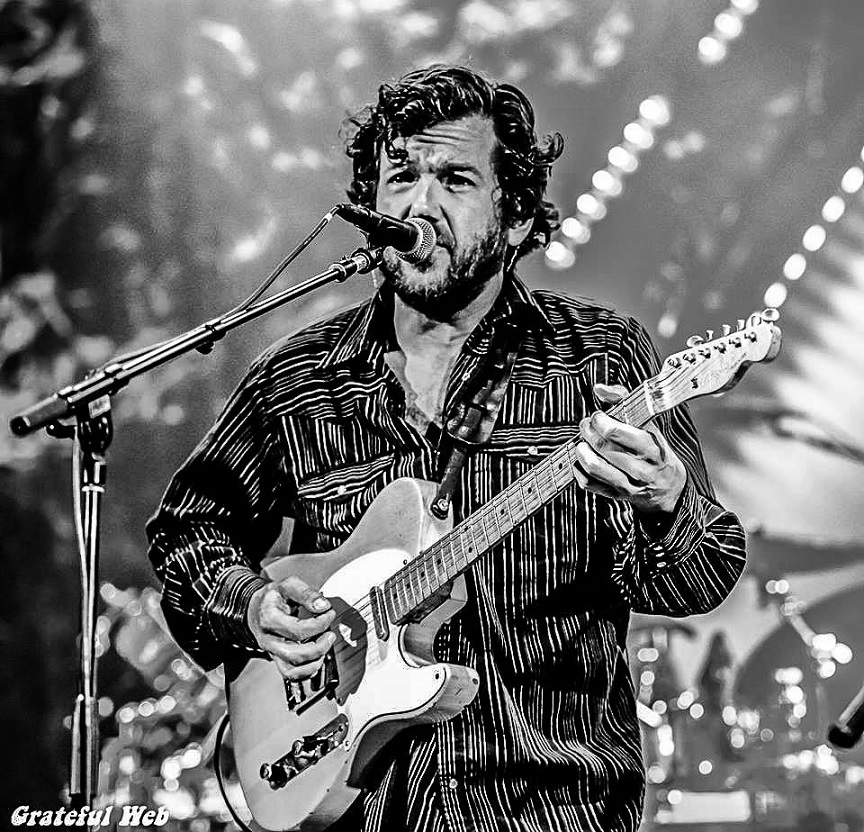 Jam-band veteran, Scott Law joined SCI for a rollicking cover of "The Glendale Train," a New Riders of the Purple Sage tune.  Law contributed a couple of hot choruses of honky-tonk guitar and the whole countrified diversion proved satisfyingly refreshing.
"Sirens," written and sung by Moseley, encapsulated both the strengths and deficiencies of SCI's Eugene performance.  Initially, the song unwrapped a slinky, dub-infused, reggae vibe, bubbling with funky organ flourishes from Hollingsworth, and driven by a mountain-grown, Jamaican rhythm from Travis and Hann.  Guitarists Nershi and Kang intertwined alternating sequences of scrubs, chops and spooky, distorted stabs.  "Sirens" glowed with creative energy, but became abruptly muted by a tacked-on, pop-rock—"I just want to say I love you"—chorus.  The sudden shift from ominous to sweet and back again produced a jarring contrast that undermined the track's impact.  In this sense, "Sirens" mirrored the uneven quality intermittently present throughout the evening—brilliant flashes of fireworks interrupted by less sparkling puffs of smoke.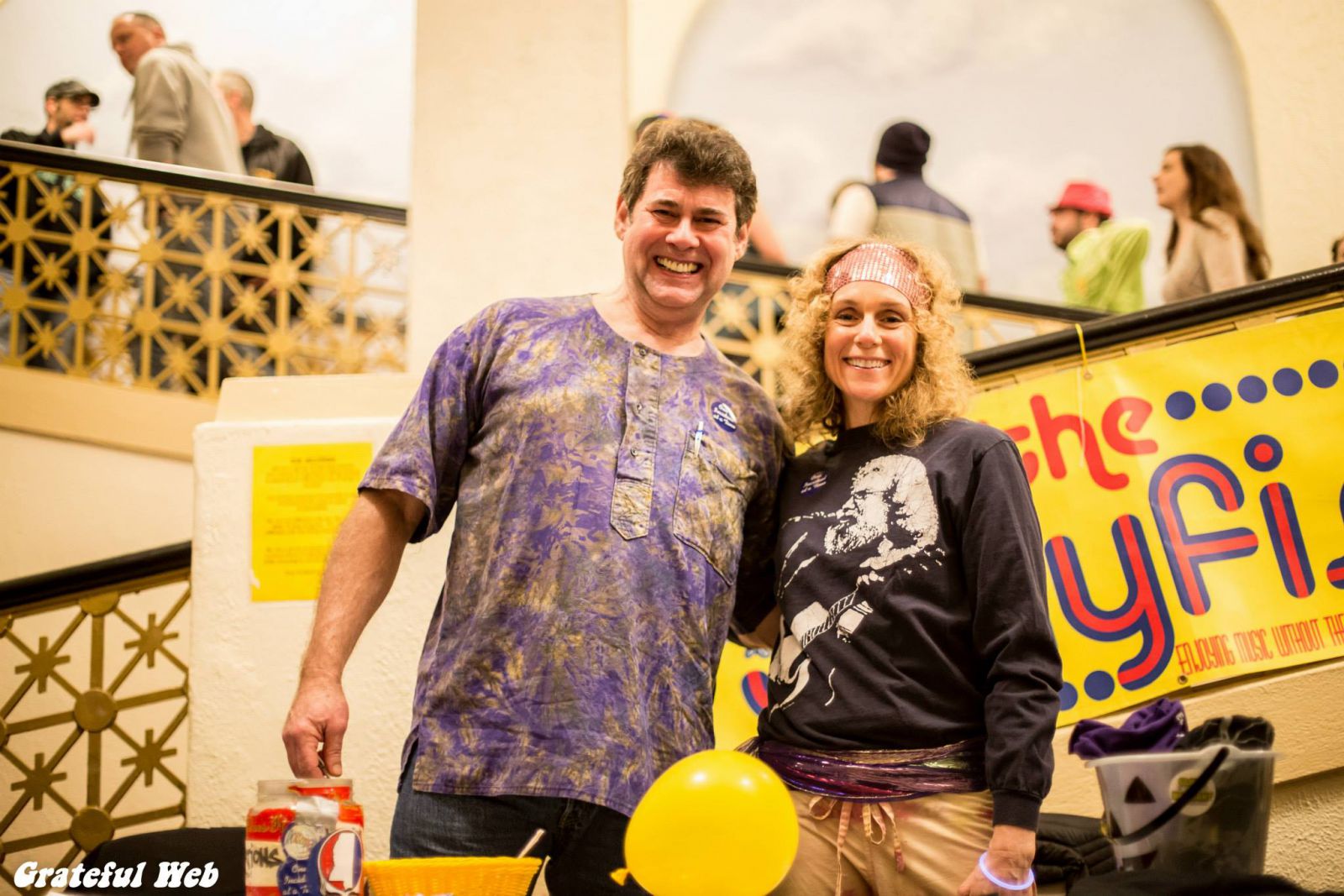 "Sirens" lit up again with an exploratory jam that leaned more heavily toward the brooding dub aura rather than cloying, Toto-esque pop.  String Cheese consistently hit their creative stride during these unrestrained instrumental passages.  SCI's songs often lacked a dynamic vocal component in Eugene.  None of the band's featured singers offered much range or emotional intensity, but there was no denying their genuine artistry when they stopped singing their songs and simply played.
 "Shantytown" gave the McDonald Theatre crowd another taste of the well-blended Cheese.  A simmering, bob-and-weave reggae song set sail and drifted once again toward an intriguing, intergalactic lounge.  Throughout the show, SCI repeatedly demonstrated a keen aptitude for employing the sonic overdrive.  "Shantytown" illustrated how good String Cheese could be when their material matched their musicianship.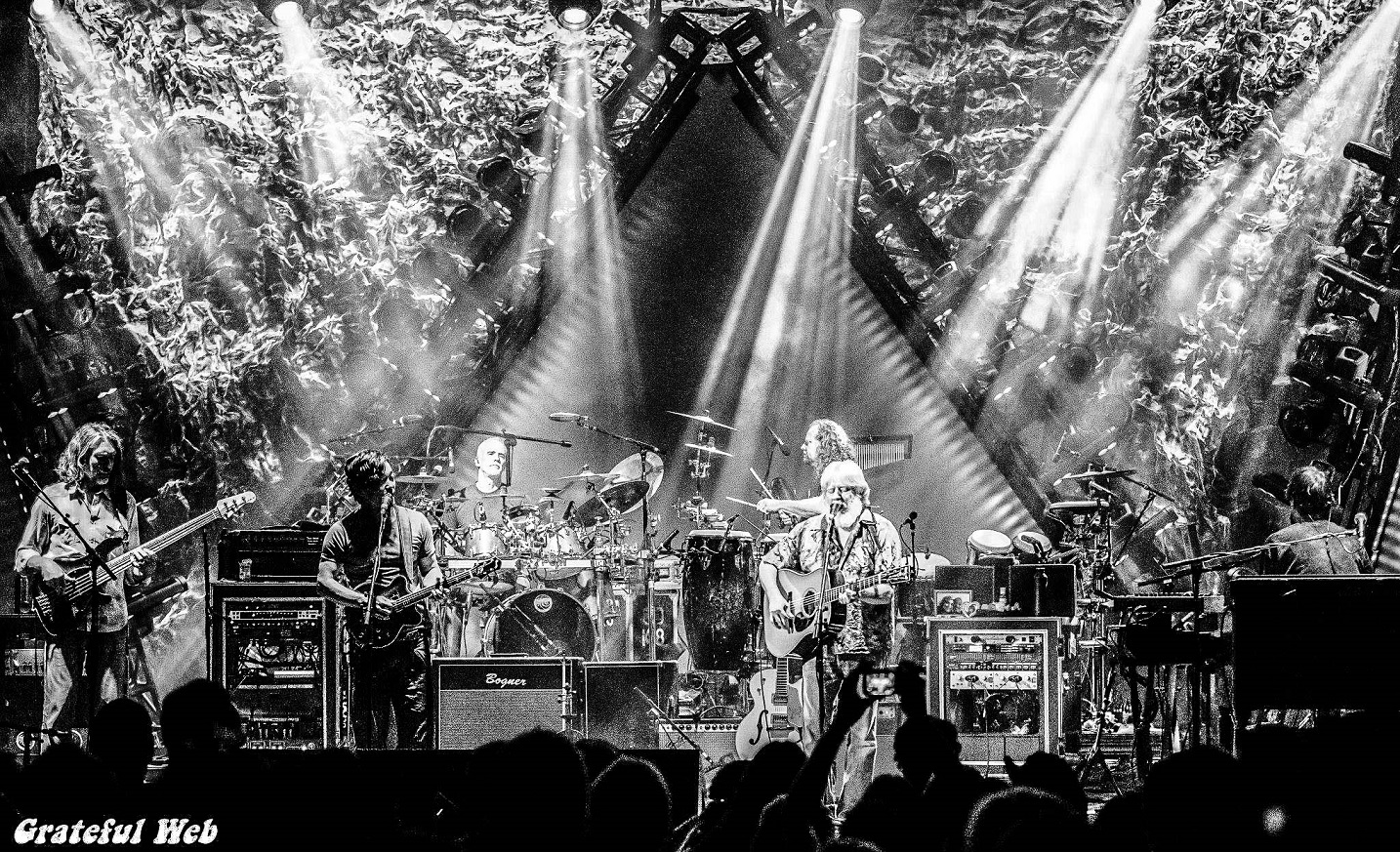 Herman Melville determined, "It is better to fail in originality that to succeed in imitation;" yet Ezra Pound astutely observed, "Utter originality is out of the question."  String Cheese Incident sounded as though they are still trying to reconcile their adherence or resemblance to an existing template with an artistic impulse to invent something wholly unique.
A fundamental feature of the jam-band ethos is a fearless sense of adventure and a Beat-bred commitment to the unending road.  It is encouraging to find String Cheese stretching, reaching and continuing to refine their sound, even if the results are sometimes uneven.  This traveling circus of misfits and freaks does not abide dead-ends; they're for jumping fences and making pathways of their own.