Sunny War has announced 2024 tour dates in support of her New West Records debut Anarchist Gospel. The tour features 3 consecutive nights supporting Mitski at Kings Theatre in Brooklyn, NY, as well as the Ryman Auditorium in Nashville, TN. Additionally, she will appear at the 30A Songwriters Festival in South Walton, FL, the 2024 edition of the Cayamo Cruise, and more. Before heading abroad for her first UK & European dates in support of the album, Sunny War will support the legendary Bonnie Raitt this weekend in Austin, TX at ACL Live. Please see all dates below.
 
Anarchist Gospel was released on February 3, 2023 to widespread critical acclaim. NPR Music called her new music "Thrilling," Rolling Stone said "It all amounts to a powerful statement from a singer-songwriter poised to become one of the year's most vital voices in roots music," and in their 9/10 rated review, Holler called it "a victory of an album," saying "She sounds like a shrewd, modern-day Nina Simone." MOJO Magazine named Anarchist Gospel their "Album of the Month," calling it "an exercise in building hope out of chaos…remarkably centred and complete, the work of a songwriter who knows who she is and how she got here." Uncut Magazine called it "a rich, evocative portrait" in their 8 out of 10 rated review while Glide Magazine called it "...a stunningly effective experience… a thoroughly unforgettable listen." She made appearances on Jimmy Kimmel Live!, The Kelly Clarkson Show, CBS Saturday Morning, and The Late Show with Steven Colbert (Late Show Me Music) in support of the album. She was selected as a TIDAL RISING Artist in 2023 and Spotify included Anarchist Gospel on their "Best Folk & Americana Albums of 2023 (So Far)" list as well. Additionally, Sunny War received a "Best New Artist" nomination at this year's Americana Music Association Awards.
 
Anarchist Gospel was produced by Andrija Tokic (Alabama Shakes, Hurray for the Riff Raff) and features appearances by Jim James of My Morning Jacket, Allison Russell, David Rawlings, Jack Lawrence of the Raconteurs, Micah Nelson, John James Tourville of The Deslondes, Kyshona Armstrong, Dennis Crouch, and more. All songs were written by Sunny War with the exception of "Baby Bitch" (Ween) and "Hopeless" (Van Hunt). With Anarchist Gospel, Sunny has crafted an eclectic set of songs that draw on a range of ideas and styles: ecstatic gospel, dusty country blues, thoughtful folk, rip-roaring rock and roll, even avant garde studio experiments. She melds them together into a powerful statement of survival, revealing a probing songwriter who indulges no comforting platitudes.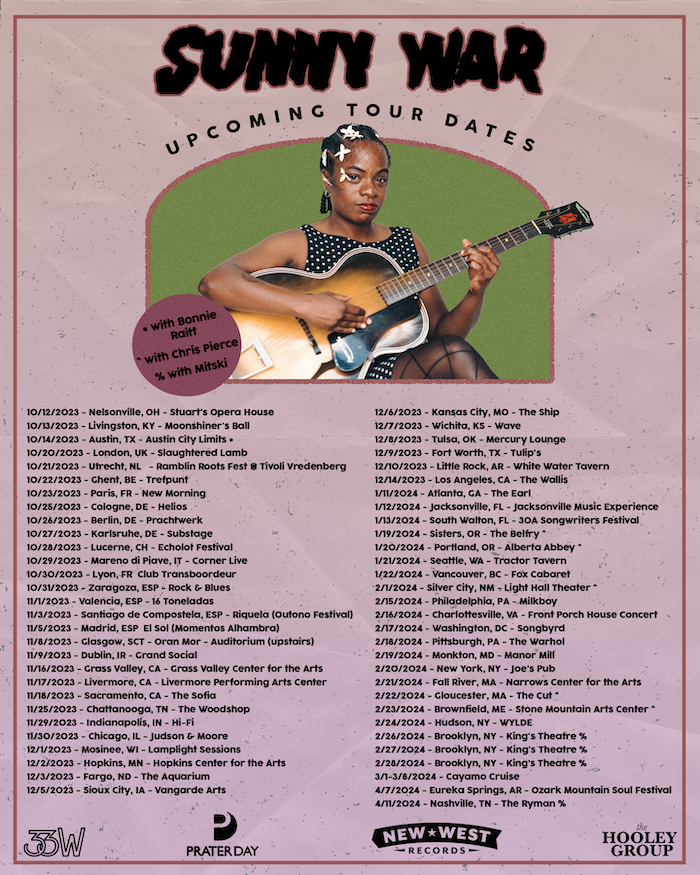 Sunny War On Tour:
10/12/2023 - Nelsonville, OH - Stuart's Opera House
10/13/2023 - Livingston, KY - Moonshiner's Ball
10/14/2023 - Austin, TX - Austin City Limits *
10/20/2023 - London, UK - Slaughtered Lamb
10/21/2023 - Utrecht, NL   - Ramblin Roots Fest @ Tivoli Vredenberg
10/22/2023 - Ghent, BE - Trefpunt
10/23/2023 - Paris, FR - New Morning
10/25/2023 - Cologne, DE - Helios
10/26/2023 - Berlin, DE - Prachtwerk
10/27/2023 - Karlsruhe, DE - Substage
10/28/2023 - Lucerne, CH - Echolot Festival
10/29/2023 - Mareno di Piave, IT - Corner Live
10/30/2023 - Lyon, FR  Club Transboordeur
10/31/2023 - Zaragoza, ESP - Rock & Blues
11/1/2023 - Valencia, ESP - 16 Toneladas
11/3/2023 - Santiago de Compostela, ESP - Riquela (Outono Festival)
11/5/2023 - Madrid, ESP  El Sol (Momentos Alhambra)
11/8/2023 - Glasgow, SCT - Oran Mor - Auditorium (upstairs)
11/9/2023 - Dublin, IR - Grand Social
11/16/2023 - Grass Valley, CA - Grass Valley Center for the Arts
11/17/2023 - Livermore, CA - Livermore Performing Arts Center
11/18/2023 - Sacramento, CA - The Sofia
11/25/2023 - Chattanooga, TN - The Woodshop
11/29/2023 - Indianapolis, IN - Hi-Fi
11/30/2023 - Chicago, IL - Judson & Moore
12/1/2023 - Mosinee, WI - Lamplight Sessions
12/2/2023 - Hopkins, MN - Hopkins Center for the Arts
12/3/2023 - Fargo, ND - The Aquarium
12/5/2023 - Sioux City, IA - Vangarde Arts
12/6/2023 - Kansas City, MO - The Ship
12/7/2023 - Wichita, KS - Wave
12/8/2023 - Tulsa, OK - Mercury Lounge
12/9/2023 - Fort Worth, TX - Tulip's
12/10/2023 - Little Rock, AR - White Water Tavern
12/14/2023 - Los Angeles, CA - The Wallis
1/11/2024 - Atlanta, GA - The Earl
1/12/2024 - Jacksonville, FL - Jacksonville Music Experience
1/13/2024 - South Walton, FL - 30A Songwriters Festival
1/19/2024 - Sisters, OR - The Belfry ^
1/20/2024 - Portland, OR - Alberta Abbey ^
1/21/2024 - Seattle, WA - Tractor Tavern
1/22/2024 - Vancouver, BC - Fox Cabaret
2/1/2024 - Silver City, NM - Light Hall Theater ^
2/15/2024 - Philadelphia, PA - Milkboy
2/16/2024 - Charlottesville, VA - Front Porch House Concert
2/17/2024 - Washington, DC - Songbyrd
2/18/2024 - Pittsburgh, PA - The Warhol
2/19/2024 - Monkton, MD - Manor Mill
2/20/2024 - New York, NY - Joe's Pub
2/21/2024 - Fall River, MA - Narrows Center for the Arts
2/22/2024 - Gloucester, MA - The Cut ^
2/23/2024 - Brownfield, ME - Stone Mountain Arts Center ^
2/24/2024 - Hudson, NY - WYLDE
2/26/2024 - Brooklyn, NY - King's Theatre %
2/27/2024 - Brooklyn, NY - King's Theatre %
2/28/2024 - Brooklyn, NY - King's Theatre %
3/1-3/8/2024 - Cayamo Cruise
4/7/2024 - Eureka Springs, AR - Ozark Mountain Soul Festival
4/11/2024 - Nashville, TN - The Ryman %
 
* with Bonnie Raitt
^ with Chris Pierce
% with Mitski