The annual Ten Bands One Cause charity initiative, which was founded in 2014 and includes notable past participants such as Metallica, John Prine, Run The Jewels, Red Hot Chili Peppers, Sturgill Simpson, Modest Mouse, Jason Isbell, The Black Keys, and Anthrax, will be launching around National Breast Cancer Awareness Month in October. Pink colored vinyl will be pressed for various albums, with a portion of the proceeds from each sale benefitting Red Door Community where no one faces cancer alone. The nonprofit's mission is to create a welcoming community of FREE cancer support to bring knowledge, hope, and empowerment to anyone and everyone impacted by cancer and their families. They are committed to expanding their program and broadening their reach to meet the growing needs of individuals living with cancer, in more places, and in more ways than ever before.
Following is a full list of the 2021 "Ten Bands One Cause" titles and their release dates: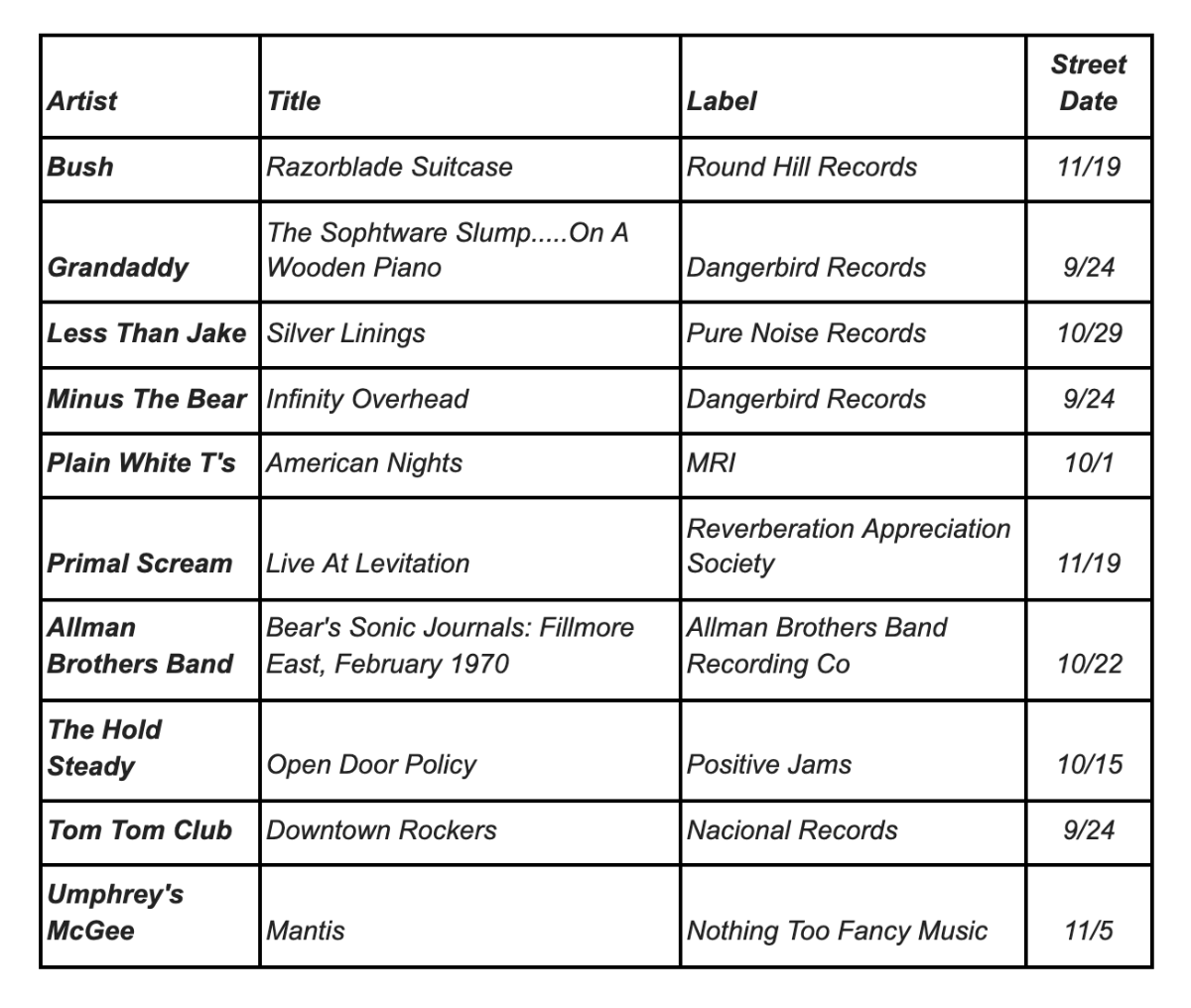 "Grandaddy is honored to participate in Ten Bands One Cause. Doing something we love and having it help foster healing, conversation and community for people living through cancer is about as positive as music can be. Thank you Red Door Community for your powerful work."  - Jim Fairchild (Grandaddy)
 "We feel truly fortunate to do what we do. To support the cause and help out those fighting cancer just by rereleasing an album... that's a no brainer."  - Andy Farag (Umphrey's McGee)
We feel fortunate to be able to contribute to a cause that helps people navigate their cancer diagnosis. I'm reminded of my mothers fight and the mountain of difficulties she faced during her struggle against breast cancer. While she ultimately lost her battle my hope is that some day no one has to deal with the realities and intricacies faced with a diagnosis like hers. In honor of Cheryl, Gilda and the millions of others that have had to or will face this truly difficult reality, KEEP GOING.  - Cory Murchy (Minus The Bear)
We had a chance to meet and dine with Gilda Radner back in 1979 at the height of her SNL fame. She was wonderfully sweet and kind to us, as she was to everyone. Tom Tom Club feels honored to help support Red Door Community with sales from our "Downtown Rockers" EP on beautiful  pink vinyl.  - Chris Frantz and Tina Weymouth (Tom Tom Club)
For more information and a complete listing of all current Ten Bands One Cause titles, please visit: http://www.10bands1cause.com
About Red Door Community
Red Door Community was founded in 1995 by psychotherapist Joanna Bull, along with celebrities Gene Wilder, Mandy Patinkin, Joel Siegel, and many other generous individuals. The charity's mission is to provide welcoming communities for people who are diagnosed with cancer, as well as for caregivers and people who have lost someone to cancer. Their innovative program is an essential complement to medical care, providing networking and support groups, educational lectures, workshops and social activities, all free of charge. A cancer diagnosis can be an extremely isolating experience, which triggers many emotions including fear, anger, depression and an overwhelming sense of helplessness. They believe no one should face cancer alone.