THE THING festival returned to the historic Fort Worden of Port Townsend Washington after a three year hiatus. 'Fort Worden'-- the idyllic filming location for 'An Officer and a Gentleman'-- is presently a decommissioned Navy base that has been renovated into a college. Its sprawling parade grounds next to the ocean make a pretty location for a festival, and for those who camp, the nearby hillside is a picturesque campground with maritime views.
The festival sees itself as a kind of child festival, of Adam Zacks retired Sasquatch festival.  Much like a child, THE THING is a much smaller, curious, and exploratory entity as far as festivals go.  Zacks himself made his presence apparent and was seen enjoying both grounds and events.  The entire event was a benefit for
Seattle Theatre Group, and in a nod to passing arts traditions on to younger generations-- kids under 12 were allowed into the festival for free. 
With two acoustically well-divided stage areas, a small theatre, a church, and an auditorium among its venues, there was much to experience.  If my writeup leaves something out, there was simply so much to do. The festival covered more than just music, with dance, comedy, lectures, a game show, yoga classes, and art-making mixed in... as well as a splendid experiential architecture installation-- the Luminarium.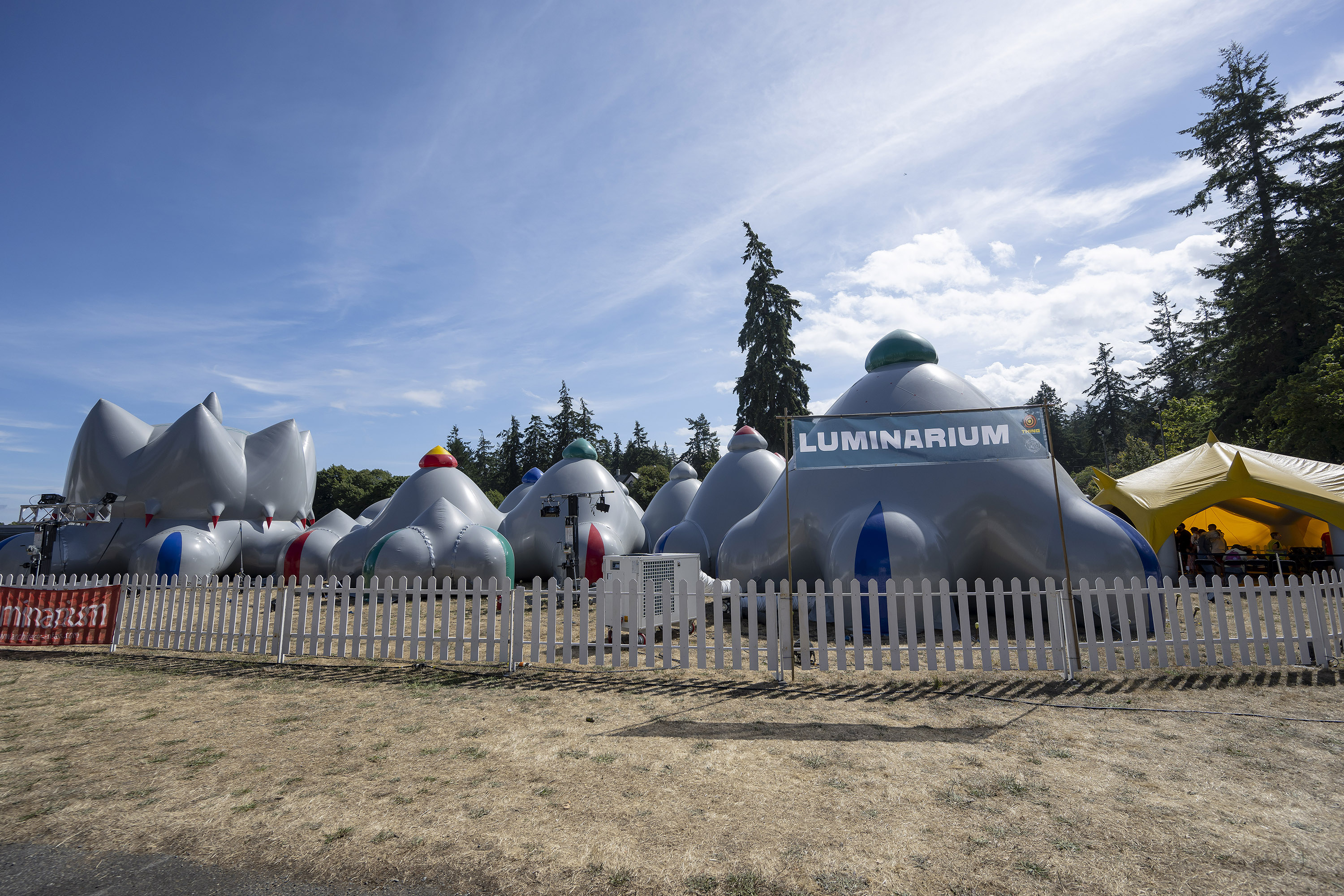 A festival highlight - The Timisien Luminarium was designed by Architects of Air.  It looked like a bouncy house on steroids on the outside.  Inside there was no bouncing, but the maze of round walls and chambers bathed in LED hues made you feel like you were exploring someone's internal organs or an organic spaceship. I wondered why I hadn't seen one before in my years of festival coverage...and then I realized that the structure was probably not well-suited to the average trampling hordes of teenagers seen at the larger festivals.. (It could be sabotaged and deflate).  The structure also probably wouldn't have been a pleasant experience in 90 degree weather of a Bonnaroo-- yet in the mostly 70 degree weather of THE THING, made the shade of the structure pleasantly temperate.  It was probably also the perfect spot to lie back and listen to the Goose set on Friday night.
Musically THE THING was also an exploration with the artists presented being a mix of the familiar and identifiable and local while also presenting just about every audience member with some kind of music to discover.  There was no bad music at THE THING, but there was definitely music you had never heard or seen.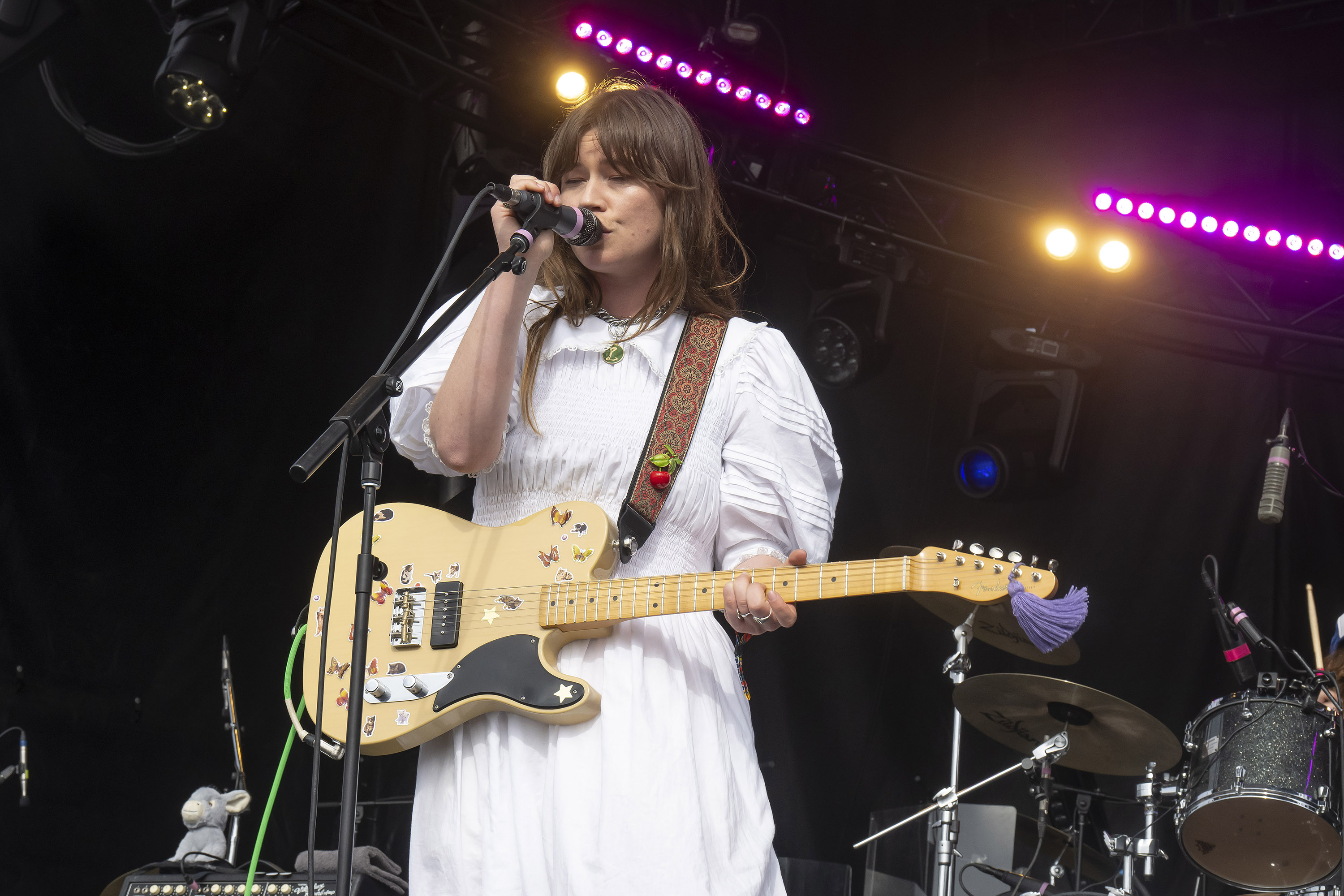 Friday August 26th
Fest day one delivered a range of sets from pleasant to outstanding. Wet Leg graced the main stage in the middle of the afternoon, and by their second song 'Wet Dream' had set the afternoon vibe to midtempo indie rock.  From Wet Leg, I wandered over to Sparks, a new wave band who enjoys more of a cult following in Europe than the states.  Sparks has barely been seen at festivals in the USA, yet they delivered a lively pop set with instantly hummable tunes.  Upon leaving Sparks, I was in for another treat from another pond: Hiatus Kaiyote of Australia.  Lead singer Nai Palm romped across at the main stage in a onesie adorned with sequined hand prints, delivering a funk-rock set with heavy garage rock vibes.  As the sun set over Fort Worden, the only Sub Pop artist of the fest, Father John Misty delivered a scintillating soft rock suppertime set.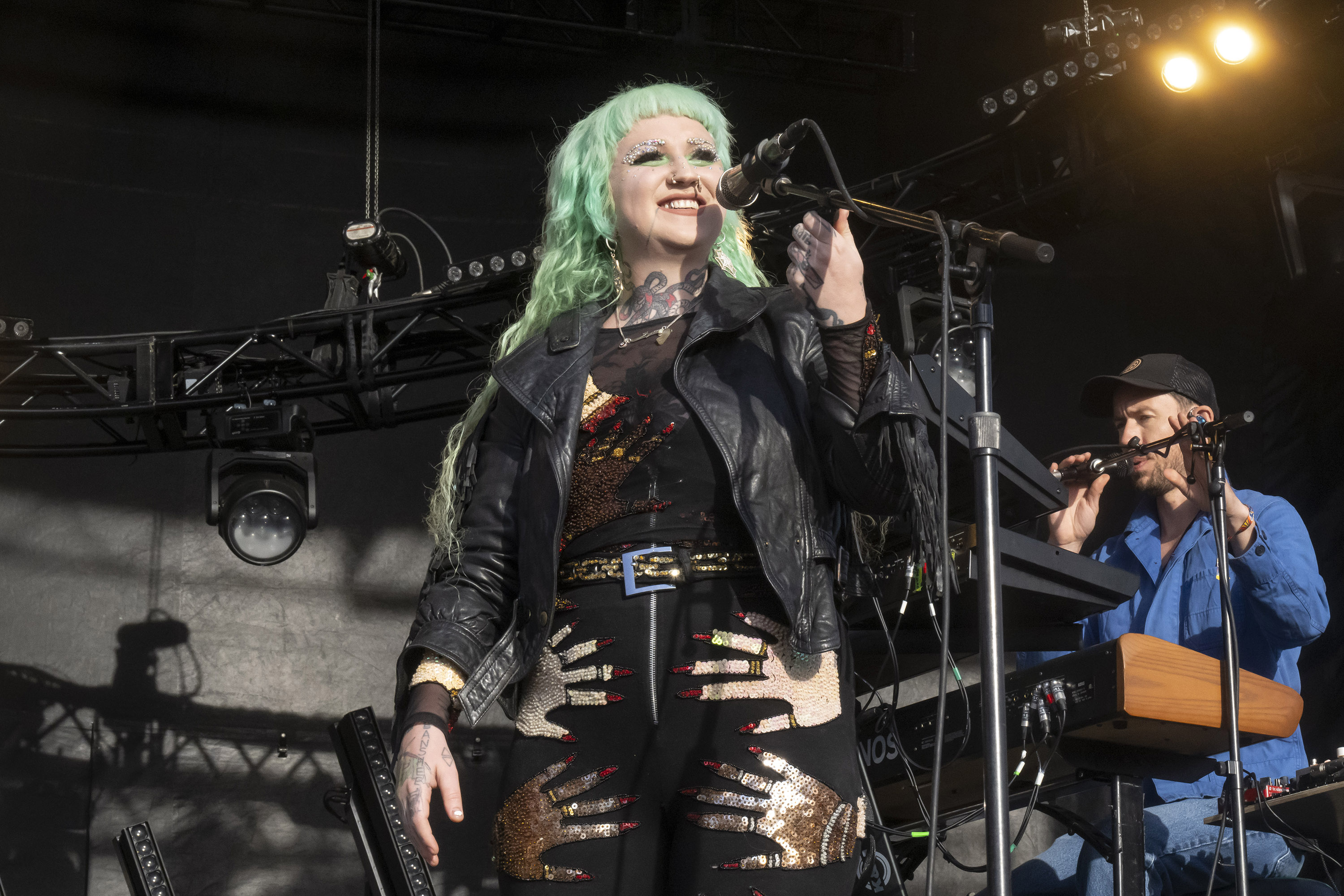 Faithful to their rise, and drawing the largest audience of the day, Goose delivered a cheerful and pretty hour and a half long 8 song jam painted with the lighting director's full arsenal.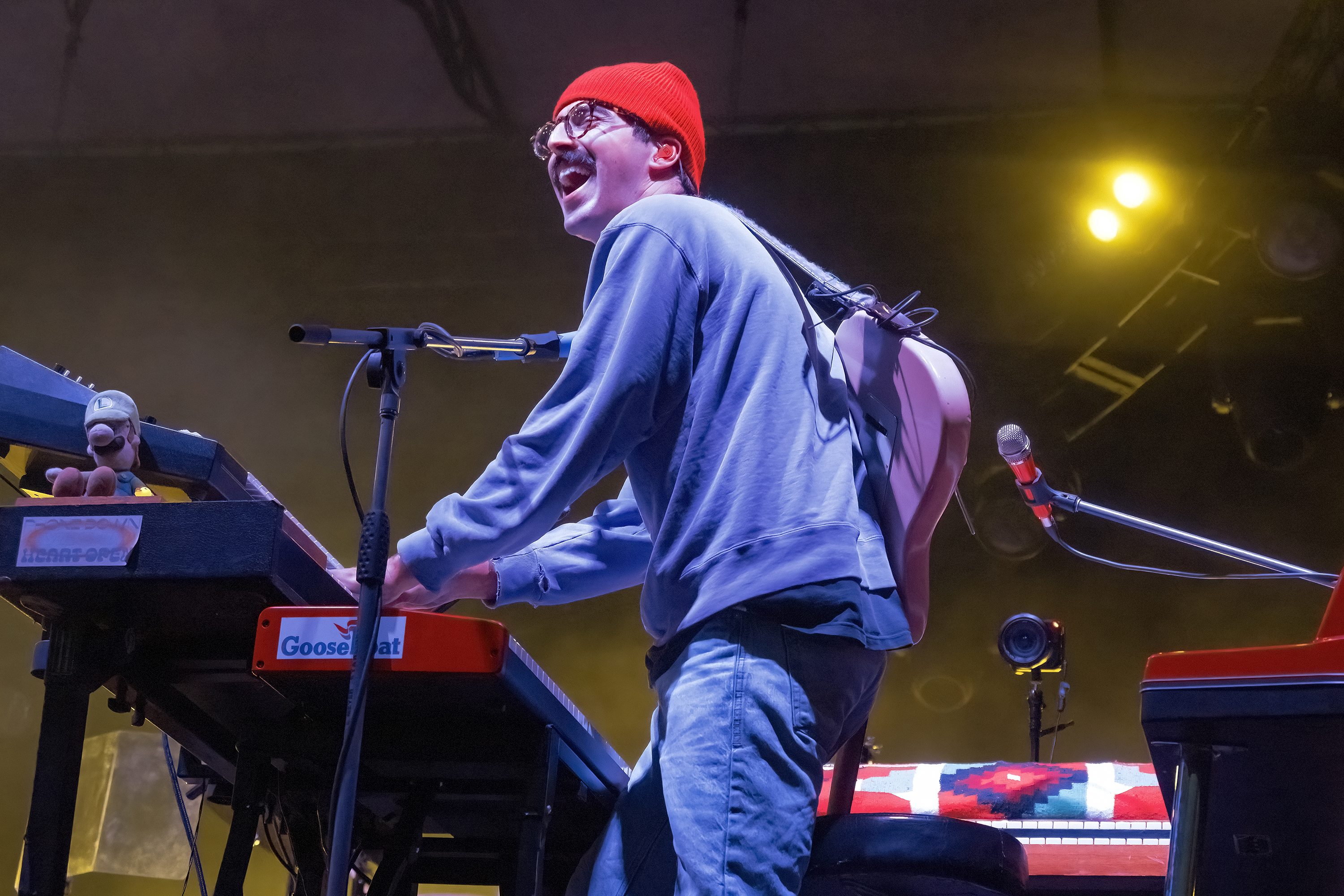 Friday night saw the close of THE THING in the comedy performance of Triumph the Insult Comic Dog.  The puppet-comedian packed the fest's auditorium full of laughs.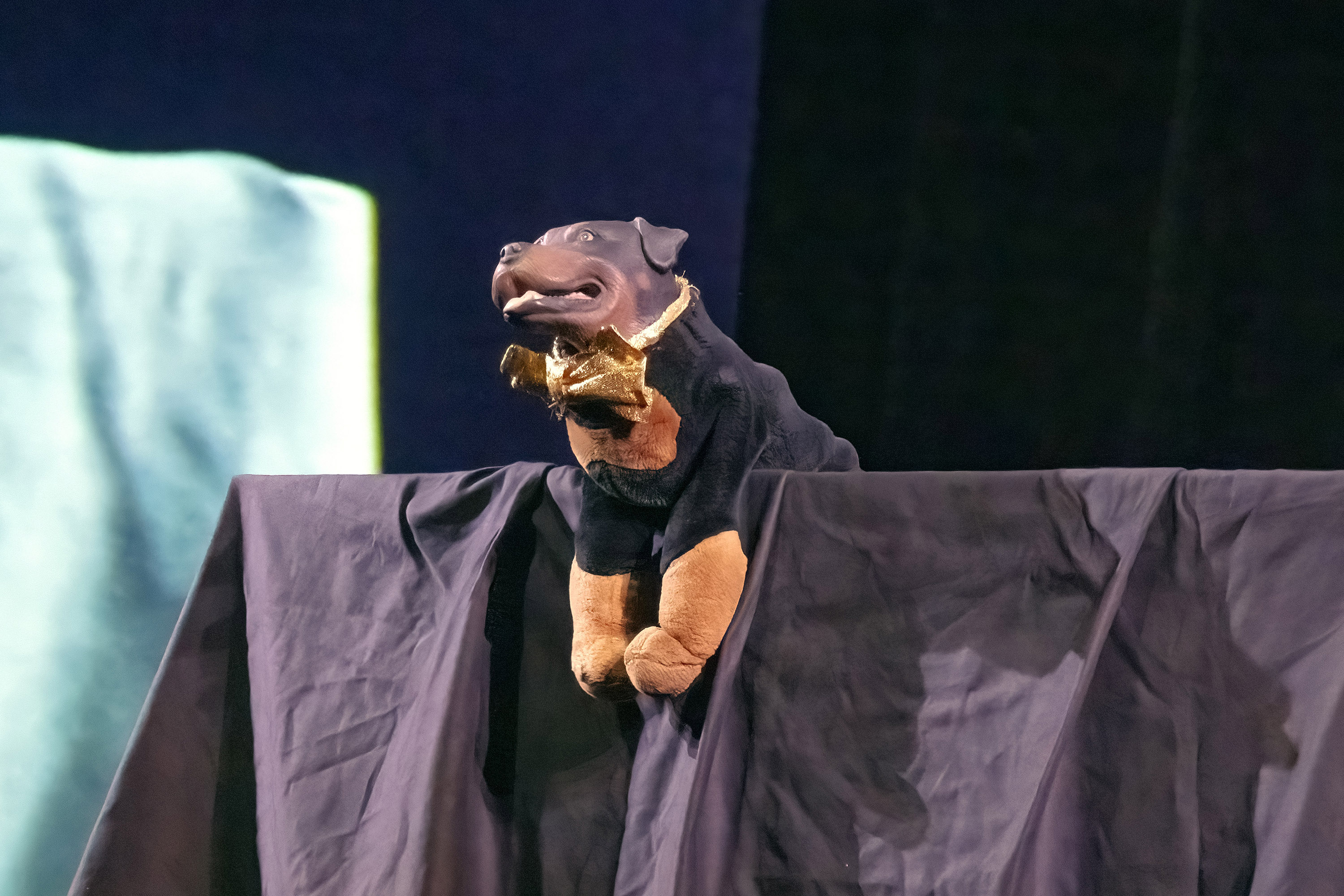 Saturday August 27th
Fest day two began with discoveries in form of a very young set of performers who included among them, a teen guitar prodigy. Osvaldo Ribas who played a magnificently lovely classical guitar piece he had composed.  Moving to the main stage with Shaina Shepherd, a cheerful bright soul vocalist whose cover of the song "Never Be Another You" by Lee Fields and The Expressions was featured in Nordstrom's 2021 holiday campaign.  (Ms. Shepherd would later be seen in the crowd dancing to Durand Jones.)  I wandered from her set through the diverse genre presentations--Helado Negro (latin), Jarv Dee (hiphop), the Illuminati Hotties (tenderpunk) and then onto the remarkable and tremendous ReignWolf (blues-rock).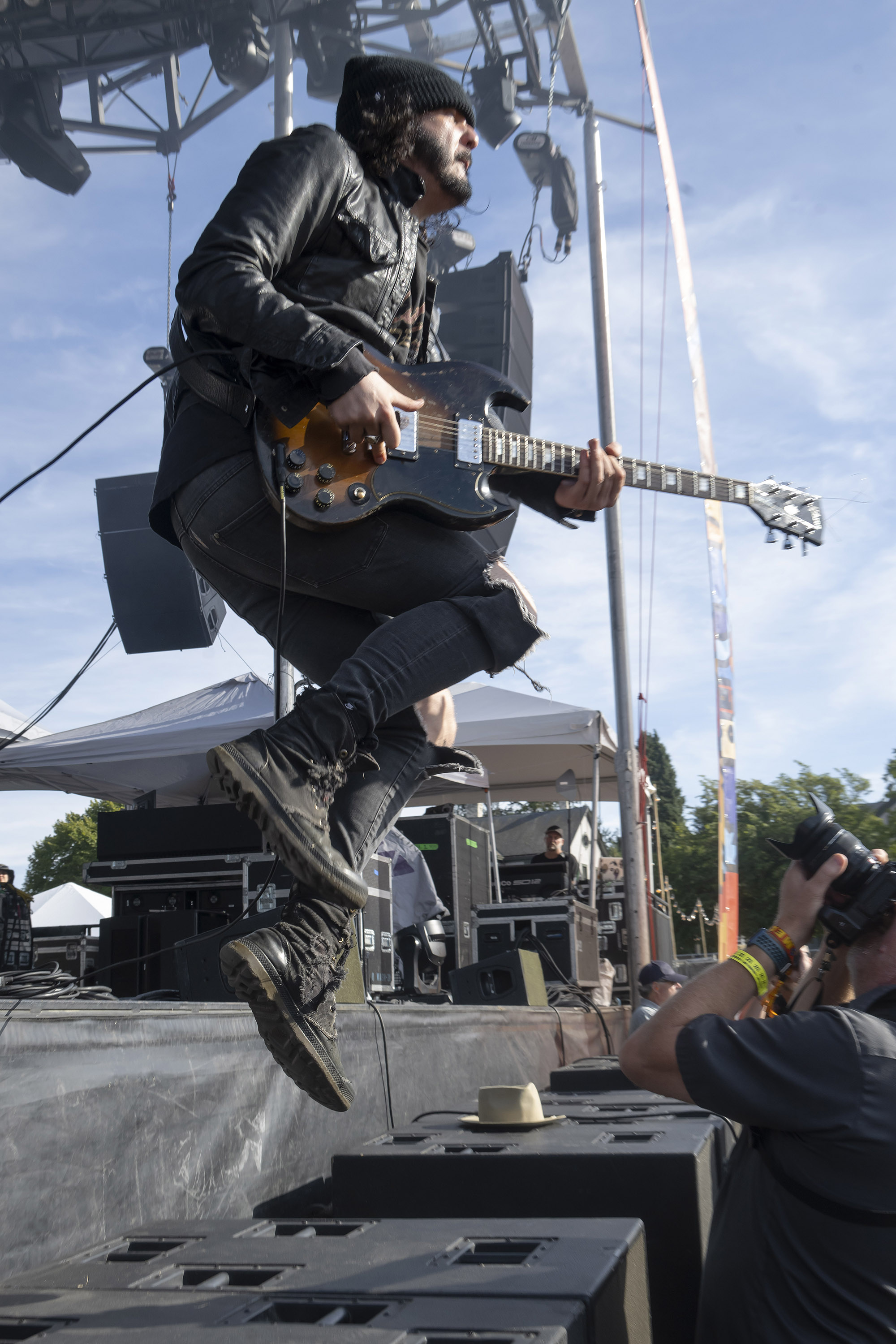 A ReignWolf fan leaned over the rail to tell me they were so happy to be at one of the group's few festival performances on the West Coast.  A few moments into the ReignWolf set I would understand why--it was astonishing just two people could make that much sound, loud in a good way. Later that night, Isaac Brock of Modest Mouse quipped 'I had never heard of ReignWolf ...wow!'
Thanks to ReignWolf, I missed the Marcus J. Moore Jazz is Dead interview and wandered into the Dance with Life workshop, a seated dance workshop devised by two caring instructors who had worked in assisted living and nursing home facilities with people who had no range of movement.  Their gentle slow approach to getting people to move was inspiring.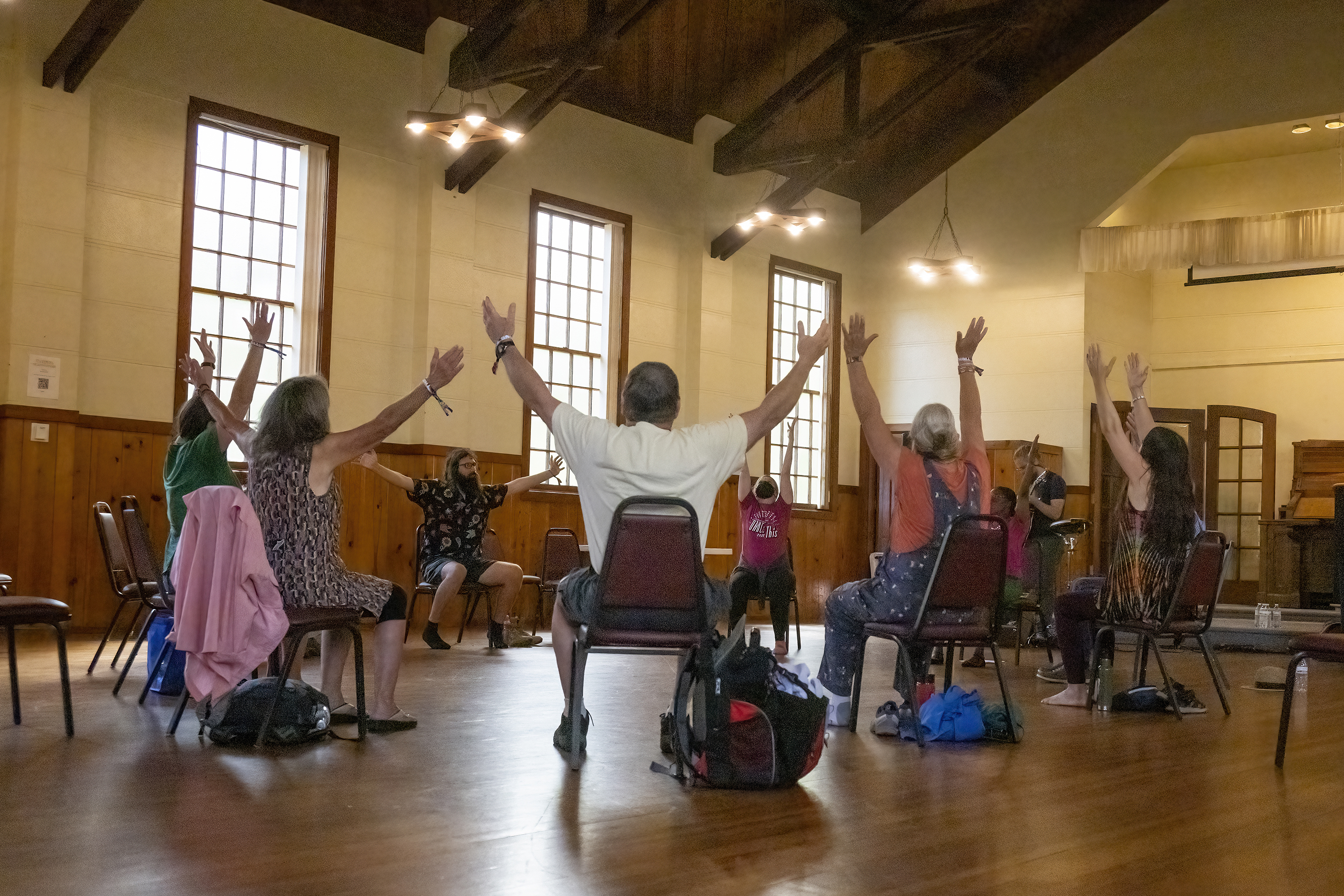 From there it was on to Durand Jones and the Indications (R&B / soul) to Curtis Harding (soul) to the suppertime set of Jazz is Dead (jazz).  Jazz is Dead featured an assortment of Jazz Legends including Doug Carn and Henry Franklin, among others.  Modest Mouse appeared in the headlining slot on Saturday with an upbeat set of midtempo favorites. Future Emmy-Award winner, Jerrod Carmichael closed out Saturday night with stand up in the McCurdy Pavillion.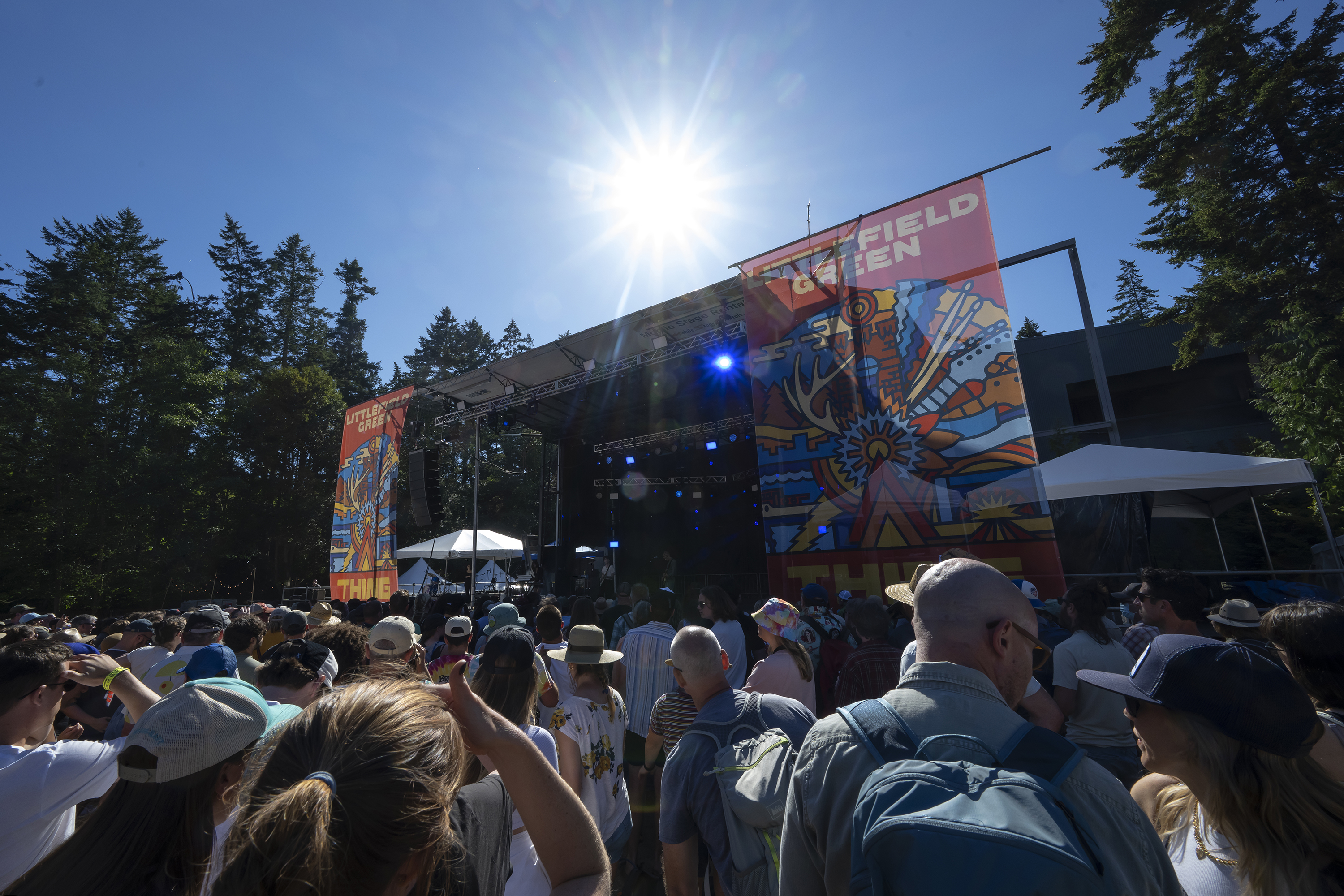 Sunday August 28th
Fest day three's sets began with a local band with the unusual name of Enumclaw tearing up the main stage in proper garage rock fashion.  L'Rain, an experimental pop artist followed, and then Lido Pimienta, a Latin art-pop artist in the brightest attire of the weekend.  Mid afternoon heat saw more indie pop sets from Nation of Language and The Dip contrasted against the experimental electronica of Yves Tumor and the witty rap of Freddie Gibbs.  Freddie Gibbs pulled in a huge audience of enthusiastic fans who lingered getting their dinners while Jose Gonzalez played his suppertime set.  The final headliner of the night, Jungle, a British electronica duo, whose vibrant music was immediately familiar even though I thought I had never heard them.  Haunting vocals of Arooj Aftab closed out the last event of the fest, as did a lantern parade complete with New Orleans style Brass Band.
With a cap of 6500 attendees over the sprawling space, THE THING achieved a civility, diversity and novelty that I have yet to see at any festival.  Mark your calendar for next year, as this event emerges as the more arty and more culturally diverse 'Newport Folk Fest of the West'.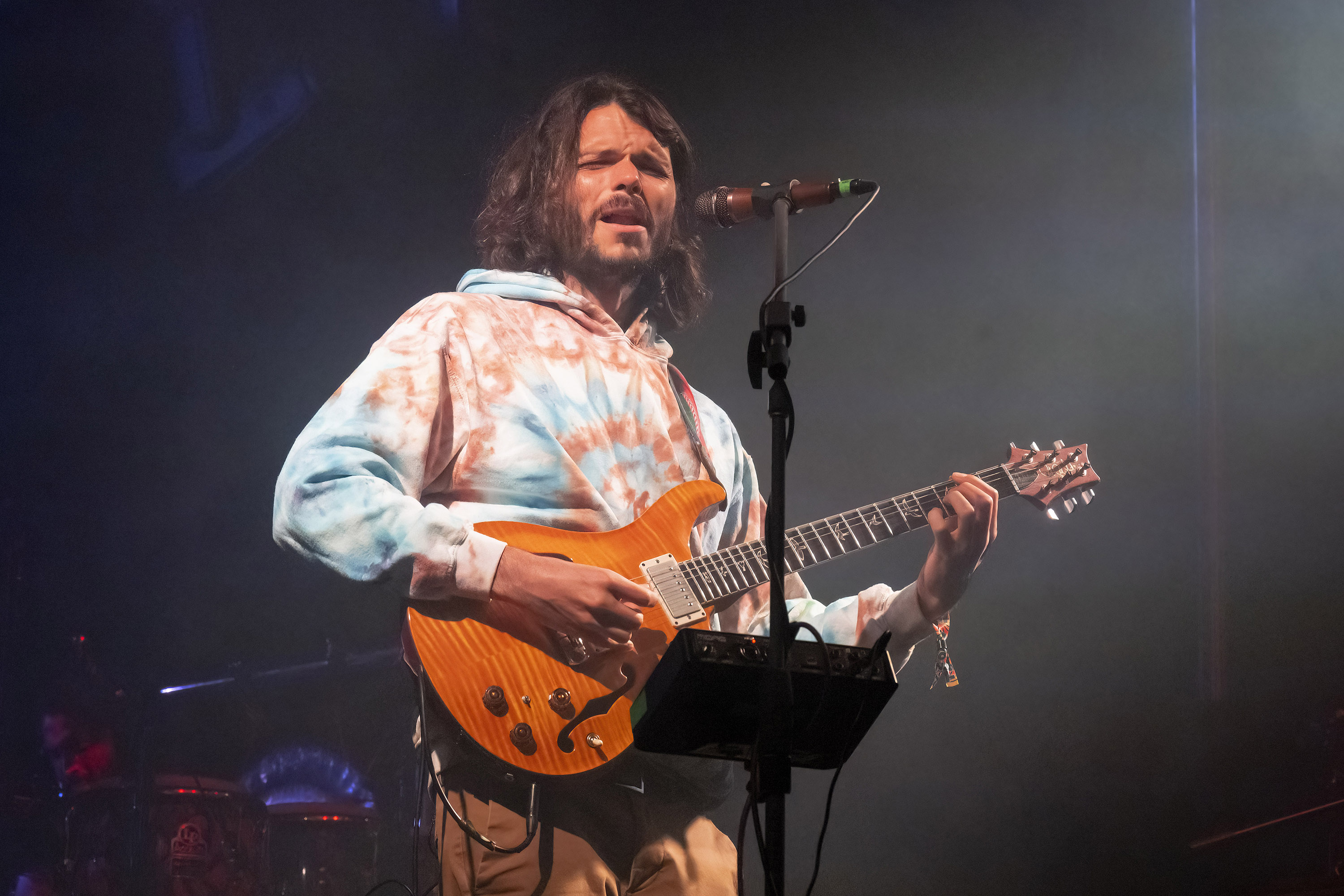 Check out more PHOTOS from the weekend!