One morning near the end of August, Todd Snider was relaxing with a visitor on the back porch of his house just outside Nashville, drinking coffee and shooting the breeze while his dog, Cowboy Jim, took a nap nearby. After awhile, Snider said to his guest, "I've got an album's worth of songs, and I think the songs are telling me to make a folk record."
This was a surprising bit of news considering he had spent the last six years making rock albums of one kind or another. But Snider was feeling as if he had "maybe drifted too far from the shore." He was feeling the pull to start over, to go back to what he was doing when he first began, to return to his roots as a folksinger.
If Snider needed any further evidence that was the direction he should pursue, he got it a half hour later. Back inside his home office, he checked his email and had one from his manager informing him he had just received an offer to play the 2019 Newport Folk Festival, an event he had never done.
Snider mentioned he had been listening to Woody Guthrie's Library of Congress Recordings, then crossed the room to the turntable and put the needle down on side one of the record. "Woody Guthrie sometimes gets me reset on why you do a song, instead of how," Snider explains of the man who has long been a touchstone for him. "When I was young, there was something about him that made me want to do it. So once or twice a year, I'll go back to him, I'll go back to the source."
Guthrie famously had the words "This machine kills fascists" printed on his guitar, and on several of the songs on Snider's new album, Cash Cabin Sessions, Vol. 3, he squarely aims his guitar at the creeping fascism he sees in America. He had been wanting to make a political record since 2016, and although only half the songs lean in that direction, there is one constant throughout the album: a man, his guitar, and the truth.
Snider has long been recognized as one of his generation's most gifted and engaging songwriters, so it's no surprise he has returned with a brilliant set of songs — and make no mistake, Cash Cabin Sessions, Vol. 3 contains some of his best work as a writer. But what really jumps out on the album is Snider's growth as a musician and vocalist. He plays all the instruments on the record, and his guitar work and harmonica playing are nothing short of exceptional; not only full of feeling, but highly skilled. In regards to his guitar playing on the record, Snider says he wanted to take everything he's learned over the past 30 years and play the way he used to play really well.
As far as his vocals on the album are concerned, Snider is singing with more confidence than ever, a confidence born in part from his time with Hard Working Americans doing nothing but sing. His stirring vocal performances range from slurring blues mumble to Dylanesque talking blues to gravely, honest ache.
Of the five songs on which Snider serves up his humorous brand of socio-political commentary, three are performed in the talking blues style: "Talking Reality Television Blues," a hilariously accurate short history of television; "The Blues on Banjo," a bad case of the blues caused by the sorry state of everything from the crooked international monetary-military-industrial complex to the spineless politicians who serve it and which references "Blue Suede Shoes," Richard Lewis, and Townes Van Zandt; and "A Timeless Response to Current Events," a brilliant bit of wordplay on which he calls bullshit on faux patriotism, crooked capitalism, and lying politicians. Jason Isbell and Amanda Shires contributed backing vocals on the latter two songs.
There are two other songs on the album featuring Snider's socio-political points of view: "Just Like Overnight," about the surprising inevitability of change, and "Framed," written from the point of view of the framed "first dollar bill" in a bar, a point of view that shows doing the right thing doesn't pay.
There also are three songs with a music theme. If not for the events that led to the writing of one of those songs,"The Ghost of Johnny Cash," there almost certainly would be no Cash Cabin Sessions, Vol. 3. After a visit to Cash Cabin Studio for a Loretta Lynn session in 2015 where she recorded a song they cowrote, Snider began having a recurring dream about the studio that featured the Man in Black himself. The dream led him to book time at the studio and ultimately inspired him to write "The Ghost of Johnny Cash," which tells the story of Loretta Lynn dancing with Cash's ghost outside the studio in the middle of the night. As he did on much of the record, Snider played the century-old Martin that had long been Johnny Cash's favorite instrument on that song.
Snider paid tribute to Cash's longtime friend and confidante in another of the music-themed songs, "Cowboy Jack Clement's Waltz." Inspired by the iconic record man's oft-quoted maxims regarding the art of recording, the song achingly laments Clement's passing, while touchingly celebrating his legacy.
The album opens with the other song with a music theme, "Working on a Song." It's an existential exercise, a song Snider wrote about writing a song called "Where Do I Go Now That I'm Gone," an idea he actually has been working on for thirty years, but which remains unfinished.
There are also two songs that are personal in nature: "Watering Flowers in the Rain," which was inspired by a former associate of Snider's whose nickname was "Elvis," and "Like a Force of Nature," a philosophical reflection on the orbital nature of friendships. Isbell also added harmony vocals to "Like a Force of Nature."
If Snider is anything, he is a true artist, and he reminds us of that on Cash Cabin Sessions, Vol. 3. At a point in time when the world has never been more complicated and confusing, with people getting louder and louder, Snider did a 180, went back to his roots as a folksinger, to a simpler, quieter form of expression; and it might be what the world is waiting to hear: just a man, his guitar, and the truth.
RAMBLIN' JACK ELLIOTT: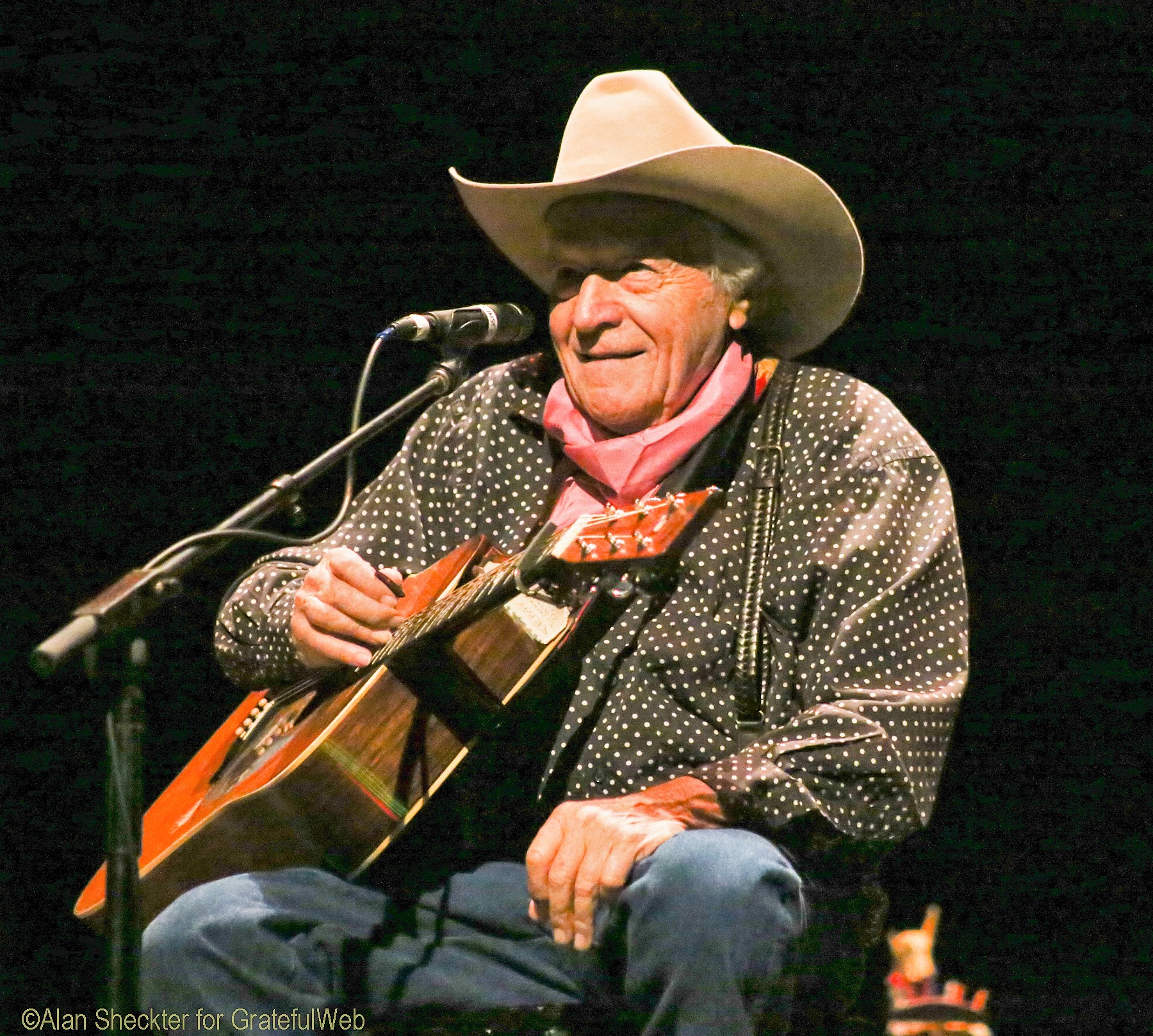 One of the last true links to the great folk traditions of this country, with over 40 albums under his belt, Ramblin' Jack Elliott is considered one of the country's legendary foundations of folk music. Long before every kid in America wanted to play guitar — before Elvis, Dylan, the Beatles or Led Zeppelin — Ramblin' Jack had picked it up and was passing it along. From Johnny Cash to Tom Waits, Beck to Bonnie Raitt, Ry Cooder to Bruce Springsteen, the Grateful Dead to The Rolling Stones, they all pay homage to Ramblin' Jack Elliott. In the tradition of roving troubadours Jack has carried the seeds and pollens of story and song for decades from one place to another, from one generation to the next. They are timeless songs that outlast whatever current musical fashion strikes today's fancy. His tone of voice is sharp, focused and piercing. All that and he plays the guitar effortlessly in a fluid flat-picking perfected style. He was a brilliant entertainer....Most folk musicians waited for you to come to them, Jack went out and grabbed you. "He was the King of the Folksingers"~ Bob Dylan, Chronicles: Volume One .
There are no degrees of separation between Jack and the real thing. He is the guy who ran away from his Brooklyn home at fourteen to join the rodeo and learned his guitar from a cowboy. In 1950, he met Woody Guthrie, moved in with the Guthrie family and traveled with Woody to California and Florida, from the redwood forests to the Gulf Stream waters. Jack became so enthralled with the life and composer of This Land Is Your Land, The Dust Bowl Ballads, and a wealth of children's songs that he completely absorbed the inflections and mannerisms, leading Guthrie to remark, "Jack sounds more like me than I do." In 1954, along with folksinging pals Frank Robinson and Guy Carawan, Jack journeyed south through Appalachia, Nashville and to New Orleans to hear authentic American country music. He later made this the basis for his talking song, 912 Greens.
In 1955 Jack married and traveled to Europe, bringing his genuine American folk, cowboy and blues repertoire and his guitar virtuosity, inspiring a new generation of budding British rockers, from Mick Jagger to Eric Clapton. When he returned to America in 1961, he met another young folksinger, Bob Dylan at Woody Guthrie's bedside, and mentored Bob.
Jack has continued as an inspiration for every roots-inspired performer since. Along the way he learned the blues first-hand from Leadbelly, Mississippi John Hurt, the Reverend Gary Davis, Big Bill Broonzy, Brownie Mcghee and Sonny Terry, Jesse Fuller and Champion Jack Dupree. He has recorded forty albums; wrote one of the first trucking songs, Cup of Coffee, recorded by Johnny Cash; championed the works of new singer-songwriters, from Bob Dylan and Kris Kristofferson to Tim Hardin; became a founding member of Bob Dylan's Rolling Thunder Revue; and continued the life of the traveling troubadour influencing Jerry Jeff Walker, Guy Clark, Tom Russell The Grateful Dead and countless others.
In 1995, Ramblin' Jack received his first of four Grammy nominations and the Grammy Award for Best Traditional Folk Album, for South Coast (Red House Records). In 1998, President Bill Clinton awarded Jack the National Medal of the Arts, proclaiming, "In giving new life to our most valuable musical traditions, Ramblin' Jack has himself become an American treasure." In 2000, Jack's daughter, filmmaker, Aiyana Elliott produced and directed The Ballad of Ramblin' Jack, her take on Jack's life and their fragile relationship, winning a Special Jury Prize from the Sundance Film Festival.
Through it all — though agents, managers, wives and recording companies have tried — Jack resisted being molded into a commercial commodity. He played his shows without a written set list or including any songs that did not ring with his gut feeling of what mattered to him. Ramblin' Jack's life of travels, performances and recordings is a testament to the America of lore, a giant land of struggle, hard luck and sometimes even of good fortune. Ramblin' Jack takes us to places that spur us on to the romance and passion of life in the tunes and voices of real people. At seventy-seven, Ramblin' Jack is still on the road, still seeking those people, places, songs and stories that are hand-crafted, wreaking of wood and canvas, cowhide and forged metal. You'll find him in the sleek lines of a long haul semi-truck, in the rigging of an old sailing ship, in the smell of a fine leather saddle.
Better yet, find him in your local concert hall or on one of his many albums on iTunes or Amazon.
WITH VERY SPECIAL GUEST RAMBLIN' JACK ELLIOTT
Thursday, October 10, 2019
Doors 7:00 p.m. | Show 8:00 p.m.
Tickets on sale at 10:00 a.m. on Friday, July 19th  HERE