Recently, the music world has been teeming with musicians who have stepped up to either replace or support bands that they are not necessarily permanent members of, yet. My last three reviews (Yonder Mountain String Band, STS9, Electron) have detailed surprise replacements/additions who have extremely floored die-hard audiences of the original lineups. Tom Hamilton (guitar/vocals), a Philadelphia native who started Brother's Past and then American Babies, most recently has been dropping jaws in the performance enhanced super group that masterfully recreates Grateful Dead songs, Joe Russo's Almost Dead. Every time I see Hamilton play from over a decade ago to now, he gets exponentially better. He is now hands down one of the best guitar players on the jam band music scene. For those that are unfamiliar with Electron, they are a Disco Biscuits side band featuring Marc Brownstein (bass) and Aron Magner (keyboard) from the Biscuits, Hamilton on guitar, and Lotus' drummer Mike Greenfield.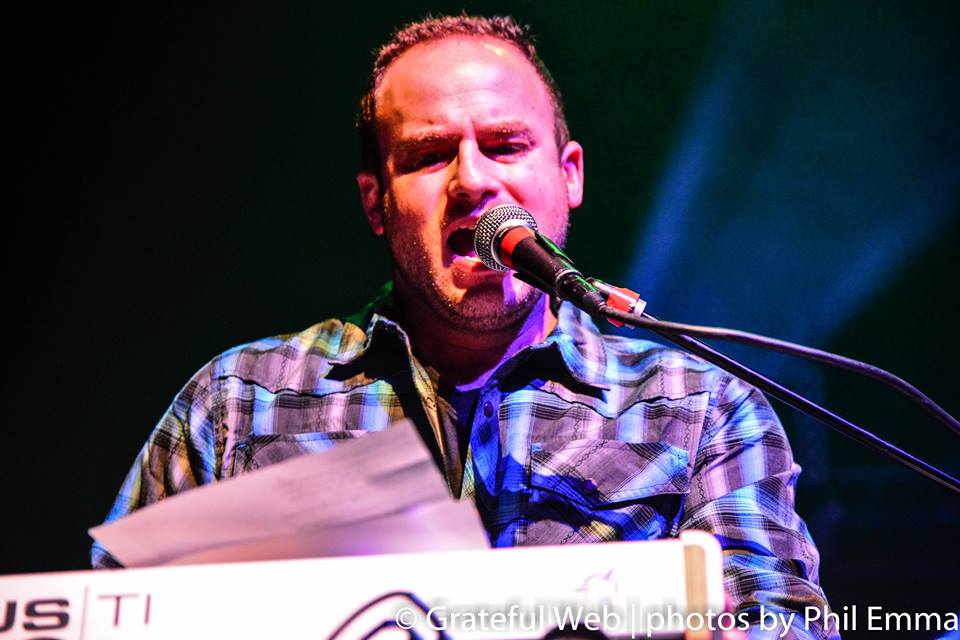 The four night run started at the Aggie Theater in Fort Collins with a long power set that friends of mine who attended said was terrific. Then, the next night, Electron was at the Fox Theater in Boulder. It was good show with a few real surprises, and even an almost announcement of The Disco Biscuits Bisco Inferno at Red Rocks this spring with Bill Kreutzmann and Mickey Hart of the Grateful Dead. Brownstein teased us, and said that there would be a giant announcement really soon. He looked like a kid who could not contain the news any longer. They love coming to Colorado. He even posted a picture of their plane ride with a caption insinuating severe excitement that he would be able to enjoy this run with his young son who has recently been DJing at some of their shows. After hitting the slopes hard on this trip, the Brownstein family are one step closer to moving to this fine state.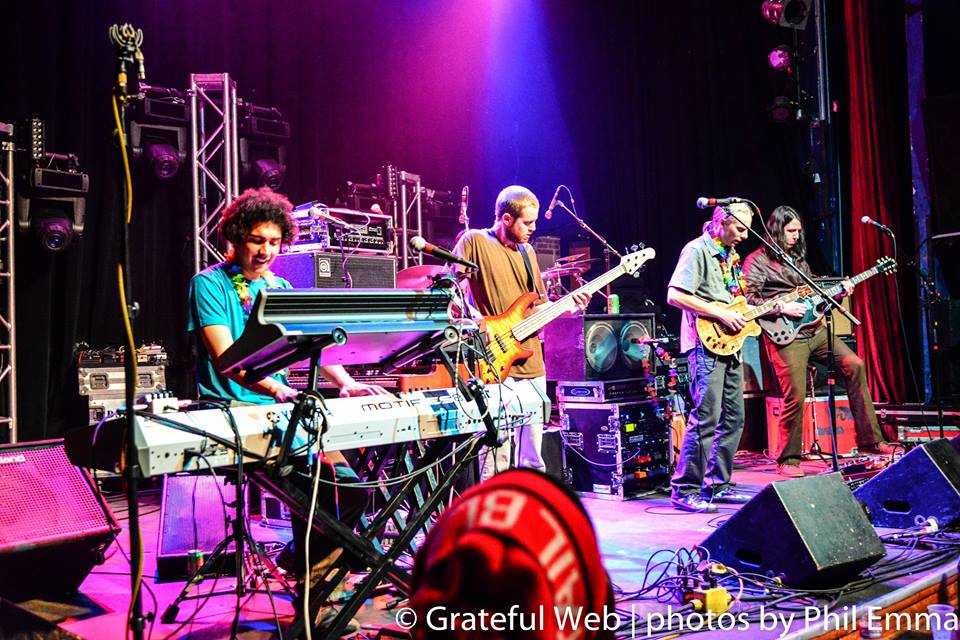 The historic Fox Theater is small, but the sound is great in there. The Magic Beans opened, and then the party ensued. After a bit of a bumpy start with "Home Again," "And the Ladies Were the Rest of the Night > the ending of 42" the vibe picked up.  The Fox was in full stride by this point in the show, and then they played an extremely rare Disco Biscuits song called "Three Wishes" that has only been played 46 times by the Biscuits, and not since 2013. The ending of the first set was a special treat for sure. A Biscuit fan favorite "Digital Buddha" sandwiched a Beatles song called "Tomorrow Never Knows." This beautiful track that is the last tune of the 1966 album Revolver, has a swirling drone to it, which sent the Boulder crowd into a Naropa trance. This song written by John Lennon has vocals blowing through a Leslie speaker cabinet for this Indian sounding drone. That was certainly the first treat of many we would get within the weekend.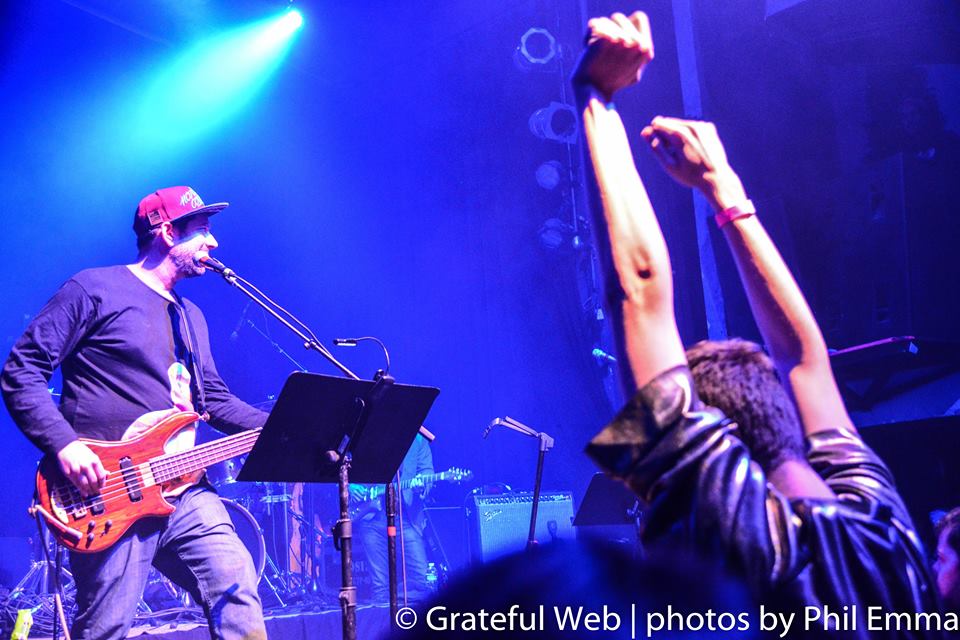 The second set began in typical Biscuits form. For a talented band like this to always play songs dyslexic and inverted, it is not unlikely that they would start with "42 > And the Ladies Were the Rest of the Night," which was the exact opposite of how they played these songs in the first set. Hamilton was absolutely slaying the guitar as he did all weekend. Then, after the appropriate lyrical play of "The City," they played "Portal to an Empty Head," which a few years ago was over played, but it is refreshing to hear now again today. What came next was super appropriate. With all of the Grateful Dead mail orders going out, and news of Joe Russo's Almost Dead shows, "I Know You Rider" could not have come at a better time. First off, it is such a good song. Second, it was evident that it was perfect timing for this Dead friendly Boulder crowd. The dance party was swaying in unison, and Electron moved into a spacey "Portal to an Empty Head" ending.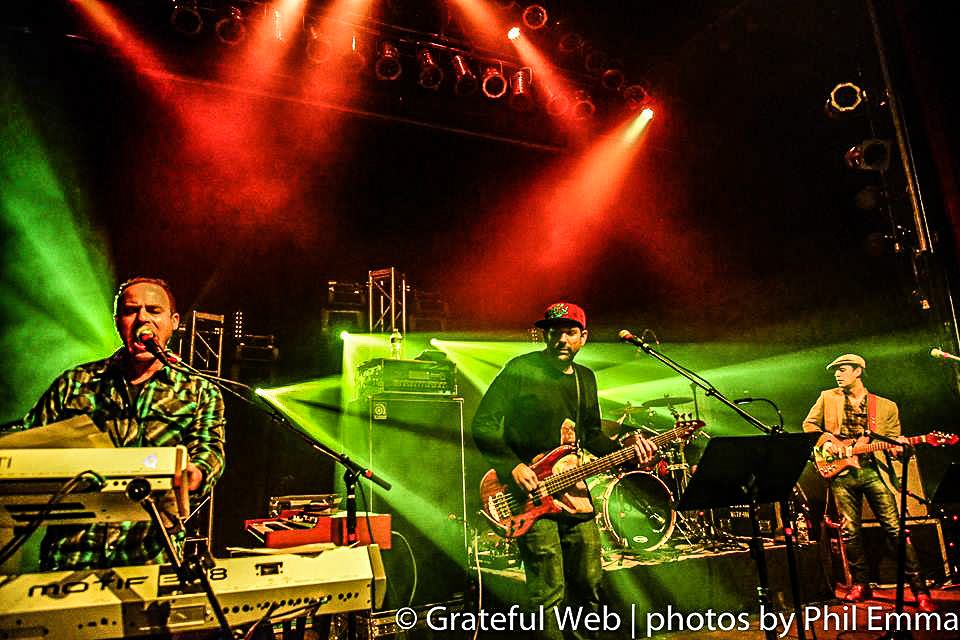 The fans of Electron are used to hearing them cover some great Pink Floyd songs, but I don't think anyone expected to hear "Echoes," which is the sound effect heavy, improvisational ending to their album "Meddle." Each verse of this song follows a pattern of three strophes, which makes it a perfect song for musicians of this caliber to play with. Keyboardist Aron Magner perfected another Leslie rotating speaker sound effect with the amplifying ping sound in the beginning of the song. "Echoes" closed the set, and then the band came out to encore with "Plan B."
Saturday, January 17, at the Gothic Theater in Denver
I want to start by saying that the Gothic Theater is one of my favorite indoor places in Colorado to see a show. Even though it is a bit out of the way, the theater is majestic, and has a magical feel to it. At least I know that Marc Brownstein agrees with me, because upon getting on stage, after giving his trademark, "What's up Denver?" he validated that. He said, "This is incredibly cool for us. We had an incredible week this week in Colorado." While tuning, we could hear the Jerry Garcia tones in guitarist Tom Hamilton. Then he said, "I have not been in the Gothic Theater in a really long time, but I've been here a lot of times, and I've had some great nights in here." Then, without delay, Hamilton counted off one, two, three, four, and the unmistakable sounds of the Grateful Dead's "Feel Like a Stranger" funked its way into the airwaves. Aron Magner's voice was like I have never heard it before. He literally sounded a lot like Bobby Weir with even a touch of Pigpen in there. It was a great opener, and the jam lead into a smokin' "Naeba," where Hamilton was just relentless. His guitar was wailing throughout the entire song. It was as if they were in mid show form. I see a lot of live music, and especially lately in an era where first sets have been lackluster, this show was on fire immediately. Not only have the Biscuits only played this song 16 times, but it has not been played in four years. This formation is more than a side band. They are prepared for anything. Half way through the song at a climax, the beat dropped, and I was expecting Johnny R. Goode's lasers, but it was not exactly a Biscuits show, but the dance floor popped to the meter signature untz. This song was amazing! So smoothly they etched their way into a sweet smellin' "Shelby Rose." Hamilton's shredding at the end of "Shelby" can only be described as Chinese space wah. I have never heard that effect that he was playing, but as his solo went on, it seemed to go back to a normal sounding tone and back and forth.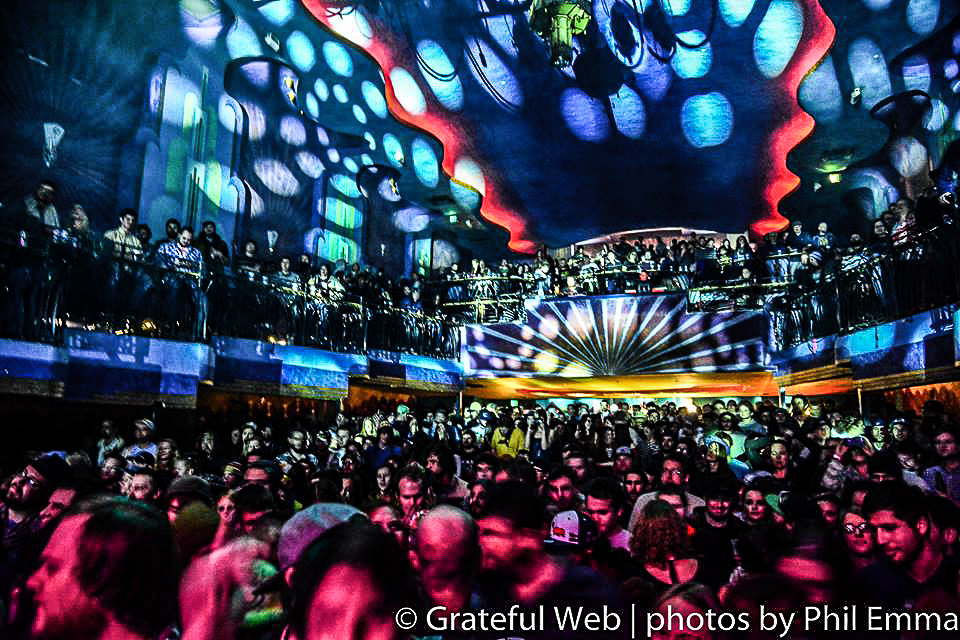 After a quick band introduction, Electron went into a reggae-esque Beatles "Dear Prudence," which the first few notes sounded like Phish's "7 Below" and mid-way through sounded like I heard a War "Low Rider" tease. Brownstein teased a fan about maybe having to change the set list around because I think that he said that he went to 61 Electron shows. Seconds later, they broke into "Therapy," which two out of the last three times played were played close by at the Ogden Theater. "Therapy" went into finishing "And the Ladies Were the Rest of the Night," which closed the song from the Fox Theater and the set. That swirling Chinese space wah that Hamilton played throughout the set was absolutely mind blowing, and if anyone knows what that effect is called, I would really appreciate someone telling me.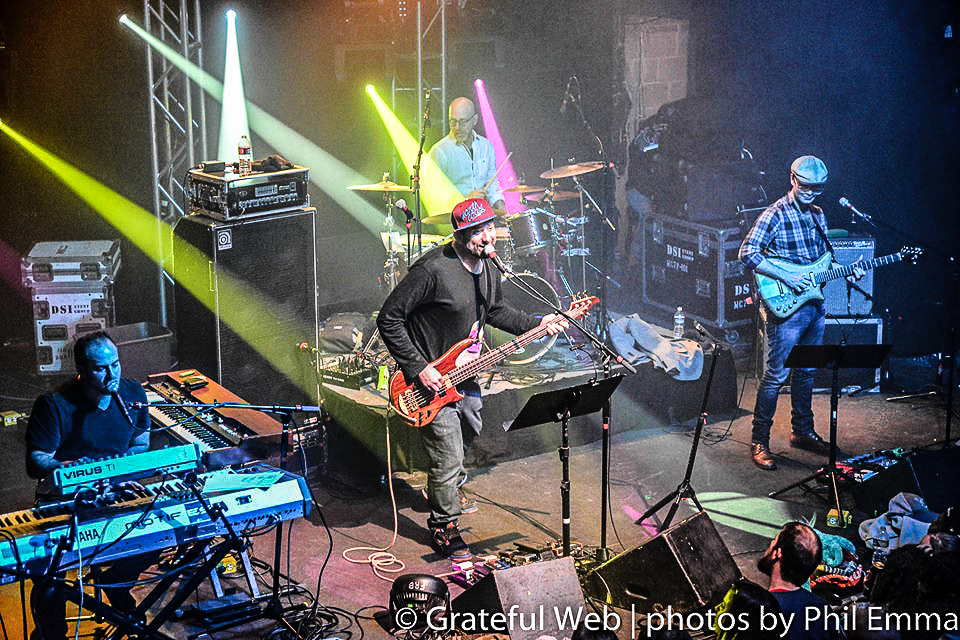 The second set started after a short set break, and with a story from Marc Brownstein about driving in a snowstorm the night before coming to Denver from Frisco with Hamilton. This morning, they had to pick up Brownie's son at the airport who flew by himself and toured the city with his dad. What he was most excited about though, more than being at this show, was skiing up in the mountains. Brownie loves to play music and hit the mountains with his son while he is out here. After thanking the Magic Beans who opened again for them, they opened the second set with "Little Lai." What was about to transpire next was incredibly fun. They played "Confrontation > Shakedown Street > Humuhumunukunikap'a > Confrontation." This run of songs was an exclamation point on a memorable run. They did such a nice job with my favorite Grateful Dead song. Between Magner's keys and Hamilton's guitar, they gave justice to the Dead's funkiest song. The end of the set finished with the fire that it began with.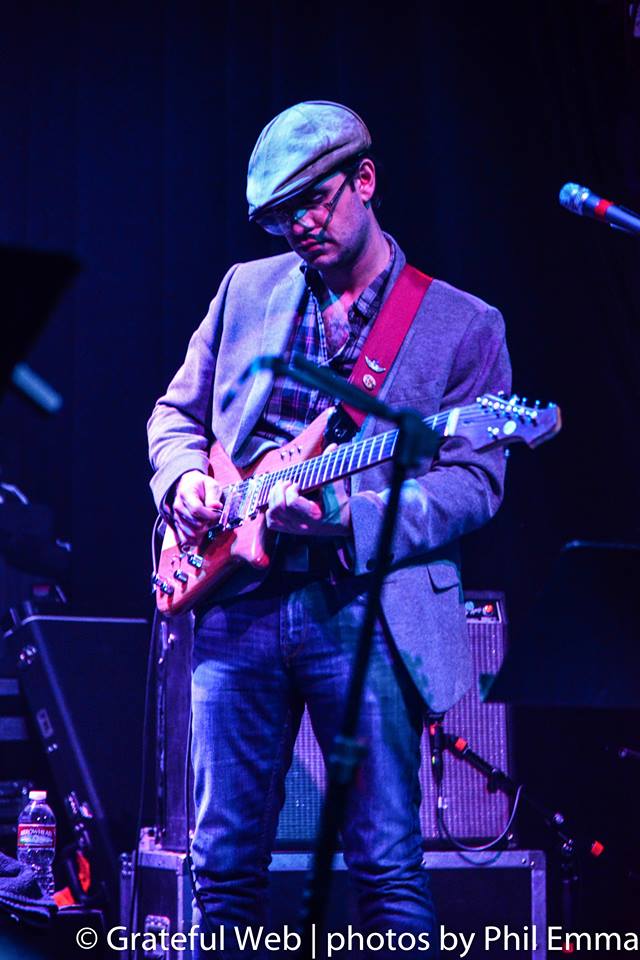 The encore was extremely rare, as matter of fact, only played 5 times. It is a Disco Biscuits song called "Soul is Shaking." And then, after earlier playing my favorite Grateful Dead song, they finish with my favorite Pink Floyd song, "Comfortably Numb." Hamilton did a great job imitating David Gilmore's voice and riffs, and the night concluded beautifully. I could not have asked for more from these two shows that I saw from this tour. After seeing two Electron shows and two Everyone Orchestra shows in three nights, my musical plate was satisfied. I would not miss Bisco Inferno this year at the Ogden and Red Rocks in April. As always, it is the best party that kicks off the Red Rocks season right.