After listening to the mini-album 18 Steps I begun to question Trey Anastasio's choice of track listings for the release Bar 17, his latest studio project distributed this October.  There are some real gems here that probably should have made the cut for the major release, and may have been better received choices that some of the sleepers on Bar 17.
Although 18 Steps was previously only available to customers who pre-ordered  Bar 17, it is now available separately through his website and at various independent record stores across the country.  It was originally described as "consisting of the cutting floor material that never made it onto Bar 17", however, some of these tracks are written and performed better than a number of those on the host record. For that matter, Trey could have gotten away with releasing a two disc project which might have been met with higher praise than the preceding album alone.
A handful of the songs on this companion such as "Home" and "In Spirals" are not musically strong and it is not surprising that they were left off the original release.  The same can be said for the acoustic melody "Rose Alone" and the short arrangement entitled "Agnes".  Though they fall short of what we usually expect from Trey, they all still embody the unique songwriting and composing of Trey's post-Phish work.
One of the most interesting songs on 18 Steps is "Words to Wanda", an African-influenced ballad with subtle percussion and guitar, and it is probably the most novel track included on this release.  Trey took a lesson from Paul Simon and blended melodic folk with West African blues and created a bubbly new age tune.
Another track that is unique to the album is the dance number "Low", exhibiting some very catchy drum beats and over the top vocals that may lead some Phish fans to wish he would have written such a fun number while the group was still performing together.  Nevertheless, it is sure to be a concert favorite for Trey and his traveling entourage.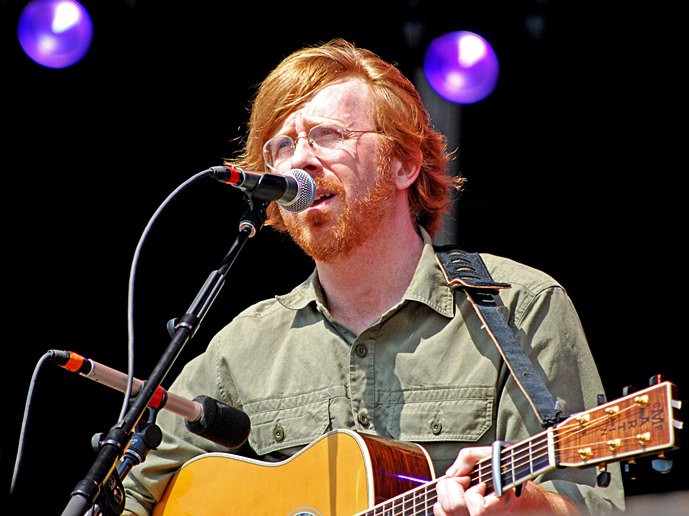 Some of the criticisms surrounding the songs on Bar 17 revolved around the lack of Trey's electric guitar and climactic solos.  These critics will be quieted some by the rousing title track, "18 Steps" which features superb guitar playing and his signature tension-and-release craft work.  The musical structure and accompanying chorus are striking as well, leading me to believe that he could see some commercial success with this number if desired.
However, the best song on this album is the appropriately titled song "Dark and Down".  Obviously written during a time of inner anguish, it speaks of a man who feels he is losing control, evident in the chorus line "falling...  no power left to land".  Some of the best songs ever written were composed during times of desolation and sorrow, and Trey may have used that formula to create this dark jewel. His wailing guitar over the accompanying vocals of Jen Hartswick and Christina Durfee brings about deep emotion and has more feeling to it that most any of the songs showcased on both Bar 17 and 18 Steps.
This mini-album is another fairly well-done project by the former Phish front man, and yields some enduring ballads and not-so-standard rock tunes that have proven to be a nice compliment to his prior release.  It shows Trey has yet to peak musically, and we are sure to hear more extraordinary projects in the future.