Shel Silverstein, as a writer, poet, and illustrator, has influenced generations upon generations of kids (and kids at heart) with his brilliant, witty, and touching turns of phrase. In Twistable, Turnable Man: A Musical Tribute to the Songs of Shel Silverstein (June 8, 2010), Sugar Hill Records shines a light on the lyrical genius's oft-overlooked catalog of classic country songs.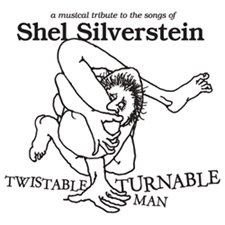 As a songwriter, Silverstein penned indelible songs made famous by artists such as Johnny Cash, Dr. Hook, Loretta Lynn, and others. No country singer ever made Shel's work as large a part of his repertoire, though, as Bobby Bare Sr., who first partnered with Silverstein on the seminal Outlaw Country album, Lullabys, Legends and Lies, entirely penned by Shel. Bare Sr. and then-five-year-old son Bobby Bare Jr. received a Grammy nod for the country radio hit "Daddy What If" (a win, incidentally, would have made Bare Jr. the youngest Grammy holder ever, until they were usurped by those mavens of country music: The Pointer Sisters). The song is revisited on the tribute by the now-grown son with his own four-year-old daughter Isabella, making her the third generation to pay homage to Shel on this heart wrenching tune.
On this collection, lovingly co-produced by Bare Sr. and Bare Jr., the wide range of Silverstein's work – from humorous to poignant to edgy – is interpreted by two distinct generations influenced by Silverstein's work. From Dr. Dog, My Morning Jacket and Andrew Bird, to Ray Price, Kris Kristofferson, and John Prine, the album is full of surprises and hidden gems. Bare Sr. says in his liners: "Shel would have loved every part of this album. This is the kind of thing he loved to do in the studio— having fun with friends, independent from all, doing it our way!"
Of the participating artists, Bobby Bare Jr., who grew up greatly influenced by Shel and went on to write with him as an adult, says "The lineup is a mix of people I have on speed dial, and people my dad has on speed dial" – fortunately they all just happened to be fans of Shel's songwriting. Bare Jr. explains that Jim James of My Morning Jacket was already a huge fan of the song "Lullabys, Legends, and Lies," which he would play as the house music between sets at MMJ shows. Bare Jr.'s friend and colleague Andrew Bird was the only artist permitted to put a poem to music, and his version of "The Twistable, Turnable Man Returns" is just as genuinely Bird as it is Silverstein, showing a striking similarity in their lyrical styles. Of John Prine, Bobby Bare Sr. insisted "This Guitar is for Sale" was perfectly suited to his wry and poignant style.
As a whole, the collection presents a variety of takes on a collection of material that lends itself to creative interpretation, making Twistable, Turnable Man: A Tribute to the Songs of Shel Silverstein an eclectic, endearing valentine to this giant of American song.