Even though Townes Van Zandt may not be a household name, he is a legend to songwriters and the music fans who love them. As the recently issued Sunshine Boy: The Unheard Studio Sessions & Demos 1971-1972 proved — receiving five-star reviews from American Songwriter and Mojo, along with a ten-out-of-ten-star piece from Uncut — the world was ready to rediscover not only Van Zandt, but the studio albums those sessions came from.
 
Omnivore Recordings now offers reissues of Townes' two seminal recordings: High, Low and In Between and The Late Great Townes Van Zandt, each available on CD and — for the first time in decades — on high-quality, 180-gram vinyl, with a release date of May 21, 2013.
 
High, Low and In Between, Townes Van Zandt's fifth album, originally released by Poppy Records in the fall of 1971, was an album that saw Townes becoming the songwriter revered today. Full of original material, including "You Are Not Needed Now," "Blue Ridge Mountains," and "To Live Is To Fly," it opened eyes and ears to his abilities. His backing band included folks like Larry Carlton, who would play on Joni Mitchell's Court & Spark, who accompanied Steely Dan on The Royal Scam (playing that solo we all know and love on "Kid Charlemagne"), and who was a member of Jazz's elite Crusaders. High, Low and In Between is, in the end, a classic Townes Van Zandt album. And one that should be re-examined.
 
The Late Great Townes Van Zandt, his sixth effort, hit the shelves in 1972. The album built on High, Low and In Between, adding texture in both song and production. It's probably best known for "Pancho & Lefty" — the song Emmylou Harris covered for 1977's Luxury Liner and which Willie Nelson & Waylon Jennings would take to the top of the charts in 1983. Full of originals, as well as covers like Hank Williams' "Honky Tonkin'," the release was Van Zandt's perfect storm, with every element in place. The Late Great Townes Van Zandt might be his masterwork. This release should be in every collection of great American music.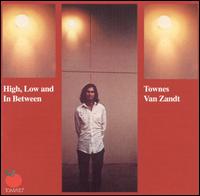 The gloriously remastered editions of High, Low and In Between and The Late, Great Townes Van Zandt will be available on CD, in a digipak with liner notes from award-winning scribe Colin Escott, as well as on 180-gram vinyl, with the first 1000 pressed on orange and clear colored vinyl respectively. (Future pressings will be on standard weight, black vinyl.)
 
It's not too late to know and love the Late Great Townes Van Zandt.

High, Low and In Between
1. Two Hands
2. You Are Not Needed Now
3. Greensboro Woman
4. Highway Kind
5. Standin'
6. No Deal
7. To Live Is To Fly
8. When He Offers His Hand
9. Mr. Mudd and Mr. Gold
10. Blue Ridge Mountains
11. High, Low and In Between

The Late Great Townes Van Zandt
1. No Lonesome Tune
2. Sad Cinderella
3. German Mustard (A Clapalong)
4. Don't Let The Sunshine Fool You
5. Honky Tonkin'
6. Snow Don't Fall
7. Fraulein
8. Pancho & Lefty
9. If I Needed You
10. Silver Ships of Andilar
11. Heavenly Houseboat Blues