Unify Fest 2016 at Ranchos de Las Golondrinas, outside of Santa Fe, hosted 200 performers and visionaries. Since I could only sample a bit here and there, here are more highlights of some of the acts, workshops, and ceremonies I saw over my four days there.
Day 2 Friday
This day, like the days that followed, had a morning ceremony of some kind. On Friday it began later at 10 am, after workshops, yoga, and even music began at 8 am. Though there were late night events Thursday, these early happenings actually had awake bodies prepared to participate or attentively listen. Grandmother Flordemayo, a well-known Mayan healer, offered a morning ceremony called Unifying Our Hearts, which, again, was a major theme of this festival.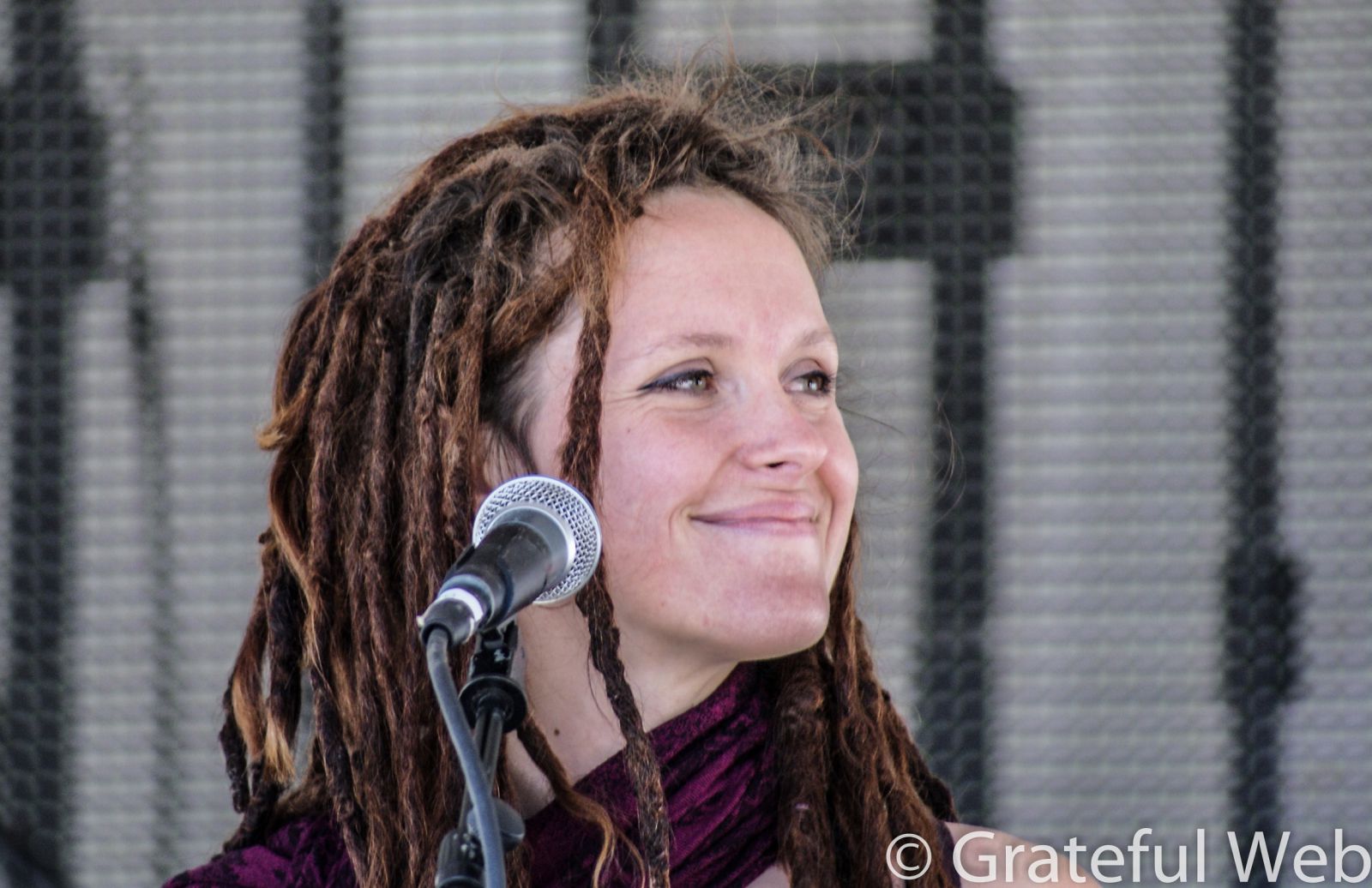 She later participated in a panel called Grandmother Wisdom with Grandmother SaSa (Japanese Ainu/Abenaki) from New Hampshire, and Grandmother Alta  Piechowski (Dine) from Arizona and Utah. The panel was hosted by Madi Sato (also Japanese Ainu), who is the founder of the Song Carriers Women's Circle in Santa Fe. It was a thoughtful panel about protecting water and organic seeds that incorporated ceremony as well. Seeing these humble women seated on a stage, I was unaware initially of what a significant moment this was. Each of them is carrying forth a powerful mission.
For example, Grandmother Flordemayo founded a Seed Temple, a storage facility for non-GMO seeds, in Estancia NM, a tiny community east of Albuquerque. It is small in comparison to the massive Svalbard Global Seed Vault in Norway that has seeds from over 2000 different cultivars. Those seeds aren't necessarily non-GMO and they aren't available to the public. The Seed Temple is storing non-GMO seeds, yes, but it is also putting seeds into the hands of mothers and children, the ancestral  heirs of agriculture.
While I was listening to these Grandmothers, I heard bits of Johanna Beekman wafting from the hill below, as she sang South Asian Kirtans and other sacred songs from the Espiritu St
Earlier in the day, I caught Zehelu, a Toronto-based duo comprised of Cora Flora and Jerry Woods, on the Viento Stage. They offered honest songwriting and more of an Americana sound than some of the other acts I heard during the festival. It was a pleasant change up.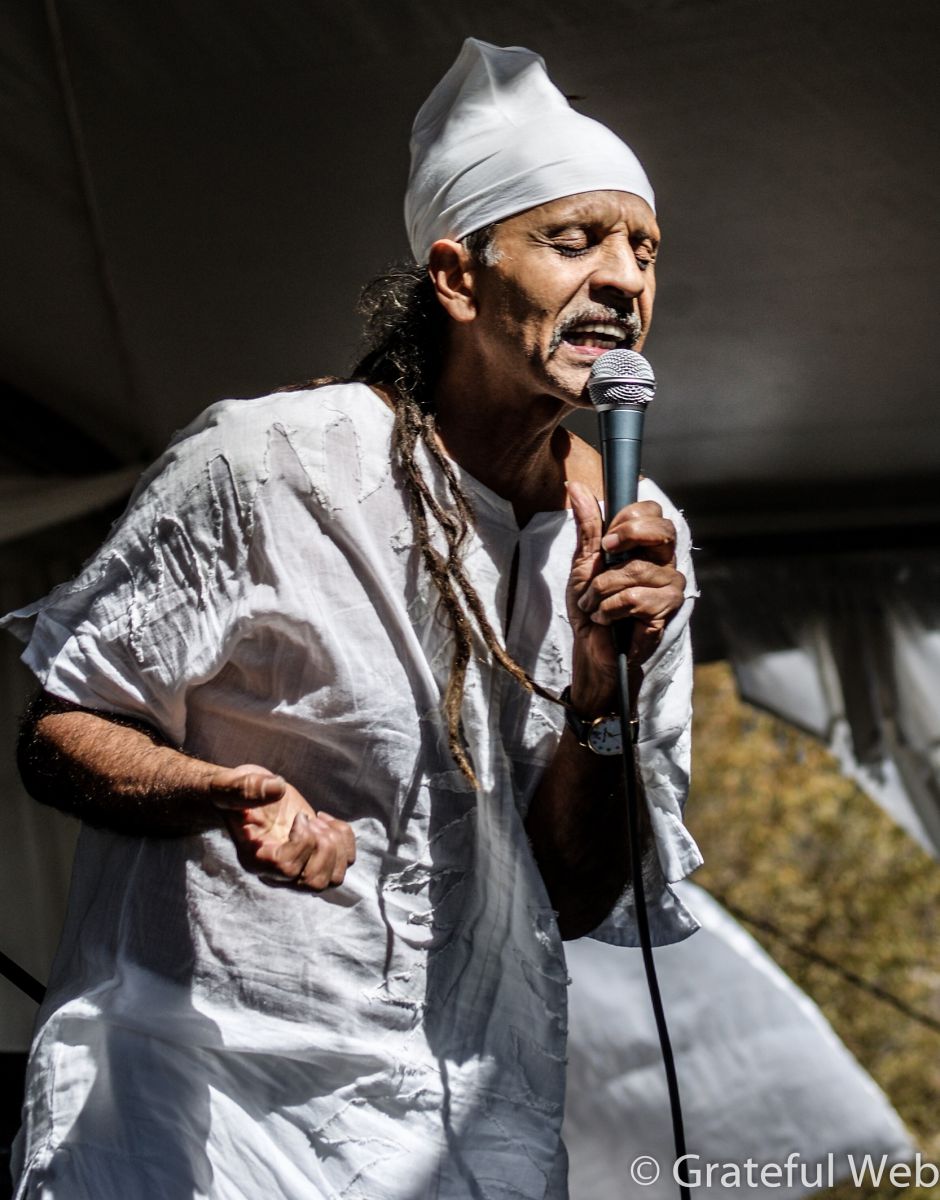 Following them was Fantuzzi, an energetic performer, who was fun to watch. His band, The Flexibles, really was just that. Everywhere he performs, he gathers local talent from the region or the festival itself and pulls them into a performance, often on the fly. But what a show he does!
Fantuzzi mixes originals with covers that often are medleys of songs. It's an instrumental and vocal free-for-all that works as if it's been choreographed and well rehearsed. I heard a pagan chant that I recognized and is irresistible not to dance to. He offered "Keep On Keepin' On," a joyful original song about honoring your loved ones, then a bit of funk, and some of the best Casino (Cuban Salsa) I've ever heard. The musicians were all top-notch and the vocal additions were superior!
This was probably what I saw as a common thread throughout the festival. There were serious panels and workshops about peace, struggles to protect the land and the water, respect for cultures and the honoring of women (coming often from men). There were profound ceremonies. And then the sheer joy of music and song and dance.
All day Friday and deep into the night it continued. The workshops and yoga stopped about 9 pm, but music and ceremony went until dawn. Because the festival location was so large and wooded in places, these late night activities were not disruptive and were very respectful of sleeping campers. And, of course, the fire lighting started at 7 pm, and other fire rituals continued until 10 pm. The fire itself was kept going until 7 in the morning.
Day 3 Saturday
Yoga began at 8 on two separate stages with two different modalities. Ambient music from The Adaptive, an electronic and live instrument band from Portland, OR, usually incorporated a dance artist into its sets. For this gig, it was Bee Inspiral, a talented young dancer from Chicago.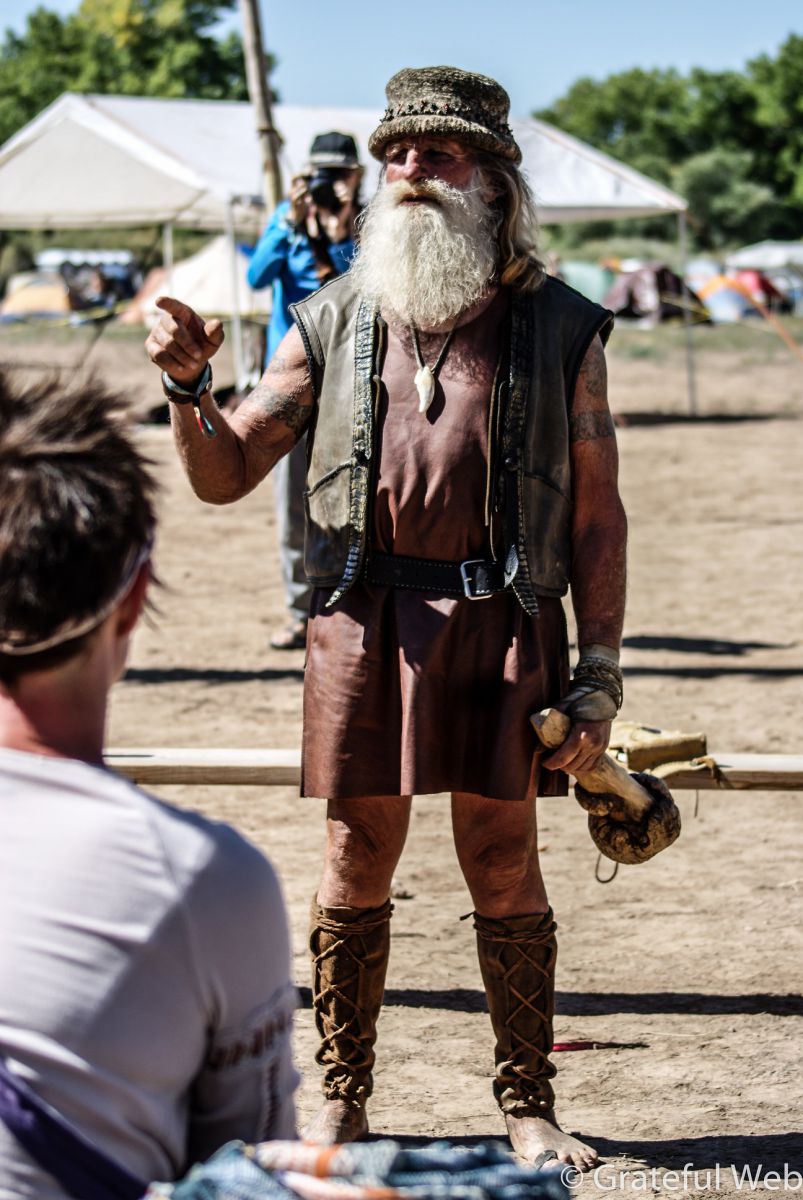 Though there was way too much to choose from, I sat in on a workshop on Ageless Living, presented by George and Sedena Cappannelli. A most energetic couple, they offered concrete steps to enjoy life at any age and ways to bridge the generation gap by respecting wisdom wherever it was found. The Cappannellis chose not to sit on the Viento Stage and lecture but gathered folks around some plain benches in a circle and chatted with us.
Patiently waiting for the Cappannellis to wrap up their talk, Mick Dodge stood on the outside of the circle grinning. You couldn't mistake this older gentleman, sporting a long beard and dressed in woodsman leather and fur. Having seen him enthralling people with tales as I passed by one of his casual talks yesterday, I wondered about what he had to do with spirituality or music or dance. I had planned to move on to hear some music when Mick entered that circle and began to talk. I found myself grinning—and listening. The man indeed had wisdom.
He had apparently left the modern world 25 years ago and went to hide out in the Olympic Peninsula of Washington State. Yep, he started out as a survivalist who thought the world was going to hell and he walked away from the American Dream. As he told his story, though, you heard the simple wisdom come through and the life-altering knowledge that he had to impart. His talk was called NOME Training.
Frankly, I thought he was going to talk about Hobbits or some woodsy way to build a cabin in the wilderness. But what he talked about was walking around those woods barefoot until he learned the lesson of NOME---Know Me.
Simple words. Simple mantras. But it reached folks (young and old). He used rhymes and clever words as avenues for deeper spiritual connections. As he continued to talk you found out that he had tried to find his life's answers through very esoteric Eastern philosophies. But his OM (Oak Mountains) taught him more than hours of chanting and searching.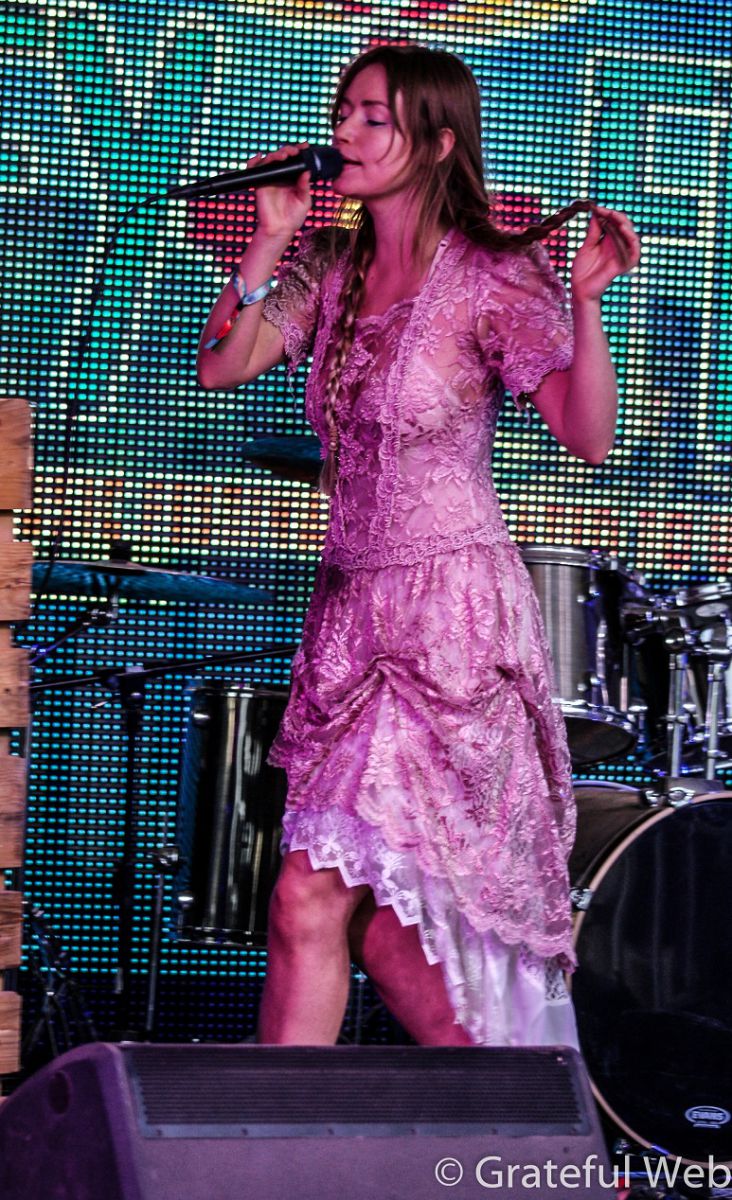 Mick Dodge, I later learned, is known as the Barefoot Sensei and has a show on the National Geographic Channel called The Legend of Mick Dodge that showcases his outdoor skills. He also appears regularly on regional talk radio.
As Mick finished, Don Jose Munoz, a Day Keeper of the new Mayan calendar, and his entourage filed onto the Viento Stage for a Mayan Ceremony. I was surprised to hear that this ceremony was to honor our female ancestors and all women throughout the world. It was uplifting and positive. One of the speakers at this ceremony was a Yavapai chief who had a persuasive speaking voice.
Don Jose then led all of us in a procession up the hill to the Sol Stage where Chief Phil Lane, Jr. (Ihanktonwan Dakota and Chickasaw Nations) gave a talk about global changes and reiterated the Condor and Eagle prophecy. He also talked about the International Treaty to Protect and Restore Mother Earth. In a ceremony, the treaty was read by festival-goers randomly tapped for the honor. These folks represented all manner of culture and gender. This treaty was being signed wherever indigenous peoples were gathering anywhere in the world, and all present at Unify Fest were welcome to sign. One of the first key points in the treaty was a paragraph about ensuring women's freedom of choice in their bodies and their reproductive rights. They framed it in as an overpopulation issue that would deplete the earth of resources for all.
Chief Lane also conducted a Medicine Wheel ceremony at 5 pm later in the day. Another one was held on Sunday afternoon by Kevin Walton.
Workshops and yoga continued and music until dusk. Music took more of a prime focus after about 3 in the afternoon and pulsed into the night until 3:30 am.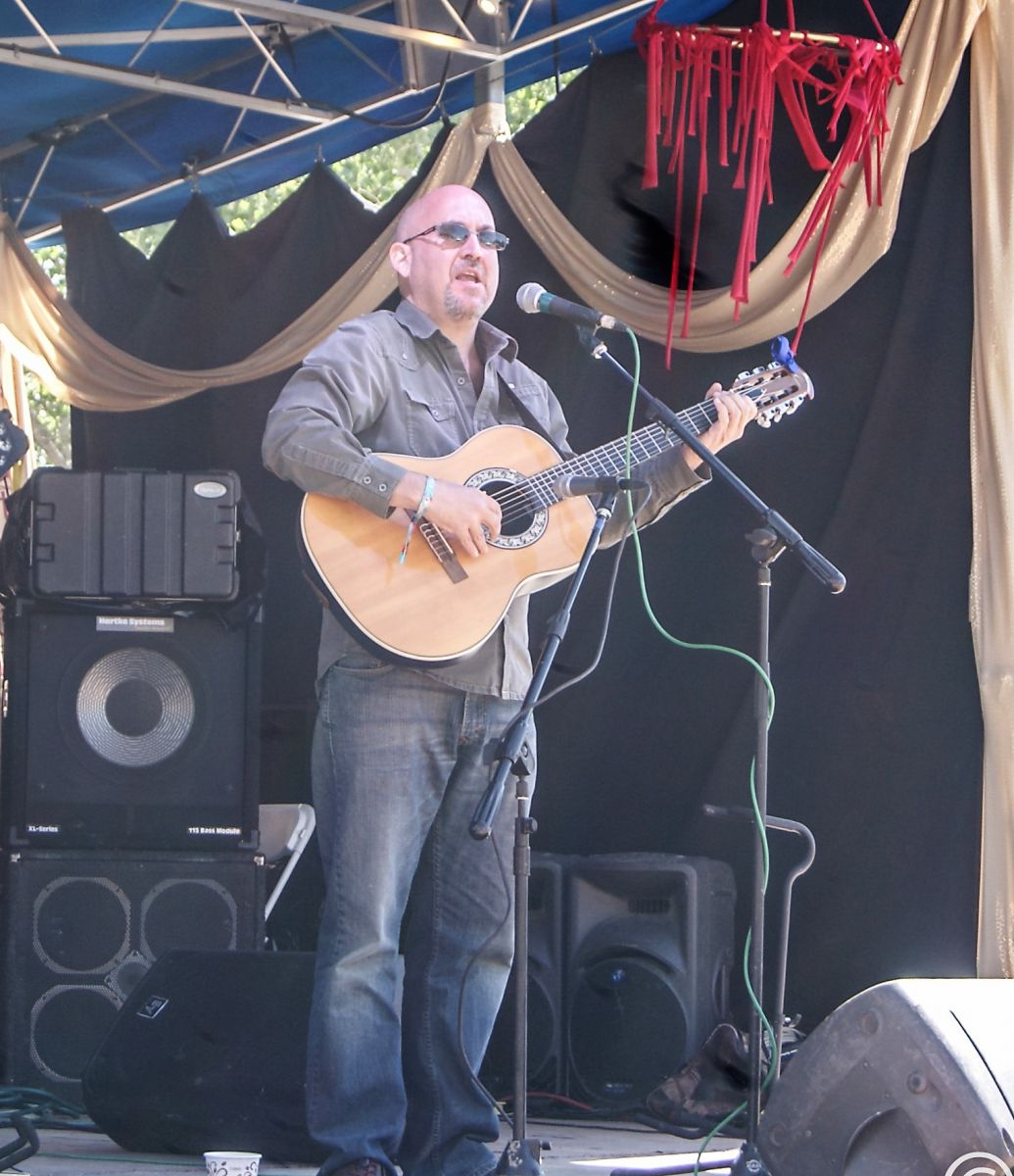 Some musical acts were a half hour, some an hour, and a few went on for an hour and a half. There were no headliners here at anytime during the festival. These were all quality acts that, like many other festivals, borrowed members from other groups.
I caught a bit of Mary Isis, another amazing female voice with something to say. Her more down-to-earth style was rooted in acoustic instrumentation and simple arrangements.
And I heard author and folk singer James Twyman's talk that was sprinkled with a bit of his original music and some world chants. Known as the Peace Troubadour, Twyman has been traveling the globe promoting ways to bring peace to individuals and countries. In addition to this talk, he did a half hour set on Sunday.
What I regret missing the most that night was the huge lunar fire performance with fire dancers and aerialists on the Viento Stage at 11 pm. I did see some of the aerialists rehearse down by the stage earlier so I got a taste for it, and I also talked a lot with Amber, a young firedancer who did a lot of other dancing.
And once more the festival fire was lit at 7 pm in ceremony. Two longer fire ceremonies occurred, one at 9 and one at 11. Then the firekeepers keep the flames alive until dawn at 7 am.
Day 4 Sunday
The last day of the festival began early at 8 again with two yoga practices and music by Santa Fe band Sees the Day.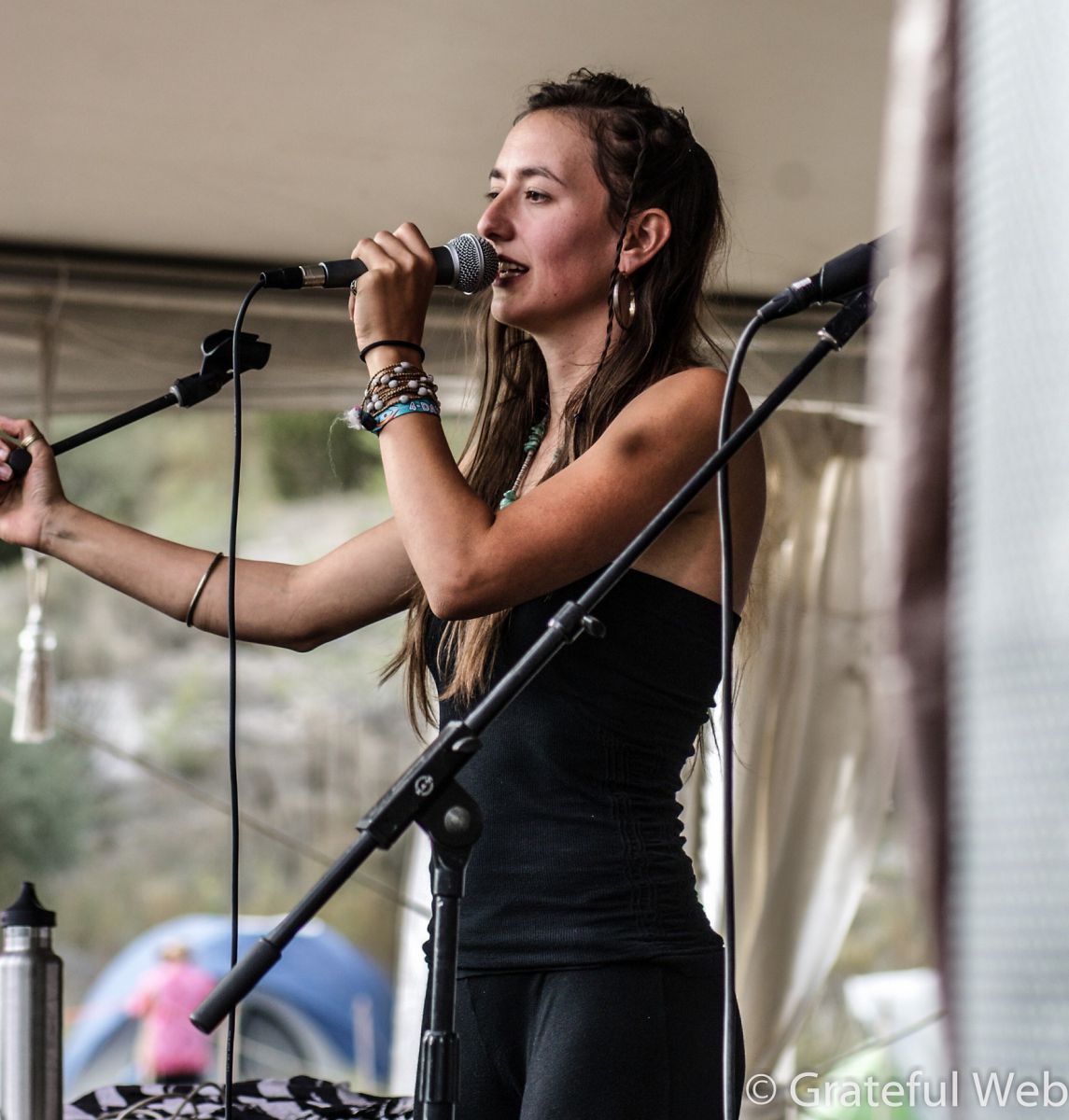 Madi Sato and Grandmother SaSa led the Morning Ceremony. It was a special Song Carrier's Women's Circle.
I took in a ceremony at 1 that was supposed to be conducted by Chief Lane. Due to circumstances, he had to leave early and the Yavapai chief led the ceremony and talk on Unifying Humanity. It was a most profound experience as the chief made room for everyone to participate as they wished, especially a gathering of non-native young people. He explained the procedures to us and then talked about life, our lives. I've sat in church services of varying beliefs and hadn't heard such practical and useful spiritual information!
While my spiritual tank was filled that day, I did manage to take in some music. I caught Xerephine (from the UK) on the Viento Stage. She has a fine vocal talent that she enhances with a lot of loops and synthesizer tweaks. It produces a cascade of sound that often muddies the lyrics. However, she does create a soundscape that festival-goers find entrancing. She's an accomplished Celtic harp player as well.
This day I came to see Amber dance since I'd missed her work with fire previously. Dressed as a colorful peasant that might have come from a fantasy or fairytale, she gracefully added a visual to Xerephine's soundscapes. It was amazing.
On the Esperitu Stage, Ilan Navah and his collection of musicians from all over the globe brought soothing world sounds with folk roots. This collective of musicians switched instruments and swapped vocal leads, creating a varied set that was relaxing to hear. And it was all acoustic.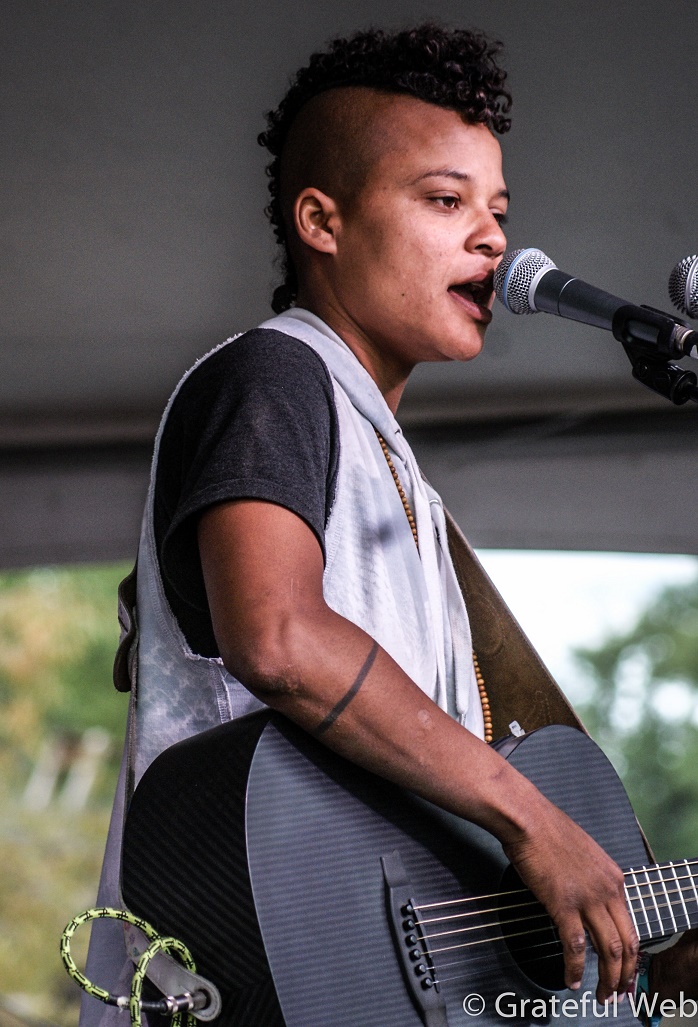 Ayla Neveo on the Viento Stage was flat out amazing. Her soaring voice resonated with festival-goers. She brought in two female guests on stage, and they did acapella songs with some of the most delicate harmonies that swelled into voices of powerful tigresses on stage. Beautiful and enchanting.
Then there was Shea Freedom. This young hip-hop artist not only had something to say but also had a solid singing voice. He combined good guitar work with his vocals and rhymes. He didn't dominate a stage, though his talent could, but he generously invited friends to play with him. The violinist who accompanied him, not only played well but had a great voice. She obviously could handle lead work easily. One song he did had some Indian or Nepal words that were incredible done in hip-hop rhythms. It was something I never thought would work together, but they did. Shea Freedom is a young talent to watch.
I also caught a bit of Supaman (Chris Parrish), an Apsaalooke (Crow) nation hip-hop artist from Seattle. I'd seen Supaman in a brief spotlight on PBS earlier in the year. He appeared in full fancy dress powwow attire (and is an accomplished dancer), but his hip-hop was a combination of raps, vocal loops, and singing, often in his native language. He also takes time to educate from the stage, and he did so this particular Sunday. His music is positive and uplifting (much like my buddy Deploi's community building lyrics).
Finally, there was Mike Love and his band. I was just blown away. Great reggae-based stuff. Solid instrumentation. Great vocals. A positive message. And these guys looked as if they were having a blast together on stage.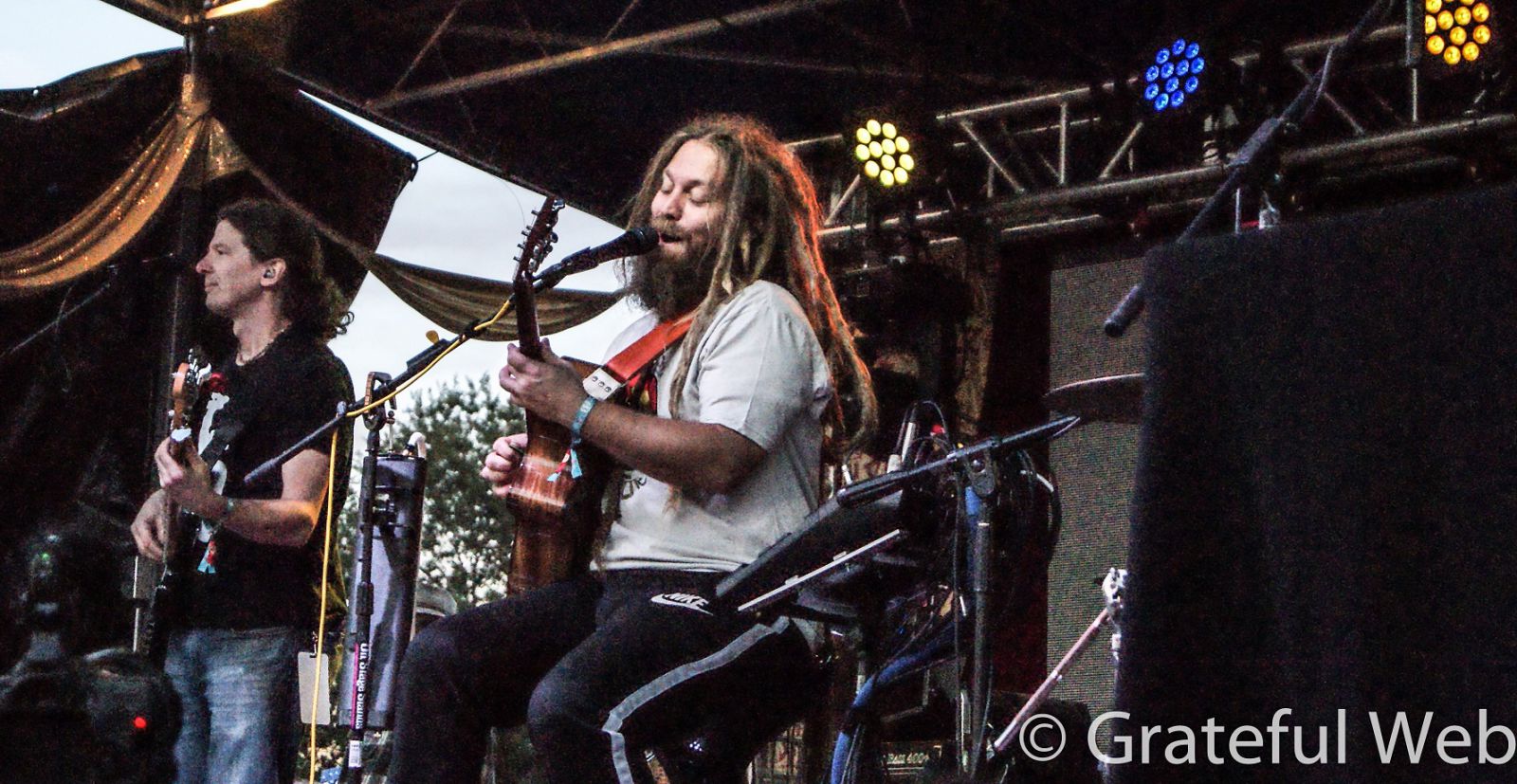 Though the music and workshops continued until the closing ceremony at midnight. I left the festival grounds with Mike Love still resonating within me.
Unify Fest was an amazingly positive and regenerative experience. I hope Nathan Crane and his crew do this again here in Santa Fe. It could become an annual event that would enhance the energies here in this land and resonate to the wider world.