Unity, a seven member reggae band, set the lovin' vibe on opening night at last year's 10,000 Lakes Festival. Touring throughout Wisconsin, they rarely make it west so it was a rare treat to hear this band.
Under the leadership of Pita Kotobalavu, whose last name means "sitting tall," the band started out interjecting roots reggae with a rock and even a hip-hop edge.  But always, Pita understood that bringing the real deal to the North Country was important.  Coming to America from the Fiji Islands, he decided to bring the music he had been performing at home to a new audience.
Though reggae, like American hip-hop now, is found all over the world, roots reggae differs depending on where is it nurtured and grown. "The difference with reggae we have in the island," Pita says, "is we have a little bit more of an African flavor, our African heritage and Indian nature.  It's old style. It's almost a little faster than reggae, but it has a little pop to it."
Fijii is an achipelago of 322 islands in the middle of the Pacific.  It is a mixture of Polynesian and Melanesian cultures.  "In Fiji, it's almost like everybody wants to play when we're young. Everyone wants to play an instrument," Pita adds. He began as a child on a native drum made of wood with a cow hide skin. His friends harmonized with bamboo. "Different kinds of bamboos will give you different kind of sound all together. So it's trying to find the right bamboo for the right note," he says.
His father was Fijian and his mother was Irish with a touch of native Indian (South Asian). "I have a mixture of modern and the native. I'm one of the first new generations out of Fiji," Pita says. But he is quick to add, "Fiji is a third world country. My people suffer as modernization comes in. We lose our culture." For him, though, he had the kind mentorship of a cherished elder. "My grandfather was an authentic Fijian so he taught me pretty much everything to know about the old ancient culture."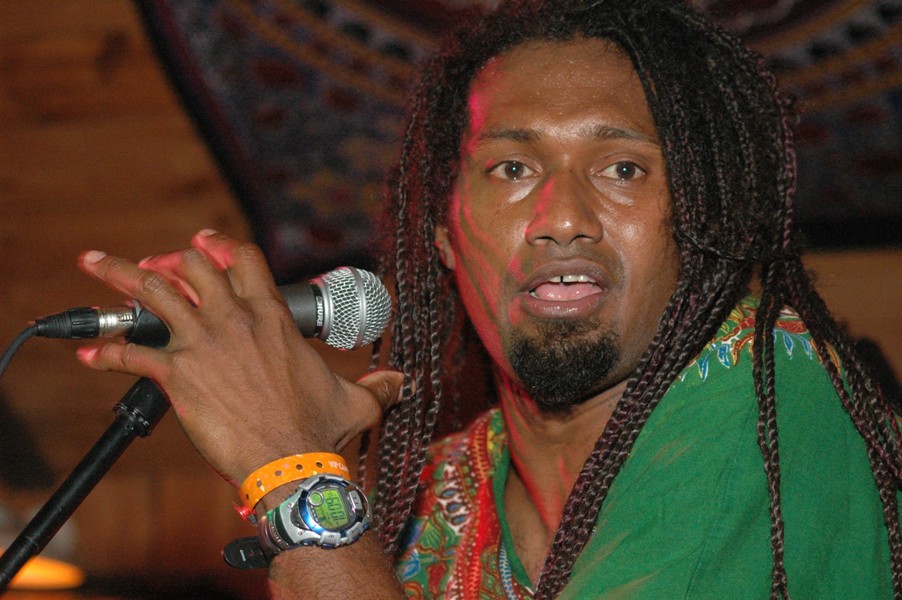 So, Pita combines the best of his own roots with the music of reggae. Now, that he has come to America, he colors that music differently.  "I'm the only boy from the Fiji Islands that's here pushing at reggae. Back home, everyone is so happy that I'm actually doing it," he says. Though Pita played with several reggae bands in Fiji and in Hawaii, when he came to Wisconsin, he knew that the music would be different, as reggae had been colored by other cultures across the world.
That's when he decided to form Unity the Band. Pita insists that the group should really be called Pioneers of American Reggae. "It has the influence of America," he says. "Sometimes, I'll have a bagpiper on stage. Sometimes, I'll have a sitar on stage. There's so much culture here in America." Further, he says that every type of music in America has a spot in their music.
Pita began interviewing musicians.  "The first musician I came across was Christine Vosters," he says. A classically trained pianist, she became a critical part of the band, working with Pita arranging songs.
Then Pita found drummer Steve Scott who came from Chicago and grew up playing in churches. "There was something about him. He had a great smile and charisma," Pita remembers. "He didn't play by just listening. He played by feel, emotion.  The heartbeat of the band had to have someone like him...It's amazing what he has done for this band."
Pita next tried out three different bass players.  Tyler Terrell made the cut. Though he is really a professional trumpet player, he spent a four-year military stint playing with the Army band. There, he picked up the bass and began to add more color to the mix.  "I think he's one of the greatest trumpet players in the Midwest that I've ever heard," Pita says. "He's been auditioned by some of the great bands." When Terrell realized that Pita wanted Unity to have its own unique sound, not just be another reggae clone, he couldn't join the band fast enough.
Then Pita found Todd Lehman. "He's a mechanic and runs a garage," says Pita. Though he was an experienced guitarist, he couldn't leave a steady job for the road so opted out. In the interim, Unity hired Joey Huffs, who appeared on their first album, and then Ryan Glason, who had played with the Steve Miller Band and the jazz great Michael Elliot. Glason brought musical diversity to the band. Currently, Lehman has returned to the band and brings a bluesy undertone to the band.
Finally, Jeremy "Chunk" Schroetier was brought in to lay down the percussion for Unity. "I call him American Love. If there were more people like him in America, this would be so great," Pita says. "When I first met him, he was a hippie boy. Back home when you see a hippie boy, you say that's American Love. It's real love." Ironically, when Chunk first met Pita, he didn't know very much about percussion. He just loved music.  Soon, he was playing congas and bongos.  "I told him he was the one who brought harmony to the band," Pita says. "Everyone plays a very vital role. His role is to keep everyone low key and happy."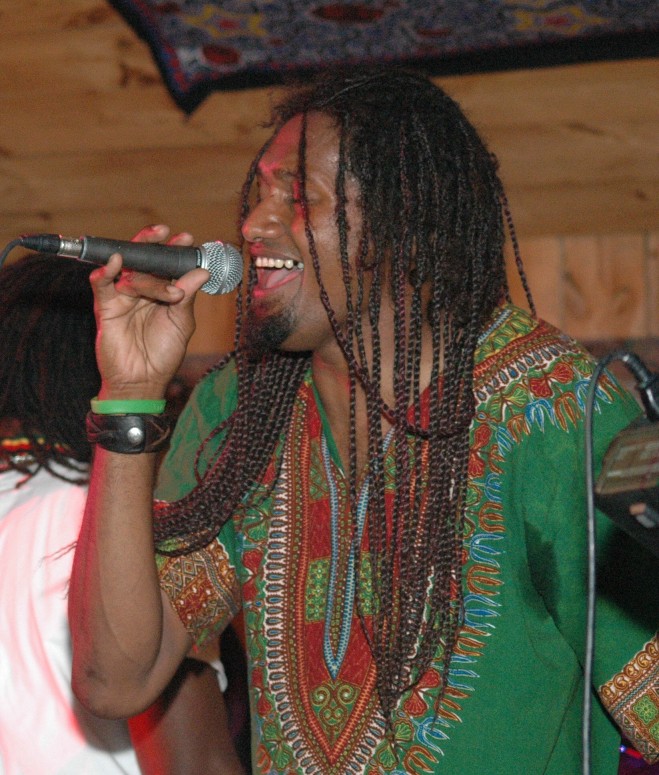 That's important to Pita himself because he gets really pumped up when he does a show. He says that he can look over at Chunk and grounds himself in the rhythms that Chunk produces.
The last addition to the band was Steve Johnson, a professional woodwind player and private instructor. He's played with the Fox Valley Symphony and some of the greatest symphonies in the region. Johnson adds the mellowness of saxophone to Unity's tunes.
All of these musicians come from different musical backgrounds with different musical interests.  And, Pita, isn't afraid to let his band members or even guests explore what Unity can provide. On their first album, a hip-hop friend contributed two songs to the disc, "Night Kisses" and "Reggae Music We Got It." Pita was impressed with the singer's rhyming ability, but made one caution: the lyrics had to be clean. "We're a family band," Pita asserts. The latest alum also has a guest from Jamaica. "On every album, I want to host a special guest from a different continent as something different to add on to Unity because our music represents everything that America has."
Though the band does a couple of dozen covers, the lyrics for their original songs are composed by Pita himself.  "Sometimes, I'll change the lyrics depending on the show.  Sometimes, I get so emotionally driven that the lyrics aren't good enough for what the people want to hear," he says. "I'll dig straight from what I believe it is. Sometimes, I'm adding an extra verse or two extra verses because I have more things to say. I preach against violence. I preach against drugs. There's a lot of things I preach against." Though he always wants to spread the message of unity and love, sometimes he is willing to take a big risk. On their first album, Unity produced a song that went down pretty harshly about dumping nuclear waste in the Pacific. At first Pita felt that it was a message too big for a small, up-and-coming band like his, but soon found that the audiences he was playing to actually welcomed ecological messages like that.
Still, Unity is driven by Pita's roots reggae delivery and his two backup vocalists. He dances on stage. Often audiences will see him jumping up and down and revving up the crowds.
When Unity played at 10,000 Lakes last year, they brought along another young singer who drifted a bit from roots reggae into dancehall, but without the negative messages of that that genre is producing today. His fast rap delivery was more like a staccato stream, while Pita's was sung and more like a warm tropical breeze. The band also did a short stint in the VIP tent on the second day of the festival, but brought a more mellow show instead of the higher energy reggae of the night before.
Unity the Band produces great roots reggae. But like most bands in the jam circuit, there is always a mix of other influences, and Unity brings only those that will enhance their message of peace and love.