We get into Vegas @ 9:30, and as the plane lands the lights of Vegas are already drawing me in. Everything has lights to lead and confuse. We get over to the Aladdin (possibly the most evil hotel in town – several friends of mine complained of bad vibes and confusing energy in that place), ditched our Trey tickets to some Phishheads that seemed astounded I only wanted face value. Every one had hundreds out ready to shell them for a ticket – a scenario that only got worse as the weekend went on.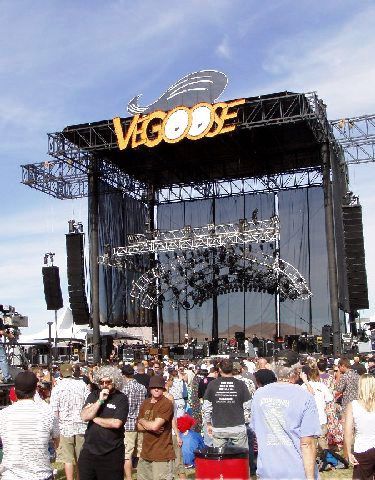 Got to the hard rock about 11:00, had some spectacularly expensive drinks from the sports bar (lines everywhere, the only time I got enough access to booze over the weekend was when I was at a table, which didn't happen until Tuesday (we'll save that story for later). Just in time for second set. I just get to Vegas and the fourth song I hear Warren sing is "I'm Sooooo Tired" – a warning for the weekend for sure. Feeling quite unsleepy myself, I really enjoy Mule's new logo and light show – check it out on their web.
Mule's sound has taken on a much "nicer" sound than the first time I saw them several years ago. Warren's song choices and lyrics seem to somehow be more meaningful and caring – I'm probably attempting to describe what Erzine calls feminine. I'll say that Warren gets "it." Spanish moon with Logic – more warnings about the evils of Vegas – "Whiskey and bad Cocaine … If that don't get you soon, the women will down at the Spanish Moon."
Beautifully Broken with the Prince "When Doves Cry" sandwich. I see the way she plays her men- and I know I've got to know her name - Why do I fall for the dangerous ones-the ones that Never learned to let go And why do I lie to myself and pretend that I can break her When she's already been so beautifully broken …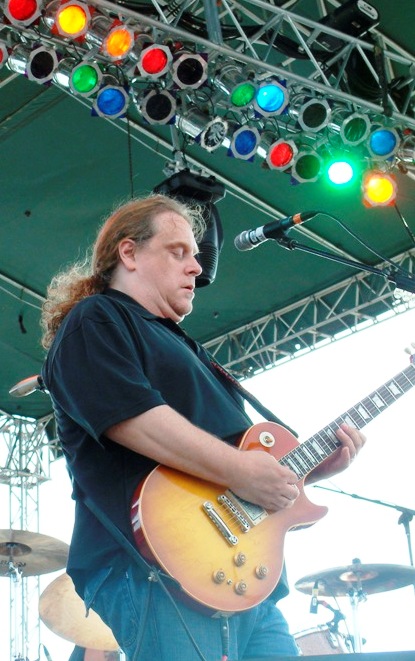 Mule the song is scorching – Where's my Mule? Where's my 40 acres? Where's my dream?
Rob Barraco finishes with Soul Shine.
Back to the troublesome Aladdin for some sleep after being taken by a cab driver and driven to the top of the strip – watch those guys – they take you on a trip around the world (or at least on a very expensive ride to a strip club).
Up @ 8:30, I know I can find the exit to this place during the daylight. Silly Vegas won't trick me today – I've got my gypsy shoes on and I'm ready to play.
To the festival grounds around 2:30 after a dip in the pool. Pretty simple, a practice field with two stages and a couple of circus tents next to the stadium. Food lines are ridiculous, but there's good organic food available even if the line is long. Checked out the club tent for some hip hop for a minute but can't even get inside. All of the Bonnarooesque sound bleed problems. I've got an Idea, try not pointing the stages @ each other. More Mule for the hardest working man in show biz. Come to find out Warren left the show the night before and played w/ Umphrey's McGee till 5AM. Mule crushes with a long set – No Quarter! Hot stuff
Into the venue for Phil, and having seen everything except Bimbo's this year, I'm ready to be disappointed – particularly with Joan on board. Herring comes out and kills! They're awesome! The stadium's full & the band sounds great! Unlike the other reviewer, I'm extremely disappointed with Joan – they had to wait for teleprompter for her to start songs – like who doesn't know the words to Truckin' & what, they practiced the Ryan Adams songs with Joan so they had to play them? What kind of shit is that? Joan ends up doing that super annoying vocal soloing and singing during what should be guitar parts. I'm sorry Dead music is male energy oriented – that's why they were called the Warlocks! Every time a woman's been around its been painful (with the minor exception of Susan T. on TOO tour in 2002 – that didn't suck @ all).
Barry ends up stealing Warren slide licks and Warren ends up doing a little bit of clever purposeful underplaying in a way that the absence of notes makes you notice and miss Jerry – very cool.

Leave for DuMB and eventually our ride gets us back to the Orleans for SCI. The Orleans is a great casino. Good cheap drinks and a view of the strip – kind of removed in a relaxing way. The only sucky thing about the venue is that it's GA upstairs and GA downstairs, not real GA. Really sucks when venues separate you from your friends. Makes it totally unfun. Cheese plays as good as I've ever seen them – I don't know the names to any of their songs – not too fast (or stringy) just nicely paced late night psychedelic jam music. Great light show (digitalized liquid lights) and entertainment – high rise trapeze over the crowd – sexy scantily clad burlesque dancers – and fire breathers. They do MJ's Thriller – complete with scary visuals on the screen – flames and skulls. Was ready to go after a while, but ended up having to wait to get back into the room because I was separated from my friends. Cops on duty in the hallways the whole time.
5AM home again. Next morning up @ 8:30 again – trying to buy a cell charger – it's still in the backpack – I knew I was waiting for something that last hour and a half – no phone stores anywhere on the strip.
2:45PM at the venue and psyched about Ween – they sucked. Played all the "crowd" pleasers – Voodoo Lady, Daisies, etc. Gener on guitar on almost every song does nothing to improve the band. I felt like I was @ band practice. Off to go see the Flaming Lips! Awesome – multimedia cameras and video and lights and balloons and costumed folks and confetti and sing alongs! Yoshimi Battles Pink Robots! Wow.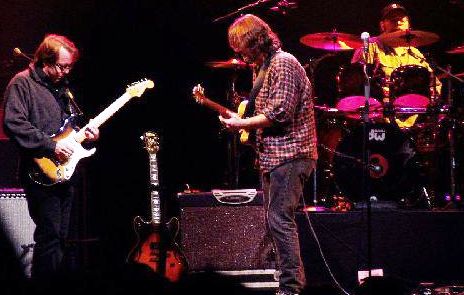 On to Widespread. Can't say enough good things about Widespread and George. I'm like all sorry that Houser's dead, but it was probably the best thing for the band. I saw them in 99 and swore it was the worst thing ever and I'd never see them again. Saw them this year and they're playing in a totally different space. Nice pace, not just crescendos of noise. Drummers are great. Don't know names of any songs but after this year – I never thought I'd say it – I'm a huge fan! Love their psychedelic artwork on their shirts. Very cool. Some spread head this summer told me a story about an interview with Jerry before WSP was around – Jerry was asked what would happen if the GD disbanded – he responded "It'd be Widespread Panic everywhere." Probably an old story but still cool. These guys get "it" and are making music and spreading good vibes – not the coke, whiskey, molly of yesteryears.
Left early to get out and try for Phil tix. Mistake. People are happily paying three bills. I get drunk at the bar with [oh never mind] – where's Warren with the warnings when you need him – dangerously twisted here I go again.
5AM I'm sooo tired, I haven't slept a wink – 11AM my friends show up 'cause they're flying out on Monday but they couldn't (don't know how to?) get late checkout – there goes my sleep day – no rest for the wicked.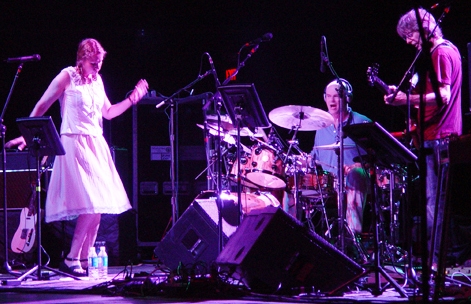 Afternoon ditch my Ween tix (they sucked remember) and go score Panic tickets (they SOLD OUT the Thomas and Mack! My one friend ended up paying 100 bucks and they were GA!) for face value. Get in costume and come back to the show. A-hole security won't let me take my staff/walking stick in. Oh well. Good show. Crystal Method gets the crowd going between sets (can you count to four? Then you'll love CMeth-od). Panic plays good scary Halloween songs. We leave early and head off to the Beach for the AT40 party. Lights and weirdness everywhere. Too much – too many amateurs – I party like this all the time – leave before it gets too weird. Security is losing control of the situation – nobody directing cabs outside – a hundred or so people wandering around in piles of confetti – looks like the prank's successful – I'm getting out of here.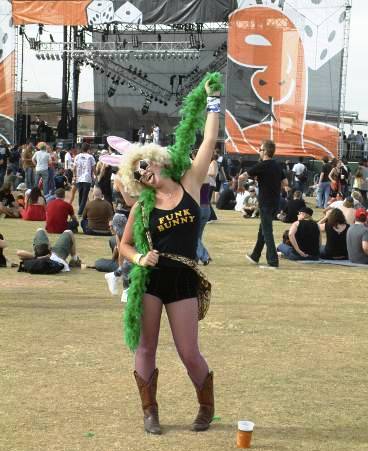 Tues Morning – I haven't gambled yet so I grab a quick hundy and lose it – grab another and sit at a blackjack table – I'm killing 400 in 45 minutes – miss the plane thinking I could go out on the midnight, but it's on fall schedule so I'm stuck for another day. Actually get to see Vegas and play!
Too much fun. Vegas is the town you love to hate to love…to hate to love.
Bitches:
Rock Med was not in full force – saw rented local EMS with some high kid strapped to a board at Vegoose. Moneygrubbers couldn't even have decent medical.
Kids, please quit flagrantly littering – tripping and tripping over empty cups sucks. Try cleaning up after yourself. Pigs.