While the title Rumble, Shake & Tumble goes a long way in describing Wagons' unruly yet easy-to-like roots-rock sound, all you really have to do is listen to the disc's opening lines. The leadoff track "Downlow," a Tom Petty/Traveling Wilburys-ish jangly rocker, begins with a man proclaiming that his girl's mama "doesn't like me none/she's got every reason under the sun/Your daddy think I'm okay/But not for his little Pamela May." These words nicely encapsulate frontman Henry Wagons' charming but slightly dangerous way with music.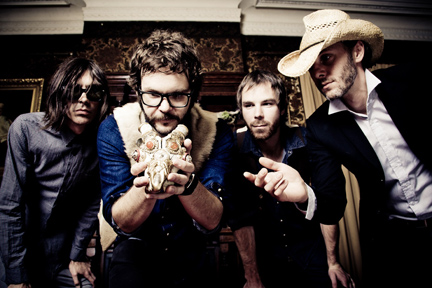 Listen to Rumble, Shake & Tumble, out August 16, 2011 on Thirty Tigers, and it's easy to fall under Wagons' sway. Their unruly sound, which has made them a popular act in their native Australia, draws upon rock 'n' roll, country, funk, cabaret, psychedelia and soul all tied together by Henry Wagons' delightfully twisted vision. With his gentle growl, he comes off like a cross between Leon Russell and his fellow Aussie Nick Cave as he couples Russell's laidback cool with Cave's noir hipness.
On their new album Wagons embark on a lively musical adventure that is by turns rocking and twanging, tough and tender, but always engaging and exciting. In talking about Rumble, Shake & Tumble, Henry Wagons revealed, "I wanted the album to reflect the washing machine turbine we have been put through. This musician's spin cycle has been an amazing and dizzy time. I wanted to capture it on record, complete with its highs and lows and touching on each extremity we have only hinted at on previous records."
Tracks like "Downlow" and the incendiary "Love Is Burning" presents Henry Wagons as a rogue-ish type of guy; however, he has a romantic streak too. The acoustic-based "My Daydream" stands out as a heartfelt love ode and a romantic sweetness shines through "Moon Into the Sun," although he can't resist slipping in the line: "My life has been f*cking mess without you."
As vibrant as Wagons' recorded work is, it's their dynamic, unpredictable live shows that solidified their reputation as a band to remember. Henry feels that groups can't just recreate their albums live and neglect the visual elements. At a Wagons show, he states, "You'll find a lot of energy, a lot of interaction and talk. We never leave anything behind. Small or large stage, we play like every show is the headlining slot at Woodstock."
While he believes Rumble, Shake & Tumble best captures the band's live show, Henry asserts that "seeing us live completes the picture. I like to think that live we sound like the album, but with added spectacular benefits. All of the band are big and tall personalities, bursting off the stage. I think people can feel and see that."
Formed in Melbourne, Australia in 2000, the band (which also includes drummers/bassists Mark Dawson and Si Francis, guitarists Chad Mason and Richard Blaze, and keyboardist Matthew Hassett) looked to America for much of its inspirations — from iconic figures like Johnny Cash, Elvis Presley and Hank Williams to contemporary cult artists such as Will Oldham, Bill Callahan and Adam Green as well as a dose of author Cormac McCarthey's trippy Western novels. The literary influences aren't accidental. Henry Wagons once was an English teacher. In fact, the same week he was supposed to start his PhD, the band got a record deal. Needless to say, he chose rock 'n' roll.
Over the years, Wagons accumulated much praise and many accolades in their native land. Time Off Magazine hailed the group as one of Australian music's best kept secret and vine.com.au called them "dangerously close to the best thing ever." According to Fasterlouder.com.au, Henry Wagons is "the figure every frontman with balls aspires to be." The group's last album The Rise and Fall of Goodtown earned the band Best Group and Best Album honors in the 2009 Age EG Awards, being named Local Band and Album of the Year by Rhythms Magazine and in the Mess and Noise's Readers Poll, while Henry Wagons was also named as one of the "Top 100 Most Influential Melbournians" by The Age Melbourne Magazine.
After a triumphant 2010 SXSW appearance, Henry Wagons embarked on a tour across America that opened up the eyes of unsuspecting U.S. audiences. Melophobe.com pronounced that "Wagons has more stage presence all by himself than most full bands" while American Songwriter stated if "the theoretical love child of the Doors and ZZ Top had inappropriate relations with the theoretical love child of Johnny Cash and The Bad Seeds," the result would be Henry Wagons. The acclaimed young singer-songwriter Justin Townes Earle, who toured with Henry Wagons, described him as "like Dr. Seuss meets Conway Twitty, a great performer, a good man . . . (he) struts like a Tennessee Walking Horse on PCP."
America, get ready to Rumble, Shake & Tumble. Wagons will be delivering their unique brand of dark country rock to the United States in all of its wild and sweaty glory. Henry Wagons is eager to come here to the land that so inspired his music. "I'm chomping at the bit in anticipation, looking forward to getting my guitar hands dirty on American soil. The opportunity to play music in and around the source of so much inspiration has me foaming at the mouth."