Friday at Wakarusa began with sunshine and high fives. It was an awesome day. Despite the fact I put on sunscreen 5 times, I still got a sunburn. But I got to see a fair amount of music and found a lot of friends I had been hoping to see. Overall, great day!
The first band I went to see was Delta Rae. Their set on Thursday got rained out and even though they only had 45 minutes to play on Friday, they used their time like a pro. They played mostly well-known songs so the audience could get the most out of the set. But Delta Rae's show ended all too quickly. From there, I checked out Allen Stone. He has a really popular song Sleep, so I wanted to see what the rest of his songs were. Turns out, Allen Stone is awesome. He reminds me a bit of Kenny Wayne Sheppard with more positivity and soul – rock blues with some sultry mixed in. I was really happy to have had the opportunity to hear Allen Stone; there aren't actually a lot of bands who come to the Northwest Arkansas area so it's slim pickin's in the blues genre.
After Allen Stone I walked back to my campsite and rested for a while, ate some food and got my beer on. Then we went to Of Monsters and Men, which was packed. It was almost impossible to get through the crowd safely, so after I took some photos in the pit I opted to watch from the sidelines. Icelandic band Of Monsters and Men is a folk rock group. They have beautiful songs with tight lyrics and a full sound. Female front, Nanna Bryndís Hilmarsdóttir, is adorable and has a great smile. She also wears cool hats! Big plus. Except for a frequently featured trumped, the show didn't bring anything unique or exciting, but it was still good. They played their songs exactly as they sound on record.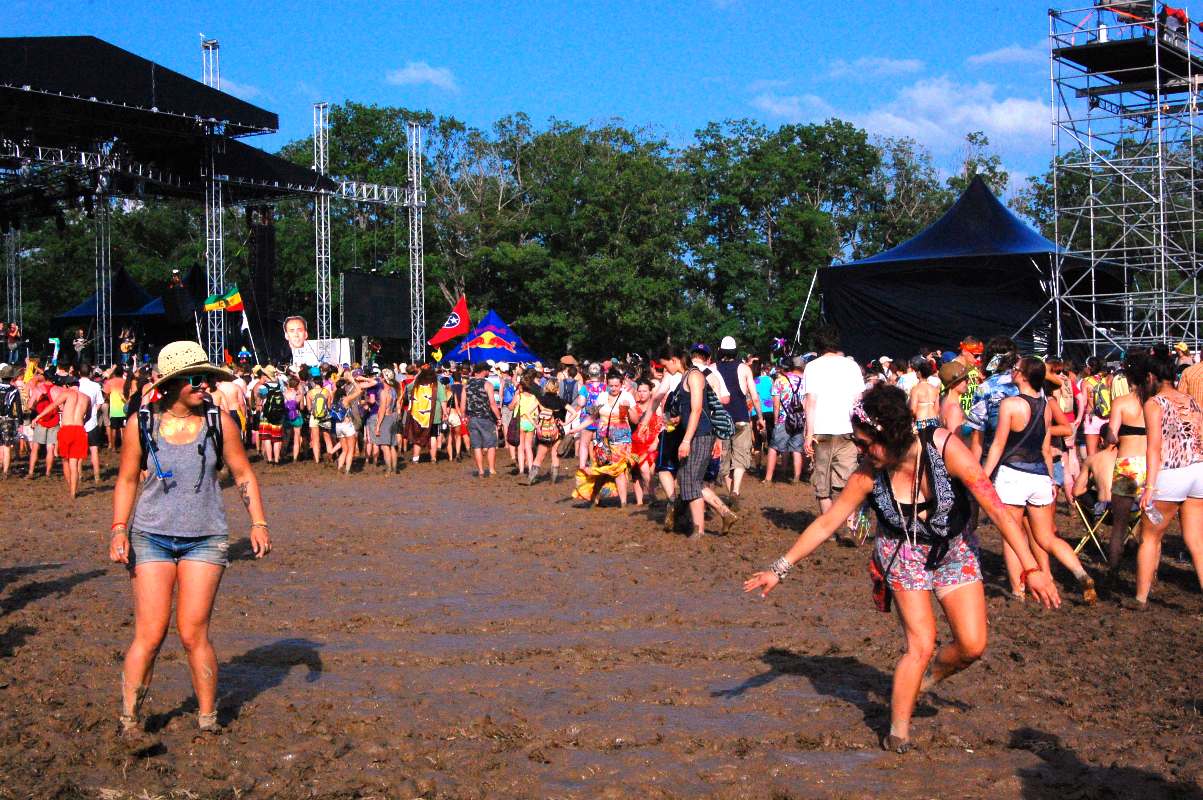 Next I wandered to SOJA, which was a lot better than I remember. They played on Main Stage and packed out the standing room. I didn't realize how musically talented this band actually is. They have a great range of style, including a drum line and a jazzy/tribal jam. It was so awesome. Their show was really spectacular, and really not what I expected. I'll definitely be sure to check them out at the next festival.
After the great SOJA journey, I hopped over to the Satellite Stage, which I hadn't been to yet. It was in the best condition of all the stages. There was very little mud and wood chips cover the ground to help give traction. It helps that the stage is under a canopy of trees. It's a beautiful location. Karsh Kale was playing at Satellite; a DJ who has written songs for Norah Jones and Sting, and is widely regarded as a pioneer in the world of global fusion and electronica. His show started out really chill with smooth, Indian-inspired beats and slow buildups. And as the set progressed, he transitioned into a more dance-happy DnB sound. I'm not often down with drum and bass, but this was definitely tolerable. Good, even! As the set ended Kale slowed it down and simmered our dancing shoes. It was a great set and Karsh Kale is definitely an artist I wouldn't see anywhere else, at least anytime soon.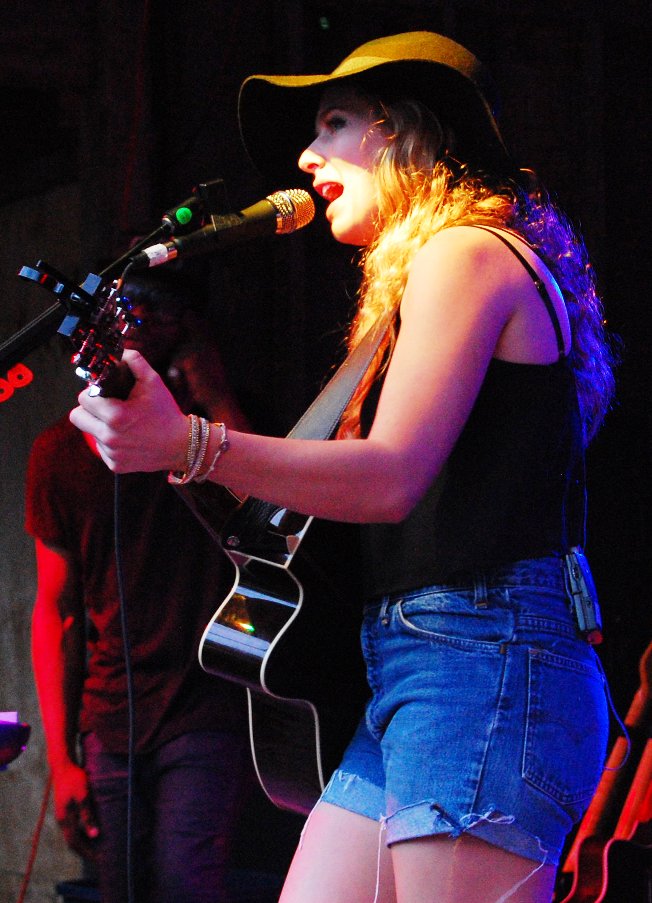 Next I checked out blues-rock singer ZZ Ward. I'd had a few recommendations to see her show, and after listening to a few of her songs I figured it would do me well to see her live. She has a strong voice. It reminds me a bit of Janis Joplin, but I don't want to be too flimsy with comparing anybody to Janis. With only four people on stage (vocals, bass guitar, electric guitar and drums) their show took up the whole of the Backwoods Stage and it was soulful as hell. There weren't a lot of people at the show, but there weren't a lot of people at the smaller shows in general. Next up was Umphrey's McGee for a bit. Their crazy-awesome light show combined with the band's incredible musical talent creates a show that you really just have to like. I hadn't really seen them that much, and I don't so much care for Umphrey's recorded music, but their live shows are simply awesome.
After Umphrey's McGee I went to my tent and laid down because of a migraine; bright lights were not my friend. But I could hear all of Dispatch's set and it sounded crazy awesome. Even just hearing the live show was amazing, so I can't imagine what the visual show would be like. They played a few songs I knew, but honestly I don't know that much Dispatch. Regardless, if I ever get the opportunity to see them again, I'm going to take it. Post-Dispatch, a raging storm took over and we all crowded into my tent and slept later than usual. It rained until about 10 AM on Saturday, and I am terrified to see what the Main Stage area looks like. I bet it's soaked.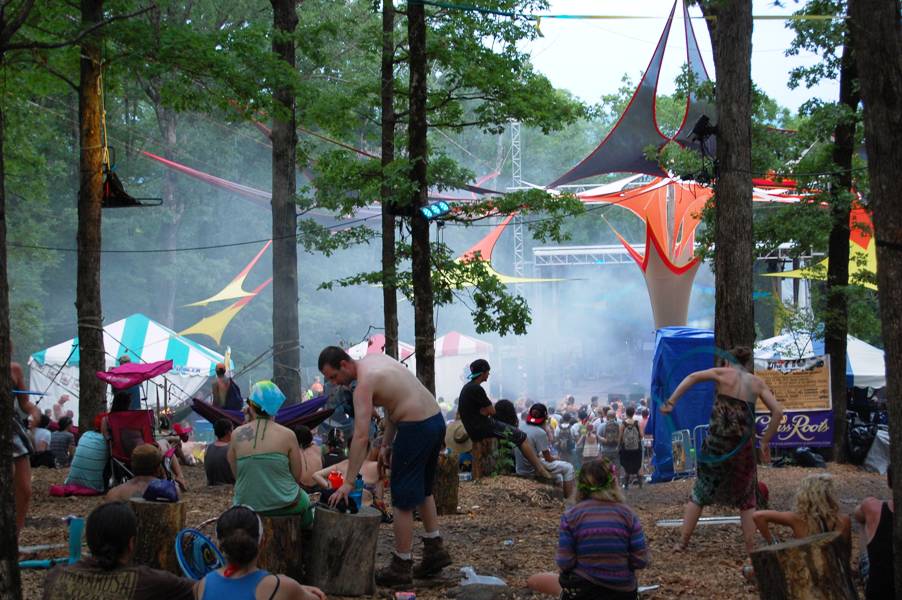 While a festival like this is almost always the hardest you'll work for a fun time; and this year is twice as much work as it has ever been. But it's been a great time regardless! My neighbors are great (they write for Festival Survival Guide) and we've all helped each other out. Everybody is safe, although some cars are stuck for probably forever (or at least until a tow truck can access the vehicle). It's a blessing to be able to experience so much art and music in such a small time-frame. The privilege of the whole music festival situation is great, and I'm so appreciative to be able to be a part of all of this.
This might just be one of the most memorable Wakarusa festivals I've been to. What a 10th anniversary!